Lisbon, the capital city of Portugal, is a destination of color, contrast, and compelling visitor attractions. Discover some of its most popular things to see and do by following this one-, two-, and three-day itinerary designed to help make the most of your time in one of Europe's most exciting cities.
Lisbon's historical district is compact and easy to explore, though there are one or two steep hills to negotiate along the way. With one day at your disposal, it's possible to take in several major tourist attractions by following this at-a-glance city guide.
Note: Some businesses may be temporarily closed due to recent global health and safety issues.
ONE-DAY ITINERARY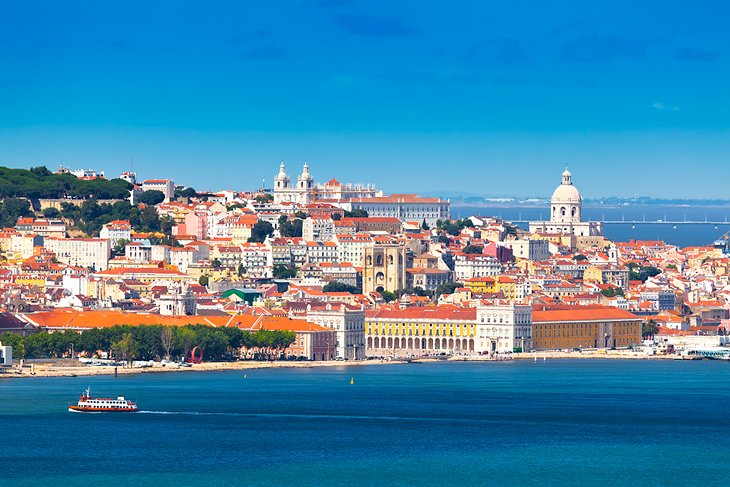 Lisbon
Things to Do in One Day in Lisbon: An outstanding must-see site is Castelo de São Jorge. It's a bit of a hike to reach, set as it is on a hilltop near the River Tagus, but your efforts will be rewarded by glorious views across the capital and the distant Atlantic Ocean.
Incidentally, the castle is within walking distance of a number 28 tram stop. These streetcars make mincemeat out of Lisbon's intimidating hills, and are a novel way to get around.
For another selfie overload, head for the terrace at the top of the vintage 19th-century Elevador de Santa Justa, which unveils an unbeatable close-up overview of the Baixa and Rossio districts.
The elevator, which connects the Baixa area to the Bairro Alto neighborhood, flanks the historic Carmo Convent. This is Lisbon's most tangible reminder of the catastrophic earthquake that struck the Portuguese capital on November 1, 1755 – All Saints' Day. While much of the city – indeed, the country – crumbled under the ferocity of the quake, the church survived, but not before its roof collapsed on dozens of hapless worshippers below.
Looking at its unremarkable facade, you'd never guess the riches waiting to greet the visitor inside Igreja de São Roque. Located in the Chiado neighborhood, the church's interior wows sightseers with a gilded interior of extraordinary opulence.
The nearby São Pedro de Alcântara viewpoint offers an elevated postcard panorama of downtown Lisbon, and its little café-kiosk makes for a convenient place to wind down over refreshments.
Getting Around: By way of introduction, one of the most rewarding ways to get to know the Portuguese capital is to join a Lisbon Guided Walking Tour. Led by an expert guide, this comfortable three-hour amble takes you past some of the city's most iconic buildings. It also takes in authentic cafes and some wonderfully enticing boutiques. If you'd rather sit back and relax consider a City Sightseeing Lisbon Hop-On Hop-Off Tour. The buses make frequent stops and afford passengers the flexibility of exploring at their own pace.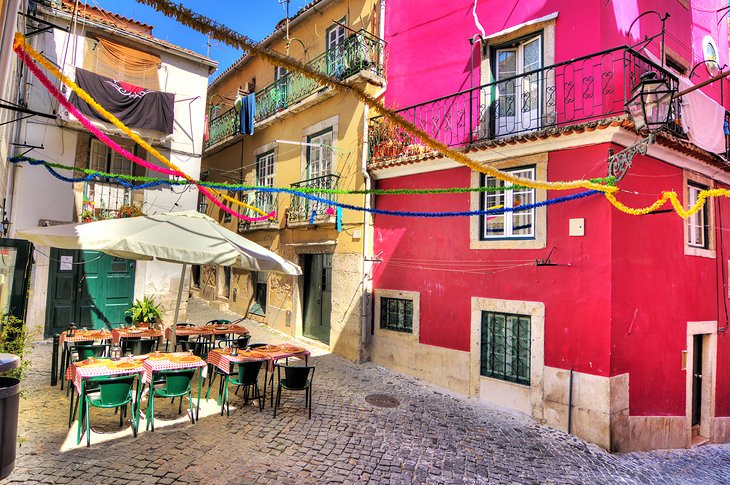 Dining on the streets of Lisbon
Where to Eat: Lisbon's restaurant scene is vibrant and eclectic, and you'll find eateries to suit every taste and budget. Tucked away in the Baixa is Prado. Styled in a contemporary manner, the restaurant offers a menu of seasonal fare created using locally sourced produce. For traditional Portuguese cuisine plated up in a delightfully Bohemian ambiance, arrive early at A Taberna da Rua das Flores, located in Chiado. This shoebox-sized venue is very popular, and you'll probably end up queuing for a table – but the experience is well worth the wait!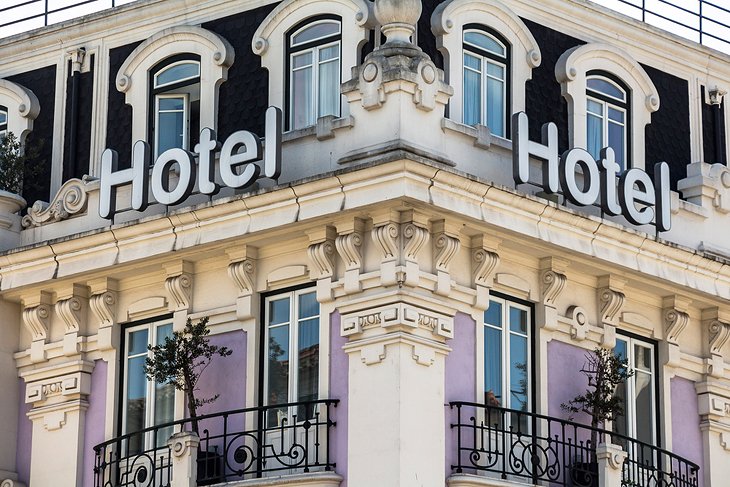 Lisbon Hotel
Where to Stay in Lisbon: Overnight accommodation options in Portugal's capital city range from exclusive five-star properties to humble, value-for-money B&Bs.
Luxury Hotels: The plush Olissippo Lapa Palace is located in a leafy residential area west of the city center. Set regally in private subtropical gardens, this is one of Lisbon's most prestigious hotels. Some of the rooms are housed within the original 19th-century palace and are sumptuously furnished. Leisure facilities include a spa and gourmet restaurant, among other upscale guest facilities.
Offering a more central location is Pousada de Lisboa. This stately hotel is the epitome of urban luxury and commands an enviable position overlooking Terreiro do Paço. As a pousada – a building of noble heritage and historic provenance – the property exudes an elegant and refined character rarely found in the city center.
Mid-Range Hotels: Accommodation options in this category are plentiful and include Inspira Santa Marta Hotel. This chic boutique bolthole was the first hotel in Lisbon to be awarded a Green Globe citation for environmental sustainability. Rooms are designed following the Feng-Shui principal of using energy forces to harmonize individuals with their surrounding environment and the result is a wonderful zen-like ambiance, which immediately relaxes and revitalizes.
Similarly, Memmo Alfama radiates a charming and understated atmosphere akin to staying in the home of an old friend. Nestling in Alfama, Lisbon's oldest neighborhood, the building upholds the district's unique character by blending perfectly into its surroundings. Besides the location, the wow factor extends to a fantastic rooftop infinity pool.
Budget Hotels: Budget travelers are spoilt for choice in Lisbon. A solid bet is Lisbon City Hotel, a three-star property located just a 15-minute walk from the city's Rossio and Baixa areas. Modern and comfortable, the hotel offers double and twin bedrooms: those on the uppers floors command enviable balcony views of the castle! Breakfast is included in the rate.
TWO-DAY ITINERARY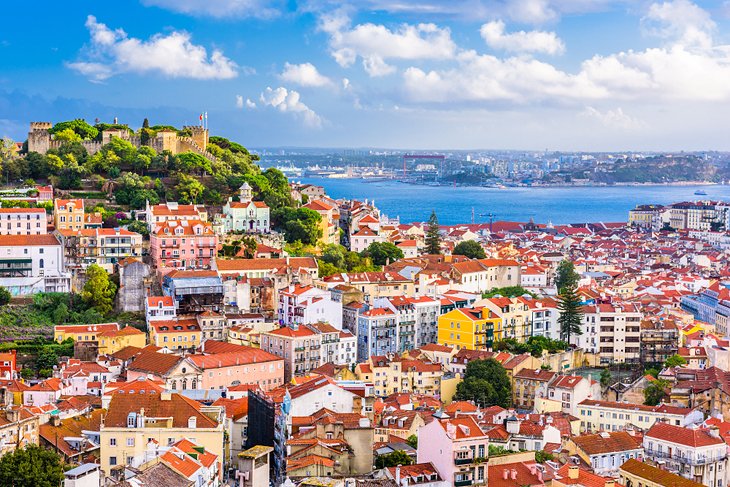 View over Lisbon
Day 1
With 2 days in Lisbon you can really start to absorb all the history and culture this vibrant European capital has to offer.
You can organize your first day's sightseeing by following our one-day itinerary, although you might want to start the day browsing the Lisboa Story Centre.
Located in Terreiro do Paço (also known as Praça do Comércio) in the city's Baixa (downtown) area, this family orientated visitor attraction provides a fascinating interactive introduction to the Portuguese capital, which includes a truly compelling recreation of the terrible 1755 earthquake.
Day 2
Things to Do: Lisbon is a hilly capital but by choosing a Lisbon Hills Electric Bike Tour you can join other cyclists and peddle up to the lofty neighborhoods of Graça, Alfama, and Bairro Alto with incredible ease. Alternatively, if you really like stretching your legs, embark on a Lisbon in One Day Small-Group Tour, an immersive eight-hour jaunt through popular neighborhoods including Belém, celebrated for its UNESCO World Heritage Sites.
However, if you're happier working to your own schedule, head over to the aforementioned Belém and the Mosteiro dos Jerónimos, the city's beautiful 16th-century monastery building set near the river.
Nearby is the impressive Padrão dos Descobrimentos, the Discoveries Monument. Climb to the top for sweeping views of the monastery and riverfront.
You should also make time to browse Belém's astonishing collection of carriages housed in the Museum Nacional dos Coches. The display showcases elaborately decorated horse-drawn vehicles from the 16th to the 19th centuries, including Berlins, dripping in gilded wood, used to transport royalty and other dignitaries.
From the museum, a 20-minute riverside amble west brings you to the quirky Torre de Belém, another dazzling 15th-century architectural gem. Afterwards head back to the cluster of shops near the monastery.
Pop into Antiga Confeitaria de Belém and treat yourself to one of their pasteis de Belém – delicious custard tarts baked to a centuries-old secret recipe.
Smitten by Belém? Depending on the weather and time of year, a lovely way to embrace early evening is to embark on a Tagus River Sunset Cruise in Lisbon. In the best tradition of those pioneering Portuguese navigators, the sailboat allows passengers to discover historic landmarks from the water. Later, you can applaud the sun as it dips below the Atlantic horizon.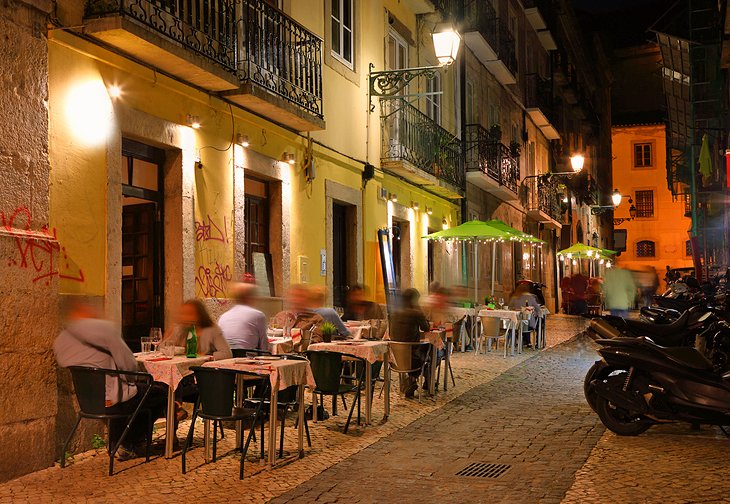 Dining in the evening in Lisbon
Where to Eat: A good lunch option in Belém is Portugália, a restaurant set within a water feature under the shadow of the Discoveries Monument. Food is served with glorious rivers views.
Back in town, another appetizing midday dining option is Mercado Cafe, a fashionable bistro-style eatery set near Igreja de São Roque in Chiado.
Still in Lisbon, why not wrap up the day with a night out at Pátio at Bairro do Avillez? This funky Chiado dining spot prepares authentic Portuguese food with a modern flourish for those with healthy appetites.
THREE-DAY ITINERARY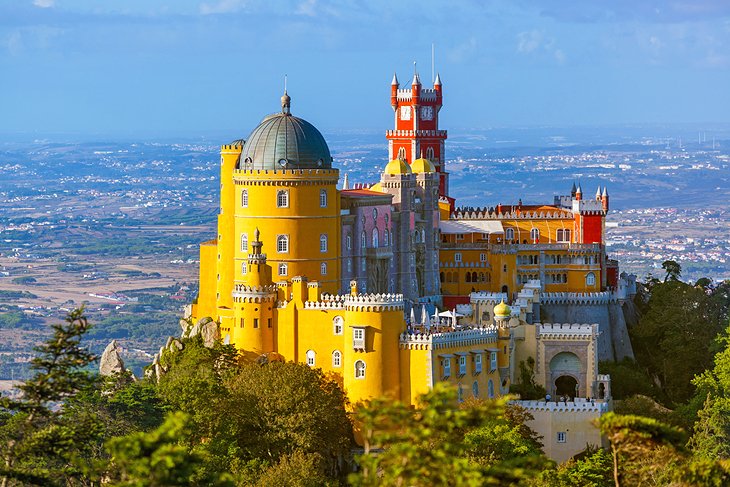 Pena Palace in Sintra
Day 1 & Day 2
If you have 3 days in Lisbon you will have plenty of time to familiarize yourself with even more must-see monuments, and one or two excellent museums. Visitors can follow the itineraries of day 1 and day 2 according to their own sightseeing priorities.
Day 3
Things to Do: With a host of historic landmarks and cool sites already under your belt, you might want to explore beyond the city and include a day trip. With three days you can add on a Sintra and Cascais Small-Group Day Trip from Lisbon. This guided tour takes in one of Portugal's most charming destinations, a town with a collection of magical UNESCO World Heritage Sites, including the splendid Palácio National and the fairytale Palácio da Pena. In contrast, the vibrant seaside resort of Cascais blends a 19th-century veneer with cosmopolitan flair.
If you're the outdoors type and decide to go it alone, the verdant Parque da Pena is invigorating hiking territory and definitely worth treading after absorbing Sintra's period charm.
Similarly, about 1.5 kilometers west of Cascais town is Boca do Inferno (Hell's Mouth), a collapsed sea cave sculptured over centuries by a restless Atlantic Ocean. This dramatic natural wonder is at its most spectacular on wild, windy days, when huge waves crash and collide over its rim. The cave is an easy half-hour stroll from the town center.
If you're still in an independent sightseeing mood, head east out of Lisbon to Parque das Nações and the fabulous Oceanário de Lisboa.
This huge aquarium complex features four marine habitats and an outstanding array of happy mammals, birds, and fish. This is one of Portugal's most popular tourist attractions and is a great family draw! Allow a full morning to greet its aquatic residents.
If you only browse one museum during your Lisbon vacation make sure it's the Museu Calouste Gulbenkian, located off the city's Praça de Espanha. The astonishing collection of eastern and western exhibits spans over 4,000 years of art history and is simply jaw dropping in its breadth and rarity.
Another major museum to consider is Museu Nacional de Arte Antiga, Portugal's national gallery. The illuminating art displayed here represents some of the most revered and influential Portuguese artists of the 15th, 16th, and 17th centuries. The museum is sited in the Santos area of Lisbon.
A suitable finale to your three-day sightseeing is to relax at any one of the cafes lining Terreiro do Paço, Lisbon's noble square, where centuries of earlier explorers from far-flung countries made their own grand entrance into Portugal's thriving capital city.
Before you take your table, however, consider a diversion to the top of Arco da Rua Augusta, the landmark Triumphal Arch that overlooks the plaza. The sweeping panoramas afforded visitors from the viewing terrace are simply outstanding.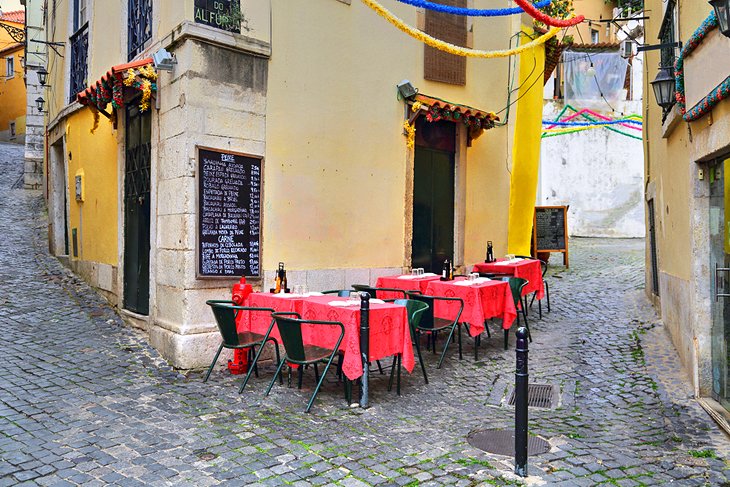 Restaurant in Lisbon
Where to Eat: Foodies looking for an exceptional dining experience will be rewarded at Belcanto, an intimate two Michelin-star establishment tucked away in Lisbon's Chiado neighborhood. This is where to appreciate supremely crafted Portuguese and international gastronomy in contemporary yet understated surroundings.
For a more down-to-earth option, Antigo 1º de Maio in Bairro Alto serves up authentic and traditional Portuguese fare in a welcoming no-nonsense manner. Family groups are welcome.
One of the great culinary experiences everybody visiting the Portuguese capital should come away with is dining at a fado restaurant. These "houses" serve up traditional dishes accompanied by voice and guitar – the solemn but romantic music of loss and yearning Portugal is famous for. Some of the most authentic interpretations can be heard at O Faia, in Bairro Alto.
By: www.planetware.com