Curious about the best places locals love to eat on Hawaii Big Island and on the hunt for a tasty meal? Then you're in luck because a great selection of divine dining options lies scattered around Hawaii Island, from unpretentious local eateries to upmarket international restaurants.
With tourism comprising much of Big Island's commercial activity, many restaurants lack authenticity because they cater to the vacation crowd. So give these gastronomic tourist traps a wide berth and opt to dine alongside the locals at one of our recommended venues instead. Focused on serving freshly prepared and affordable fare, these charming local restaurants are a guaranteed culinary treat.
1. Jackie Rey's Ohana Grill
A laidback seafood joint serving delicious fresh fish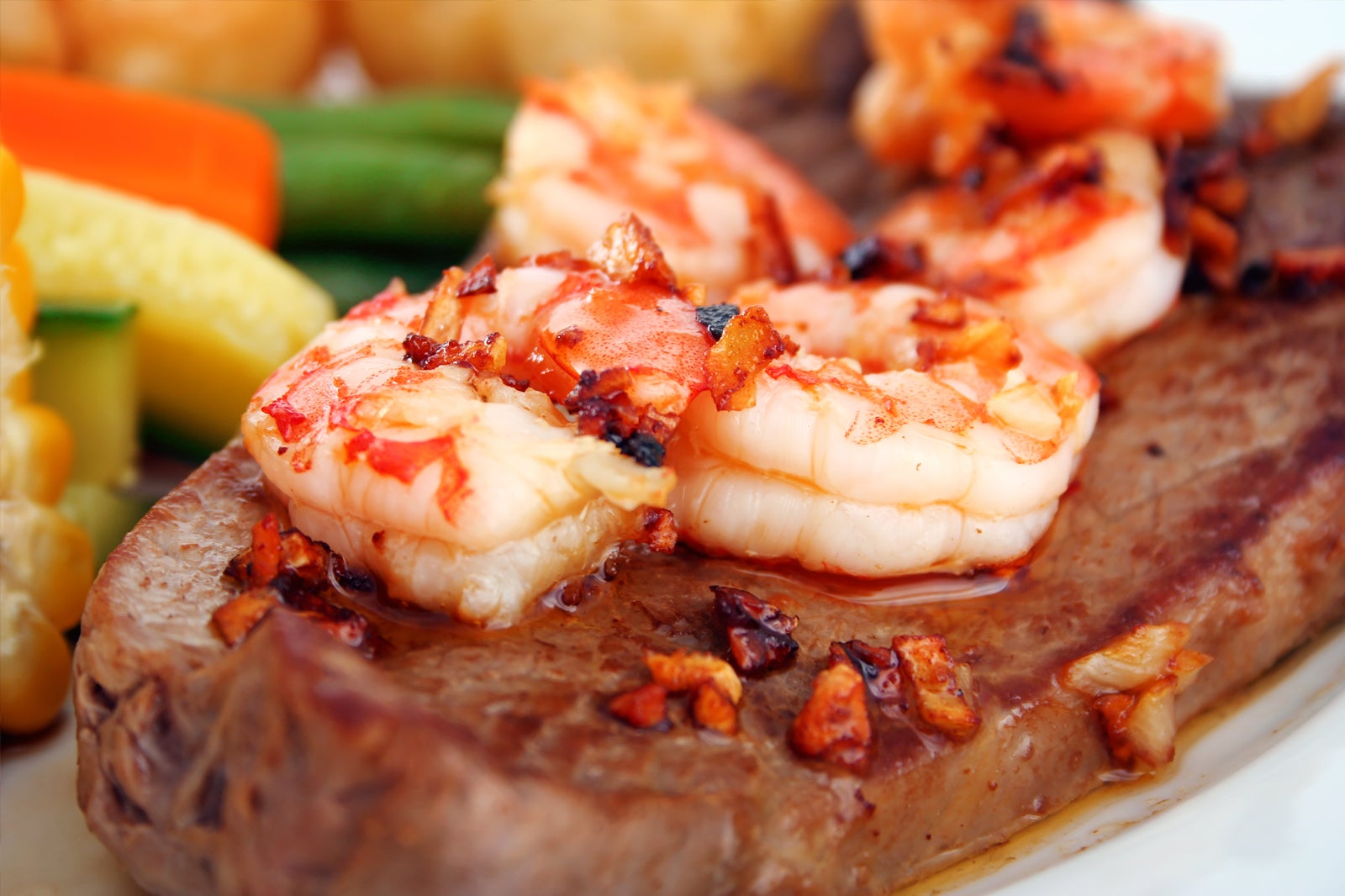 Jackie Rey's Ohana Grill sits a few blocks back from the beach in a suburban area of southern Kailua-Kona, a world away from the hubbub of the city's otherwise touristic heart. And although you won't get an ocean view at this casual local haunt, the seafood here is splendid, and the service is superb.
The laidback seafood shack specialises in the catch of the day, with wasabi-crusted calamari and linguini sauce-laden clams among its standout dishes. Of course, plenty of landlubber's favourites are available, too, such as juicy barbeque ribs and succulent pork chops. Or better yet, enjoy the best of both worlds with their signature Surf n' Turf.
Location: 75-5995 Kuakini Hwy STE 1, Kailua-Kona, HI 96740, USA
Open: Monday–Friday from 11 am to 9 pm, Saturday–Sunday from 5 pm to 9 pm
Phone: +1 808-327-0209
2. Hawaiian Style Café
Traditional Hawaiian fare in a homely atmosphere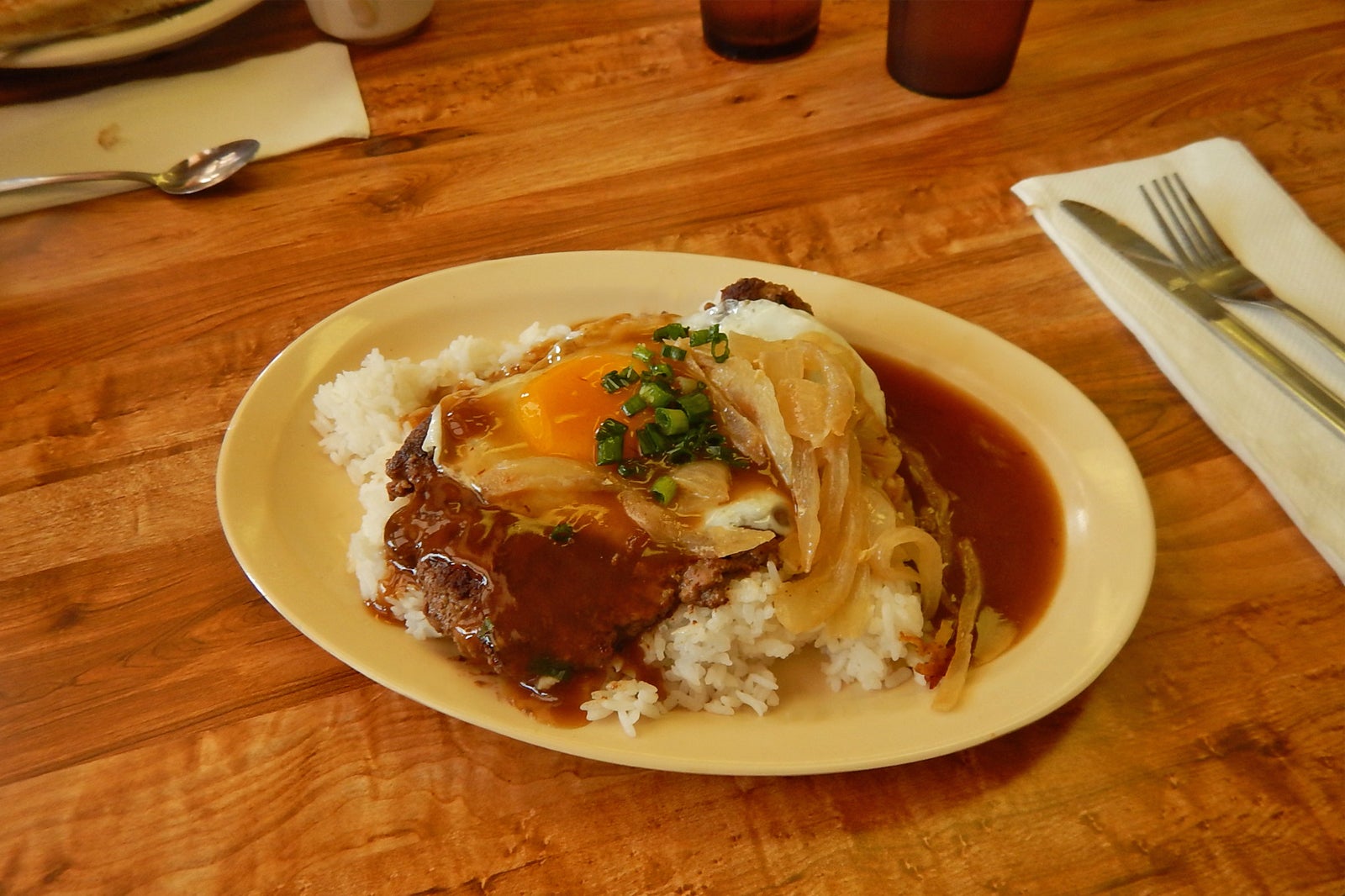 There's no question Hawaiian Style Café lives up to its name – the homely cafeteria serves a mouthwatering array of regional delicacies like loco moco, mahi-mahi fish sandwiches, and breakfast bowls brimming with pineapple. All your favourite American classics adorn the menu as well, with huge portions that are almost enough for 2. Big eaters should give the Loco-Moco-Saurus a try; it's a monster of a meal that few punters manage to finish.
The Hilo Bay venue sits a few blocks off the beach, so ask for takeout if you want to dine with a sea view. There's also another branch up north in Waimea that serves the same delicious fare.
Location: 681 Manono St, Hilo, HI 96720, USA
Open: Sunday–Monday from 7 am to 2 pm, Tuesday–Thursday from 7 am to 2 pm and 5.30 pm to 8.30 pm, Fridays from 7 am to 2 pm and from 5.30 pm to 8.30 pm
Phone: +1 808-969-9265
3. Island Fish & Chips
A cheap hole-in-the-wall haunt with amazing seafood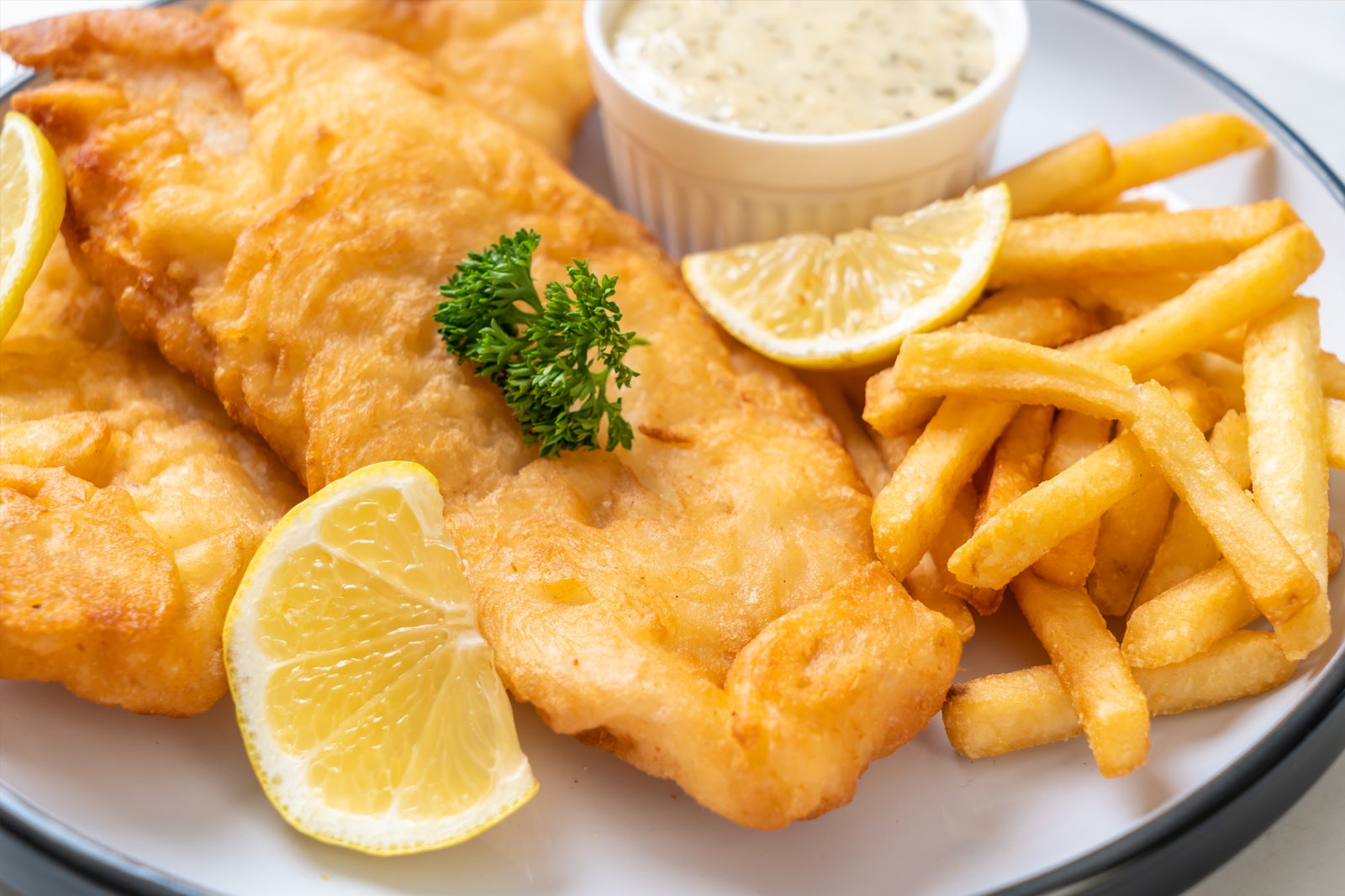 Island Fish & Chips doesn't look like much; it's a hole-in-the-wall kind of place in a non-descript Waikoloa shopping strip. But looks can be deceiving as this affordable eatery plates up some of the finest seafood on the island. The tastiest dish would have to be the fresh fish tacos, although the signature fish and chips comes in a close second, served extra flaky and smothered in crispy batter.
Other awesome options include the crab cakes and volcano shrimps, both of which are best devoured with a side of sweet pineapple slaw. There's no in-house seating, so grab a spot on the public gazebo by the waterway.
Location: 69-250 Waikoloa Beach Dr # D3, Waikoloa Village, HI 96738, USA
Open: Daily from 7.30 am to 9.30 pm
Phone: +1 808-886-0005
4. Cafe 100
Home of the first and the best loco moco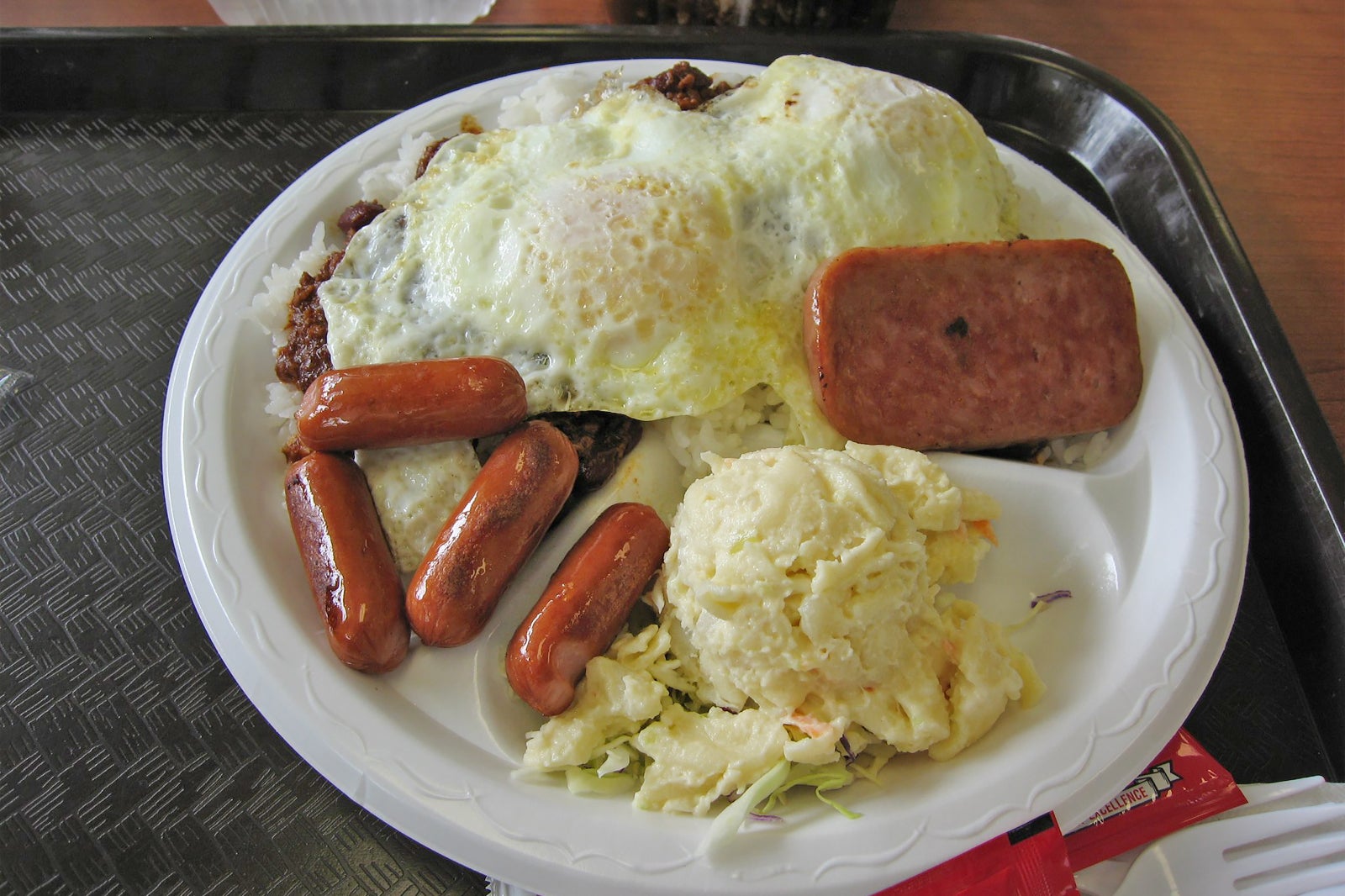 Head to Café 100 to sample the original loco moco, a popular regional dish. Legend has it this unpretentious local eatery served its first incarnation back in the '40s. Not sure what to expect? You'll get a mountain of white rice with a succulent slab of meat smothered in gravy and topped with an egg, sunny-side up. Café 100 dishes out 30 varieties of this quintessential Hawaiian classic, featuring everything from fish to chicken and Portuguese ham.
Locals also love this famous Hilo Bay haunt for its meatloaf, pupu platters, and other decadent comfort foods. Regardless of what you order, it'll cost very little and come out in less than 5 minutes flat.
Location: 969 Kilauea Ave, Hilo, HI 96720, USA
Open: Monday–Saturday from 6.45 am to 7 pm
Phone: +1 808-935-8683
5. Da Poke Shack
More poke than you can poke a stick at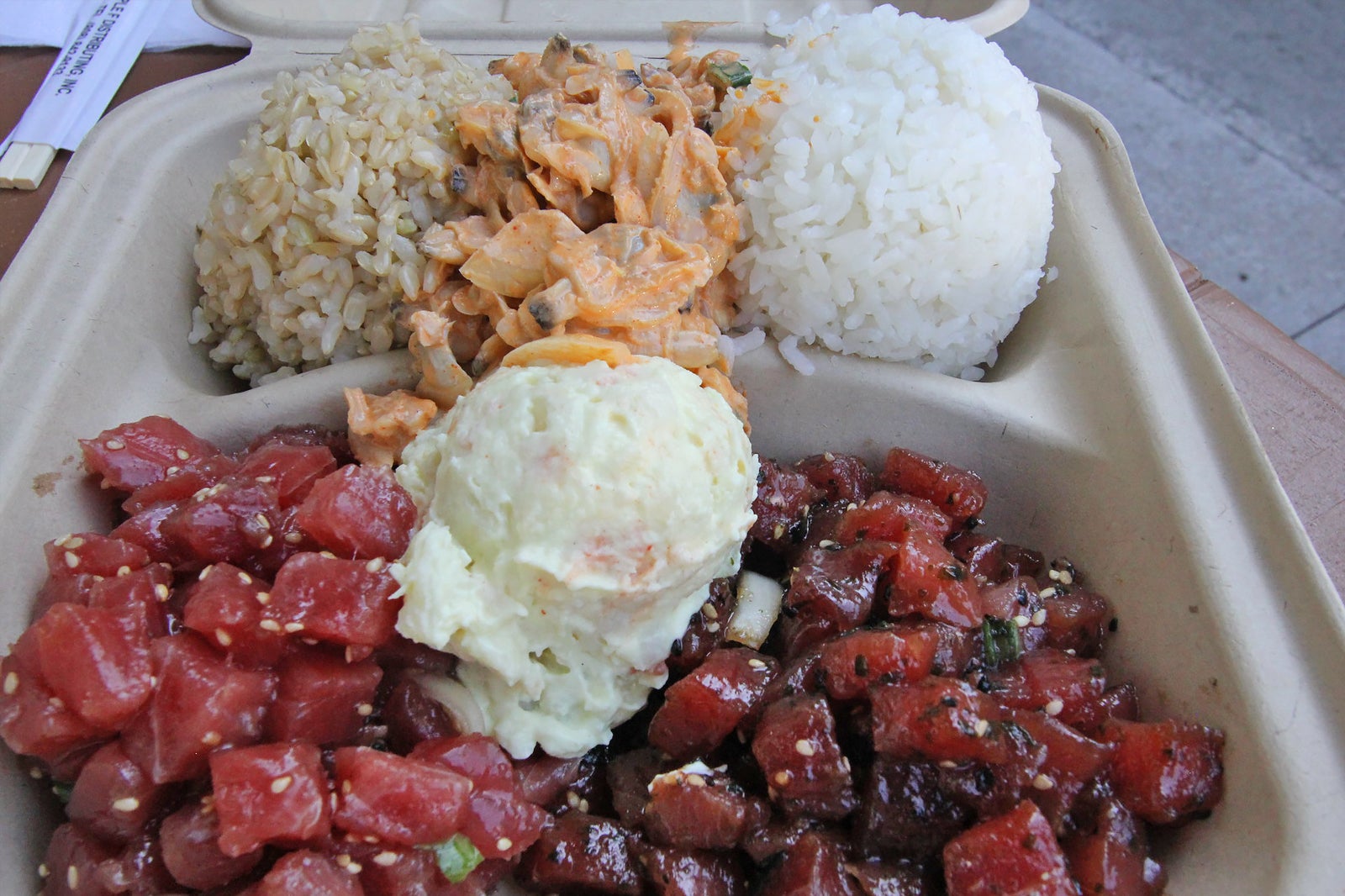 Da Poke Shack is the best place on Hawaii's Big Island to sample – you guessed it – poke, a diced raw fish dish traditional to Hawaii. A mind-boggling array of tempting poke variations adorns the menu at this casual takeaway haunt, including a few pulled-pork options for the non-fish-eaters out there.
Tuna aficionados should try the Spicy Pele's Kiss, but be warned – it packs a hell of a punch. Less eye-watering sauces like Korean soy and homemade mayo add flavour to every bite, while sides like garlic sesame edamame keep your belly content. Can't pick just one? Da Poke Shack does a quadruple poke sampler dish. Come early and expect to wait in line because the joint sells out almost every day.
Location: 76-6246 Ali'i Drive, Kailua-Kona, HI 96740, USA
Open: Daily from 10 am to 5 pm
Phone: +1 808-329-7653
6. Cafe Pesto
Italian food done right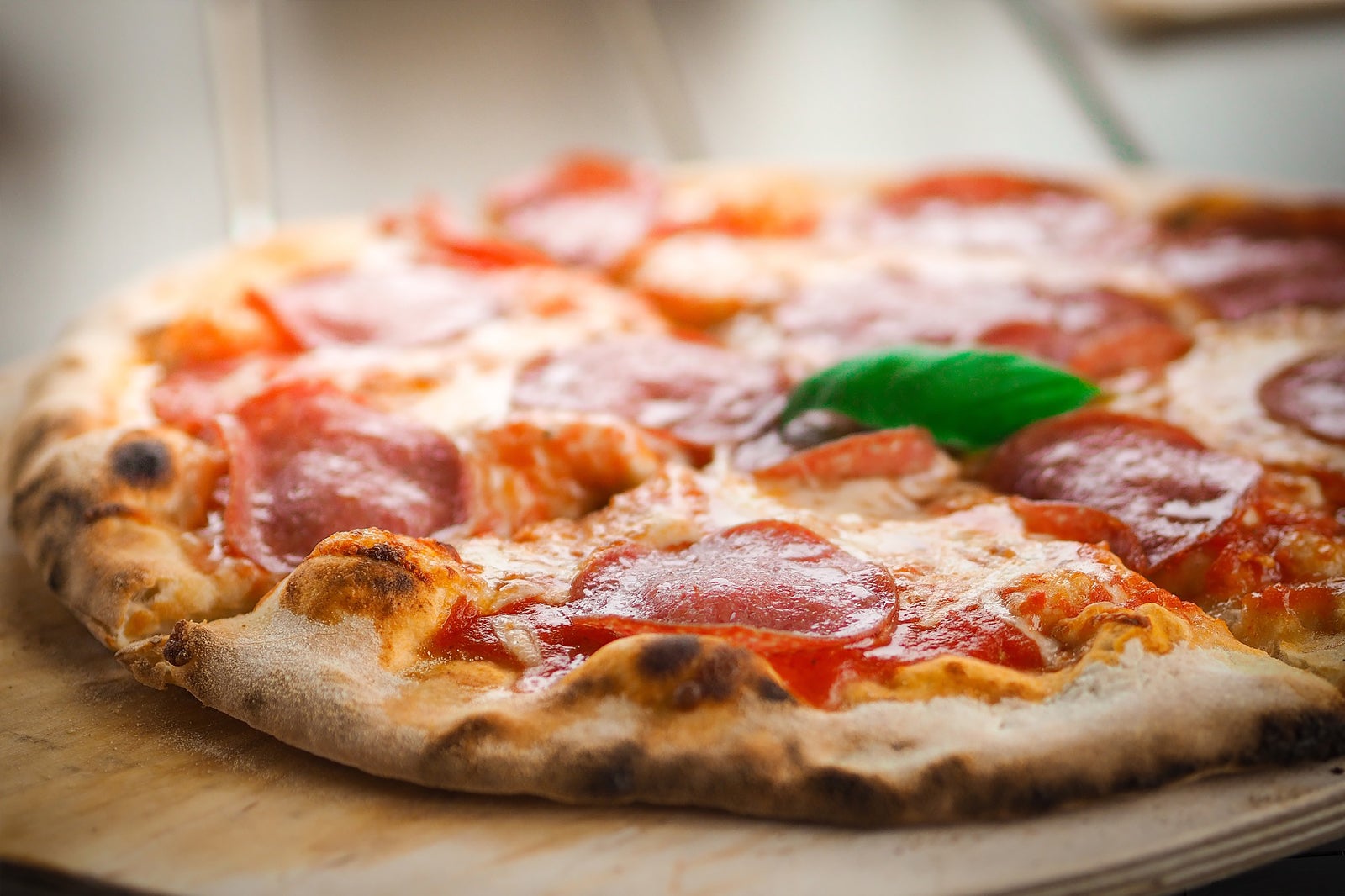 Cafe Pesto serves the most mouth-watering Italian fare in Hilo, boasting a delectable selection of wood-fired pizzas and handmade pasta to tempt the palate. In addition to your traditional time-honoured recipes, the team plates up a few contemporary fusion options like wasabi snow crab Caesar salad or stromboli with shrimp tempura.
Although the salads (try the pesto) and sandwiches are on point, most folks come for the pizza, served extra crispy, and topped with anything from chipotle-seasoned chicken to shiitake mushrooms and chilli-grilled shrimp. Make a reservation because the place packs out with local businessmen and hungry travellers alike.
Location: 308 Kamehameha Ave #101, Hilo, HI 96720, USA
Open: Tuesday–Sunday from 11 am to 7 pm
Phone: +1 808-969-6640
7. Merriman's
Upmarket dining the locals adore
Merriman's has been tantalising tastebuds for over 2 decades, a true Big Island institution famed for its exquisite locally sourced fare. Head chef Peter Merriman owns several restaurants around the island state, and many argue this branch in the quaint country town of Waimea is his best. It may be a tad pricier than our other recommendations, but the exceptional cuisine and service are well worth the splurge.
So what's on the menu? The lobster pot pie makes for an enticing entrée, while the flame-grilled crab or kalua pork saimin are 2 superb mains. If you've still got room for dessert, you can't go past the signature coconut creme brulee. The venue's always busy, so book in advance or risk missing out.
Location: 65-1227 Opelo Rd B, Waimea, HI 96743, USA
Open: Daily from 11.30 am to 2 pm and from 5 pm to 9 pm
Phone: +1 808-885-6822
8. Island Lava Java
Big Island coffee and tasty cuisine overlooking the ocean
Caffeine addicts flock to Island Lava Java in droves to savour this cute little café's locally sourced Kona coffee, be it in a steamy espresso or a freshly brewed pot. Of course, nothing accompanies coffee better than dessert, and their selection of rich, homemade cakes and silky artisanal ice cream certainly hits the spot. If you fancy something more savoury, you'll be pleased to hear their pizzas, sandwiches, and eggy breakfasts are equally divine.
Grab a seat on the oceanfront patio to enjoy your meal alfresco while staring out over the Pacific. Live musicians pop round to play most days, which adds an extra layer of magic to the atmosphere.
Location: 75-5801 Ali'i Dr Building 1, Kailua-Kona, HI 96740, USA
Open: Daily from 6.30 am to 9 pm
Phone: +1 808-327-2161
9. Pineapple's Island Fresh Cuisine
Everything on the menu comes with pineapple
Pineapple's Island Fresh Cuisine is half restaurant, half hip watering hole, and is all about showcasing Hawaii's most emblematic fruit. Virtually every dish on the menu – from the kalbi short ribs to the mahi-mahi fish and the creative cocktails – manages to sneak a tangy portion of the good stuff in there somewhere.
Although it may sound like a tacky themed restaurant for tourists at first glance, locals love this place for the reasonable prices and the high quality of the fare. The staff does a stand-up job at keeping customers happy despite how busy it gets, and live music in the evenings adds a fun, festive vibe.
Location: 332 Keawe St, Hilo, HI 96720, USA
Open: Tuesday–Thursday from 11.30 am to 9.30 pm, Friday–Saturday from 11.30 am to 10.00 pm, Sundays from 11.30 am to 9.30 pm
Phone: +1 808-238-5324
10. Big Island Grill
For hearty breakfasts and grills
Although the Big Island Grill opens all day, it's their breakfasts that really shine. Think healthy options like oatmeal and fresh fruit or decadent delicacies like juicy fry-ups with crunchy hash browns.
Come lunch and dinner, traditional hometown Hawaiian dishes do the rounds, the loco moco and friend shrimp being among the most popular choices. Locals love this casual and affordable eatery for its enormous portions of tasty authentic fare, so don't be surprised if you have to stand in line. And if you're still hungry after polishing off your plate (we seriously doubt it), the desserts are delectable.
Location: 75-5702 Kuakini Hwy, Kailua-Kona, HI 96740, USA
Open: Monday to Saturday from 7 am to 8.45 pm, Sundays from 7 am to 11.30 am
Phone: +1 808-326-1153
By: uk.hotels.com