There's so much to do on mainland Australia, many travelers might not realize there are 8,222 islands off its shores. Each of Australia's beautiful islands are completely unique, with their own species of wildlife, flora, fauna, climates and landscapes. Here are some of our top picks.
Kangaroo Island, South Australia
Where is it?
Kangaroo Island lies just off the coast of South Australia, 69mi (112km) southwest off the coast of Adelaide. It's a 45-minute ferry ride from Cape Jervis.
What can you do there?
Kangaroo Island has 316mi (509km) of coastline and is 96mi (155km) and is the country's third largest island. Despite the name, there is more to the island that kangaroos (although you will see them hopping about in the bush) and more than a third of the island is a nature reserve, home to native wildlife including sea lions, koalas and diverse bird species.
There are 15 bird species and 52 plant species which can only be found on the island. You can get incredibly close to wild sea lions as they bask on the beach at Seal Bay, and spot koala bears munching on eucalyptus trees in Hanson Bay.
Kangaroo Island has miles of beautiful beaches, and perhaps the most stunning is Vivonne Bay, once voted Australia's Best Beach. Thrill-seeking backpackers can spend a day sandboarding down the sand dunes at Little Sahara and race around on quad bikes at sunset for a unique chance to spot kangaroos and other wildlife.
Don't miss Remarkable Rocks, aptly named granite boulders made over 500 million years by the rain, wind, and pounding waves and which are now part of the Flinders Chase National Park. Hike the five-day Kangaroo Island Wilderness Trail, or spend a night or two with Wallaby Bob will welcome you into his home and take you on a night fishing experience at Baudin Beach.
The island is also home to a thriving food and wine scene, and produces wines, beers, spirits, plus cheese, ice-cream, honey and much more.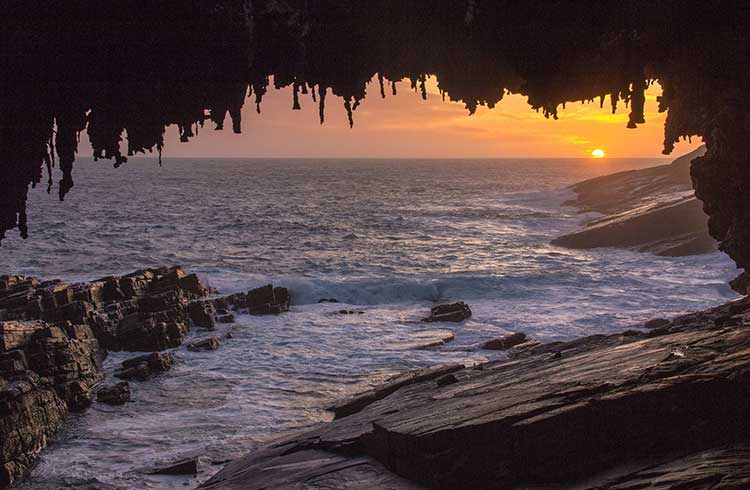 Kangaroo Island. Photo credit: Pixabay/envasa
Getting there
If you're visiting Adelaide you can consider taking a tour to the island departing from the city or a flight from Adelaide with QantasLink (three times a week, five times in the summer). Alternatively, if you prefer to make it into a road trip, you can make your way over to Cape Jervis (two hours from Adelaide) and take the SeaLink passenger/car ferry which drops you off in Penneshaw.
Rottnest Island, Western Australia
Where is it?
Affectionately called "Rotto" by the people of Perth, Rottnest Island sits off the coast of Perth in Western Australia.
What can you do there?
Rottnest Island got its name from the Dutch for 'rat's nest' because explorers thought that the island's native quokkas looked like giant rats. They're not rats, they are in fact marsupials which resemble pint-sized kangaroos, and you'll find them all over the island.
The island is a popular place for Perthians to take a weekend break and enjoy hiking, surfing and fishing on offer. There are no cars permitted on the island, so most people explore by bicycle, on foot or by using the island bus service. Hire a bike to ride the cycle paths or take a scenic flight for an aerial view of the reefs, beaches and salt lakes. Spend an afternoon on one of Rotto's 63 gorgeous beaches and dive or snorkel over the island's coral reefs to explore the marine life and shipwrecks.
Rottnest Island. Photo credit: Pixabay
Getting there
Ferry services run from Hillary's Boat Harbor in the north of Perth (45 minutes), Barrack Street Jetty in Perth's city center (90 minutes) and Fremantle (Victoria Quay and Rous Head) in the south (25 minutes).
You can also fly from Jandakot Airport to Rottnest Island with Rottnest Air Taxi (12 minute flight time). If you're lucky, you might know someone in Perth who can take you across in their boat.
Rottnest Island has a Government implanted admission fee, which starts from AU $18.50 per adult for a day, or AU $24.50 per overnight stay. This fee can be included in the transportation ticket cost to the island, but it is best to check to avoid any unexpected costs on the day.
Fraser Island, Queensland
Where is it?
World Heritage-listed Fraser Island lies off the coast of Queensland, near Hervey Bay, just north of the Sunshine Coast.
What can you do there?
The world's largest sand island Fraser Island is more than 75mi long (120 km), and is a favorite for backpackers and four-wheel drivers who love driving along the empty beaches.
Seventy-Five-Mile Beach is an actual highway and has a speed limit of 49mi/hr (80km/hr), while the inland roads have a limit of 21mi/hr (35km/hr). Driving conditions vary with the tide and weather, but normal road rules apply. Seventy-Five Mile Beach is also one of the best beach fishing locations in the world.
Fraser Island has rainforest that runs down to the beach, and beautiful freshwater lakes including Lake McKenzie with its powder-white sands, and vivid green Lake Wabbyroll, surrounded by the sand dunes.
Take a dip in the Champagne Pools, as the water from the ocean crashes against the rocks, and look out for the abundance of wildlife, including 47 species of mammals, more than 354 species of birds and 79 species of reptiles.
Accommodation on Fraser Island ranges from luxury to budget, and is a great camping spot with several campgrounds where you can cook your own meals, set up tents and camp out under the stars.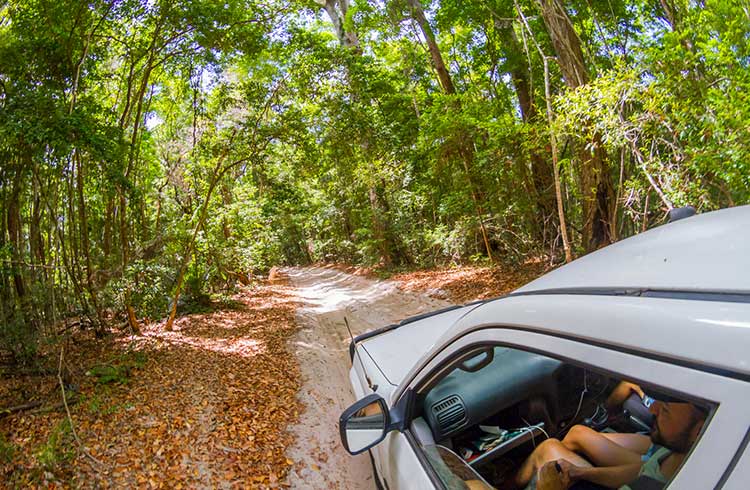 Driving the inland tracks of Fraser Island. Photo credit: Getty Images/ampueroleonardo
Getting there
Fraser Island is strictly for 4x4s because of the sandy conditions. If you don't like the idea of driving, you can take a bus tour from Rainbow Beach or Hervey Bay. You can also book a self-drive experience where you will be arranged into groups at your hostel in Rainbow Beach or Hervey Bay. You'll go shopping for food with the other backpackers in your group and be shown how to use your 4×4. You'll then pack up your vehicle and make your way to the ferry point to start your Fraser Island experience. If you're traveling with friends and would like to do it yourselves, then you can hire or use your own 4×4 and take the ferry over from Hervey Bay to the island.
You will need a special access permit to drive on Fraser; if you're on an organized experience this will be done for you, but otherwise, you need to obtain one. Alternatively, you can fly to Hervey Bay from Sydney, Melbourne or Brisbane before taking the ferry across to the island.
Magnetic Island, Queensland
Where is it?
Magnetic Island is 4.9mi (8km) off the coast of Queensland, and can be reached by ferry from Townsville.
What can you do there?
Reached via a 20-minute ferry ride away from Townsville across Cleveland Bay and is home to more than 2,000 permanent residents. More than two-thirds of the island is a national park and has spectacular natural landscapes and seascapes including boulder-strewn headlands, hoop pines, sandy beaches and fringing coral reefs. Composed mostly of granite, Magnetic Island was once part of the mainland before the sea level rose about 7,500 years ago.
Rent a Topless Car or a Classic Moke and to explore Mt Cook, the highest point on the island, named for Captain Cook who discovered the island and believed it affected his compass, or head to one of the island's fantastic fishing spots..
Do the Forts Walk from Bungalow Bay Koala Village to spot one of the islands' more than 800 wild koalas. You can also climb concrete structures from the Second World War for panoramic views of the island.
Laze on the beach at Horseshoe Bay, and sit on the jetty at Picnic Bay as the sun sets over the ocean. Magnetic Island is also a wonderful place to snorkel, dive and try out some watersports.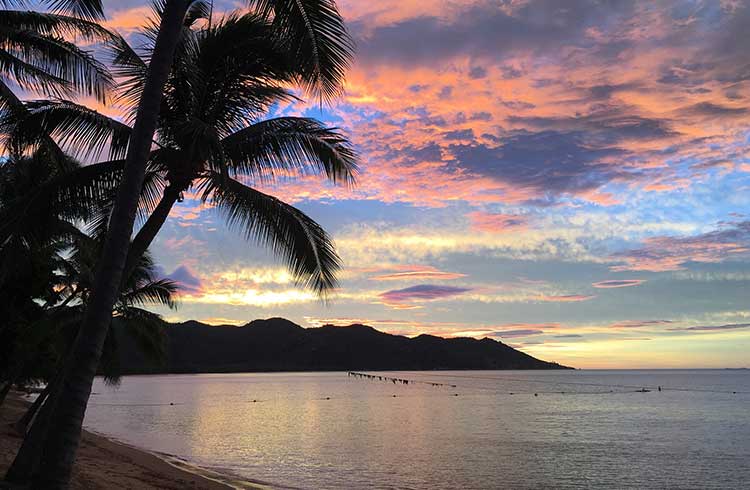 Magnetic Island, QLD. Photo credit: Pixabay/bangkokflame
Getting there
Take the passenger ferry or car/passenger ferry from Townsville to Magnetic Island. Booking ferry tickets online is encouraged.
Phillip Island, Victoria
Where is it?
Phillip Island lies off the coast of the state of Victoria, 90 mi (140km) southeast of Melbourne.
What can you do there?
Many visitors are attracted to Phillip Island to see the Penguin Parade, a nightly occurrence at Summerland Beach when hundreds of Little penguins come hesitantly ashore at sunset.
Take a cruise to Seal Rocks, where you can observe the largest colony of fur seals in Australia, or see koalas in their natural habitat at the Koala Conservation Center. Between May and October, you can take a boat trip to spot migrating whales or head to one of the world-class surfing spots.
Get your adrenaline pumping by go-karting on a 2,493ft (760m) scale replica of the Phillip Island Motorcycle Grand Prix Circuit or take a Hot Lap lightning ride around the real track with an experienced racing driver.
Learn how to catch rainbow trout at Rhyll Trout and Bush Tucker Farm and take-in the endless views from The Nobbies headland. Get lost in a world of optical illusions and puzzles at A Maze 'N' Things or watch chocolate being made at Phillip Island Chocolate Factory.
A koala lazes about in a tree on Phillip Island. Photo credit: Pixabay/MartinStr
Getting there
You can take the two-hour drive from Melbourne to Phillip Island or get on the V/Line bus which runs between Southern Cross Station in Melbourne and Cowes on Phillip Island. There is also a passenger ferry which travels from Stony Point on the Mornington Peninsula to Cowes.
The Whitsunday Islands, Queensland
Where is it?
The Whitsundays are a collection of 74 islands, off the coast of central Queensland, 695mi (1,120km) north of Brisbane, near the town of Airlie Beach.
What can you do there?
Characterized by dense rainforest, hiking trails and white sand beaches each of the Whitsunday's 74 islands is unique and spectacular, with lots to see and explore, and they are a mecca for sailors.
The islands are filled with bays, pure white sandy beaches, and transparent turquoise waters, which are perfect for snorkeling, sailing, swimming or other water sports activities. Most of the islands are uninhabited, but a few offer accommodation and campsites.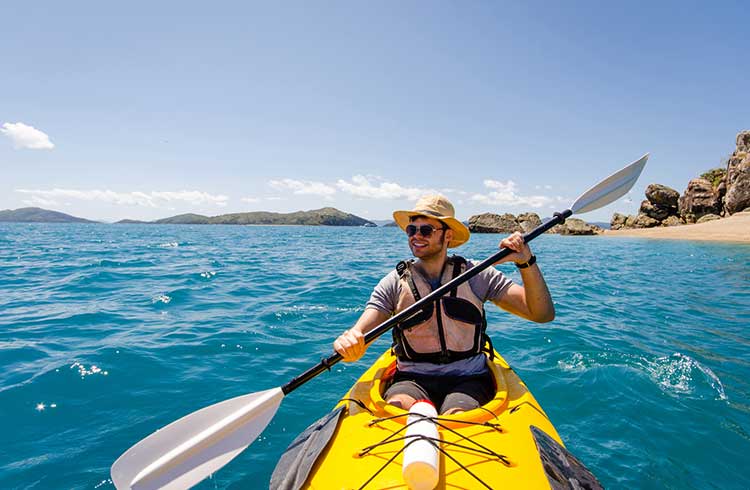 Sea kayaking the Whitsundays, Airlie Beach. Photo credit: Getty Images/Kat Clay
Getting there
Whitsunday Islands can be reached by plane with direct flights from Cairns, Brisbane, Sydney and Melbourne to Hamilton Island Airport or Whitsunday Coast Airport, Proserpine. Numerous companies rent yachts for hire and offer day and overnights trips around the islands with and without crew.
Lord Howe Island, New South Wales
Where is it?
Lord Howe is located 372mi (600km) northeast of Sydney, and is part of New South Wales.
What can you do there?
World Heritage-listed Lord Howe Island is home to one of the world's best day hikes, extraordinary snorkeling on the coral reef, fish that can be hand-fed on Ned's Beach and unique bird life. With only those born on the island allowed to own property, no major resorts and only one car per household allowed, and only 400 visitors allowed at a time, it is a peaceful paradise. Explore Lord Howe on foot or by bike, stop at the numerous wood-stocked bbqs around the island for lunch, snorkel in the lagoon, join a scuba diving trip to one of the 60 plus dive sites (including Ball's Pyramid and Erscotts Hole), or hike to the top of spectacular Mount Gower (not for the feint-hearted!)
Two-thirds of the island is covered by park preservation, with dozens of walking and hiking trails.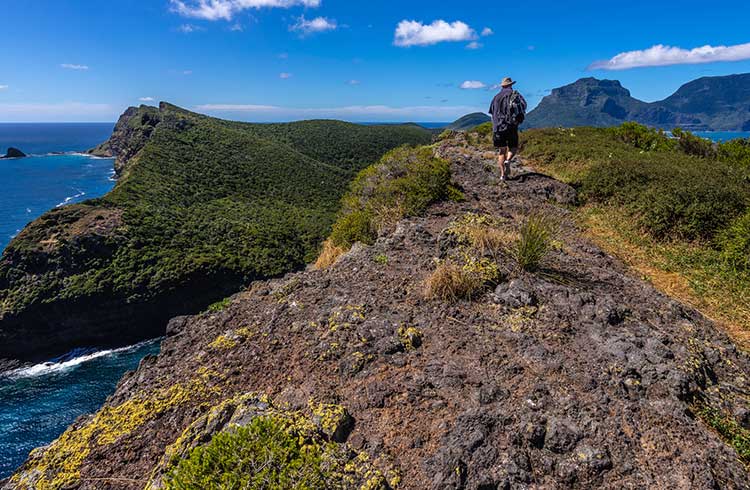 Hiking to the top of Mt Gower on Lord Howe Island. Photo credit: Getty Images/janetteasche
Getting there
Fly from Sydney or Brisbane to Lord Howe Island (flights aren't cheap).
Moreton Island, Queensland
Where is it?
Moreton Island is located 15mi (25km) off the coast of Brisbane, and is the third largest sand island in the world.
What can you do there?
Known for its beaches and steep sand dunes, Moreton Island attracts visitors to its lakes, lagoons, and three heritage sites. You can also go whale or dolphin watching, dive or snorkel, aexplore Moreton Island National Park, join a 4×4 tour, or experience the thrill of sand tobogganing.
Getting there
Moreton Island can be reached via a 75-minute ferry ride from Brisbane.
Norfolk Island
Where is it?
Norfolk Island is located in the South Pacific, a 2.5 hour flight from Australia or 90 minutes from New Zealand.
What can you do there?
Norfolk Island was settled by Great Britain in 1799 as part of the penal colony of Australia, and later by descendants of Bounty mutineers. The locals fill the island with unique culture, warmth and welcoming hospitality. There are opportunities to hike, run, explore, go bird watching, surfing, swimming, snorkeling, diving and much more.
Check out the Bounty Folk Museum, the Captain Cook Monument, Kingston and Arthur's Vale Historic Area, one of 11 historic sites that form the Australian Convict Sites World Heritage Property, the farmers' markets with an abundance of fresh produce, Emily Bay lagoon, and Anson Bay. Don't miss the Mt Pitt lookout for a 360-degree view of the island.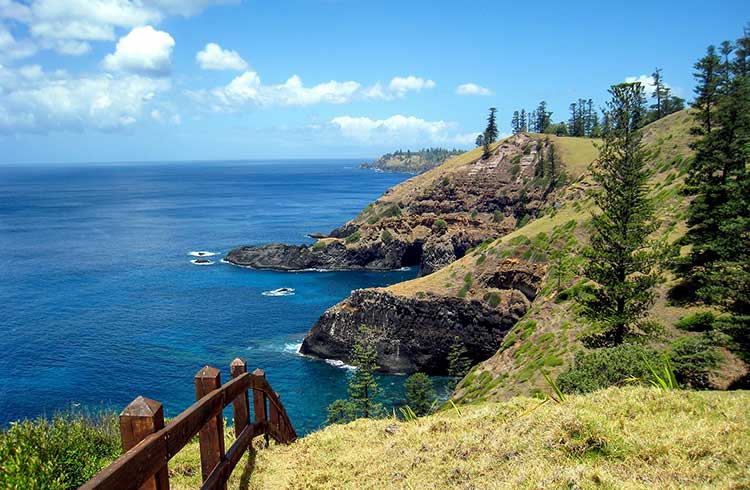 The coastline of Norfolk Island. Photo credit: Pixabay/pen_ash
Getting there
Flights from Sydney to the island are available Fridays and Mondays, or from Brisbane on Saturdays and Tuesdays.
Bribie Island, Queensland
Where is it?
Located less than an hour's drive north of Brisbane.
What can you do there?
Connected to the mainland via a bridge from Sandstone Point, Bribie Island has a small seaside village feeling, with only the southern end of the island urbanized, and over a third of it national park.
Visit Buckley's Hole on the southern tip of the island, a protected bird habitat and conservation park, home to over 350 species of birds.
Bribie Island has beautiful beaches for surfing or calmer waves for relaxing, bicentennial nature walks, camping facilities, markets, 4×4 driving, boat trips, dolphin spotting, watersports, and skydiving.
Getting there
Drive over the bridge over the Pumicestone Passage canal. The island has links with TransLink buses and Q rail from Brisbane.
By: Anny Wooldridge/ www.worldnomads.com