With cold beer, caipirinhas and great seafood, these bars, from the Algarve up to Porto, are as hot, bright and breezy as the stunning Atlantic coastline itself
NORTH OF LISBON
Bar Do Guincho, Praia do Guincho, Alcabideche
Praia Grande do Guincho is a soft stretch of beach just north of Cascais with reliable north-westerly winds; it hosts national and international surf and kitesurfing competitions. Luis Rebelo's chilled and slick beach bar opens June to September and combines comfort with cool.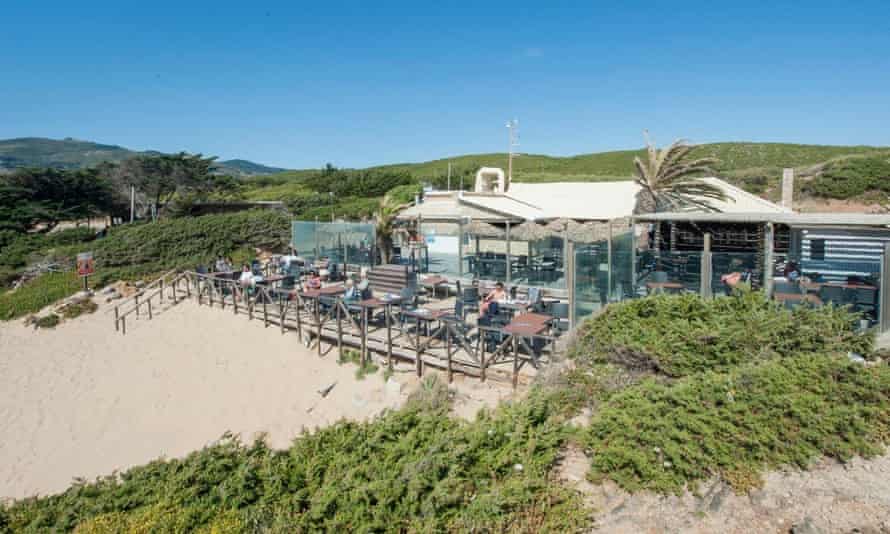 There are parasols and bean bags, caipirinhas and sunset parties plus a full menu of smartly presented dishes, from octopus salad to burgers and manifold fish mains. Luis's Wave Center next door rents top-notch watersports equipment and has hot showers.
Noah Surf House, Praia da Física, Silveira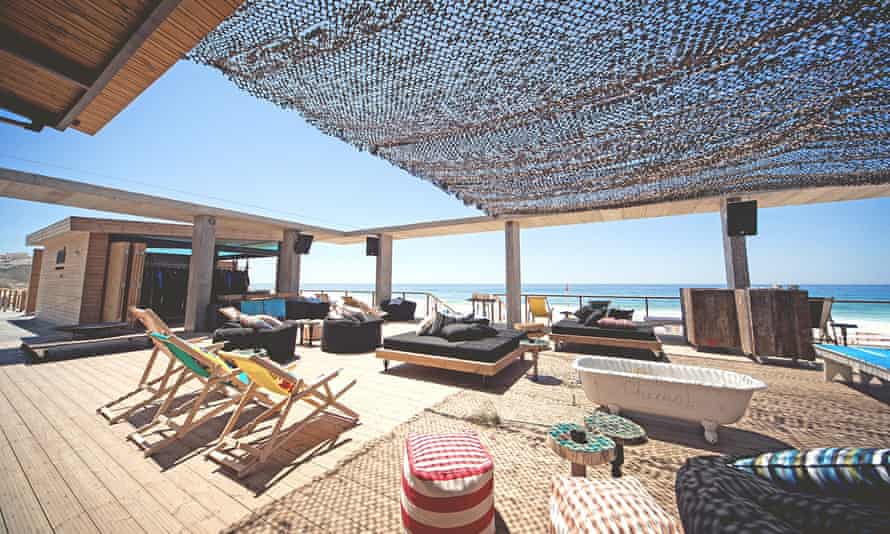 Lying between the more famous surf beaches of Ericeira and Peniche, the beaches around Silveira are less competitive, more family-oriented. Noah is full of heart and exemplifies the Portuguese knack for providing unaffected enthusiasm, good vibes, huge food and long drinks to accompany the rolling ocean views. There are shabby-chic sofas to lounge on, blackboards exhorting customers to "let the flavours awe your mouth", and a slow-wristed barman whose €5 mojitos sure brought back my mojo.
B'Art, Praia de Quiaios, Figueira da Foz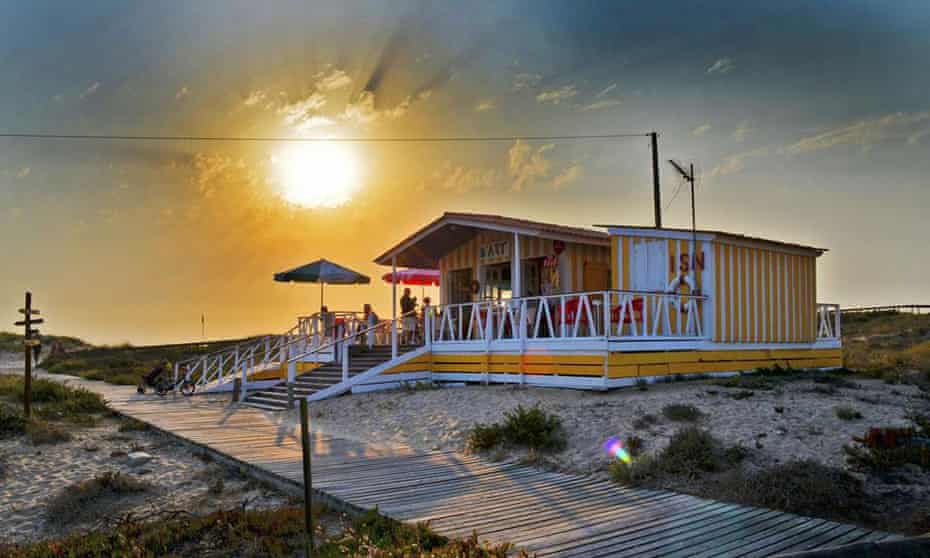 This raised candy-striped shack sits all by itself on quiet Quiaios beach, above Figueira da Foz on Centro's stunning Costa de Prata, with only the boardwalk between it and miles of empty sand. There are simple snacks to be had and sturdy sandwiches. An "imperial" is a 300cl glass of draft beer in Portugal. This far north, they're also called finos. An afternoon of sampling these had me feeling fine indeed, and gave B'Art the feeling of a contented island bobbing about in the dunes. Rarely have I been more happily adrift.
Old Beach Club Bar, Praia Velha, São Pedro do Moel
On low wooden stilts and bang on Praia Velha, Old Beach is an unpretentious, come-for-the-afternoon, stay-all-night joint. It's open all year and offers a busy roster of live music seasoned with karaoke and midnight skinny dipping. São Pedro do Moel is tiny (389 people) and pretty, nestling between enormous pine forests and the noisy ocean, and is proud of its 500-year-old aristocratic heritage. Forget all this as you pile into a beer and petiscos (bar snacks).
Praia da Luz, Foz, Porto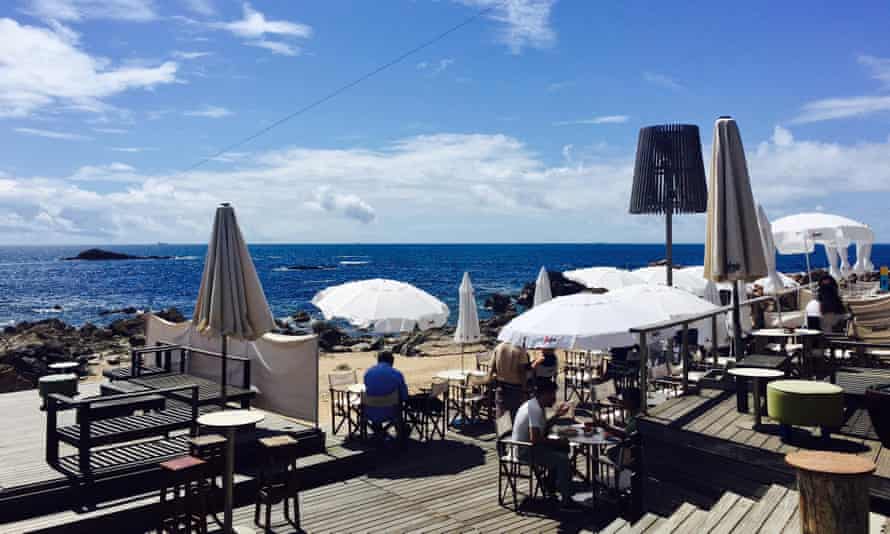 Swerve the (pricey, self-aggrandising, high-roller) food and head straight for a seat on the tiered wooden terracing that leads down to the private rocky/sandy cove. Foz is Porto's chic seaside suburb, and Praia da Luz's terraces are where the city blurs into the beach. Talking about blurring, there's a bell on each table. Press it and drinks magically appear. Magic! As was a sunset blushing the sky the same colour as that Quinta do Vallado rosé that slipped down so jauntily. There's excellent people-watching here, but the main attraction is the golden play of light on the Atlantic rollers.
SOUTH OF LISBON
Bar do Peixe, Meco, Sesimbra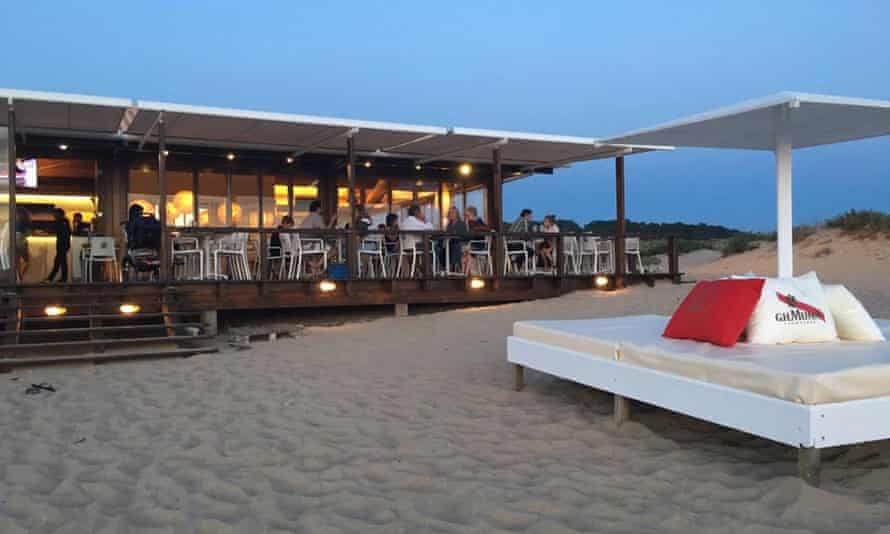 Moinho de Baixo beach is broad and long, with soft sand, making a magnet for families, surfers and happy layabouts. The big draw here is Bar do Peixe, which is a fine place for a good time. It's cool without trying too hard: there's the impeccable esplanade location, good, straight-up food from bifanas (Portugal's national sandwich – a slim pork fillet in a chewy bun) through meaty red prawns to perfectly grilled sea bass. Bar do Peixe's legendary sunset parties feature DJs on the decks, speakers on the sand, and an attractive, happy crowd abandoning themselves as the Atlantic beats on the golden strand.
Bordeira Beach Bar, Costa Vicentina, south-west Alentejo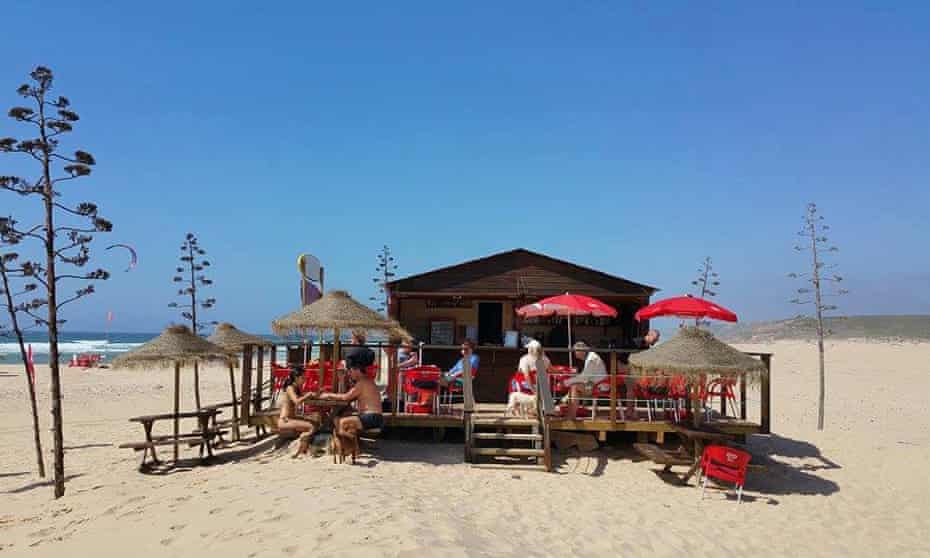 Here at the southern end of the Costa Vicentina there are beaches for everyone: surfers, families, loners and crowd-lovers. Being a national park, building on or near the beach is forbidden, thus this place is little more than a shack catering to whoever washes up. Last time I was here there were some tripped-out surfdudes, a Scot with tantric dreadlocks, an octopus fisherman called Polipo and some walkers with hot feet and burnt necks, all of us getting off on the luxury of simplicity. There's not much to eat, but the beers are cold, and the beach is a stunner.
THE ALGARVE
Burgau Beach Bar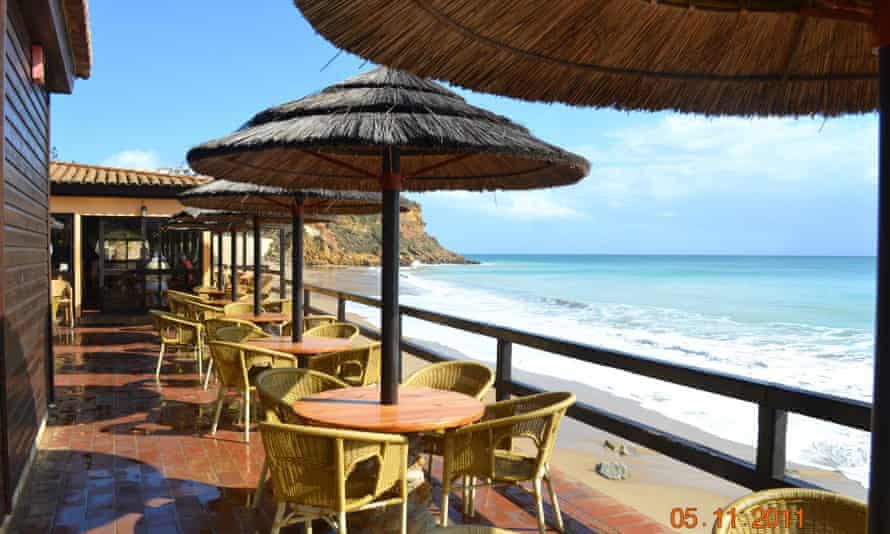 Burgau is a charming, still-innocent 1960s resort village 10 miles west of Lagos and its beach bar is open Easter to November. The village and the beach gets busy in July and August (as does the bar), but the staff here all seem to have taken special gracious pills. Smilingly, they steer great pans of seafood rice and trays full of caipirinhas through the crowd and down onto the sand. This is the sort of happy, unaffected family-friendly beach bar and restaurant we all congratulate ourselves on discovering.
Mar Amais, Isla do Farol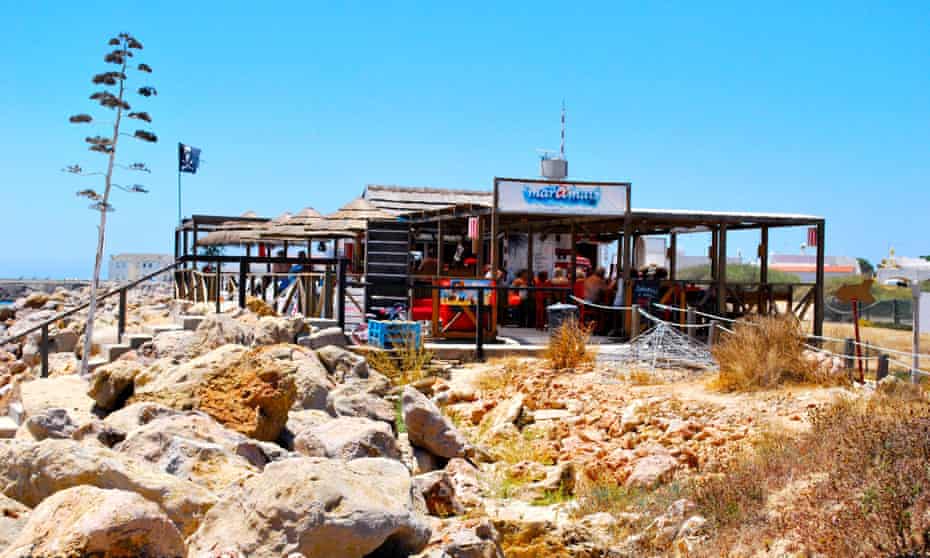 Visitors who take the ferry to Farol Island from Porta Nova pier in Faro or from Olhão should end up, if they're lucky, at Mar Amais, the perfect place to wind down. Painted in every colour of cheerful, Mar Amais makes excellent and innovative tosts (toasted sandwiches) and serves salads and petiscos to soak up all those liquids you'll be taking in. There are swinging chairs, and a deck designed to make best use of those welcome sea breezes. On the sand there are bean bags and parasols. After dark and as the lighthouse's beam swings out, DJ's and live bands swing into action.
Peixe e Petiscos, Barril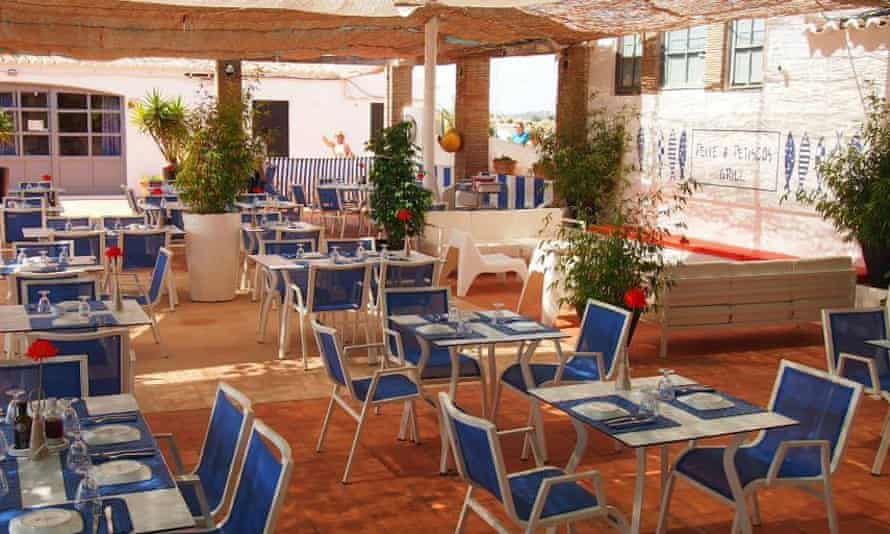 You take the 1930s narrow gauge train (€3 return, 1km ride from mainland) from the mainland or stroll the 15 minutes through a nature reserve to this charming beach. What were until the 1960s tuna fishing cabins have been repurposed as an understated complex of beach cafes, a restaurant, a juice bar, postcard and suncream shops, loos and showers. There's a much-photographed anchor "cemetery", and the beach itself is wonderful – naturists to the right, textiles to the left. Of the cafe/bars Peixe e Petiscos is my favourite – there's shade, and you're never more than a few seconds away from a misted jug of sangria. After a day here, a five-minute drive to the white village of Santa Luzia on the opposite side of the lagoon brings you to the tascas (bars with food) of Portugal's self-styled octopus capital.
By: www.theguardian.com