So you've seen Uluru (or Ayers Rock), the Great Barrier Reef and the Twelve Apostles – now what? Australia is home to such a huge variety of landscapes and attractions, there are always new wonders to discover. Here's our choice.
Purnululu National Park
Discovered in 1983, the Bungle Bungle Range – located in the Unesco World Heritage-Listed Purnululu National Park, Western Australia – has been a secret geographical landmark for much of its 350m-year lifespan. Resembling beehives, the remote sandstone mounds are marked with orange and black stripes, much like a tiger. Open throughout the dry season (April-December) the grandeur of the Bungle Bungle Range is best viewed by helicopter; however, hiking, camping and 4×4 driving are also permitted.
Purnululu2 | © Bäras/WikimediaCommons
Ningaloo Coast
If you've seen the Great Barrier Reef, then it's time to head west to the World Heritage-Listed Ningaloo Coast, in Western Australia. Stretching 260km, Ningaloo Coast is Australia's largest fringing reef featuring more than 250 species of coral and 500 species of fish. The Ningaloo Coast is also home to whale sharks (May-July) and majestic manta rays (May-November) both of which visitors have the opportunity to swim with. Other creatures who pass through include humpback whales, killer whales, dolphins and dugongs.
Courtesy of Three Islands Whale Shark Dive Photographer Marie-Josee Arsenault
Umpherston Sinkhole
Australia is stamped with sinkholes, and one of the most picturesque is located in Mount Gambier, South Australia. The Umpherston Sinkhole was created when a limestone cave chamber collapsed, leaving a giant hollow. In the 1880s, James Umpherston made it his mission to transform the sinkhole into a lush oasis and today the secret garden is a magical place of tranquillity. Saturated in greenery, hanging vines and ferns, visitors can explore the sinkholes through a series of walkways, steps and terraces.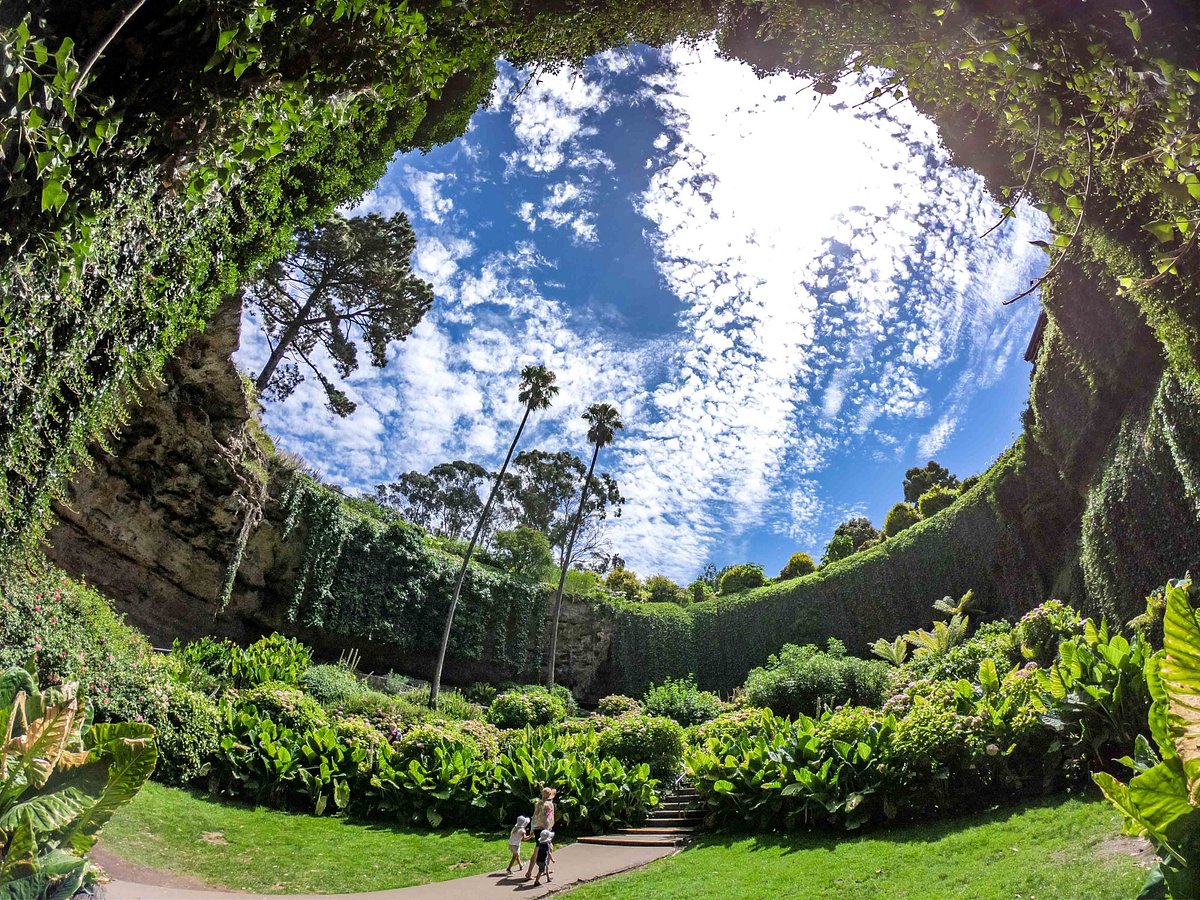 Lake Hillier
First described by Matthew Flinders on the 15th of January 1802, Lake Hillier is a bubblegum pink lake located on Middle Island off the south coast of Western Australia in the Recherche Archipelago. Encircled by a ribbon of sand and dense woodland, the striking pink pigmentation sits in stark contrast to the blue ocean water. Although difficult to access, the saline waters of Lake Hillier are safe to swim in and get their colour from the microorganism Dunaliella salina.
LIQENI HILLIER – ROZE | © Kurioziteti123/WikimediaCommons
Bay of Fires
Named after the Aboriginal fires spotted by Captain Tobias Furneaux when he sailed along Tasmania's east coast in 1773, Bay of Fires stretches 50 kilometers from Binalong Bay to Eddystone Point. The bay is known for its pristine white beaches, crystal clear waters and orange granite boulders. From swimming to snorkeling and surfing, camping and wildlife spotting there is much to do in the secluded bay.
Bay of Fires-15 | © Diego Delso/WikimediaCommons
Wave Rock
Four hours from Perth, east of Hyden is an ancient rock formation known as Wave Rock. Formed 2,700 million years ago the weathered granite inselberg cliff resembles a breaking wave and is accentuated by the algae strips that run vertically down the wall. Wave Rock is 15 meters high and 110 meters long, and is among Western Australia's most peculiar natural formations.
Pixabay | Pixabay
Tessellated Pavement
Less than 20 minutes north of Tasmania's most popular tourist attraction Port Arthur lies a fascinating geological formation that very few know about. Eaglehawk Neck's Tessellated Pavement appears to be the remnants of a man-made structure; however, the pattern of rectangular indentations and reflective surface impressions are the result of a rare form of natural erosion. When visiting Port Arthur, don't leave without seeing this other-worldly natural wonder.
Tessellated Pavement Sunrise Landscape | © JJ Harrison/WikimediaCommons
The Pinnacles
Rising from the golden sand dunes of Nambung National Park in Western Australia, The Pinnacles are a series of limestone pillars shaped by the coastal winds. The alien landscape is home to western grey kangaroos, emus and other wildlife who live among the jagged spires. The best time to visit is between August and October when the wildflowers bloom.
The Pinnacles Western Australia | © Binarysequence//WikimediaCommons
The Devils Marbles
In the middle of nowhere, between Alice Springs and Darwin is a collection of gravity-defying boulders known as The Devils Marbles or Karlu Karlu to local Aboriginal tribes. While many assume there are only two marbles, in reality, there are various granite boulders ranging in size from 50 centimetres wide to 6 meters across. The delicate balancing act is constantly changing, and the best way to see the area is through self-guided walks.
Devils Marbles | © Iain Whyte/WikimediaCommons
Lord Howe Island
While you'll find Hamilton, Kangaroo and Fraser Islands in all the guidebooks, Lord Howe Island is a little-known destination off the east coast of Australia. The crescent-shaped World Heritage-Listed island is a slice of tropical Hawaii on the shores of Australia where one can hand-feed schools of fish on Ned's Beach, snorkel and scuba dive wreck sites, hike and go fishing all without the crowds of Australia's more popular islands.
Natural Bridge
Situated in Springbrook National Park inside the Gondwana rainforest is an archway created by the force of a cascading waterfall onto the basalt cave. During the day Natural Bridge and its surrounds are home to an abundance of birdlife, frogs and koalas, while at night the bridge sparkles with the turquoise bioluminescent light of glowworms. Visitors can reach Natural Bridge via the one-kilometer circuit track; to see the cave at night book a nocturnal tour.
Springbrook Cave | © Jose Antonio Lopez Vieira/WikimediaCommons
By: theculturetrip.com