If these villages in Germany look like they are straight out of a Grimm Brothers fairytale, that's because they easily could be!
Germany is home to some of the most beautiful villages in the world that will make you feel like you stepped right into the pages of a storybook.
From Bavaria to the Black Forest, there are quaint German villages tucked into every corner of the country. While some of these villages are further off the tourist path, it's well worth your time to go and experience these picturesque places for yourself.
Here are the top 12 prettiest fairy-tale villages in Germany to add to your bucket list:
1. Rothenburg
Rothenburg is one of the most beautiful villages in Germany, filled with winding cobblestone streets and perfectly preserved half-timbered houses. Every Christmas, this Bavarian village hosts an enchanting Christmas market in the old square.
2. Schiltach
Nestled in Germany's Black Forest, you will find the storybook village of Schiltach. This sleepy little village is built along the Kinzig River and features beautiful medieval half-timbered homes.
3. Bamberg
Bamberg, an old Bavarian village located where the Main and Regnitz rivers meet, has a long and interesting history dating back to the 11th century. One of its most whimsical sights is the Town Hall building perched in the middle of a river, accessible by two arched stone bridges.
4. Coburg
Coburg is a quaint Bavarian village that many people have never heard of. However, it's worth a visit due to the pretty town and nearby castles you can explore.
5. Miltenberg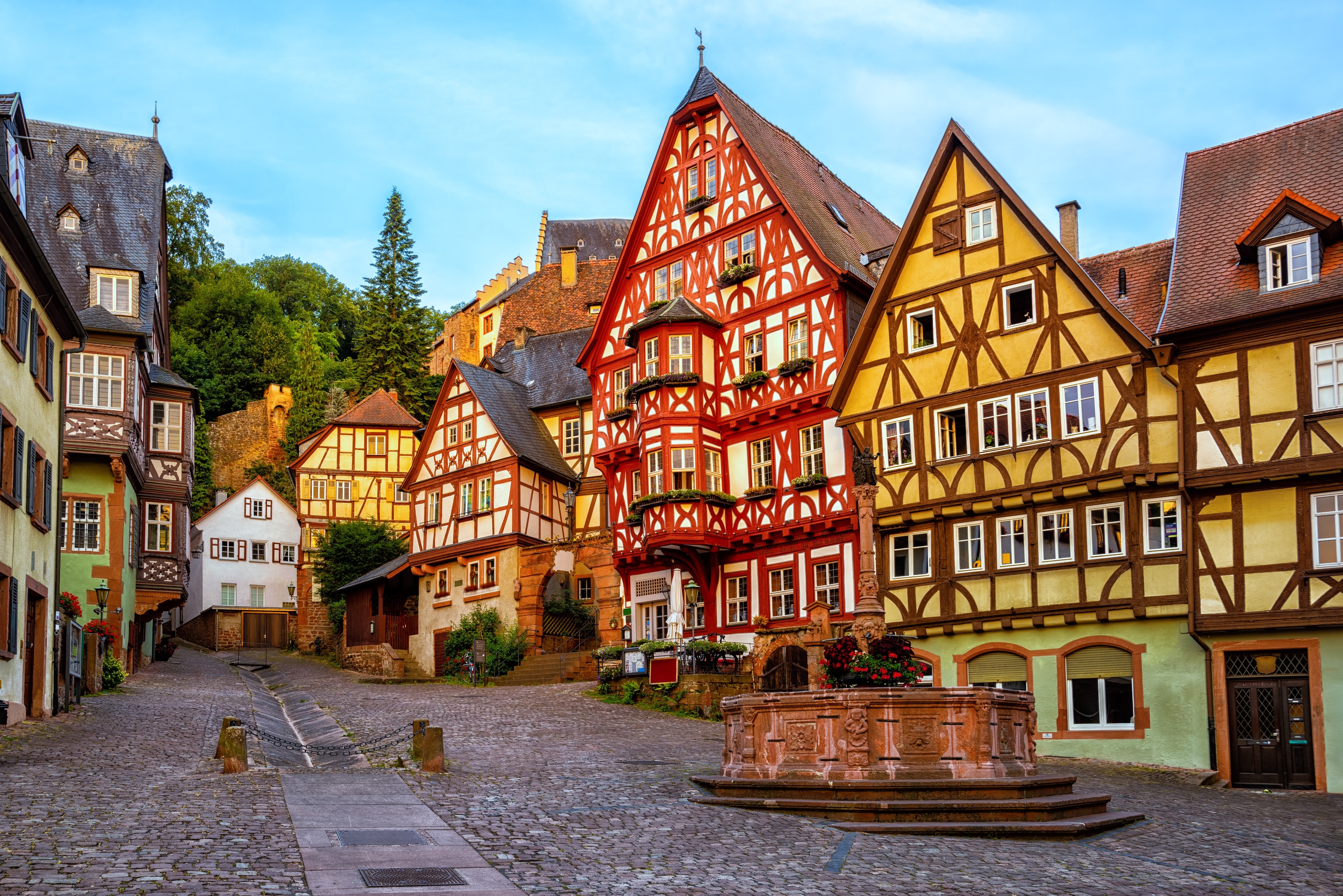 Miltenberg looks like a town taken right from the pages of a fairytale. This lovely village along the Main River welcomes guests with a pretty market square, river views, and gorgeous timbered houses.
6. Meissen
Meissen is a larger village with a population of 30,000 in the Saxony region of eastern Germany. Located on the banks of the Elbe river, the beautiful village is home to the famous Meissen porcelain, the Albrechtsburg castle, and colorful winding streets paved with cobblestone.
7. Lichtenstein
Lichtenstein is a tiny German village dominated by an impressive cliffside castle. Interestingly, while the castle appears medieval in style, it was actually built in the mid 1800s by a German duke who loved the medieval era.
8. Quedlinburg
Everything about the pretty village of Quedlinburg is reminiscent of a fairytale. From the winding cobblestone streets, colorful half-timbered homes, and the ancient castle perched above it all, you will feel like you've been transported back in time when you visit Quedlinburg.
9. Dinkelsbühl
Dinkelsbühl may be one of the most romantic stops along Germany's Romantic Road in Bavaria. The brightly colored main square is home to a lovely Christmas market every year.
10. Landsberg am Lech
Landberg am Lech, a medieval village on the Lech River, is a cute fairytale place in Bavaria with narrow cobblestone streets and dreamy pastel-colored buildings.
11. Meersburg
Meersburg is a colorful waterfront village on the shores of Lake Constance. There's a medieval castle in the center of the village, which is surrounded by vineyards.
12. Bad Mergentheim
The pretty town of Bad Mergentheim along Germany's Romantic Road is known for the existence of one of the best spas in the country. The village is home to mineral springs that are said to have therapeutic benefits.
By: travellemonde.com