Salt Spring Island is the largest of the Southern Gulf Islands, part of an archipelago reaching from southern Vancouver Island down to Washington State. Known for its thriving arts community, rich organic farmland, and matchless natural beauty, Salt Spring has become a holidaying haven for creative minds, freethinkers, and nature lovers, with numerous attractions and things to do.
Blessed with a temperate climate, Salt Spring's winters rarely dip below zero, and summers are comfortable—and, although the island is near the notoriously wet Vancouver and Seattle, average rainfall here is much lower. Sparkling ocean, old-growth forests, freshwater lakes, local organic food, and a plethora of outdoor activities are all waiting to be experienced on Salt Spring Island. For ideas on how to spend your time here, see our list of the top things to do on Salt Spring Island.
1. Salt Spring Markets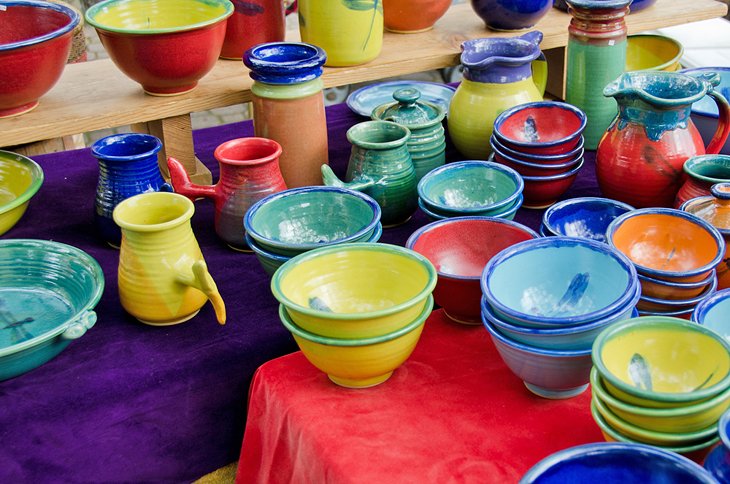 Salt Spring Island's seasonal markets are a must-shop tourist attraction, touting top-quality produce from organic farms and unique goods from talented artisans. The largest arts and crafts market is the Centennial Park Saturday Market, which runs from April until September. Happening in the main town of Ganges, it features over 140 vendors selling everything from French pastries and felted hats to ceramic vases and glass beads, all of which must be made, baked, or grown on the island.
On Tuesdays, skip the grocery store and pick up everything you need for a hearty picnic at the produce-only market: wood-oven-baked bread, soft goat's cheese with truffles, fresh tomatoes, carrots and cucumbers, and a bottle of sparkling apple-cider kefir. There are also two Christmas craft fairs, one at Beaver Point Hall and the other at Fulford Hall, and a longer-running show at Mahon Hall called Wintercraft.
2. Ruckle Provincial Park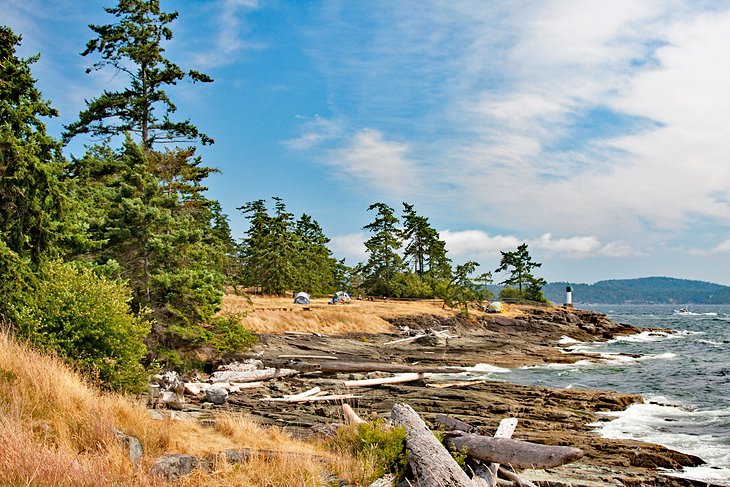 With its seven kilometers of rocky shoreline and 529 hectares of protected forests, coves, and active farmland, Ruckle Park is a jewel in Salt Spring Island's crown. Enter the gates, drive into the grassy valley, and be greeted by flocks of sheep, turkeys, and chickens roaming around a perfectly preserved B.C. homestead with barns, farmhouses, and outbuildings.
Irish emigrant Henry Ruckle bought the land in 1872, with his descendants donating the oceanfront farm to BC Parks in 1972 to ensure it would be preserved for generations to come. Down by the water's edge, you'll find trails; picnic benches; and 78 walk-in campsites, where you can pitch your tent, roast a hotdog, and look out over the blue waters of Swanson Channel.
3. Salt Spring Island Cheese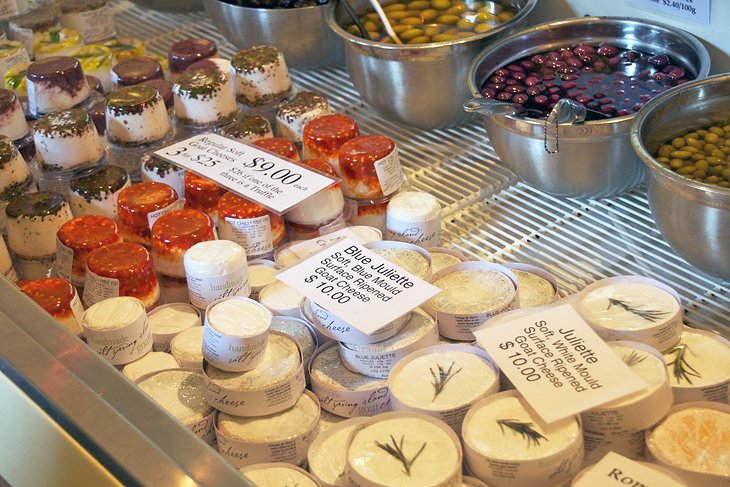 While you can spy and buy Salt Spring Island Cheese in most specialty food and groceries stores across Canada, there's nothing quite like tasting this artisan sheep and goat cheese right on the farm where it's made. With flavors ranging from lemon to olive tapenade, there's something to delight every taste preference in their year-round shop, where you can try samples and pick up delectable food products to complement their cheeses.
From mid-June through Labour Day, there's a seasonal café serving up handmade pizzas, sandwiches, salads, soups, and cheesecake featuring their cheeses and Salt Spring Island produce.
4. Whale Watching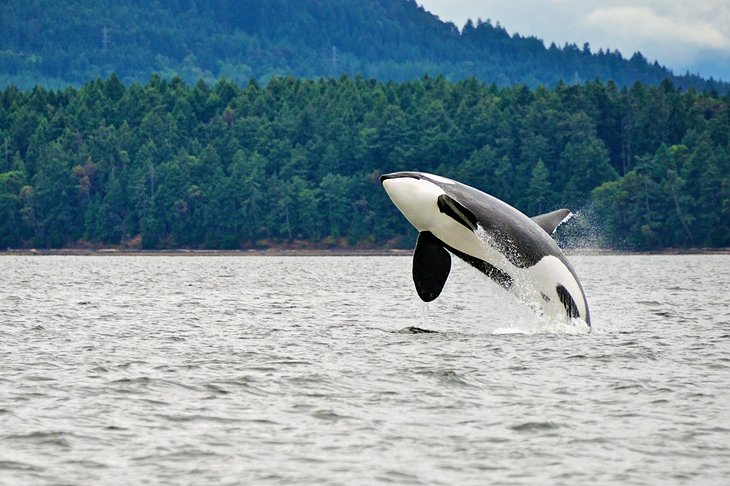 There are few things more magical than watching the world's largest mammals in their natural habitat—thanks to Salt Spring Island's fortuitous location, your chances of seeing this are pretty high. Killer, humpback, minke, gray, and fin whales all pass by the island on their migration routes, seeking out the rich food sources found in these cold coastal waters.
Burgoyne and Ruckle Provincial Parks are the two spots onshore where tourists often spy a blow spout or fin, but to up your chances of a sighting, sign up with Salt Spring Adventure Co. for one of their twice-daily (June-September) whale-watching tours, guided by an experienced marine naturalist, who knows where to get the marine-life goods.
5. Mount Maxwell Provincial Park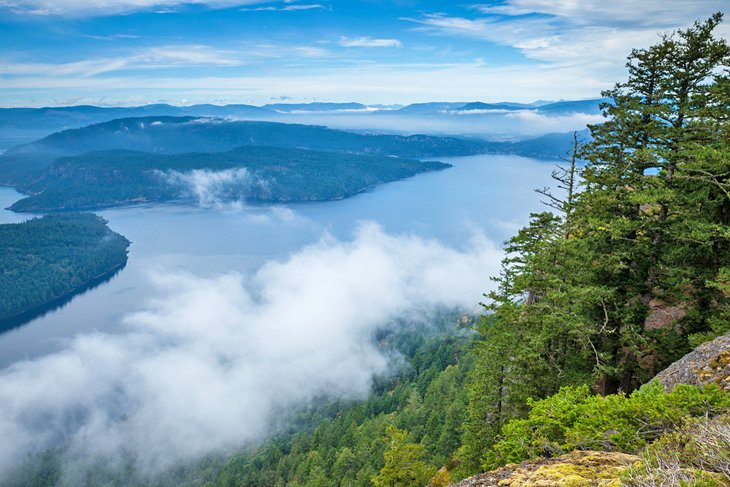 To get a bird's-eye view and a better understanding of the landscape of this unparalleled archipelago, Mt. Maxwell is the place to go. With an elevation of nearly 600 meters, Mt. Maxwell's Baynes Peak lookout offers unobstructed panoramic views down into Fulford Valley, the surrounding Gulf Islands, the U.S. San Juan Islands, Vancouver Island, and mainland B.C.
There's a series of trails leading along the cliff's edge, all protected by a perimeter fence, as well as deeper into the 231 hectares of protected park land—here, you can experience the dizzying effects of one of the highest points on Salt Spring Island, as well as the old-growth Douglas fir, Garry oak meadows, and salmon-spawning creeks. Tip: The road up the mountain is quite rough and shouldn't be attempted in a low-carriage vehicle.
6. ArtSpring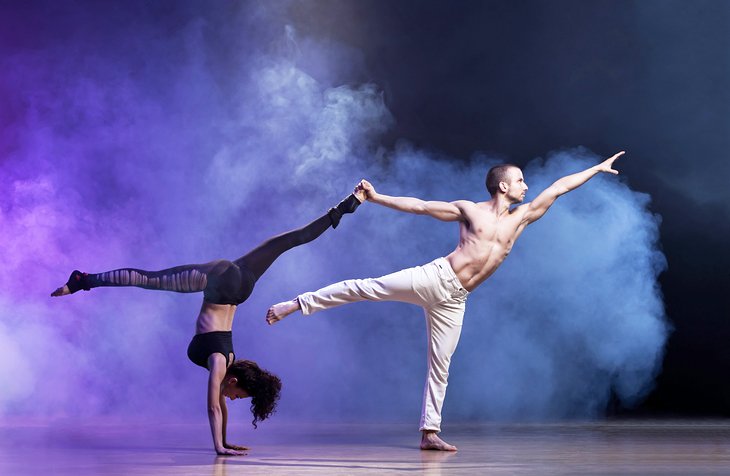 Think a small performing arts center on a tiny island can't attract world-class performers? Think again. ArtSpring's stage has been graced by some of Canada's most talented touring artists, performing everything from opera to contemporary dance. With nearly 300 events each year, this islander-funded center is always buzzing with professional performances, art exhibitions, engaging expert talks, and local productions, such as community theater and the national-champion improv comedy team from Gulf Islands Secondary School.
In between sightseeing trips, pop in to buy a ticket at the volunteer-run box office or check out the latest art exhibit, showcasing local talent.
7. Kayaking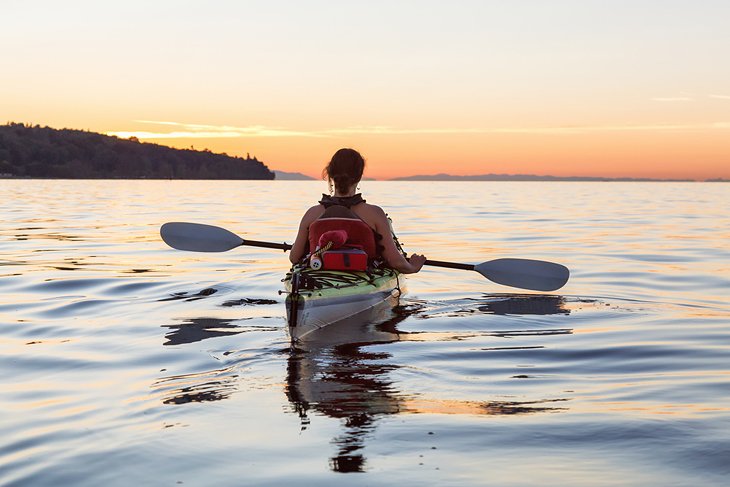 With close to 130 kilometers of shoreline to explore, kayaking is one of the best ways for tourists to get up close and personal with the unique marine life that calls the cold waters around Salt Spring Island home. Curious harbor seals, colorful sea anemones, multi-legged sunstars, and hunting bald eagles—all could be spotted while gently padding out on the water.
There are numerous kayaking guiding companies on the island which offer a variety of rentals and guided tours. One of the most popular sightseeing tours is a sunset paddle to Chocolate Beach, a sun-drenched strip of crushed white shells and arbutus trees out on one of the tiny islands dotting around Ganges Harbour.
8. Yoga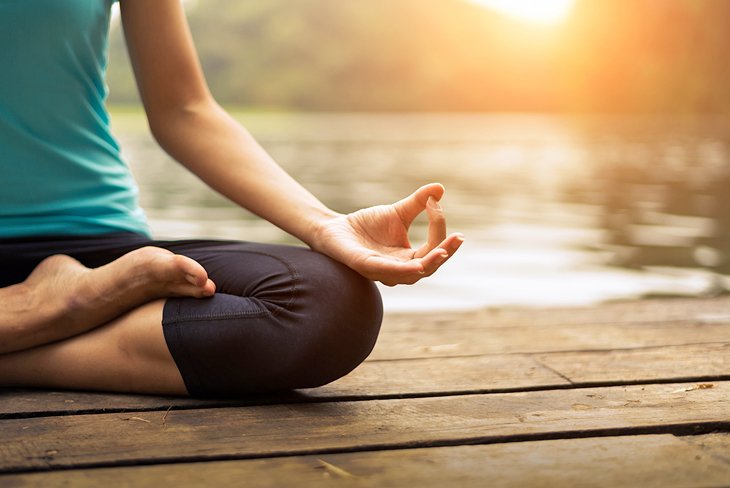 Salt Spring Island and yoga have a long history. In 1981, the Dharma Sara Satsang Society purchased 69 beautiful acres of forests and farmland on Blackburn Road and founded the Salt Spring Centre of Yoga on the teachings of Baba Hari Dass and classical ashtanga yoga.
Today, this thriving spiritual center offers yoga retreats, teacher training, and daily classes in one of its many special spaces. There are other yoga studios welcoming tourists and locals throughout the island, including Salt Spring Wellness Centre, The Gatehouse, Nest Hot Yoga, and Samya Yoga Studio, which all offer their own take on yoga. No matter your level or preference, you'll find a class that's the right pace (and spectacular Salt Spring Island studio space) for you.
9. Hiking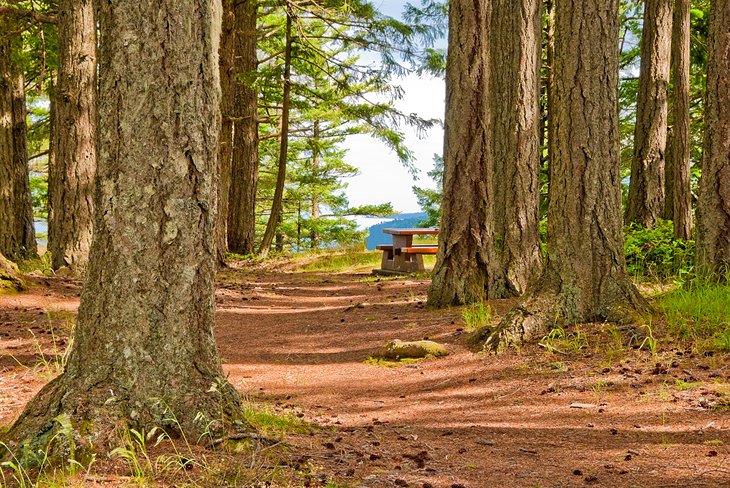 Salt Spring Island is a hiker's paradise. With four provincial parks (Mount Erskine, Mount Maxwell, Burgoyne Bay, and Ruckle), all kitted out with trail networks, and 21 other well-maintained and mapped-out trails operated by Salt Spring Parks and Recreation, there are options for every fitness level. Load up on snacks, water, trail maps, and a cellphone, and head out for a day of nature sightseeing along paths lined with ancient fir trees, rare Garry oaks, berry-laded salal bushes, and native wildflowers.
Many trails lead up and out to points with stunning views of the Gulf Islands and their U.S. counterparts to the southeast, the San Juan Islands. On a clear day, you can even spy the snow-covered peak of Mt. Baker to the east in Washington State.
10. Live Music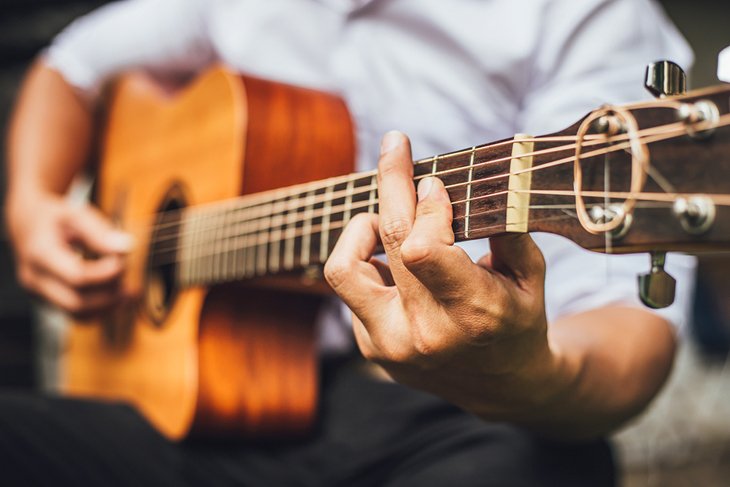 Maybe it's the stunning scenery, the laid-back way of life or the general support for the arts, but musicians make up a large portion of Salt Spring Island's population. Come summertime, restaurant patios open up, stages are assembled, and Ganges becomes a pick and mix of musical choices.
Treehouse Café, located underneath a century-old plum tree, offers live folk music into the evening every night through August and September in their "Music Under the Stars" program. The Saturday Market in Centennial Park also hosts a local favorite, the Ruwadzano Marimba Band.
To hear musicians coming from further afield, PitchFork Social brings in world-class Americana and Roots acts for a summer series of uplifting musical experiences like no other at historic Fulford Hall.
11. Art Galleries & Studios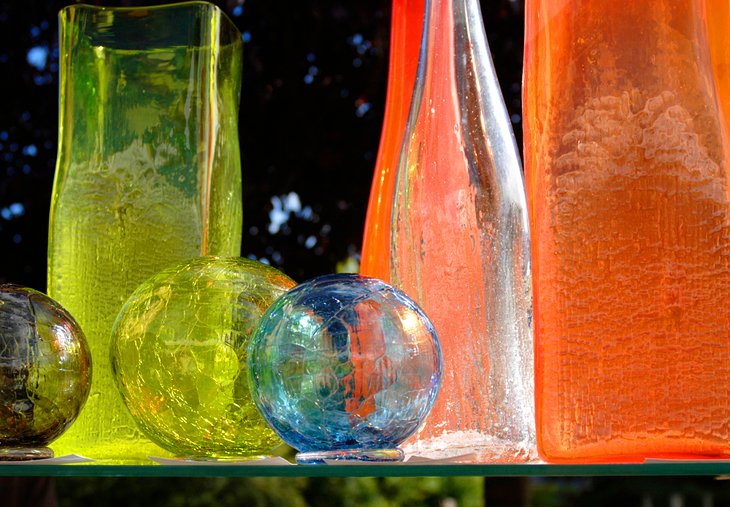 While the population is always changing, it's local lore that Salt Spring Island has among the highest per-capita number of artists in Canada. Painters, potters, weavers, and photographers flock to its picturesque shores to be inspired by the natural beauty of its rocky shores, thick forests, and thriving wildlife.
The first major arts attraction of the year is the Salt Spring Easter Art Show, with a special exhibit at Mahon Hall, and a studio, gallery, and exhibit tour where up to 50 artists open their doors to the tourists. Through the summer, 30 artisans and makers also welcome visitors to their workspaces and shops on the Salt Spring Studio Tour.
ArtCraft is a summer-long show and sale of curated arts and crafts from up to 100 local artists. There are also various year-round fine-art galleries in or near Ganges, including Waterfront Gallery, Steffich Fine Art, Salt Spring Gallery, and Duthie Gallery.
12. Lake Swimming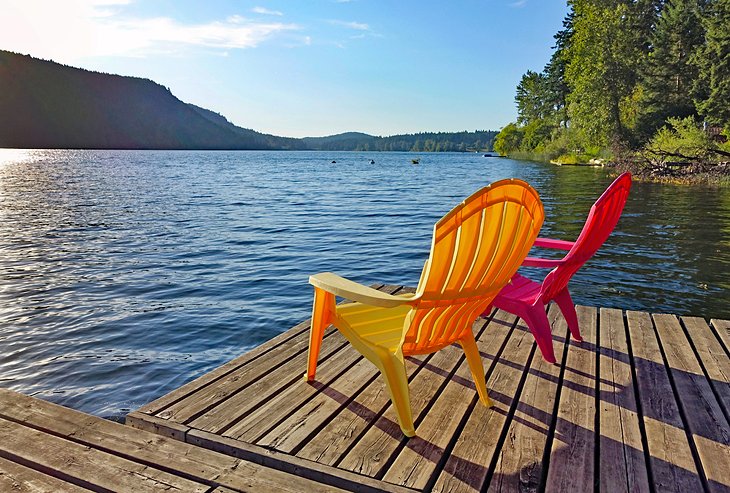 The Gulf Islands are blessed with a Mediterranean climate; from June to September, the average high temperatures range from 18-22 degrees Celsius, steadily heating up the clean, fresh lake water. This is the season to head to one of the five lakes with family-friendly public-access points (St. Mary Lake, Cusheon Lake, Blackburn Lake, Stowell Lake, and Weston Lake) for a refreshing dip.
Since these lakes provide the community's drinking water, no gas-powered engines are allowed on the water, and swimmers are asked to respect posted sanitation guidelines. Holding close to 14.7 million cubic meters of water, St. Mary Lake is the largest lake and has a sandy beach access on North End Road—perfect to catch the sunset over the surrounding forested hills. Tip: Locals consider Blackburn Lake the "nude" lake, so be prepared to see more skin here than at the other watering holes.
By: planetware.com