Okay, maybe not exclusively in the Alps. 😅 We're sharing our personal collection of beautiful churches in Austria with you! Some are fancy and famous and some are small gems nestled away in the countryside, but we love them all the same for their architecture and the sense of calm that comes with them. Let us know your favourites in the comments! Oh – there's a map at the bottom with all the locations pinpointed!
1. Maria vom guten Rat, Carinthia
Very shoddily translated this means: Maria of the good advice. This beauty is located in Rottenstein close to Steinfeld in Carinthia and it's so unknown you can't even find it on Google Maps. Just go up the mountain until the end of the road! You can do a lovely circular walk called Rottensteiner Höfeweg that starts at the church, taking you through some beautiful traditional mountain farms.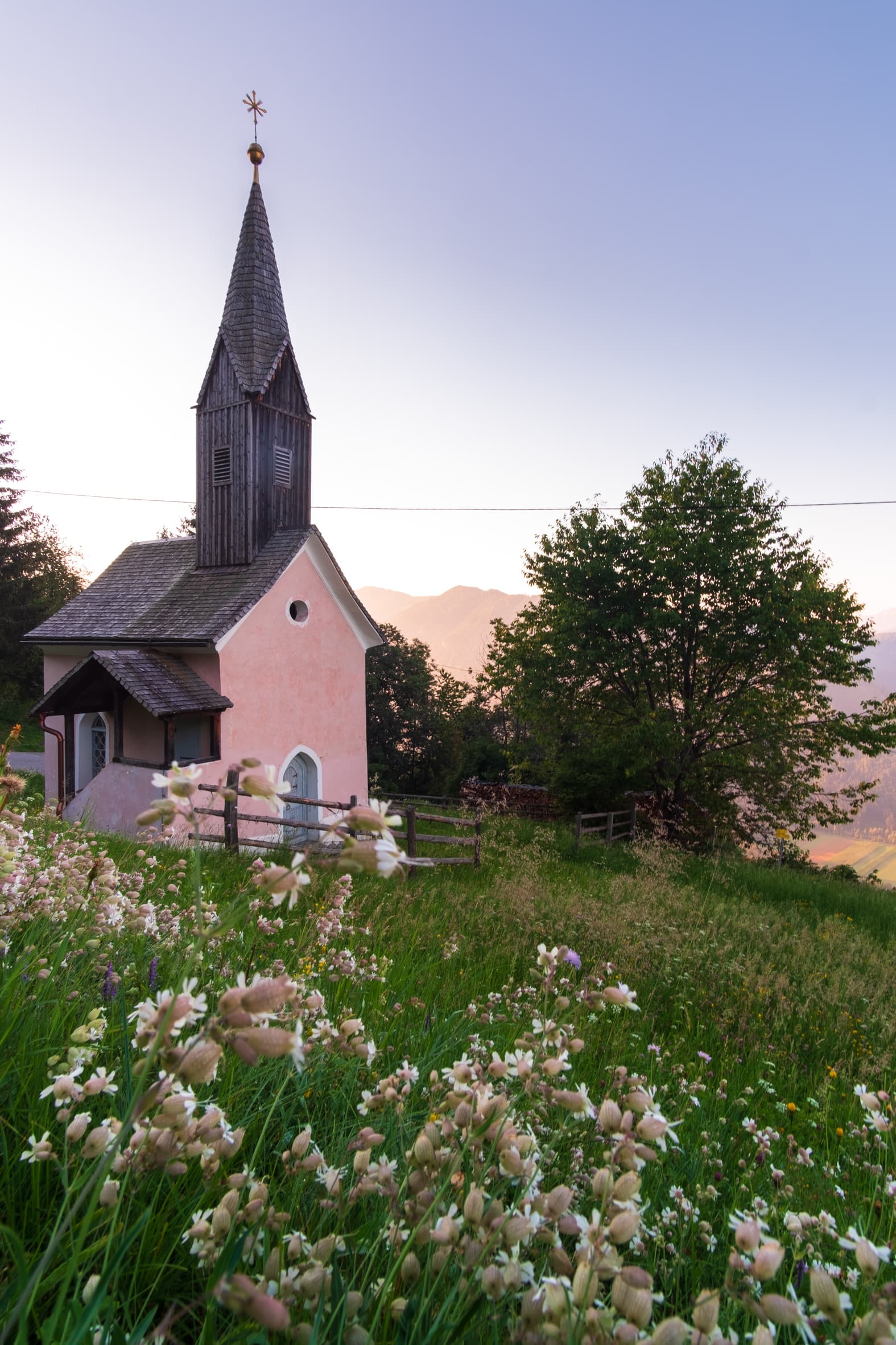 2. Pfarrkirche Hörzendorf, Carinthia
A rather unknown favourite of ours, close to Caroline's home town St. Veit an der Glan in Carinthia. We love the building lit up just as evening falls, against the stunning Karawanken mountain range in the back.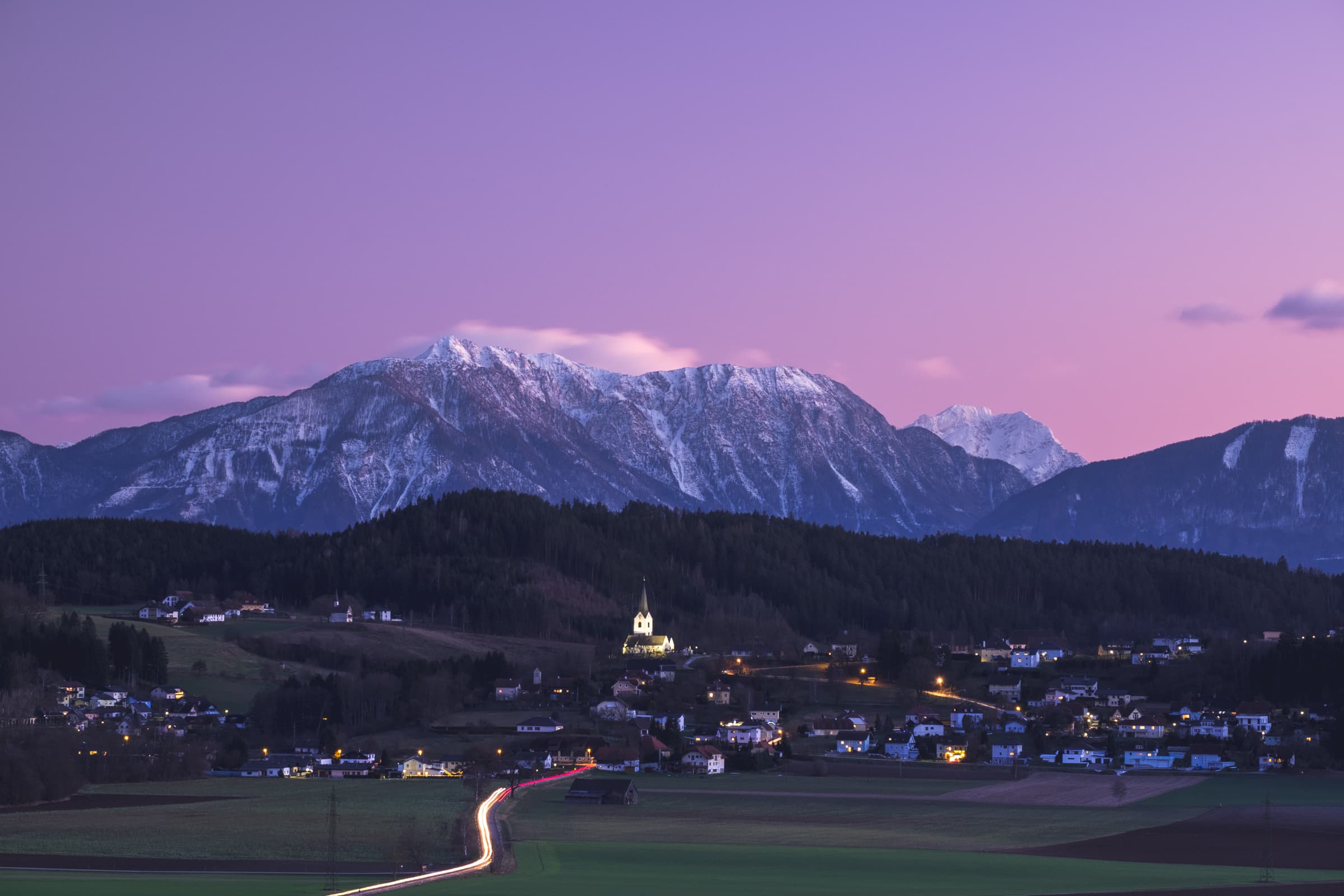 3. Karlskirche, Vienna
Yeah, you got us, this is the one that is distinctly not anywhere near the mountains. Sorry, we couldn't skip it ‑ just look at it! Go grab a drink and sit by the pond while marvelling at this this stunner in the very heart of Vienna.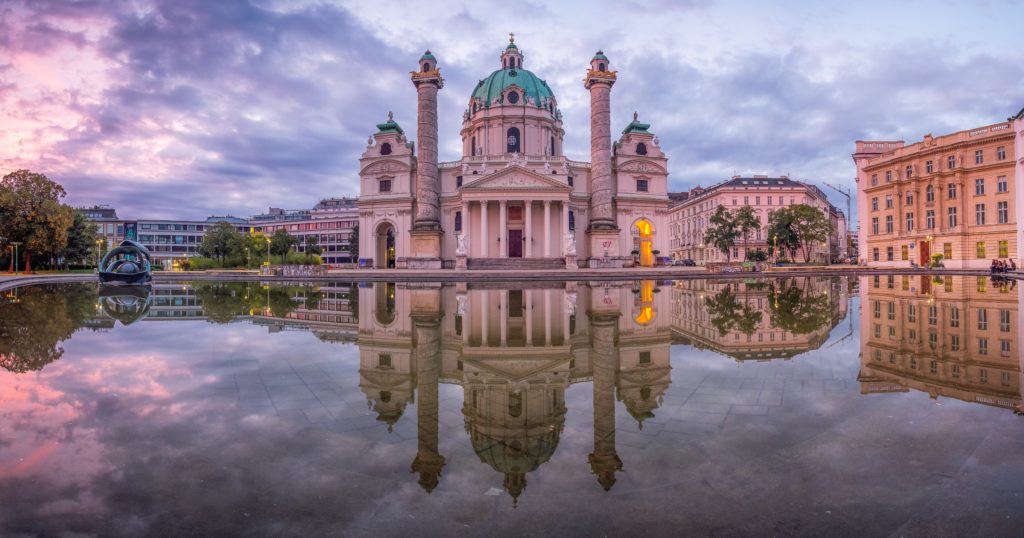 4. Frauenbergkirche, Lower Austria
You'll find this one in Stein an der Donau in the middle of the lovely Wachau region of Austria but it's quite a walk uphill to get to this view on the photo ‑ better have your glass of local white wine or apricot liquor after that, and don't forget to explore the medieval parts of Stein and Krems!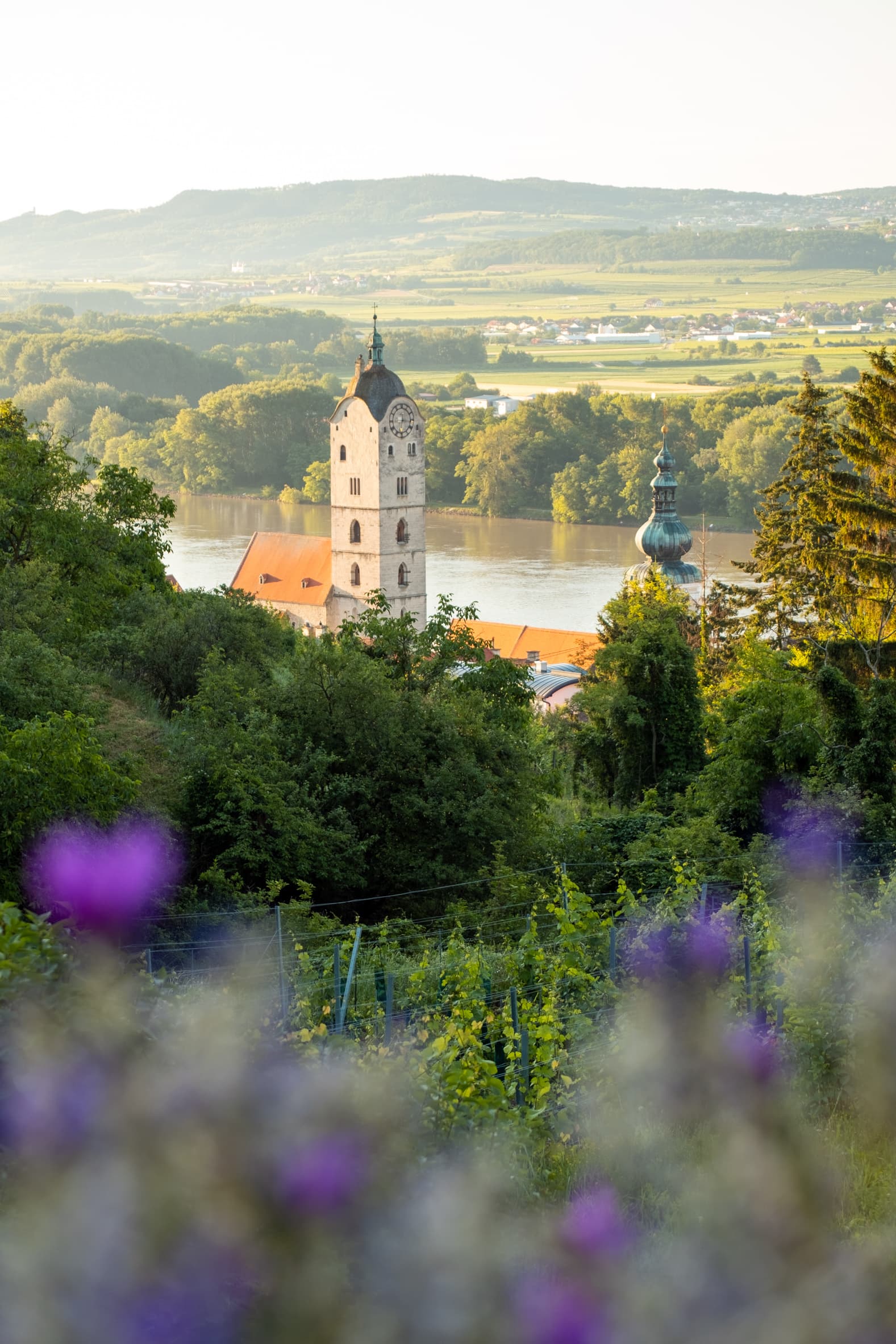 5. Stift Dürnstein, Lower Austria
The second entry from the Wachau valley and who can blame us, the entire valley is full of masterpieces set along the majestic Danube. Known for its iconic blue church tower and castle which apparently held King Richard the Lionheart prisoner at some point. A great day trip from Vienna with plenty of hiking, swimming, exploring and boating opportunities!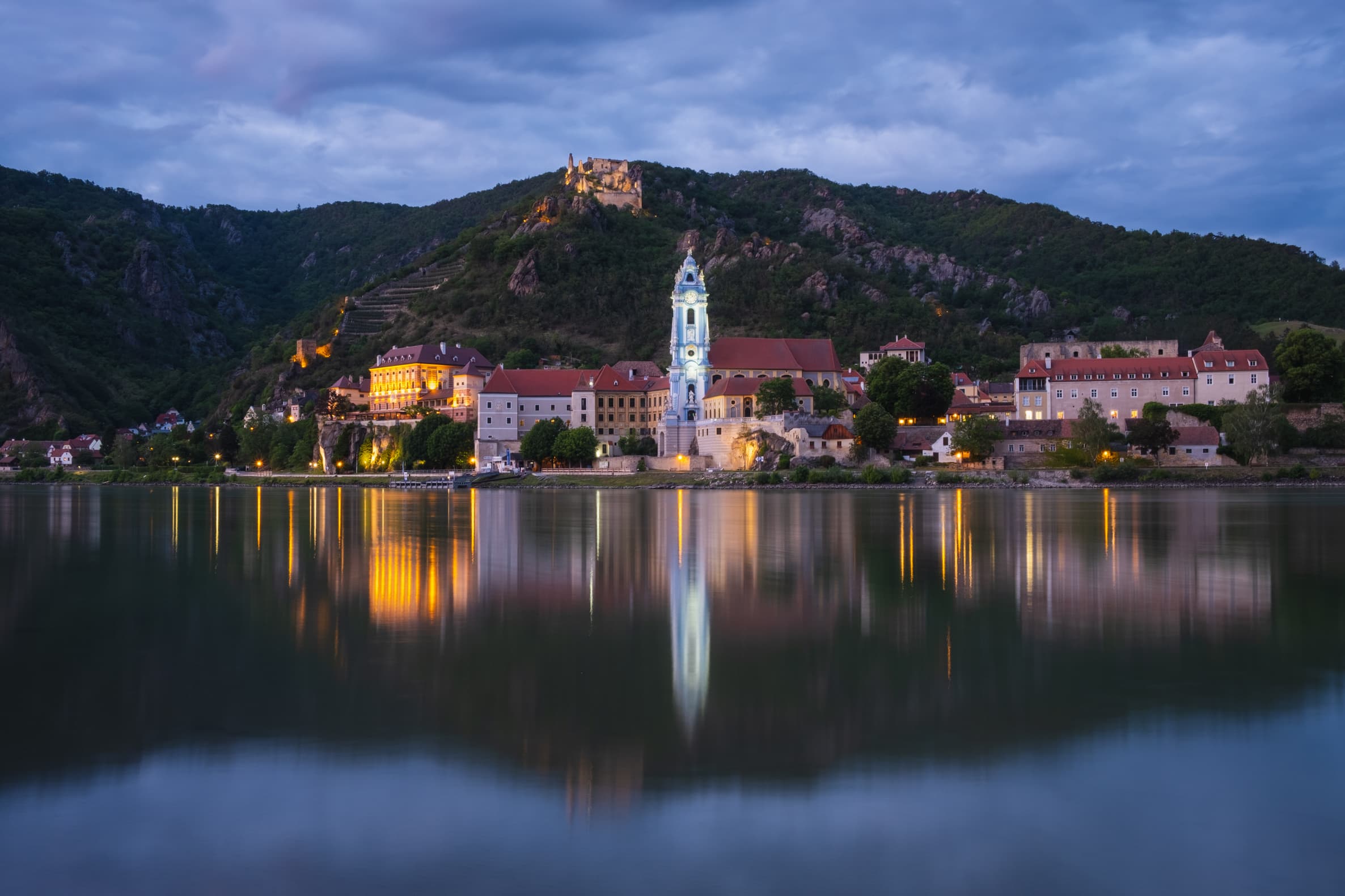 6. Evangelische Pfarrkirche Hallstatt, Upper Austria
Not much more has to be said about Hallstatt by now except: how pretty does it look in wintertime? 😍 The catholic church in town is equally beautiful and that's also where you find the Michaels chapel with its famous bone house (yes, that's a thing). We also feature this church in Five favourites from Schladming post.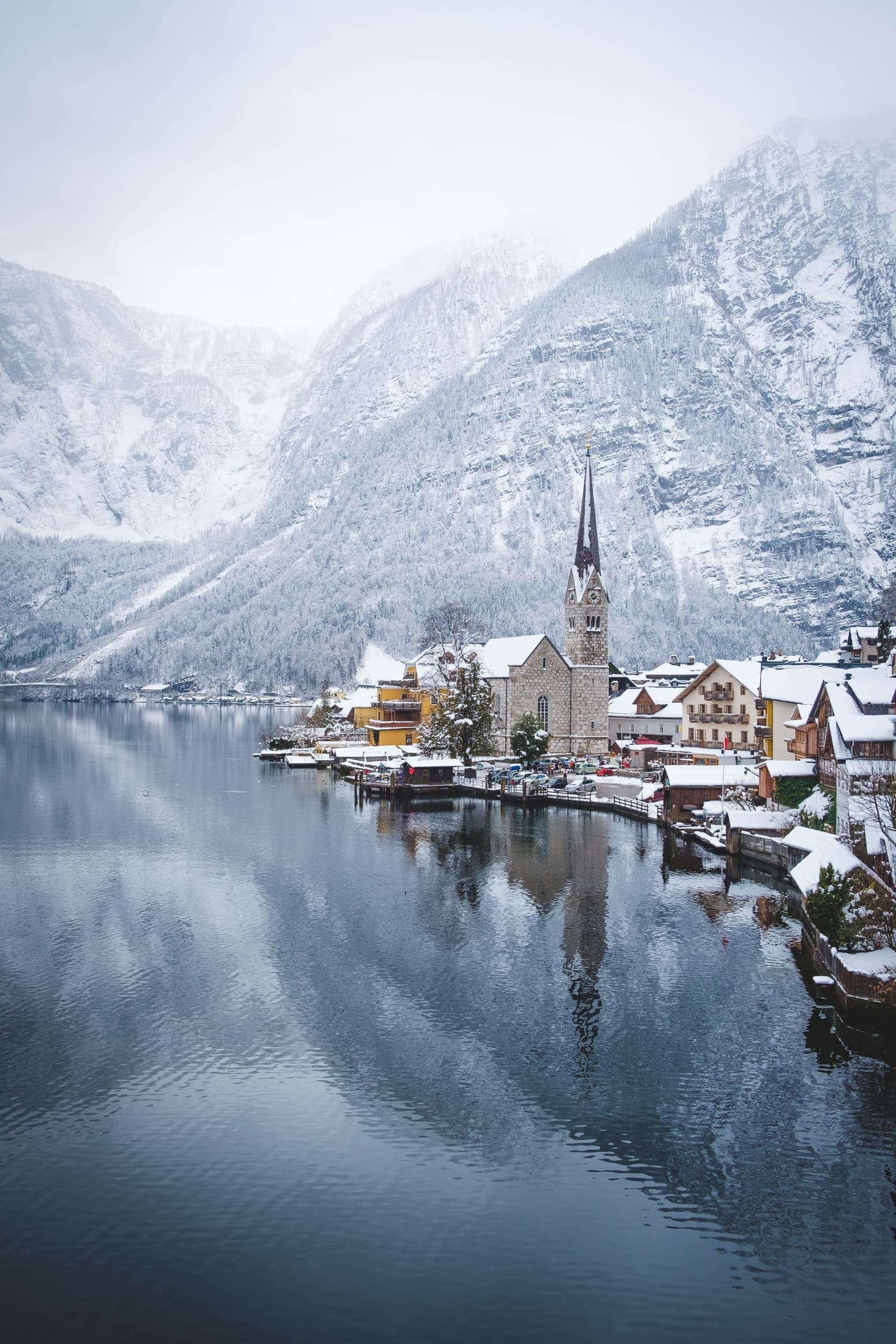 7. Church of St. Sebastian, Carinthia
The most popular attraction here in middle Carinthia is the famed Hochosterwitz castle, arguably the most magnificent in all of Austria. However, there is much more beauty in the area so don't be afraid to do your own exploring. Small churches harmonious with the mountain landscape like the one pictured here are to be found around every corner!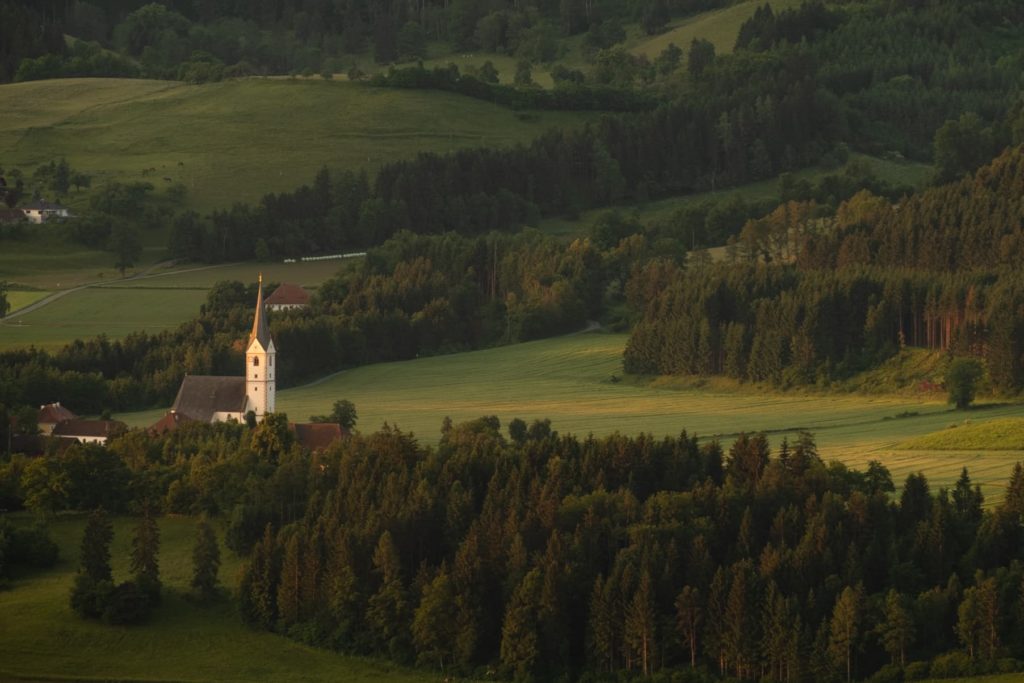 8. Fürthermoar Alm chapel, Styria
The Kaprun dams in Salzburg county are an impressive sight, and right between the two of them there's Fürthermoar Alm. You can watch super cute rabbits hopping about while eating food and drinking in the cosy Gaststube. Not to mention this amazing mountain chapel in the midst of the snowy mountains. So pretty! We thawed out in this alm back in 2017 during our hitchhiking tour, check it out for more pics of the mighty alpine dams.
9. Urbanuskapelle, Vienna
Just outside of Vienna, technically in Lower Austria you can find this beauty! Originally spotted on the hilltop whilst passing by on the train back from Carinthia, we knew we had to explore one day. It's actually very popular with families who enjoy taking slow weekend walks through the lovely vineyards. There are lots of trails and pretty medieval villages to visit, our favourite being Gumpoldskirchen, a cute little town with gorgeous villas just a short train ride away from Vienna.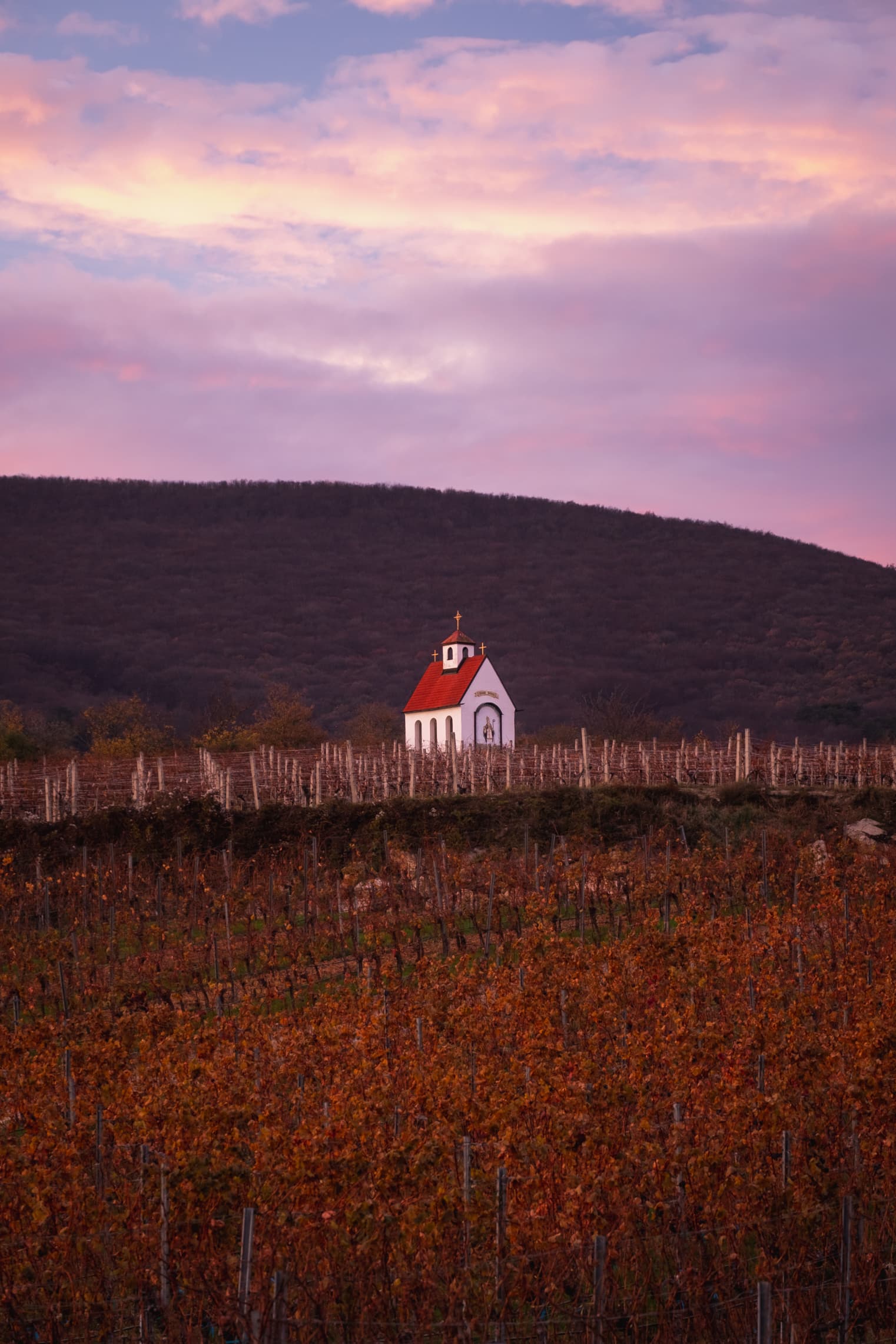 10. Diex Parish Church, Carinthia
Great views of the Karawanken and Saualpe mountains, all around panoramas, easy trails. Diex is a bit of an unknown paradise. Fascinatingly, it receives the most sun throughout the year in all of Carinthia! Situated at 1200M above sea level, it's iconic fortified church features two towers and a tall surrounding wall. Make sure to explore the hundreds of kilometres of hiking trails in the area.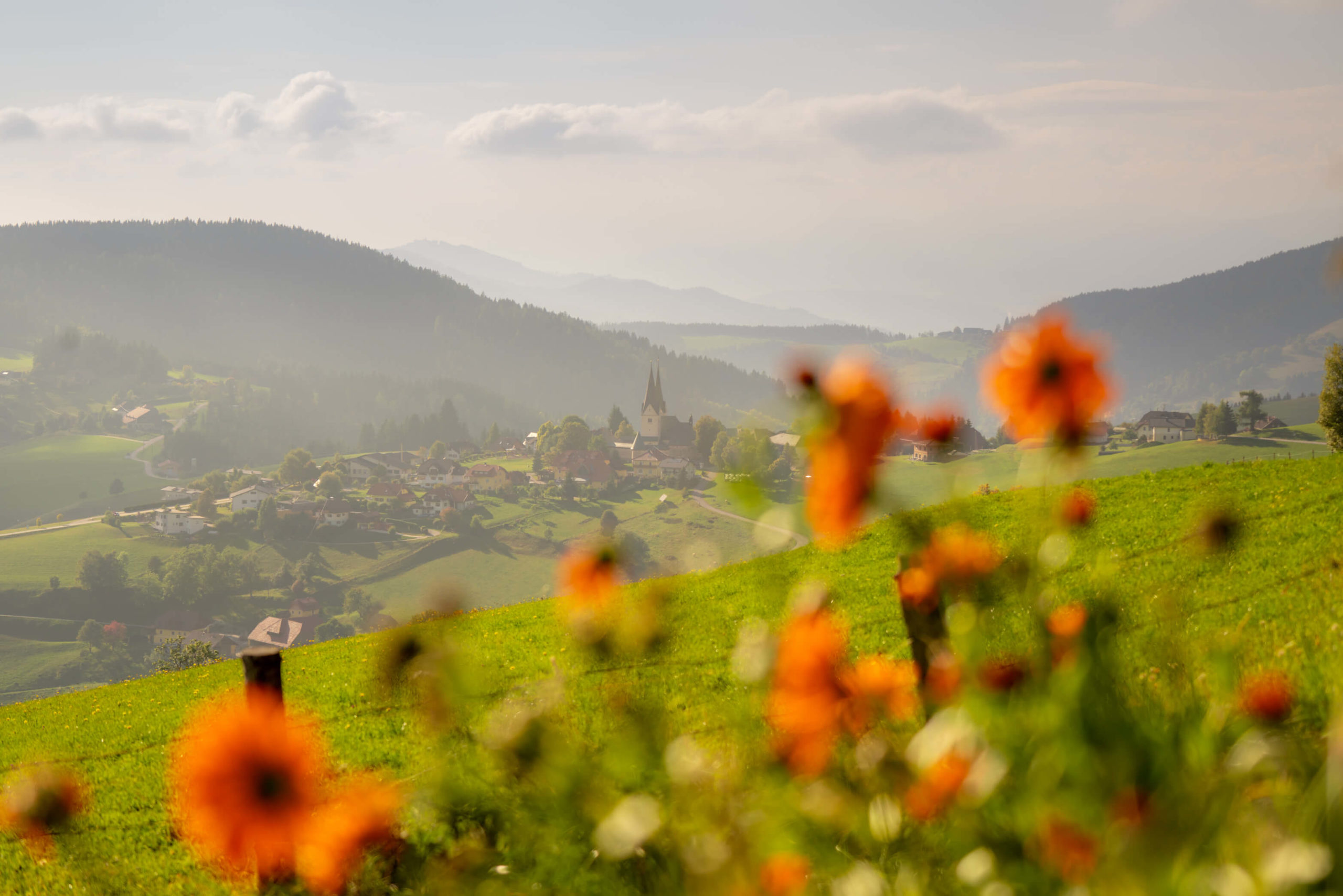 11. Obertilliach Chapels, Lesachtal
We stumbled on this church while reading an alpine magazine in a mountain hut. It looked kinda hilarious, like the church behind is creeping up on the one in the front. We just had to visit and instantly fell in love with Lesachtal. Naturally, we went back in the winter. The untouched snow piled on the roofs is mesmerising. For more winter hiking adventures in Carinthia, we've got you covered: The most beautiful winter hiking trails in Carinthia: Part 1 & The most beautiful winter hiking trails in Carinthia: Part 2.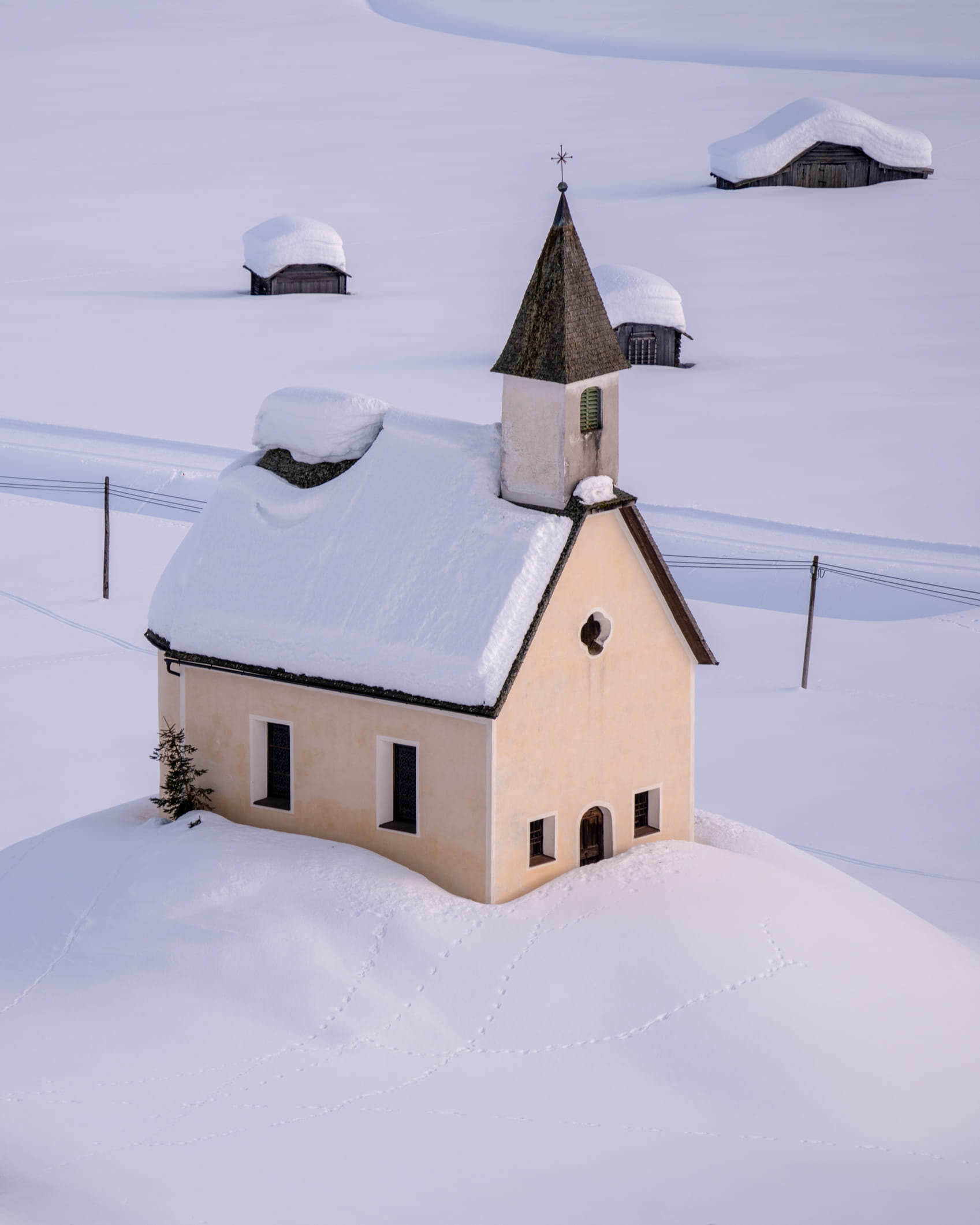 12. Pilgrimage Church of St. Wolfgang
Salzkammergut is a place of magic. Lakes, mountains and beautiful alpine villages. Wolfgangsee was one of our first destinations hitchhiking through Austria years ago and has always remained a firm favourite. We finally returned in the autumn and well, we were struck by the magnificence of the landscape.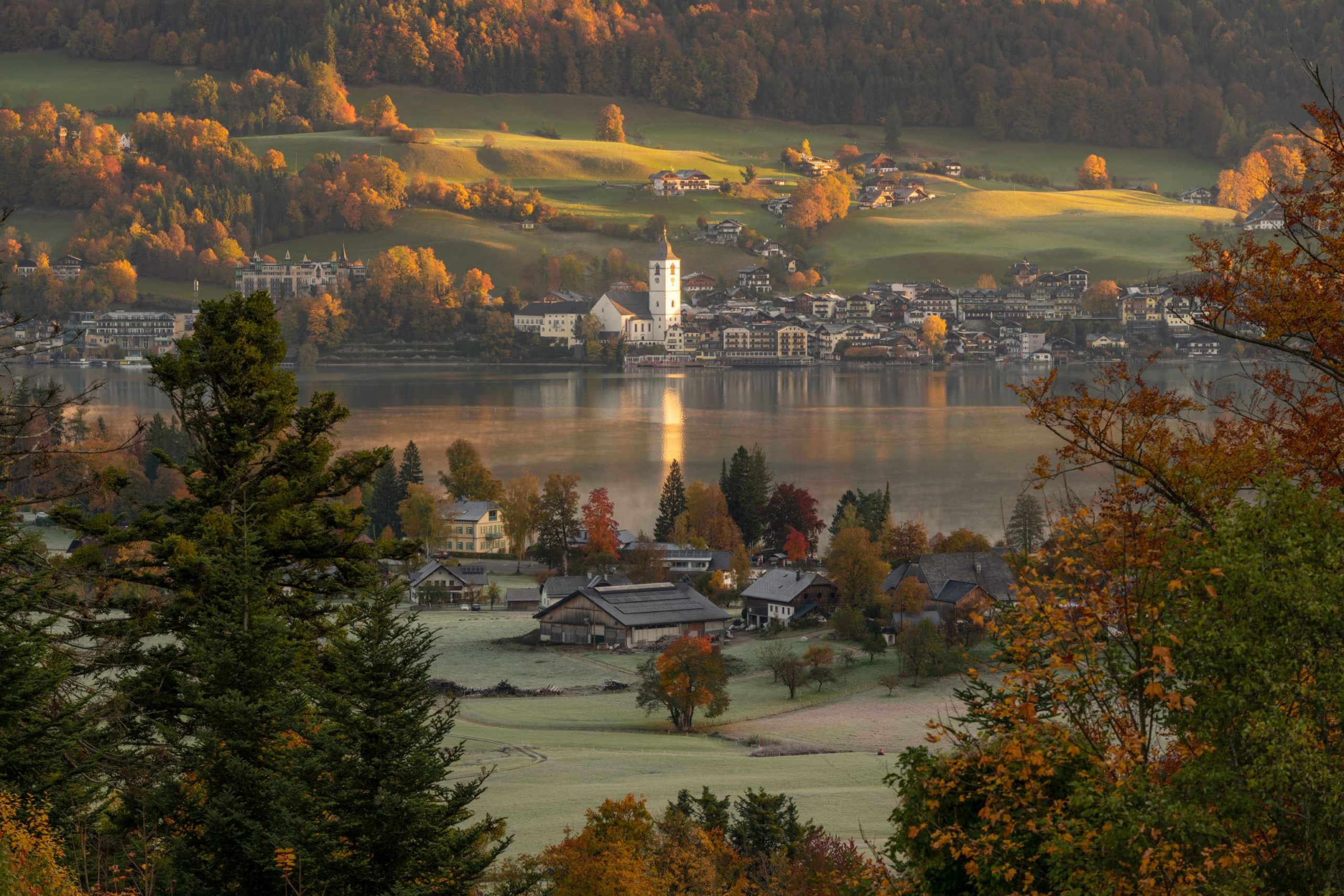 13. Maria Wörth Church, Wörthersee
Gorgeous churches, boat houses and magnificent villas, Wörthersee is a stunning lake in Carinthia which attracts many tourists throughout the year. There's a few pretty churches dotted around the lake but Maria Wörth is the most spectacular, especially when smothered in golden light like this!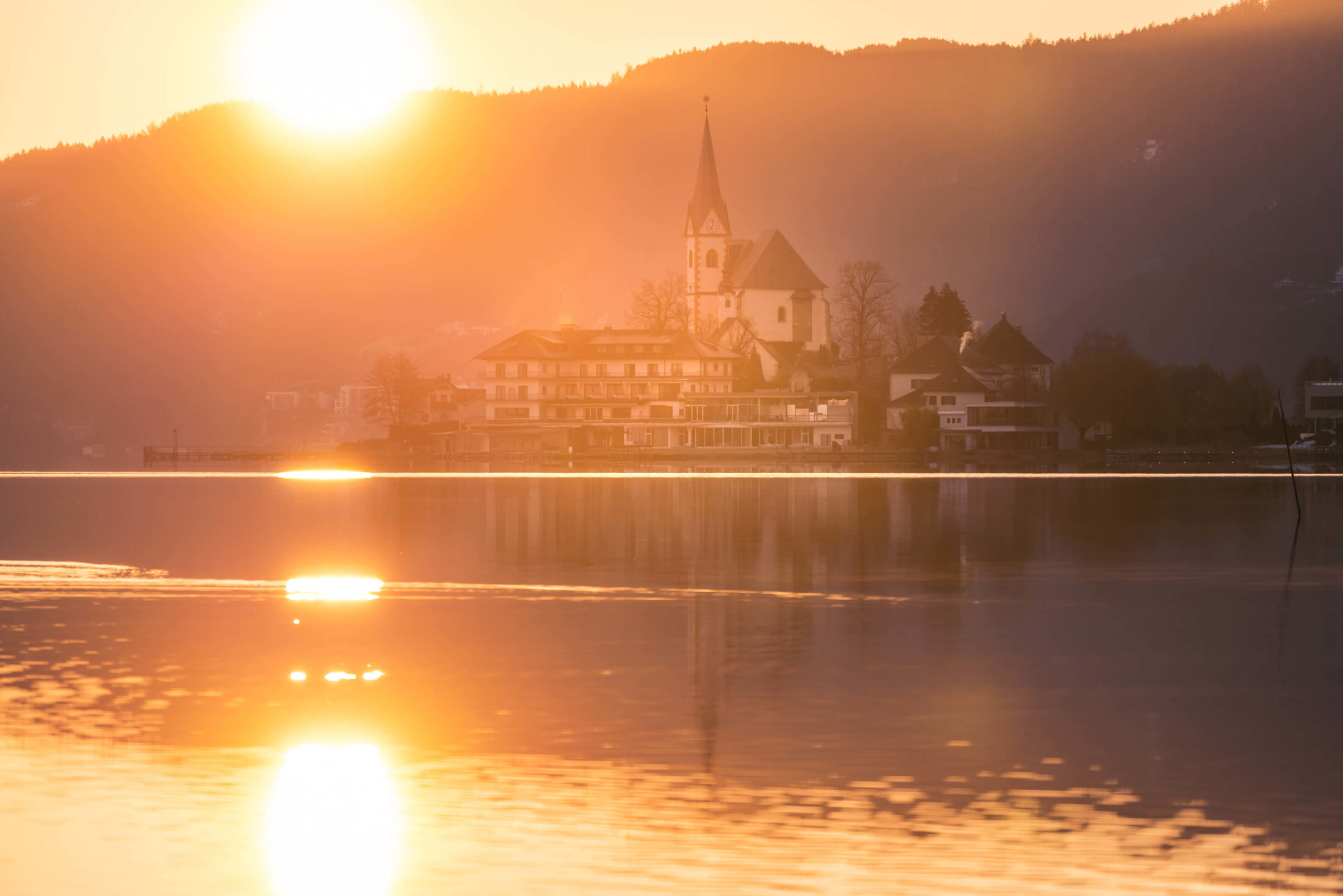 14. Unknown church near Völkermarkt
Sooo…we're not exactly sure which church this is, only the local vicinity. The photo was taken from near the aptly named Gasthof Karawankenblick (Guesthouse Karawanken view), looking over the Drau valley towards the Karawanken mountains. This was a particularly special morning with super thick fog engulfing the valley, the only detail being this church spire, peeking through. It was truly awe-inspiring to watch this moment unfold.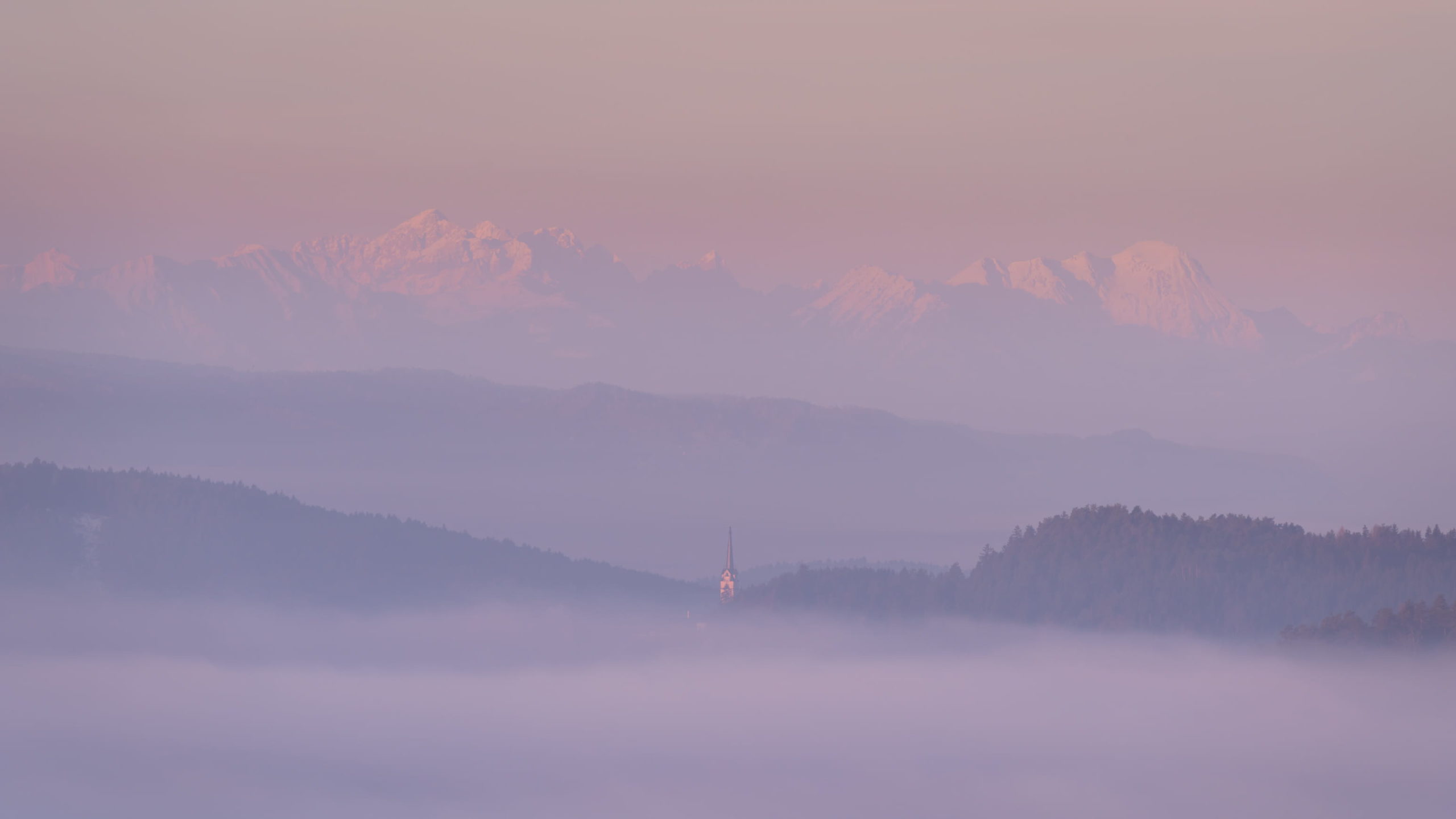 Source: https://www.wildandwithout.com/