Portugal is one of Europe's most popular golfing destinations. The country's warm, sunny Algarve region alone counts for more than 40 golf courses, many of them world-famous championship layouts. Elsewhere, you can play equally esteemed courses along the Lisbon coast and even on beautiful Madeira Island, set in the Atlantic Ocean.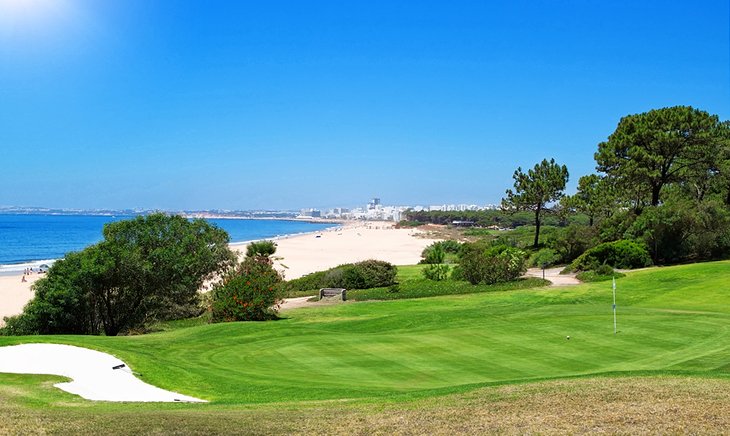 A beachfront golf course in Portugal
Whether you're a seasoned exponent or an enthusiastic novice, there's a golf course in Portugal for everybody, with fantastic layouts where you can hone your skills, improve your game, and maybe even lower your handicap into the bargain. For ideas on where to play, see our list of the top golf courses in Portugal.
Note: Some businesses may be temporarily closed due to recent global health and safety issues.
1. San Lorenzo Golf Course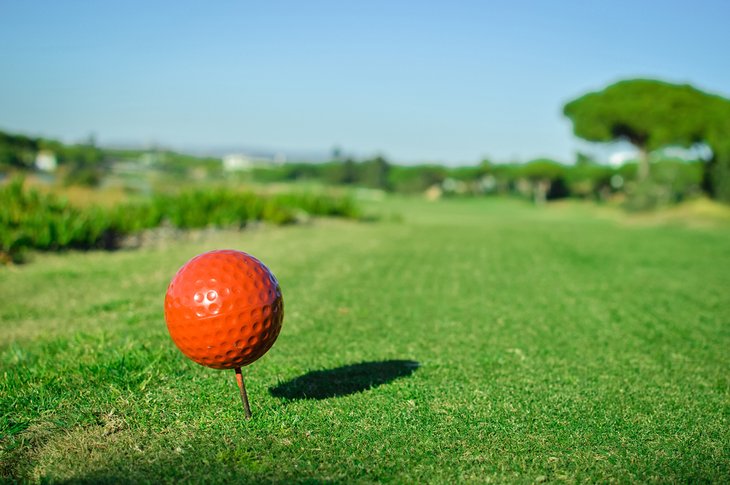 Teeing off at San Lorenzo Golf Course
One of the most popular golf courses in Portugal and ranked as one of the finest in Europe, San Lorenzo Golf Course enjoys a magnificent location on the exclusive Quinta do Lago estate in the Algarve.
Designed by American golf architect Joseph Lee, this 18-hole par 72 gem is laid out in a figure of eight and winds its way over undulating pine woodland. Blessed with fairways of beautifully manicured Bermuda grass, play is gentle but often challenging with several holes demanding strength and accuracy.
By the 6th hole, the golfer's skill is seriously tested – this is a dogleg and rated Stroke Index 1. Club selection is crucial.
San Lorenzo is surrounded by some of the most appealing landscapes in the Algarve: the serene Ria Formosa estuary, with its shallow lagoons and golden beaches, provides a suitably beguiling backdrop.
The layout also takes advantage of some wonderful topography, with several inland lakes serving as water hazards. Seasoned players agree that the most demanding hole is the 12th, but it is the 18th that is world-renowned, where the proximity of water requires a perfect drive and nerves of steel.
It should be noted that besides members, the course is only open to those staying at the Dona Filipa Hotel.
Location: Quinta do Lago, Algarve
2. Penha Longa Atlantic South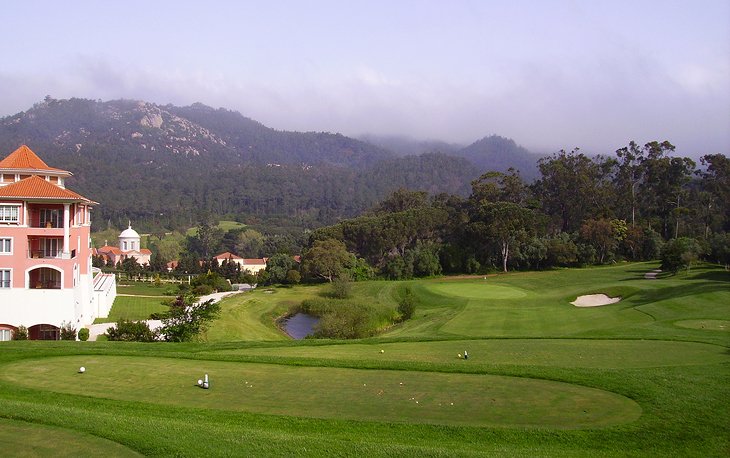 Penha Longa Atlantic Championship | lele3100 / photo modified
Arguably the most dramatic of Portugal's golf courses in terms of location, Penha Longa Atlantic South is another one of Europe's highest-ranking layouts. Integrated within the upmarket Penha Longa Resort near Sintra, the verdant 18-hole par 72 Atlantic South course sits within a protected natural reserve and overlooks the Atlantic Ocean.
The championship layout's wildly differing elevation makes for some of the fastest greens in Portugal, which require bold and strategic play. Penha Longa's golf architect, the celebrated Robert Trent Jones Jr, has taken full advantage of the spectacular setting to design a layout that is joyously unpredictable and truly exhilarating – escapist golf at its most memorable!
The course snakes its way up and down a series of rolling hills framed by rocky outcrops. The lofty views down towards the coast from some of the greens are simply breathtaking. Each shot presents its own challenge, but particularly so if it's windy. Penha Longa sits on an exposed plateau and when gusts are funneled across the mountains, play can become very difficult.
The par-five 6th is a signature hole, a picture postcard green framed by a lake and a centuries-old aqueduct and castle tower. The 15th will also stick in the mind for the enormous 155-meter carry over water, and a powerful drive over a lush valley will be needed to conquer the tricky 16th.
Address: Estrada da Lagoa Azul Sintra-Linhó, Portugal
3. Monte Rei Golf Club
American golf legend Jack Nicklaus is the architect behind this remarkable golf course, which nestles near Tavira in the eastern Algarve hinterland among a rugged landscape studded with cork oak and olive trees and not known for its abundance of golf courses.
But despite its seclusion, the course is within striking distance of the coast and an assortment of resorts and amenities, although many choose to stay in one of the plush on-site villas and take advantage of the excellent five-star clubhouse facilities, which include a first-class gourmet restaurant.
The undulating 18-hole par-72 layout is characterized by several tricky water hazards and peppered with numerous bunkers, some frighteningly deep, and features of play that test the golfer's accuracy from the first tee.
Playing here is a privilege for golf aficionados in that Monte Rei is just one of a handful of Jack Nicklaus signature courses in Europe, and the only one currently in Portugal.
The idyllic rural setting is epitomized by a pair of outrageously pretty holes, the 13th and 14th, which combine a downhill par 4 fringed with plenty of sand and a picturesque lakeside par 3 that must carry water and precise putting.
A powerful and accurate drive can make short thrift of the 18th, but another water feature is ready to sink any player who dares get complacent on their way to celebration in the clubhouse.
Address: Sitio Do Pocinho, Sesmarias, Algarve
4. Victoria
Host venue of the prestigious Portugal Masters (a European Tour event) and the PGA World Cup on numerous occasions, this Arnold Palmer-designed golf course is one of several excellent layouts clustered in and around the upscale Vilamoura resort, on southern Portugal's Algarve coast.
As befits any championship course, the 18-hole par-72 Victoria is a challenging prospect, set among coastal wetlands, where natural water hazards present a series of challenges that even have professionals second-guessing their strategy.
Victoria's relatively flat topography is deceiving. It positively rolls in places and presents the golfer with long, undulating fairways that are often difficult to gauge. Well-positioned bunkers underline the emphasis for accurate play, and the aforementioned water hazards will always sink the reckless. That said, the course rewards heroic and ambitious play.
This is an extremely attractive golf course. Clusters of cork, almond, and carob trees provide texture against a series of well-groomed greens, and the proximity to the coast laces the air with a wonderfully sharp, salty tang.
Holes 11, 12, and 13 surround a lake teeming with wildfowl, and the views might help you mentally prepare for a difficult back 9, again where accuracy favors the more prudent.
Victoria's clubhouse mirrors the facilities of the neighboring five-star Tivoli Victoria hotel, which overlooks the first tee. Here, golfers can relax in an extremely comfortable environment while comparing scorecards.
Address: Avenida dos Descobrimentos, Vilamoura, Algarve, Portugal
5. Vale do Lobo Royal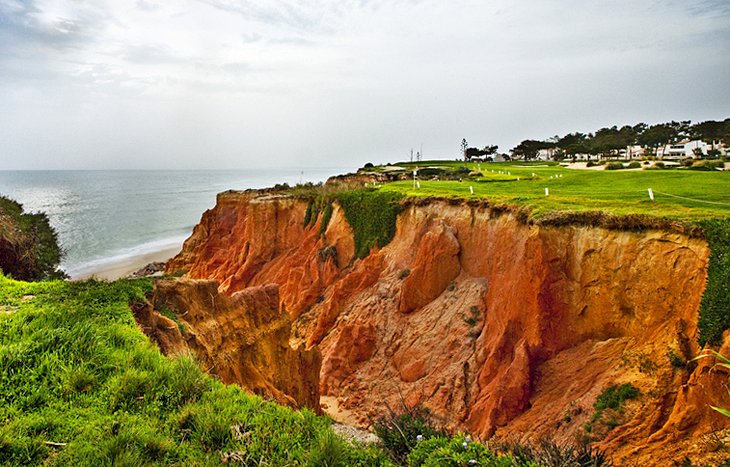 Vale do Lobo Royal
The magnificent signature 16th hole of Vale do Lobo's celebrated Royal Golf Course is the most photographed hole in Portugal, and instantly recognized in European golf. The famous cliff-top carryover is one of the most challenging shots in the country and has become a symbol of golf in the Algarve.
The 18-hole par-72 Royal was designed by Rocky Roquemore by splitting in two the original Vale do Lobo Course laid out by Sir Henry Cotton in the 1960s and creating nine new holes. His radical overhaul also created the resort's sister course, the Ocean.
With the long, gently undulating fairways and some well-bunkered greens, you'll need to maintain accuracy throughout your game, and choice of club is paramount. There are several water hazards to negotiate, with holes 6 and 7 fringed by lakes.
But it's the 9th that will truly test your skills. This scenic par 3 is mostly surrounded by water, with the green resembling an island. Tee shots must land gently and be on target. You also have to avoid water at the dogleg 14th, and there are deep bunkers guarding the approach to the 15th.
Vale do Lobo is one of the Algarve's swankiest resorts. The clubhouse is incorporated into an upmarket commercial hub composed of exclusive boutiques, art galleries, and residential real estate offices.
Location: Vale do Lobo, Algarve
6. Old Course
The Old Course, an unusual par 73, is one of the most revered golf courses in Portugal. Laid out by Frank Pennick and inaugurated in 1969, this is effectively where golf in the Algarve started.
Located at Vilamoura, the Old Course is a gloriously verdant layout, with an abundance of natural vegetation and long, often narrow fairways lined with majestic umbrella pine trees. Birdlife is colorful and plentiful.
Much of the play here calls for straight driving. Careful shot and club selection is required as it's easy to be lulled into a false sense of security by some of the benign-looking holes. The obvious hazard at the 4th hole is a pretty lake, but a confident golfer should overcome this with relative ease. The 13th hole, a left to right dogleg, will test your approach. If you end up in the rough or over the green, your scorecard will doubtless suffer.
A characteristic of this course is the elongated fairways: the 16th hole for example is more than 500 meters in length. Playing here is akin to taking a long walk in the countryside, but the exercise will do you a world of good. Naturally, buggies are available for the less nimble.
In keeping with its venerated and refined image, the Old Course clubhouse is a picture of well-designed sophistication, with a restaurant to match. And the leisure facilities and amenities that the Vilamoura resort is renowned for are just down the road.
Location: Vilamoura, Algarve
7. Oitavos Dunes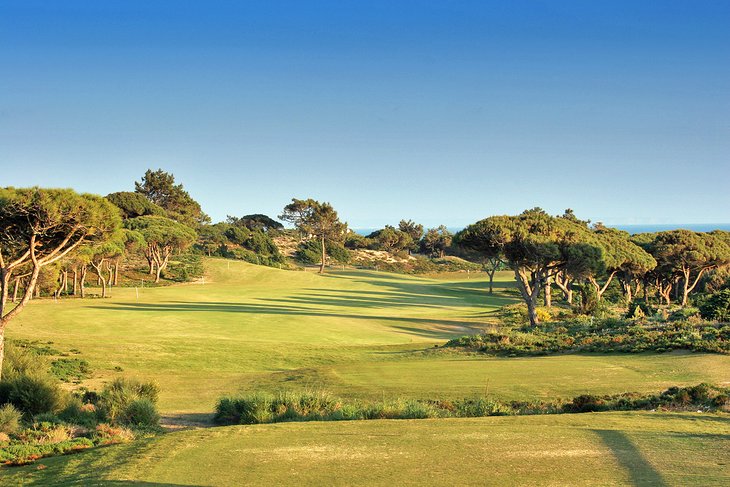 The first hole at Oitavos Dunes
The world-class Oitavos Dunes is a stunning natural links golf course designed by the highly regarded golf architect Arthur Hills. On the Lisbon coast, near the Sintra Mountains, the layout overlooks the Atlantic Ocean: indeed, every hole is influenced by the winds gusting off the sea, placing great demand for strategic play – low running shots are often required. Fast-paced greens further add to the challenge.
As its name implies, the course is characterized by some truly magnificent sand dunes. Greens are contoured around these natural wonders, with acres of umbrella pine anchoring the shifting terrain.
This is a rugged environment and needs to be treated with respect. At this 18-hole par-71 course, the pick of the holes on the front nine are the 5th, 7th, and 8th. Actually the 8th is one of the toughest holes with the prevailing wind, a par 5 that is best played safe – if you can avoid the trees, dunes, and bunkers.
The back nine includes a hole that's generally regarded as one of the best par 3s in the world, the 14th hole. Again, the wind will determine club selection and only a perfect shot will secure par. And there's no let up as you end your game, with the 18th hole demanding a super accurate approach, and a severe slope on the green giving you plenty to think about.
Needless to say, clubhouse facilities reflect the world-class standard of this exceptional golf course.
Location: Oitavos Dunes, Quinta da Marinha
8. Quinta do Lago South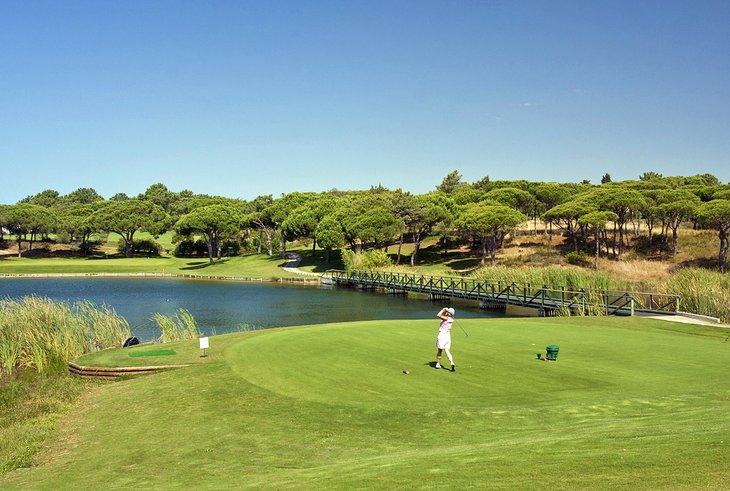 Quinta do Lago South
The Portuguese Open has played out on this magnificent course no less than eight times, and its championship pedigree has placed the 18-hole 72-par Quinta do Lago South in the top tier of Portugal's – and indeed, Europe's – golf courses.
Designed by William Mitchell way back in 1974, the layout meanders through some seriously attractive countryside; some of the holes overlook the Ria Formosa Natural Park. Studded with emerald-hued umbrella pine and splashes of water features, the South Course deserves to be walked at leisure.
Furthermore, this is a layout that will appeal to players of all abilities, although the 8th, 15th (a carry over a lake and the South's signature), and 18th are testing holes for those with a low handicap.
But that doesn't mean more seasoned exponents will have an easy game. Accuracy and some tactical thinking are required in order to reach many of the greens, and a ball lost in the generous vegetation lining the fairways can wreck havoc with your scorecard.
The more discerning golfer will appreciate the challenges faced on some of the inviting downhill tees and elevated greens. Course veterans agree that each hole carries its weight, but to score well, you'll need to take the odd risk and draw on a high degree of concentration.
Location: Quinta do Lago, Algarve
9. Vale do Lobo Ocean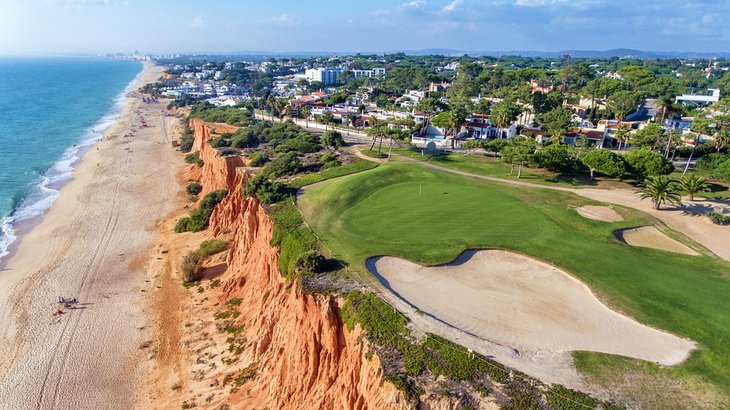 Ocean Course at Vale do Lobo Ocean
Golfers playing the Vale do Lobo resort in the Algarve have the enviable choice of two of the region's best layouts: the Ocean Course and the neighboring Royal Course.
The Ocean is perhaps overshadowed by the Royal's world-famous clifftop 16th hole, but this in no way should deter anyone from playing this outstanding course, which as its name suggests affords wonderfully accessible sea views.
American golf architect Rocky Roquemore laid out nine of the Ocean's holes to create the present 18-hole par-72 course, a composite based on Sir Henry Cotton's original nine holes that the venerable Knight designed in the early 1960s.
Roquemore's front nine are on an elevated section of the course where umbrella pines cluster around the greens to create natural obstacles. Water hazards at the 3rd and 5th holes plus several cheekily placed bunkers prompt a careful and precise swing.
By the time you're on the back nine and ambling down towards the well-bunkered 11th hole, the ocean is in clear view. The 14th brings you even closer to the beach but it is the magnificent 15th hole where you're playing nearer to the sea than any other course on the Algarve. Out of bounds to the left here literally means a drop in the ocean.
Location: Vale do Lobo, Algarve
10. Quinta do Lago North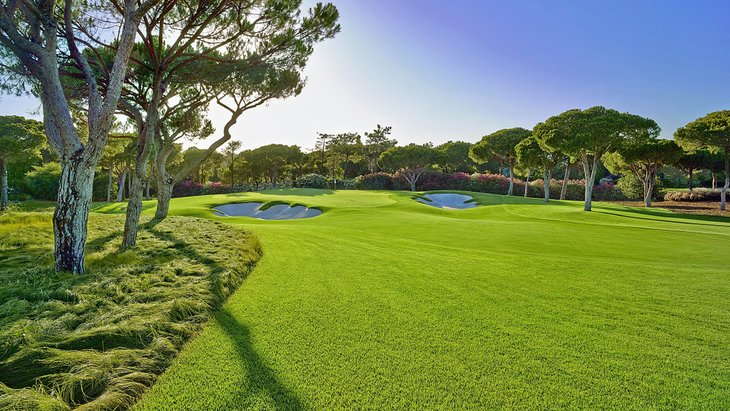 Quinta do Lago North
Redesigned in 2014 by renowned American golf architect Beau Welling, with imaginative input from European Ryder Cup captain Paul McGinley, Quinta do Lago's North Course has been redeveloped with the emphasis firmly on precision and strategy.
This subliminal 18-hole par-72 layout, set in the heart of the Algarve's Quinta do Lago estate – one of the most exclusive golfing destinations in Europe – boasts four sets of tees on each hole to facilitate players of all levels.
But be in no doubt, the North Course will challenge even the most practiced of players with its combination of undulating greens, well-positioned bunkers, and a lake that's more tricky to play than its calm, shimmering waters suggest. Indeed, one of the most visually appealing holes is the 12th, whose focus is this three-acre water hazard. It takes considerable skill to negotiate the dogleg terrain, and a wayward strike will see your shot meet a damp and inglorious end.
In keeping with the eco-friendly aspects of other golf courses in the region, the North Course is very much at one with nature. Welling has introduced cool season rough grass, native grasses, and specimen trees to help nurture the environment. New plant and animal habitats have also been introduced. And while you'll end up walking a great deal between the exceptionally long greens, most golfers will appreciate the blossoming flora while playing this enhanced layout.
Location: Quinta do Lago, Algarve
11. Palheiro Golf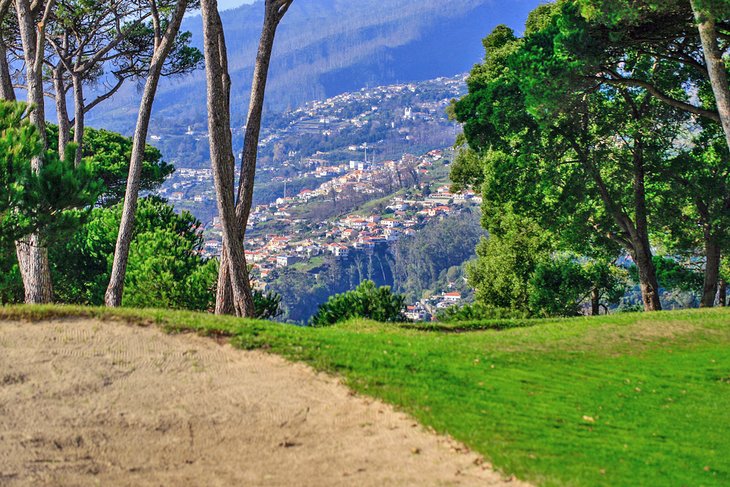 View from Palheiro Golf
If you like widescreen seascapes or dramatic mountain views with your golf, you'll be suitably rewarded with both at this incredible layout, on the Portuguese island of Madeira. Perched 500 meters above Funchal, the island's capital, Palheiro Golf unveils itself through the verdant Palheiro Estate, celebrated for its collection of rare and colorful subtropical flora that borders much of the course.
Designed by Cabell B. Robinson, Palheiro's 18-hole par-72 golf course features a series of rolling, undulating fairways and speedy greens that favor accurate and considered play. You can easily fall prey to any one of the cleverly contoured bunkers guarding each approach, so there's little room for error. But therein lies the challenge of playing this lofty course, which has hosted championship tournaments on several occasions.
Pay heed to any "local knowledge" regarding the characteristics of Palheiro's 4th hole. Avoid a long drive – you'll end up in the undergrowth in a fruitless search for a lost ball.
From anywhere on the course it seems, players are greeted with stunning views. But at the 11th hole, Madeira's neighboring Desertas Islands come in to view – another pleasant distraction. Palheiro saves the best till last, however, with the absolutely cracking view of the coast offered players approaching the 18th. The dazzling backdrop will even appease those who have played below expectations, and there's always the "19th" to look forward to, a stylish clubhouse whose outside terrace brings distant Funchal into glorious focus.
Rua do Balancal 29, São Gonçalo, Funchal, Madeira
12. Praia D'El Rey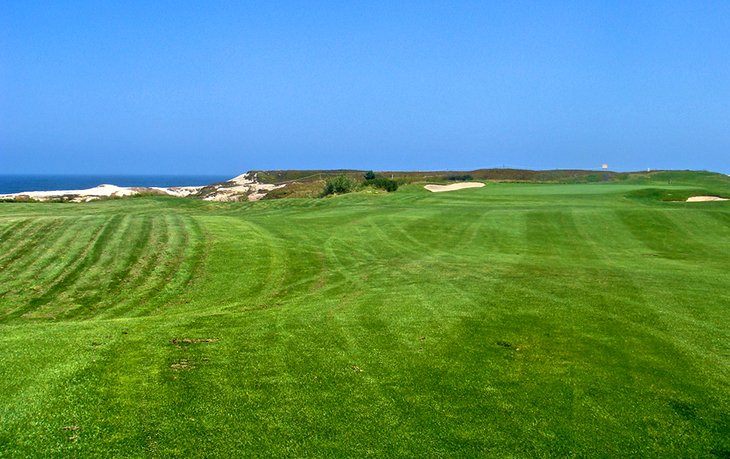 Praia D'El Rey | Simon Doggett / photo modified
The upscale Praia D'El Rey Golf and Beach Resort, near Óbidos, a pretty walled town one hour northwest of Lisbon and easily reached by motorway, is anchored by its exhilarating golf course.
Designed in two loops of nine holes by Cabell B. Robinson, this visually stunning layout, which unfolds over an attractive estate of fragrant pine forest and undulating dunes, has all the characteristics of an authentic links course.
Fringing the coast, Praia D'El Rey is often visited by feisty Atlantic Ocean gusts and as such, play is very much influenced by the strength of the wind. The front nine holes are cut through lush vegetation, with meandering, elevated fairways guarded by a number of worryingly deep bunkers. Approaching the greens requires some thought, and rushing your game could result in frustrating moments in the rough. Furthermore, reaching the 8th hole means an accurate shot to carry a large lake.
The back nine bring into focus the ever-restless Atlantic Ocean and a visual bonus, the diminutive Berlenga Islands. This is the most picturesque part of the course. Holes 12 to 15 all run along the coast, and low running approach shots may be the best way to defeat any wayward breeze.
Address: Vale de Janelas, Óbidos
13. Quinta da Marinha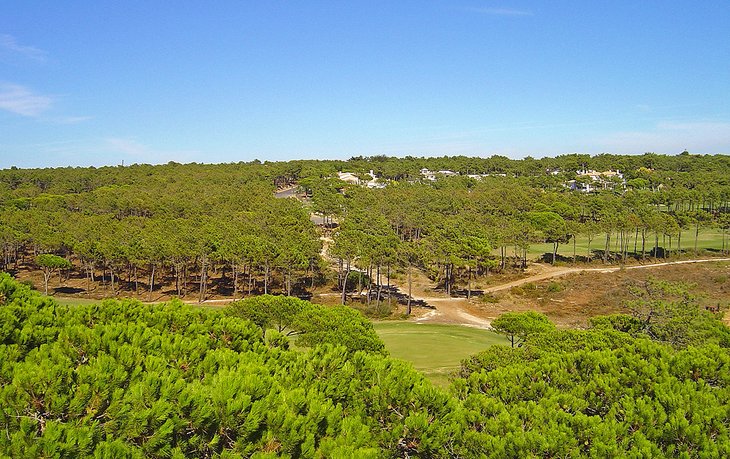 Quinta da Marinha | Vitor Oliveira / photo modified
Located on the coast a short drive north of Cascais, Quinta da Marinha Golf Course is an absolute gem of a layout. Set within a verdant natural park and part of a plush 5-star resort, Quinta da Marinha overlooks the Atlantic Ocean and affords fine views of the granite-hewn Sintra Mountains.
Play here is as much about enjoying the scenery as keeping your eye on the ball! Designed by the world-renowned Robert Trent Jones, this 18-hole par-71 championship course meanders its way through a landscape of scented umbrella pine. Intimidating bunkers, sloping greens, and signature long runway tees test even the most experienced golfers.
And let's not forget the unforgiving water hazards that demand accurate play at all times. Of the front nine holes, the par-4 hole 3 is arguably the most scenic – and difficult. Length is not an issue here. Rather, this 320-meter challenge plays gently downhill to a green with the sparkling ocean directly behind it. Similarly, hole 4 is a picture-postcard treat that requires a careful tee shot played over a deep ravine textured with trees and plants to find the green.
Of the back nine, hole 13 is one of the most daunting. You play over water to an elevated green surrounding by imposing bunkers. And a high degree of concentration is needed to avoid the lakes flanking the approach to the 18th, a dramatic par-5 to round off your game.
Golf at Quinta da Marinha is a suitable year-round proposition even in mid-summer, when temperatures remain balmy thanks to the ever-present coastal breezes. Mind you, when the ocean is restless, these light winds can gather pace to play havoc with your game. Check the weather forecast!
Address: Quinta da Marinha, Cascais
14. Penina
Regularly cited as the home of Portuguese golf, Penina boasts three golf courses, one of which, the Sir Henry Cotton Championship Course, was the first 18-hole layout to be constructed in the Algarve. In fact, the par-73 golf course is regarded as the grandfather of all Portuguese courses, an affectionate nod towards the English professional golfer who designed Penina back in 1966 and for whom it's named after.
Most golfers play here as guests of the Penina Hotel & Golf Resort, a well-established five-star property located near Alvor on the road between Lagos and Portimão.
Besides the three courses (the other two being the 9-hole Resort and Academy courses), Penina has four putting greens and a driving range that is considered one of the best in Europe. Its flat terrain and landscaping means club selection is critical on the Sir Henry Cotton Championship Course, and extremely accurate play is demanded throughout to avoid the series of streams, ditches, and water hazards the layout is notorious for.
Achieving par is not easy. Fairways are flanked by tall eucalyptus and strategically placed bunkers. Tee shots therefore require a precise drive. The mainly elevated greens are narrow in places and feature subtle slopes and treacherous speeds. Over confidence can cost you dearly.
Signature holes include the difficult 12th, where pinpoint accuracy is required to carry the ball 60 meters over the water in front of the green. The following hole is equally demanding, which requires a long iron and a well-struck shot to avoid the lake: No 13 has proved unlucky for many! And another water hazard crosses the fairway towards hole 16 with a green protected by bunkers and a slope towards the water.
Address: Penina, near Portimão, Algarve
By: www.planetware.com