Western Australia is a land of superlatives and extremes. Occupying a third of the continent's total area, it's the largest of the Australian states with less than 10 percent of the country's total population. The state's capital, Perth, exudes a vibrant, sophisticated feel, with glitzy shops, galleries, and gourmet restaurants, but the beating hot heart of the vast desert and a wild and rugged coastline beckon just beyond. Endless stretches of white-sand beach, rugged red gorges, sweeping fields of wildflowers, and bizarre rock formations are just some of the stunning natural attractions, and the state is also famous for its distinctive flora and fauna.
Wilderness adventures are a top draw. You can four-wheel-drive along the Kimberley's Gibb River Road, surf big-wave breaks at the Margaret River, bask on the beach with a kangaroo, hand-feed wild dolphins, and swim with whale sharks at the planet's largest fringing coral reef. Plan your trip with our list of the top tourist attractions in Western Australia.
Note: Some businesses may be temporarily closed due to recent global health and safety issues.
1. Perth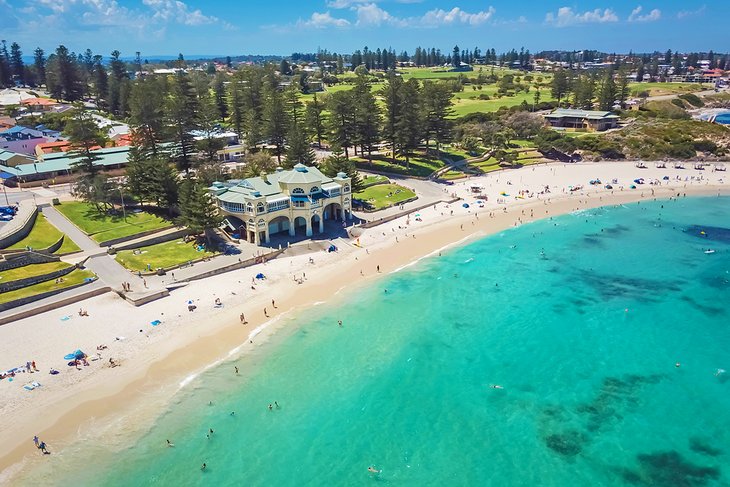 Perth
Perhaps no Australian capital has changed as much in recent decades as Perth. Thanks to a mining boom, it's now the fourth largest city in Australia, flaunting its wealth with shiny skyscrapers, hip boutiques, gourmet restaurants, and buzzing entertainment venues. Bounded on the west by the Indian Ocean and set on the banks of the winding Swan River, Perth is a hot spot for water sports. Surfing, swimming, and sailing are part of everyday life, and enjoying the city's beautiful beaches is among the top fun things to do in Perth.
Other Perth attractions include Kings Park and Botanic Garden, where you can admire more than 1,200 species of native plants and a spectacular display of wildflowers in the spring. The poignant Kings' Park War Memorial here is worth a stop as well. Among the city's most popular museums are the Art Gallery of Western Australia and Scitech, and gamers can play their favorite 80s video games at The Nostalgia Box museum, one of the more unusual things to do in Perth. The city also makes a great base for rewarding day trip adventures, including picturesque Rottnest Island and the port city of Fremantle.
2. The Margaret River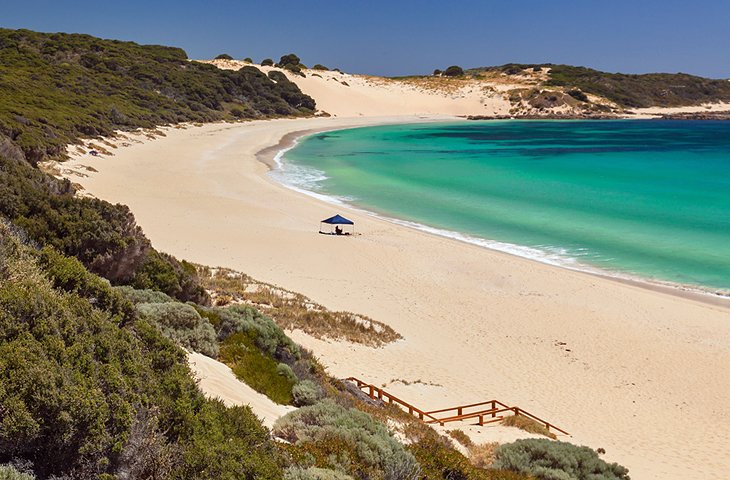 Margaret River
Home to galleries and gourmet restaurants, Margaret River is a much-loved holiday resort and a popular spot for surfers. This pretty town lies in the state's south west, about a 3.5-hour drive south of Perth, making it a favorite weekend escape from the city. Surfers flock here for the consistent big-wave breaks, as well as more than 40 surf spots sprinkled along the coast.
Tourists love the region's beautiful scenery, with tall timber forests and sparkling white-sand beaches. The area is also noted for its impressive limestone caves, such as Lake Cave, Jewel Cave, and Mammoth Cave, with glittering stalactites and prehistoric fossils. Other popular things to do include rock climbing, mountain biking, fishing, kayaking, and whale watching tours.
3. Broome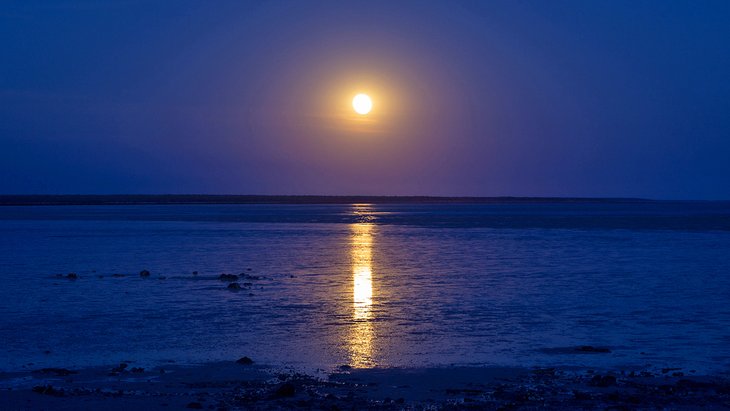 Broome and the Kimberley
The thriving tourist town of Broome is one of the most popular Western Australian destinations and a gateway to the magnificent Kimberley region. One of the town's main attractions is Cable Beach. Backed by striking red cliffs, this impressive shoreline stretches for 22 kilometers, with sweeping white sands and turquoise waters. Sunset camel rides are a popular way to soak up the scenery.
Broome is also Australia's pearling capital, and you can learn about this fascinating history at The Broome Historical Museum. Other things to see and do include the Malcolm Douglas Wilderness Wildlife Park; watching a movie at Sun Pictures, a quirky outdoor movie theater; and touring local pearl farms. Broome is also famous for a natural phenomenon called the Staircase to the Moon. When the full moon rises over the bay, locals and tourists gather to admire the rays of light gleaming on the water, creating an optical illusion of steps leading to the moon.
Broome is also a popular base for Kimberley adventures, such as the Horizontal Waterfall, Cape Leveque, the Gibb River Road, Purnululu (Bungle Bungle) National Park, and Mitchell Falls.
4. Ningaloo Reef Marine Park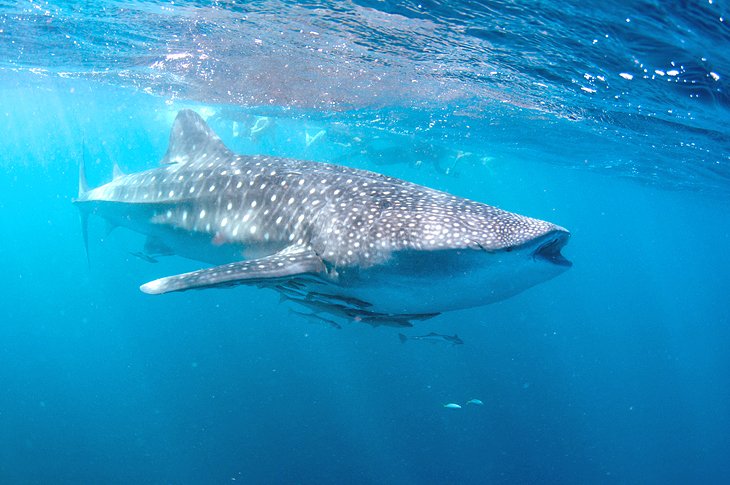 Whale shark at Ningaloo Reef Marine Park
A UNESCO World Heritage site, Ningaloo Reef is the world's largest fringing reef. The Ningaloo Reef Marine Park extends for about 260 kilometers and harbors an astounding diversity of marine life, but unlike the Great Barrier Reef, it's easily accessible from shore. Marine life includes manta rays, dugongs, whale sharks, humpback whales, turtles, and more than 500 species of fish and 300 species of coral.
One of the top beaches for snorkeling is beautiful Turquoise Bay, a sublime stretch of blinding white sand and crystal-clear water laced with coral. It's also one of the few places in the world where you can swim with whale sharks, an experience which graces the bucket lists of countless animal lovers.
The town of Exmouth is the main gateway to Ningaloo Reef and a popular launching point for reef trips. It's also one of the top fishing destinations in Australia. Coral Bay is also a great base, with long, white-sand beaches and ideal conditions for swimming, snorkeling, fishing, and boating. Off the coast are ample opportunities for scuba divers, with numerous wrecks round Point Cloates. Ningaloo Reef Marine Park also includes the coastal area of spectacular Cape Range National Park, where you can explore rugged limestone cliffs, dunes, and canyons.
5. Cruise on a Jet Boat through the Horizontal Falls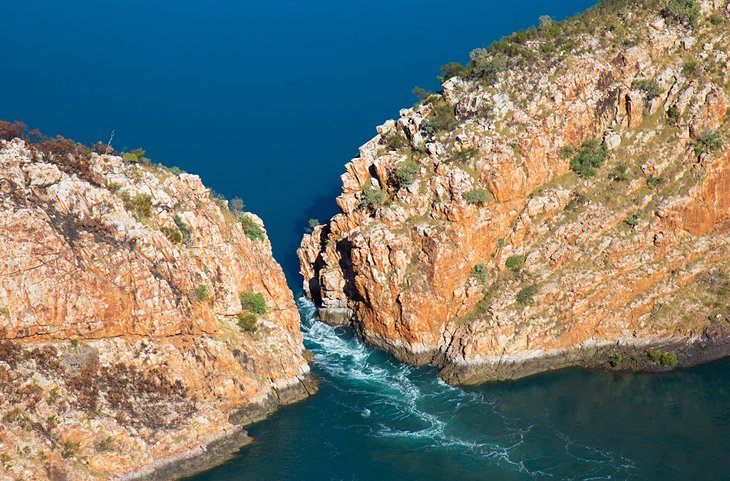 Aerial view of the Horizontal Falls
Viewing the Horizontal Falls from a jet boat is one of the most popular things to do up north in the rugged Kimberley region. Powerful tides of up to 11 meters squeeze through two narrow gorges to form this curious natural phenomenon, which is also one of the top outdoor adventures in Australia. The only way to experience this remote attraction is on an organized tour by seaplane and/or jet boat. Tours usually depart from Broome or Derby and include a scenic flight over the jaw-droppingly beautiful Buccaneer peninsula, a wild stretch of red, cliff-fringed coast washed by turquoise water and dotted with hundreds of tiny uninhabited islands. Tours usually involve a water landing on Talbot Bay; a lunch of fresh-caught seafood; an exhilarating jet boat ride through the falls; and, for the more adventurous, an optional shark swim. Others also include a stop in nearby Cape Leveque, an achingly gorgeous area of wild beaches, blue sea, and vermilion-hued cliffs.
6. Relax on Rottnest Island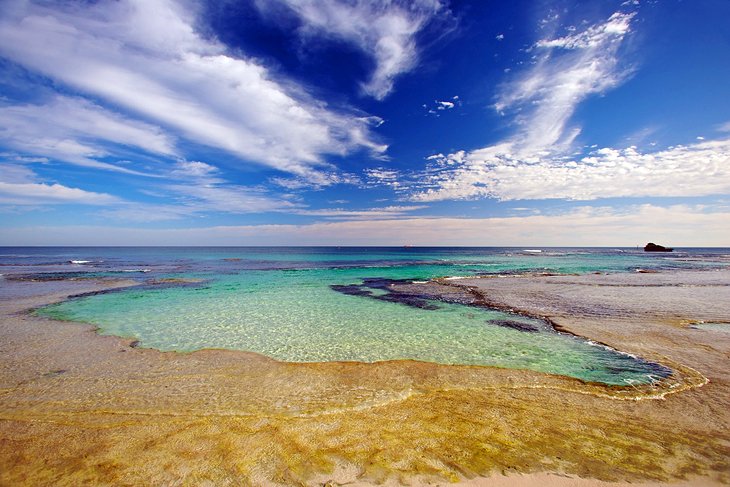 Rottnest Island
A ferry ride from Perth or Fremantle, Rottnest Island is a car-free nature reserve and a popular spot for a city escape. The Dutch navigator Willem de Vlamingh landed on the island in 1696 and pronounced it an earthly paradise. Mistaking the small marsupials, called quokkas, for rats, he named the island Rottnest ('rats' nest'). Today, the adorable quokkas still inhabit the island and are only found in Western Australia. Sparkling bays, white-sand beaches, and coral reefs fringe the island's shores, providing excellent opportunities for snorkeling and swimming.
Top attractions on the island include the Rottnest Museum, housed in an 1857-era barn and threshing mill, with collections of historical material and relics of shipwrecks; the Parker Point Marine Trail; and Vlamingh Lookout. Most of the little limestone houses around the harbor were built by convict labor and are among the oldest buildings in Western Australia. Other things to do include hiking the trails, tennis, golf, cycling, and boating.
7. Explore Esperance Bay and Cape Le Grand National Park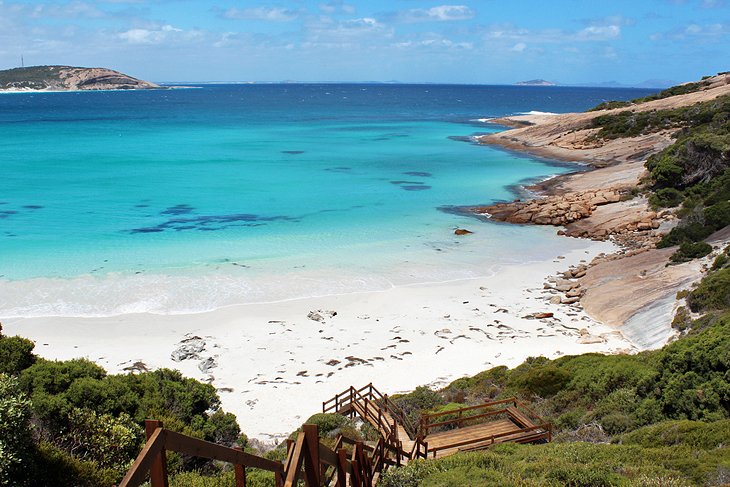 Esperance Bay and Cape Le Grand National Park
Ravishing beaches, turquoise lagoons, wildflowers, wildlife, and easy accessibility to spectacular national parks make Esperance Bay a haven for nature lovers. One of the region's top attractions is Lucky Bay in spectacular Cape le Grand National Park. Set against the islands of the Recherche Archipelago, this dazzling stretch of sand is one of Australia's best beaches, and lounging along its sublime shores with wild kangaroos is one of the top free things to do in Western Australia. Other popular activities along this unspoiled coast include snorkeling, surfing, fishing, and beach safaris.
Hikers and bikers love the Great Ocean Drive, which runs from Esperance to beautiful Twilight Beach. Strangely, the region even offers its own mini replica of Stonehenge. Also in the area, Cape Arid, Fitzgerald River, and Stokes National Parks are popular excursions, famed for their stunning coastal scenery, diverse flora and fauna, and fantastic hiking trails.
8. Purnululu (Bungle Bungle) National Park, The Kimberley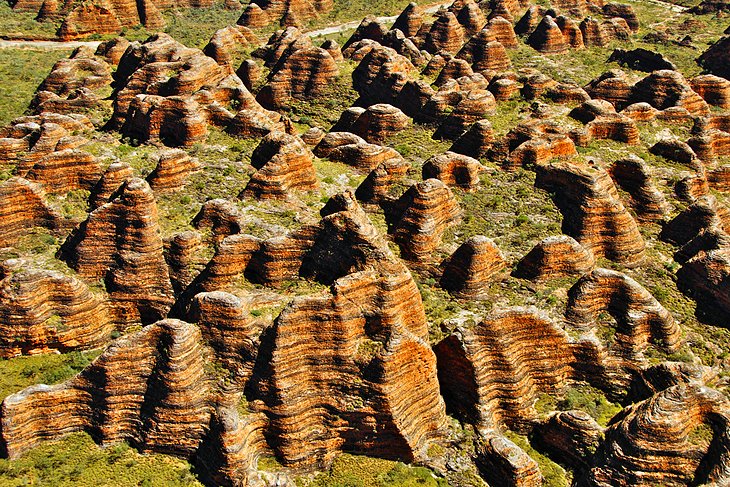 Purnululu (Bungle Bungle) National Park
One of Western Australia's hidden gems, the remote and spectacular rock formations of Purnululu (Bungle Bungle) National Park in the Kimberley remained unknown to the outside world until 1983. Today, the park graces both the National and UNESCO World Heritage lists. Despite its relatively recent discovery, the Bungle Bungle hills and surrounding area were home to Aboriginal tribes for thousands of years and hold remains of their culture, including ceremonial sites, rock paintings, and a burial ground. Violent summer monsoon rains carved the park's deep gorges and chasms, and the bee-hived shaped rock domes of the Bungle Bungle are made of soft sandstone.
You can explore the main sites on walking trails of varying difficulty. Cathedral Gorge, Piccaninny Gorge, and Echidna Chasm are some of the most popular sites. But perhaps the best way to appreciate the massive scope of these magnificent structures in on a sightseeing flight. Departing from Halls Creek and Kununurra, the flights usually include a visit to the Argyle diamond mine. Longer tours in all-terrain vehicles are also available.
9. Karijini National Park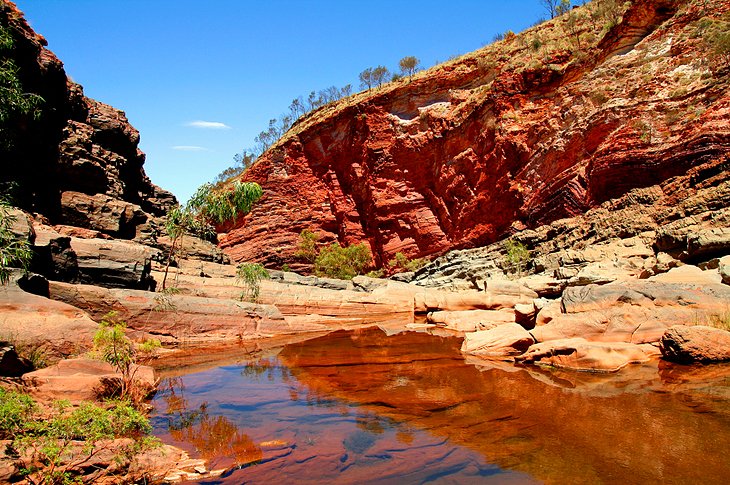 Karijini National Park
Karijini National Park is one of the largest and most rewarding national parks in Western Australia. Over many millions of years, erosion created steep gorges, up to 100 meters deep, with waterfalls and rock pools bordered by lush foliage. A track running through the Yampire Gorge leads to most of the scenic highlights of the park. The Fortescue Falls, fed by a groundwater river, do not dry up even in the heat of summer. You can explore the Kalamina Gorge and its deep waterholes on foot, while it's possible to drive through the Wittenoom Gorge for about 30 kilometers, with shady picnic spots beside natural swimming pools.
The park is home to the second highest peak in Western Australia, Mount Bruce, but the best views are from Oxer Lookout, perched over four red-walled gorges. Four-wheel-drive vehicles are recommended.
10. Feed the Dolphins at Monkey Mia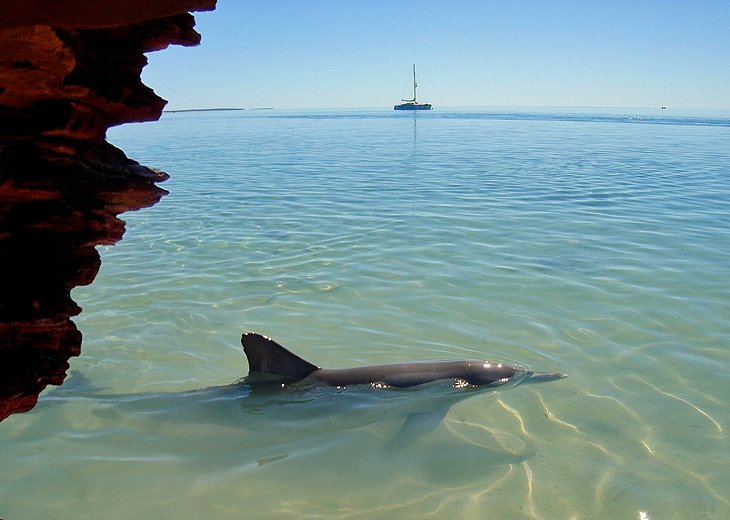 Shark Bay and Monkey Mia
Shark Bay, a UNESCO World Heritage Site, shelters some of the world's largest and richest sea grass beds. But the most famous tourist attractions in Shark Bay are the dolphins of Monkey Mia, about 25 kilometers from Denham. Every morning, rangers select a few visitors to hand-feed these friendly dolphins in their natural habitat. The dolphins became accustomed to human beings in the 1960s, when fishermen began throwing the remains of their catch into the sea.
Apart from dolphin watching, you can also enjoy swimming in the beautiful bays, fishing, kayaking, four-wheel-drive adventures, Aboriginal cultural tours, and camel rides here. Shark Bay is also known for its population of dugongs and stromatolites, mats of algae, which are among the oldest life forms on earth.
11. The Pinnacles, Nambung National Park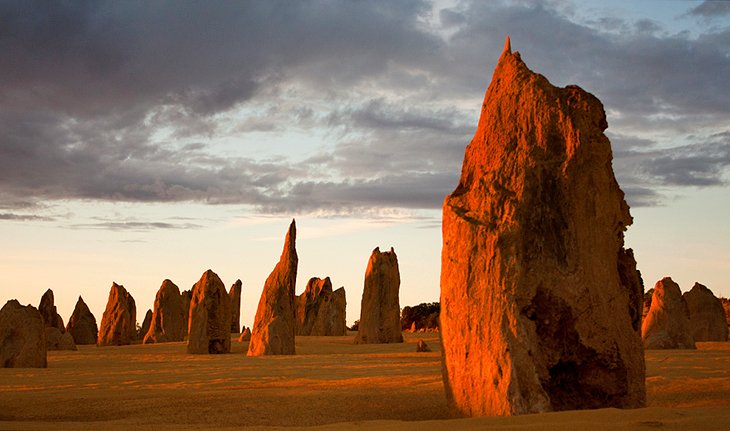 The Pinnacles
In Nambung National Park, about a two-hour drive from Perth, the Pinnacles are thousands of limestone pillars rising from a lunar-like landscape of yellow sand. These bizarre rock formations range in height from between a few centimeters to four meters. Controversy persists over their origin, but it seems that a process of chemical change caused by wind and water erosion led to the softer sandstones being washed away, leaving the harder limestone exposed. You can explore these strange-looking rock spires via a scenic drive or walking trail. The Pinnacles Desert Discovery Centre displays exhibits on the park.
Location: Pinnacles Drive, via Nambung National Park, Cervantes
12. Drive the Gibb River Road in The Kimberley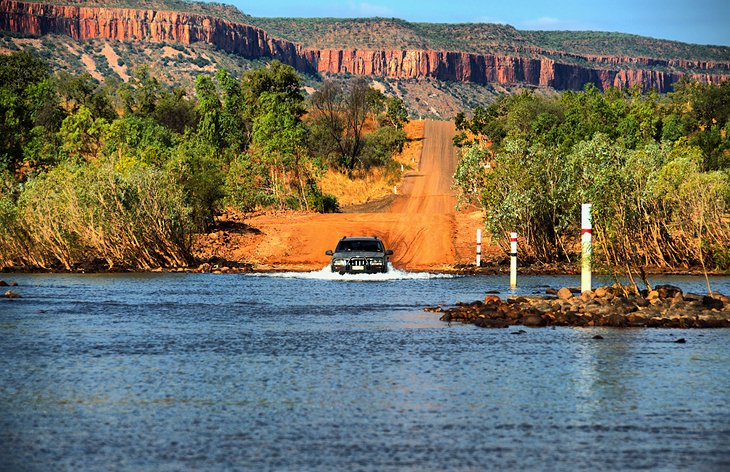 Gibb River Road, The Kimberley
Slicing through the heart of the Kimberley, Gibb River Road is legendary among outback adventures. "The Gibb," as it's called, is an old cattle-droving route running northeast for 600 kilometers from Derby to just short of Wyndham. Recommended for 4WD vehicles, the road threads past rugged red-rock gorges, outback cattle stations, aboriginal communities, croc-filled rivers, savannah, and magnificent mountain ranges. Travelers along this route can camp or stay at one of the remote stations in the region. El Questro is one of the most famous. During the rainy season, from November through March, the road is usually closed due to flooding.
13. Wave Rock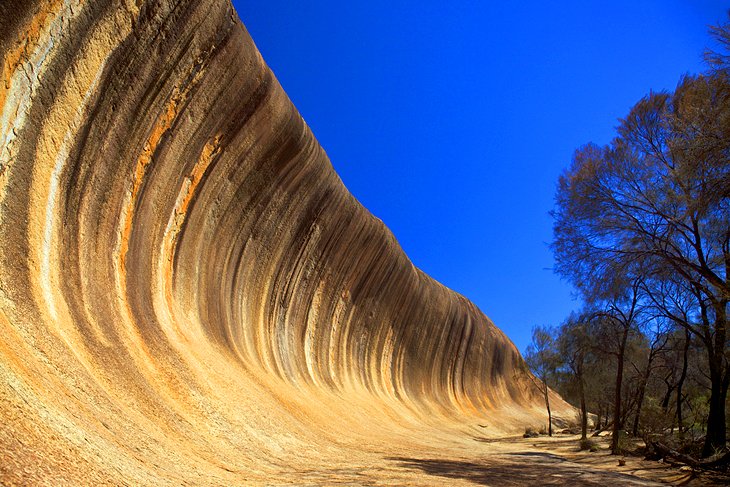 Wave Rock
The famous Wave Rock is an extraordinary rock formation of banded granite, 15 meters high, in the form of a wave about to break. Rainwater reacting with different chemical substances in the rock has created a series of vertical stripes in shades of gray, red, and ochre. In the spring, look for wildflowers growing around its base. From Wave Rock, you can also walk the one-kilometer loop to see Hippo's Yawn, another distinctive rock feature shaped just like a gaping hippo's mouth. Other curious granite outcrops lie in the surrounding area, including the Humps, the King Rocks, and the Gnamma Hole, and you can explore them on an 80-kilometer driving circuit from Hyden. Bates Cave, to the north of Hyden, has Aboriginal rock paintings and handprints.
14. Cape to Cape Track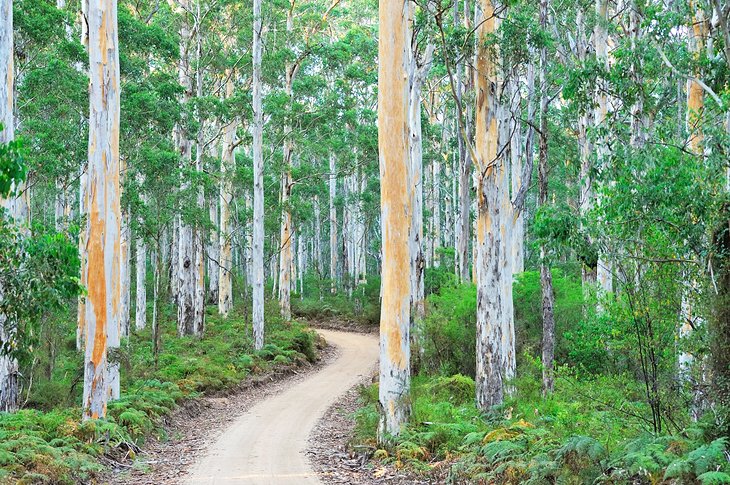 Track through Boranup karri forest
Stretching for 135 kilometers from Cape Naturaliste south to Cape Leeuwin through the Margaret River, the Cape to Cape Track is one of the top hikes in Australia. Stunning beaches, secluded bays, steep sea cliffs, deep caves, rugged headlands, and fields of wildflowers are some of the highlights, and you'll see plenty of wildlife along the way. In areas, the track loops inland, weaving through woodland and dense forests.
Walking through these diverse ecosystems is a rewarding way to explore some of the top natural attractions in southwest Western Australia. Highlights include the beautiful Boranup karri forest, Quininup Falls, and the Wilyabrup sea cliffs. You can also break up the hike into smaller sections depending on your interests, skill level, and time constraints. Tackling the entire walk typically takes between five and seven days. Guided tours are also available, with camping along the way or, if you don't want to rough it, you can stay in nearby hotels and lodges and rest your weary limbs in a plush bed.
By: www.planetware.com