The university city of Leiden (or Leyden in English) is one of the oldest and most picturesque urban areas in the Netherlands. Leiden lies in an extensive flower growing area, the produce of which is marketed in the town and surrounding region; it was here that the tulip, an iconic symbol of The Netherlands, was introduced to Europe.
Given its popularity as one of Europe's leading "flower destinations," the Netherlands are especially popular to visit in the warmer months of the year. And Leiden is no exception. For those interested in catching the country's spectacular tulip blossoms, the best time to visit Leiden is in May, when spring gets underway. That said, the summer months of June through August also offer spectacular displays of flowers, as well as the added benefit of festivals and events that celebrate this bounty. A winter visit is not without its benefits, too, as Leiden often gets decent snowfalls over the Christmas season.
Whatever time of year you choose to visit, and whether you're spending a day in Leiden or a week-long vacation, there are plenty of things to do here. Highlights include wandering around the bustling Leiden Street Market (Markt), held each Wednesday and Saturday and a great place to shop for traditional foods, flowers, clothing, and local crafts, or hopping aboard a riverboat for a relaxing tour of the canals and the Old and New Rhine rivers.
Leiden is also one of the leading cultural centers in the Netherlands and famous as the birthplace of several great painters from the 16th and 17th centuries. Notable Dutch "Old Masters" with a Leiden connection include Lucas van Leyden, Rembrandt, Jan Steen, Jan van Goyen, and Frans van Mieris.
Find out more about these and other great attractions with our list of the top things to do in Leiden.
Note: Some businesses may be temporarily closed due to recent global health and safety issues.
1. Visit the Old Castle: Burcht van Leiden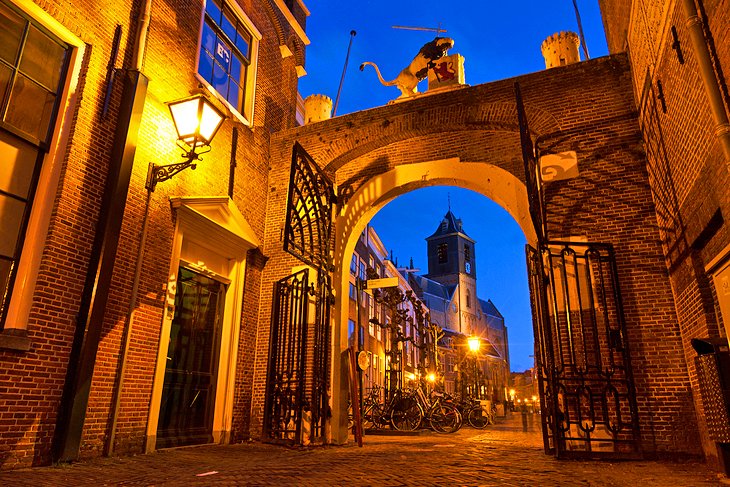 The Old Castle: Burcht van Leiden
Best accessed through an interesting old gateway displaying the figure of a lion with the city's coat of arms – one of three such gates leading to the castle – Leiden's castle (Burcht van Leiden) is a must-visit. Perched atop a 12-meter-high mound built to provide a refuge from flooding, this 11th-century fort, also known as the Fort of Leiden, was once protected by a circuit of walls 35 meters in diameter.
It's also protected by two canals, one of which can still be seen at the foot of the hill. Another highlight is the sentry walk around the walls that can be included in a self-guided tour of the site. Abandoned as a fort due to the rapid and continuous growth of the city, it became a public park in the 1600s.
In the 17th century, a tower was built bearing the arms of the burgomasters who, between 1651 and 1764, were also governors of the castle. From the castle, panoramic views extend over the surrounding area.
Address: Van der Sterrepad 5, 2312 EK Leiden, Netherlands
2. Explore the Naturalis Biodiversity Museum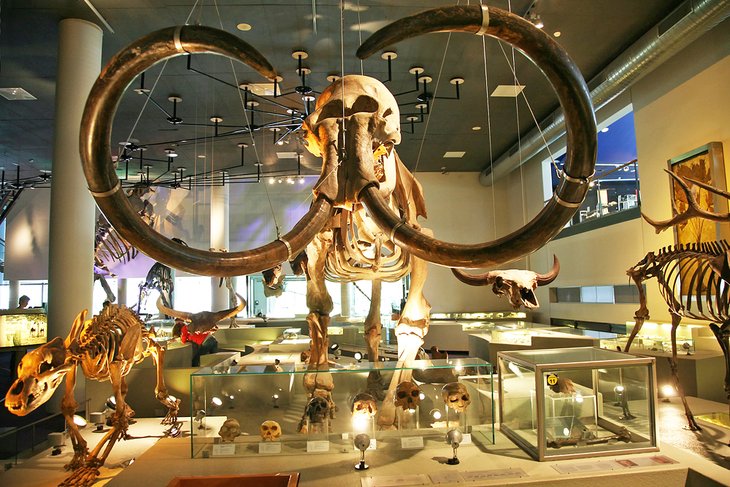 Naturalis Biodiversity Museum | bertknot / photo modified
The Netherlands' national museum of natural history, the Naturalis Biodiversity Museum (Nederlands Centrum voor Biodiversiteit Naturalis) offers fascinating information and exhibits relating to nature. This large museum was established in the 1800s and now houses more than 37 million animal and insect specimens, along with rocks, minerals, and gemstones.
Exhibits and displays at Naturalis are laid out in an easy to follow manner in departments dealing with topics such as animal and plant life, along with fascinating displays of fossils. For youngsters, many hands-on exhibits, including games and fun experiments, encourage a little learning while they play. Two cafes and a shop are located on-site. The museum underwent major renovations and upgrades that were completed in 2019.
Address: Darwinweg 2, 2333 CR Leiden, Netherlands
3. Take a Guided Tour of Museum Boerhaave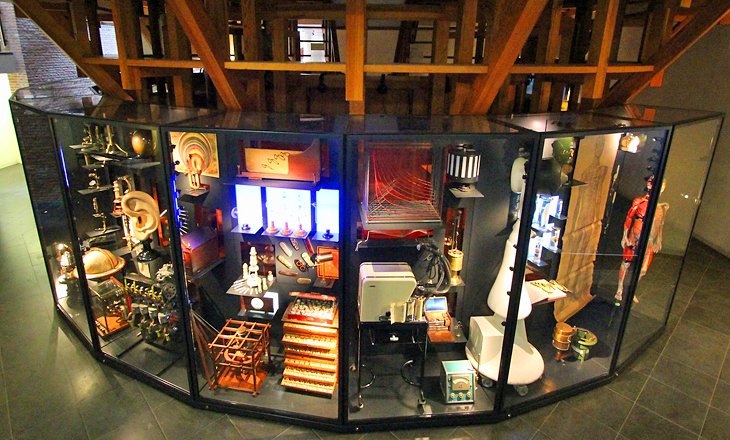 Museum Boerhaave | bertknot / photo modified
The wonderful Museum Boerhaave offers a fascinating look at the history of medicine and science through the centuries. Established in 1907 in a former convent, this excellent tourist attraction boasts a large collection of apparatus developed at the University of Leiden for scientific research and used across Europe.
Named after Dutch physician Herman Boerhaave, a famous botanist and university professor whose students included Peter the Great and Voltaire, the museum also features a fascinating collection of "Gapers," carved wooden heads depicting the effects of swallowing medicines. Also worth seeing here is a replica of the Leiden Anatomical Theater from the late 16th century, where dissections of cadavers were performed.
If your appetite hasn't been dampened by the displays relating to dissection and body parts, there's an on-site café in which to relax, plus a museum shop. A reference library is also available for those interested in learning more about the science behind this attraction and its displays. Informative English-language guided tours are available.
Address: 10, Lange St. Agnietenstraat, 2312 WC Leiden, Netherlands
4. Learn about Ancient History at the National Museum of Antiquities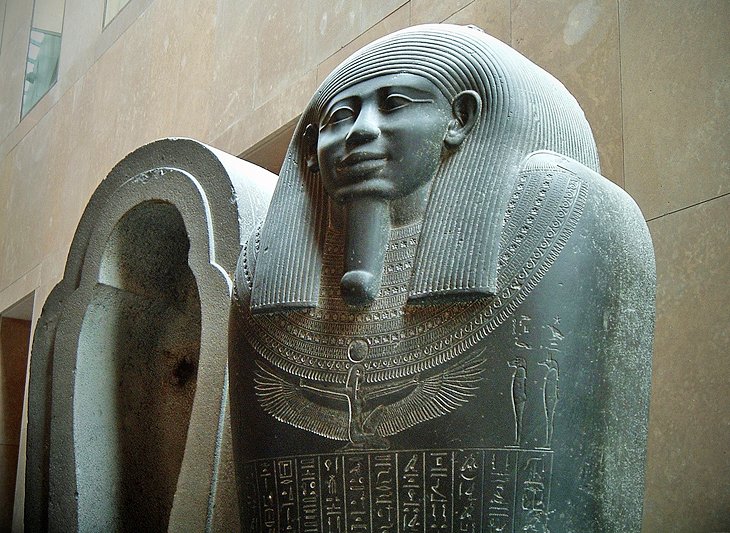 Sarcophagus of Ahmes at the National Museum of Antiquites | Jan / photo modified
The National Museum of Antiquities (Rijksmuseum van Oudheden) features numerous archeological exhibits from Egypt and the Near East, as well as from Greek and Roman periods. Founded in 1818, this first-rate tourist attraction displays sculptures, ancient vases, and smaller objects from prehistoric to Roman times.
In the courtyard of the museum is the Nubian temple of Taffah, presented to the country by President Sadat in 1979 in gratitude for Dutch help in saving monuments threatened by the construction of the Aswan Dam. Guided tours are available, along with a cafe and museum shop.
Address: Rapenburg 28, 2311 EW Leiden, Netherlands
5. Take a Stroll through Historic Hortus Botanicus Leiden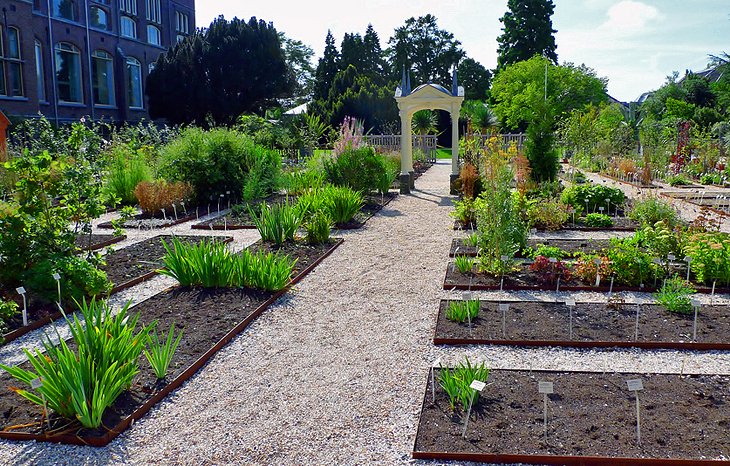 Hortus Botanicus Leiden | zoetnet / photo modified
Part of the University of Leiden's Botanic Garden, Hortus Botanicus was originally laid out in 1590, making it one of the oldest such gardens in the world. More than 10,000 botanical species along with dozens of bird species are found here, many from far-flung corners of the globe.
A highlight of this popular historic garden is the Clusiustuin, a reconstruction of the first systematically arranged botanical garden originally located behind the university building that's named after the founder of the site (Carolus Clusius is also widely credited with introducing the tulip to Europe from Turkey).
Also worth a visit are the Winter Garden with its collection of cycads and carnivorous plants, the large ornate Orangery built in 1744, the Rosarium, and the Japanese Garden. English-language guided tours are available with advance notice, and a pleasant cafe is located on-site. Guided tours are available by request.
If time permits, afterwards head over to the university's old lecture hall known as "de Sitter Room" for a chance to wash your hands in the Einstein Sink (seriously!); just ask at the front desk, and if the room's not in use, you'll be allowed to visit this modern-day shrine to the genius who once lectured here.
Address: Rapenburg 73, 2311 GJ Leiden, Netherlands
6. Visit the Molen de Valk Windmill Museum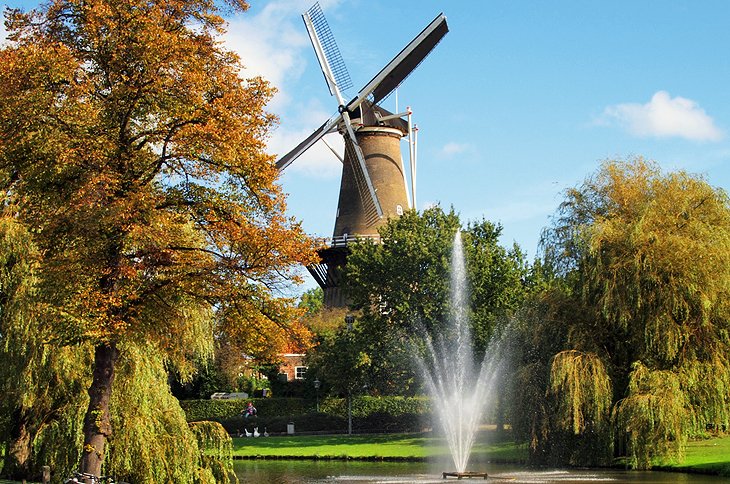 Molen de Valk Windmill | Bart van Leeuwen / photo modified
Leiden's Windmill Museum (Molen de Valk) is housed in a spectacular seven-story, 29-meter-tall, stone flour mill built in 1743. Literally translated as "the Falcon," this magnificent example of the ubiquitous Dutch windmill stands on high ground that originally formed part of the town's fortifications (in the early 17th century, 19 windmills were within the town walls).
After restoration in 1964, Molen de Valk, along with the dwelling house of the last miller, was opened to the public as a museum. Highlights of a visit to this still-operational mill include displays and exhibits relating to the building's history, the story of milling, authentic living quarters from this period of time, along with numerous tools and artifacts. Guided tours are available upon request, and a café and shop are located on the premises.
Another historic windmill worth a visit is Molen De Put, build around 1619 next to the Rembrandt Bridge.
Address: 2e Binnenvestgracht, 1 2312 BZ Leiden, Netherlands
7. Get Artsy at Museum De Lakenhal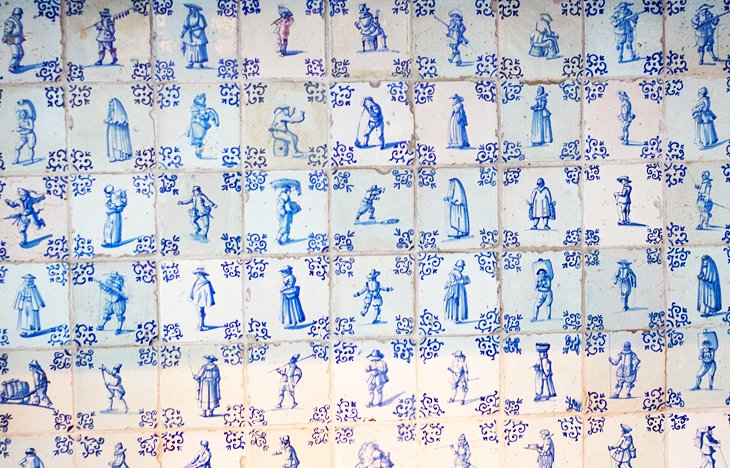 Decorative tiles | Hans Splinter / photo modified
On the north side of the Oude Vest is Leiden's Municipal Museum (Museum De Lakenhal). It's housed in the town's former Cloth Hall (Lakenhal), built in 1640 and used for its original purpose until 1800. The present museum – subject of a major renovation and expansion in 2019 – opened in 1874 and boasts an impressive collection of paintings by leading Dutch artists of the 16th and 17th centuries, including Jan van Goyen, Rembrandt, and Jan Steen.
Also interesting is the museum's collection of applied and decorative art. Other notable exhibits include the refurbished Inspection Room where cloth was inspected, along with a large collection of religious artifacts.
Other fun things to do for art lovers is to pay a visit to the Young Rembrandt Studio, a first-rate exhibit that celebrates the famous artist's birth and early life in Leiden, and join a popular Rembrandt walking tour, which takes in the best-known sites and landmarks known to have featured in his life and art.
Address: Oude Singel 28 /32, 2312 RA Leiden, Netherlands
8. The National Museum of Ethnology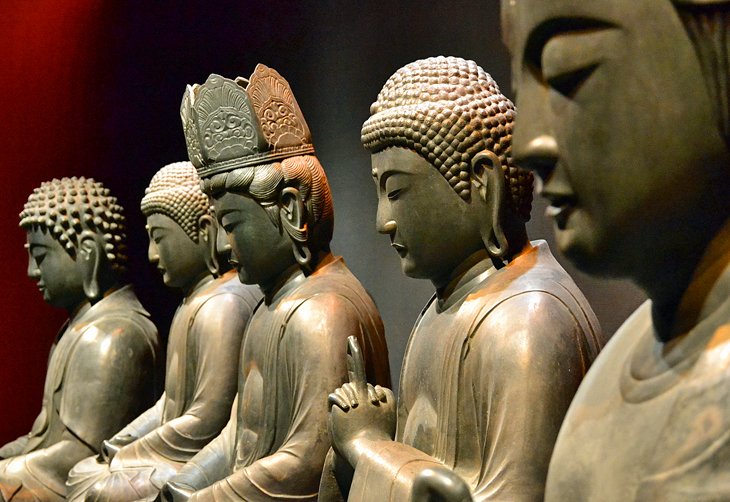 The National Museum of Ethnology | Jan / photo modified
Widely considered to be the first such museum in the world – rather than merely a collection of curiosities – Leiden's National Museum of Ethnology (Rijksmuseum Volkenkunde) is handily located near the Molen de Valk windmill and is a pleasant way to spend an hour or more. Founded in 1837, the museum was originally housed in a number of buildings spread across the city until a new home was found for it in 1937 in the former University Hospital.
Its extensive collections come from all over the world, with an emphasis on artifacts from Indonesia and Japan. Of particular interest is the Buddha Room with its collection of statues depicting the prophet in a variety of poses.
One-hour English-language guided tours are available and can be tailored to specific interests and collections. Fun and educational workshops are also among the top things to do here, from learning traditional dances to exploring cultural activities and crafts. If visiting on a Sunday, try to time your visit to coincide with one of the regular weekly music programs.
A good place to learn more about the connection between the Netherlands and its former Asian colonies can be experienced at the SieboldHuis museum, which features numerous artifacts and artworks collected during its namesake's time in Japan during the early 19th century.
Address: Steenstraat 1, 2312 BS Leiden, Netherlands
9. Start Your Pilgrimage at the Leiden American Pilgrim Museum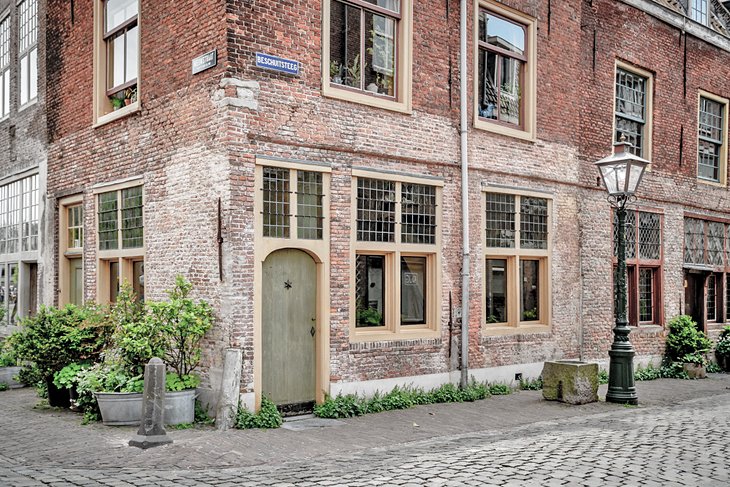 The Leiden American Pilgrim Museum
Of particular interest to visitors from the USA is a small museum tucked away behind Hortus Botanicus, known as the Leiden American Pilgrim Museum. Dedicated to the Pilgrim Fathers, the museum chronicles the group's flight from England for the safety of Amsterdam in 1608, and their eventual arrival in Leiden. Here, they remained until 1620 before beginning their epic voyage to North America via Southampton where they joined the Mayflower.
The museum provides interesting material concerning Pilgrim life in the town, along with the history of the 14th-century home in which it's housed. Highlights include displays of furniture, books, and other materials from the period, along with maps and engravings. (Editor's Note: This fine little museum is only open Thursdays, Fridays, and Saturdays.)
Address: Beschuitsteeg 9, 2312 JT Leiden, Netherlands
10. Take a Ride on Steam Train Valkenburg Lake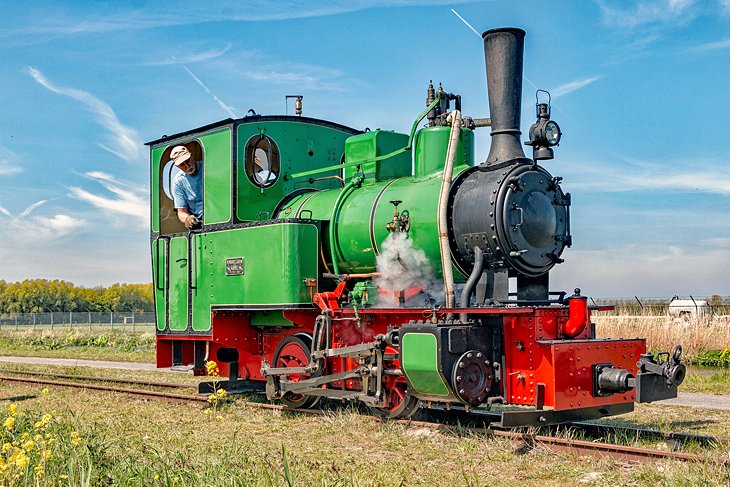 Steam Train Valkenburg Lake | Roel Hemkes / photo modified
Just a 10-minute drive from Leiden, Steam Train Valkenburg Lake (Stoomtrein Katwijk Leiden) is undoubtedly one of the top things to do for families in this part of the Netherlands. Boasting an impressive collection of historic narrow-gauge steam engines (some over 100 years old), rolling stock, and trams, the fun of this living museum is seeing its collections in action… and going for a ride.
While static exhibits include a number of original railway-related buildings with displays of model railways – including some interactive displays – most visitors head for the engines themselves, which can be seen in action and toured. The ride itself lasts 45 minutes and is included with the price of admission.
Address: J. Pellenbargweg 1, 2235 SP Valkenburg, Netherlands
11. Get Smart at Corpus Museum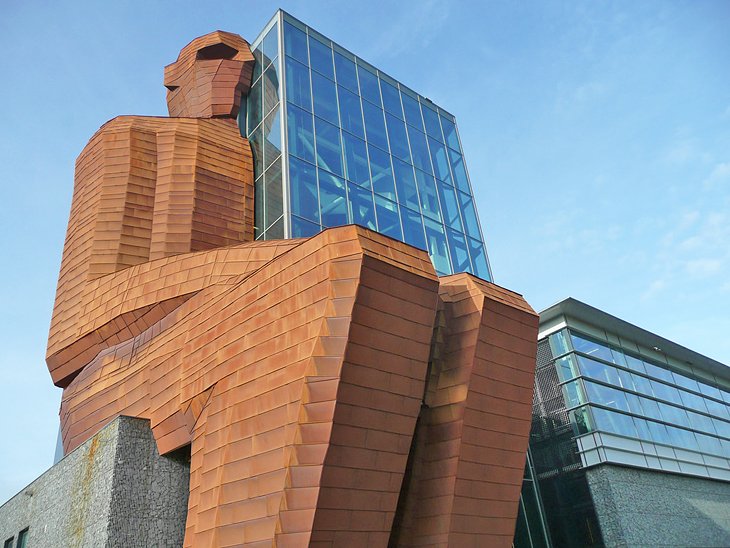 Corpus Museum / Pedro Layant / photo modified
One of the newer tourist attractions in Leiden – it opened in 2008 in Oegstgeest, just 10-minutes' drive to the north – the fascinating Corpus Museum offers a unique insight into the workings of the human body. Housed partially in a massive figure of a human that actually appears to be seated on the building itself, Corpus is considered the world's only interactive museum dedicated to the biology of our species.
Suitable for all ages, this fun exploration of the human body – a mix of entertainment and education – begins in the lower regions (the knee) and carries you on escalators right up to the brain, with plenty of opportunity for learning along the way. English-language audio guides are provided. Two restaurants and a shop are located on-site.
Address: Willem Einthovenstraat 1, 2342 BH Oegstgeest, Netherlands
12. See the Night Sky at the Old Observatory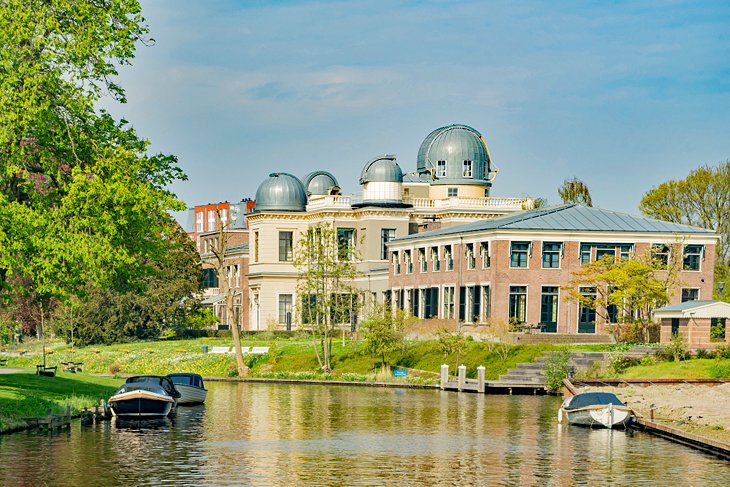 The Old Observatory
Leiden University's Old Observatory (Oude Sterrewacht) is an extremely pleasant diversion, not least of all for its beautiful park-like setting on a bend of a tributary of the Rhine. Founded in 1633 and the world's oldest still-operating observatory, the facility can best be visited as part of a 30-minute tour that takes in the nearby Hortus Botanicus.
Highlights include a visitor's center with displays relating to the building's history, as well as educational materials relating to astronomy, plus a chance to see the facility's equipment up close. While the Old Observatory is open to the public only on weekends and Wednesdays (tours should be booked in advance to avoid disappointment), it is possible to see its telescope in action during regular monthly nighttime sessions.
Address: Sterrenwachtlaan 11, 2311 GP Leiden, Netherlands
13. Take a Drive to Duivenvoorde Castle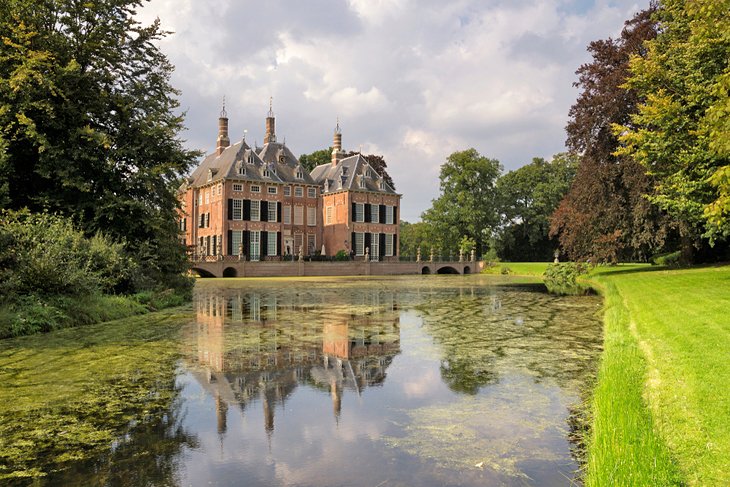 Duivenvoorde Castle
Notable as the oldest castle in this part of the Netherlands, the stunning Duivenvoorde Castle (Kasteel Duivenvoorde) has remained in private hands since the early 13th century. Just 15 minutes' drive from downtown Leiden, it was named after its founders, in whose family it remained for over 500 years, it's a delightful property to explore.
Highlights include ancient Roman stones inscribed with Latin and used to decorate the front hall; authentic 18th-century décor and furnishings; an extensive collection of art, including portraits, sculptures, and drawings; and exhibits relating to life in the castle over the centuries.
Be sure to also spend time exploring the grounds – especially popular for bird-watchers and hikers – either as part of a guided tour or on your own (tours of the interior are also available).
Address: Laan van Duivenvoorde 4, 2252 AK Voorschoten, Netherlands
14. Take in an Event at St. Pieterskerk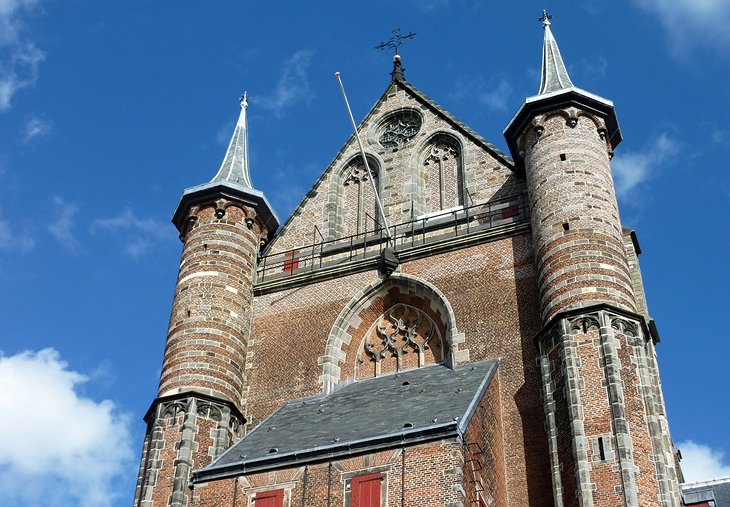 St. Pieterskerk
Famous for its annual celebration commemorating Leiden's liberation from the Spanish, the foundations of the Late-Gothic cruciform basilica that is St. Pieterskerk – or St. Peter's Church in English – date from 1121 when the city's first church was built here. The current church was begun in the 13th century, with the choir being completed in 1339 and the nave with its double aisles added in the 14th century.
Now operating as an events venue, the building's highlights include its timber barrel-vaulting extending to the west front and the many monuments of various university professors. Of particular note is the tomb of John Robinson, a distinguished member of the group that was to become the pilgrims who first settled the US, a fact that has led to St. Pieterskerk also being referred to as the "Pilgrim Fathers Church." Also of interest is the Late-Gothic carved wooden altar dating from the early 16th century; and the organ built around 1640.
For a truly unique experience, book a night in the adjoining Villa Rameau, a former 16th-century almshouse, or visit during one of the frequent classical concerts performed here. A great café is located on-site, too. The nearby 15th-century Hooglandse Kerk is also worth including on your Leiden itinerary for its attractive interior.
Address: Pieterskerkhof 1A, 2311 SP Leiden, Netherlands
15. Textile Research Center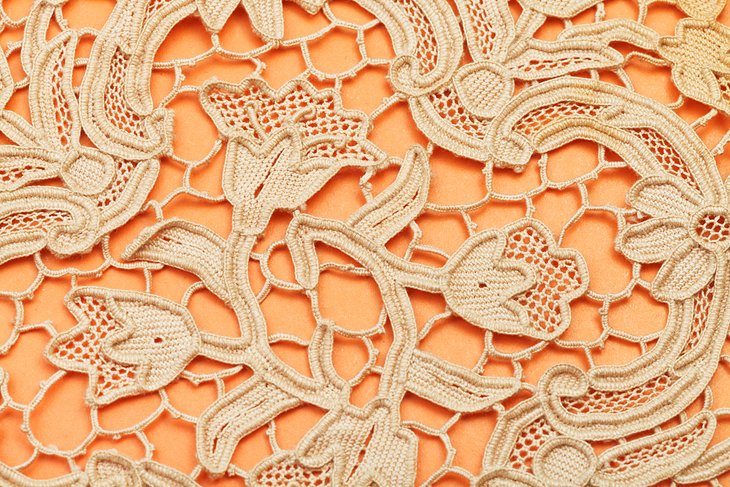 Traditional Dutch embroidery
Established in 1991 with a focus on studying the materials from which clothing is made, the Textile Research Centre is certainly worth visiting for those with an interest in the history of textiles. Highlights include a chance to examine the center's collection of garments and related accessories, including a large number of unique pieces from the Middle East, along with traditional examples from different areas of the Netherlands.
There's also a major new installation related to the history of velvet, as well as materials related to embroidery and needlework. In addition to its many permanent and visiting exhibits, the center offers many educational workshops, courses, and lectures, along with a research library.
A related attraction that's worth a visit is Museum Het Leids Wevershuis. This well-preserved former weaver's house dates all the way back to the 1560s, and includes an original loom from the 1830s, which can often be seen being put through its paces by a professional weaver.
Address: Hogewoerd 164, 2311 HW Leiden, Netherlands
By: www.planetware.com