I knew I would love visiting Oahu, Hawaii, for the relaxing beaches, scenic hikes, and lush foliage—but I had no idea about all the amazing food!
Oahu, Hawaii, serves tons of fresh, unique, local dishes, which makes it a great destination for foodie travelers. I loved trying the flavorful shave ice, local fruits, refreshing cocktails, fresh-caught fish, and of course, macadamia nut and coconut flavored everything!
I can honestly say I didn't have a bad meal during our trip—which I haven't experienced since visiting Savannah, GA. Everything we ate on the island was delicious, so I knew I had to create a round-up of the best places to eat on Oahu!
Here are the sixteen best places to eat on Oahu across the island—sorted by meal (yes, coffee gets its own category). Also, we spent the most time in Honolulu, Kailua, and on the North Shore, so that's where the majority of these restaurants will be!
Best Breakfast on Oahu
1. Basalt Waikiki
Location: 2255 Kūhiō Ave., Honolulu, HI 96815
Try This: Charcoal Buttermilk Pancakes or French Toast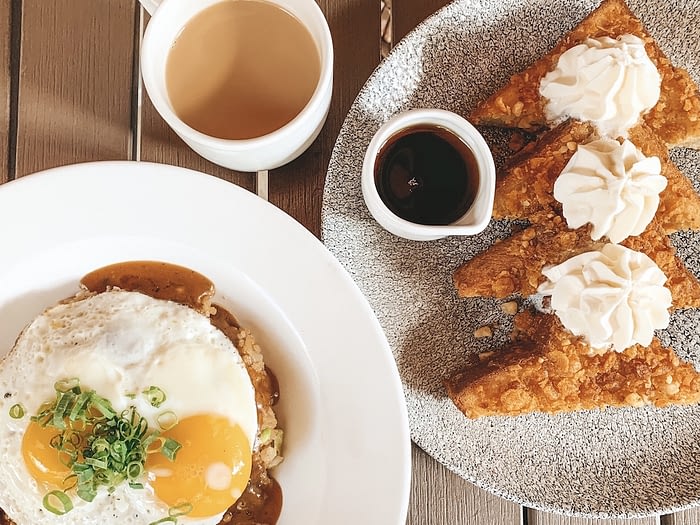 Basalt is a fantastic brunch spot located in Duke's Lane Marketplace in Waikiki. They also serve lunch and dinner—but their breakfast menu definitely takes the cake!
When we visited for breakfast, I ordered the French Toast—covered with crunchy toasted coconut and macadamia nuts! It was so delicious. Another popular menu item is the Charcoal Buttermilk Pancakes with guava-strawberry sauce. If you're looking for something savory, try Basalt's Avocado Garden Toast and Prime Rib Moco!
Basalt also serves fun mimosas and Hawaiian blend coffee. You'll love the creative, fun dining experience at Basalt—it's one of the best places to eat on Oahu, and you shouldn't miss the chance to eat here while you're in Waikiki!
2. Over Easy
Location: 418 Kuulei Rd #103, Kailua, HI 96734
Try This: Fried Egg Sandwich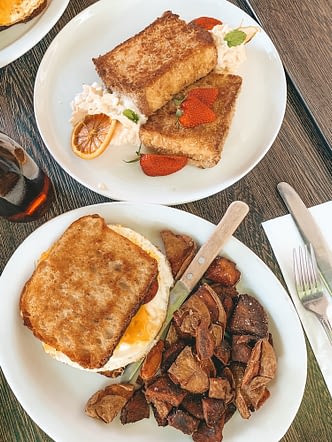 Over Easy is one of the best places to eat on Oahu for a tasty, traditional breakfast. We enjoyed brunch here before going on the Lanikai Pillbox Trail in Kailua, and it filled us up for our trek up the mountain. Despite having limited seating, we only had to wait 20 minutes for a table outside on the patio—plus, our waitress was so kind!
Over Easy has a limited menu, but everything we ordered was absolutely delicious. I ordered the Fried Egg Sandwich and loved the crispy house-baked sourdough bread and spicy aioli. My dad got the Custard French Toast with an orange custard filling, and it was so refreshing and tasty!
3. Leonard's Bakery
Location: 933 Kapahulu Avenue, Honolulu, HI 96816
Try This: Malasada Puffs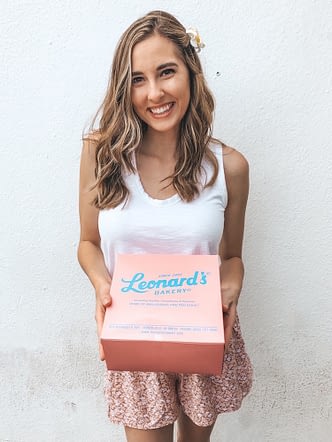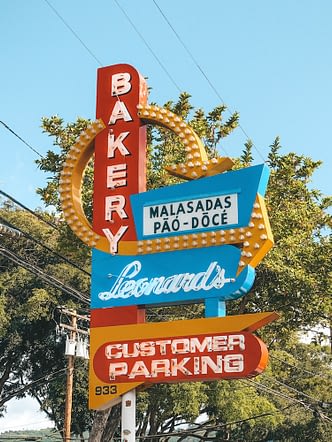 Leonard's Bakery is an Oahu staple—you can't miss eating at this retro spot while you're in Honolulu, Hawaii! You also can't miss the line—it's usually wrapping around the building, but it moves fast. I promise!
Leonard's Bakery has been serving fresh, hot malasadas to Oahu since 1953—and it's still one of the best places to eat on Oahu for these delicious treats! Malasadas are Portuguese doughnuts that are crispy on the outside and soft and fluffy on the inside. They're dusted in granulated sugar or cinnamon sugar, and you can order the pastries filled with custard, chocolate, coconut, macadamia nut, guava, or featured flavors, like mango or pineapple.
Aside from the delicious pastries, my favorite part about Leonard's Bakery is the bright pink boxes the malasadas are served in—they make for a cute photo. However, don't wait too long to dive into your malasadas—they're best when they're hot!
4. Hale'iwa Bowls
Location: 66-030 Kamehameha Hwy., Haleiwa, HI 96712
Try This: Blue Majik Bowl
Hale'iwa Bowls is a small kiosk on the North Shore serving acai bowls, smoothies, juices, and cold brew coffee. It's one of the best places to eat on Oahu for acai bowls (if not THE best)—you'll love the sweet, local Hawaiian fruit and tasty tropical toppings!
I ordered the Blue Majik Bowl, with a base of banana, pineapple, and blue Majik spirulina topped with granola, fresh blueberries, strawberries, kiwi, and Hawaiian honey. My sister ordered the Hapa Acai Bowl—a blend of acai, bananas, strawberries, and blueberries topped with granola, fresh bananas, raw coconut flakes, and Hawaiian honey. Both were delicious!
5. Sunrise Shack
Location: 59-158 Kamehameha Hwy, Haleiwa, HI 96712 (Original Location) & 2335 Kalakaua Ave, Honolulu, HI 96815 (Waikiki Location)
Try This: Monkey Bowl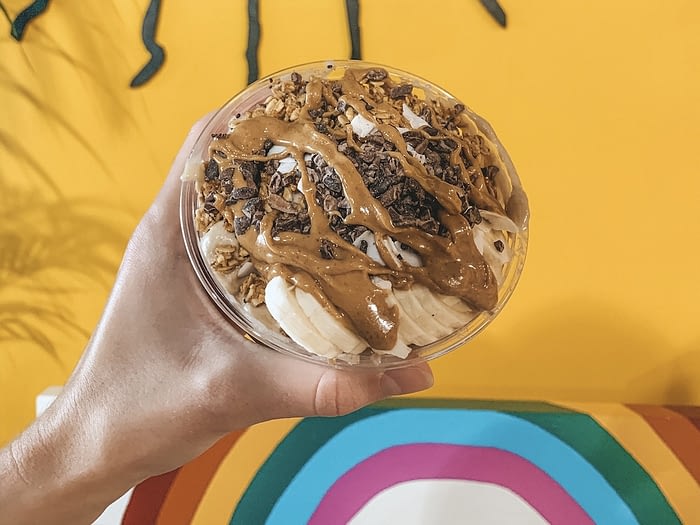 The Sunrise Shack is one of the best places to eat on Oahu for filling, healthy breakfast options. They are best known for their bulletproof coffees, superfood smoothie bowls and smoothies, and cold-pressed juices. They also serve a small assortment of salads, sandwiches, wraps, and avocado toast for a light lunch!
Since there was a Sunrise Shack located in the lobby of our hotel, the Outrigger Waikiki Beach Resort, I stopped in one day to order a superfood bowl to take down to the beach. I loved how colorful and bright the store was, and the employees were so friendly!
I ordered the Monkey Bowl—a blend of banana, coconut cream, peanut butter, almond milk, dates, cinnamon, salt, and coconut oil topped with gluten-free granola, banana, peanut butter, coconut flakes, cocoa nibs, and chocolate-covered almonds. It was SO delicious and filling—it honestly tasted like peanut butter chocolate ice cream!
Best Coffee Shops on Oahu
6. Kai Coffee Roasters
Location: 207 S King Street, Honolulu, Hawaii 96813
Try This: Kai Latte
My sister spotted Kai Coffee when we were strolling around Waikiki, so we decided to stop by the next day for a coffee. I'm happy we did! Kai Coffee Roasters ended up being one of my favorite coffee shops in Oahu.
Kai Coffee Roasters is a locally-owned coffee shop with a mission to serve "aloha in every cup" of hand-crafted coffee. I was impressed by their fast, friendly service. Despite the long line, the barista made a point to have a personal conversation with me before moving along to the next customer.
The coffee is also fantastic. I ordered the Kai Latte, a macadamia nut milk latte made with their house-made macadamia nut syrup. It was tasty—the espresso was smooth, and it was just the right amount of sweet.
7. Knots Coffee Roasters
Location: 150 Kapahulu Ave. Honolulu, Hawaii 96815
Try This: Longboard Latte
Knots Coffee Roasters is another excellent coffee shop in Waikiki. This coffee shop is located in the lobby of Queen Kapiolani Hotel and has a trendy, nautical theme. Although they serve breakfast, it's pretty pricey, so I would recommend just getting coffee and pastries here.
I ordered the Longboard Latte, one of their specialty drinks, and loved it! I believe it's a coconut and macadamia nut latte. I also ordered an almond croissant and thought it was delicious. My sister ordered a blueberry danish croissant and said it was one of the best things she ate during our entire trip!
Before you grab your coffee and run, spend some time hanging out in the seating area. Since it's partially outdoors, you can enjoy the lush greenery and pleasant weather while you sip on your coffee.
8. Olive & Oliver
Location: 412 Lewers St, Honolulu, HI 96815
Try This: Pour Over Coffee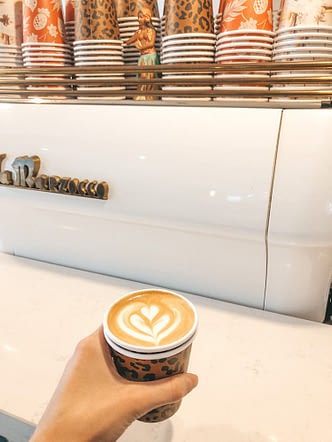 Olive & Oliver is a unique place to grab a coffee in Waikiki—it's actually located inside a colorful, quaint boutique at the Surfjack Hotel!
Since this coffee shop is such an Instagram hotspot, I was skeptical if the coffee would be good. So, being the coffee snob I am, I can confidently confirm—Olive & Oliver has excellent coffee. My dad and husband both ordered the pour-over and loved it! I ordered a maple oat milk latte, and it was delicious—Olive & Oliver makes their syrups in-house.
Plus, I can't deny—the cups are adorable! I couldn't resist snapping a picture with mine before finishing my coffee. One thing to note, however—this spot has minimal outdoor seating, so plan to take your coffee on the go.
Best Restaurants on Oahu for Lunch & Dinner
9. Haleiwa Joe's
Location: 46-336 Haiku Rd, Kaneohe, HI 96744
Try This: Coconut Shrimp or Teriyaki Top Sirloin
If you had to choose just one place to dine while you're on Oahu, it should be Haleiwa Joe's—a restaurant where the experience is truly as spectacular as the food!
Located on Oahu's Windward Coast, Haleiwa Joe's is an open-air restaurant that overlooks a tropical garden, lush greenery, and the Ko'olau Mountains. It's hard to describe how breathtaking the view is—it's simply incredible!
Although everything you order will be fantastic, my family ordered the Coconut Shrimp, Grilled Salmon, and Teriyaki Top Sirloin, and we thought all were fantastic! I also ordered a Mai Tai before dinner, and it was my favorite drink from the trip!
I would highly recommend getting to Haleiwa Joe's fifteen minutes before they open to ensure you'll get a seat overlooking the gardens. If you get there later in the evening, expect to wait two to three hours for a table. It's one of the best places to eat on Oahu (if not THE best), and everyone knows it!
However, if you have to wait for a table, you can stroll through the beautiful gardens while waiting for your table. Even if you don't have to wait, I would recommend a walk through the gardens after dinner.
Also, please note that there are two Haleiwa Joe's locations—the original location in Haleiwa on Oahu's North Shore and the location in Kaneohe, on the Windward Coast. The restaurant in Kaneohe is the one with the beautiful views—and the one I'd recommend visiting!
10. Duke's Waikiki
Location: 2335 Kalakaua Ave., Suite 116, Honolulu, HI 96815
Try This: Fish & Chips & Lava Flow Cocktail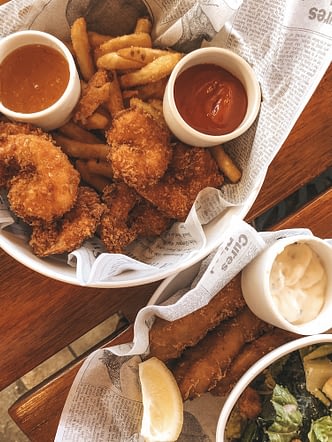 Dining at Duke's Waikiki is a must while you're visiting Waikiki, Hawaii. Located in the lobby of the Outrigger Resort, Duke's is the best place to eat on Oahu for spectacular views of Waikiki Beach, tiki vibes, and a carefully crafted surf 'n' turf menu!
We visited while they were serving lunch, and I enjoyed the fresh-caught, beer-battered Fish & Chips I ordered. I also ordered the Lava Flow cocktail— blended pineapple juice, coconut, strawberries, and rum, and I loved it!
I'd recommend dining at Duke's during a weekday for lunch, if possible. Their lunch menu is significantly cheaper than the dinner menu, and you won't have to wait nearly as long for a table.
If you don't have time to dine in at Duke's Waikiki—no problem! They also have a walk-up beach bar where you can order appetizers, light bites, and drinks to take down to the beach or enjoy on the go.
11. SKY Waikiki
Location: 2270 Kalakaua Ave, Honolulu, HI 96815
Try This: Garlic Shrimp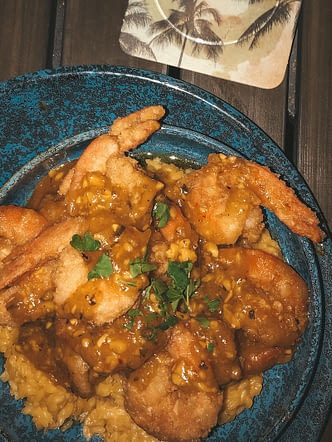 SKY Waikiki is one of the best places to eat on Oahu for a unique experience you'll never forget. The restaurant is located on the 19th floor of the Waikiki Business Plaza, so the panoramic views of Waikiki Beach at sunset and the city lights sparkling at night are simply spectacular!
SKY Waikiki serves fresh seafood, tropical cocktails, and other bites on their wrap-around, open-air deck. I ordered the Garlic Shrimp served with honey lemon risotto, and it was great. Also, our waitress was SO nice—definitely some of the best service we had during our time on Oahu!
Whether you come here for happy hour drinks with friends or a memorable dinner date, I can guarantee you'll have a wonderful time at SKY Waikiki.
12. Kono's Northshore
Location: 66225 Kamehameha Hwy, G110, Haleiwa, Hawaii 96712
Try This: Breakfast Bombers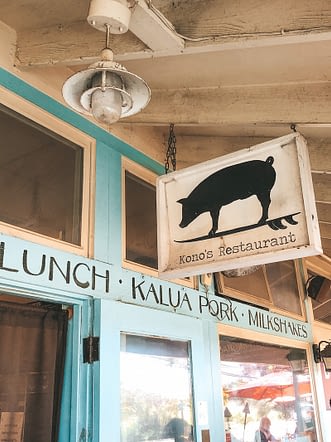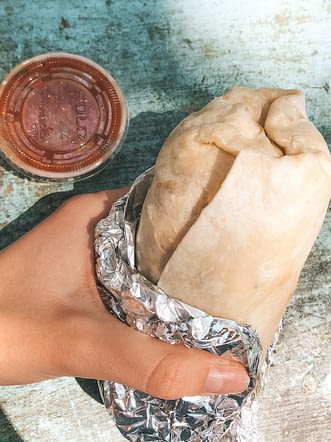 You can't miss eating at Kono's Northshore while you're on Oahu!
Kono's is famous for its breakfast bombers—giant flour tortillas stuffed with fluffy eggs, crispy potatoes, shredded cheese, and your choice of meat. I chose the Haleiwa Bomber—a burrito filled with 12-hour slow-roasted Kalua pork and all the fix-ins. And let me tell you—now I understand why so many people say this is one of the best places to eat on Oahu!
Aside from breakfast bombers, Kono's is one of the best places to eat on Oahu for plates and bowls with traditional Hawaiian fare. Their Kalua pork is so tender and delicious! They have four locations across the island, but the original location is located in Haleiwa! Keep in mind this location closes at 2 PM, so plan to eat breakfast or lunch there—not dinner.
13. Monkeypod Kitchen
Location: 92-1048 Olani Street, Kapolei, HI 96707
Try This: Kalua Pork & Pineapple Pizza
Monkeypod Kitchen was a location we stumbled upon while visiting the Aulani Disney Resort—and I'm so glad we did!
Monkeypod loves to support local and organic farming, ranching, and fishing, and their rotating menus are constantly changing to serve what's fresh and in-season. I ordered the Kalua Pork & Pineapple Pizza topped with kalua pork, macadamia nut pesto, roasted pineapple, jalapeño, and green onion—it was an authentic Hawaiian pizza!
Monkeypod Kitchen also serves some delicious craft cocktails, local beers and has an impressive wine list. They have live music every night and a patio to enjoy it on with twinkly lights and a gorgeous ambiance. Plus, they have a happy hour with great deals from 3:30 PM – 5 PM!
Monkeypod surprised me as one of the best places to eat on Oahu during our trip. I'd highly recommend stopping here if you're in the area!
Best Dessert on Oahu
14. Banan
Location: 2301 Kalakaua Ave. Honolulu, HI 96815 & 609 Kailua Rd. Kailua, HI 96734
Try This: Papaya Boat or Pineapple Yacht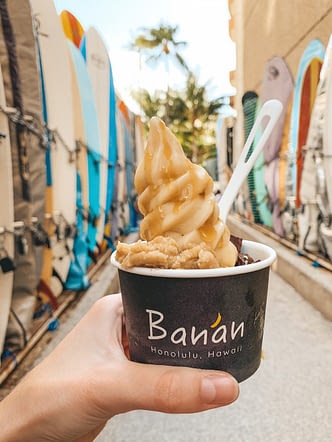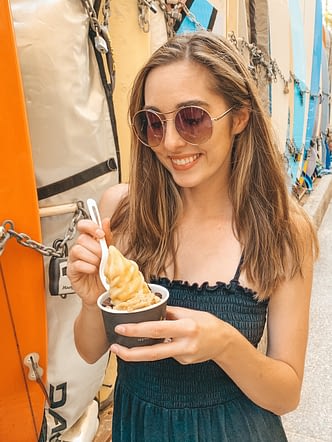 If you've never tried banana ice cream, you're missing out. Banan serves delicious dairy-free soft-serve ice cream made from frozen bananas, and it's such a refreshing treat!
I ordered the Chunkadelic—banana ice cream topped with dark chocolate, granola, shaved coconut, honey, and Banan's house-made macadamia nut honey butter. Side note: I need more of this delicious nut butter in my life. It was delicious!
If you're feeling especially fun, you can order your soft serve in a fun papaya boat or pineapple yacht! Banan also serves smoothies, acai bowls, and coffee. They have two locations—one right next to Waikiki Beach and one in Kailua. Banan is one of the best places to eat on Oahu you can't miss while you're in Honolulu.
15. Matsumoto's Shave Ice
Location: 66-111 Kamehameha Hwy., Suite #605, Haleiwa, HI 96712
Try This: Ichiban Special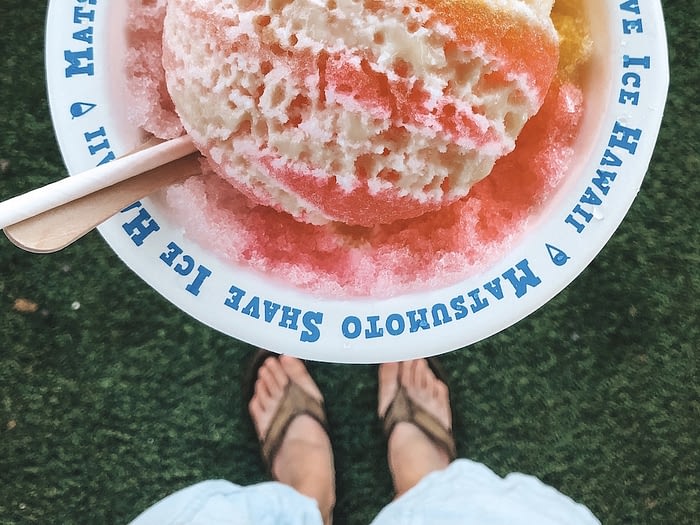 And finally, for the shave ice! There's no place more iconic to visit than Matsumoto Shave Ice—a family-owned business that's been serving shave ice to the North Shore since 1951!
Matsumoto Shave Ice serves over 30 tasty, colorful flavors—and the price is right! One small shave ice only costs $3, and a large shave ice costs $3.50. I ordered a large coconut, pina colada, and guava shaved ice with sweetened condensed milk. Yum!
Want to try something unique? Order the Ichiban Special—you can choose one shave ice flavor with ice cream, azuki beans (Japanese red beans cooked in sugar), sweetened condensed milk, and mochi served in a waffle bowl!
16. Island Snow
Location: 130 Kailua Road, Kailua, HI 96734 & 600 Kailua Road, Kailua, HI 96734
Try This: Kona Coffee Shave Ice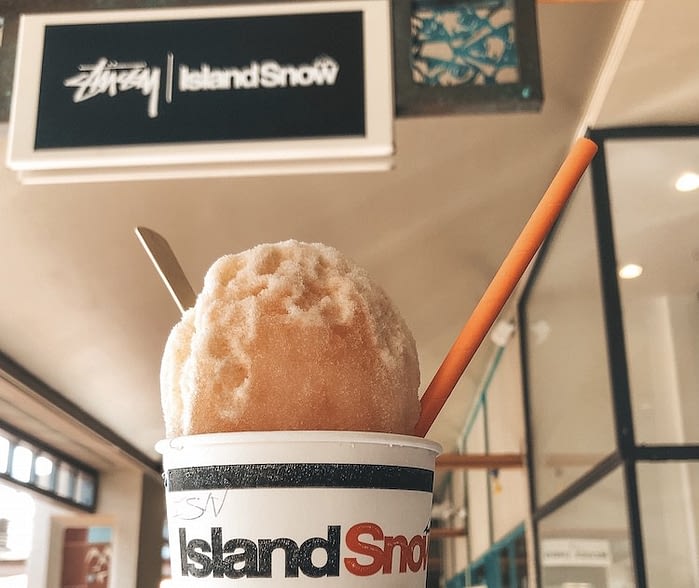 Okay, hear me out. Island Snow doesn't look like much—just a little shave ice stand in a retail store. But let me tell you—this is the best shave ice on Oahu!
First off, each shave ice includes a scoop of macadamia nut ice cream, which is a great place to start. And even though they have tons of classic flavors, you have to try their all-natural flavors. They're all locally made, and they're mouthwateringly delicious!
I can personally verify that the Big Island Guava, Kuna Pineapple, Laie Vanilla, and Kona Coffee (emphasis here!) are great. I wish we could have gone back to try the other flavors! This is definitely one of the best places to eat on Oahu that you can't miss during your trip.
Savor the Best Places to Eat on Oahu
Which of these best places to eat on Oahu is calling your name? Please share your thoughts in the comments section below!
Source: travelbybrit.com