Following on from my previous post, sharing my take on 10 less obvious things you should definitely do in Innsbruck, Salzburg and Graz, I'm now turning my attention to my favourite topic – food. Specifically, Austrian food.
I did a lot of good eating across all three cities, but the Austrian food in Salzburg and Graz in particular really stood out for me. Thanks to the suggestions of locals, guides, and my own research, I've come up with a selection of 19 delicious things to eat in the cities of Salzburg and Graz, and where to find them. Come hungry.
While you're here, you might also want to check out AUSTRIAN FOOD | 8 Unmissable Eats in Zillertal In The Austrian Alps and 7 Fab Things To Do On Your Austria Trip to Zillertal in Tirol.
1) Salzburg | Breakfast for high flyers
Where | Carpe Diem Lounge-Café in Red Bull's Hangar-7.

What to eat | Their epic breakfast spread.

In a nutshell | Served between 9am – 11.30am (and until 2pm on weekends and holidays), expect an array of local flavours on little plates, served on a three-tiered cake stand. There's a savoury menu, and a sweet menu – get one of each if there are two or more of you. Chances are you'll be defeated – expect a lot of food.
hangar-7.com/en
Hangar-7, Salzburg Airport Wilhelm-Spazier-Straße 7A, 5020 Salzburg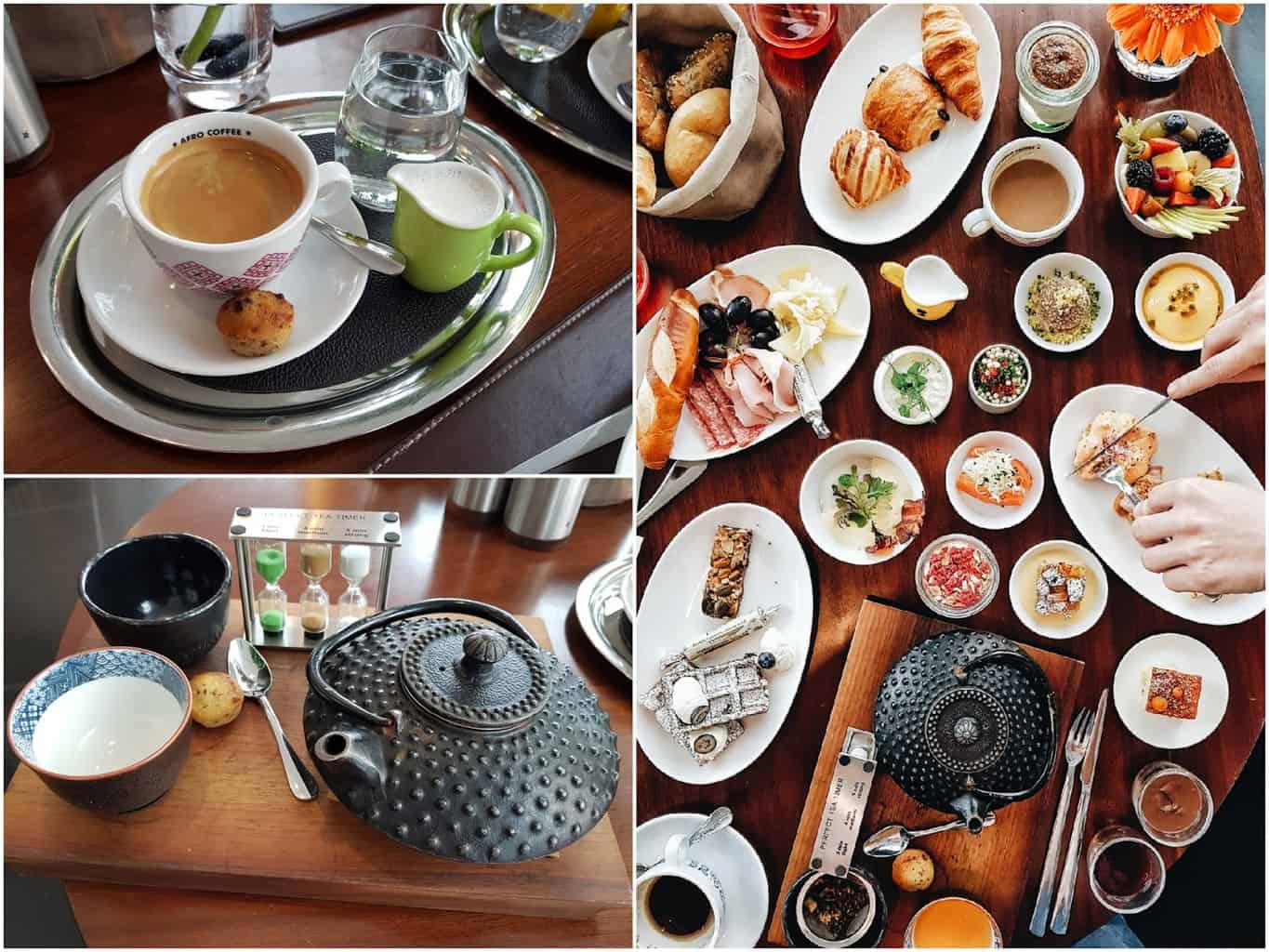 the breakfast spread at Carpe Diem Lounge-Café in Red Bull's Hangar-7, Salzburg

2) Salzburg | Take your pick of awesome Austrian food from the city's food markets
Where | A weekly one at Schranne, daily at Grünmarkt, and a weekly organic market at Kajetanerplatz.
What to eat | These are great places to buy local produce such as cheese, meat, vegetables, bread, flowers, fish.
In a nutshell | Don't forget to eat in the market too. Make a beeline for the stalls selling typical Salzburg snacks, such as fish soup, deep fried chicken, sausages. And definitely buy some cake.
https://www.salzburg.info/en/dining-shopping/markets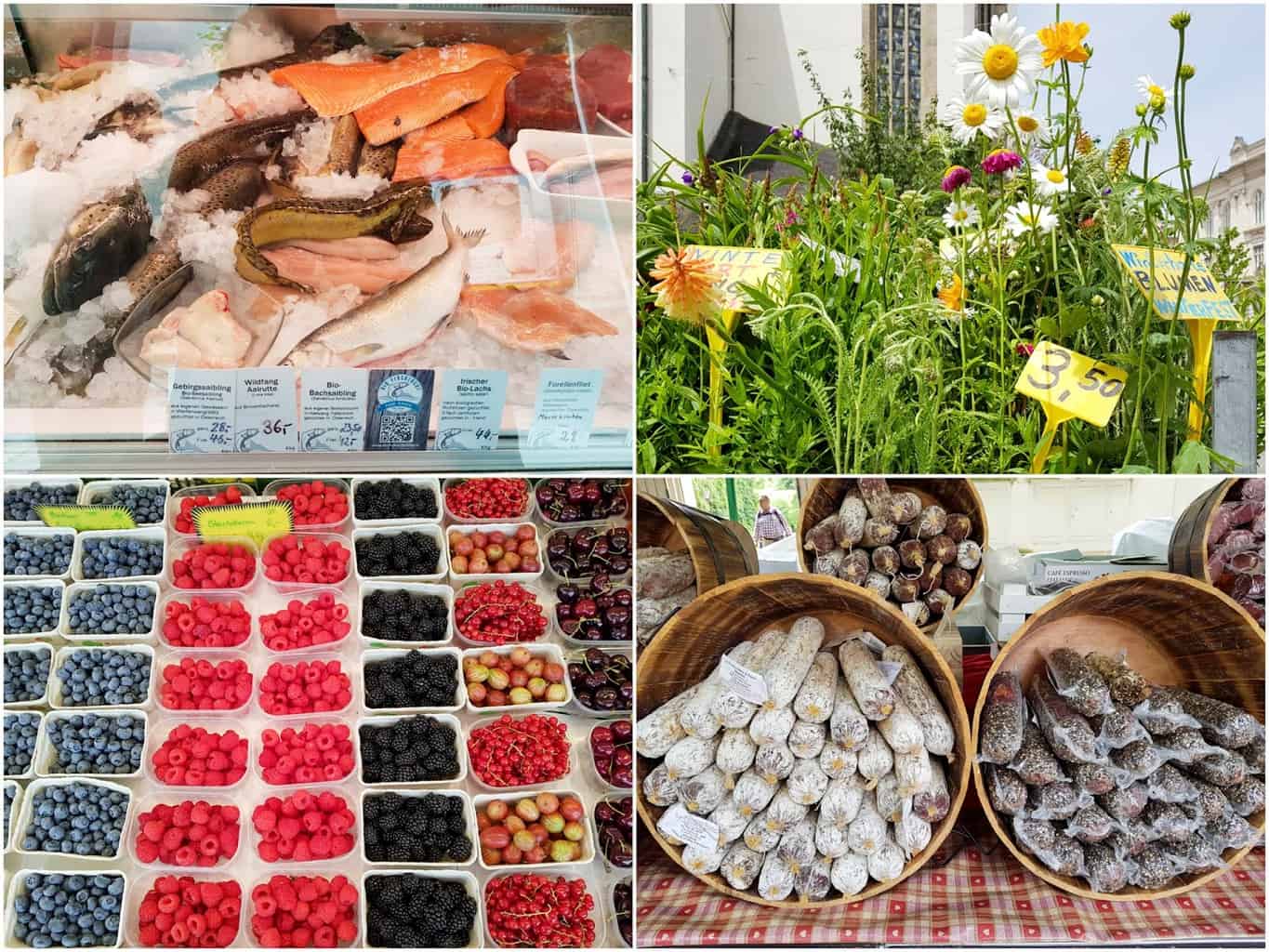 scenes from Salzburg's various food markets

3) Salzburg | A very delightful deli
Where | Feinkost Kölbl
What to eat | Come for the Venus breast cakes (minni di virgini in Italian; I've had these in Sicily), stay for everything else.
In a nutshell | A delicatessen only stocking the finest local produce and Austrian food, this place is a dreamy shopping experience for any food lover. Fill your boots on edible souvenirs for your loved ones too; you'll win big brownie points.
feinkost-koelbl.at
Feinkost Kölbl, Theatergasse 2, 5020 Salzburg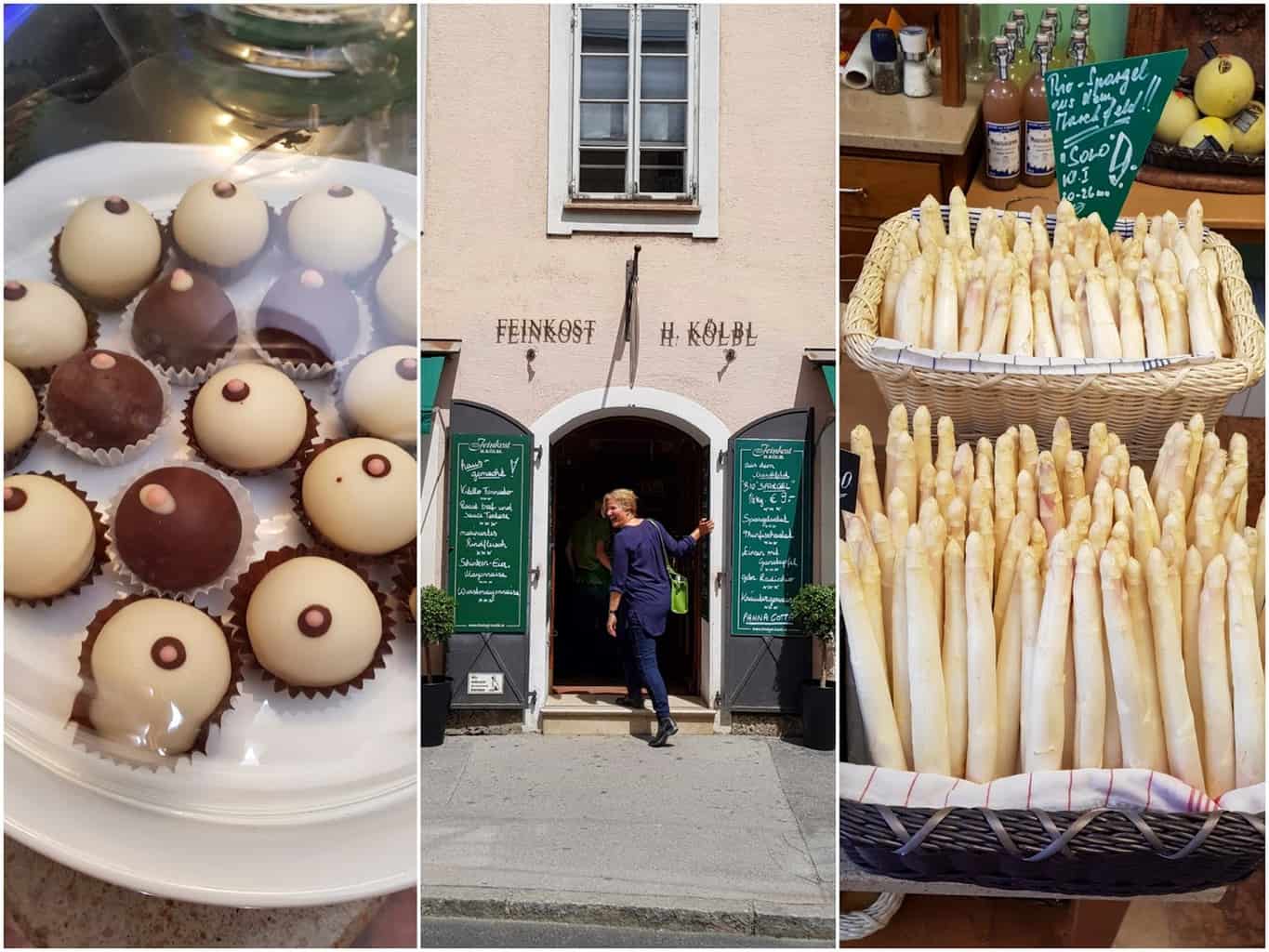 Feinkost Kölbl deli in Salzburg

4) Salzburg | Cold-cut and cheese heaven, with giant pretzels
Where | Mayer Delikatessen permanent market stall
What to eat | This is the place to buy that very typical Austrian food, venison salami or ham. Along with cheese. And pretzels as big as your head. Not to mention, their ready made sandwiches are terrific too.

In a nutshell | Right in the middle of the daily Grünmarkt market, visit these guys to buy a lot of tasty bits, find a sunny bench or head to a park, and enjoy a wonderful picnic.
delikatessen.cc
Universitätspl. 18, 5020 Salzburg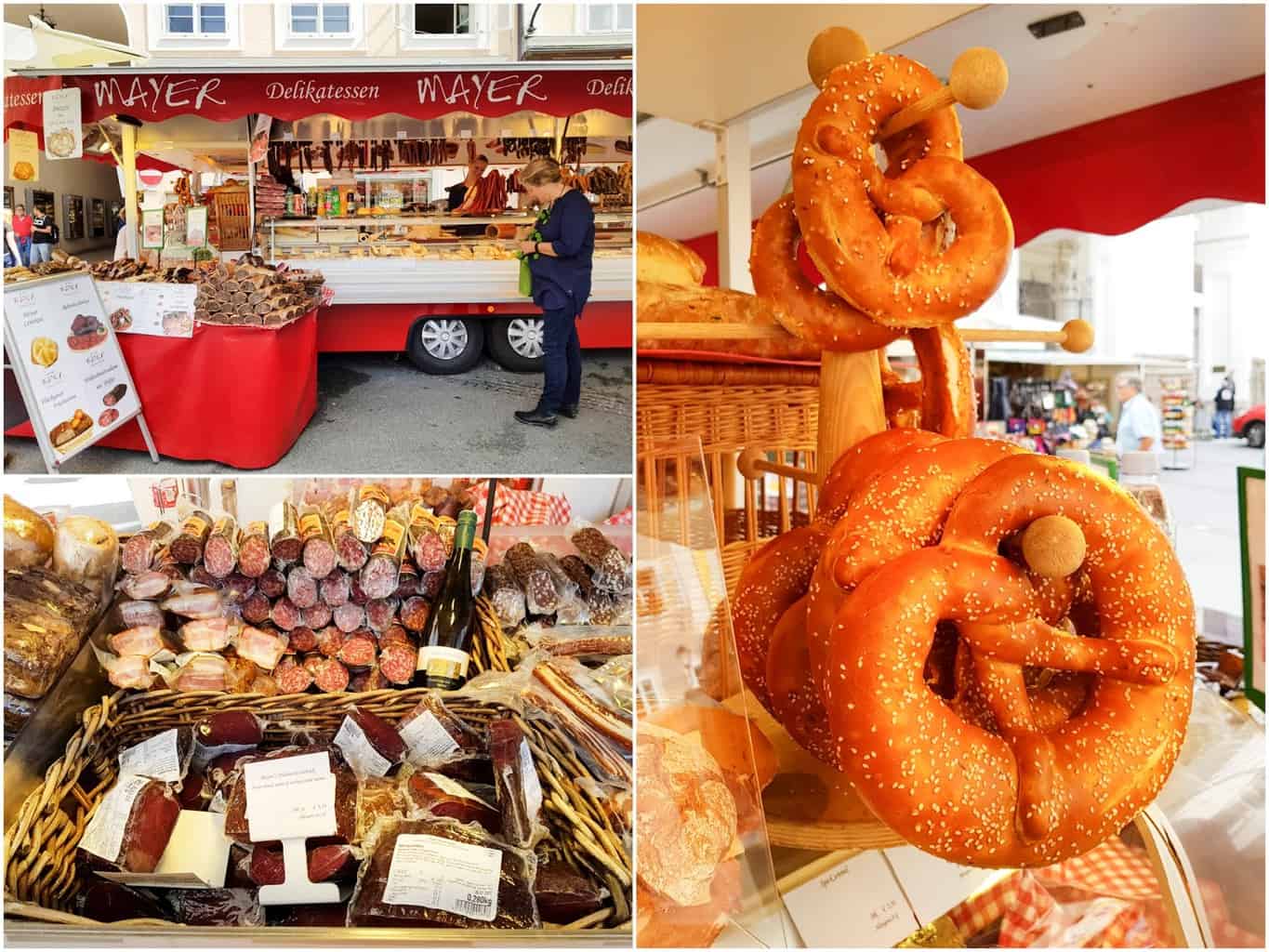 Mayer Delikatessen in Grünmarkt market, Salzburg

5) Salzburg | Holier than thou tipples produced by monks
Where | Klosterladen St. Peter
What to eat | A type of very pure brandy, in many different flavours.
In a nutshell | This shop is part of the St. Peter monastery, selling products produced by monks from all over Austria. Walk past the overwhelmingly beautiful crucifixes and religious crafts, and head to the back room for the hard stuff. Those monks sure know how to spend their time well.
http://www.stift-stpeter.at/de/klosterladen/
Erzabtei St. Peter, St. Peter-Bezirk 1, 5010 Salzburg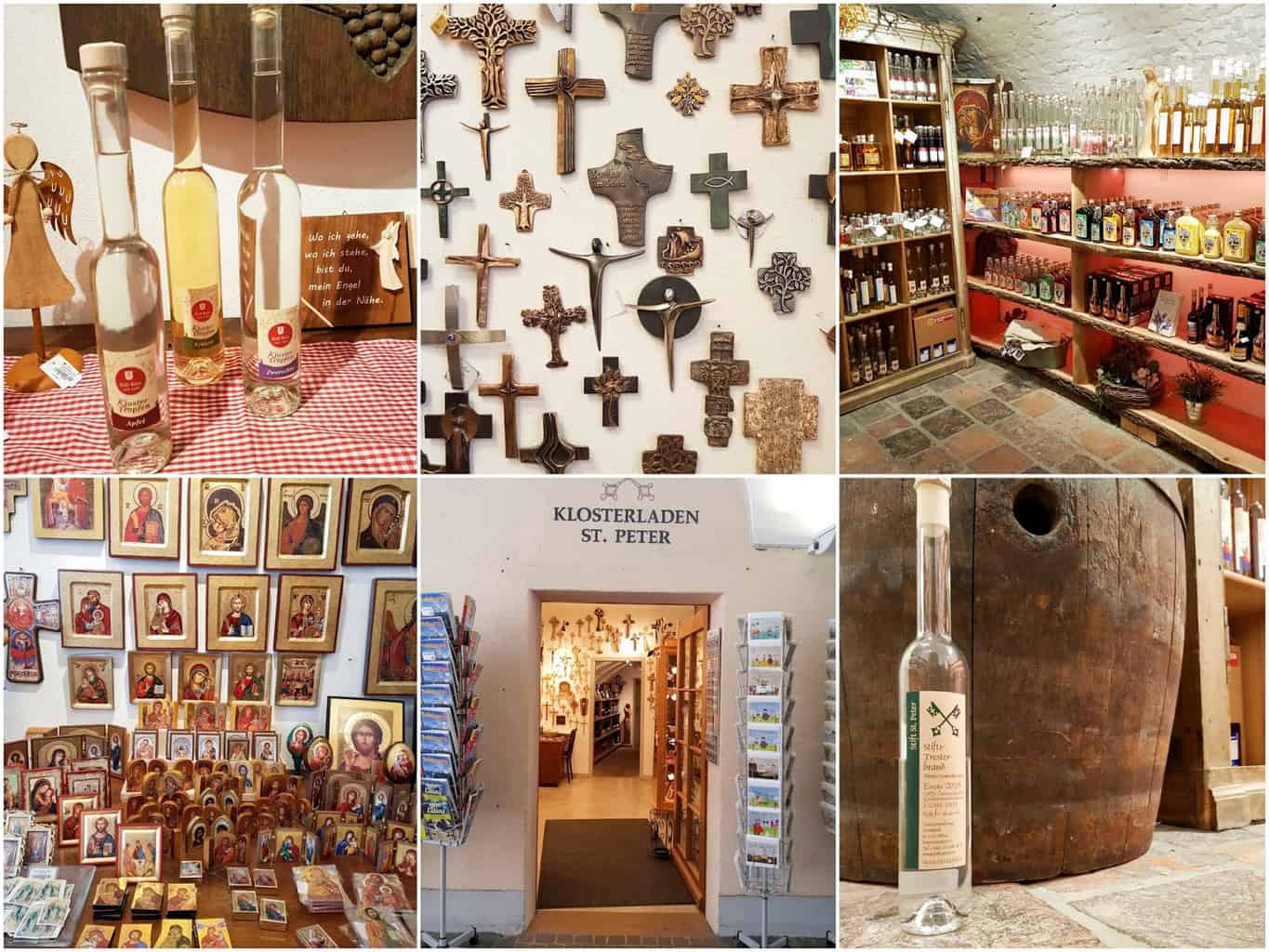 the klosterladen (abbey shop) of St Peter, Salzburg

6) Salzburg | World-famous chocolate named after one of the world's greatest composers
Where | Cafe Konditorei Fürst
What to eat | Salzburger Mozartkugel, made from marzipan and pistachio surrounded by nougat and dark chocolate.
In a nutshell | In 1884, Salzburg confectioner Paul Fürst opened a confectionery shop (still at the same site today), and in 1890, he created the original Salzburger Mozartkugel. Known worldwide, lots of places mass produce these little chocolates (even in Austria), but here they're still created by hand and with love. And they are very tasty indeed.
original-mozartkugel.com/index_e.php
Brodgasse 13, 5020 Salzburg

7) Salzburg | Hot dogs from the Balkans
Where | Balkan Grill Walter
What to eat | Bosna Grill, imported from the Balkan provinces.
In a nutshell | You'll find this little hatch in a covered alleyway, often trailing a queue representing the perfect cross-section of Salzburg society. They've been slinging Bosna Grills since 1950: a beef sausage served in a long bun, raw onions, chopped parsley, curry powder. Pungent and delicious. Enjoy with beer. Avoid on a first date. Closed on Sunday.
Website
Getreidegasse 33, 5020 Salzburg

8) Salzburg | Some of the best fried chicken in town
Where | Bärenwirt

What to eat | Backhendl (fried chicken).

In a nutshell | Fried chicken seems to be a key Austrian food, and these guys are on a mission to make the best in the country. The portion is huge, full of flavour, and it even includes nuggets of deep-fried chicken liver – be still my beating heart. They also have a lovely little al fresco terrace. I had a really wonderful solo dinner here, with neighbouring tables breaking into gentle German song at the end of their meal. The sign of a top evening.
baerenwirt-salzburg.at
Müllner Hauptstraße 8, 5020 Salzburg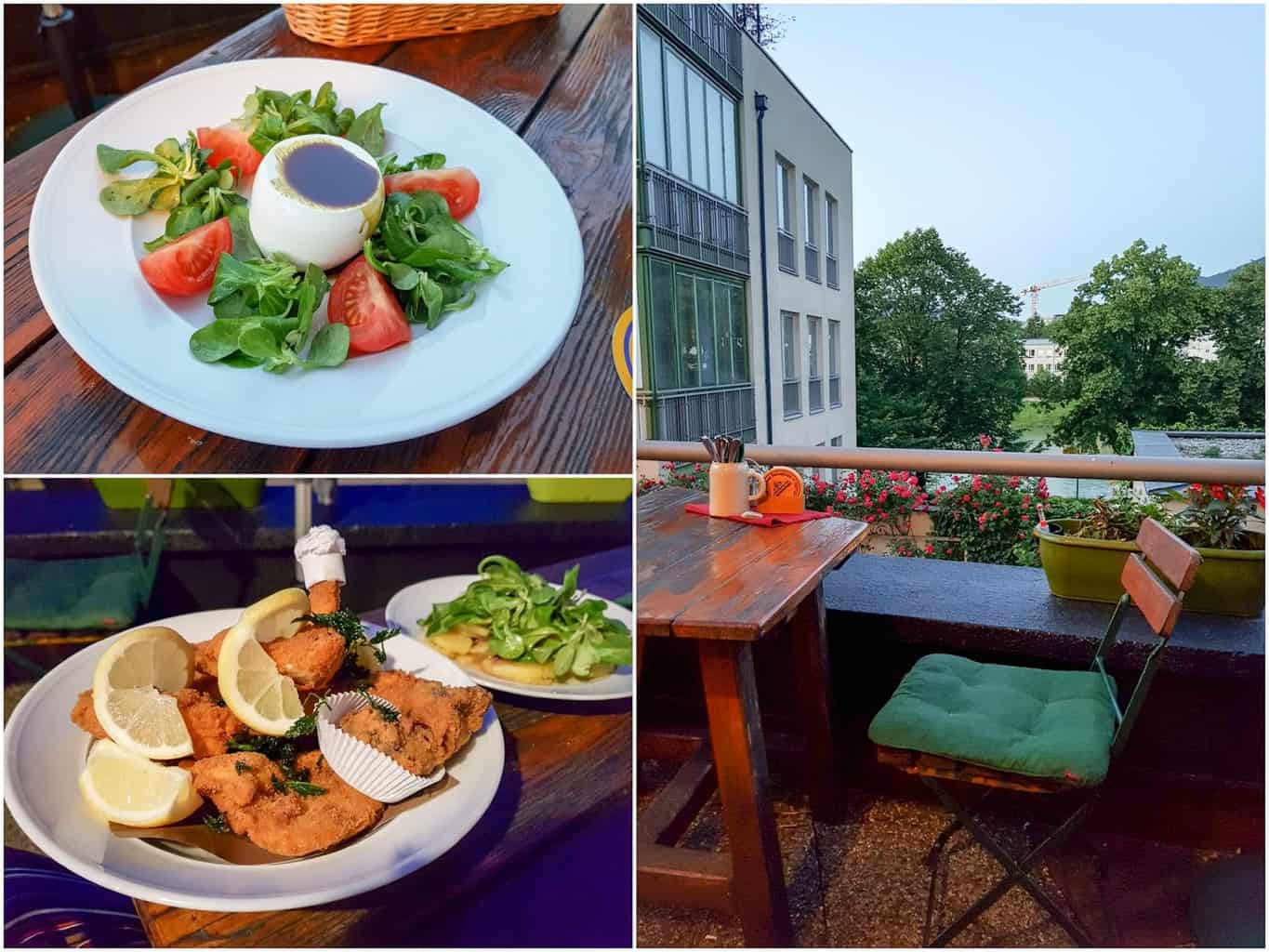 the fried chicken from Bärenwirt, Salzburg

9) Salzburg | Austrian konditori grandeur at its finest
Where | Café Tomaselli
What to eat | Cake and coffee.
In a nutshell | One of the most highly regarded coffee houses in Europe, Café Tomaselli has been there for over 300 years. The interiors are splendid: wood panelling, marble tops, silver trays, traditional newspaper stands, waiters in smoking jackets. In good weather find a spot outside and watch the city go by. It was also one of Mozart's favourite haunts. If it's good enough for Wolfgang…
tomaselli.at/en
Alter Markt 9, 5020 Salzburg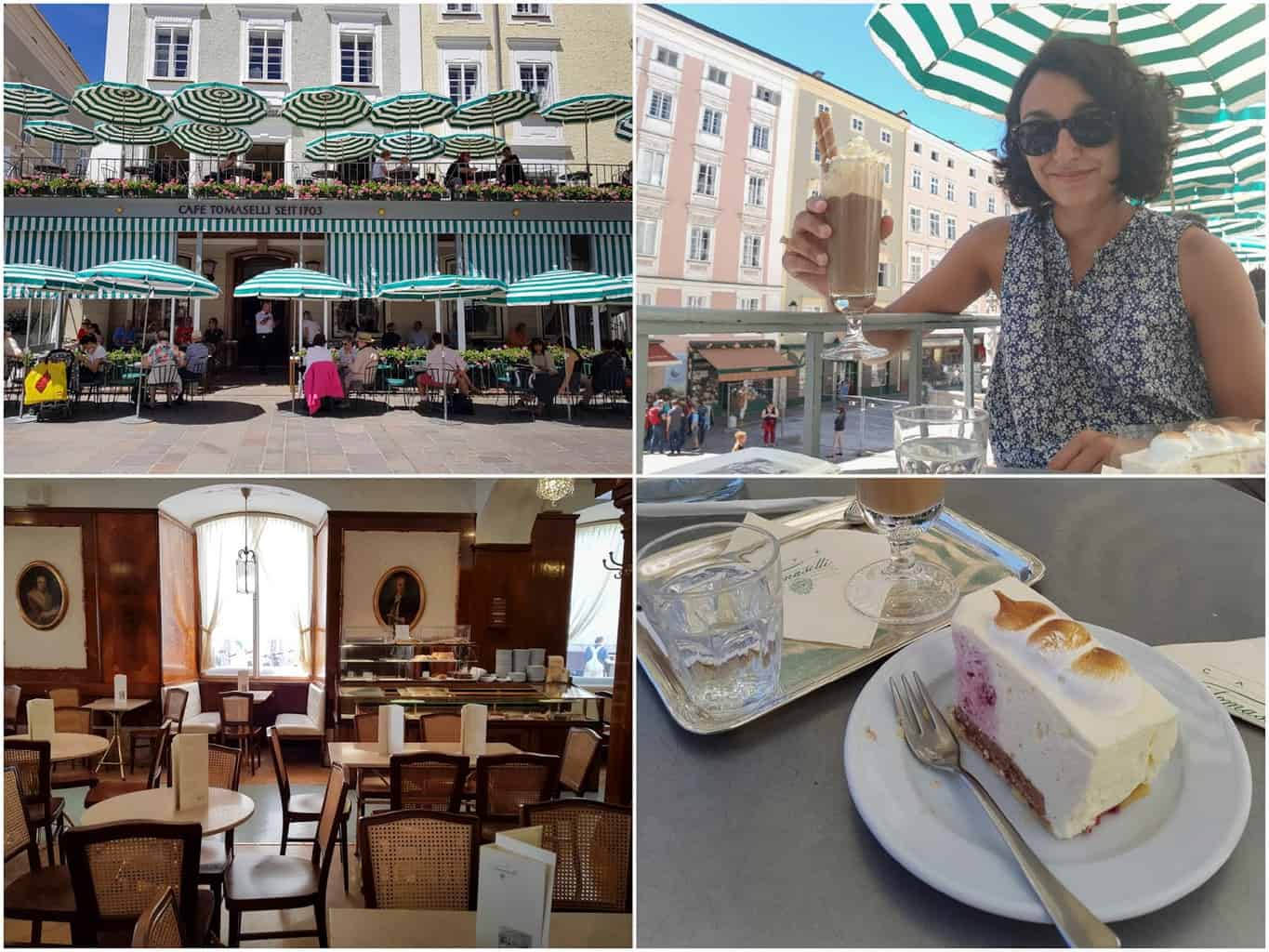 eating too much cake at Café Tomaselli, Salzburg

10) Salzburg | A different kind of ice cream
Where | Eisl Eis
What to eat | Ice cream made from sheep's milk.
In a nutshell | This is Austria's first organic sheep's milk ice cream shop. The ice cream is particularly creamy, full-bodied, and they've got some cracking flavours. Expect the likes of blueberry with rosemary, grape seed, yoghurt with raspberry, and of course pumpkin seed. And the sheep producing the milk are just up the road. Tasty.
eisl-eis.at
Getreidegasse, 5020 Salzburg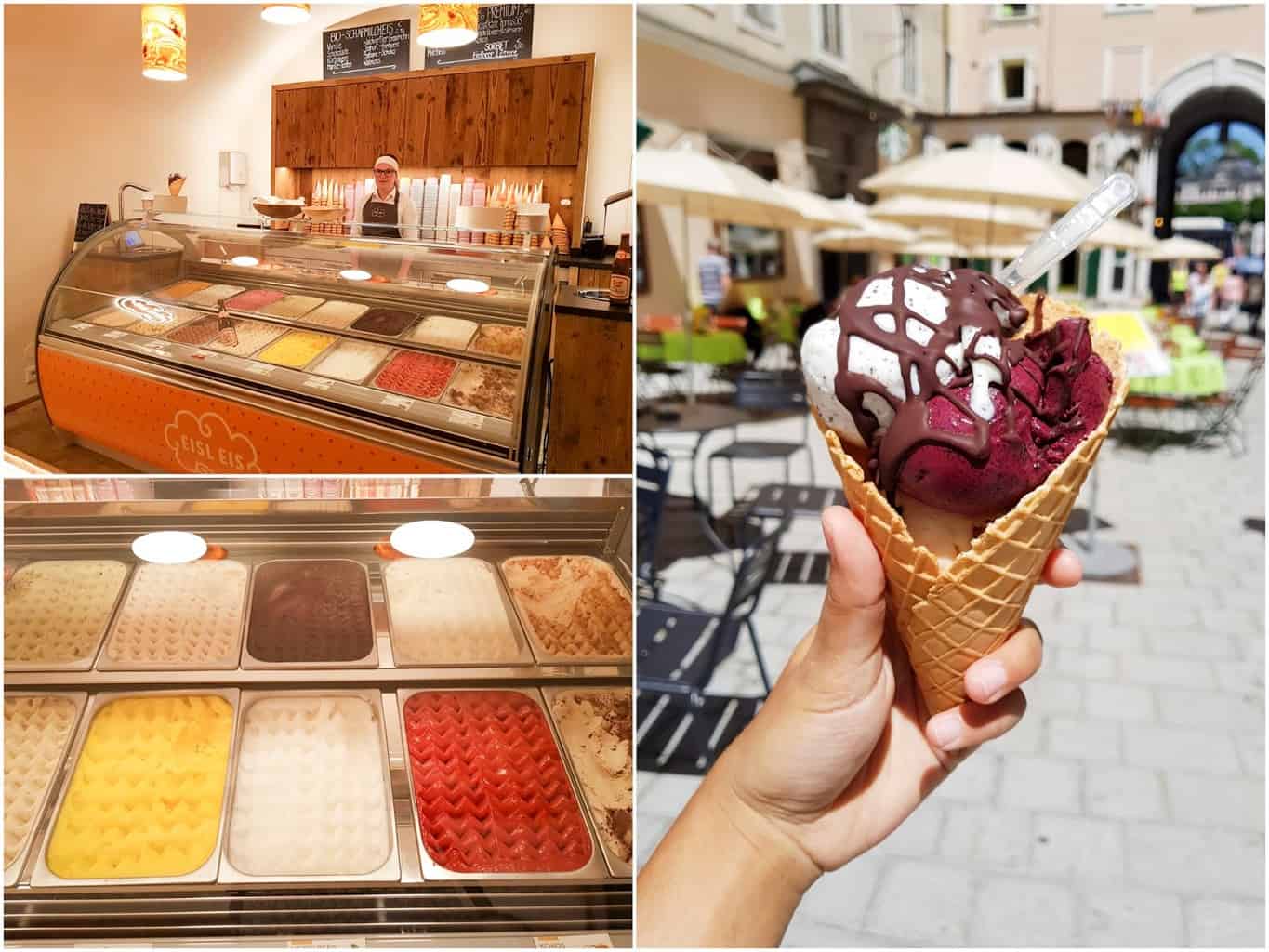 sheep's milk ice cream from Eisl Eis, Salzburg

11) Graz | Beautiful seasonal Austrian food in a sublime setting
Where | Landhauskeller
What to eat | Anything they're offering.
In a nutshell | Don't miss dining here when visiting Graz. An exquisite setting, sublime and seasonal Austrian food, fabulous staff, and very reasonably priced. You'll find hand-chopped beef tartare with wild garlic mayo, pickled red onion and brioche toast; sheep cheese with beetroot, asparagus and pumpkin tomato chutney; the classic Styrian dish of prime boiled beef with roast potatoes, chive sauce and apple horseradish; and much more.
landhaus-keller.at
Schmiedgasse 9, 8010 Graz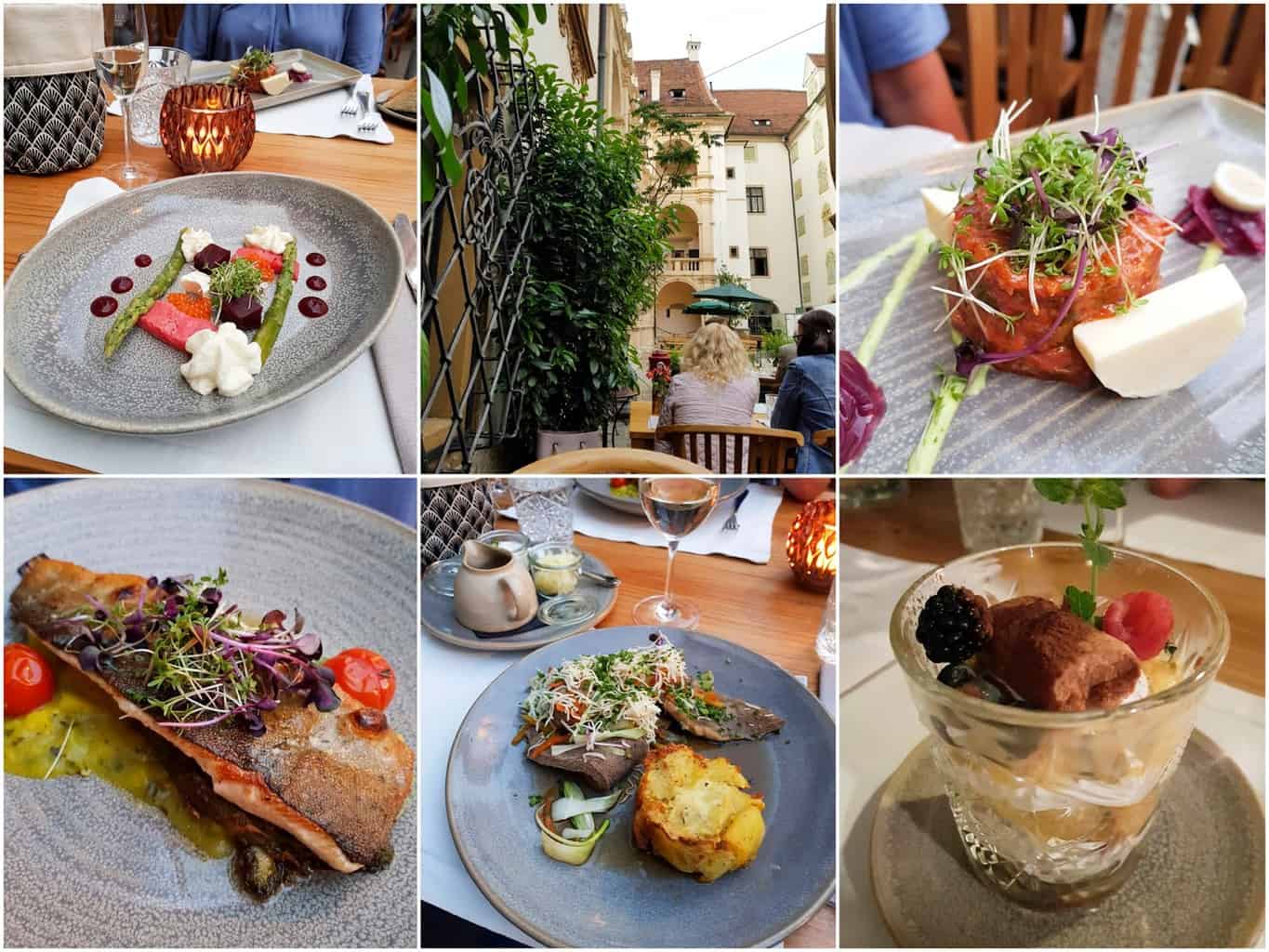 a really fabulous dinner at Landhauskeller, Graz

12) Graz | Fantastic hotel breakfast, and Sunday Soul brunch
Where | Speisesaal restaurant in Hotel Wiesler
What to eat | Buffet breakfast.
In a nutshell | Right on the banks of the River Mur, Hotel Wiesel is a gorgeous place to stay in its own right (evidence here). But the breakfast buffet is really worth checking out even if you're not, plus they have an a la carte menu to choose from too. Pictures much better than mine at the link below. Also, every Sunday they put on the Soul Brunch; a buffet brunch to the backdrop of local DJ's mixing up some soulful tunes.
http://speisesaal.at/en/breakfast/
Grieskai 4-8, 8020 Graz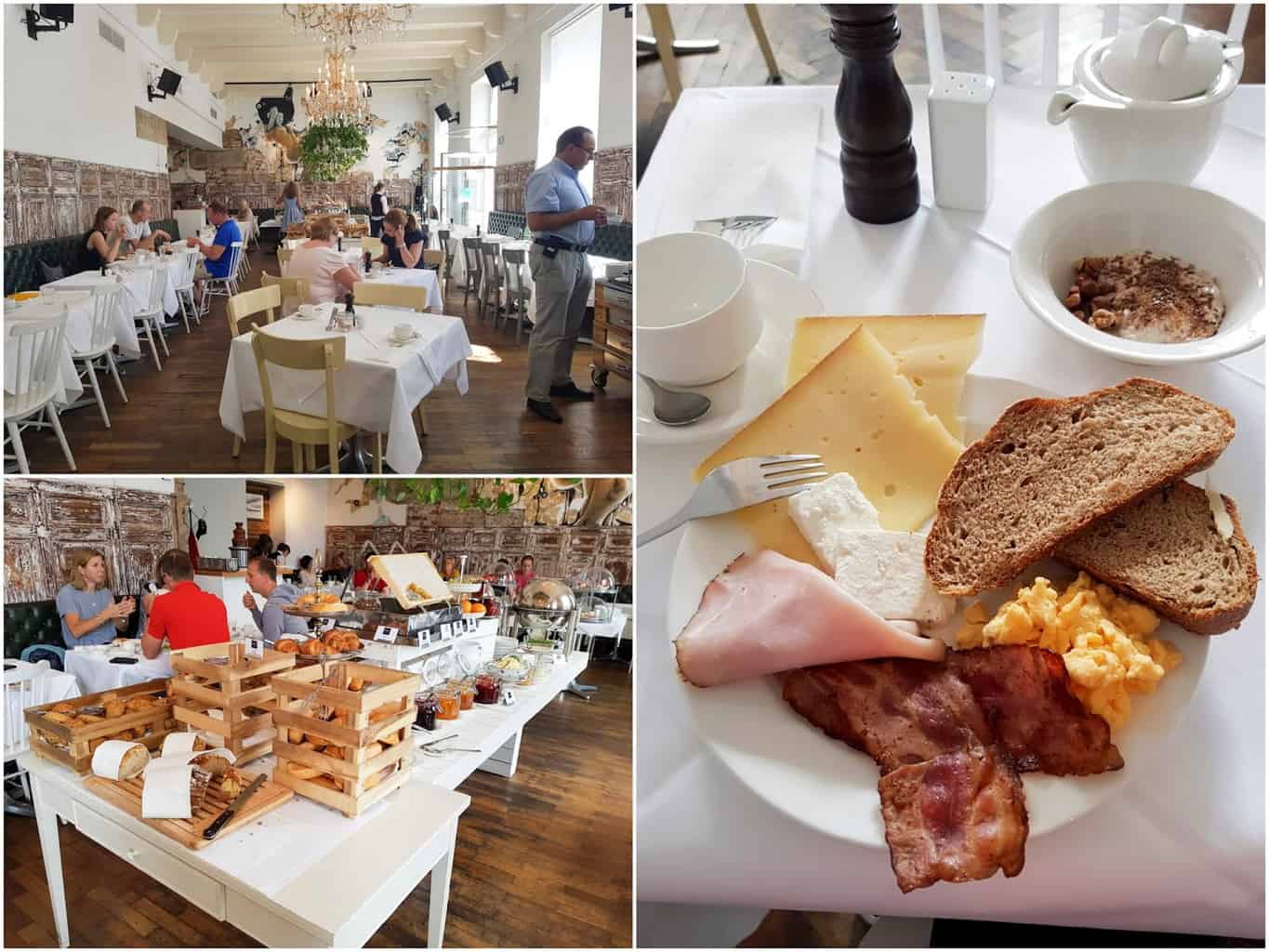 13) Graz | Tiny coffee shop with a big reputation
Where | Die Süße Luise
What to eat | Café food, and coffee.
In a nutshell | A very charming and miniature coffee shop in the farmer's market on Lendplatz. It's really very small, in that the shop itself has the kitchen and one table, and the rest of the seating is outside. I'm not sure what happens when it's raining, but on a sunny Sunday morning, every spot was occupied with people lolling about enjoying the fine weather, and great food.
facebook.com/DieSusseLuise
Lendplatz Stand 9, 8020 Graz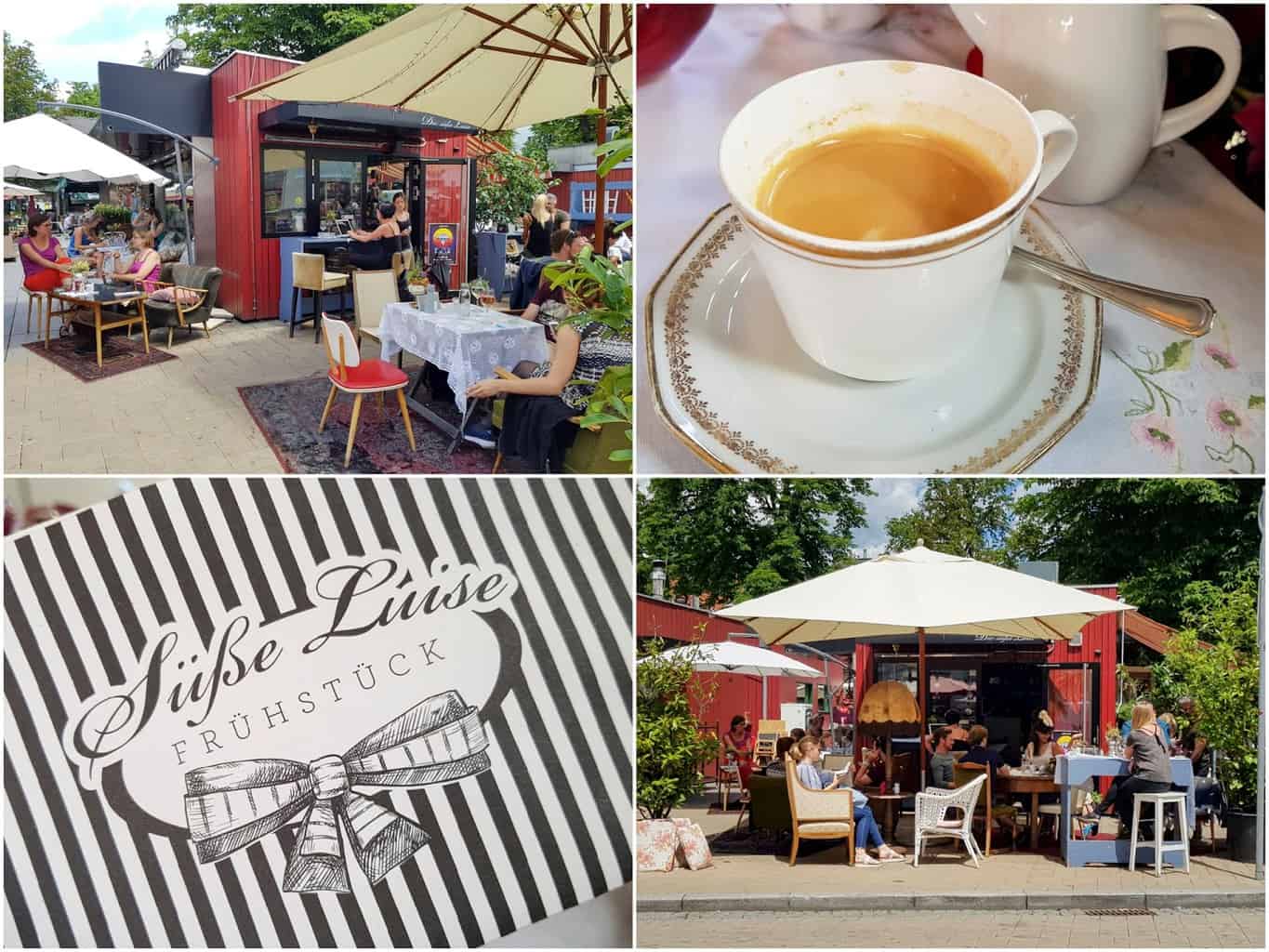 Graz's smallest cofee shop, Die Süße Luise

14) Graz | Mid-morning snack with a glass of local wine
Where | Bar Albert
What to eat | Local Elstar apples and pork on farmer's bread, with a glass of south Styrian chardonnay.
In a nutshell | A mid-morning snack in England might consist of tea and a biscuit. In Graz, it's local produce with a glass of wine. I know which I prefer. Head to this elegant wine bar in the historic old town for a quick bite to kick-start your lunch, and return in the evening to spend longer over their local wine list.
bar-albert.com/en/graz
Herrengasse 11, 8010 Graz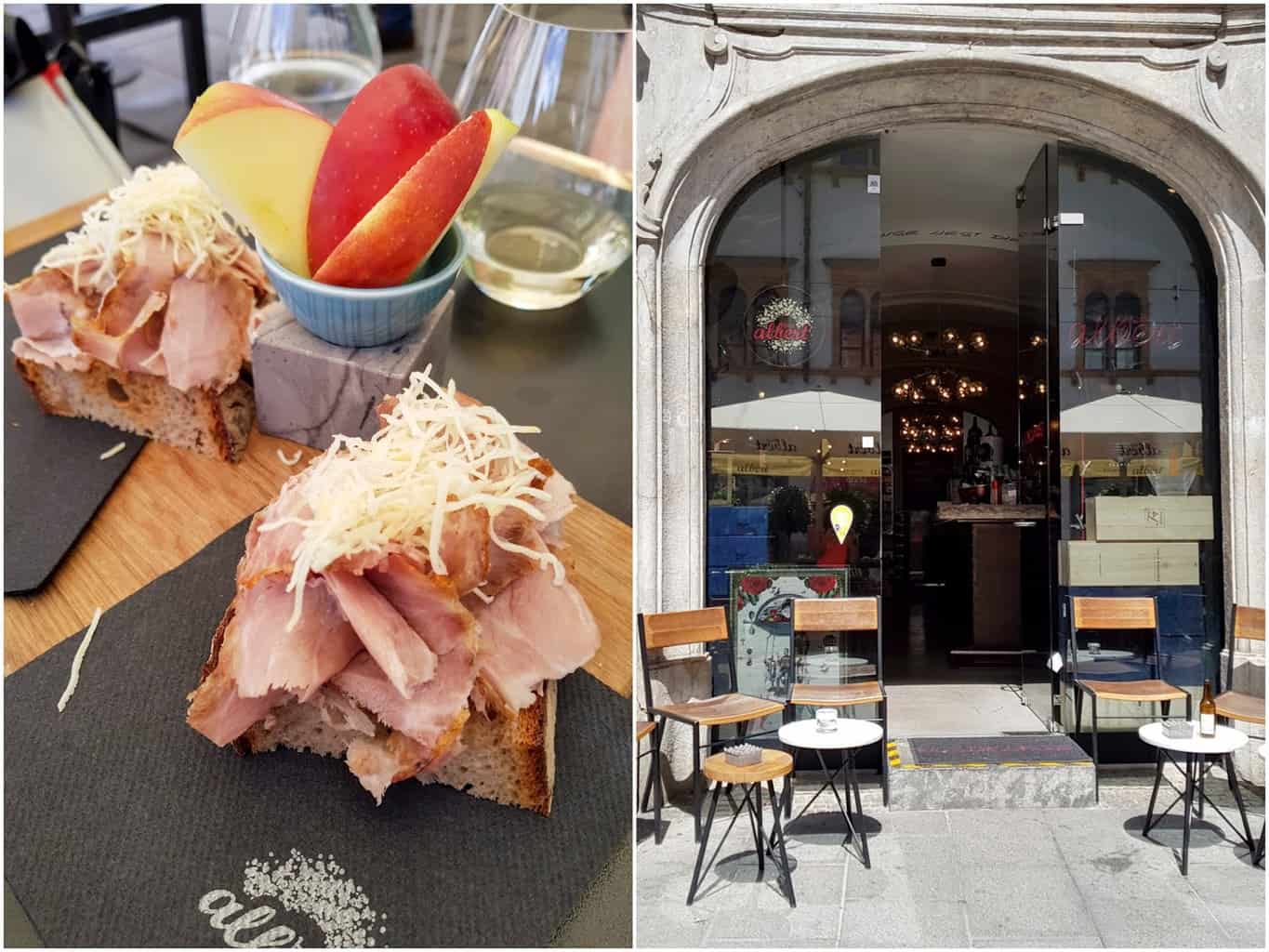 wine and snacks at Bar Albert, Graz
15) Graz | Sweet treats from an imperial bakery
Where | Hofbäckerei Edegger-Tax
What to eat | Sissi-Busserl. Tiny macaroons the size of quail's eggs filled with apricot jam and decorated with a dribble of dark chocolate.
In a nutshell | I didn't actually get to eat these, as they were closed the only day I could visit (Sunday). But this is what you should be buying. Along with anything else that takes your fancy.
The oldest surviving bakery in Graz, and one of the oldest in Austria, this place is as famous for its incredible facade as it is for its baked goods. Due to the quality of their products, the bakery received a title of the Imperial and Royal Warrant of Appointment in 1888. And to shout about it, they had this facade commissioned. There's no missing it.
hofbaeckerei.at/home.php
Hofgasse 6, 8010 Graz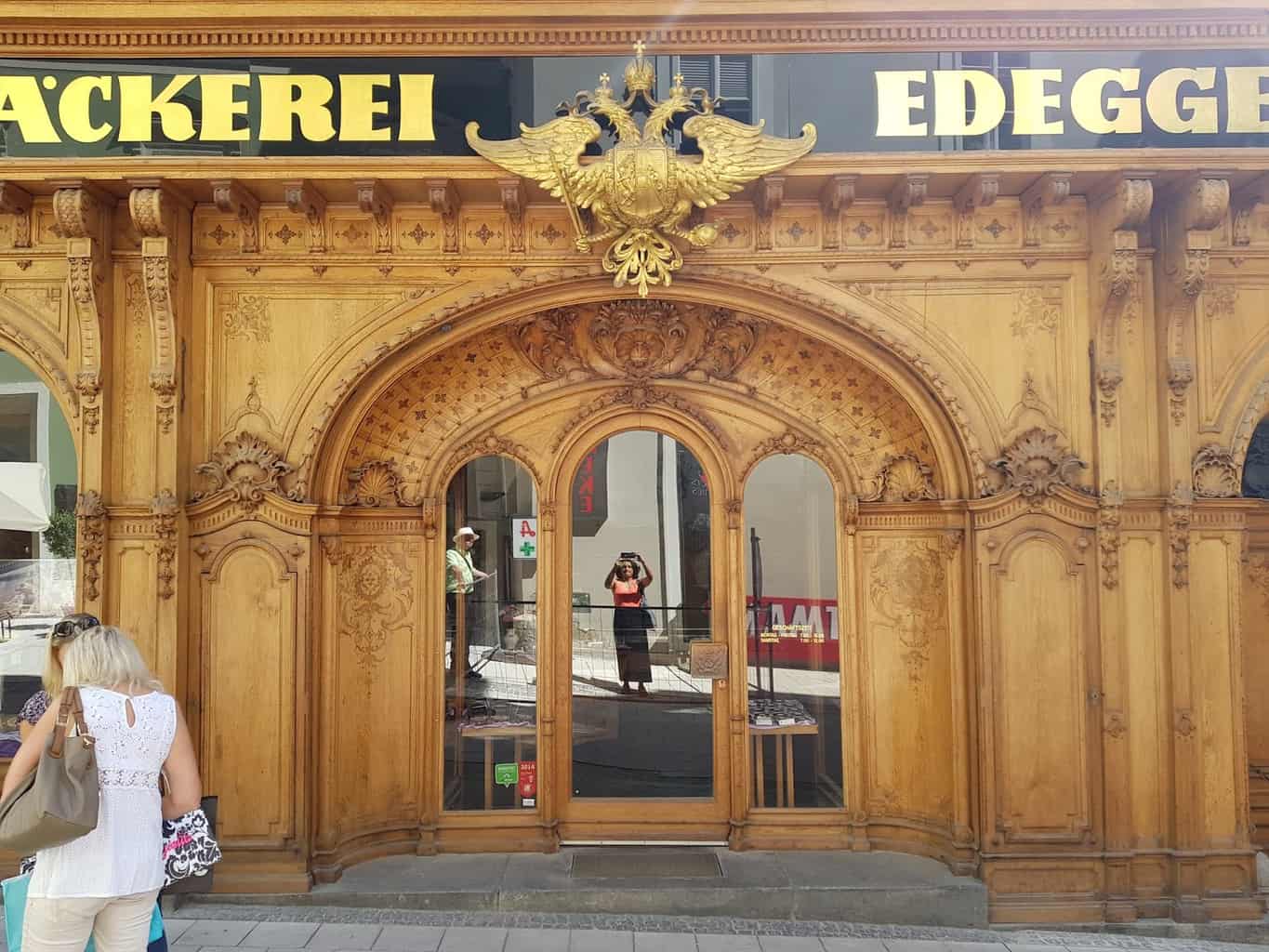 the very impressive and imposing Hofbäckerei Edegger-Tax shop front, Graz

16) Graz | Terrific oil made from special pumpkins
Where | Wherever you spot it being sold
What to eat | Pumpkin seed oil.
In a nutshell | We have sunflower oil, rapeseed oil, olive oil – why have I never seen pumpkin seed oil? There is a special type of pumpkin that grows in Styria, producing seeds without shells. It's these seeds that are ground down to make the quintessentially Styrian Austrian food product that is pumpkin seed oil. It goes with pretty much everything – salads, cheese, drizzled over cooked meat and fish. Don't leave Graz without a bottle.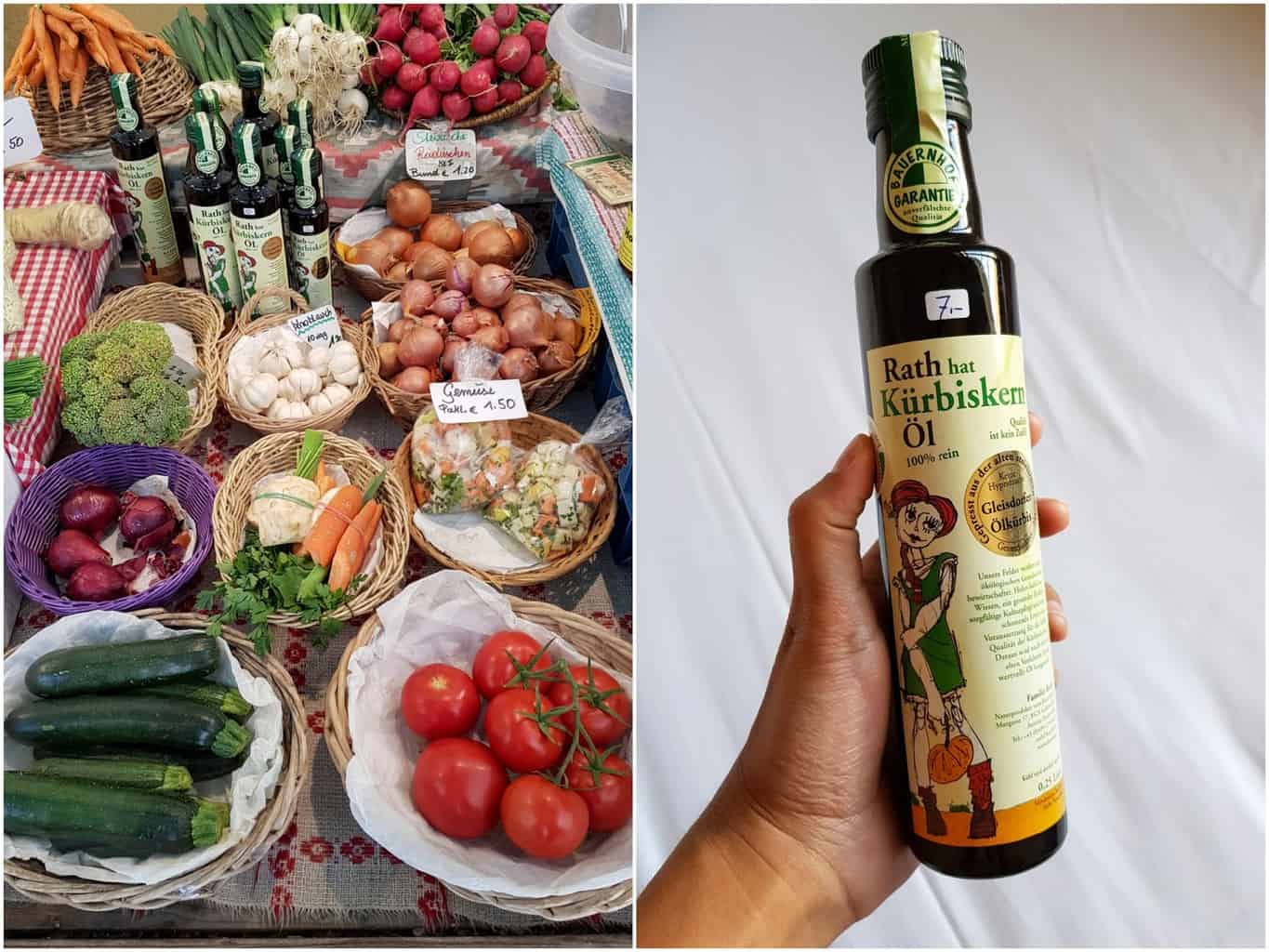 I love this stuff!
17) Graz |  The best open sandwiches in town
Where | Frankowitsch
What to eat | One of their open sandwiches. And a pfiff; a very small glass of beer.
In a nutshell | A Graz institution since 1932, these guys are known for their tasty open-faced sandwiches. That is, one slice of dense bread with an array of freshly made fillings (toppings?). It's a top spot for lunch, and you'll also be spoilt for choice when it comes to their perfect patisseries. I popped in just before they were closing at 7pm, so there were only a few sandwiches left. Pumpkin seed cream all the way – a glorious pre-dinner bite.
frankowitsch.at
Stempfergasse 2, 8010 Graz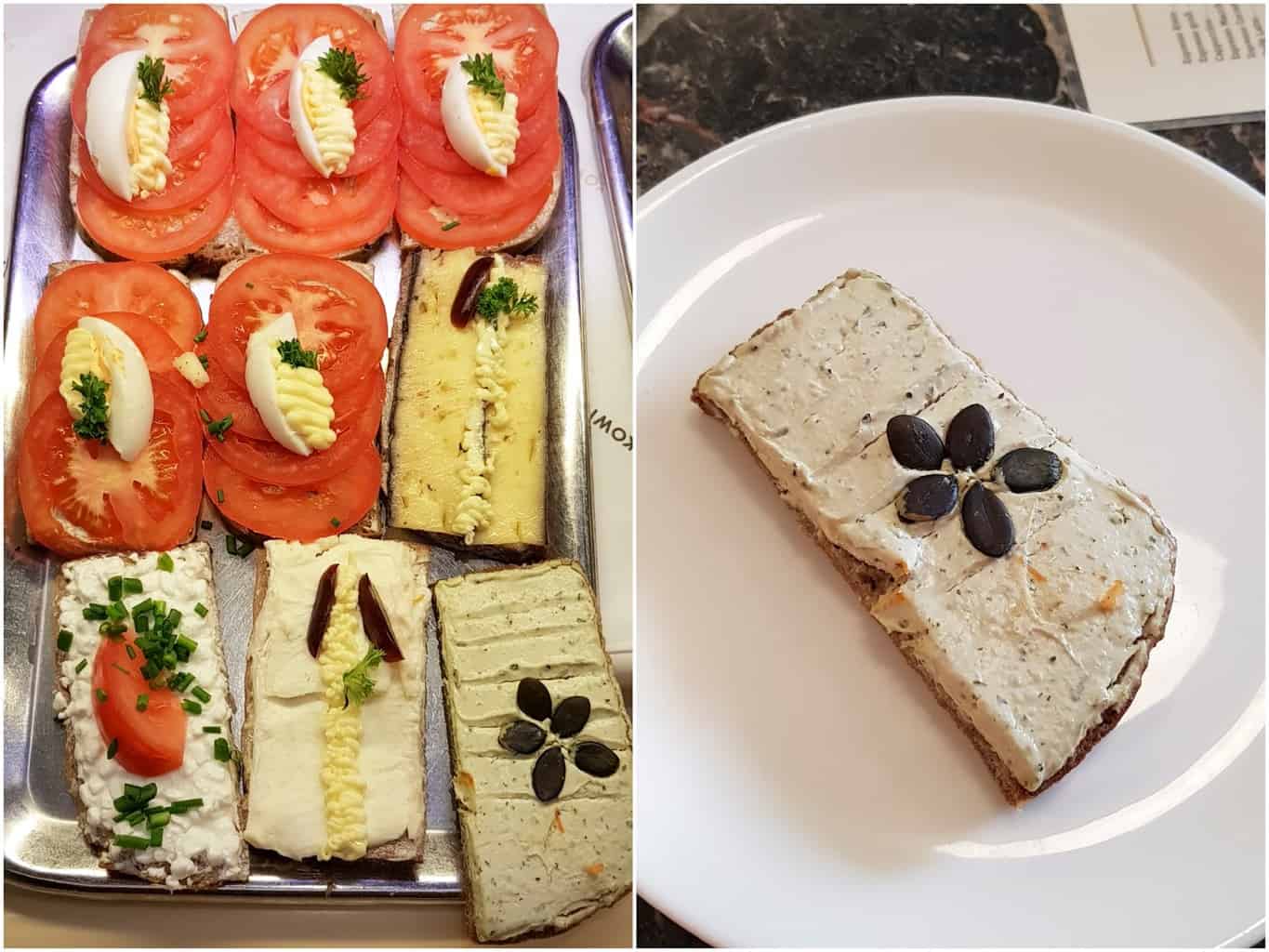 pumpkin seed cream open sandwich from Frankowitsch, Graz

18) Graz | Home-cooked Styrian Austrian food
Where | Altsteirische Schmankerlstube
What to eat | Home-cooked Styrian Austrian food.
In a nutshell | I had such a wonderfully self-indulgent solo dinner here. If I haven't mentioned it before, I relish solo dining, and when the setting is just right, with wonderful food, I find it quite hard to beat. This place came recommended by a local.
I went for a glorious plate of huge, plump and dark Styrian runner beans as a starter, followed by roast pork in a cider sauce and potato dumpling fingers. A couple of glasses of sparkling elder wine, and a good book on the Kindle, and you have the makings of a fantastic evening.
schmankerlstube.at/en
Sackstraße 10 A, 8010 Graz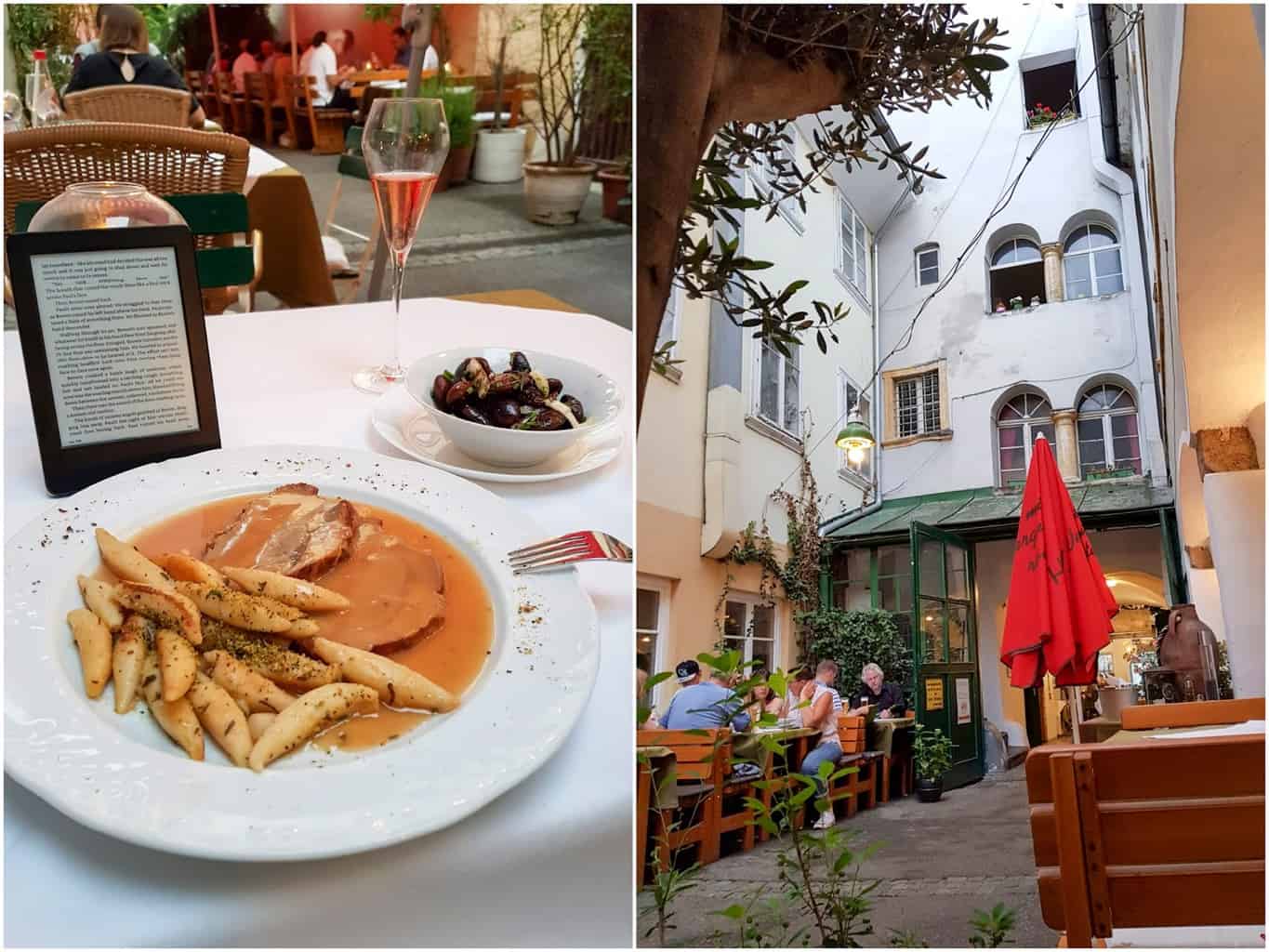 a terrific classic Styrian dinner at Altsteirische Schmankerlstube, Graz

19) Graz | Dine in one of the country's most iconic and alien buildings
Where | Kunsthauscafé inside Graz's contemporary art museum, Kunsthaus
What to eat | Really good veggie fare.
In a nutshell | In the belly of this internal organ-like building, you'll find the chic and urban Kunstauscafé. Serving food from breakfast through to dinner, expect exciting vegan and vegetarian dishes (they do meat too), great coffee, trendy clientele, and cocktails with a side of electro beats in the evening. They also have wifi, and power points around the bar seating are. An ideal spot to while away a couple of hours, at any time of day.
kunsthauscafe.co.at
Lendkai 1, 8020 Graz

Source: https://www.thecutlerychronicles.com/