With all the twisting mountain roads, glistening emerald lakes and cozy valley villages, a Switzerland road trip is one of the best ways to experience the breathtaking country, and this Switzerland itinerary for 5 days will help you plot your path. The fast-paced route begins and ends in Zurich, never pausing in any place for more than one night. But in turn, you'll get a well-balanced blend of big city sightseeing, quiet villages, stunning castles and scenic hikes.
If you want to prioritize museums and historic sites over nature and outdoor adventures (or vice versa), adjustment suggestions are made throughout. Since most days include a little of both, you can devote more time to whichever suits your travel style best. And with an average of fewer than 100 miles on the road per day, you won't waste too much time behind the wheel.
Switzerland Road Trip: the Best Switzerland Itinerary for 5 days
Day 1 — Zurich to Bern
Today is all about historic towns, with time split between Zurich, the largest city in Switzerland, and Bern, the capital. You could easily spend a couple of days in each locale if you extend your trip, but just hitting the highlights will allow more time for scenery outside the cities.
In Zurich, start with a walk through the medieval Altstadt (Old Town), where cobblestoned streets fill with tourists by day and a lively nightclub crowd after dark. Highlights include the Swiss National Museum and Grossmunster church, where you can climb upstairs for panoramic city views. Parks and gardens surround Lake Zurich here and boat tours offer a quick overview of the sites.
After an 80 mile drive, you'll arrive in Bern, the Swiss capital located on the Aare River. A medieval astronomical clock tower, ancient fountains and historic statues fill the city's Old Town, a UNESCO World Heritage site. If you have time for a couple of indoor attractions, you'll find thousands of paintings and sculptures at the Kunstmuseum, while the Historical Museum of Bern houses objects dating to the Stone Age and a huge exhibition dedicated to Albert Einstein, who once lived here. For some time outdoors, head over to Rosengarten, a public park full of hundreds of rose, iris, rhododendron and azalea species.
Where to Stay in Bern
Bern is a large city with plenty of guesthouse and hotel options. Prices tend to rise as you get closer to the Inner City wrapped by the Aare river, since this is where much of the sightseeing, shopping and museums are located. We tried and recommend Hotel-Pension Marthahaus for quick access to the Old Town. The budget property is a cross between a hotel and hostel, with private rooms, shared bathrooms and a free breakfast buffet.
Day 2 — Bern to Montreux
There is lots of hiking and scenic views along the path today. If you're not all that into nature, you can devote less time to the outdoors and more to the destinations on either end instead. While the suggested route takes about 3 hours, Bern straight on to Montreux is only an hour.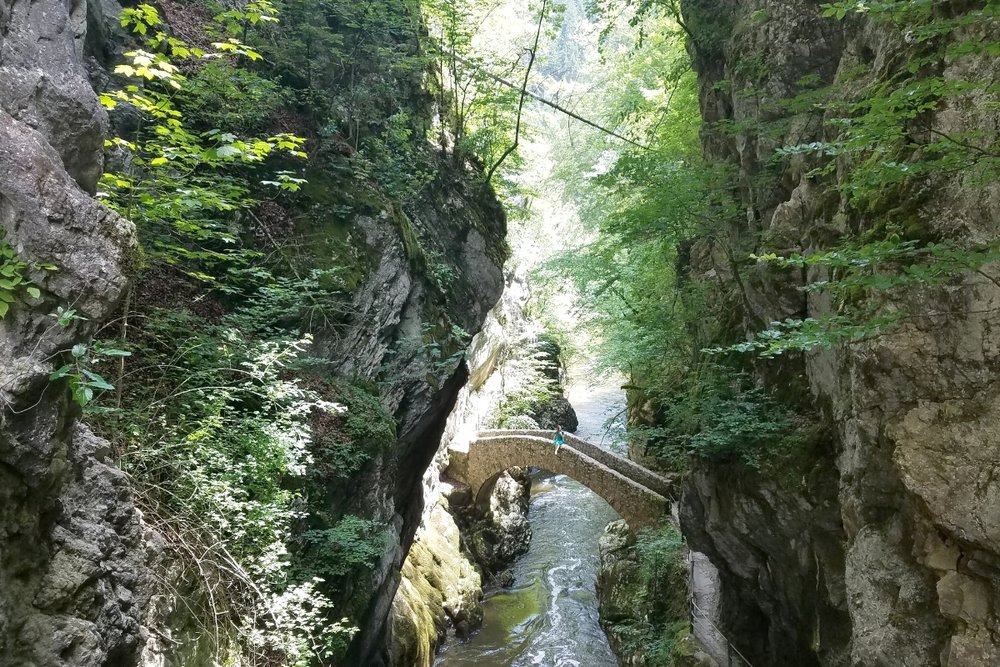 The first stop of the day is in the little village of Noiraigue, about an hour to the west of Bern. From here, you can hike to the Areuse Gorge, where a stream cuts through giant rock walls speckled with greenery. A darling stone bridge makes for the perfect photo spot and turn-around point for about a two-hour excursion, though the path continues on for longer.
From Noiraigue, it's a winding 12-mile drive uphill for an elevated view of the Creux du Van basin. The bottom of the natural arena is lush with forests, and from the rim trail along the top, you can take in the whole green scene. You'll want to park in the big lot at Restaurant le Soliat and walk through the pastures and little stone wall to reach the sheer cliffs of the attraction.
If you're keeping a quick pace, you might have time to swing by the city of Lausanne on the way to your final destination today — Montreux. The resort town on Lac Leman is famous for its Chillon Castle, which you can tour inside if you arrive by mid-afternoon (closing hours vary by time of year, check them here). If not, the picturesque exterior surrounded by mountains and the glistening blue lake is still worth a photo stop. Be sure to catch the sunset from the lakeside promenade in downtown Montreux, where you'll also find some dinner options.
Where to Stay in Montreux
Most Montreux hotels are located in the blocks near the waterfront, near to shopping and dining. You can also find properties up the hill in the older part of town. We stayed at and can recommend the Tralala Hotel Montreux, located in a 17th century house with hilltop views of Lac Leman and jazz-themed decor.
Day 3 — Montreux to Zermatt and Kandersteg
Mountains are the theme today as we head into the Alps. You will have seen them in the background plenty already, but it's time to get up close and personal with Switzerland's most famous peak. This day involves the longest commute, but the drives are scenic and the destinations worth it!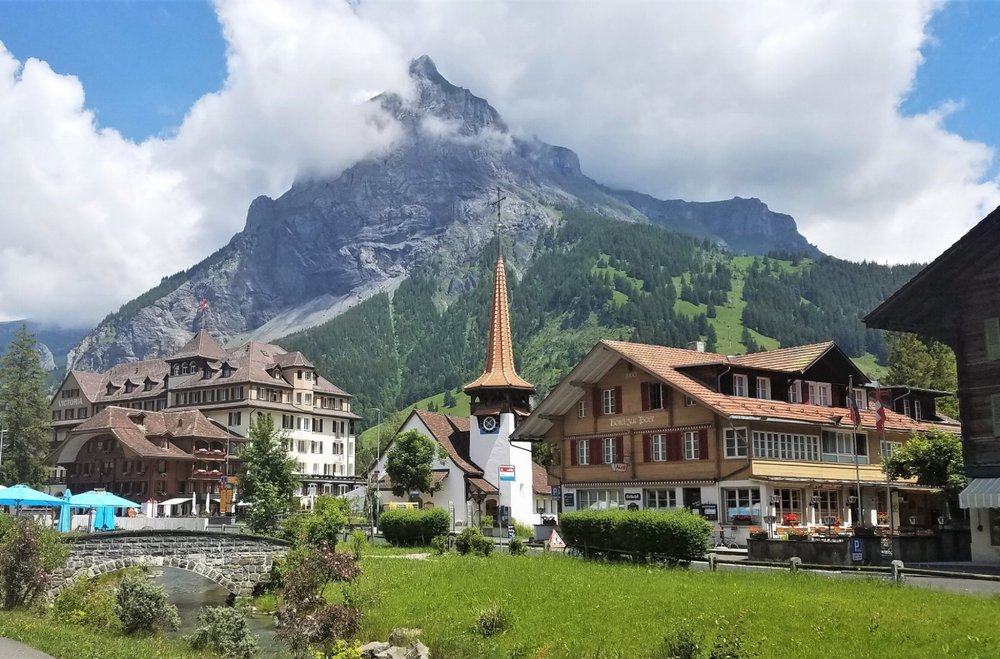 Less than an hour from Montreux, the first stop of the day is in Sion, where a pair of hilltop castles makes for a picture-perfect scene from afar. In the old part of town, you can climb steps to each fortification to get up close. The Tourbillon Castle is in ruins, but a 15th-century chapel within the walls preserves old frescoes. On the opposite mound, Valere Castle displays Romanesque and Gothic touches in its design.
Next, it's time for a look at the famous Matterhorn. From Sion, it's about an hour's drive to the village of Tasch, where vehicles must be left in a parking garage to hop on the train into Zermatt. You can see the pointy peak from the streets of the resort town on a clear day, but if you want to get up close, you'll need to take another rail journey on the Gornergrat Bahn to reach a viewing platform more than 10,000-feet high. If you have extra time, join in on the outdoorsy fun in Zermatt with some hiking, mountain biking or skiing — the slopes are open year-round here.
The final destination today is less than 45 miles away but requires car transport via an open-sided train through the Lotschberg Tunnel. In the end, you'll land in Kandersteg, a sweet little village full of timber hotels and the base for tomorrow's first adventure.
Where to Stay in Kandersteg
Most of the hotels in Kandersteg have a mountain chalet look and are located along the main road through the small town. The most budget-friendly options will be in guesthouses or pensions with shared and private rooms. We tried and liked Simplon House, which has a cozy feel in its wood-paneled private and dorm-style rooms with shared baths.
Day 4 — Kandersteg to Lauterbrunnen
Today is filled with two of Switzerland's best features — lakes and castles. If you aren't into hiking, you can skip the morning excursion and devote more time to the attractions around Lake Thun instead. The drive today is short with lots of stops.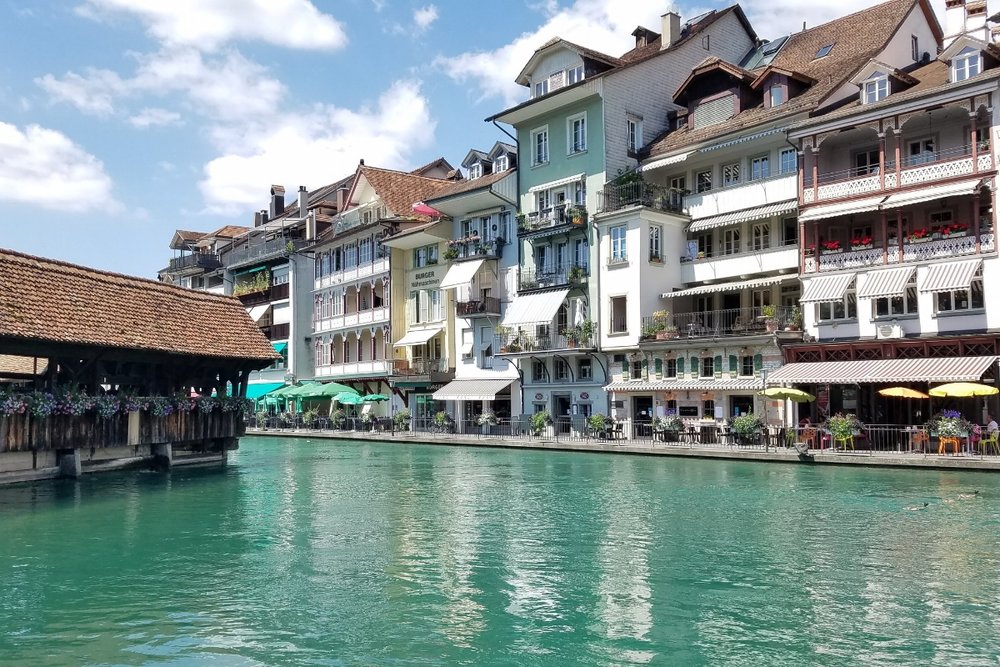 Catch the first cable car ride up to Oeschinensee to maximize your time today. The lift takes off from the town of Kandersteg and climbs up to a mountain station with hikes, boat rides and a toboggan coaster run in summer and skiing and ice walks in winter. The walk to the Oeschinen Lake from the top takes about 30 minutes, but if you want to extend your time outdoors, you can follow a 3-hour loop trail that overlooks the emerald water. A restaurant by the lake is perfect for lunch, or you can picnic on the pebbly beach.
In the afternoon, it's time to head to Thunersee, one of the twin blue lakes that sit on opposite sides of the town of Interlaken. There are three castles you can tour circling the lake counter-clockwise from Kandersteg — Spiez, Thun and Oberhofen. Spiez Castle has lakefront vineyards, a 1,000-year-old church, and museum exhibits inside. Thun Castle sits high above a town with the same name, where a picturesque historic district melds with bustling shopping streets on the Aare River. The medieval Oberhofen Castle juts into Lake Thun and is surrounded by colorful gardens along the water.
Other places to visit in Interlaken include Giessbach Falls on the southeast side of Brienzersee and St. Beatus Caves on the northeast shore of Thunersee, where waterfalls flow over rocks on their way into Thunersee. If you have extra time, you can pay to tour the underground caverns, too.
If you make it to Interlaken in time for sunset, catch a ride on the red funicular up to Harder Kulm. The viewpoint overlooks lakes Thun and Brienz with snow-capped mountain peaks in the distance. If you run out of time or would rather take in the view in by day, save this for the next morning.
Where to Stay in Lauterbrunnen
You must choose a hotel withing the valley in Lauterbrunnen to soak up the village vibes and waterfall views. Options here range from ritzy chalets to hotels and hostels with basic but modern amenities. We recommend Valley Hostel, which has dorms and private rooms in chalets with patio views of Staubbach Falls available.
Day 5 — Lauterbrunnen to Zurich
The final route heads back toward our starting point, but not before a visit to a waterfall haven buried in a valley. Since you'll be passing through Interlaken, Lucerne and Zurich, you can finish the trip by hitting any highlights you've missed along the way. The drive only takes a couple hours, so there's plenty of time for sightseeing.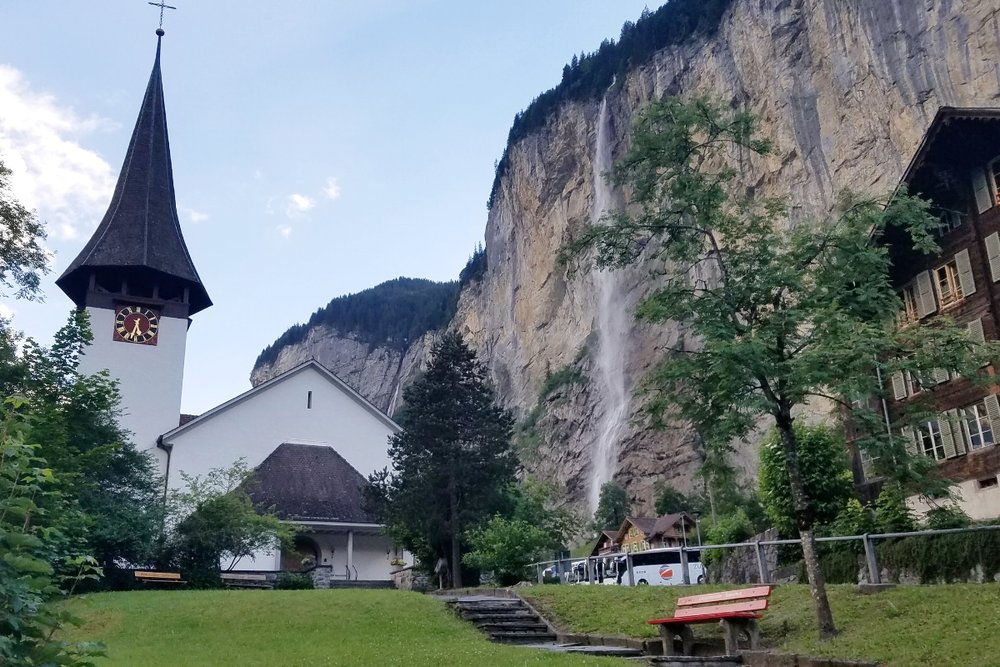 Start your day in Lauterbrunnen, where dozens of waterfalls gush down the rocky cliffs that surround the picturesque village. You can soak up the views here in whatever style you prefer — with a quiet breakfast overlooking the imposing Staubbach Falls just off the main road, or with a heart-pumping paragliding excursion above the scene. Head over to the Trummelbach in the valley to see 10 glacier-fed waterfalls hidden inside a mountain. A lift, stairs, walkways, bridges and tunnels help you access the cave-like site.
If you didn't have time for Harder Kulm yesterday, you'll pass right by Interlaken again today on the 80-mile trek back to Zurich. If you want a slower but more scenic drive, you can take Route 9 along the shoreline of Lake Brienz before hopping on the A8 to continue your journey.
Since you'll be passing right by Lucerne, use any leftover time to explore the lakefront city. The long wooden Kapellbrucke (Chapel Bridge) from the 1300s is a popular photo stop, as is the Lion of Lucerne monument carved into a rock. As in most Swiss cities, the Old Town district here brims with historic buildings. Promenades, parks and boat rides along Lake Lucerne can easily fill the rest of one day in Lucerne.
Where to Stay in Zurich
As the largest city in Switzerland, Zurich has tons of hotels and guesthouses that tend to run on the pricier side. If you have an early flight, you might consider a hotel near the airport in Rumlang, Opfikon or Kloten.
Source: harborsandhavens.com