As one of the original world powerhouses of international trade, Amsterdammers are certainly not strangers to welcoming guests from foreign countries. Unfortunately for the shoe-string budget backpackers arriving at Central Station every day, Amsterdam can be expensive.
In a city where a bed in a hostel can set you back as much as €50, it's going to be crucial that you try to get a little more creative with how you plan your trip. Luckily, the Dutch capital's cobblestoned streets are laden with sights to marvel at, free exhibits await your wandering mind, and browsing the city's vibrant markets won't cost you a dime.
If you're worried that you won't be able to afford to have a great time, here are our picks for the best things you can do in Amsterdam for under €5, or completely free.
Have breakfast at HEMA
If your guesthouse or hostel doesn't offer breakfast, head to HEMA between 9 and 10 am to grab the cheapest bite in town. Breakfast at this Dutch variety store can run you as little as €2, depending on what you choose.
Visit the Amsterdam Architecture Foundation
While the building alone is worth the trip to Oosterdok, the admission is actually free. Inside you'll find information and exhibits about architecture in Amsterdam and beyond. You'll have to reserve a time slot online before you arrive.
Go see the smallest house in the city
Originally built in the Red Light district in 1738, the smallest house in Amsterdam now houses a tiny tea house appropriately called: The Smallest House. They have the largest selection of loose leaf tea in the city, and you can take home a sample for as little as €3. This isn't to be confused with the narrowest house in Amsterdam, which sits at Singel 7 and is still a private residence.
Sunbathe at Sloterplas beach
About a 25-minute bike ride from the center of town is the man-made, freshwater lake, Sloterplas. Toward the north end, there is a sandy beach and green lawn that attracts scores of locals and tourists alike on a sunny day. If you don't have a bike, you can reach this beach by public transportation as well.
Attend the Muziektheater lunch concert (on Tuesdays)
On Tuesdays between 12:30 and 1 pm, the Nationale Opera & Ballet hosts a free lunchtime concert. However, make sure you check the availability of tickets online and reserve them in advance.
Bike through the Cycle Tunnel
This 110-meter long tunnel beneath Amsterdam's Central Railway Station was built to accommodate pedestrians and cyclists looking for a faster way to reach their trains. Split down the middle, half of the tunnel is a cycle path, and the other half is a sidewalk. Lining the side for pedestrians is an impressive mural by Irma Boom, conceived as an interpretation of an important Dutch work from the 1700s.
Ride the ferry
If you'd like to get out on the water but don't want to shell out the cash for a boat tour, take one of the ferries that depart from Central Station. There are three different routes that all arrive in different places, but no matter which one you choose, they're all completely free.
Climb up to the NEMO Science Museum roof terrace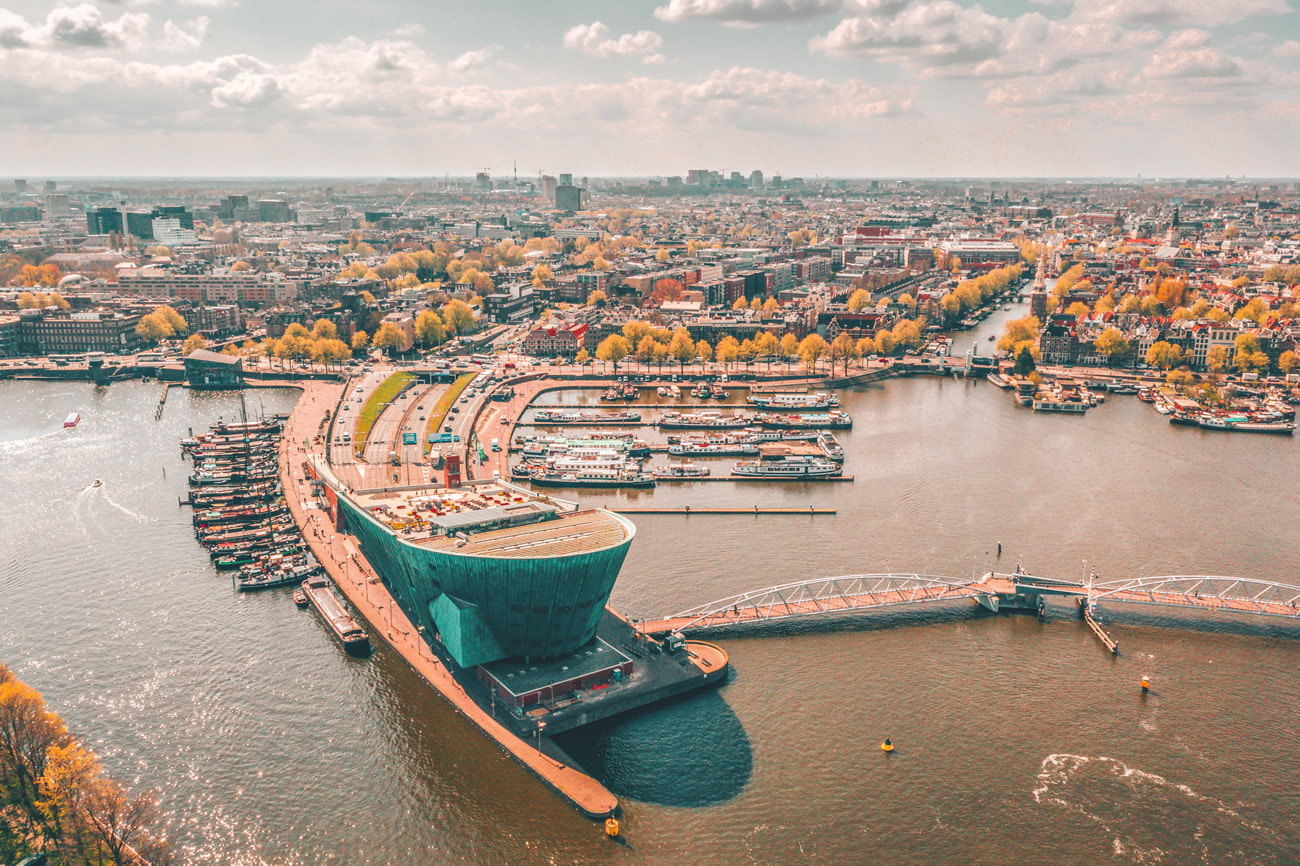 The highest city square in the entirety of the Netherlands, the rooftop terrace at the NEMO is completely accessible to the public from 10 am until 5:30 pm every day, save Mondays, New Years Day, and King's Day. It can be accessed by a staircase from the street level.
Photograph some of Amsterdam's famous street art
Amsterdam is one of the pivotal cities in the street art scene, and there are many prime spots around town to find some impressive work. One of the free ferries you can catch from Central Station travels to NSDM wharf, where you'll find one of the largest collections of street art in Amsterdam.
Catch the view from the Openbare Bibliotheek Amsterdam
Of all of Amsterdam's public libraries, the OBA Oosterdok is probably the most impressive. It certainly has the best touristic draw, as it features a 7th-floor terrace with an incredible view of the city that you can visit for free.
Ride a historic tram
At the Electrische Museumtramlijn Amsterdam, you can go for a joyride aboard one of their refurbished vintage tram cars. Headed in a single direction, a ticket is only €3.50 and can be paid, in cash, directly to the conductor once you're aboard. The route goes from Haarlemmermeer station to Amstelveen-Bovenkerk station through the Amsterdamse Bos (Amsterdam Forest.)
Learn about the city's history at the Gemeente Amsterdam Stadsarchief
The city archives are open to the public, and most of the facility is free to explore. While special exhibitions require a ticket for admission, the treasury room, movie theater, and many exhibitions are free to browse.
Relax at the Rembrandtplein
Named for the famed Dutch painter who once owned a house nearby, Rembrandtplein is one of Amsterdam's most important public squares. In the middle stands a bronze statue of Rembrandt that was unveiled in 1852; taking a picture in front of it is on many tourists' itineraries.
Browse the Albert Cuyp Markt
The most popular market in Amsterdam, it was named for 17th-century Dutch painter Aelbert Cuyp. Over 250 merchants sell all manner of items here, like clothing, fresh produce, and yes, fresh stroopwafels. The many stalls of fresh-cut flowers in vibrant colors are a real tourist draw.
Learn something new at the Cannabis College
The laws in the Netherlands that regulate cannabis are not nearly as lax as you might think. While Amsterdam is famous for its coffee shops, wherein the sale and consumption of cannabis are tolerated, both are still technically illegal.
Cannabis College is dedicated to educating the public about cannabis policies in the Netherlands and around the world, and how restrictive cannabis laws can negatively affect a nations' populace, including its own. If you'd like to drop in on a class, just be sure to check the schedule before you go.
Enjoy a lunchtime concert at the Concertgebouw
Almost every Wednesday, except during the months of July and August, they hold a free concert in the recital hall at the Royal Concertgebouw. These are held at noon and last for about 30 minutes, but the only way to get a ticket is to queue until tickets are released at 11:30 in the main entrance hall. They are very popular with tourists and locals alike, so you may have to get there quite early to ensure you'll be close enough to the front of the line to receive a ticket.
Browse the Waterlooplein Flea Market
The oldest flea market in the Netherlands, here is where you'll find all manner of vintage and antique objects, handmade crafts, souvenirs, and other miscellanies. While a lot of what you'll see here is Dutch, there are also stalls selling interesting imported goods. And who knows? You might even find something here you can't live without for a euro or two.
Pet the animals at Amsterdamse Bos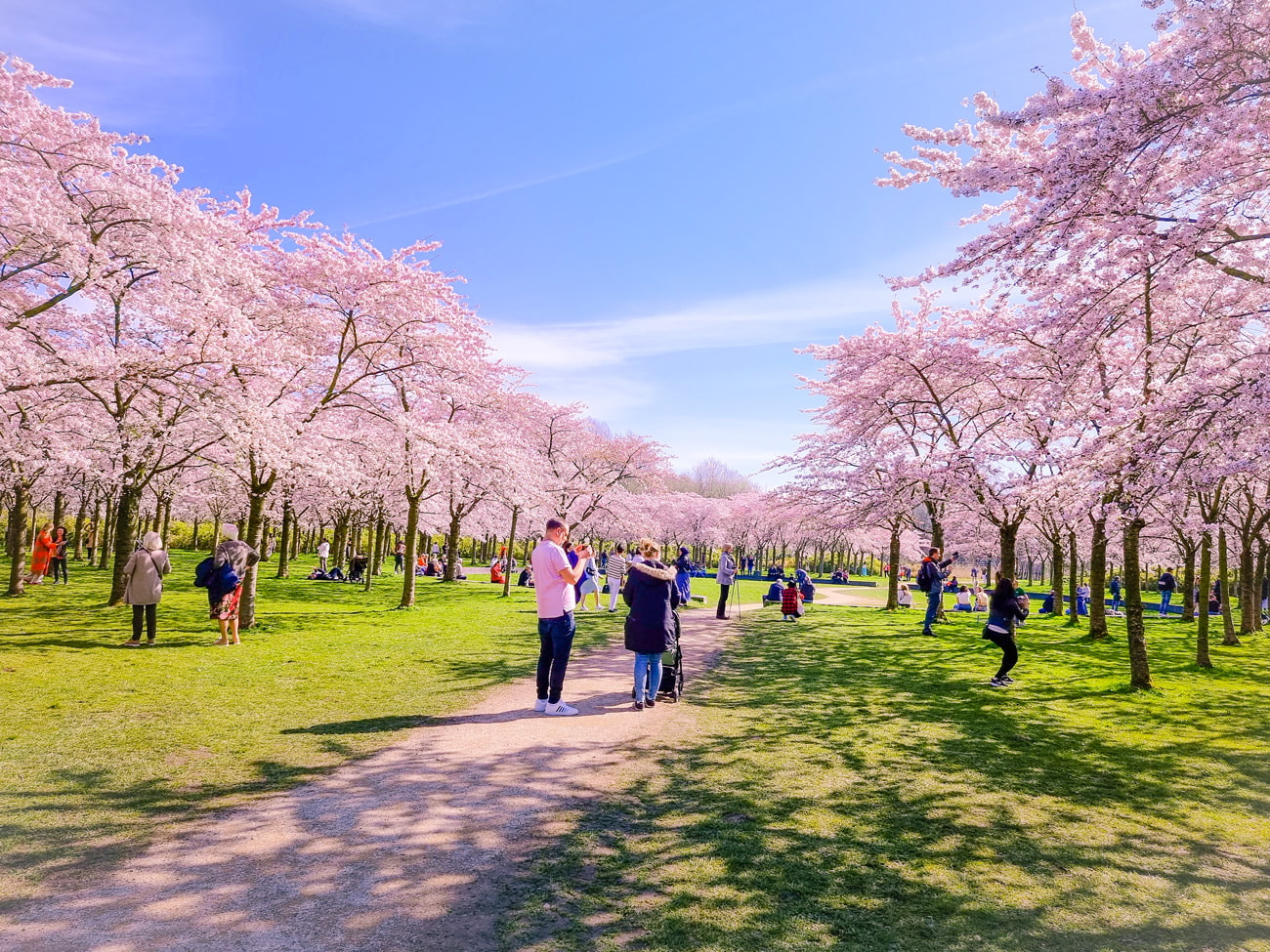 Three times the size of Central Park in New York City, Amsterdamse Bos, or "forest," is a vast city park with wetlands, lawns, a lake, and yes, even areas that are forested with trees. You could easily spend the entire day here as there's a lot to do and see, including goats that you are encouraged to cuddle.
Go on a diamond factory tour
Gassan Diamonds has been crafting cut diamonds in their steam-powered factory since 1868. If you'd like to see these artisans at work, you can book a free one-hour tour on their website.
See the Houses of Seven Countries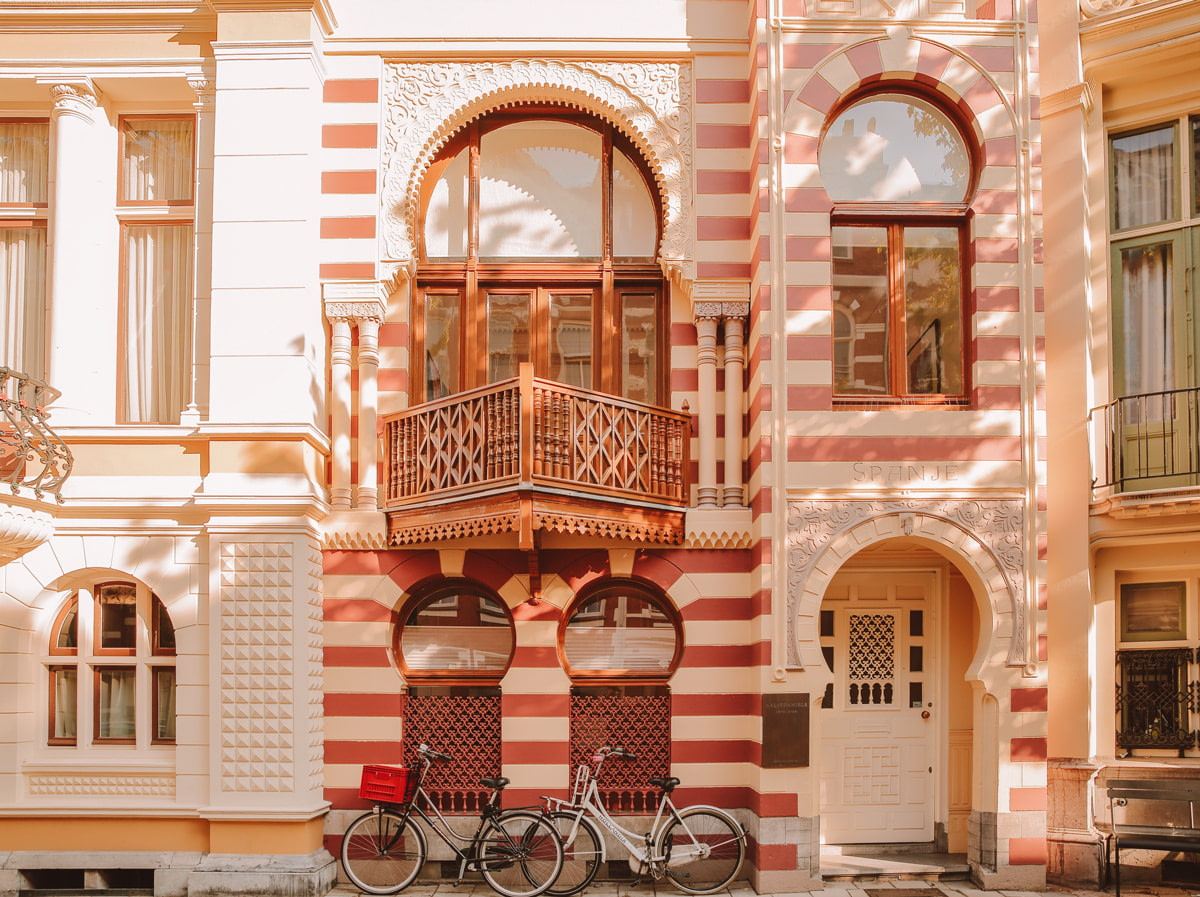 In the late 19th century, architect Tjeerd Kuipers built these seven rowhouses, each depicting a classic form of architecture from a different European country. Strolling down Roemer Visscherstraat from number 20 to 30A, you'll find houses representing the nations of Germany, France, Spain, Italy, Russia, and the Netherlands, in that order.
Spend some time on the Poezenboot
This isn't a euphemism: the Poezenboot, or Catboat, is a floating animal sanctuary. Home to a rotating cast of cats who are looking for homes, they invite visitors to come pet and play with them, even adopt one if you end up meeting your new best friend. You have to make a reservation in advance, but visiting the Poezenboot is free.
Relax at the Rijksmuseum Gardens
Far more than just a simple lawn, the Rijksmuseum Gardens feature a meticulously landscaped "green gallery," a water maze, a greenhouse filled with rare vegetables, and more. It is free to enter any day between 9 am and 6 pm.
Cross the Bridge of 15 Bridges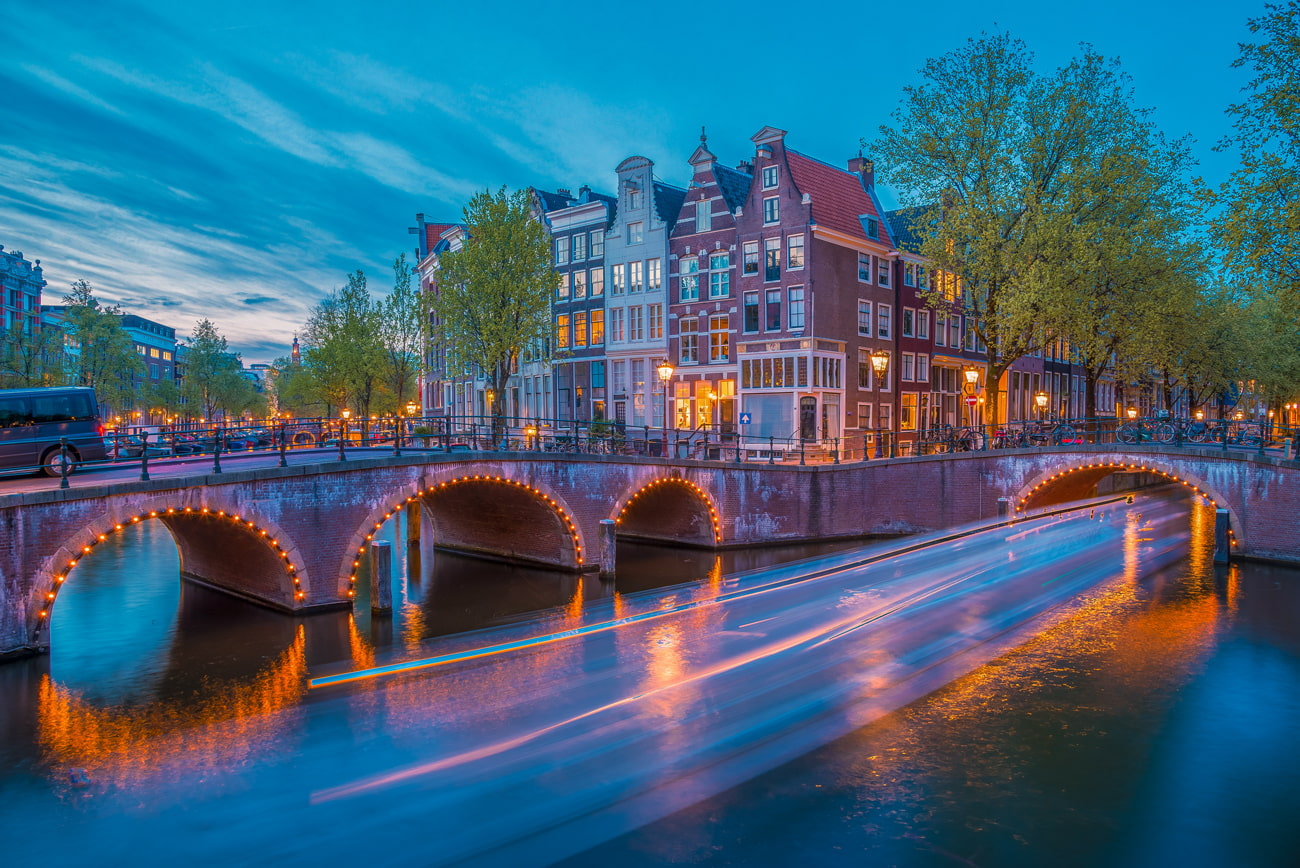 When crossing the bridge where Herengracht meets Reguliersgracht, be sure to look in every direction. You can actually see 14 additional bridges from this vantage point, with the one you're standing on bringing the total to 15.
Become a piece of art at Electric Ladyland
This is the most expensive item on this list with a price tag of a whopping €5, but a visit to Electric Ladyland is worth every penny. A small museum dedicated to everything fluorescent, it is impossible to take a bad photo within its black-lit exhibits.
Visit the Rijksmuseum at Schiphol Airport
And finally, right before you leave, be sure to leave some time to see the small outpost of the Rijksmuseum at Schiphol Airport. Located on Holland Blvd after you pass security, it is free to enter when you present a boarding pass for any flight.
Source: https://travelaway.me/