Because it's fascinating to see how a holiday as universal as Christmas is celebrated differently around the globe, here are 25 surprising facts about Christmas in the Netherlands.
When I moved back to the US after living in the Netherlands for nearly four years, my American friends were often confused about the European nation about half the size of Maine, so here is a quick overview:
The Netherlands has a long, North Sea coastline. It shares an eastern border with Germany and a southern border with Belgium.
The country is often called Holland after two of its more populated provinces. But this is sort of like calling the United States either New York or California (so just don't).
It is famous for tulips, windmills, wooden shoes, Heineken beer, and Gouda cheese.
The people of the Netherlands are Dutch. Don't confuse them with the Danish who are from Denmark.
Returning to the winter holidays, here are 25 surprising facts about Christmas in the Netherlands.
The Dutch Have Separate Holidays for Gift Giving and Christmas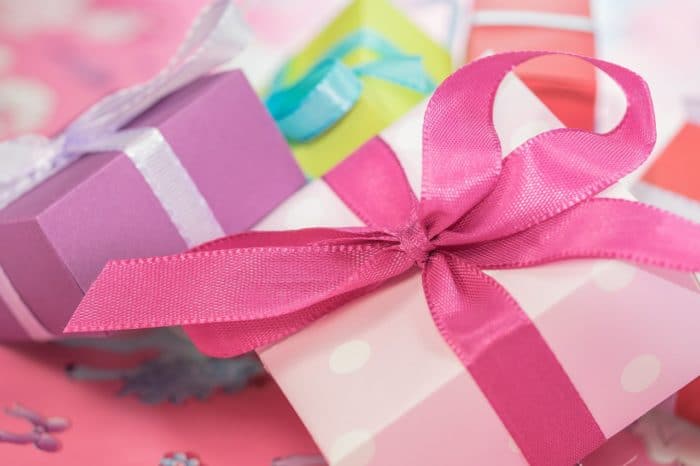 1. Pakjesavond is for Presents (Not Christmas Eve)
Children in the Netherlands receive presents from Sinterklaas on December 5th, pakjesavond, instead of Christmas Eve. Pakjesavond literally means "presents evening."
2. Sinterklaas First, Then Christmas
The Dutch like to separate Sinterklaas and gift giving from Christmas. The general rule is Sinterklaas first, then Christmas via two distinct and separate holidays.
3. No Christmas Trees Until After Sinterklaas
While Many Americans will put up Christmas trees around Thanksgiving, Christmas trees aren't put up in the Netherlands until after Sinterklaas. So don't expect to see decked halls until December 7th.
Who is Sinterklaas?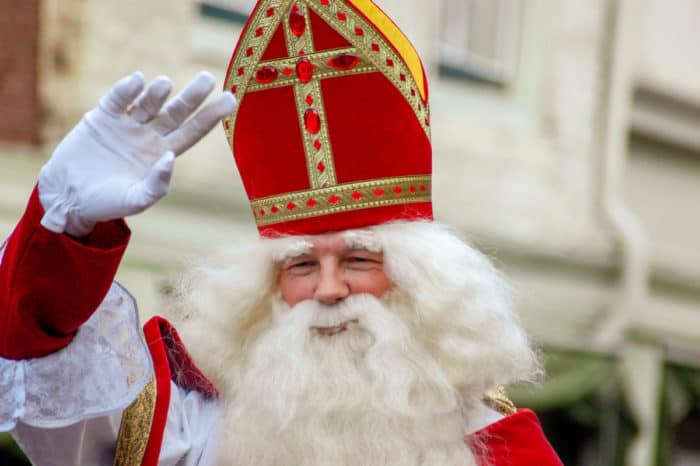 4. Sinterklaas Instead of Santa
Instead of Santa Claus, the Dutch have Sinterklaas. Also known as St. Nicholas, he is the patron saint of children and sailors. But Sinterklaas is also the patron saint of prostitutes, an interesting wrinkle in a nation where prostitution has been legal for several decades. The connection between St. Nicholas and prostitutes is why chocolate coins are a common treat for children from Sinterklaas. (See fact #12 for more about the chocolate coins)
5. Sinterklaas Arrives by Boat
While most Europeans begin celebrating Christmas on December 1st, the Dutch begin the first Saturday after November 11th when Sinterklaas arrives on a boat from Spain.
Instead of a sleigh from the North Pole, Sinterklaas arrives on a boat from Spain called Pakjesboot.
6. Sinterklaas Dresses Like a Catholic Bishop
While Sinterklaas and Santa Claus share white hair and a long beard, Sinterklaas dresses like a Catholic bishop in long, red robes, and mitre hat.
7. Sinterklaas Rides a Horse (and There is No Rudolph)
Instead of a sleigh pulled by reindeer, Sinterklaas rides a white horse named Amerigo.
8. Elves Don't Help Sinterklaas…
Rather than elves, Sinterklaas has helpers called Zwarte Piet (Black Peter). They dress in 16th-century clothes featuring a large, ruffled collar.
9. …And Are Sometimes Controversial
Traditionally, Zwarte Piet is black because he's of North African descent. Some will say that his face is black from climbing down chimneys to deliver presents for Sinterklaas. Either way, the idea of Zwarte Piet has been called racist by some, so many Zwarte Piet have evolved from full blackface to a few soot marks.
10. Wooden Shoes Instead of Stockings
Rather than hanging stockings, well-behaved Dutch children leave wooden shoes out for Sinterklaas to fill. They often leave carrots, hay, or sugar cubes for Sinterklaas' horse along with a poem or letter for him.
Wooden shoes left for Sinterklaas with carrots for his horse
11. A Feast Day Fit for a Saint
December 6th, Sinterklaas' Feast Day, is actually the day he died and not his birthday.
Holiday Treats in the Netherlands
12. The Story Behind Chocolate Coins
Zwarte Piet carries a bag filled with goodies, usually chocolate coins and mandarin oranges. The sack of gifts, in particular the gold foil-wrapped chocolate coins, are symbolic of the assistance Saint Nicholas gave a poor father back in the 3rd Century. The father didn't have a dowry for his three daughters, a necessity for marriage in Asia Minor at the time. To save the young women from the alternative — a life of prostitution — Sinterklaas dropped three sacks of gold coins down the chimney.
Instead of candy canes, Dutch children receive chocolate coins from Sinterklaas.
13. An Alphabet of Chocolate
Nearly everyone receives a large chocolate letter of their first initial in their wooden shoes from Sinterklaas.
Children in the Netherlands often receive a chocolate letter of their initial in early December from Sinterklaas, the Dutch Santa.
14. Magnificent Marzipan
Chocolate and pastry shop windows are full of marzipan delights at Christmastime, shaping the almond paste into everything from fruits to animals.
Marzipan fruit in the Netherlands at Christmastime
15. Tasty Tree Trimmings
Most Dutch people make or purchase Kerstkransjes, wreath-shaped almond cookies tied with a ribbon that are hung on the Christmas tree. As you might expect, these usually quickly disappear soon after the tree is trimmed with only the ribbons remaining.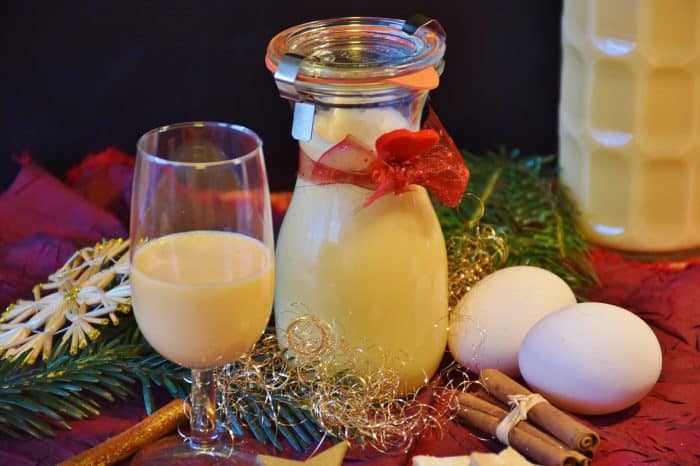 Advocaat is a thick, eggnog-like drink that is often spiked with brandy
16. A Local Take on Spiked Eggnog
A thick, brandy-spiked variation of eggnog called Advocaat is often served over the holidays
Christmastime in the Netherlands
After Sinterklaas has visited, the Dutch decorate for Christmas.
17. Celebrate Twice!
The Dutch celebrate Christmas over two public holidays on both the 25th and 26th of December.
18. The Dutch Version of Grandma Got Runover by a Reindeer
About as classy as Grandma Got Runover by a Reindeer, is a Dutch Christmas song about a boy looking for his lost rabbit that ends up being served for Christmas dinner.
19. Focus on Family
Because children have already received presents from Sinterklaas earlier in the month, Christmas is typically celebrated by spending time with family.
20. And Amazing Food
Each of the two days of Christmas is usually celebrated with lots of food.
21. Embracing the Nation's Coastline
As a country of sailors with a long coastline, fish is often featured on Christmas including mussels, sea shrimp, salmon, and eel.
22. Or Other Traditions
But the Christmas meal can also feature a roasted bird (turkey, chicken, duck, or goose), rabbit (hopefully not the one being searched for in #18), or a rollade (thin slices of beef, pork, or chicken that are stuffed, rolled, and roasted).
23. Toot Your Own Horn
In rural eastern areas of the country, handmade horns are carved out of birch or elder saplings. These are often blown to celebrate Advent and Christ's birth.
24. When It's Over
Dutch Christmas decorations come down on January 6th with the Feast of the Epiphany.
25. Other Places that Celebrate Christmas Like the Dutch
Beyond the Netherlands, Sinterklaas is also celebrated in Dutch territories like Aruba.
By: everydaywanderer.com