The cosmopolitan city of Zurich has long been considered the heart of the Swiss economy and a hub of education that attracts talent from across the world. Zurich, a city surrounded by bodies of water, is consistently featured on the list of the best livable cities in the world. The canton of Zurich is home to beautiful lakes that offer plenty of recreational opportunities across the seasons. Take your pick of activities like boat rides to explore the picturesque islands in some of these lakes. Hiking trails let you soak in the stunning scenery while you breathe in the pristine air. Barbecues by the lakeside are the perfect ending to an active day. On your first trip to this part of the world, make a stop at one or more of these five beautiful lakes in Zurich, Switzerland.
1. Greifensee
The small lake of Greifensee is shaped like a whale and is located parallel to Lake Zurich. It is popularly known as the location where the annual semi-marathon Greifensee – Lauf takes place. Savor the soothing verdant landscape dotted with individual farmhouses and small settlements for as far as the eye can see. The shores of the lake are a popular recreational area with paved paths that are perfect for skating and biking. You can choose one of these activities to explore the surroundings or settle in for a leisurely boat ride. You could also opt for a themed tour such as a breakfast cruise or a game cruise. Being a UNESCO-protected area, buildings are not permitted around the lake to ensure that its scenic beauty stays undisturbed. The nature conservation area around this beautiful lake is home to over 120 species of migratory bird species along with about 400 species of plants. Located close by is Greifensee–Storen–Wildsberg, a pre-historic pile-dwelling settlement.
2. Türlersee
This compact lake, which is tucked into a serene valley on the outskirts of Zurich, is famous for its natural bathing facilities. People of all ages throng this idyllic lake that lets you take a break from the bustle and grind of the city. You will find plenty of floats as well as boats around for leisurely rides. A large playground is also available for the little ones to have some outdoor fun. Fishing is yet another enjoyable activity that you could pursue here. A license is required for fishing and you can hop on a boat or stay ashore to cast your line. Pike and whitefish can be found in plenty within this waterbody.
3. Mettmenhaslisee
Like most lakes in Zurich, Mettmenhaslisee is also a popular choice among city residents seeking to relax on holidays and weekends. This pretty lake has two springboards and a small paddling pool for children. There is also a raft on the lake that adds to its charm. The wetlands in the area are home to rare species of aquatic plants and endangered reeds as well as certain amphibians and bird species. Showers, toilets, and cloakrooms are provided here to ensure visitors' convenience. While a large meadow close by is perfect for badminton games, the small kiosk helps satiate hunger pangs. You could also set off on a short stroll along the path that goes around the lake. Public transport will easily drop you off close to the lake. If you are driving, there are free parking places available not too far from the water.
4. Katzensee
Escape to this natural lake nestled within a nature reserve on the fringes of Zurich City. Its lengthy bathing beach draws city-dwellers longing for an escape from the daily grind. You could just lounge on the grass watching the walkers and joggers go by. Children will love the playground with its range of options for some fun out in the fresh air. You could make use of the barbecue areas to enjoy a relaxed picnic under the shady trees. There are also a few snack kiosks in the vicinity if you are not in the mood to light up the barbecue grill. You will also find showers and lockers for your convenience. Being slightly off the beaten path, it doesn't usually see too many tourists. Public transport would be the best way to get here from the city as parking places are few and hard to come by, especially during the summers.
5. Lake Zurich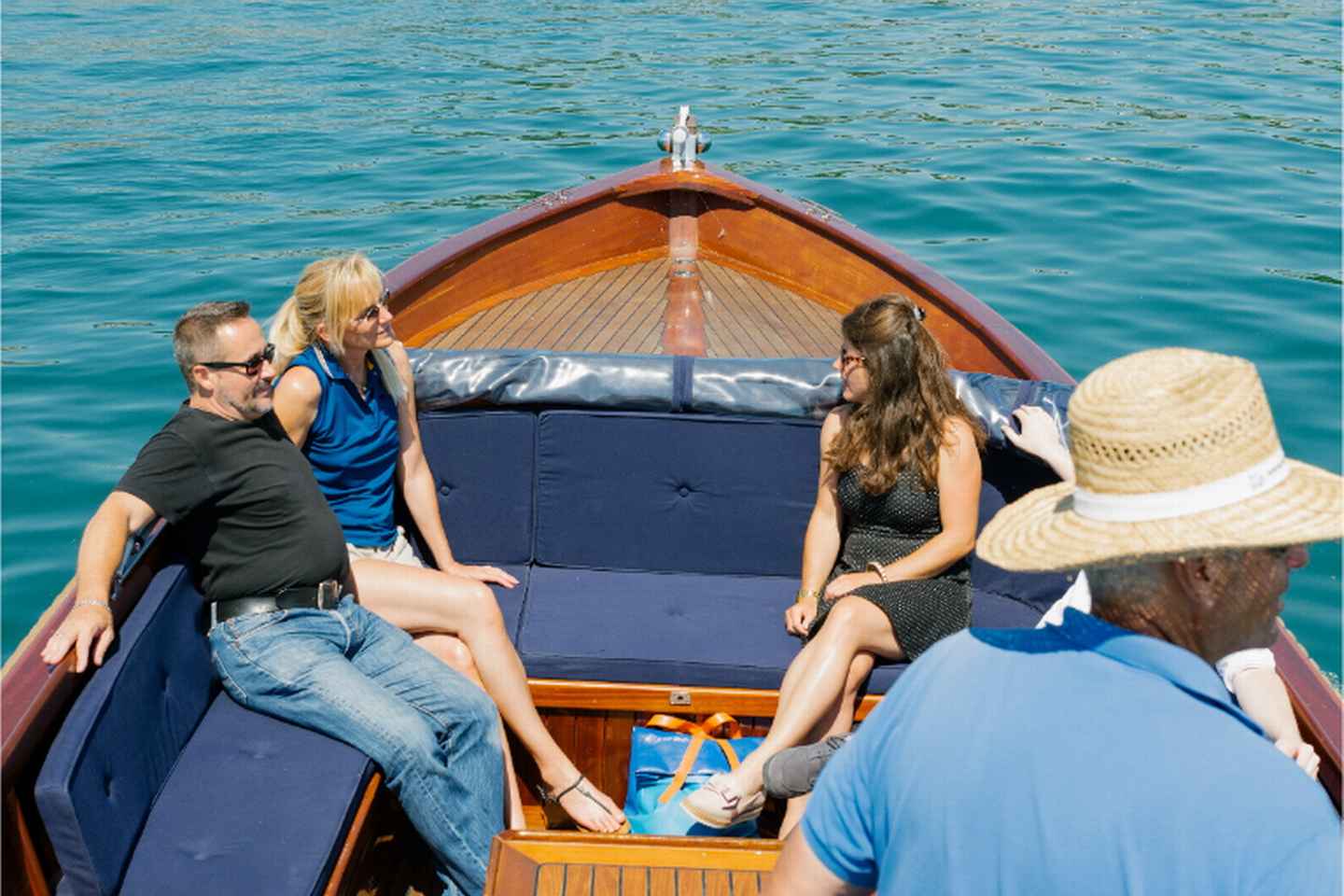 The lake that gives Zurich its name was once a vital transportation link. Framed by rugged mountains on two sides, this beautiful lake is now a favorite among leisure-seekers. Houses along its bank are prized possessions and are hard to come by. This huge lake is bordered by three cantons: Zurich, Schwyz, and Saint Gallen. The town of Rapperswil is also located on the banks of this picturesque lake. A private, guided boat tour is a great way of taking in the splendid vistas while you relax. Get a unique perspective of Zurich from the water as your guide points out famous landmarks. Listen to the fascinating narratives as you sip on a refreshing cocktail. Begin your tour from Limmat River and sail out to Rhine River in about an hour. Catch a glimpse of Biergarten, Town Hall, and three of the city's main churches from your vantage point on the boat. Pass by Jean Tinguely's sculptures and Lakeside Casino before it is time to wrap up your fascinating tour.
Take your pick of this city's beautiful lakes
The lakes in and around Zurich offer plenty of activities to keep you busy during your trip here. From bathing in the clear waters to spending quality time with family and friends on the verdant shores, you will be spoilt for choice. Most of the lakes offer boat rides and picnic areas so you can make a day of it. All of these are located within easy reach of the city and its suburbs. So do not miss out on these five beautiful lakes in Zurich during your next visit.
Source: trip101.com