New Zealand may seem small compared to its Oceania neighbour, Australia. However, do not let their size fool you. New Zealand is an island with much to offer. Most famous are its gorgeous landscapes and stunning diversity of natural wonders, all found in this one country. From pristine snow-capped mountains and jaw-dropping glaciers to the bluest lakes and awe-inspiring underground glowworm caves, New Zealand's natural beauty is a sight for sore eyes. However, New Zealand's wonders do not stop there. Just as thrilling as the geographical diversity on this island is the intrigue of the man-made monuments that offer visitors to New Zealand an insight to its rich history as well as a plethora of exciting activities to spice up their trip. Read on to discover more about the famous buildings in New Zealand to bring your New Zealand experience to a new level.
1. Auckland Ferry Terminal, Auckland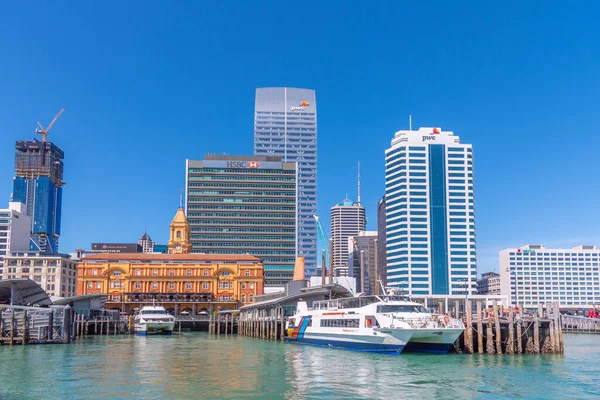 Auckland Ferry Terminal's yellow facade sets it apart from the rest of the buildings along the harbour. The older, yellow building, constructed in 1912 in an Edwardian Baroque architectural style, is a Category I heritage building, as classified by Heritage New Zealand. This is the highest rating possible for historic buildings. Today, the older building houses shops, bakeries, ice-cream parlours, and bars, while most ferry operations are housed in the new building that was constructed later on. Beautiful architecture aside, the ice-cream alone makes a trip to the old ferry terminal worth it, as New Zealand's dairy products are known to be top-notch. The scenery around the ferry terminal is just as lovely. Take some time out of your day to sit by the docks and watch the clouds float by, the sea sparkle under the sun, and the cruise ships sail in and out serenely. Auckland Ferry Terminal has it all: interesting history, unique architecture, tasty food, and relaxing views.
2. Beehive, Wellington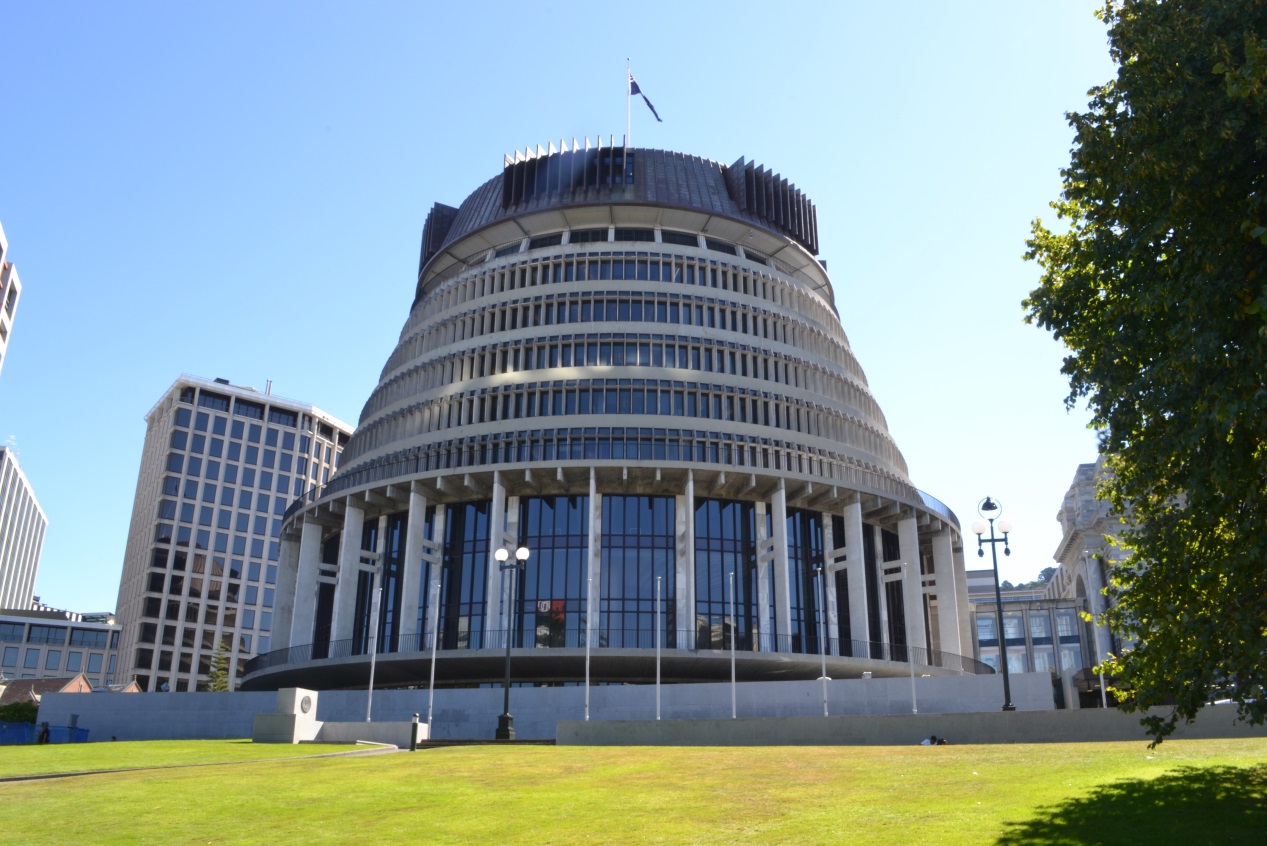 Otherwise known as the Executive Wing of the New Zealand Parliament Buildings, the Beehive is an apt name for this building that resembles a beehive known as a "skep", which is a traditional woven type of beehive. The Beehive was first conceptualised by Scottish architect, Sir Basil Spence, and construction took place between 1969 and 1979. It is one of the most distinctive buildings in New Zealand and is classified as a Category I heritage building as well. The interior of the Beehive is just as interesting as its exterior. Visitors are greeted by marble floors and a translucent glass ceiling at the foyer. Local art decorates the building, enhancing the historic value of the Beehive. For those interested in learning more about the Beehive, the New Zealand Parliament's Visitor Centre on the ground floor welcomes visitors from 9am to 5pm, with daily guided tours from 10am to 4pm, monthly art tours, and educational tours for students. There is also an interactive Kids in the House Tour targeted at younger visitors (5 to 12 years old) during school holidays, and a self-guided outdoor tour for visitors to maximise the lovely weather in the summer.
3. Christchurch Cathedral, Christchurch
Christchurch Cathedral is steeped in history, registered as a Category I historic building. Built to resemble the Christ Church Cathedral in Oxford, United Kingdom, the original intention was for the cathedral to act as a central feature for Christchurch, which was then a city yet to be built. Construction began in December 1864, but due to a lack of funds, came to a stop in late 1865. It was finally completed in 1904. However, since its completion, the cathedral has suffered extensive earthquake damage, as the Canterbury region is rather prone to earthquakes. Most significant was the magnitude 6.3 earthquake in February 2011 that destroyed most of the cathedral. After much debate about what to do about the cathedral, reinstatement works were announced in 2017. The rebuild is slated to take up to 10 years. Currently, a transitional cathedral called the "Cardboard Cathedral" takes the place of the Christchurch Cathedral.
4. Antrim House, Wellington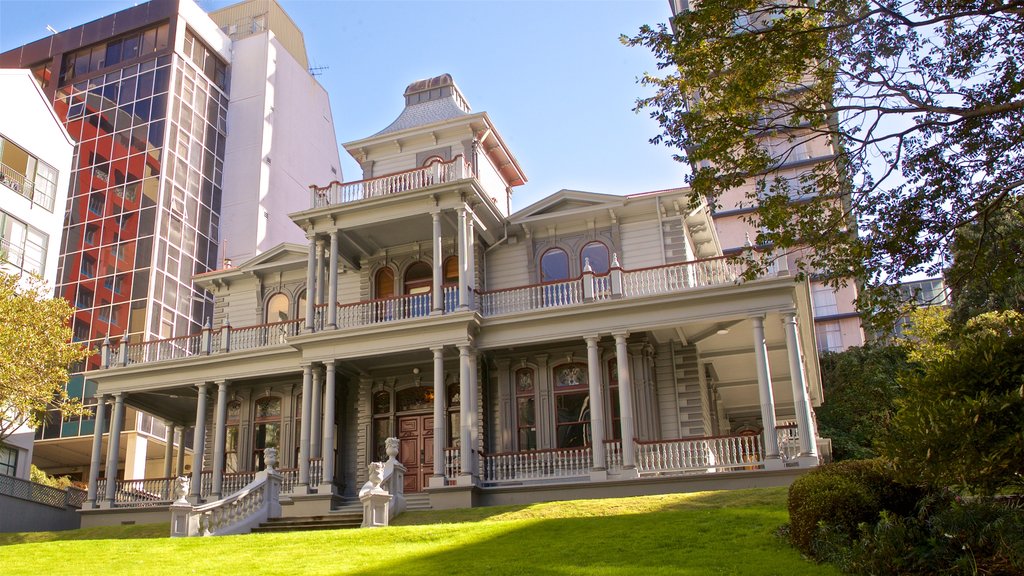 Antrim House is a medley of Victorian and Edwardian Italianate architecture. Originally built to showcase the wealth and taste of the successful businessman, Robert Hannah (1845-1930), Antrim House was built with what was at the time state-of-the-art features like gas piping, electric light, and a piped bathroom. With stained glass windows and ornately designed ceilings, the interior of Antrim House is a gorgeous one.
After the Hannah family's residence within Antrim House, it was used as a boarding house and then suffered a fire in 1940 that destroyed some of the unique decorative features. Today, the house is the central office of Heritage New Zealand, and is classified as a Category I historic place.
5. Auckland Town Hall, Auckland
Auckland Town Hall serves both administrative and entertainment functions. The Great Hall and Concert Chamber are used for performances, with the former possessing some of the most splendid acoustics in the world. The exterior is constructed with dark volcanic basalt and Oamaru limestone. The interior is decorated with stained glass in all main rooms, as well as intricate, ornamental plasterwork on the ceilings. The Auckland Town Hall is home to the Town Hall Organ. What is interesting about this organ is that it is the largest musical instrument in the county and is a 'Protected Object' under New Zealand law. The Great Hall facilitates both classical and modern music: Auckland Philharmonia Orchestra and New Zealand Symphony Orchestra perform regularly here, but The Great Hall has also seen big names like The Beatles, The Rolling Stones, and Elton John.
6. First Church of Otago, Dunedin
The First Church of Otago is perhaps New Zealand's most stunning 19th-century church. It is categorised as a Category I structure by Heritage New Zealand. What makes the First Church of Otago all the more historically significant are the stained-glass windows dedicated to soldiers killed in action and to the Otago Mounted Rifles. The church was constructed in a decorated Gothic architectural style, with a multi-pinnacled tower with a spire that rises to a whopping 185 feet (56.4 metres). This spire ensures that the church can be sighted from all over central Dunedin and holds the place of being the tallest building in the city.
7. Larnach Castle, Dunedin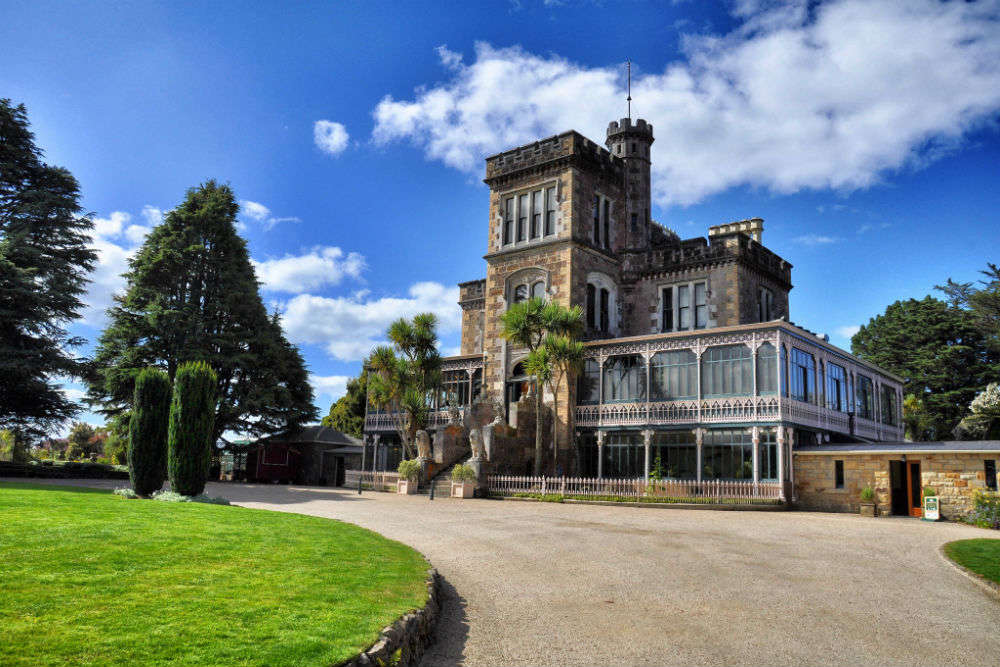 The only castle in New Zealand, Larnach Castle was constructed in 1871 by William Larnach, who used only first-rate materials and employed highly skilled European craftsmen to build his dream palace. After Larnach's suicide in 1898, the castle was sold off in 1906 and used for various purposes: an asylum, a hospital for soldiers, and a nuns' holiday retreat. In 1967, the castle was purchased by the Barker family, who decided to restore the castle to its original splendour and glory through extensive research and dedication. Today, Larnach Castle is open to the public for tours and visitors can even stay at Larnach Lodge, a boutique hotel situated in the castle gardens.
8. SkyCity Auckland, Auckland
There is a little bit of everything at SkyCity. There are restaurants, bars, and hotels, as well as a casino, theatre, and convention centre, all located conveniently at the base of Auckland Sky Tower. The casino at SkyCity Auckland is perhaps the greatest attraction there. There are over 1,600 gaming machines and more than 100 tables for games like blackjack and roulette. For those looking for some thrill in the heart of Auckland, SkyCity is the place for you. The hotels at SkyCity are luxurious, having housed celebrities like Justin Timberlake and Christina Aguilera. There is a heated lap pool, a health spa, personal trainers, and even a hotel doctor. If you choose to stay at this five-star hotel, you will receive service fit for a celebrity. SkyTower also offers unparalleled views of Auckland, with the Orbit360 Dining revolving restaurant a popular choice to enjoy dinner with a breathtaking view.
9. Lyttelton Timeball Station, Lyttelton
Lyttelton Timeball Station was functional from 1876 to 1934, during which a ball would drop from its mast on its stone tower to mark the time for ships in Lyttelton Harbour. Such visual time signals were essential during pre-radio times so that ships kept time and navigated correctly. Although it was no longer in use, Lyttelton Timeball Station was able to function properly until the 2011 earthquake that damaged it beyond repair. Today, Lyttelton Timeball Station has been fully rebuilt and the timeball drops at 1pm daily. Lights were also specially installed to make the timeball station especially picturesque at night. A visit to Lyttelton Timeball Station gives visitors an insight to New Zealand's history, while also providing visitors with a gorgeous view of a unique monument.
10. Hamilton New Zealand Temple, Hamilton
The Hamilton New Zealand Temple was the first temple constructed by the LDS Church in the Southern Hemisphere, with construction beginning in 1955. Its sleek, modern exterior features structural steel that is painted white, with a single spire rising to the skies. The region around the temple includes the public visitors' centre with a gorgeous garden that showcases impressive light displays at Christmastime. The temple closed in 2018 for extensive renovations, and is expected to reopen this year.
A country with both natural and man-made wonders
New Zealand's buildings have so much to offer visitors. Most significantly, visitors can witness monuments to New Zealand's tenacity and love for their heritage—many of these buildings harken back to the country's history and have been carefully restored and preserved to maintain these links to the past. As these buildings each possess great significance, make good use of this list to plan your visits to New Zealand's most famous buildings!
Source: trip101.com