Switzerland is such a beautiful country and Interlaken is easily my favorite city. Interlaken's prime location is perfect for day trips to Lauterbrunnen, Murren, and even Zermatt. Although day trips are notoriously easy from Interlaken, there are also a lot of things to do in Interlaken and the surrounding area.
HEAD UP TO HARDER KULM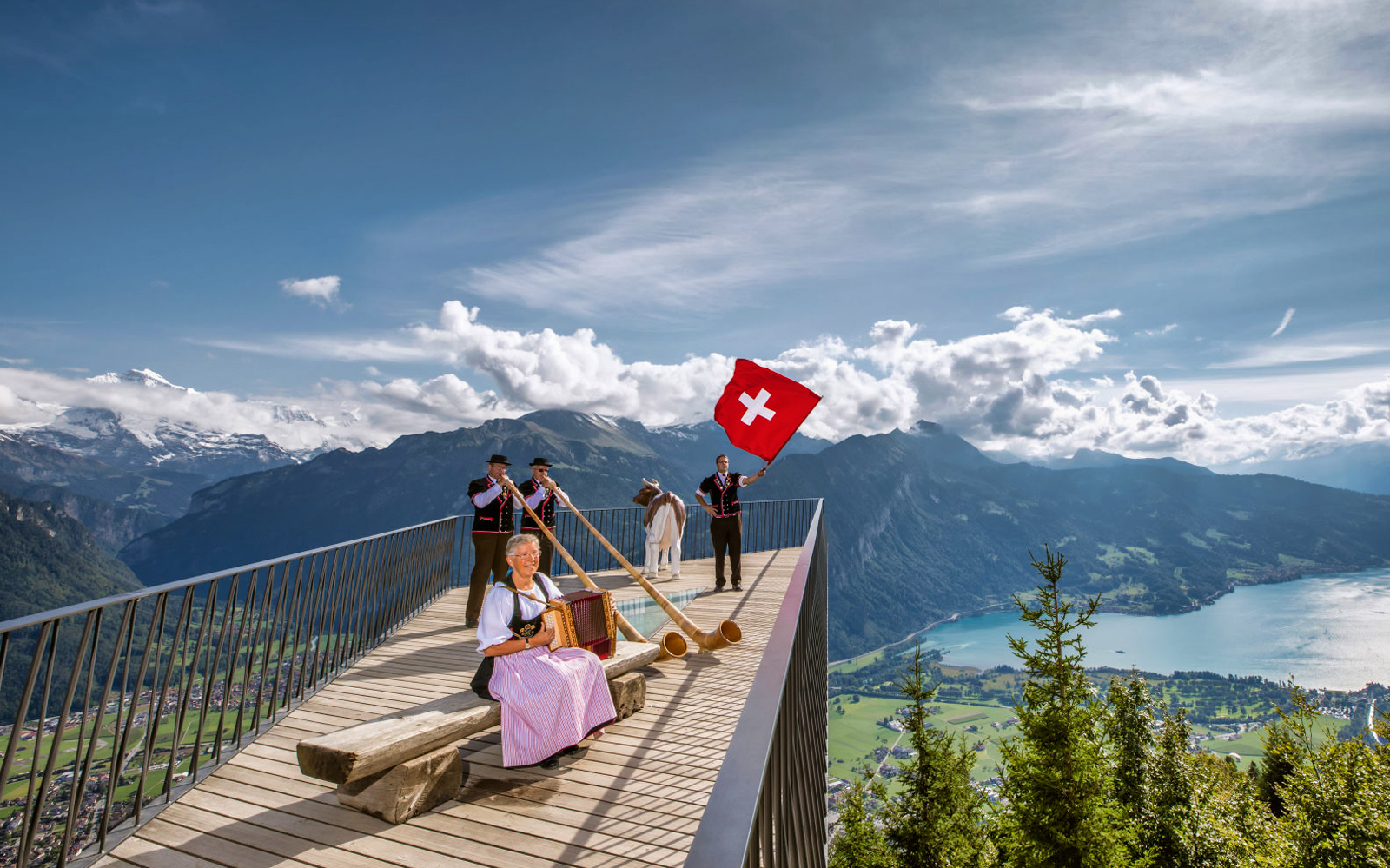 A quick funicular ride up the mountain to Harder Kulm, and once you arrive, it's easy to see why it's known as the "Top of Interlaken". Harder Kulm is located 1,322 meters above sea level and you can enjoy amazing views of Lake Brienz and Lake Thun from the viewing platform that extends out over the mountainside.
TAKE A CHOCOLATE MAKING CLASS
You can't visit Switzerland and not indulge in a little chocolate! After all, Switzerland is well-known for its chocolate. The Funky Chocolate Club has a chocolate making class that everyone in your family is sure to enjoy. They offer several classes a day and you can book online through their website. Even if you aren't able to make it to a class, definitely stop by and order a frozen hot chocolate. Trust me, you won't regret it.
KAYAK ON LAKE BRIENZ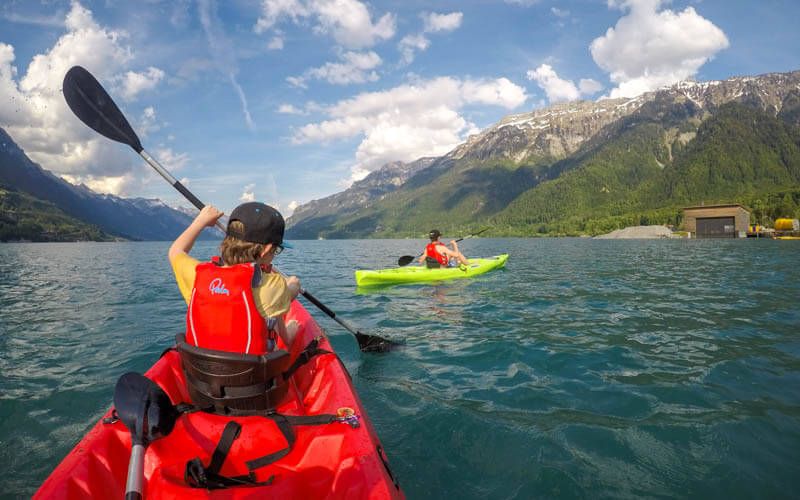 Enjoy the beauty of Lake Brienz and channel your inner outdoorsman. Kayaking on Lake Brienz is the perfect summer activity and it's even kid friendly (for children at least 12 years of age).
VISIT ISELTWALD
By far the best little village on Lake Brienz. A quick 10-minute bus ride on the 103 line from Interlaken Ost train station and you'll arrive in, what I consider, the most quaint Swiss village I've ever seen. The mornings are usually very quiet, so take the time to roam around before all the tourists show up.
GO PARAGLIDING
If you went to Interlaken and didn't go paragliding, did you really go to Interlaken? Kidding. Sort-of. Paragliding is probably the most popular activity to do in Interlaken. There are tons of different companies that you can use, but some of the more popular ones are Paragliding Interlaken, Skywings, and Outdoor Interlaken.
PEOPLE WATCH IN HOHEMATTE PARK
If paragliding isn't your thing, head over to Hohematte Park and watch the paragliders land instead. There are plenty of restaurants that line the area, so it's also perfect for people watching.
VISIT LAUTERBRUNNEN
Lauterbrunnen is a must-see when in Interlaken. While Lauterbrunnen is beautiful year-round, my favorite time of year to visit is during the summer months (June through August). Getting to Lauterbrunnen from Interlaken is very easy, just head to either train station in Interlaken (Ost or West) and you can hop on the train and be there in about 20 minutes.
*The train from Interlaken West to Lauterbrunnen does stop at Interlaken Ost where you will likely have to switch trains. Be sure to download the SBB Mobile app before your trip so that you can easily purchase train tickets and check timetables.
EXPLORE TRUMMELBACH FALLS
The Trummelbach Falls are a series of ten glacier-fed waterfalls located inside a mountain that is made accessible by a tunnel-funicular. They are also Europe's largest subterranean waterfalls. From Lauterbrunnen, Trummelbach Falls is a 5-minute ride away via the 141 bus line. If the weather is nice, you can even walk.
VISIT MURREN
Another must-see village in the Bernese Oberland region of the Swiss Alps. Murren is a car-free village, so the only way to get there is by hiking (preferably during the summer months) or by taking the cable car/train. From Lauterbrunnen, you can take the cable car up to Grutschalp and then a small train to Murren.
*Tickets to Murren can be purchased in Lauterbrunnen. The building where you purchase your tickets, and board the cable-car, is located across the street from the Lauterbrunnen train station. There is a blue sign above the entrance that says Bergbahn; Lauterbrunnen-Murren with an image of a cable car. There is a ticket machine on the lower level where you purchase tickets (and have the attendant scan them) and then you will go upstairs to board the cable-car to Grutschalp.
There you have it. Mt guide to the top things to do in Interlaken, Switzerland. I hope this guide to the top things to do in Interlaken was helpful! Have you ever been to Interlaken? If so, what are some of your favorite activities? Leave a comment below + if you found this helpful, please share it.
Source: pursuingwanderlustblog.com