Imagine this: You wake to the faint strains of lively accordion music and smell of freshly-baked pretzels.
Throwing open the window, you look down on a street that's coming to life: vibrant blooms spilling from tall pots, German flags flapping in the breeze, and stone cottages and fachwerk buildings beginning to stir.
Somehow, you've woken in a quaint German village, yet your passport is at home. So, how is this Aussie Oktoberfest possible?
Simply by making the trip to Hahndorf in South Australia, of course!
Alive with authenticity and brimming with history. Hahndorf, Australia's oldest surviving German settlement, is a lovely little village in which to spend a weekend. And it's only 25 minutes from the capital!
Whether you're craving currywurst or simply longing for a European escape, it's a great spot to stop. Here are the most 'vundabar' tourist spots and things to do in this heritage town.
1. Go back in Time at The German Migration Museum
An interesting place to spend an hour with history, the museum is free to enter and truly fascinating.
Here, you can learn about the 54 pioneering families from Prussia who settled the village in 1839 in an effort to escape the strict religious rule.
Filled with clothing, artefacts, tools and writings from the era – and even a horse-drawn buggy. The museum is a delightful way to explore a time when education was king, and the Adelaide Hills represented hope and opportunity.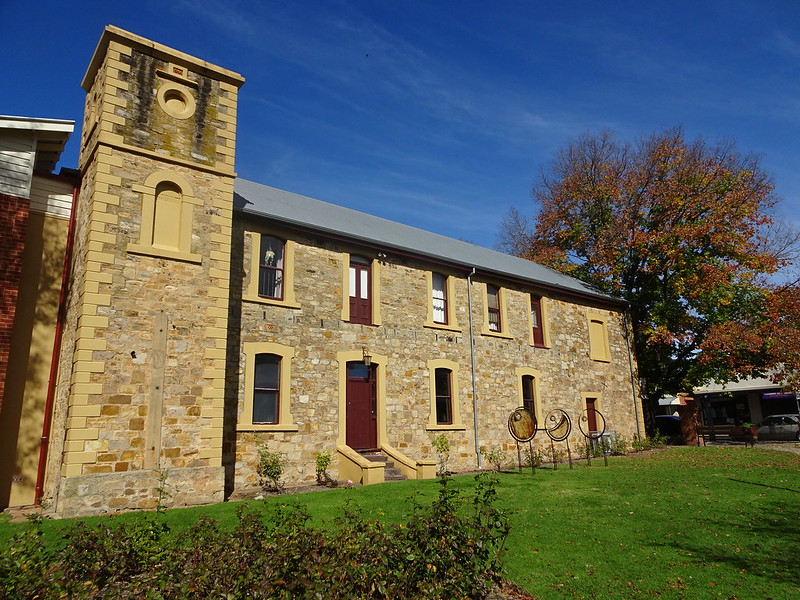 Good to know: The beautiful artworks of Sir Hans Heysen are on display at The Academy, the building that the museum calls home. Poignant and detailed, they warmly depict the lives of those optimistically settling a German town on South Australian soil.
2. Pick Strawberries at Beerenberg Family Farm
Strawberry season in Germany is kind of a big deal. And a fun family-friendly way to feel like you're in a faraway field, enjoying the northern sunshine, is to visit Beerenberg Family Farm!
Constantly voted a favourite attraction by visitors, Beerenberg offers more than just a chance to pick your own sweet strawberries. It's also where you can watch cooks at work, sample delicacies from Deutschland and stock up on gourmet goods to enjoy at home. You will find jams, chutneys and cooking sauces, fresh from the fields.
Good to know: At just $4 entry, with kids under 13 free and strawberries charged by the kilo, the farm is a great value. But you'll likely be so tempted by the 'patch to plate' produce on offer, it pays to take some spending money.
3. Stroll Along Main Street
If you've ever dreamed of stepping into an old Grimm's fairy tale, a stroll along Main Street, with its kitschy stone cottages, will scratch that itch.
Not only is the architecture authentic, the vibe is too. And the whole street acts as a showcase of traditional butchers, bakers – and yes, even candlemakers – lining the footpath. (In fact, you can get hands-on and make your own candle!)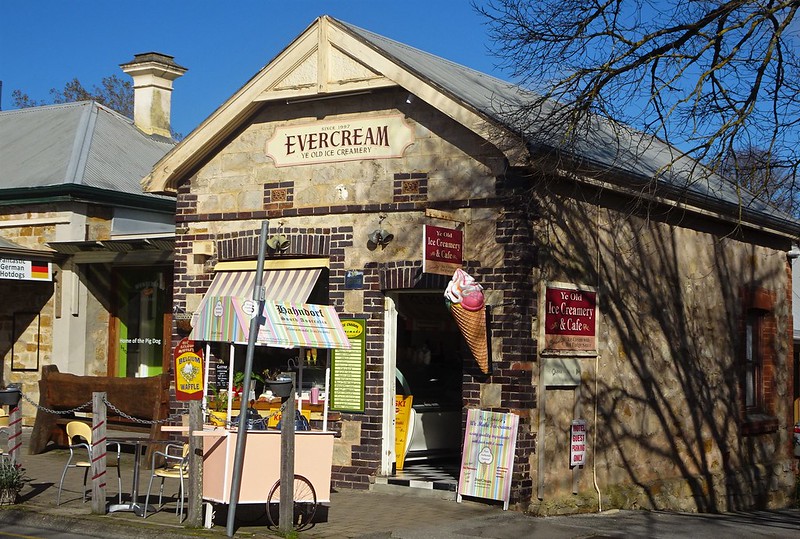 Head to The German Village Shop and check out the authentic imported cuckoo clocks or relax in The Alec Johnston Park, a tranquil green retreat off the strip.
Food and drink is a drawcard here too. So duck into the German Arms Hotel for a schnitzel and a Bavarian brew. Before hitting up the gift shops for some souvenirs.
Good to Know: If you've got the kids in tow, plan to stop at The Fudge Shop for ice cream and fudge and meet the marionettes at Once Upon A Time Hahndorf Puppets Shop. If you're travelling adults only, spend the afternoon sampling Belgian beers at The Hahndorf Inn
4. Meet The Residents of Hahndorf Farm Barn
Hailed as one of the Adelaide Hills' best days out for families. Hahndorf Farm Barn offers the young – and young at heart – a chance to experience life on a working farm.
From cow milking lessons to tractor rides, and a small animal petting zoo on-site. You can easily spend a whole half a day here being amazed by the animal residents. And even longer if you plan ahead and pack a picnic to enjoy in the playground!
Good to know: A family pass (2 kids and 2 adults) will set you back just $49. And the farm is open daily (barring Christmas) 10 am to 4 pm, 7 days a week. You can even book ahead and celebrate a birthday there.
5. Eat, Drink and Be Merry
Like much of South Australia, Hahndorf is a gourmands' dream – especially if said gourmand is partial to a sausage.
Visit Udder Delights Cheese Cellar for excellent coffee and, of course, cheese. Plan ahead, and you can even schedule a class to learn the craft yourself!
For traditional German fare, upmarket restaurant The Haus offers a 'Duo of Wursts.' That's simply the best, chased by exclusive Arcobräu village-brewed beer from Arcobräu Brauhaus.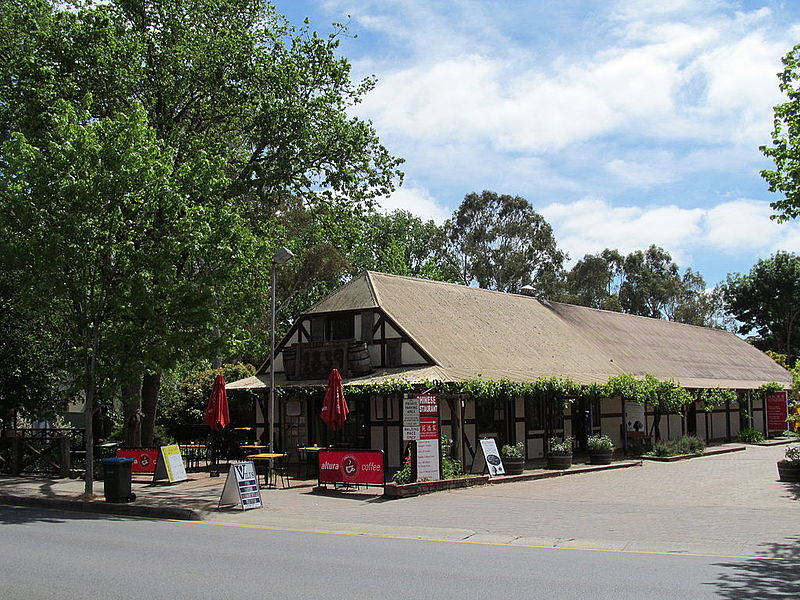 If grapes are more your pace, take a trip to the village fringe to indulge your pallet at Hahndorf Hill Winery. A small, boutique vineyard with an excellent cellar door and an impressive range of Austrian varietals.
Good to Know: It really pays to book a whole long weekend to explore the food and wine scene here. But, luckily, accommodation is plentiful. For a truly European-style adventure, stay just 15 minutes away at the French-English gothic Castle Keep – a Stirling BnB just perfect for two.
6. Test Your Skills at Mini Golf
The time-honoured pastime of mini-golf has enjoyed a bit of a renaissance of late. And there aren't too many places more fun to give it a go than Hahndorf Mini Golf.
Boasting 18 holes that present a challenge for amateurs, but are not too tricky for kids. The course has a vintage vibe and a historic feel, complete with a picnic area.
Committed to welcoming people with access needs, Hahndorf Mini Golf is a great way to connect with loved ones. It's ideal on a sultry Adelaide evening, and makes a terrific first date spot!
At just $7 for kids and $9 for adults, it's a fun and affordable way to make memories in a mini Munich.
Good to know: The course is manned on weekends, and open. But self-service – on weekdays from 11am – 5pm, with an honesty box providing access to balls and putters.
From antiques for culture vultures to fun for families. Hahndorf offers such a satisfying sojourn, it doesn't matter that Frankfurt is so far!
It's a great spot to visit on a day trip from Adelaide. But you could also spend multiple days in this glorious German town. If you choose to stay in Hahndorf, you won't be far from other top South Australian destinations. Including Mount Barker, Victor Harbor, McLaren Vale or the Barossa Valley.
Here are all the facts about this German village to help get you knocking back knockwurst and sipping a stein sooner:
How far is Hahndorf from Adelaide?
Hahndorf is just 28 km (under half an hour's drive) from Adelaide's city centre, and only 7 kilometres from Mount Barker. Because of its central location, Hahndorf is a cosy and quirky place to base yourself if you're planning to stay and explore the state capital and the majestic Hills area.
What Is Hahndorf known for?
Famous as Australia's oldest surviving German settlement, Hahndorf is renowned for its heritage and history, and for injecting into the southern state a lovely little slice of European culture. Because of the mix of activities available, it's a popular spot with everyone from honeymooners to kids.
How far is Hahndorf from Barossa Valley?
Hahndorf is just a smidge over an hour south from the famous Barossa Valley wine region. It's easy to plan a trip that encompasses the wonderful wineries of the valley and those of the hills, with stops in Adelaide city and Hahndorf, too.
If you're looking to upgrade your caravan, camper, boat or 4WD, get a 30 second quick quote on finance with CreditOne – Australia's best rated finance broker.
By: www.oneadventure.com.au