Portugal has become one of Europe's most popular holiday destinations. It has some of the world's best beaches, incredible history, beautiful architecture, amazing food, and of course, great nightlife. You can find a good night out all across the country, but some are always going to be better than others. From traditional Fado spots to multistorey superclubs, here are seven of the best places to go in Portugal for nightlife.
Best Places To Go In Portugal For Nightlife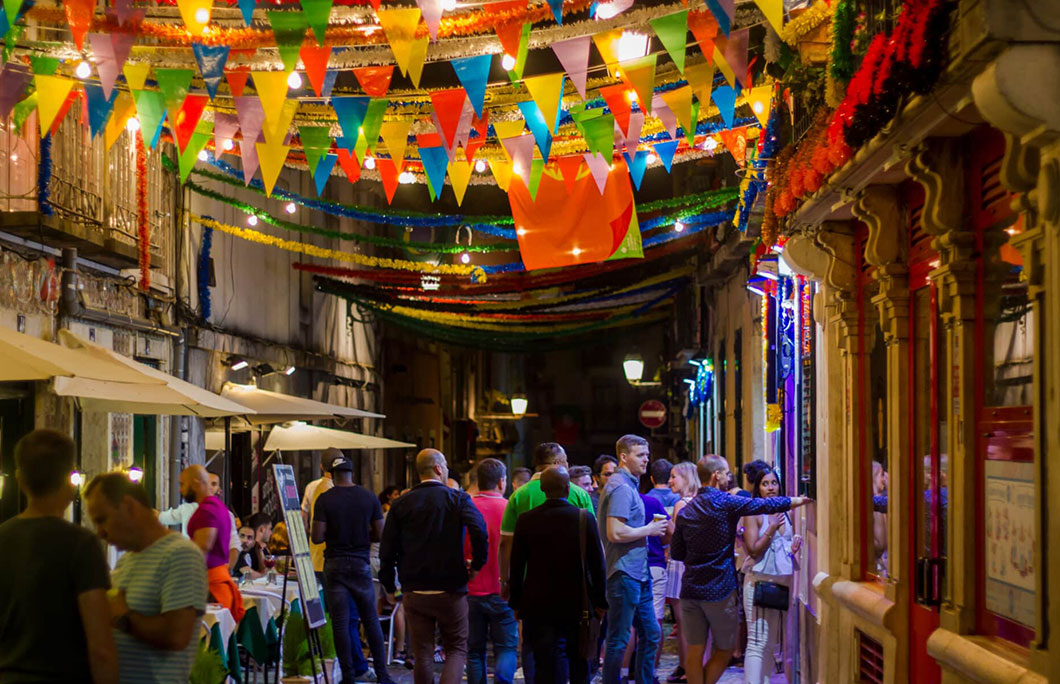 1. Lisbon
The country's capital has to be one of the best places to go in Portugal for nightlife. The city is a vibrant hub of art, culture, music, food, and of course, great nightlife. While Lisbon attracts tourists, welcoming around 3.6 million visitors each year, but it's one of the best places to experience life like a local. The most popular area is the Bairro Alto District. Widely known as Lisbon's party district, it's absolutely packed with bars. Most of them are pretty small, so you'll see the parties bursting out onto the streets, people hopping from one bar to another, creating an almost nostalgic atmosphere. There are bars playing a wide range of music, from jazz to live DJs. And to get a taste of authentic Portugal, head to Tasca do Chico for a live Fado (a uniquely Portuguese genre) performance every night from 8pm.
It can get pretty crowded on the narrow streets, especially during the summer months. Make a beeline for one of Bairro Alto's many rooftop bars, such as Zé dos Bois and Insólito. Generally, people start in this district before heading to Cais do Sodré. With the highest concentration of disco bars and late-night clubs in the city, there's no shortage of places to go. Some of the best commercial clubs include Roterdão Club, Rive Rouge, and Titanic Sur Mer. If you want something a bit more laid-back and a bit different, Pensão Amor is an interesting bar – it's a former brothel and still has the original door. Sol e Pesca is a former fishing shop that retains the same decor, while Crafty Corner serves up the very best Portuguese craft beer.
---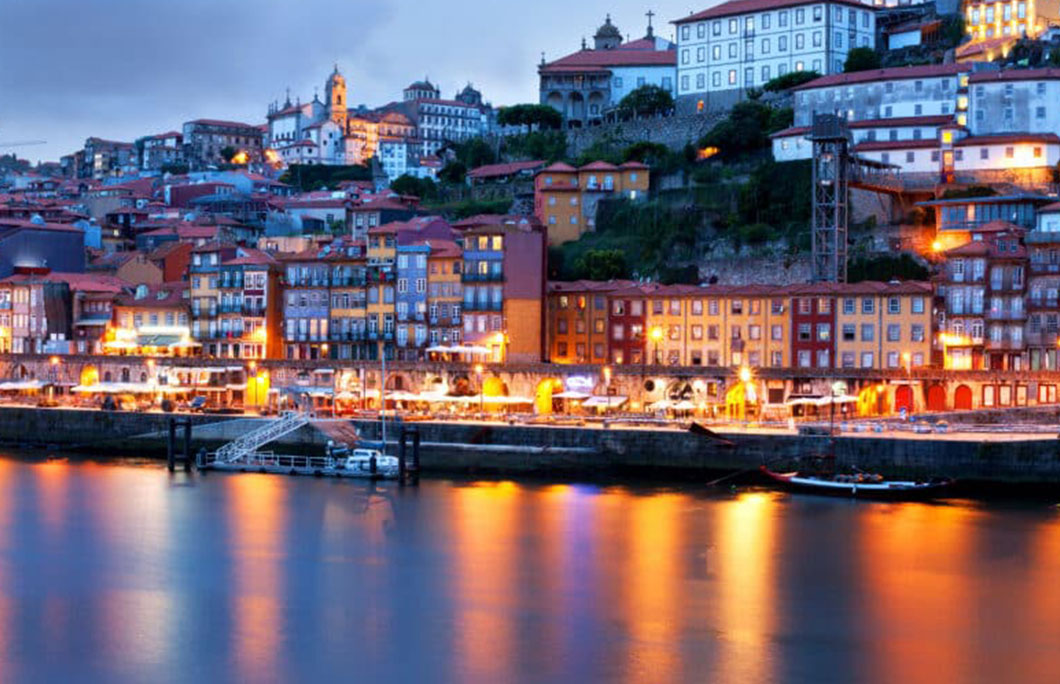 2. Porto
While Lisbon is good for partying like a local, Porto comes out on top for that. Porto is gaining popularity with tourists, but it's still relatively local. The nightlife here is varied, ranging from affordable small bars to swanky cocktail spots. Foz do Duoro is the place to be if you like upscale beach bars, watching the sunset and enjoying the atmosphere. There are a few nightclubs here, but it's primarily popular amongst people looking for chilled vibes. If you like relaxed and classy nightlife, Porto has an incredible and unique wine scene. You'll find lots of port houses along the Duoro River, offering tastings of port and other wines. In fact, no visit to Porto is complete without going to a port tasting. After all, the drink was named after Porto!
If you're looking for more of a party, head to Galerias de Paris. This street, as well as Cândido dos Reis and Conde de Vizela, are the heart of Porto's nightlife. Similarly to Lisbon, the party tends to spill out onto the streets. It's relaxed while still having an incredible atmosphere, with most people hopping from one bar to the other. If you want to go to clubs, there are some great options – Base is a popular open-air club, Piano B is for house music lovers, and Boîte has something for everyone.
---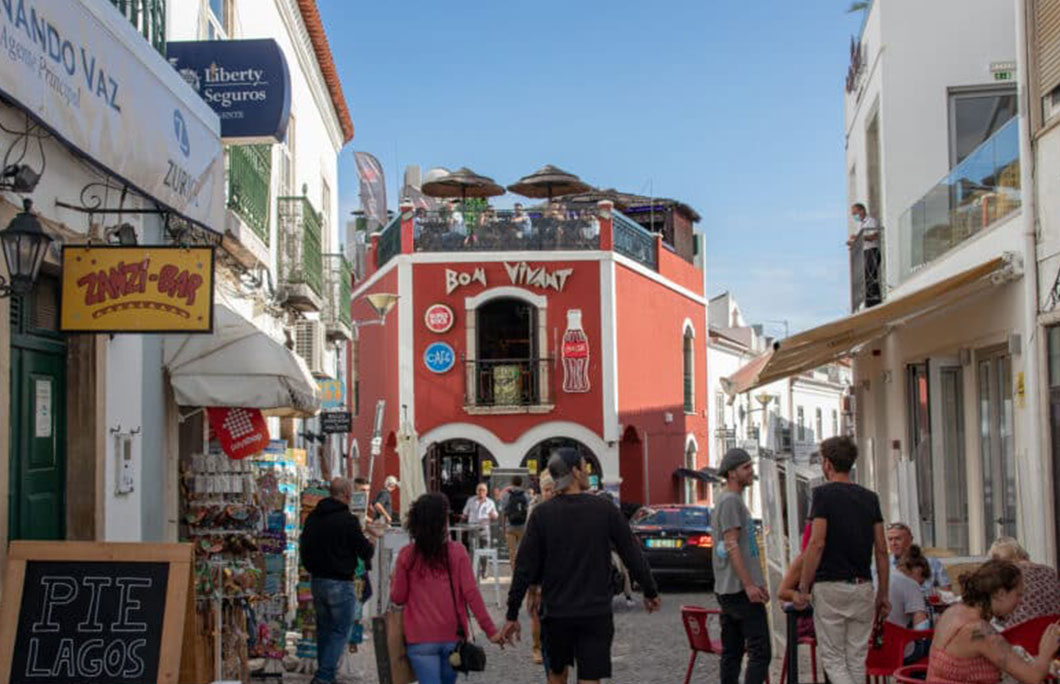 3. Lagos
Lagos is the Algarve's surfer town. When you're here, you'll hear a lot of Australian accents. It's made for a super fun, energetic, and affordable nightlife scene. There is a big younger crowd here, but there's something for everyone. In keeping with the surfer and backpacker vibe, head to Joe's Garage, MJ Bar, The Star, Legends Bar, The Lionheart or Three Monkeys Bar. While there's mostly a bar vibe in Lagos, party goes on until the wee hours at Grand Café. It's pretty much the closest thing to a club in Lagos, and most people end up here at the end of the night. And while it might sound like a party town (which it is), it's not Magaluf level. The bars are in cool old buildings, with friendly bar staff that'll start to recognise you after a few nights.
Lagos is as popular with families as it is for backpackers. The bars are in no way backpacker exclusive, and there are many quaint wine and cocktail bars that'll suit those looking for a relaxed atmosphere much better. Taninos, for example, has an excellent selection of wine and serves up incredible Mediterranean food. For a mix between a lively atmosphere and excellent cocktails, make a beeline for Bon Vivant. The distinct building has a popular rooftop terrace, the perfect spot for engaging in everyone's favourite past-time, people-watching.
---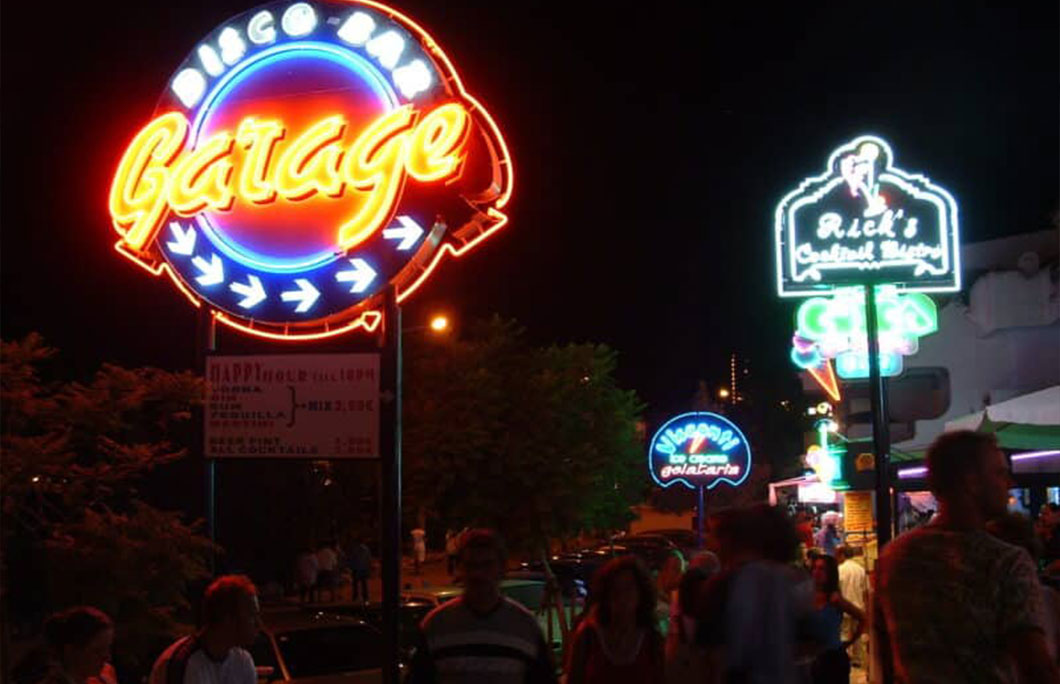 4. Albufeira
The Algarve is teeming with places to go for nightlife in Portugal, all offering something a bit different. If it's a classic Lads Holiday or Girls Holiday that you're after, Albufeira is the place for you. It's known as the Algarve's main party town, mainly popular with tourists. Streets are lined with neon signs, stag and hen parties, and if you needed any more convincing, the main street for nightlife is simply called The Strip. There are too many bars to name, but if you start here and see where the night takes you, you're bound to have a good time. And if you're looking to dance the night away in a club, the most popular are Club Heaven, Club Vida, and Liberto's.
It isn't all late-night partying in Albufeira, though. If you want something a bit more low-key, the marina is a beautiful place to watch the sun go down with a delicious cocktail in hand. It's also lined with tapas taverns, so you can nibble on olives, sip on wine, and overlook the view of superyachts and catamarans.
---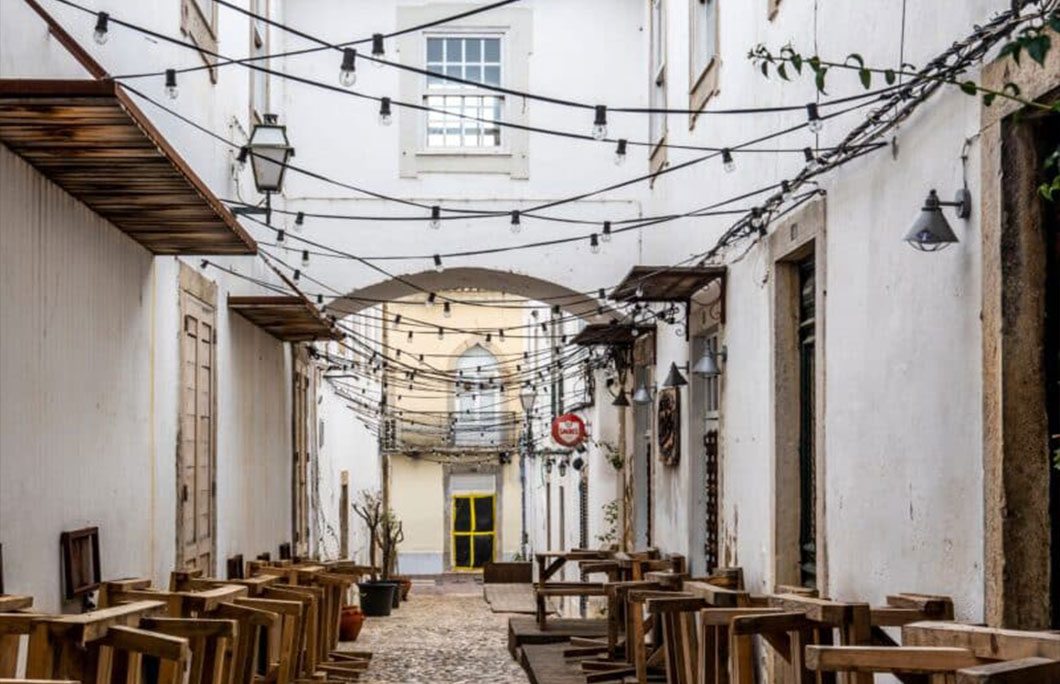 5. Faro
Faro is considerably more relaxed than other cities in the Algarve. But that isn't to say there isn't a buzzing nightlife scene here. It has a huge student population, so a lot of the nightlife is centred around them. Primarily, Faro's bustling party scene thrives along Rua de São Pedro, Rua Conselheiro Bívar, and Rua do Prior. Young crowds spill out onto these streets, which are filled with laughter and music. There's something to cater to every musical taste here and thanks to the student population, the drink prices are pretty reasonable. Thursdays tend to be the biggest night out here due to, you guessed it, the student population!
If you venture further into the Old Town, you'll find plenty of smoky wine bars, quiet cocktail spots, and jazz bars. Havana Club is one of the city's best cocktail bars, serving up Caribbean-inspired cocktails and putting on elegant music shows. And if jazz is your thing, head to Manoel's Jazz Club for some sultry tunes.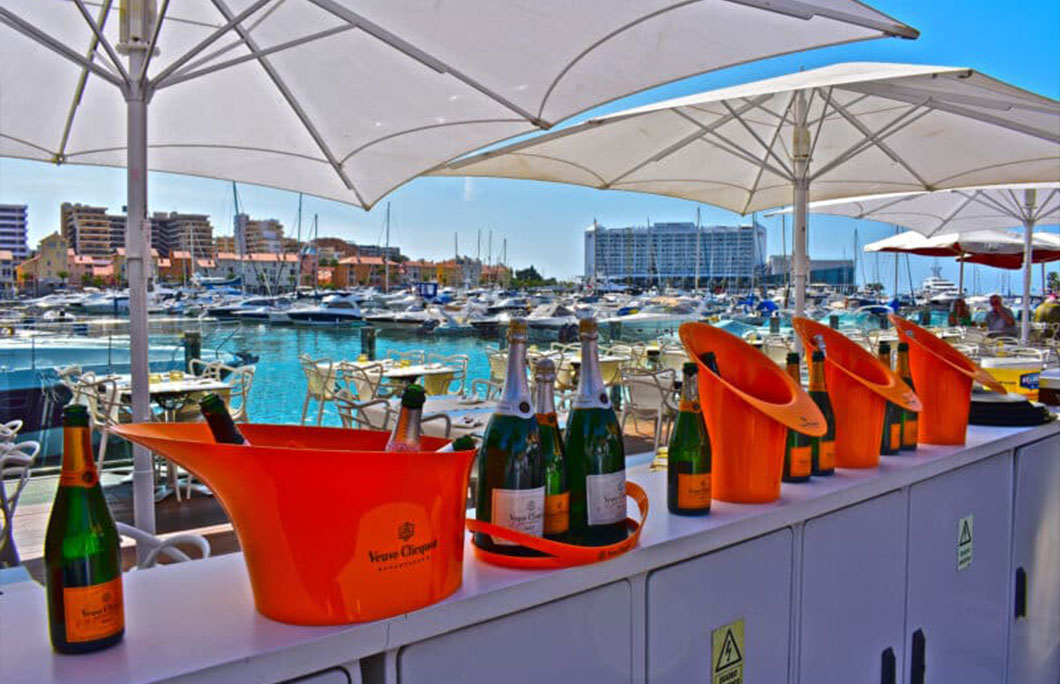 6. Vilamoura
If you haven't guessed by now, the Algarve, in general, has excellent nightlife. However, Vilamoura is probably the most diverse. There's a happy mix of trendy bars, cosmopolitan spots, nightclubs, classy wine bars, and upmarket beach clubs. Most of them are along the Marina, where you'll find bar after bar. If you like the finer things in life, head to the exclusive Bond Club. It's one of the most elite clubs in the Algarve, serving up imaginative cocktails and local wines. For a smoky, quirky vibe, you should visit the Cave. It's dark, gloomy, and mysterious. Another popular spot is Botequim; it's more of a laid-back vibe, with sofas, lo-hi music, and luxe, modern surroundings.
Quarteira is a district just outside of Vilamoura, that's popular with Albuferia and Vilamoura locals as well as tourists. It's home to multistorey megaclubs that pound out music until the wee hours. Discoteca Lick and BLISS are two of the most popular, and best, places to party until the sun rises.
---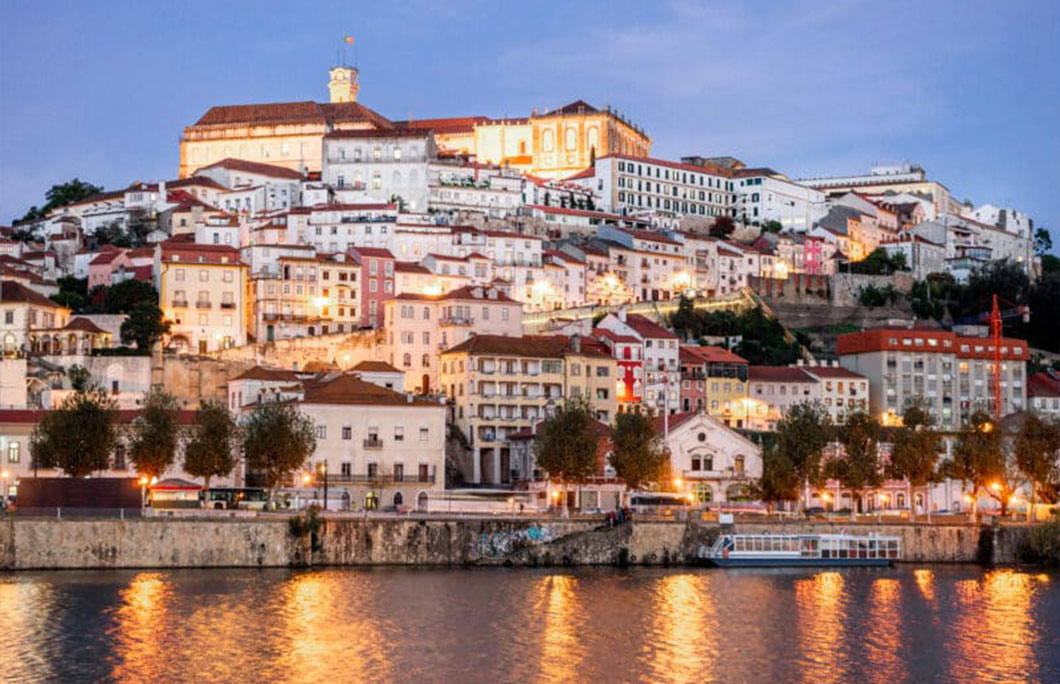 7. Coimbra
Okay, Lisbon and Porto are great tourist destinations for partying like a local. However, if you really want to get in with the locals, take a trip to this beautiful university town. Much less known than the other destinations on this list, we guarantee you'll be friends with everyone in the bar by the end of the night. Given its student population, a lot of the nightlife does centre around them, but there's also so much authenticity to experience in this charming town that's earnt a place as one of the best places to go in Portugal for nightlife. Experience Fado music in traditional bars, such as Diligencia Bar, where the customers sometimes pick up the guitar themselves.
One of the most popular bars in town is Bar Quebra Costas, located between the medieval old town and the downtown area. It's perched on a hill and by night, patrons pour out onto the slanted cobbled streets, singing local folk songs. If you're up for partying the night away in a discotheque, you've got plenty of choices. Pinga Amor is a local favourite, TUTTI is your classic student club, and if rock music is your thing, you'll love Noites Longas
Source: https://www.enjoytravel.com/