Amsterdam is a mesmerizing city with its rich history, the beauty of its canals and buildings, and its vibrant international atmosphere. However, in Utrecht, you can find everything Amsterdam offers, but without its disadvantages. I have lived in both Utrecht and Amsterdam for years, and I am happy to compare them.
The seven reasons to visit Utrecht instead of Amsterdam are:
Utrecht is just as charming as Amsterdam
Utrecht is not as crowded as Amsterdam
Utrecht is much cheaper than Amsterdam
Utrecht has fantastic terraces next to its canals
Utrecht is much more compact
Utrecht is easy to reach
Utrecht has a fantastic shopping mall in its center
I have lived in both Utrecht and Amsterdam for years and know both cities very well. I honestly believe that there are compelling reasons to visit Utrecht instead of Amsterdam.
1. Utrecht Is Just As Charming As Amsterdam
What makes a Dutch city attractive is the unique blend of rich history, the aesthetic beauty of its canals and buildings, and the vibrant international atmosphere that you will find in The Netherlands. Amsterdam has all these qualities in spades and deserves its excellent reputation as a fantastic city. You can make amazing Instagram shots in Amsterdam.
However, Amsterdam is not the only mesmerizing city in The Netherlands. We are fortunate enough to live in a country with plenty of such towns, and Utrecht is a serious contender of Amsterdam.
Amsterdam may have many beautiful canals, but Utrecht is as enchanting as Amsterdam with its two main canals, Oude Gracht en Nieuwe Gracht, meandering through its medieval center. The center of Utrecht is dominated by the medieval Dom tower, the highest church tower in The Netherlands.
Around the Dom tower, you will find lovely authentic neighborhoods with magnificent buildings, and you can still find plenty of quiet spots in the center of Utrecht. Utrecht is simply the best-kept secret of The Netherlands.
The neighborhood around the Nieuwe Gracht is the most beautiful area in the center of Utrecht. You will find the same aesthetic architecture and canals as Amsterdam, but it will be just you and a few locals walking around.
2. Utrecht Is Not As Crowded As Amsterdam
Amsterdam's popularity has become too much, and close to 20 million tourists visit Amsterdam yearly. That is too much for a city with about 800.000 inhabitants. It is also not what you are looking for in an era in which maintaining social distance will be critical.
When we lived in Amsterdam, we often looked in amazement at the endless streams of foreign visitors walking through Amsterdam. However, if we went to Amsterdam's center ourselves, we would find ourselves surrounded only by tourists because the locals avoid Amsterdam's center due to the massive streams of tourists.
In my opinion, Amsterdam has become too crowded with tourists to remain authentic. Therefore, you will not be getting a genuine, unadulterated impression of The Netherlands anymore in Amsterdam. Fortunately, the authenticity that has made Amsterdam so popular in the first place is still present in Utrecht. Utrecht has maintained its authenticity because it receives less than 20% of Amsterdam visitors, and most of those visitors are Dutchmen themselves.
You can find everything that Amsterdam offers in Utrecht and do not need to walk around with tens of thousands of other visitors like in Amsterdam. You can make Instagram selfies with canals in the background without waiting for other tourists or even having to push them aside. You can rent a barge to make a tour over the canals and not be on the lookout for barges all the time because there will be no traffic jams on the canals like in Amsterdam.
Utrecht is the city that Amsterdam was before it became too popular. When social distance is necessary in the new normal, a crowded city like Amsterdam will be less attractive. A quieter town like Utrecht, with peaceful parks like the Park Lepelenburg in its center, will be more appealing.
3. Utrecht Is Much Cheaper Than Amsterdam
The popularity of Amsterdam caused prices to skyrocket in Amsterdam. As a result, the costs of hotels, restaurants, and whatever is used by tourists have gone through the roof. Check out here what a 3-day trip to Amsterdam will cost you. You can easily save 30-50% on hotels and restaurants if you stay in Utrecht instead of Amsterdam.
The most striking example I could find when comparing both cities was the rental prices of barges to cruise over the canals. The best deal I could find in Utrecht was € 30 / hour, while Amsterdam's best deals were € 150-200 hours.
That adds up quickly if you want to spend an afternoon on the water.
4. Utrecht Has Extremely Attractive Terraces Next To Its Canals
One of the most appealing aspects of Utrecht is that it has terraces and restaurants next to its canals. These terraces were used to unload cargo from ships coming to Utrecht. The unloaded trading goods were stored in the cellars under the street. The cellars have been reconstructed and are now used as restaurants and bars.
These restaurants and terraces add to the charm of Utrecht as a city. It is lovely to sit on one of these terraces in the sun and watch the boats and barges passing by. It brings an enchanting atmosphere to that part of the town, especially during the evenings. You can find the best terraces in Utrecht at the Oude Gracht, north of City Hall.
If you want to look at the terraces from the water, which I can highly recommend, you may want to consider renting a boat from Greenjoy. You can book a barge online, activate them with your mobile phone and sail away. These barges are powered by electromotors and are easy to operate, even if you are inexperienced in steering a boat.
Check it out, and you will be glad you did. Experiencing a Dutch city from the water may very well be one of the best memories of your vacation.
5. Utrecht Is More Compact
A canal ring encloses the center of Utrecht, used to protect the city in the medieval period. Everything in Utrecht turns around the Dom tower, the highest church tower in The Netherlands, standing proudly in the city center. Every highlight in Utrecht is within walking distance of the Dom tower, a maximum of 10-15 minutes in every direction.
That is a significant advantage compared to Amsterdam if you want to avoid public transportation as much as possible to maintain a social distance of 1,5 meters.
Walking to the Rietveld-Schröder House from the city center, one of the UNESCO World Heritage Sites in The Netherlands will only take you 15-20 minutes. The added advantage is that you will walk through parts of the town, Oudwijk, and Wilhelmina Park, which are very popular.
Take a break on a bench next to the pond in the park to enjoy the relaxed atmosphere. I lived for many years next to Wilhelmina Park and feel that it is one of the most lovely spots in Utrecht that you can find.
6. Utrecht Is Very Easy To Reach
Utrecht is located right in the middle of the Netherlands. The train station of Utrecht is the biggest in the country, and you can rapidly get from any other of the major cities in The Netherlands to Utrecht by train. Utrecht is also easy to reach by car, but parking is next to impossible in and around the center. You may want to check out this post if you want to understand how to save serious money traveling inside The Netherlands.
The train station itself is smack in the center of the Utrecht and next to the historic center. Walking from the train station to the historic center is 5-10 minutes of walking at the most.
If you come to Utrecht by train, you may want to consider visiting the National Railway Museum. You can reach this museum by train departing from Utrecht Center.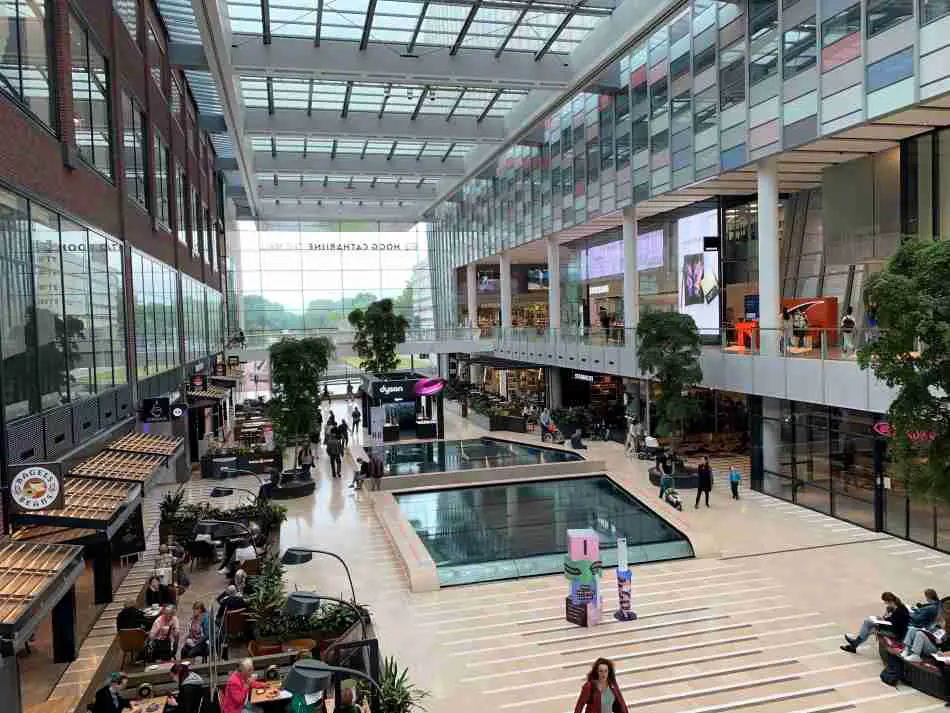 7. Utrecht Has A Fantastic Shopping Mall In Its Center
That shopping mall is called 'Hoog Catharijne' and is located right in the center of Utrecht. Hoog Catharijne lies next to the train station of Utrecht, and that makes it very easy to reach. The main shopping area of Utrecht is on the other side of Hoog Catharijne, and this combination makes Utrecht a unique shopping city with plenty of choices.
Hoog Catharijne has recently been renovated. It is now an up-to-date and modern shopping mall. I like Hoog Catharijne because it is all indoors, but it does not feel like that. Hoog Catharijne is not as huge as The Mall of The Netherlands in Leidschendam but still large. If it is a rainy day, you can come in by train and do your shopping in Hoog Catharijne without having to get out in the rain at all.
Other Charming Cities In The Netherlands
Besides Utrecht, there are plenty of other quintessential Dutch cities that you could visit to experience a bustling, genuine, authentic Dutch town.
By: netherlandsinsiders.com