You may say: But Switzerland is landlocked! How can there be a Mediterranean region? You are correct in theory, but we are taking you to Ticino, Switzerland's southernmost canton. Sometimes a place is not defined by its location but more so by its atmosphere and flair. In that respect, Ticino definitely feels Mediterranean, as you will see when we take you to all the gorgeous places.
Ticino (Tessin) is surrounded on three sides by Italy, and it also comprises the Italian enclave of Campione d'Italia. The official language is Italian.
With a much milder climate than the rest of Switzerland and an average of 2,300 hours of sunshine annually, it definitely feels southern. In addition, although there are plenty of woods, palm trees are growing everywhere; in fact, they are taking over parts of the woods. Visit Lugano, Ticino's largest city, and the colorful houses, sub-tropical flora, and language will make you think you are indeed in a Mediterranean region.
Ticino is home to three UNESCO World Heritage sites, the Bellinzona and Monte Giorgio castles, two fabulous lakes, the river Ticino, and a curiosity called the Swissminiatur. As the name indicates, it's an amusement park of 123 miniature buildings and landscapes, representing all important parts of Switzerland.
Italy also had a big influence on the typical food. Polenta, minestrone, and risotto all originate from Venice.
The biggest airport in Ticino is in Locarno, where trains and buses take you to any destination within the canton and beyond.
1. Ascona
The charming village of Ascona is located on the northern shore of Lake Maggiore (Lago Maggiore). It is Switzerland's lowest lying town, only a few feet above sea level. Ascona is a popular resort famous for its love of beauty and attention to service. First, make your way to the old Town, called Borgo, and visit the 16th-century Santi Pietro e Paolo church. The high bell tower is Ascona's best-known landmark.
Then stroll along the beautiful, car-free promenade on the shore of Lake Maggiore. Browse in the many fashion boutiques, pop into some of the art galleries and, of course, have a coffee, cake, and ice cream break in one of the many cafes and just watch the world go by.
Every Tuesday, all day long, there is a market. The many stalls sell just about everything, from sweets, wine, and spirits, to clothes, shoes, hats, and wooden carvings made by local craftsmen. It's truly a treasure trove for souvenirs.
Above the town rises Monte Verita, or mountain of truth. At the beginning of the 20th century, people with a penchant for philosophy formed an early hippie colony there. Today, the universities of Lucerne and Zurich hold seminars there. Make your way up and visit the museum, which documents the colony's history and its founders.
2. Bellinzona
Located east of the river Ticino and spread along the river valley at the foot of the Alps, Bellinzona is Ticino's capital. History fans will thrive in Bellinzona because of the medieval heritage, most famously the city wall and the three castles, which are all parts of a UNESCO World Heritage Site. They are Castlegrande, Montebello, and Sasso Corbaro. All three castles have undergone ample restorations and are today open to the public in their former glory. Take your time to explore them all and also walk along the ancient city wall. Bellinzona's history is closely connected to the Dukes of Milan, and you will find many influences.
For some more history, visit the Museum Villa dei Cedri. The museum is currently closed but will reopen on March 19th with a special exhibition.
Bellinzona is an important stop on the Gotthard Railway. Therefore, it's easy to reach by train.
3. Locarno
Located on the shore of Lake Maggiore, Locarno is the warmest town in Switzerland. Not surprisingly, it's a popular summer destination where palm and lemon trees abound. Explore the Piazza Grande in the center of the old town, famous for an annual film festival. Admire the elegant upper town palazzi, stroll along the beautiful lake promenade and enjoy the Italian flair. Visit the impressive 12th-century Castello Visconteo, which has been restored nearly in its entirety.
Then make your way up to Orselina and pay your respects to the pilgrimage church of the sanctuary of Madonna del Sasso. Legend has it, the Virgin Mary made an appearance here, and it's a famous landmark of Locarno. The views alone make the climb worthwhile.
4. Lugano
Lugano lies on the northern shore of glacial and wild Lake Lugano, surrounded by mountains. The atmosphere of the city clearly shows the influence of nearby Lombardy in Italy. It's a city that will enchant lovers of art and architecture. Just head for Piazza della Riforma in the center of town, which is ringed by pastel-colored, neoclassical palazzi, Baroque, and Renaissance churches and arcades. For some serious shopping, browse along Via Nassa, walk under the arcades, and enjoy the elegant boutiques and cafes.
Two mountains rise close to Lugano: San Salvatore and Mount Bre. Both, as well as the oblong and twisted lake, reflect wild nature. A cable car takes you up the mountain if you wish. Boat tours are also available to sail around the lake and view the town from the water.
German author and Nobel Prize laureate Hermann Hesse fell so in love with Lugano that he remained here for 50 years until his death. Visit the Hesse Museum.
Another Lugano highlight of the arts is the Museo d'Arte della Svizzera Italiana (MASI), a unique art collection founded in 2015.
5. Lago Maggiore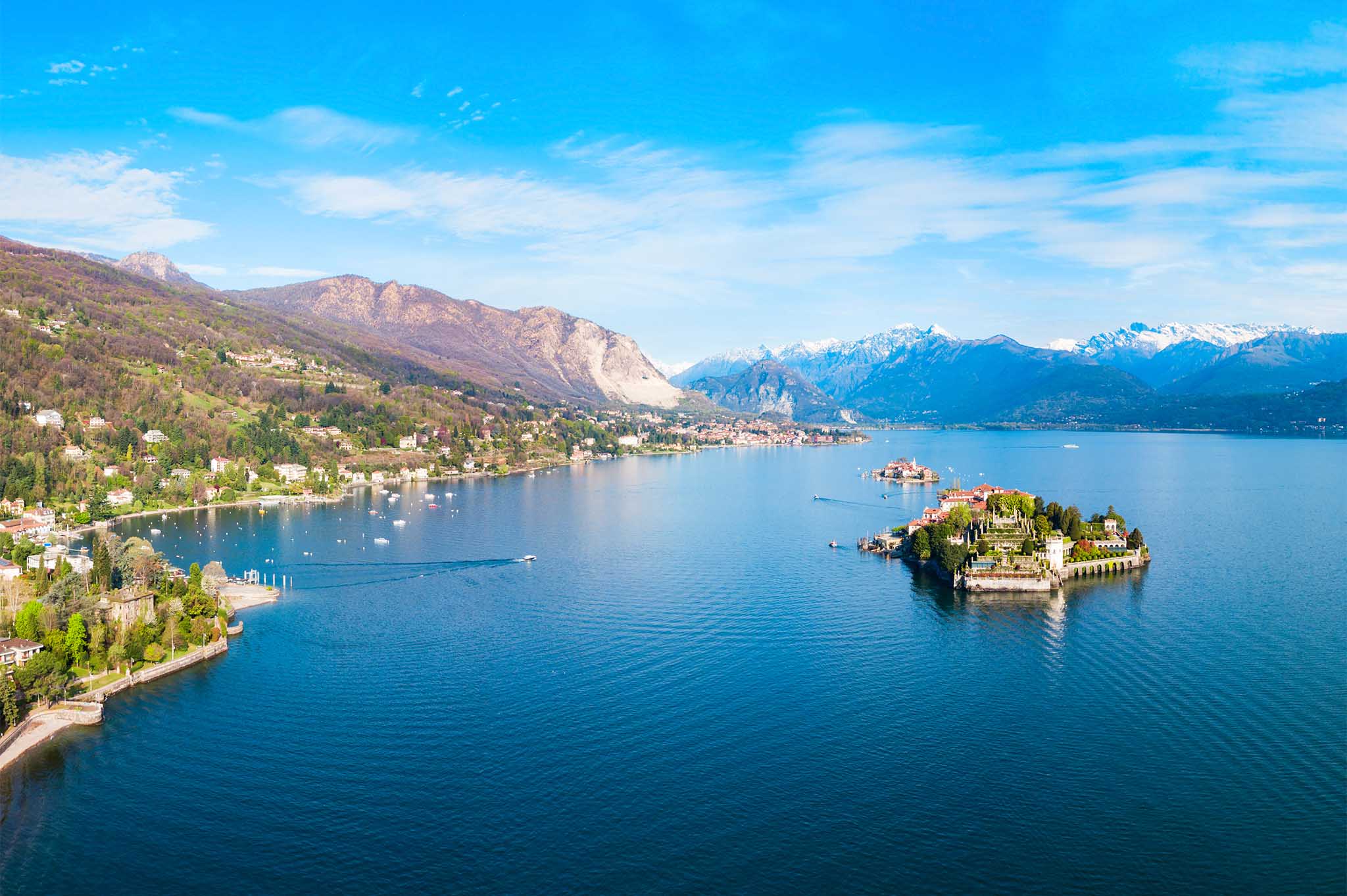 The large lake in Ticino is shared by Switzerland and the Italian regions of Lombardy and Piedmont. The mild climate creates lush, Mediterranean vegetation like palm and lemon trees. Many beautiful towns and villages are dotted around the lake, as we have shown you above. The best way to explore the lake and shores is by going on a day trip with the Lago Maggiore Express, a boat and train combination.
6. Swissminiatur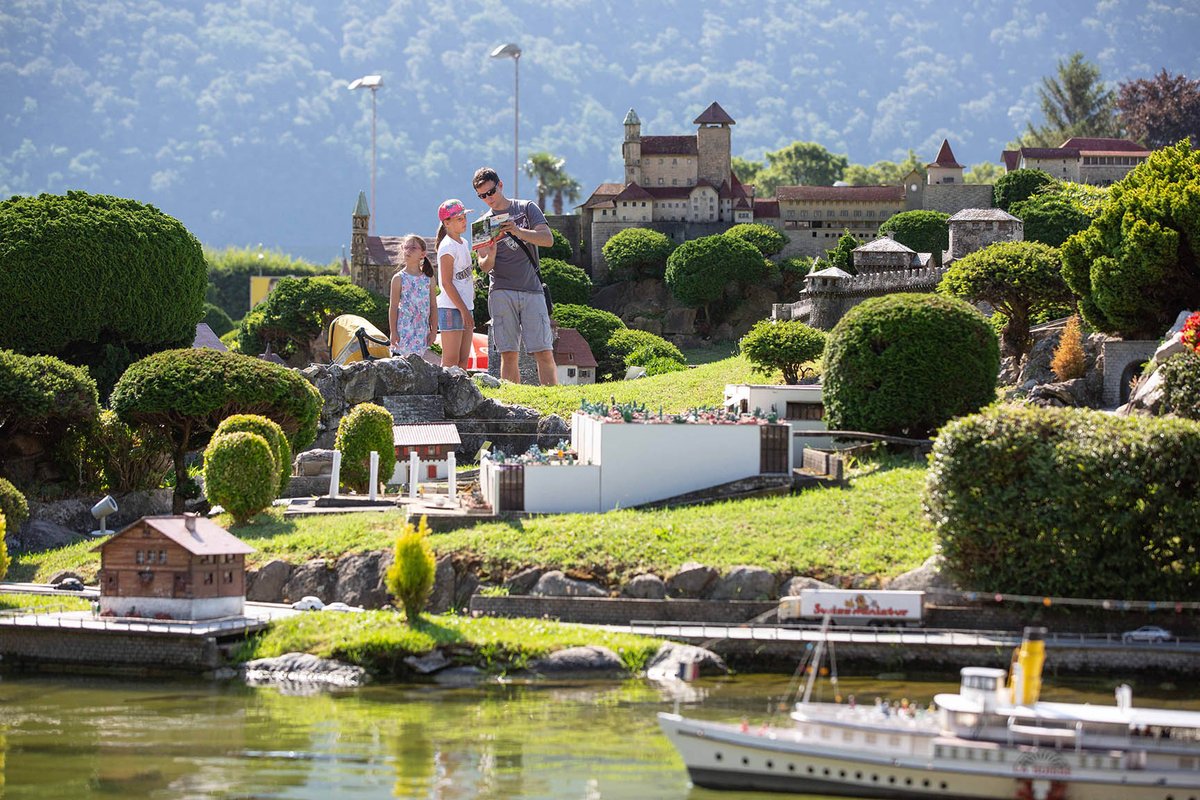 A delight for adults and kids alike is Swissminiatur, Switzerland's only open-air miniature park. Located in Melida, close to Lugano on the shores of the lake of the same name and surrounded by majestic mountains, you can wander around Switzerland's most important sights and landmarks at your leisure.
7. Tibetan Bridge Of Curzutt
A truly breathtaking adventure is walking the Tibetan Hanging Bridge of Curzutt. The trail begins through vineyards and chestnut woods in the Magadine plain with views of Lago Maggiore until you reach the bridge, which is suspended 426 feet above the creek below. Never fear; safety mesh wire on the sides and handrails make the crossing pretty safe.
After that, the trail leads to the Romanesque Church of San Bernardo and on to the settlement of Curzutt, a cluster of ancient stone houses, gardens, and fields at an altitude of nearly 2,000 feet.
8. Verzasca River And Dam
Another unforgettable nature adventure is the Verzasca Valley Trail. Verzasca is a river in Ticino which originates in Pizzo Barone and flows into Lago Maggiore. The winding river is known for its turquoise water and colored rocks. It leads through woods and villages such as Corripo, Laverteaz, or Sonogno. At the end sits the Verzasca Dam, popular for bungee jumping, an activity you might want to pass on. Instead, visit the pretty hamlet of Sonogno with its tiny museum and ancient communal oven that is still in use today. Ancient tradition comes to life in the Casa della Lana, where wool is carded and dyed in age-old fashion.
Pro Tips
Don't worry if you don't speak Italian. Ticino is a very popular destination for visitors from all nationalities, meaning that at least some English will be understood everywhere. The Italian influence is also noticeable as people in Ticino tend to hold a siesta, something you won't find in Zurich or Bern. Generally, shops are open from 8 or 9 a.m. to 7 p.m., although a few might close an hour or two at lunchtime.
Source: travelawaits.com