Every winter, there comes a point where people in Germany are simply over it. Weihnachtsmärkte (Christmas markets) have closed up shop, the cold has thoroughly set in, and it is a long couple of months til festivities like Erster Mai. The German winter can be a touch time to be in Germany.
Following my post on non-alcoholic drinks in Germany worth trying and in the hopes that something warm on the inside will defrost your chilly exterior, here are 8 warm drinks to endure the German winter.
1. Glühwein
Glühwein is hard to escape during the Christmas market season – and why would you want to? Though some people loudly proclaim that they are not fans of the hot, spiced wine ubiquitous everywhere from markets to spatial (late-night convenience stores), you can buy a cup for just 1.50 – 3 euro to keep your hands warm.
Need more booze to make it through the darkness of winter? Ask for einen shuß (a shot) to up the alcohol and enjoyment. Common add-ins include rum, kirschwasser (cherry brandy) and amaretto. There are also a range of glühweins made from berry wines, white glühwein, etc. Try a different one every day of winter.
2. Feuerzangenbowle

Does your holiday drinking require more fire? The traditional Feuerzangenbowle provides!
Often prepared for Christmas and/or New Year's Eve (silvester), consuming this alcoholic drink is part ritual. A bowle of glühwein is flavored with cinnamon sticks, cloves, star anise and orange peel and topped with a suspended rum-soaked sugar loaf (zuckerhut). The sugar is set ablaze and begins to carmelize before dripping into the wine.
This tradition partly roots from the 1944 comedy, Die Feuerzangenbowle. This film is so popular it is still shown every December with huge vats of the drink.
3. Hot Chocolate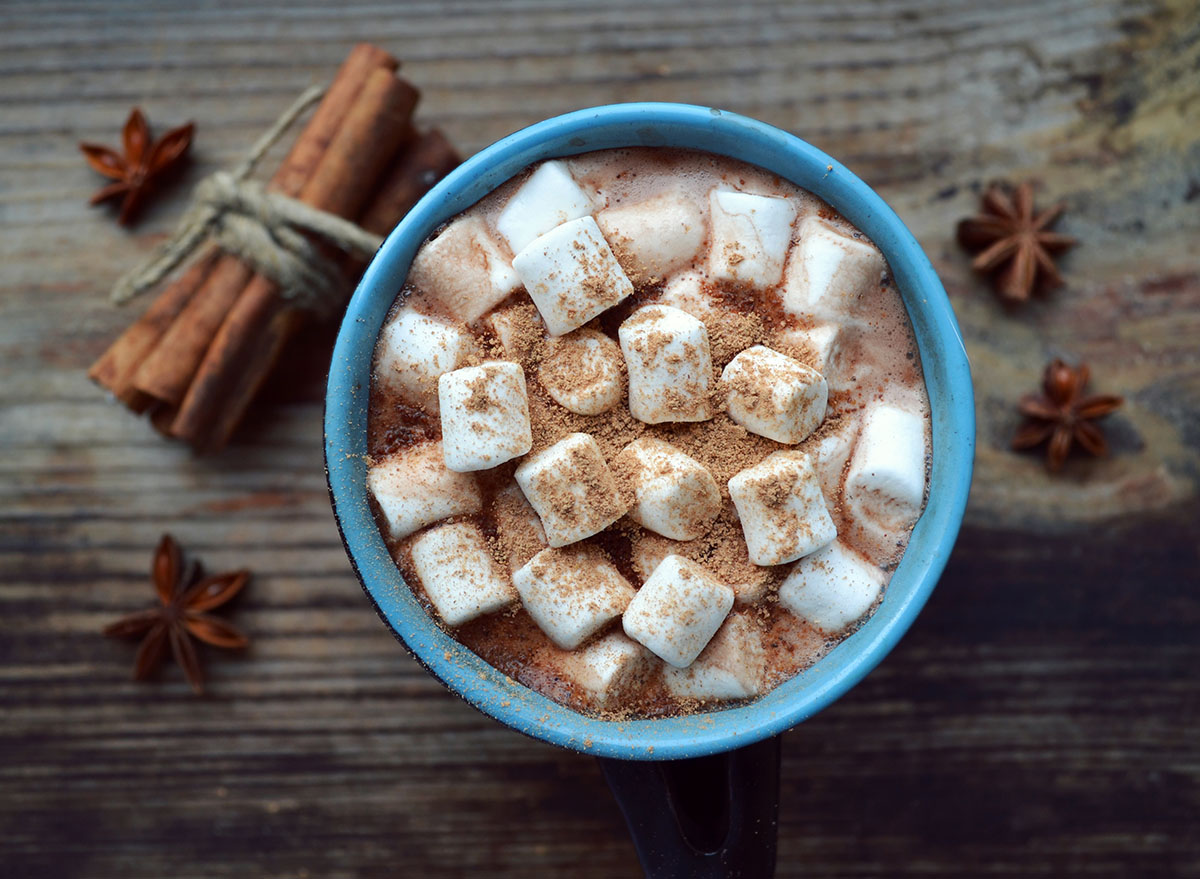 Steering away from the many alcoholic options is this kid-friendly, familiar favorite, hot chocolate (or heiße schokolade). It tastes like dessert in a cup and is often made with real chocolate.
Of course, adding a shuß to this to make it an adult beverage is perfectly acceptable.
4. Eierlikör
Eierlikör is similar to eggnog in texture and opinions – you either love it or you hate it.
This thick, frothy drink is a winter classic. You'll notice it slowly turning in giant clear containers at the weihnachtsmärkte and being drunk by little old ladies as well as young festival-goers. Its hearty milk, cream, sugar and beaten egg base is augmented by the addition of cinnamon and nutmeg plus rum, brandy, or whisky.
5. Grog
This belly-warming brew has an apple cider base and roars in with a fiery alcohol finish. Throat-soothing elements like lemon juice, cinnamon, cloves and other spices add to the flavor, so it is practically a healthy food for winter. Often featured at medieval markets, it retains an old-timey character.
6. Coffee

The tradition of Kaffee und Kuchen is the revered tradition of taking break midday to sit down with a piece of cake and some piping hot coffee. And gone are the days of weak filter brew as cities like Berlin embrace the third-wave coffee culture.
If you find yourself in North Frisia (area between the rivers Eider and Wiedau/Vidå and including the islands of Sylt, Föhr, Amrum, Nordstrand and Heligoland), you shoulda Pharisäer. This warming coffee drink has a cube of sugar, a shot of rum and a thick topping of whipped cream through which it should be drunk. This method of drinking was to cover up the smell of alcohol from a puritanical pastor.
7. Met
Warmer met is warm mead and a favorite drink of medieval markets. Made of fermented honey and water, it tastes a bit like heady white wine. It is flavored with winter spices (gewürze) and occasionally fruit.
There are many European varieties from Poland to Sweden, but mead actually plays heavily in German folklore, like in the classic Beowulf.
8. Beer
A cold beer may not sound like the ideal winter drink, but there is never a bad time to drink beer in Germany and a more surefire way to warm your belly with a traditional drink.
Try seasonal winter beers that are hearty and dark, like a Bock. This type of Starkbier (strong beer) is perfect for the winter season with its high alcohol content and hearty flavor.
By: tripsavvy.com