About a five-minute walk from Waterfront Station in downtown Vancouver lies the one-of-a-kind Pink Alley.
If you're from Vancouver, you've probably heard of Pink Alley, or at the very least have seen pictures of someone you know there.
It's a colourful alley, to say the least, covered in soft pinks and vibrant yellows. There's even a mini basketball court, hence it's alias, "Alley Oop."
The City of Vancouver transformed the once-unremarkable alley into its current form back in September 2016, and it has since become a staple photo-shoot spot for public art enthusiasts, everyday locals, and tourists.
It's living proof of what public art can do, turning a place that nobody thinks about into a place everyone wants to see.
You probably already know what it looks like, so here's a few fun facts that you probably don't know.
This project was brought to life by the City of Vancouver, the Downtown Vancouver Business Improvement Association (DVBIA), as well as HCMA Architecture + Design.
Pink Alley's official address is: 688 W Hastings St, Vancouver, BC V6B 1P1.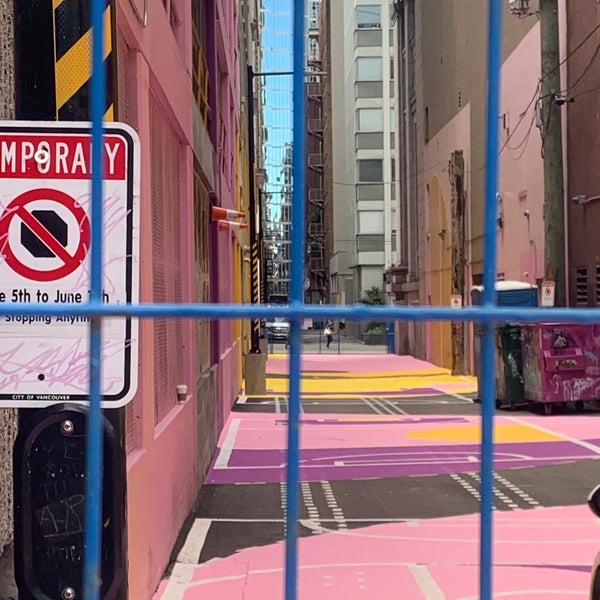 75% of the alley's visitors before the transformation were men. Now, men make up 58% of the visitors, showing the shift in perception of how back-alleys are dangerous for women.
The alley has one basketball hoop, but three were originally planned.
The "Alley Oop" alias comes from a basketball term that describes a player catching a pass from the teammate mid-air and dunking the ball.
Pink Alley won the international award for Downtown Achievement Award of Excellence in 2017.
The entire alley extends to about 100 metres.
Since it's launch, Pink Alley has seen its visitors per hour more than double. It now gets about 73 every hour, according to the DVBIA.