It's soon time to ring in 2017. Don't drop the ball on party planning. There are many free, spectacular New Years's Eve events taking place across Canada this year, with a special focus on kicking off the celebration of Canada's 150th anniversary.
The revelry ranges from massive fireworks shows in Vancouver and Niagara Falls, to raucous concerts, zip lines, circus acts, and ice skating in cities including Montreal, Toronto, and Calgary.
Without further ado, here are the best cities to celebrate New Year's Eve in Canada, from east to west.
Halifax, Nova Scotia
There are a few compelling reasons to ring in 2017 in Halifax. The free, public party takes place from 10 pm to 12:15 am and features live music headlined by Juno Award winner The Strumbellas. The NYE celebration will finish with a flourish with the largest fireworks display in Atlantic Canada at midnight. The shindig takes place at the Grand Parade at City Hall.
Quebec City, Quebec
Quebec City is special in that the free, public NYE party starts December 27 and continues through NYE.  From December 27 to 31, Grande Allée is the happening place. This year's celebrations will be more festive than ever in honor of Canada's 150th and will extend from the Parliament Building to the Hotel Le Concorde. On the program: traditional music, a Ferris wheel, an urban zipline, a giant slide, light shows, heated terraces, and outdoor bars. On NYE the free outdoor party features a dance party to Madeon's electronic music followed by fireworks.
Montreal, Quebec
Although best known for the wild, 2,500-person dance party at L'Olympia, Montreal also has free fun on offer. Over 40,000 revelers are expected to attend the NYE bash at the scenic Old Port. The family-friendly party includes fireworks, ice skating, and live outdoor performances by artists including Alex Nevsky and Louis-Jean Cormier. The party starts at 7 pm.
After the fireworks at midnight, stick around for a dance party with DJs which continues until 2 am. This year, the event also marks the beginning of the celebrations for Montreal's 375th and Canada's 150th.
Ottawa, Ontario
The nation's capital goes all out for NYE, and the party for 2017 will be especially festive because it also kicks off celebrations for Canada's 150th anniversary all across the country. There are three free events to attend.
The Sesquicentennial Celebrations at Ottawa City Hall is an early evening, family NYE party with activities for kids and the lighting of a spectacular gas-powered cauldron in Marion Dewar Plaza.
The Canada 150 Kick-Off NYE party takes place on Parliament Hill at 7 pm. There will be special activities on both sides of the Ottawa River, including live music and a pyro-musical fireworks show at 8:17 pm, also known as 20:17. Expect another big light show at midnight.
Finally, there's the traditional Scottish-style New Year's Eve Hogmanay party at Lansdowne's Aberdeen Pavilion. The party features Scottish music, Highland dancing, Scotch tasting sessions, Scottish food and drink, outdoor skating, and fireworks.
Niagara Falls, Ontario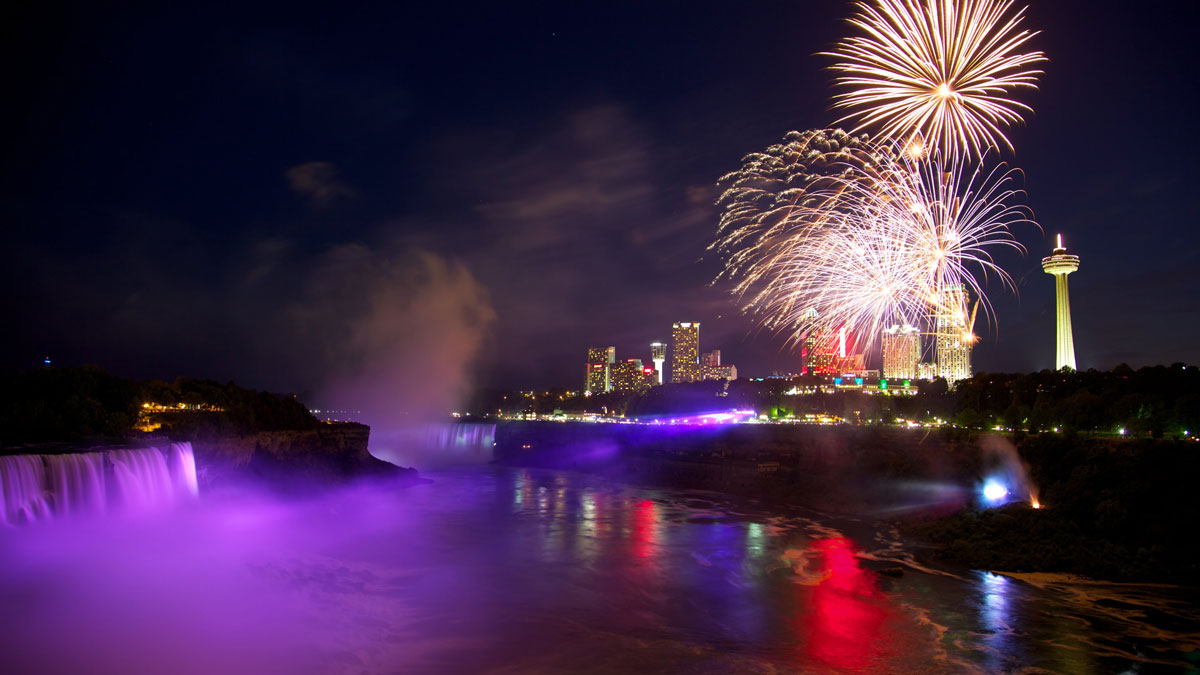 Niagara Falls is magnificent any time of year. At New Year's, it is particularly stunning. Niagara Falls hosts one of the longest-running free NYE parties in Canada in Queen Victoria Park, where you have the perfect view of the thundering falls. The party includes live music by Canadian artists High Valley, Serena Ryder and Sam Roberts Band from 8 pm. There will also be food concessions and a licensed bar area for adults. The culmination of the fun is the magnificent fireworks display over the falls, launched from Niagara Gorge at 9 pm and midnight.
Toronto, Ontario
More than 50,000 people will converge at Nathan Phillips Square for the 32nd annual free New Year's Eve party starting at 7 pm.  This year, the event is a variety show with musical and interactive exhibits. You can also expect ice skating and dancing with DJs Starting From Scratch and Mel Boogie. The square will be animated by performances from Zero Gravity Circus and hosted by Jasmine Denham and Ivan Wanis Ruiz, and the fireworks show goes down at midnight. A fleet of food trucks will be on hand to feed the crowds.
Edmonton, Alberta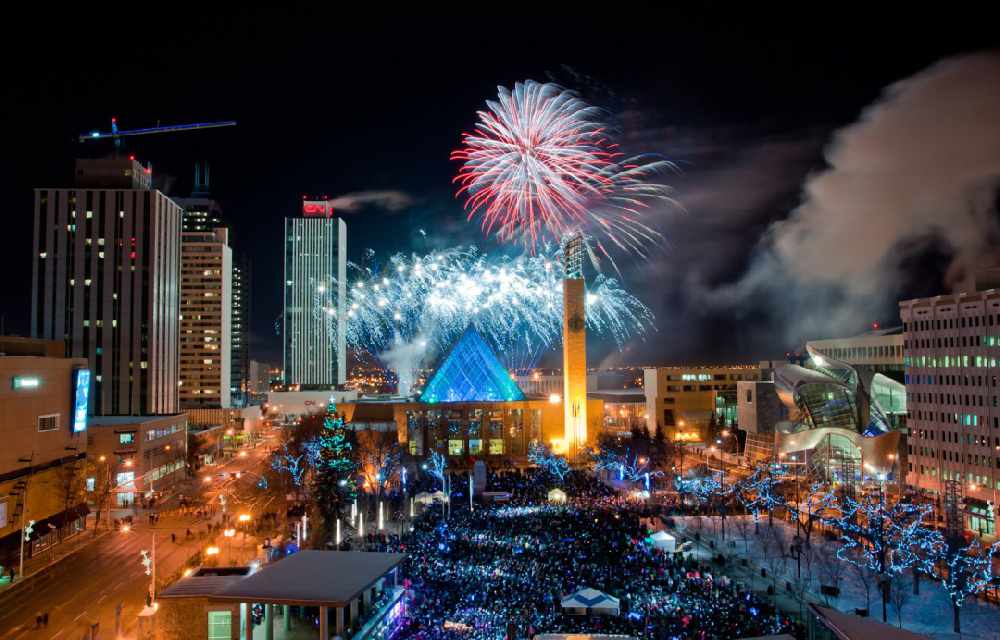 Edmonton hosts a swinging NYE bash with free fun including two fireworks shows (8 pm and midnight) as well as live music from bands such as Uptown and Dirty Rotten Scoundrels, ice skating, fire-pits to warm up, magicians, balloon artists, and bannock-making. The event takes place from 6 pm to 12:15 am at City Hall and Churchill Square.
Calgary, Alberta
Calgary's Olympic Plaza is the place to party from 7 pm onwards. Highlights from the packed line-up of free, family-friendly fun include a glow-in-the-dark dance party, a bouncy castle, stilt walkers, magicians, a kids' countdown at 9 pm, ice skating, live ice carvings, fire spinning, an ice slide, and creative light-based art installations. Musical entertainment will be provided by DJs, Cowtown Opera on the rooftop and live performances from Canadian rock band 54.40 and Calgary's own Eve Hell and the Razors. Fireworks at midnight.
Vancouver, British Columbia
In 2016, the inaugural New Year's Eve Celebration in Vancouver was the largest party in Canada drawing over 80,000 revelers. It's only going to get bigger for NYE 2017.
This year, the free, all-ages party starts at 6:30 pm and includes a festival at Canada Place with two fireworks displays: a 9 pm family fireworks display and an even more jaw-dropping midnight pyrotechnics display.
By: dailyhive.com