What Are Some Great Ways to Save Money in Scotland?
Scots are known as being "value-oriented" which means they love to save money! Some of Scott's favorite sites for finding deals include:
5pm.co.uk
Groupon.co.uk
Itison.com
These sites are a great way to save money as you tour Scotland.
Where Should We Go Hiking in Scotland?
Scotland is a great country for hiking; with rolling hills, jagged coastlines, and quaint villages, you can hike to your heart's content in Scotland. Some quintessential Scotland hiking trails include:
The Westhighland Way covers 96 miles from Glasgow to Fort William. This is a common multi-day hike, so there are many companies that will transport your luggage from town to town, leaving you to hike with just a daypack.
Climbing the "Old Man of Storr" on the Isle of Skye is another popular Scotland hiking trail. It's often voted one of the most beautiful places on Earth. At less than four kilometers in length, this is a shorter hike that's a good way to stretch your legs while touring the Isle of Skye.
Other Places to Visit on the Isle of Skye
The Isle of Skye is one of the best places to go in Scotland. Some of the must-see stops when you visit the Isle of Skye include:
The Fairy Pools are a popular stop as they are the most beautiful pools along the River Brittle. A few brave tourists might even go for a swim in the pools!
You can see fossilized dinosaur footprints on the beaches along the north shore near Trotternish. They were only recently discovered in 2015, and are only visible at low tide.
How is the Weather in Scotland?
Scots like to say, if you don't like the weather, just wait a few minutes. The best way to prepare for the ever-changing weather in Scotland is to dress in layers. The forecast could call for rain, but you might end up with a hot, sunny day! Always have a poncho or rain jacket handy in case a rainstorm breaks out.
What Are Midges?
Besides the weather in Scotland, you have to be wary of midges. Midges are tiny, flying insects that will swarm you and eat you alive. They are much smaller than mosquitos, and their most prevalent season seems to be between May and September. They can't survive a frost, so if you visit Scotland during the shoulder season, you just might be able to avoid them.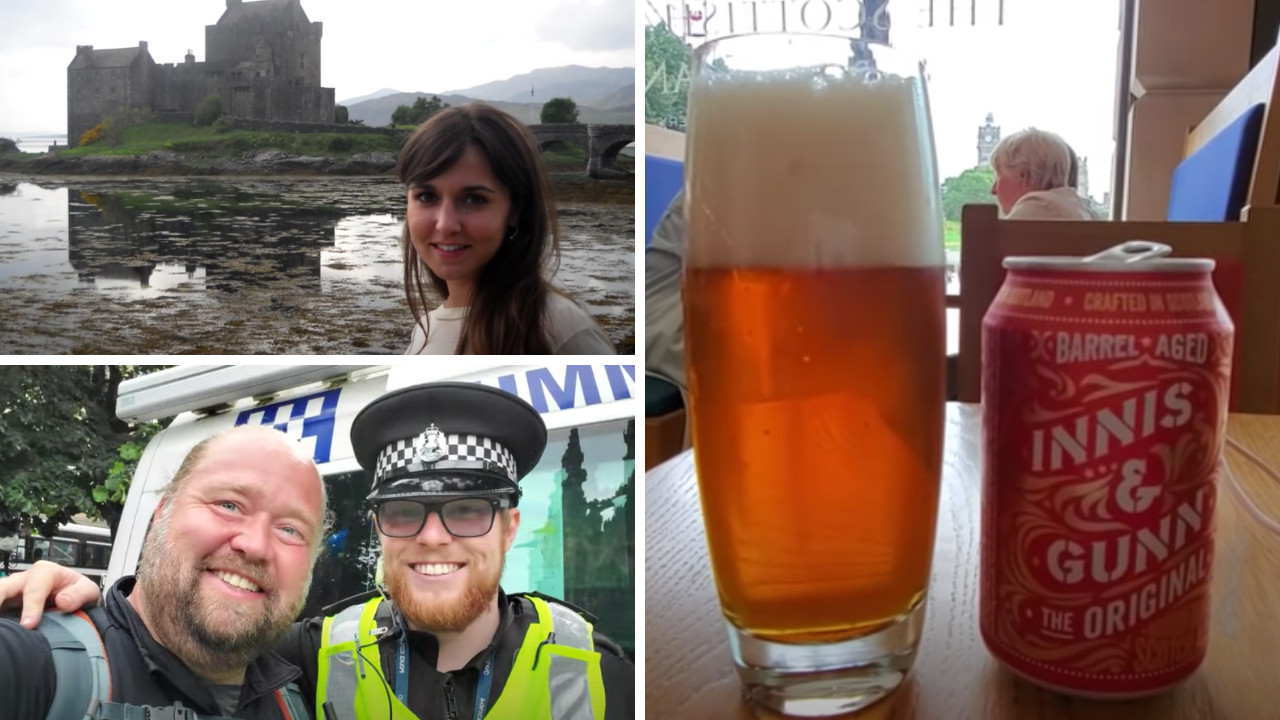 What to Eat in Scotland?
Scottish food isn't always world-renowned as there are some famously strange foods in Scotland. Haggis is particularly well-known as a famous Scottish food that people turn their nose up at. However, there are some really great restaurants in Scotland. A particular favorite is The Kitchen in Edinburgh, and Glasgow also has a growing food scene. Scottish Smokies are a popular smoked fish snack in the north. Of course, Scotland has really fantastic seafood, especially on the Isle of Skye.
What Should I Drink in Scotland?
First off, it's safe to drink the tap water in Scotland, and it's actually very good quality. But of course, the local beer and whiskey are most important! Beers are pretty regional, so ask your server what's local. In terms of a soft drink, you have to try Irn Bru, an orange carbonated drink, when you visit Scotland.
Which are the Best Scotland Castles?
Scotland is known for castles, and you should definitely include a few in your Scotland itinerary. Many of them are ruins, but you can tour a few of them. If you plan to visit any Scottish castles, you might consider a membership to Historic Scotland, or the National Trust of Scotland, you can often save money on castle admission. Edinburgh Castle is probably the most-visited castle in Scotland, and Eilean Donan Castle is another very photogenic castle in Scotland, best known by fans of Highlander. (Pro tip: don't park in the lot at Eilean Donan; cross the bridge and get your photos from the other side!)
What Are Scots Like?
Scottish people are awesome! They are so friendly and easy to strike up a conversation with. It's so easy to make new friends in Scotland; just head to the nearest pub! Scots love to discuss world events, politics, history, or whatever you feel like. Don't miss out on the chance to chat with locals, wherever your Scotland travels take you!
By: woltersworld.com