If you want a medieval city experience Lübeck is a definite must-visit. This magical city is on the northern side of Germany, very close to Hamburg. Lübeck is also next to the Trave river and not only that, it is one of the largest German port cities! This historical city has a bit damaged during World W.a.r II, but a lot of historical buildings survived and after some of them were reconstructed, today Lübeck is on the UNESCO's World Heritage List.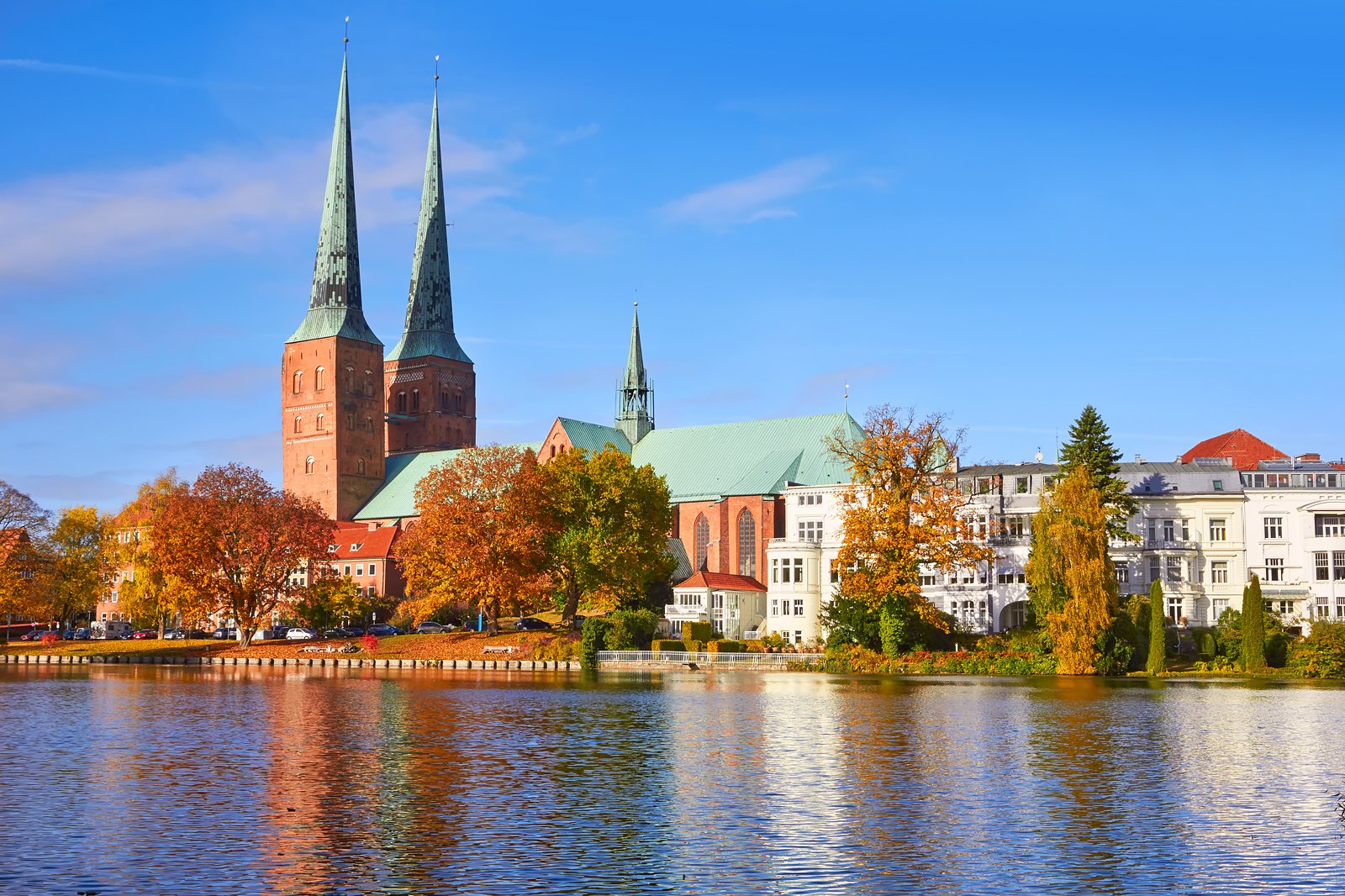 To reach this amazing city, you can use the Hamburg Airport and then take a train to Lübeck. But you can also take a ferry to reach to the city too! The best way to explore the city is on foot and I highly recommend walking through the city because you will never realize the amazing details of the city while taking a bus or tram.
To explore the city, your first stop should be the medieval town of the city, Altstadt or Old town. You will find the Altstadt surrounded by the Trave river and lovely canals. Like a little island, you can see lots of different architectural eras, both the modern ones and historical ones. Another fun fact, Lübeck is famous for its delicious marzipan. So don't forget to eat lots of marzipans and buy lots of other varieties of marzipan as a delicious souvenir from the famous Niederegger Marzipan house which is next to the town hall!
Very close to the Rathaus, you will come across a fine brick gothic building which happens to be the most important landmark of Lübeck! St. Mary's Church or as the locals called Marienkirche is the biggest church in Lübeck. This amazing church was built between 1250 and 1350 and is located at the highest point of the island. You have to check out this three-aisled basilica because it is on the UNESCO World Heritage List!
The next stop should be the Holstentor, which is the city gate of Lübeck! This gate was built in 1464 because the Hanseatic city of Lübeck needed to protect itself from outside threats. Today, this historic gate is one of the most important landmarks of the city and is located near to the train station!
After being impressed by seeing all those amazing medieval buildings, it is time for some museums! If you want to get a better insight of this amazing city`s history, you should visit European Hanse Museum.
If you are interested in the history of puppeteering in Germany, you should visit The Lübeck Museum of Theatre Puppets. Inside this museum, you can find a lot of exhibits from three centuries and from continents like Europe, Africa and Asia. It is a really fun museum to visit with the little ones!
If you want to visit Lübeck, find your inspiration on itinerary now!
By: itinari.com