Australia Tourist Attractions: Do You Dare To Visit All These 49 Places On Your 2022 Aussie Trip?
1. Great Ocean Road – Spectacular Formations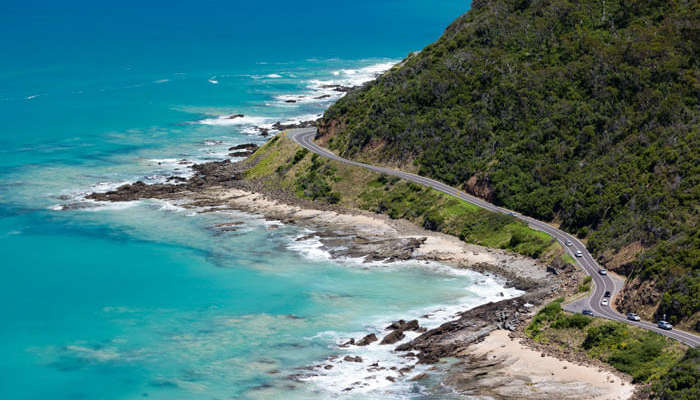 Located in Victoria, the Great Ocean Road is considered to be one of the most scenic and best-driven roads in the world. Don't miss Twelve Apostles, the spectacular formations of limestone stacks beside the stunning turquoise ocean. The 243 km ride from Torquay to Allansford is itself a blissful drive.
Things to see: Port Campbell National Park, Otway National Park, picturesque rain forest, hiking trails and scenic waterfalls. If you're lucky enough, you could even spot some of Australia's famous wildlife including kangaroos and emus.
Things to do: You can opt to camp at the spectacular sight, beach sports
How to reach: Getting to the Great Ocean Road by public transport involves a train journey followed by a bus trip. Catch a V/Line train from Southern Cross Station in Melbourne to Geelong. This journey will take approximately one hour.
2. Kakadu National Park – Witness Rich Wilderness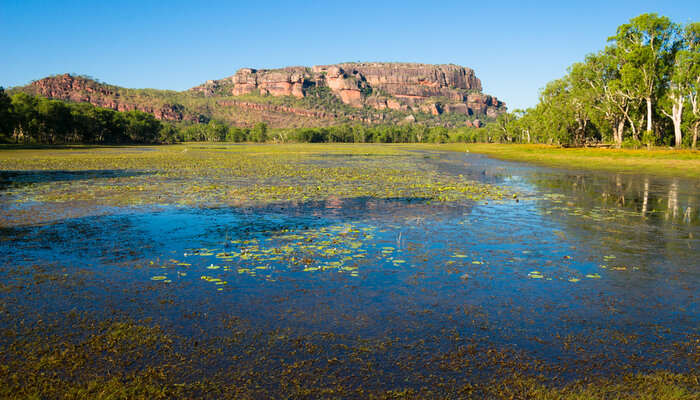 Kakadu National Park, a World Heritage Site, is Australia's largest national park. Second largest in the world, Kakadu is one of the world's greatest places for witnessing wilderness and is one of the top most visited Australia tourist places.
Things to see: 300 different species of birds, aboriginal rock art, magnificent waterfalls, rivers, gorges, mangrove swamps as well as a fantastic diversity of wildlife including wallabies, saltwater crocodiles and dingoes.
Things to do: Visit the Jim Jim Falls, observe the crocodile wetlands of Yellow Water, hike at the Twin Falls and Maguk
Entry Fee: INR 1,756
Tips: Make sure you buy the tickets before hand to avoid any hassle during your trip.
How to reach: Flight hubs are at Darwin and Alice Springs, from there, choose whether you hire a vehicle or jump on a tour to get to the park. Drive from Darwin. If you like a road trip, self-drive from Darwin on the Stuart Highway then the Arnhem Highway.
3. Blue Mountains National Park – For A Day Trip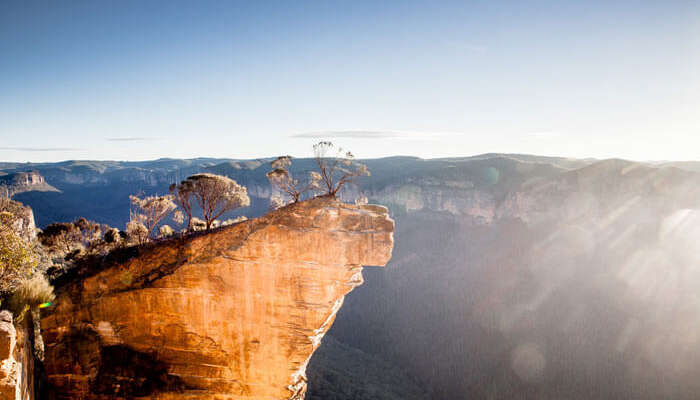 The beautiful Blue Mountains National Park – another UNESCO World Heritage Site – is a popular day trip from Sydney. It is named after the blue haze emanating from the many eucalyptus trees, which is a spectacular panoramic view to behold! One of the most famous places in Australia, you must visit this park.
Things to see: Three Sisters – a sandstone rock formation towering 900 meters above the Jamison Valley, majestic views of gorges, paintings, and exotic wildlife species.
Things to do: Board the scenic glass roofed Katoomba Railway, the steepest passenger railway in the world through a cliff side tunnel, hiking, abseiling, rock climbing, mountain biking, and horseback riding.
Entry Fee: INR 562
Tips: Don't forget to keep your camera with you for capturing the wow moments!
How to reach: From Sydney: Take the M4 and the Great Western Highway for Glenbrook, the southern side of the Lower Grose Valley, Katoomba and Blackheath areas. The Southern Blue Mountains area is accessed via Oberon or Jenolan Caves.
4. Fraser Island – For A Pleasant Weather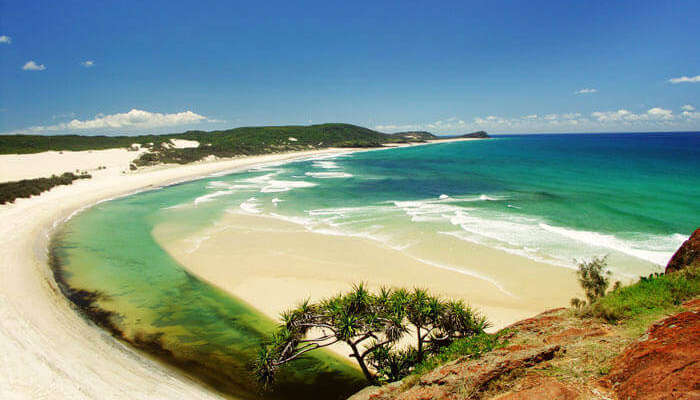 Fraser Island, just a short ferry trip from Hervey Bay, is the largest sand island in the world and a major part of Australia sightseeing. It offers one of Australia's most unique four-wheel-drive adventures. You can also travel by ferry from Rainbow Beach and Hervey Bay. In fact, it is among the best places to visit in Australia in March owing to its pleasant weather at that time.
Things to see: Lush rain forests with an astounding diversity of wildlife, sand dunes, freshwater lakes and creek, multi-colored sand cliffs heaps of shipwrecks along the wonderful sea coast, marine life including dolphins, whales and sharks.
Things to do: Enjoy scuba diving at Lake Mckenzie, swim at Lake Wabby, camp at Lake Boomanjin, explore nature at Indian Head
Tips: Keep your sunscreen, hat and sunglasses for a safe trip to the island.
How to reach: To reach Fraser Island you could drive north from Sydney in around 14 hours and from Brisbane in 3.5-4 hours. Alternatively, you can fly from Brisbane, Melbourne or Sydney to Hervey Bay, the jumping-off point for trips to the island. Hervey bay is also on all the main bus and train routes along the east coast.
5. Uluru – Striking Visuals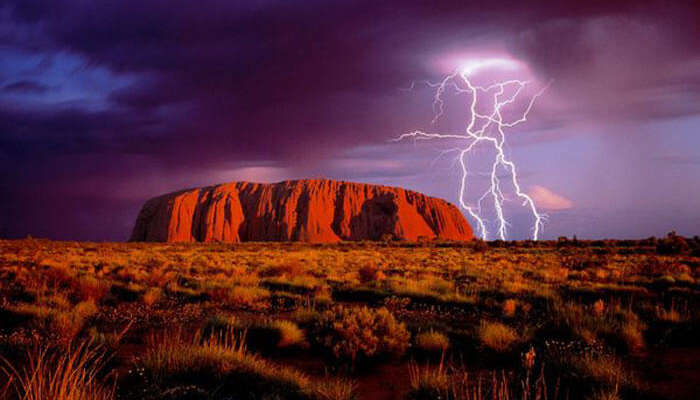 One of the largest monoliths in the world, Uluru or Ayers Rock is another important Australia tourist places. Located within the Kata Tjuta National Park, this striking red monolith sandstone formation, meaning 'shadowy place', stands more than 348 meters high. This is one of the best place for hitchhiking in Australia.
Things to see: Splendid sunset as the rocks change their colors, landscape around the rocks.
Things to do: Opt for a wonderful tribal tour around the site led by Aboriginal guides and rangers in the country.
Tips: Keep yourself safe as it is located at a good height!
How to reach: You can fly to Uluru – Ayers Rock via Qantas or Virgin Australia from all Australian capital cities
Other similar Tourist Attractions in Australia
Beaches: Bondi Beach, Byron Bay Beach, Cable Beach, and Wineglass Bay
Parks: Port Campbell National Park, Nambung National Park, Kosciuszko National Park, Daintree National Park, and Freycinet National Park
Islands: Lizard Island, Chatham Island, and Whitsunday Island
6. Heide Museum of Modern Art – A Unique Place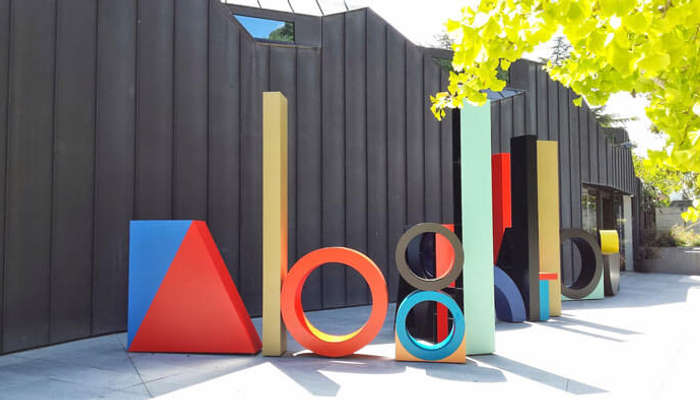 Heide Museum of Modern Art is a combination of a contemporary art gallery, historical art museum and heritage park. The best reason to visit this unique museum is its beautiful location; it's set upon a vast lush farmland. A major part of Australia tourism, it is a must-visit place!
Things to do: Get mesmerized by the living history of Melbourne in Heide, take a stroll across Heide's vast serene area and journey into the past.
Opening Hours: Tue to Fri 10:00 am – 5:00 pm, Sat to Sun 12:00 noon – 5:00 pm
Entry Fee: INR 1,400
How to reach: Train (Hurstbridge line) to Heidelberg station and bus #903 (Mordialloc bound) to Heide. Disembark at the Bridge Street/Manningham Road stop. Estimated bus travel time is 5-10 minutes. Walk to Heide through Banksia Park, via pedestrian path next to the Helmet sculpture.
7. Harbor Bridge – An Engineering Marvel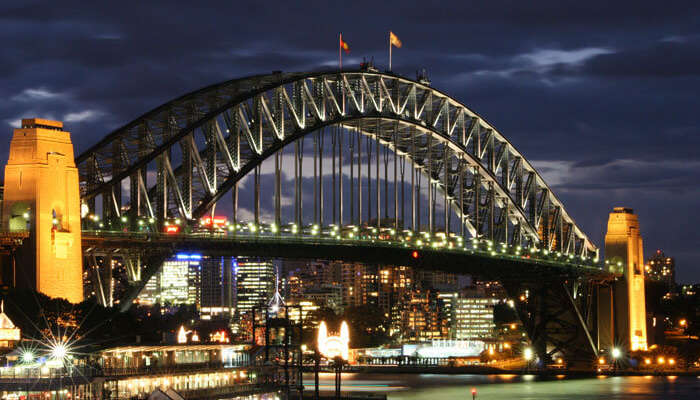 Among the most celebrated Australia tourist attractions, the Sydney Harbor Bridge is a must-visit. Rising 134 m above the harbor, the bridge is affectionately called "the Coat hanger". This engineering marvel is also the largest steel arch bridge in the world.
Things to do: Enjoy the scintillating cityscape from the bridge, climb the bridge with a guide, if interested in knowing about the bridge's history and its construction, visit the museum in the southeastern pier.
How to reach: The bridge can also be approached from the south by accessing Cahill Walk, which runs along the Cahill Expressway. Pedestrians can access this walkway from the east end of Circular Quay by a flight of stairs or a lift. Alternatively it can be accessed from the Botanic Gardens.
8. Sydney Opera House – An Architectural Masterpiece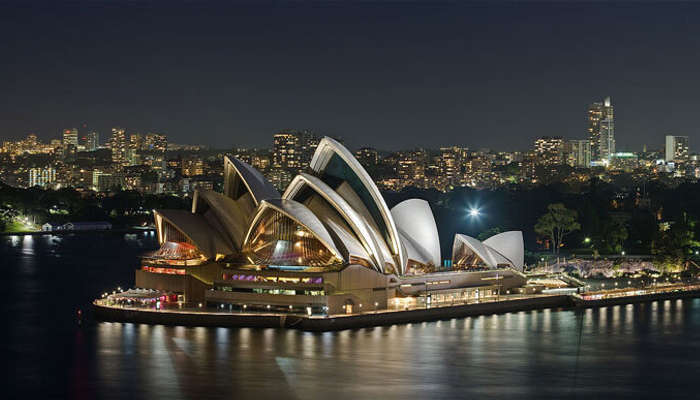 Flanked by the scenic Harbor Bridge and the beautiful Royal Botanic Gardens, the Sydney Opera House is one of the most popular Australian tourist attractions. Considered as an architectural masterpiece of the century, this feat by mankind, hosts multiple venues designed to reflect the image of a huge sailing ship and resembles billowing sails or shells.
Things to do: Enjoy a scrumptious Australian meal at one of the fine restaurants, take a tour of the building which encompasses theatres, studios, a concert hall, exhibition rooms, and a cinema.
How to reach: Saifi Hospital is 235 meters away, 4 min walk.
9. Tasmania's Museum of Old and New Art – Popular Arts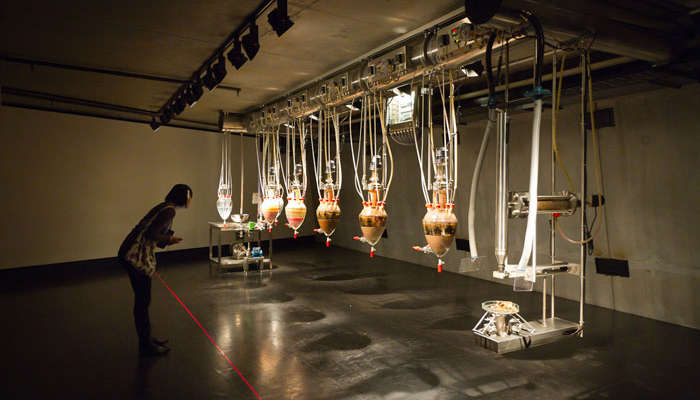 Tasmania Museum of Old and New Art is one of Australia's quirkiest museums. While it is accessible by road or by plane, a 30 minute ferry ride from Hobart is the popular way to this museum. It's known for some of the unique, rare and exclusively owned collections of the Aboriginal tribes.
Things to do: Enjoy the plenty of brilliant art work displayed; relish the delectable delicacies served by multi cuisine restaurants in the premises.
Entry Fee: INR 1,967
10. Carlton Gardens – The Oldest Sites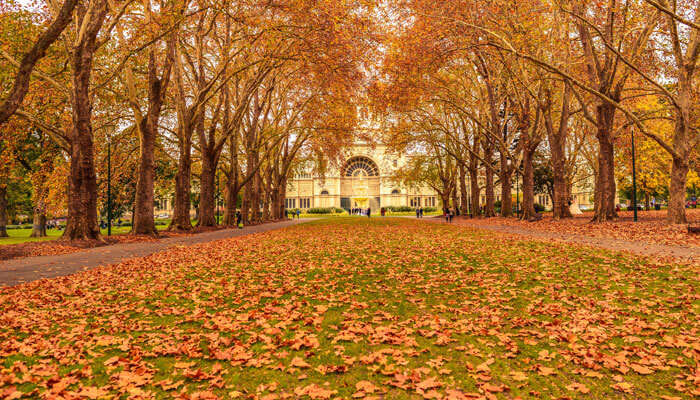 Carlton Buildings and the Royal Exhibition Building are the two Australia tourist attractions listed among World Heritage sites. Built-in the 18th century, they are also one of the oldest sites existing as Australia tourist places. This surely tops the list of unique Australia tourist attractions!
Things to do: Spend time enjoying the flower beds, ornamental lakes and artistic fountains; walk through the collection of Mortan Bay fig trees planted by local aboriginals, visit the Melbourne museum, admire the Victorian-era Hochgurtel Fountain and circular French Fountain.
Other Museums in Australia: National Museum of Australia (Canberra), Australian Museum (Darlinghurst), Australian War Memorial (Canberra), Powerhouse Museum (Ultimo)Jewish Museum of Australia (Melbourne), Art Gallery of New South Wales (Sydney), Museum of Sydney (Sydney), and Art Gallery of South Australia (Adelaide)
How to reach: 12-Melbourne Museum/Nicholson St (Fitzroy) is 163 meters away, 3 min walk.
11. Great Barrier Reef – Scuba Diving Hub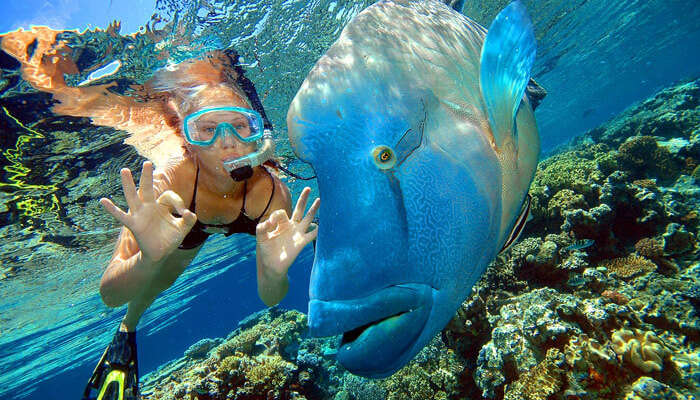 One of the seven wonders of the natural world, the world's largest barrier reef system is the Great Barrier Reef. Located in the Coral Sea, this world heritage-listed site is visible from outer space and is one of the largest living structures on the planet. It occupies a mammoth area including more than 3000 coral reefs and hundreds of scenic Islands. So, are you excited to head to one of the most amazing Australia tourist attractions with your loved ones?
Things to do: Dive in the crystal clear turquoise under the waters to witness the blissful marvel of nature and the colorful marine life. You can view the magnificent reef from underwater viewing stations and specially designed, wonderful glass bottom boats, if you wish to stay dry.
Scuba Diving Price: INR 4,000 onwards
How to reach: You will need to take a flight to either Sydney or Melbourne (Sydney is directly connected to New Delhi), and then take another flight to coastal cities of Queensland such as Port Douglas and Cairns. From their, various tours will take you to the reef.
12. Yarra Valley – A Spectacular Experience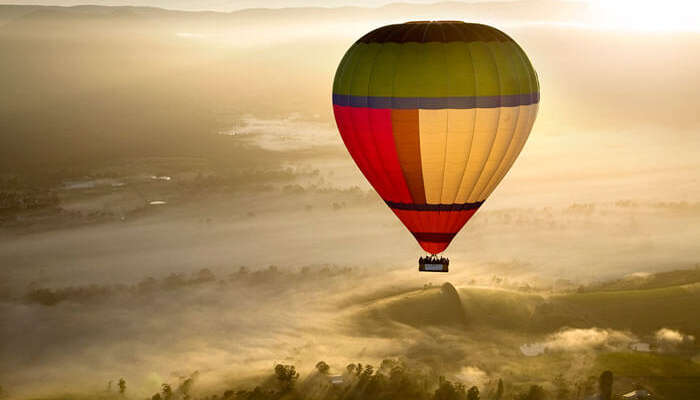 Melbourne is one of the very few cities in the world that can be traversed in a hot air balloon and Yarra Valley is the place to do that. Ballooning over the Yarra Valley takes you above one of Victoria's most spectacular winery regions, offering breathtaking views of the lush landscapes and vineyards.
Things to do: Greet the astounding morning sun as you fly over the Yarra Valley and its vineyards on a hot air balloon for an hour.
13. Sea World Marine Park – Amuse Yourself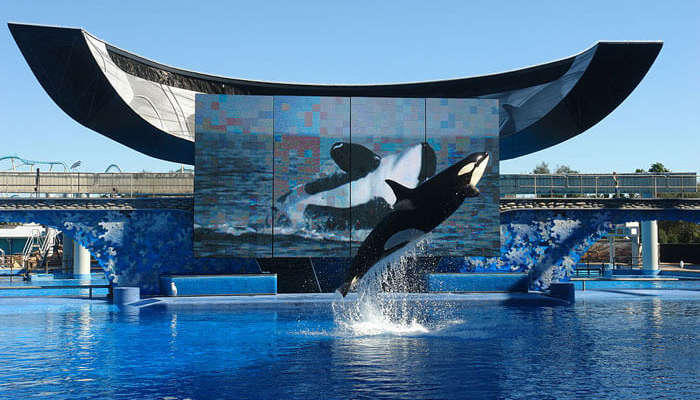 Sea World is the largest marine park in Australia, which entertains adults as much as kids. It's a great amusement park to keep you occupied for a day easily. You could spot polar bears, penguins, and small sharks.
Things to do: Hop aboard the monorail to get a bird eye overview of the park; buy the tickets for some of the enthralling performances by dolphins, sea lions, and water-ski ballet. Try the sea- themed rides like a roller coaster.
Opening Hours: Open daily, from 9:30 am-5:30 pm, rides from 10 am – 5 pm
Entry Fee: $90
14. Skiing At Snowy Mountains – Enjoy Snow Sports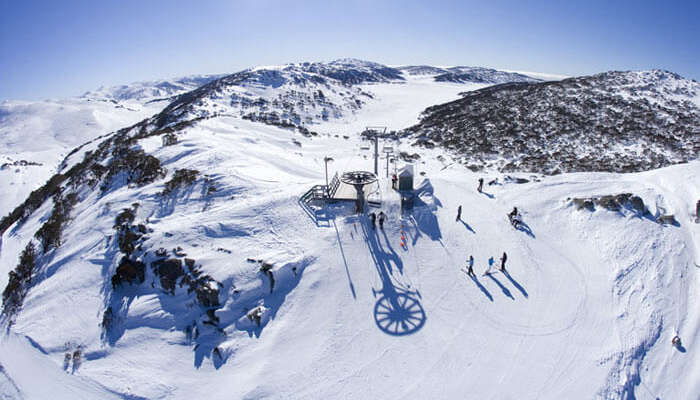 Australia's ultimate snow sports playground is the Snowy Mountains region. Known for its true alpine wilderness, this is where you find Mt Kosciuszko – one of continent's highest peaks and its only glacial lake. You have plenty of options to have fun off and on the snow fields here. So, head straight to one of the best places to see in Australia for an adventurous outing on your holiday!
Things to do: Learn skiing, snowboarding, snow tubing and snow shoeing. Ride on the slopes after dark, to get some spectacular views and the thrill. Off the slopes, take a scenic chairlift ride, explore the town and the ancient caves of Yarrangobilly. Savor the tasty local wines, schnapps, beers and the scrumptious delicacies.
How to reach: There is no direct connection from Sydney to Snowy Mountains. However, you can take the train to International Airport Station, take the walk to Sydney airport, fly to Cooma, then take the drive to Snowy Mountains.
15. Sky Diving In Melbourne – A Breathtaking Experience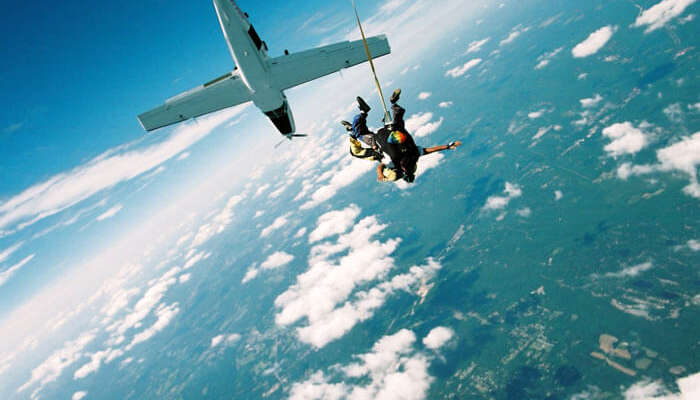 If you're an adventurous soul roaming around Melbourne, you'd certainly want to check out the numerous skydiving schools here. It's a mind-blowing experience as you free fall over to some of the gorgeous landscapes looking amazing right below you.
Things to do: Sky diving over the Yarra Valley or The Great Ocean Road.
Entry Fee: INR 18,617
Tips: Make sure that you follow the guidelines for a safe diving!
16. Melbourne Chapel Street – For Shopaholics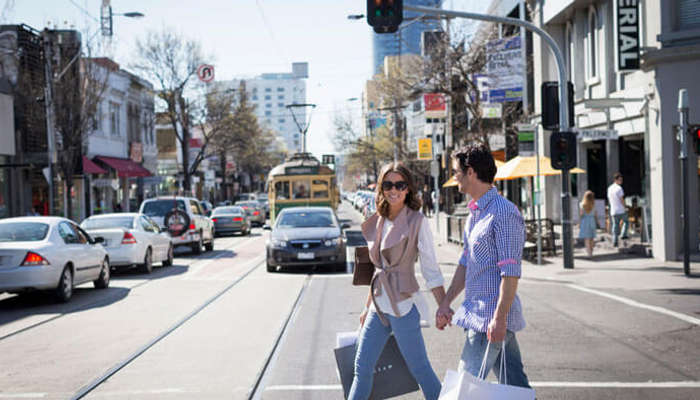 A shopper's paradise, Melbourne beckons the shopaholics and the tourists alike with its magnificent shopping places which speak of elegance, style, and luxury. If you're in mood for some exquisite shopping time, this is surely one of the most famous places in Australia.
Things to do: Check out for extravagant, up market fashion boutiques, some world class restaurants and various forms of acts to keep you entertained in Chapel Street. Look out for the fashionable collections by the local designers on Brigade road.
How to reach: Tram route 78 travels along the entire length of Chapel Street, between Richmond and St Kilda. Tram routes 3, 5, 6, 58, 64 and 72 all intersect Chapel Street. The Sandringham line railway stations of South Yarra, Prahran, Windsor and Balaclava are all within 300 metres of Chapel Street.
17. Pitt Street Mall In Sydney – An Iconic Place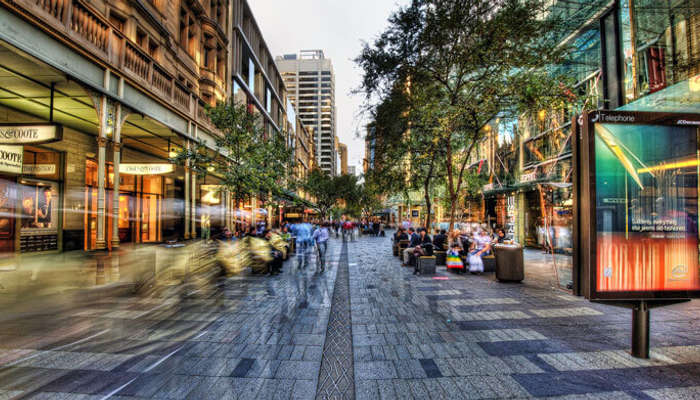 One of the famous places in Australia, Sydney holds many records for being the most famous icon of Australia tourist attractions and one of them includes being very known for shopping. You could shop all you want while you are here. The shopping streets are added delights!
Things to do: Check out the Pitt Street Mall – a one stop arena for many specialty stores lying very close by. You'll definitely need more than a day to visit the conglomeration of shopping in the area, including Centre point, Imperial Arcade, Sky garden, Glasshouse, Mid City Centre, Westfield Sydney Central Plaza and Strand Arcade.
How to reach: The nearest stations to Pitt Street Mall are: David Jones Castlereagh St Stand B is 273 meters away, 4 min walk.
18. Queen Street Mall In Brisbane – An Instant Delight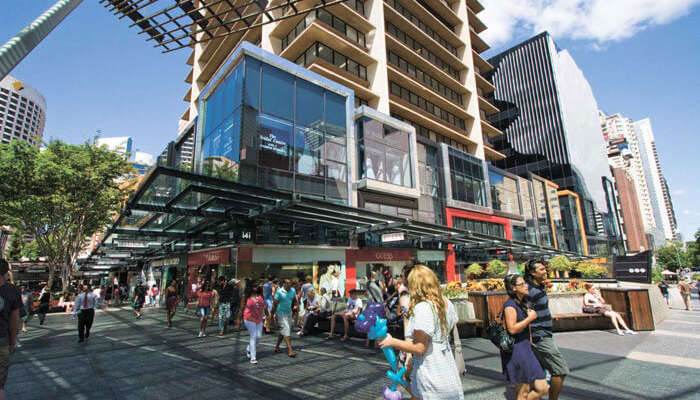 If you're in the beautiful city of Brisbane, don't forget to head to the Queen Mall – home to some of the top fashion brands in the world including the likes of Myer Centre. If you're a fashion diva, you would absolutely fall in love with this city of delight instantly!
Things to do: Shop for all types of clothing ranging from extremely luxurious to the mid ranged clothing. Queen Mall and the surrounding streets are mainly specialized to cater your fashionable senses.
How to reach: Ann Street Stop 7 At Anzac Square (Temp Closed) is 527 meters away, 8 min walk. Eagle St App Queen St (Stop 65) is 669 meters away, 9 min walk. Queen Street Stop 66 Near Adelaide St is 904 meters away, 12 min walk.
19. King Street In Perth – Lots Of Choices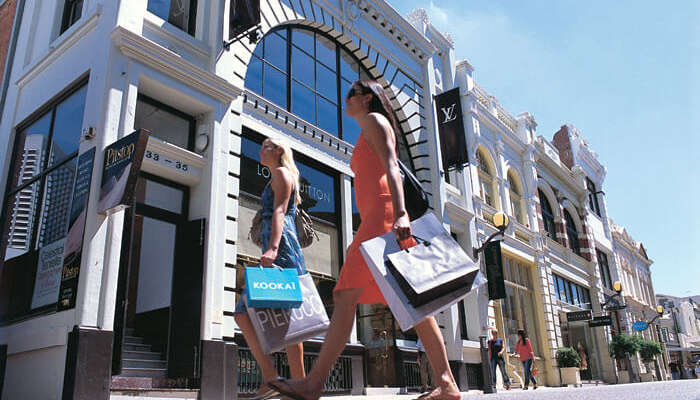 Perth offers a number of options to the tourists in terms of the overall shopping experience. Be it the number of brands or the plethora of choices in various things, including some splendid souvenirs, Perth encompasses it all.
Things to do: If you're keen on budget, you could head to the Harbor town which houses many factory outlets. People who wish to splurge and flaunt in style could check out the fabulous streets of Murray and Hay to find the leading brands of the world.
How to reach: The nearest stations to King Street are: Murray St Raine Square Red Cat 23 is 179 meters away, 3 min walk.
20. Rundle Mall In Adelaide – A Great Shopping Place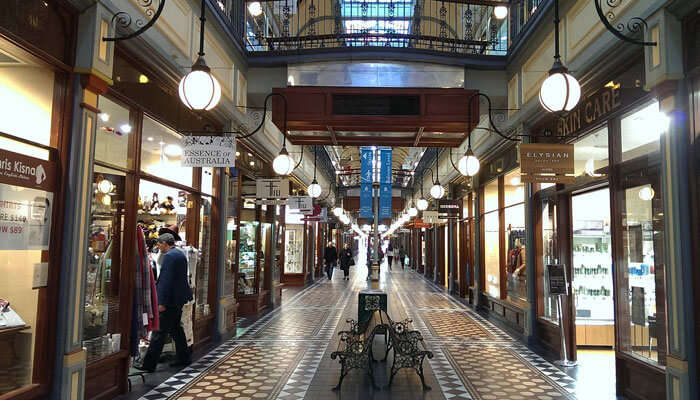 The South Australian capital city, Adelaide has plenty in store for the shopping enthusiasts with the Rundle Mall alone housing more than 600 shops of different types and brands.
Things to do: Head to Rundle Mall to find some of the leading Australian retailers and buy some lovely things to take back home from the exclusive shops selling the best specialty products.
How to reach: To access Rundle Mall from the Adelaide Railway Station, you can walk, catch the free 99C City Loop bus or the free Terrace to Terrace tram, both of which stop close to Rundle Mall.
21. Bondi Beach – A Heavenly Beach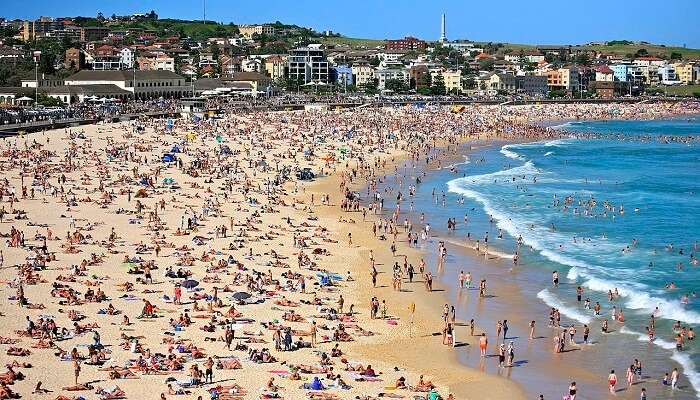 If Bondi has to be described in a short sentence then the phrase – this is really heaven on earth, would suffice. Full of surf, sand and bronzed bodies; Bondi Beach is one of the most famous beaches in the world. Bondi Beach is also home to one of the oldest life-saving clubs in the whole world and it's a great place for a little seaside stroll or perhaps for a picnic as well. This is also the spot where the locals and tourists alike gather up to celebrate Christmas and new year. The beach is lined with restaurant, cafes, and shops if you want something quick to drink.
Here's a little tip: Take care while swimming in here as powerful riptides do sweep away unsuspecting swimmers out into the sea. These dangerous accidents actually gave rise to the TV show called Bondi Rescue.
Things to do: Stroll along the Bronte Coastal Walk which follows the sandy coastline for six kilometers along sheer sandstone cliffs, visit the ocean pool, Sunday markets, and skate park.
How to reach: You can get to Bondi Beach taking a train and bus combination. From central Sydney stations Circular Quay and Central, catch a train to Bondi Junction. From Bondi Junction, you can take several local bus lines or walk about 25 minutes to the beach.
22. Daintree National Park – Nature's Delight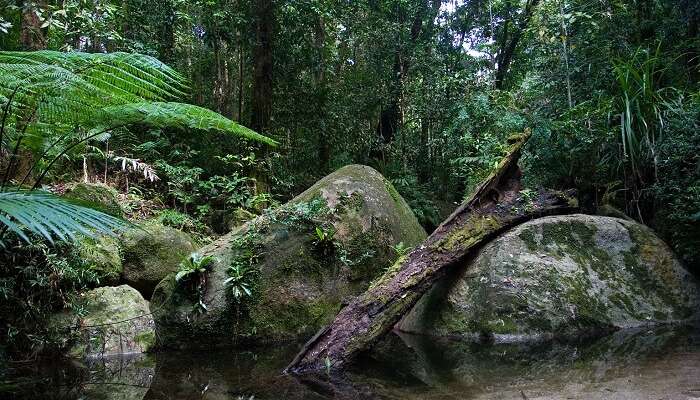 It is a Wet Tropics World Heritage Area since its ecosystem is one of the most prehistoric in the world. Located in Far North Queensland, the area of this national park belongs to the Eastern Kuku Yalanji Aboriginal people. Quite a lot of its features hold great spiritual importance for them. The park encompasses two main parts, one is the Mossman Gorge where very crystal clear waters just gush all over the smooth granite boulders.
Then there is cape tribulation which is undoubtedly one of the most beautiful places one could lay eyes on while visiting Australia. Here rain forests connect with the reef present all along the beautiful stretches of white coast which is one of the few spots in the world that contains two of the richest ecosystems in the entire planet. The park includes more than 18,000 plant species and the animal species here includes crocodile, Bennett's tree kangaroo, cassowary, and giant blue Ulysses butterfly.
Things to do: Take a guided tour, go for wildlife safaris in here, make sure to take a camera to capture pictures of the animals.
How to reach: Daintree National Park is a two-hour drive north of Cairns, or about an hour north of Port Douglas. Day tours by 4WD or coach depart from Cairns and Port Douglas year round, or you can hire a car and drive yourself.
23. Broome – The Once Pearl Capital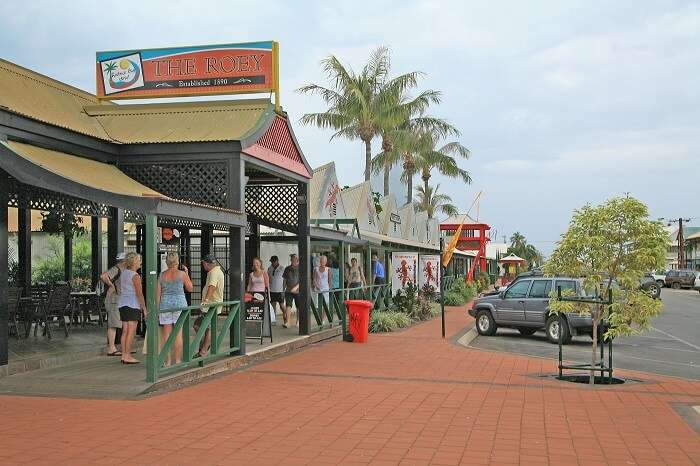 Once called the Pearl capital of the world, Broome is located in Western Australia and is a booming tourist spot which provides the gateway to the stunning Kimberley region. Its main attraction is the Cable Beach which is full of endless shimmering white sands lapped up by the turquoise waters.
It is ranked as one of the best Australian beaches as the the moonlight creates a special optical illusion which makes one think that there are steps leading up to the moon. Visit between the months of March to October to witness a special phenomenon called the Staircase to the Moon. So, are you planning to head to one of the best places to visit in Australia in March?
Things to do: Ride camels into the sunset, visit the Broome Crocodile Park, visit the Broome Historical Museum, Horizontal Waterfall, the Gibb River Road, Cape Leveque, Purnululu, Mitchell Falls and National Park.
How to reach: From Perth and Port Headland, tourists can take a four-wheel drive vehicle along the Great Northern Highway to reach Broome. This route is a well-maintained national highway, but will still demand two or three days of driving to reach the Kimberley. Another major port of entry into this region is Kununurra.
24. The Rocks – A Historical Area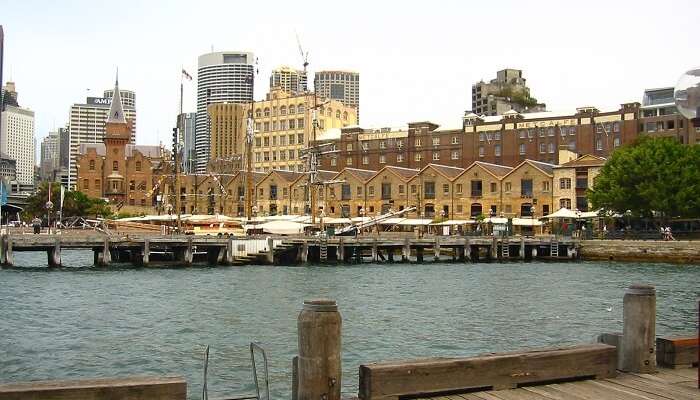 Situated in a slip of land jutting into the Sydney harbor, the Rocks is a famous historical area which was home to the Gadigal Aboriginal people once. It later became the first site in the country for European settlement. The name comes from the rugged rocky coast situated on the west side of the Sydney Cove. It was in the Sydney Cove that the European convicts pitched their first tents.
Presently, it includes more than a hundred heritage sites which are located on the narrow streets. Stroll around the cobbled streets and visit various cafes, souvenir shops, restaurants, contemporary and aboriginal art galleries to understand the place better.
Things to do: Visit the oldest surviving residence in Sydney built in the year 1816 and called the Cadman's cottage, go to the Rocks Discovery Museum, take guided tours which will allow you to see the aboriginal heritage and also take you on ghost tours at night.
How to reach: The Rocks is an easy, 15-minute downhill stroll from Town Hall station, 10-minutes from Wynyard station and a two-minute walk from Circular Quay. The main entry point to The Rocks is via George Street.
25. Circular Quay – For Harbor Cruises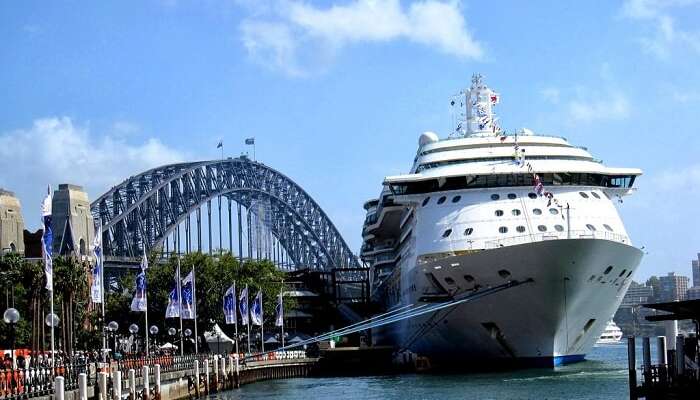 Constructed as a result of convict labor in the Sydney coves, the now famous Circular Quay is home to the town's central ferry terminal. At peak hours, the restaurants, cafes and everything which lines the waterfront is jam-packed. Come here to see the street performers entertain the visitors and locals alike. This is a nice place to head to if you want to see some amazing views of the shimmering sea while also clearing your head a little.
Things to do: Go on a harbor cruise, take ferries, visit the Taronga Park Zoo, see the Royal Botanic Gardens and Sydney Opera House.
How to reach: Circular Quay rocket ferries depart frequently to Watsons Bay, Taronga Zoo, Fort Denison, Garden Island, Shark Island, Barangaroo, Darling Harbour and Luna Park, plus Lane Cove during peak periods.
26. Cradle Mountain – Lake St. Clair National Park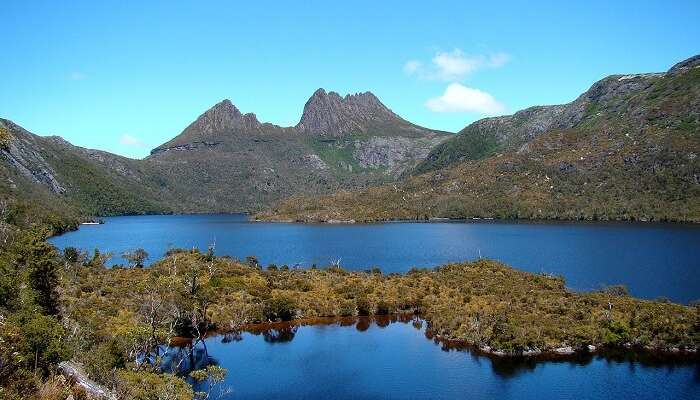 It is a national park which has been a sanctuary and a treasure for nature lovers. The wilderness of the park is raw and rugged comprising of serrated dolerite summits, sparkling lakes, dense forests, and Alpine heathlands. This venue just offers up amazing views of the lush greenery no matter where you turn. If you truly want a challenge then tackle and hike on the 80 km long Overland Track which goes from South to Cradle Valley and then to Lake St. Clair. Keep your camera close because you might be able to catch views of the Tasmanian devil, wallabies, wombats, platypus, pademelons and more.
Things to do: Visit the highest point in the park, Mount Ossa (1,616 meters); go hiking especially on the Lake Dove Walk and Weindorfer Walk, Climb Cradle Mountain, go on the Bridge Climb.
How to reach: There are two main access points to the park: the northern entrance, at the town of Sheffield, about a 1.5-hour drive from Launceston. The southern entrance is at Derwent Bridge, in Lake St Clair National Park – a 2.5-hour drive west of Hobart.
27. Darling Harbor – A Popular Hub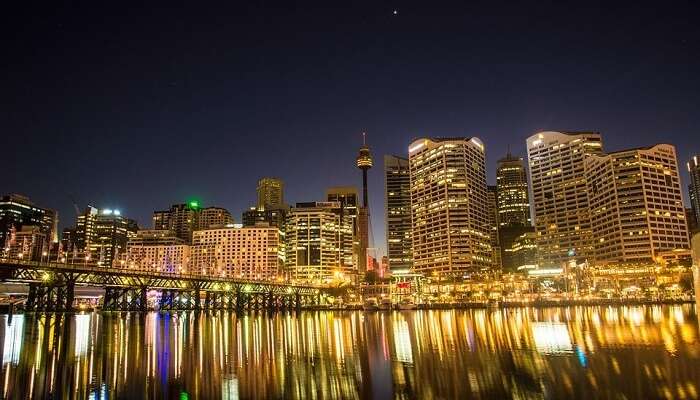 It is a very popular hub for both locals and tourists alike. Darling harbor is actually a waterfront pedestrian venue which is packed up with restaurant, shops, museums, entertainment spots, and exhibitions. The Sea Life offers a complete entertainment experience and the Entrance Ticket is a very great way to move ahead of the crowds.
Things to do: Visit Madame Tussaud's; Sea Life, Wild Life Sydney Zoo; experience the interactive exhibits of the Powerhouse Museum; feel calm and drink some tea at the Chinese Garden of Friendship; visit the Australian National Maritime Museum which is complete with IMAX, a 9D theatre and more.
How to reach: Take the train to Town Hall Station and exit south into Bathurst Street. A short downhill walk on Bathurst Street will take you directly to Darling Quarter, Tumbalong Park and the Sydney Visitor Centre. Take the train to Central Station.
28. The Sydney Tower – Enjoy Panoramic Views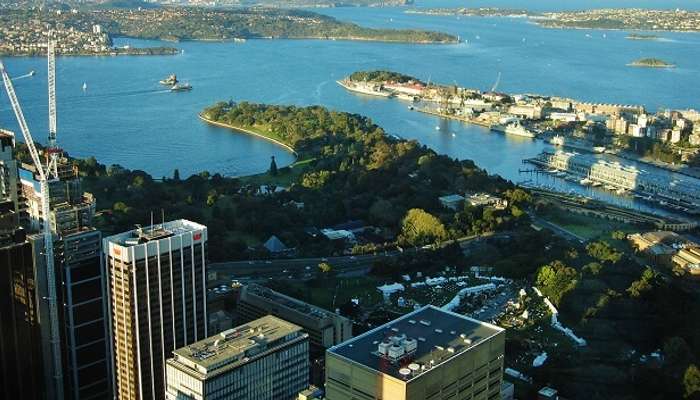 Located high above the city skylines is the Sydney Tower Eye soaring to the height of 309 meters. It is the city's highest building and is also one of its major landmarks. The tower eye is a golden spire topped turret which rises from the center point shopping mall. Enjoy panoramic views from here and after it's all said and done, get a bite to enjoy and eat at one of the fascinating revolving restaurants or the charming cafes.
Things to do: Go on the Express lift to reach the uniquely designed observation deck, experience 4D cinema.
How to reach: The best way to access The Sydney Tower Eye is to enter the mall from the Market Street lifts to level 5. Immediately from exiting the lifts make 2 left turns and come to the end of the corridor and you will be at our admissions area.
29. Royal Botanic Garden – Acres Of Themed Yards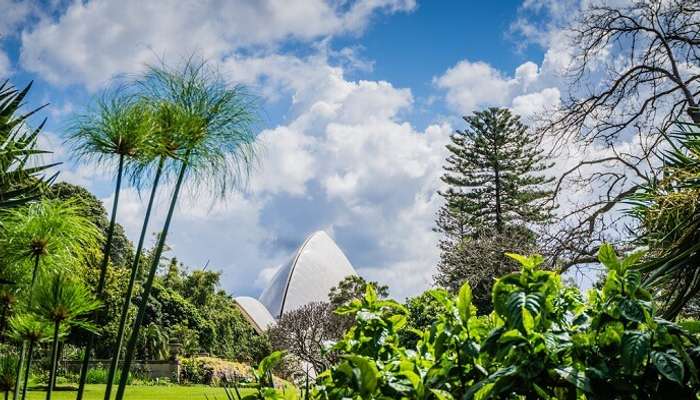 Its tranquility is just unmatched and it stays as an oasis of calm amongst the hustle and bustle of daily life which has overtaken the city. Located at the Farm Cove, it lies just a short distance away from the popular Sydney opera house. The gardens were actually established in the year 1816 and they encompass 30 hectares of uniquely themed yards which are full of palm groves, orchids, ferns, towering trees and are visited by flocks of cute fruit bats. The fernery here holds some amazing begonias, orchids, and other tropical foliage. The gardens are just a delight to family and friends where you can enjoy a picnic in the hills as you take in some scenic views.
Things to do: See the Palace Rose Garden which contains 1,800 roses, visit the Glasshouse Latitude 23, take train tours to present on the grounds, visit the Domain.
How to reach: From Parramatta Station, Parramatta 88 min. M52
30. Taronga Zoo – Amazing Wildlife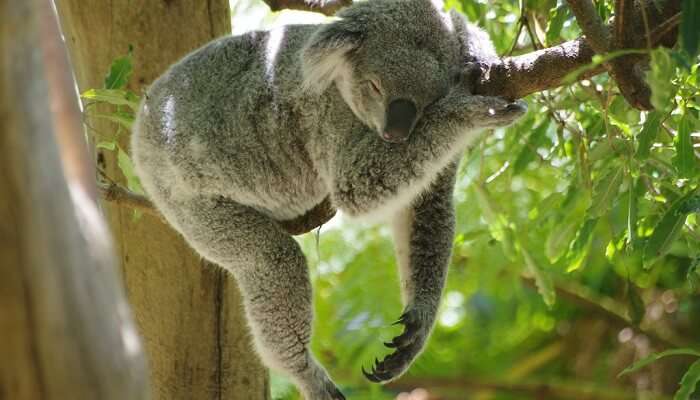 Get ready to experience up close and personal encounters with amazing Aussie wildlife as well as with other animals from all over the world. Located at a point right along the northern part of the harbor, the zoo is actually housed in a prime real estate area which are the very luxurious suburbs of Mosman. The zoo hosts lots of amazing events which include the Roar and Snore that is an overnight stay and also includes a summer concert.
Things to do: See the amazing Sydney skyline; experience the Lemur Walk-Through, Seal Show, Koala Encounter; go for the Sky Safari gondola.
How to reach: Take the 12-minute Taronga Zoo ferry from wharf no. 2 at Circular Quay and alight at Taronga Zoo Wharf. The nearby Sky Safari cable car transports you to the zoo.
31. Hyde Park – A Sprawling Picnic Spot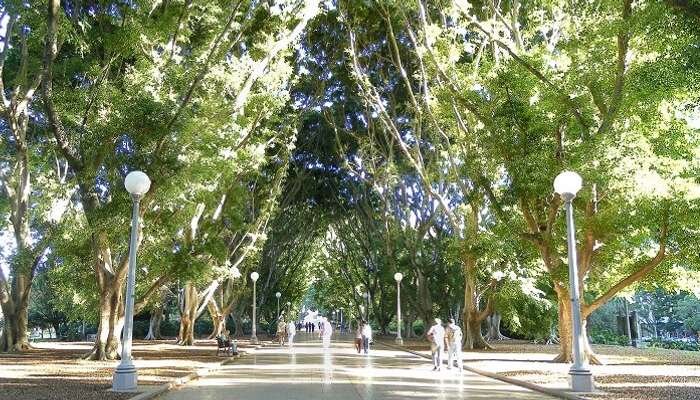 Amidst all the daily grind of the central business district lies the sanctuary is known as the Hyde Park. It is a sprawling park which offers picnic spots, fountains, flowers, and fig trees. It's like a miniature of the Central Park. It was originally named as Hyde park after the park of the same name in London. Come here to relax and engage in conversation with people. If possible, bring on a picnic basket for a lovely afternoon lunch with your loved ones.
Things to do: See the bronzed Archibald Fountain, see the three Georgian building which is just a little up the road, see Art Deco Anzac War Memorial, visit Hyde Park Barracks and the Australian Museum.
How to reach: Buses and trains are the modes of public transport that can get you to Hyde Park. One can board the buses of B461 from Grand Concourse, B22 from Rockdale, B461 from Central Station, B303 from Royal Botanic Garden, and M20 from Greendwood Plaza. As far as the trains are concerned, board the T1 train from Greenwood Plaza and Central Station, T2 from Grand Concourse, and T4 from Rockdale.
32. Barangaroo Reserve – For An Evening Stroll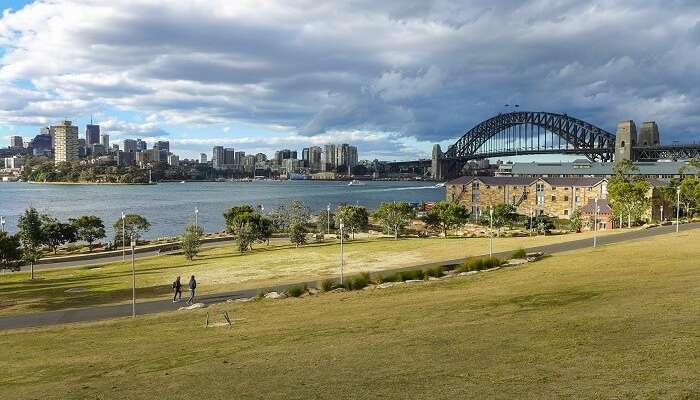 An amazing example of how an urban renewal project should be carried, which has resulted in a beautiful spot for enjoying a walk along the harbor. It is named after the female indigenous leader who proved to be influential during the time of European colonization. It was transformed from a bitter looking container terminal to a 22-hectare sprawling waterfront precinct that was opened up for public viewing. Presently, it is home to more than 75,000 native trees and shrubs. There are a lot of shops, restaurants, and exhibition spaces which will keep your attention engaged while you are here.
Things to do: Take a walk along the Wulugul Walk which is a beautiful waterfront promenade, take in the public art installations, see the shell wall (a side wall of a huge aboriginal art), take a guided tour on aboriginal culture, go for a ferry ride to the Barangaroo Wharf.
How to reach: Circular Quay Station to Barangaroo Reserve. The most direct route is to walk past the front of the Museum of Contemporary Art, then turn left up Argyle Street and through the Argyle Cut, past the Lord Nelson Hotel and the Palisade Hotels, then enter the Reserve via either Munn Street or Bettington Street.
33. Art Gallery of New South Wales – Notable Works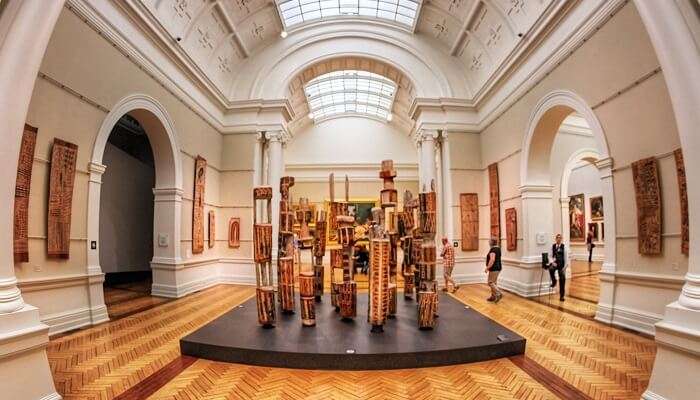 Surrounded by stunning parklands, the Art Gallery of New South Wales is one of the nation's major distinguished museums. Dating back to 1885, the Art Gallery houses grand courts, radiant and spacious galleries which are full of collections that include works by notable European artists and also by the biggest contemporary artists. This gallery also houses some of the biggest collections of historic aboriginal art in the country.
Things to do: Take a tour of the gallery, see the various stations, browse the gift shop of the gallery, relax at a restaurant or cafe after the day is over.
How to reach: Bus 441: departs from the York Street side of Queen Victoria Building and drops off near the Gallery. Train: St James and Martin Place stations are both about 10 minutes walk.
34. Chinatown – Feast Upon Asian Meals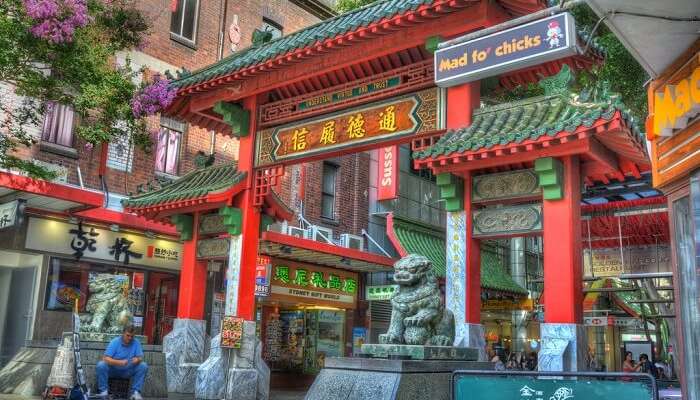 Breathe in the amazing nose-turning fragrance of spicy Szechuan spices and go shopping for some of those amazing Chinese specialty things. Here bring an empty stomach so that you can feast upon some authentic Asian meals. You will be greeted by the lion gates which are located here at each end and this small district lies smack in the pedestrian space of Doxon Street between the Central Station and Darling Harbour. Come here on the very first full moon night after 21st January because the streets here just burst with life from the Chinese New Year's celebration.
Things to do: Try the popular Yum Cha, Vietnamese pho, Teppanyaki and more. Visit Paddy's Market which has everything from fresh produce, souvenirs to bargain fashions.
How to reach: You will need to go to the closest MRT station and board the MRT Blue Line to reach it. Once you arrive, exit the station and walk north for about 15 minutes to reach Chinatown.
35. St. Mary's Cathedral – Get Spiritual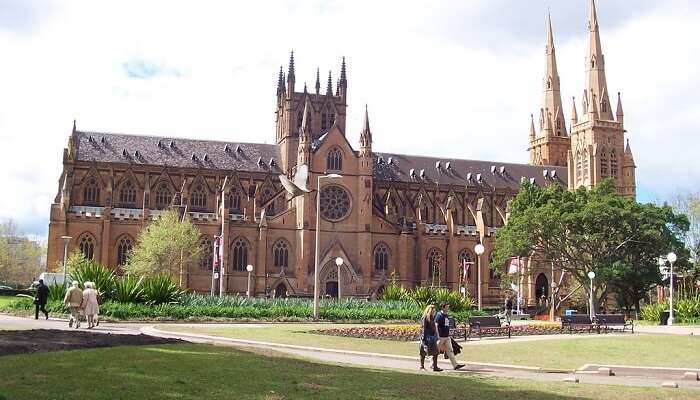 A symbol of the sustained spiritual beginnings of the Catholic Church, St. Mary's Cathedral is situated just opposite of Hyde Park. The architecture of the landmark is of a striking neo-Gothic style and it is also the seat of the Archbishop of Sydney. This venue is made up of twin spires and the building itself was modeled upon the Lincoln Cathedral. Its facade also bears a close resemblance to the Notre-Dame in Paris. When you go inside the cathedral you will see very intricate glass stained windows which throw amazing patterns of light. Christmas is just the perfect time to visit since the beauty of the cathedral is enhanced with all the decorations and lights.
Things to do: Take a camera to click some amazing pictures of the architecture, go inside to experience some tranquility and peace.
How to reach: The closest stations to St. Mary's Orthodox Cathedral are: Iit Gate is 715 meters away, 10 min walk. Iit is 984 meters away, 14 min walk.
36. Horizontal Falls Scenic Flight – A Scenic Ride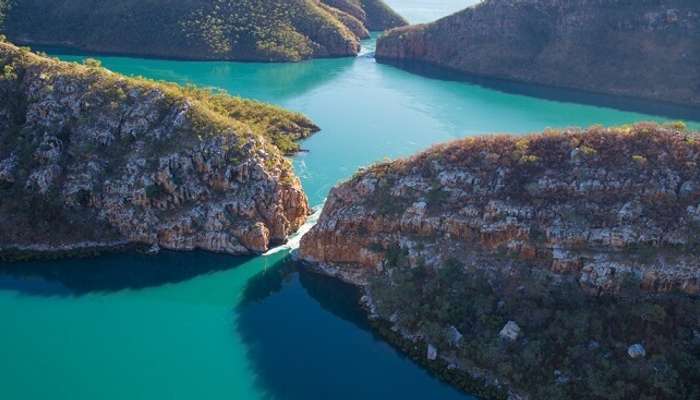 If you are here to experience some action, then this is the right place to head to. Here you will get to climb on a seaplane for a scenic ride to the amazing horizontal falls. The falls are rumbling tides which go through two versions of narrow gorges. A typical trip lasts for about 90 minutes and will take you all along the rocky islets and red cliffs of Western Australia's northernmost coast to Cape Leveque. The ride ends with water landing over on Talbot bay. Next up, you can catch a jet board ride to go on a breathtaking cruise right through the screaming falls.
Things to do: Go on the plane ride, take a jet boat cruise, feed sharks, swim with the sharks, go for a picnic at the pontoon tops and enjoy the views.
37. Cable Beach – Turquoise Blue Waters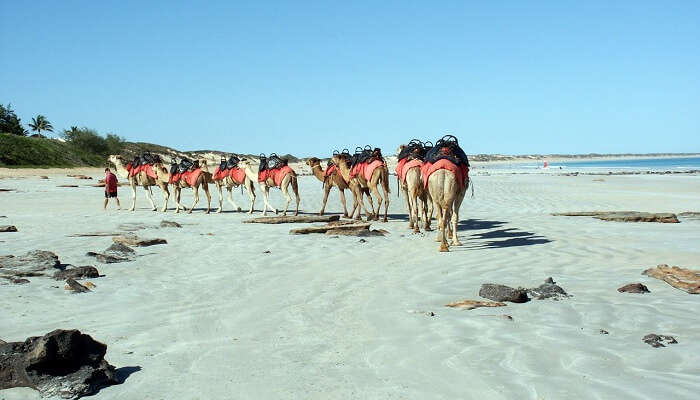 Cable Beach was briefly mentioned before but it deserves a spot in this list by itself. Sprawling over a vast 22 km, Cable Beach is a stunning piece of dazzling turquoise sea and white sand. The beach was named after the communication cable lines which were laid from Java to Broome in the year 1889. Now you can enjoy the sun in here and rest easy on just the beautiful patch of golden sand. Here's an important tip- from the months of November till May, the dangerous for humans, Irukandji jellyfish are found in the waters. So it's best to avoid these months. Moreover, keep in mind that the beach burns in the heat as the sun climbs so sunscreen and an umbrella is a must.
Things to do: Enjoy camel rides, enjoy a day on the beach, have some local food at the nearby cafes and restaurants.
38. Gantheaume Point – Eye-Popping Sea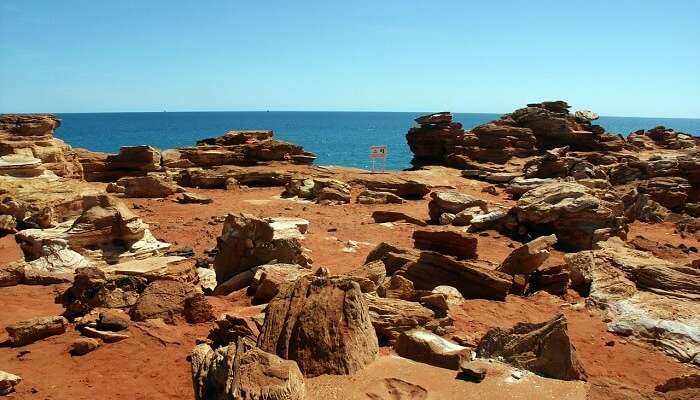 This stands as a stunning contrast between the eye-catching red cliffs and the eye-popping cerulean blue sea of the Gantheaume Point. A great place to engage in photography, the point is located to the south of Cable Beach and it is around 6 km from the nearest town. If you go hunting for prehistoric dinosaur footprints, then make sure to wear the appropriate shoes. The Point is made complete with a lighthouse that overlooks the Indian Ocean. A great place to have some solitary experiences and thoughts.
Things to do: Look out for dinosaur footprints when the tide is low, check out Anastasia's Pool and take a bath in it, go fishing here.
How to reach: Access to Gantheaume Point is via the Gantheaume Point Road, off Gubinge Road. The most common access point is via the ramp opposite the Broome Turf Club carpark.
39. Malcolm Douglas Wilderness Wildlife Park – For Nature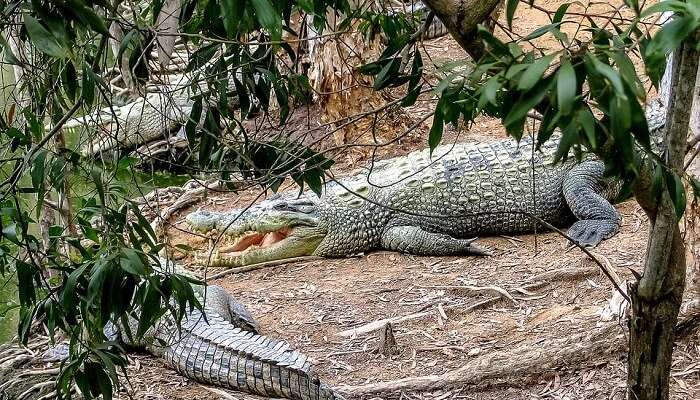 Here you can cuddle up with a baby crocodile, catch a glimpse of the super rare cassowary, and even communicate with the kangaroos. At the Malcolm Douglas Wilderness Wildlife Park, you will be able to enjoy animals in their natural habitat. It is a short 15-minute drive from the location of Broome.
The animal enthusiasts can enjoy some close-ups of the nation's formidable and adorable creatures while getting to know more about their behaviors and habitats. You will be able to see dingoes, wallabies, lizards, snakes and more who also inhabit the park along with a whole range of cute feathered critters which includes kookaburras to cockatoos.
Things to do: crocodiles are fed at 3 pm so make sure you stay for that, a short drive away is the 12 Mile Bird Park which is full of more than 80 species of indigenous and exotic birds.
40. Sun Pictures – Relax And Get Lazy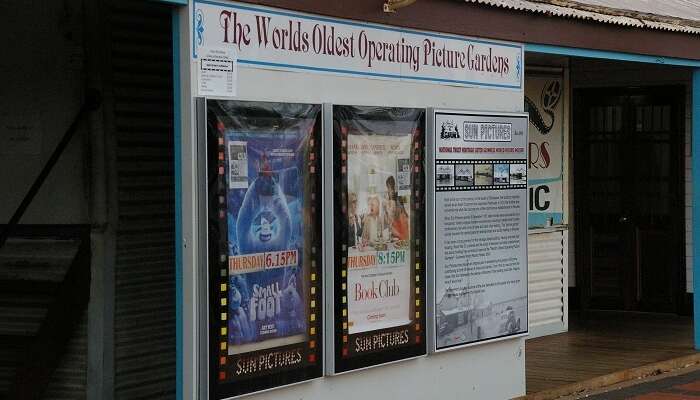 Get lazy and relax in a deck chair as you take in the starry night and enjoy a classic movie at the oldest outdoor cinema currently in operation. Sun Pictures are located right at the heart of Broome's Chinatown in Carnarvon Street and it screens some movies per night. But what's more interesting about it is its own story. The cinema was made in the early 1900s and it was a store which was owned by the Yamasaki family.
The family loved movies and so they made a part of their shop into a small Japanese playhouse. It was in 1913 that a pearl Fisher purchased the building and then transformed the store into what it is today. The very first official audience stepped into sun pictures in 1916 and the place has been screening movies since back then, in spite of natural calamities like tidal flooding. But of course, as time has gone one the structure has been renovated to prevent the onslaught of the tidal waves.
Things to do: Watch a heritage listed movie, check the small museum for cinema memorabilia.
41. Pearl Farm Tours – Something Unique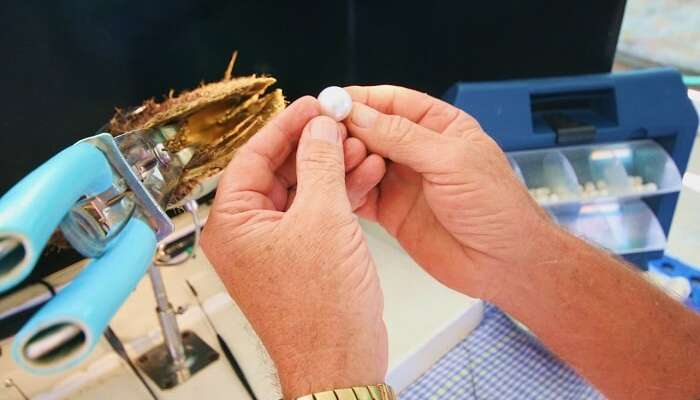 Broome was once the reigning champion in the world when it came to pearling. Visitors here can take a tour to understand how the local pearl farms culture the highly sought after and highly acclaimed South Sea pearls. You will know everything from oyster seeding to harvesting and grading the pearls in this tour. Keep a note that there are various types of ways to take the tour, as in you can opt for aid, land or sea tours. It all depends on the tour operator as well the time constraints which members of the tour group might be facing.
Things to do: Visit Cygnet Bay and Willie Bay farms to know about parking, purchase some pearls as a souvenir, and some pearl jewelry over at Chinatown as well if you want something more solid.
42. Broome Historical Museum – Some Fascinating History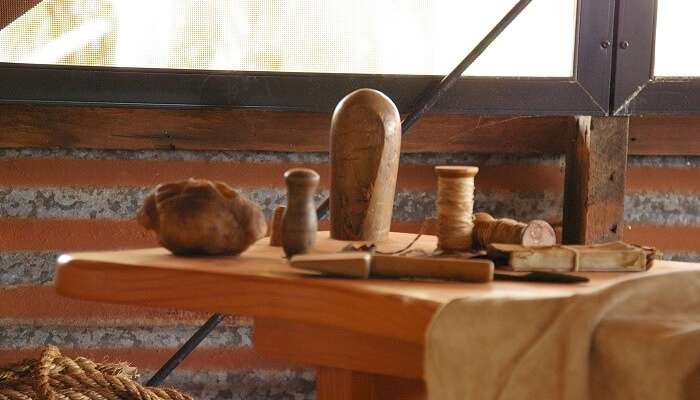 This historical museum gives an overview of the town's amazingly fascinating history. The museum features lots of informative exhibits on cyclones, pearling industry, aboriginal artifacts and more. Make sure you visit this place with some time on your hands so that you can soak in all this place has to possibly offer. Kids will enjoy this venue cause the museum holds a very interactive quiz.
Things to do: Take a guided tour of the museum, take part in the exhibits, see the Japanese Cemetery where the Japanese pearl-fishers who died due to a cyclone hitting the place in 1908 are commemorated.
43. Hahndorf – An Unlike Experience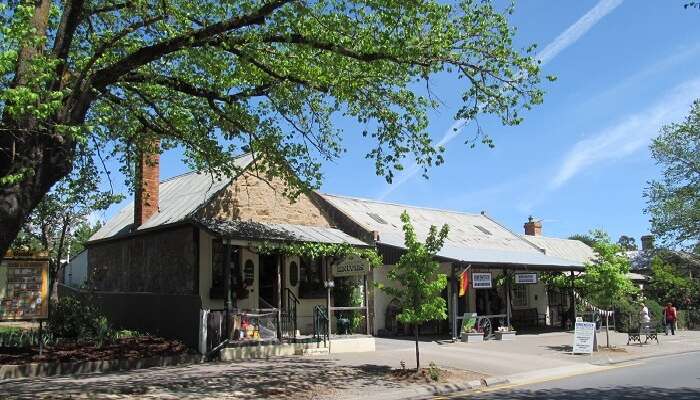 An old German civilization in Australia, Hahndorf is one of the unique tourist places in Australia. It is nestled in the old region of Adelaide and will take you back to medieval Europe while you are on a different continent. The quaint town offers you most beautiful vistas that you ought to capture in your camera. Apart from that, you will also find restaurants, cafes, and boutique that you can explore in your time.
Things to do: Visit the Beerenberg Farm and buy jams and pickles. Misty Hollow Fantasy Cave is a must-visit. If you are an art lover, put The Cedar on your list as it houses amazing artwork.
How to reach: Hahndorf can be reached from Adelaide by public bus – see routes 864, T843, 841F, 860F at the Adelaide Metro
44. Barossa Valley – With The Finest Wineries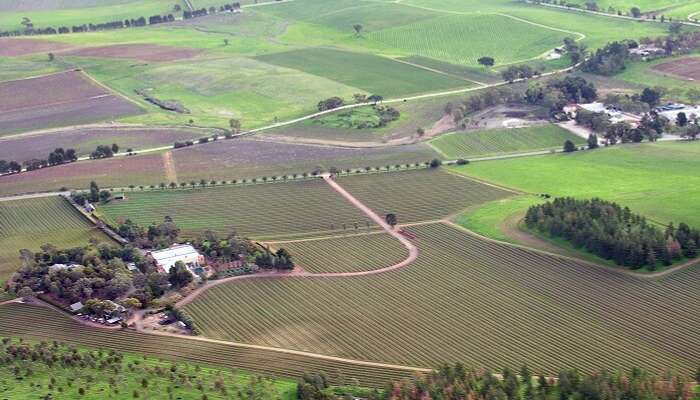 If you love wine and vineyards, then you must visit Barossa Valley in Adelaide. This place is mushrooming with some of the finest wineries in the region. People take wine tours across the region to sip some of the finest wines. The region was first occupied by Englishmen in the nineteenth century and now there are more than 150 wineries and cellar doors. You may have to take prior appointment to visit the best of the vineyards. It is one of the great places to visit in Australia.
Things to do: Take wine tours, plan a road trip in the country region. Experience hot air balloon ride over the valley. Taste smoked meat and bread at some of the finest restaurants.
How to reach: There are 4 ways to get from Adelaide to Barossa Valley by bus, train, taxi or car. We recommend taking the bus from Adelaide Central Bus Station to Gawler and then taking the bus from Gawler Stop 124 Lyndoch Rd North side to Tanunda, which takes around 2h 23m.
45. Cleland Conservation Park – Rich Flora And Fauna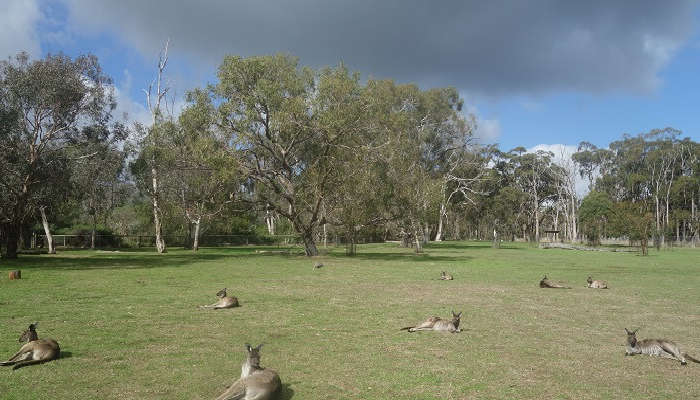 If you want to meet Koalas, Cleland is where you will find them relaxing in their natural habitat. One of the good places to visit in Australia, the place is abundant with natural and cultural beauty. Apart from rich flora and fauna, this place has a lot of adventure to offer to visitors. The cycling trails are best to enjoy the scenic beauty of this place get a boost of adrenaline.
Things to do: Explore the biking trails. Visit the Cleland Cafe for a refreshing meal and coffee. Play with kangaroos and koalas.
How to reach: Take an 863 or 864 bus from the city or Mount Barker to the Crafers Interchange. Look for the trailhead signs on the north side of the freeway off-ramp near the interchange. These trails lead all over the park, with a new link trail connecting to Mount Lofty Summit.
46. Rottnest Island – A Natural Beauty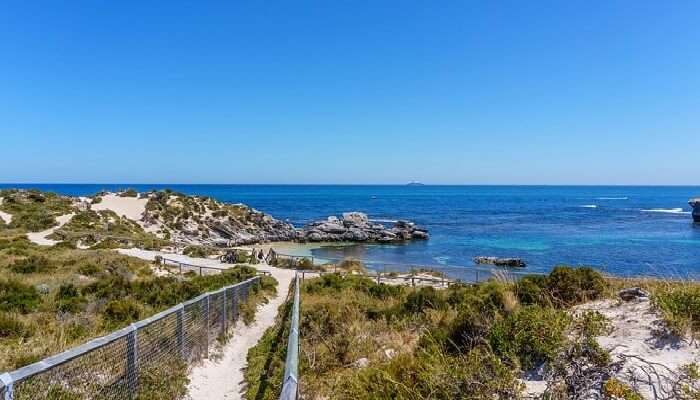 Rottnest Island near Perth is one of the best places you have to visit in Australia owing to its natural beauty. This is where you can have a tropical island time during your vacation in Australia. The turquoise waters of the sea are perfect for frolic and fun. There are even a number of biking and walking that you can explore on the island.
Things to do: Enjoy swimming and water ports adventures like surfing, snorkeling, scuba diving. Get to the top of Wadjemup Lighthouse for panoramic views. Explore biking trails. Viist museums, buildings, and monuments.
How to reach: It's a 25-minute ferry ride from Fremantle, a 45-minute ferry ride from Hillarys Boat Harbour in the northern suburbs of Perth, or 90 minutes via ferry from Perth's Barrack Street Jetty. You can book your trip with Rottnest Fast Ferries, Rottnest Express or SeaLink Rottnest Island.
47. Nambung National Park – An Ethereal Beauty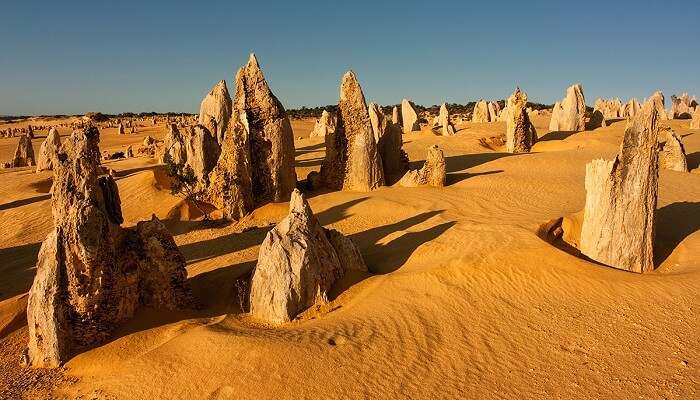 One of the most astounding tourist attractions of Australia, Nambung National park will leave you stunned with its ethereal beauty and the large stone structures called Pinnacles. These pinnacles are limestone formations that date back to millions of years and are scattered all over the desert in Nambung National Park.
Things to do: Do not miss watching the sunset. You will even find idyllic beaches where you can relax and enjoy watersports like snorkeling and scuba diving. You may also visit The Pinnacle Information Centre to know more about the limestone formations.
How to reach: Wellington St Arena Yellow Cat 23 is 11 meters away, 1 min walk. Murray St Milligan Street Red Cat 22 is 309 meters away, 5 min walk. Hay St Qv1 Red Cat 14 is 403 meters away, 6 min walk.
48. Byron Bay – Sweet Touch Of Nature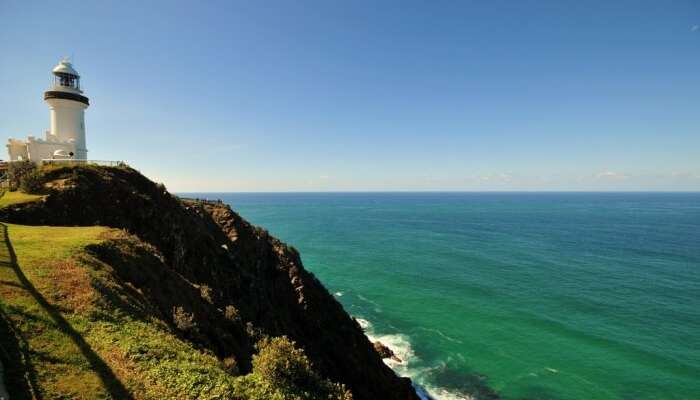 Situated on the northernmost coast of New South Wales, one of the must visit places in Australia is Byron Bay. Temperate climate hovers around the bay which has multiple beaches and hinterland. You will be greeted by nature reserves, secluded beaches, gushing waterfalls with a sweet touch of nature to please your eyes. You can also enjoy kitesurfing, one of the top adventure sports in Australia at Byron Bay. In short, with so many things to explore, Byron Bay becomes one of the top Australia tourist attractions.
Things to see: The chronicle views of rugged cliffs at Cape Byron Headland Reserve, the Cape Byron Lighthouse, the most powerful lighthouse of Australia, the beauty of Arakwal National Park
Things to do: Engage in a lot of outdoor activities like rock scrambling, nature walks and bird watching, whale watching at Clarkes Beach
How to reach: Here are the top 3 ways to reach Byron Bay. Use the Ballina Byron Gateway Airport which is the closest to Byron Bay, with a 30 minute drive. The airport operates flights from Sydney, Newcastle and Melbourne on Jetstar, FlyPelican and Virgin Australia. The Gold Coast Airport operates a higher number of flights and with a 40 minute drive time, it might be more convenient. The Brisbane International and Domestic Airport are 2 hours away by shuttle or cabs to Byron Bay. So, the choice is yours to make.
49. Mudgee – An Elegant Town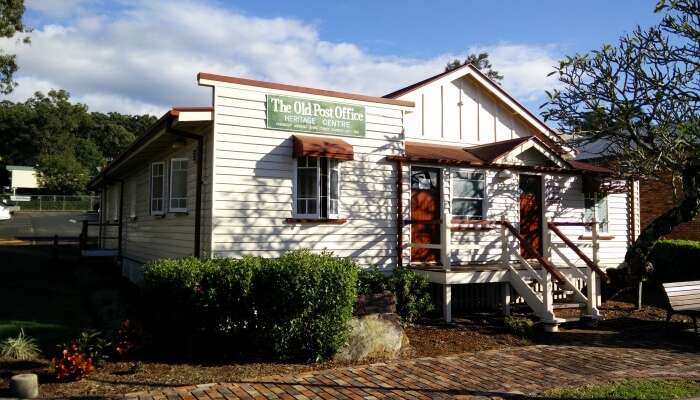 ightseeing in Australia has never been better with exploring Mudgee, a northwestern town of Sydney. It is a small, elegant town that is popular as a top wine-making region, housing colonial buildings and the pretty Cudgegong River. Some amazing things to engage yourself in Mudgee include picnicking at Robertson Park, getting amazing views at The Rock Lookout, exploring the Avisford Nature Reserve just makes Mudgee one of the top Australia tourist attractions. The town and its natural reserves make it one of the top spots for camping near Sydney, if you are in the mood for that.
Things to see: Discover colonial-architecture such as the St. Mary's Catholic Church, the "dinosaur tree", one of the rarest plants at Wollemi National Park
Things to do: Shop at the Farmers Market, tour the wineries like Lowe Wines, Moothi Estate Vineyards and di Lusso Winery is a must, stargaze at the Mudgee Observatory
How to reach: There is no direct route from Sydney to Mudgee. You can, however, take the train to Lithgow station, walk towards the Lithgow station Railway Pde 3 and take a bus to Mudgee Station, Coach Stop. However, if it seems overwhelming, then you can drive or hire a cab to Mudgee.
By: traveltriangle.com