Rugged coastlines, an endless Outback and favorable climate year-round, Australia can't help but lure travelers to the endless outdoor activities, both on land and at sea. We asked a few backpackers to share their top Aussie adventures.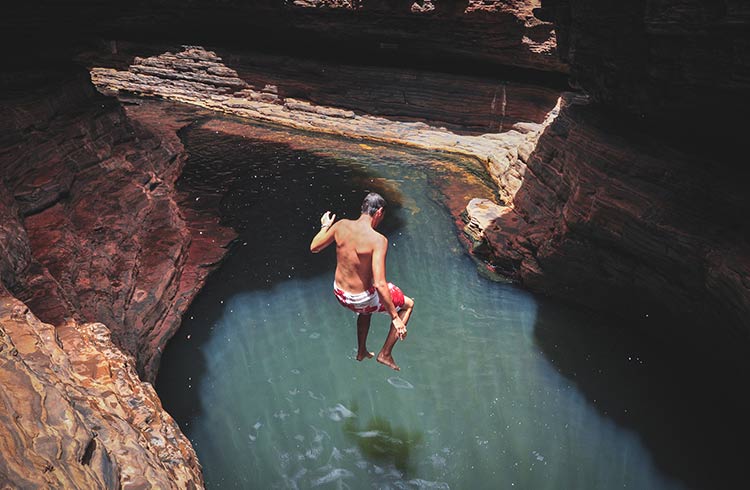 1. Skydiving
Tim Ackryod tells World Nomads, "Nothing can make you smile as much as the realization that you are not d.e.a.d after jumping out of a plane. The crew at the skydiving centre literally have to best jobs in the world. They obviously love their jobs and ensure you have the best time possible. Everyone that jumped that day left with the biggest grins on their faces. They also provide you with some awesome footage of your jump so you can relive every second of the experience."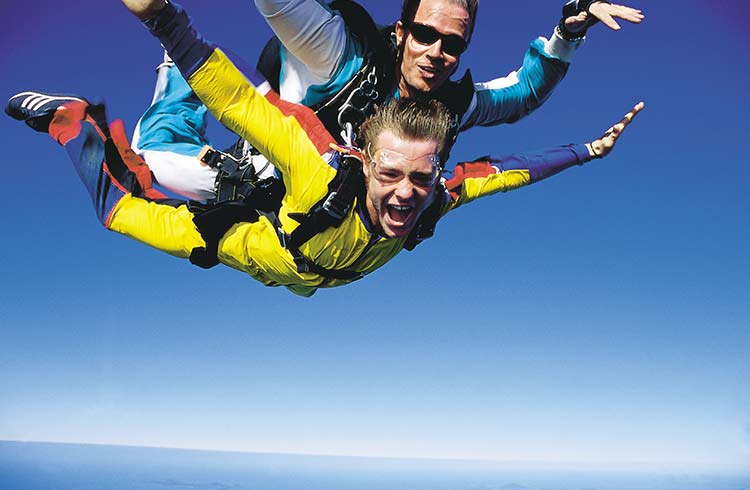 Tandem skydiving over Airlie Beach, Queensland. Photo credit: Tourism Queensland Image Library
2. The Great Barrier Reef
Adam Rikys and Hamish Cross told us, "The Great Barrier Reef can be seen from space but it can also be viewed from a helicopter. When the crew from GBR helicopters said they could fly us from Green Island out to the reef for a snorkel we flipped our lids. The aerial perspective is unparalleled and you truly appreciate just how beautiful this place is after flying over it.
Our first destination was Green Island with Great Adventures. It was time for our maiden voyage into outer space under the sea. Seawalkers are like an old school diving dome helmet that offers a 270 degree perspective. As soon as we hit the sea floor we got swarmed by one zillion tropical fish. It could only be compared to an underwater fish mosh pit."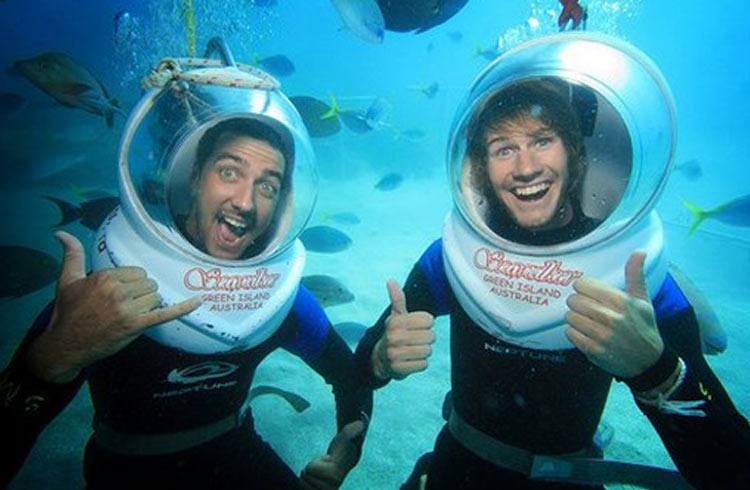 Seawalking on Green Island. Photo credit: Adam Rikys and Hamish Cross
3. Camping
Kirsty Stark was lucky enough to camp on Cockatoo Island, "An island in the middle of Sydney Harbour where convicts used to be h.e.l.d. There is a lot of other interesting history about the place, including being used during World W.a.r II to repair ships. We arrived there just before dusk and I got a cool but eerie feeling as I stepped off the ferry, imagining what it would have been like to live there as a convict. We walked around and saw all the remains of the convict cells and other historical remains such as ports and huge machinery for building and repairing ships. We also had amazing views of the harbour and the Harbour Bridge."
4. Surfing
Carly Stark went on an awesome four day surf camp, "We surfed twice a day for two hours each time. We ate, surfed, ate, surfed, and slept. Then we did it all again the next day. We also were taught surf etiquette, different types of surf conditions and types of boards. We got to review hundreds of photos of each of us surfing so we could see how our technique could be improved and also see ourselves progress. On the last day we got to experience one of the aspects of the life of a 'real surfer' which was to get up at 6am and surf before breakfast! It certainly seems to be the perfect environment to learn how to surf."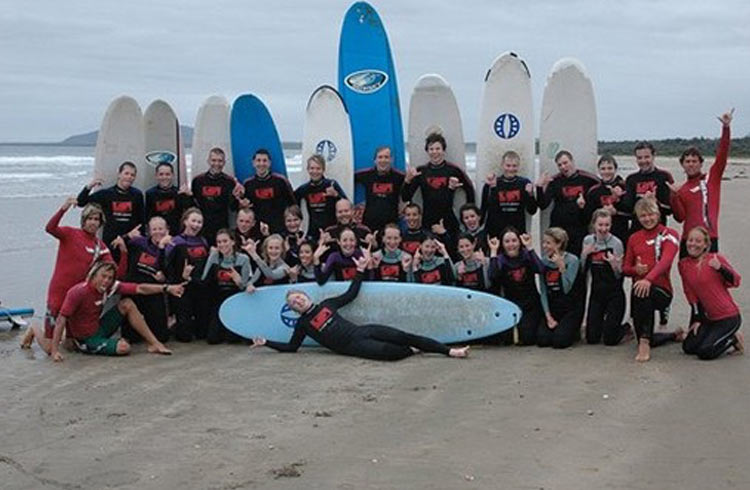 Surf camp. Photo credit: Carly Stark
5. White Water Rafting
Dara Simkin and Catherine Flemming went on a six day Franklin River rafting trip in Tasmania, "which was a completely unique and challenging experience, where we learned a lot about ourselves and a profound respect for nature."
6. Exploring National Parks
For Alex Heaslip, Karijini National Park was the most incredible part of their trip, "Especially the West Oz Active Tour we did. Our guide took us to some of the most remote parts of the park, we traveled through Knox and Hancock Gorges which are rated as class six sections of the gorges, and thus only accessible by hiring a trained guide. To get through the gorges we did a ton of swimming, abseiling, and sailing over a waterfall called Knox Falls which was straight out of the Goonies and easily the highlight of our trip!"
7. Swimming with Dolphins
Patrick Shine thought nothing could top swimming with whale sharks, until he went swimming with dolphins, "Only due to the shear number of dolphins we saw. We were exceptionally lucky. According to our guide, not only did they only have half the usual amount of people aboard the boat (allotting us some extra snorkel time), but at one point we were swimming with about 20 dolphins. Watching them jump in the waves from the wake of the boat was one of the most beautiful things I have ever seen. Listening to them communicate with each other using sonar like noises, and watching them swim around with such grace, ease, and enjoyment is truly a sight to behold."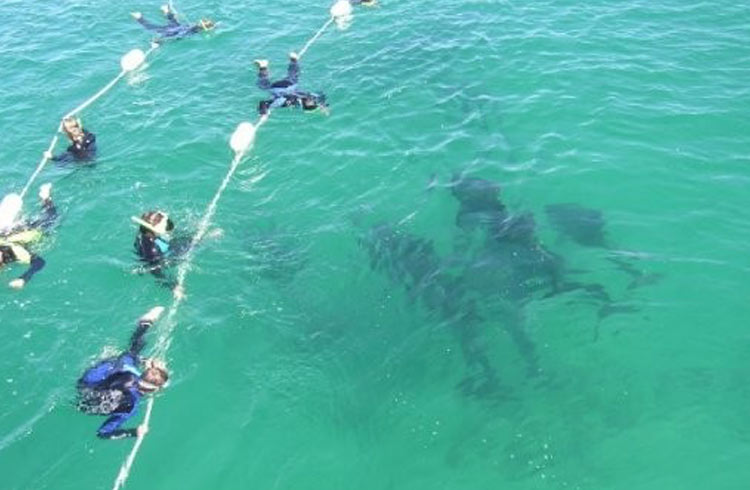 Swimming with dolphins. Photo credit: Patrick Shine
8. Tiger Moth Flights
Taking a tiger moth flight gave Victoria Brewood one hell of an adrenaline rush, "When it went spiraling down I was just hoping I wouldn't fall out! Loop-the-loops and spiraling towards the ground was the best thrill I've ever had, probably even better than skydiving!"
9. Heading Bush
Andrew Adams' favorite experience was spending the day at Kelly's Ranch, "That's where Jerry Kelly taught us to ride horses, to pick fruits in the bush, and to use a lasso. And, honestly, the day was so great because of Jerry Kelly. He teased us and joked around, he told us Aboriginal stories and explained mythology like Dreamtime to us. And when it was all said and done, he invited us into his house, showed us his garden, pictures of his kids, his wife. He gave us tea and biscuits, let us try his homemade salsa. On paper, the event was supposed to last an hour. In practice, it lasted six. Because Jerry just kept talking and talking. It was like hanging out with a favorite uncle for the weekend. He made everything fun. And he was fascinating. So because of Jerry Kelly himself, I loved visiting Kelly's Ranch."
10. Seaching for…UFOs?!
Willie Conception's highlight was a little different to the others, "My favorite adventure during our roadtrip was camping at Wycliffe Well, the UFO capital of Australia. It's a tiny blip on the radar but the story behind that place is fascinating. We interviewed the owner about his experiences with UFO's and then decided to stay up all night to try and find one. Sometime around midnight a terrible thunderstorm broke out and as we were running back to the van we saw a light shining at us. It was at that moment that I knew the truth was out there… and by truth I mean an aluminum shed that reflects your own flashlight. The experience is something I'll never forget though."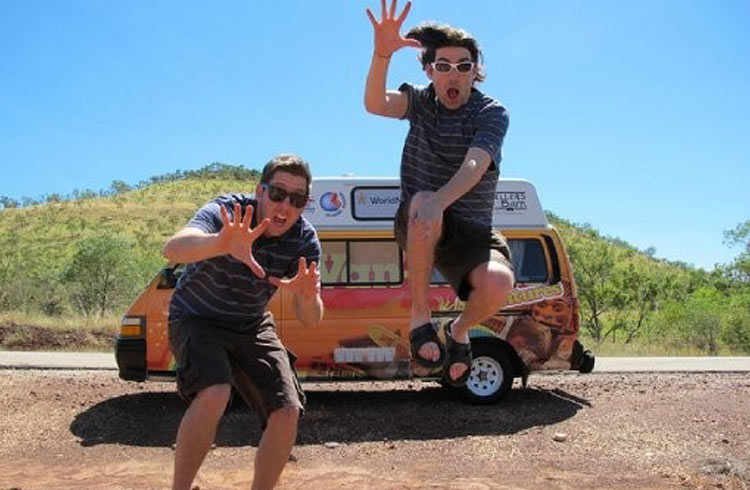 Road-tripping around Australia in the World Nomads van. Photo credit: Willie Conception
By: Our Guest Authors/ www.worldnomads.com