Zurich, Switzerland has a temperate, continental climate with four distinct seasons. Summers are generally milder than in many parts of Europe, and winters, while once reliably cold and snowy, are now only moderately cold. The city's location on a low-lying plateau between two ranges of hills means that it's protected from the more severe weather that hits the Alpine regions.
Winters in Zurich can be rainy and cold, but snow is not a given. During the coldest months temperatures range from 28 degrees F to 45 degrees F (-2 degrees C to 7 degrees C).1 Spring starts out chilly, with temperatures around 50 degrees F (10 degrees C), and gets steadily warmer and sunnier. June is cool and pleasant but can be quite rainy, though hardy Zurich residents will start to take to the water. July and August are the warmest months of the year, with frequent thunderstorms and temperatures reaching well into the mid-70s Fahrenheit (24 degrees C).
Early fall is cool and sunny before cold, foggy weather rolls in as the precursor to winter. December is cold and foggy and days are short, but the city's many Christmas markets and decorations give it a festive air even when the weather is less-than-pleasant.
The city comes alive in the summer with festivals, outdoor restaurants and bars, and swimming areas that double as picnic and party spots. But this is the most crowded, expensive time to visit Zurich—if you can put up with possibly dreary weather, you'll find (slightly) lower prices and thinner crowds in the colder months.
Fast Climate Facts
Hottest Month: July (76 F / 24 C)
Coldest Month: January (34 F / 1 C)
Wettest Months: May, June, July, and August (5 inches)
Sunniest Months: July and August
Summer in Zurich
Summer is a great time to visit Zurich, though it can be crowded, both with tourists and with locals enjoying the warm weather and sunny days. Daytime heat and sunshine can create thunderstorms in the late afternoon and evening, so be prepared. You'll see Zurich's river, the Limmat, and Lake Zurich filled with swimmers, kayakers, and stand-up-paddleboarders. While water temperatures, typically 72 degrees F (22 degrees C), are cold for those used to Florida or Caribbean water temps, a dip in the clear and incredibly clean river is fun and invigorating.
What to pack: Lightweight slacks or jeans, long- and short-sleeved shirts, a light sweater or jacket for cool nights, comfortable walking shoes or sandals, and a swimsuit. Bring an umbrella for rainy nights.
Average Temperatures by Month
June: 72 degrees F / 55 degrees F (22 C degrees / 13 degrees C)
July: 76 degrees F / 59 degrees F (24 degrees C / 15 degrees C)
August: 74 degrees F / 57 degrees (23 degrees C / 14 degrees C)
Fall in Zurich
September starts off with mild daytime temperatures and cooler nights, but less rainfall than in the summer months. October is also sunny, but cooler, with a higher chance of fog and rain. November is cold, foggy, and humid, and snow is possible. Unless the city is crowded for trade shows, you'll find that fall in Zurich is a less busy period. If chilly and occasionally damp weather doesn't bother you, a crisp, sunny day walking along the Limmat or Lake Zurich is a glorious way to spend some time.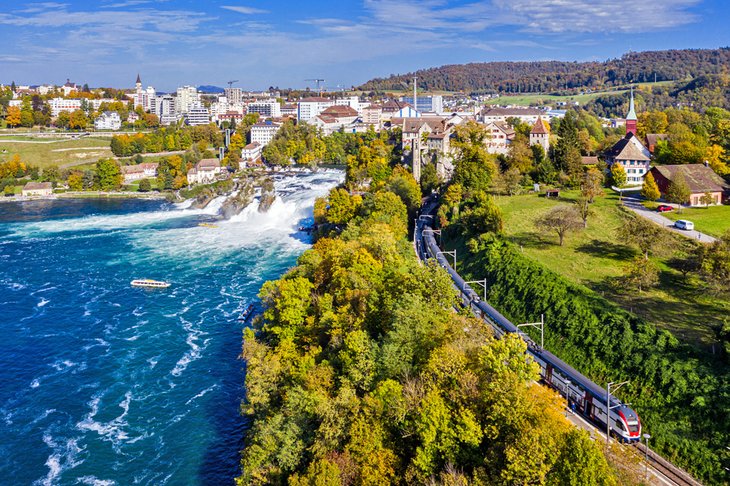 What to pack: Pack plenty of layers to be prepared for varying temperatures. Bring long-sleeved shirts, long pants, sweaters, and a mid-weight jacket, preferably water-resistant. Don't forget your umbrella.
Average Temperatures by Month
September: 67 degrees F / 52 degrees F (19 degrees C / 11 degrees C)
October: 57 degrees F / 45 degrees F (14 degrees C / 7 degrees C)
November: 47 degrees F / 38 degrees F (8 degrees C / 3 degrees C)
Winter in Zurich
December is Zurich is cold and overcast, and the days are short. But the city takes on a magical air, when Christmas markets, fondue chalets, and festive decorations everywhere make it worthwhile to venture out in the cold. January and February are similarly cold and grey and there's a good likelihood of snow. This is a fine time to take to one of the city's many ice skating rinks, or head to the nearby hills and mountains for skiing, tobogganing, and snowshoeing.
What to pack: Bring your winter clothes and consider packing long underwear or similar base-layer clothing. Be sure to bring a warm hat that covers your ears, plus a scarf and gloves. Pack warm boots or thick-soled shoes that won't slip on icy sidewalks.
Average Temperatures by Month
December: 40 degrees F / 31 degrees F (4 degrees C / -0.5 degrees C)
January: 38 degrees F / 30 degrees F (3 degrees C / -1 degrees C)
February: 40 degrees F / 29 degrees (4 degrees C / -1.6 degrees C)
Spring in Zurich
Early spring brings fickle weather, ranging from bright sunny days to wintry conditions, especially in March. April alternates between sun and rain, while May brings more traditional spring weather. You'll spot Zurichers grabbing some precious rays of sun at sidewalk cafes and at lakeside and riverfront parks and picnic areas. It's a great time for a walking tour of the city, or for taking in some of the sights within an easy day trip of Zurich.
What to pack: The later into spring you travel, the lighter you can pack. If visiting in March, pack for winter weather, but bring layers in case it's unseasonably warm. In April and May, layers are best, with long-sleeved shirts and sweaters, plus a mid-weight, rainproof jacket and a sturdy umbrella. Shoes should be water-resistant.
Average Temperatures by Month
March: 50 degrees F / 35 degrees F (10 degrees C / 2 degrees C)
April: 60 degrees F / 43 degrees F (16 degrees C / 6 degrees C)
May: 66 degrees F / 49 degrees F (19 degrees C / 9 degrees C)
Although not subject to weather extremes, Zurich is cloudy and overcast much of the year, from about September to June. So do as Zurichers do: Be prepared for grey skies, and revel in sunny days when they sneak out.
Source: tripsavvy.com