Attempting to name Austria's prettiest village is a bit like choosing a favorite food. Each is delicious and beloved in its own way (but if you really had to choose, you know your last meal would be wiener schnitzel). These five fairytale villages have the same heart-warming effect—and picking a favorite just might be the most delightful challenge you've ever encountered.
Lech and St. Anton am Arlberg
The Arlberg is home to dramatic hiking trails, elegant après ski, and five knockout villages that charm even the most cynical travelers. Lech nestles along the eponymous river, tucked in amongst Austria's westernmost mountains. Beyond the Instagram-ready Alpine chalets and award-winning restaurants, the village received a unique artistic touch last year: a light-bending Skyspace installation by American artist James Turrell, overlooking and dramatically framing Lech's woodsy farmhouses.
Over on the Arlberg's Tirolean side, St. Anton is the epitome of Alpine friendliness and good cheer. The village is a magnet for hikers, trail runners, climbers, mountain bikers, river rafters, and other outdoor sports enthusiasts—but rest assured that no mountaineering skills are required to reach St. Anton's tallest summit, the 8,694-foot Valluga: just take the cable car straight to the top. Stay at Arlberg1800 Resort, a five-star property with its own concert hall and art gallery and member of the Austria Hotel Collection.
Hallstatt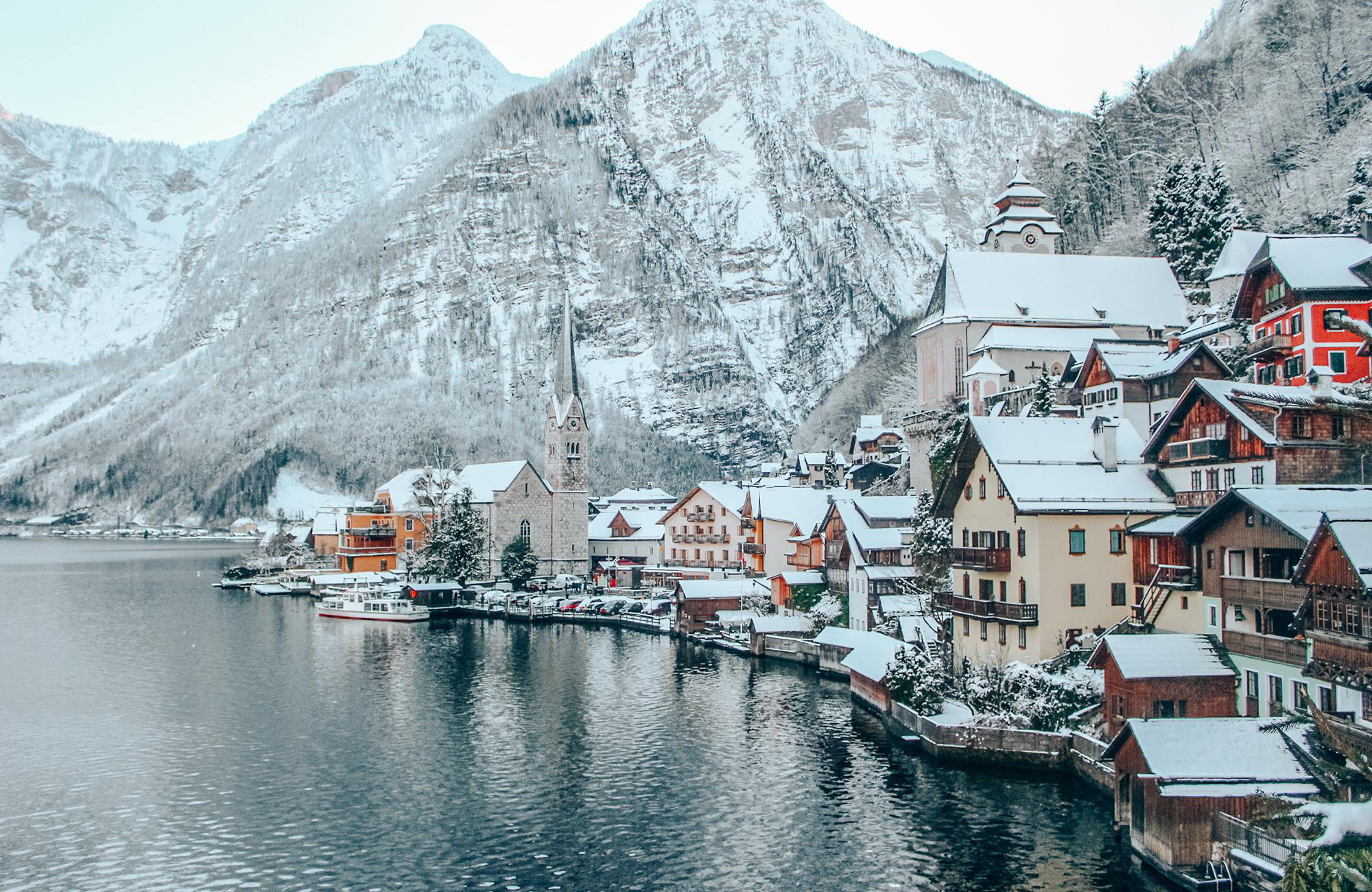 Conjure an image of the perfect European town: cobblestone streets, a soaring church steeple, balconies bedecked with flowers, a backdrop of snow-kissed mountains. Add a pristine lake to this pastoral vision, and you're looking at Hallstatt. The hamlet, in Austria's Salzkammergut region, is famous for its storybook façade, but dig deeper for an intriguing bit of history: Hallstatt is home to the world's oldest salt mine. As early as 5000 BCE, the locals surfaced salz from the depths of their beautiful mountains.
Even Austria's most remote villages are easy to reach with a non-stop flight into Vienna from Newark, New York JFK, Washington DC, Chicago, Miami, and Los Angeles. Austrian Airlines brings the charm of the Alpine countryside to its Business Class, which features lie-flat beds and an onboard chef to put the finishing touches on your authentic menu. The airline prides itself on recreating the feel-good coziness and charm of Austrian culture even at 30,000 feet.
Kühtai by Innsbruck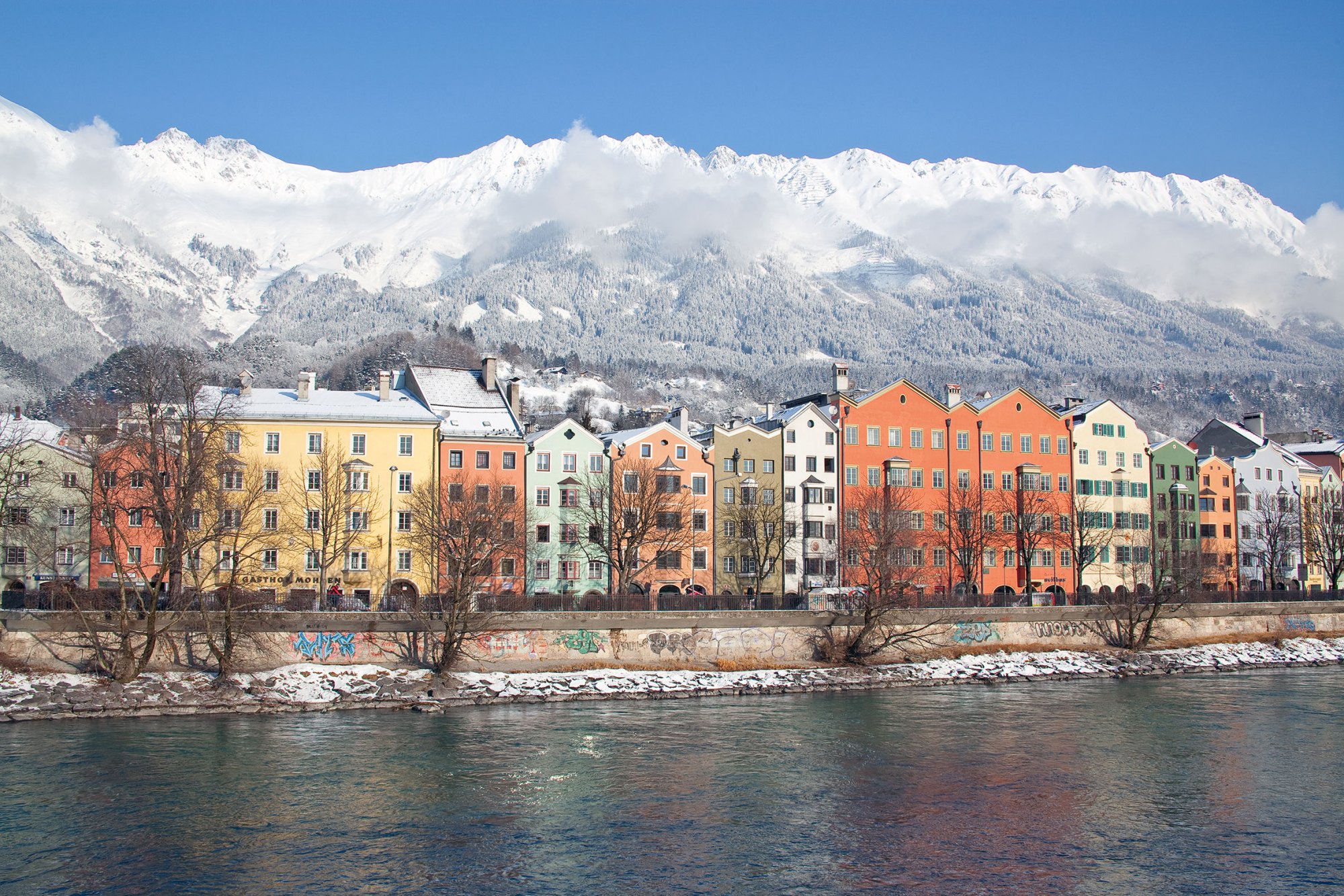 Where some Austrian villages beguile with dreamy landscapes and a serene atmosphere, Kühtai cuts straight to the point: this village near Innsbruck is all about exploring the outdoors and inhaling that mountain air. Kühtai's setting is effortlessly stunning: at 6,627 feet, it's one of Austria's most elevated communities, and two bright blue reservoir lakes are never more than a short hike away. Head to 13th-century Jagdschloss Resort for fondue and whiskey on the sun terrace. In June and July, Kühtai shows its romantic side when thousands of rhododendrons dress the mountains in fiery pink.
Werfen
Salzburg is a "Sound of Music" country, so don't be surprised if you find yourself in the town of Werfen waiting for Julie Andrews to pop her head around the corner at any moment. The surrounding mountains actually served as a location for the film's "Do Re Mi" sequence, which catapulted them to fame practically overnight. "Sound of Music" fans can't miss the designated walking trail, which serves up the charm, nostalgia, and spectacular views. The town is worth a trip in its own right, though, with an imposing 11th-century castle and the world's largest ice caves nearby. The World of Ice Giants connects 30 miles of pale blue ice formations inside a mountain and lets you play cave explorer for a few hours.
Alpbach
Despite its tiny size in terms of population, Alpbach has become very well known for its beauty. It was voted the most beautiful village in the country in 1983, and named the most beautiful floral village in Europe in 1993. Despite the fact that it is fairly isolated up in the Alps, thousands of tourists come here every year to enjoy its charm. It is also a ski resort, and every year the Alpbach European Forum draws together important people in the world of science, business, the arts, and politics for two weeks to share ideas. For those interested in science history, this is the place where you can find the grave of Erwin Schrodinger, a prominent figure in theoretical physics.
Bad Gastein
While the area of Bad Gastein has been inhabited and used for things like gold mining for over a millennium, it came into fashion as a spa town in the late 19th century because of its hot springs. Kings, queens, chancellors and tsars all enjoyed the healing powers of Bad Gastein. To please the royal guests, the city was built up in the grandiose Belle Époque style, which you can still see in the buildings. You visit the baths today to get the spa treatments that monarchs enjoyed more than a century ago, or you can come in the winter to enjoy skiing and plenty of other winter sports.
By: cntraveler.com