Have you ever heard about Guarda Portugal? Is it really the highest city in Portugal?
Well, let's find the answer.
Today, I would like to take you to the journey through Guarda Portugal and its surrounding. You can find out how to get to Guarda, the best time to go, things to do and more.
Let's go!
Where is Guarda in Portugal?
Guarda is a city and a municipality in Guarda District, located in the central part of Portugal.
It's the highest city in Portugal at an altitude of 1,056 metres (3,465 feet) and attracts a steady flow of visitors each year, even though it's not a major tourist destination.
If you like to discover a new place and culture of the country you're visiting than just follow the tourist route. That's the place to visit where you can find out more about the traditional lifestyle of the Portuguese people.
How to get to Guarda, Portugal?
It doesn't matter if you're in Lisbon or in Porto as you can choose between direct trains or buses to get to Guarda.
How to get to Guarda from Lisbon
To get to Guarda from Lisbon you can take a train or a bus.
Going by train, you have two options. You can go from Oriente or Santa Apolónia station. There are three Intercity trains each day, you can check the schedule at the Comboios de Portugal website.
The journey lasts around four hours and 20 minutes and costs €21.10 second class or €29.30 first class, one-way. There are also regional trains, which I don't recommend to you because the journey lasts two hours longer and is more expensive.
If you prefer to go by bus, you'll have to get to Sete Rios bus terminal.
The journey lasts only 10 minutes longer than by train. A one-way ticket costs €15.30.
I advise you to make a reservation especially if you're going to travel on Friday and Sunday afternoons or evenings as it can be busy and there may not be any free seats left.
Book your ticket with Rede Expressos bus services.
How to get to Guarda from Porto
Unfortunately, there are no direct trains to Guarda from Porto. There is a possibility to go from Porto Campanhã to Pampilhosa and then change for another train, but I guess it'll be a bit complicated.
Luckily, there is a direct connection to Guarda from Porto by bus. The journey lasts about three hours and costs €12.20 one way. In my opinion, this is the best option.
Check the schedule at Rede Expressos website.
If you're still thinking what's the best way to travel around Portugal, check out our article about transportation in Portugal to find the answer.
When is the best time to go to Guarda, Portugal?
The best time to go to Guarda is from April until October, when the temperature is warm and there is barely any rainfall.
The highest average temperature is 30°C (86°F) in August and the lowest is 9°C (48°F) in January and it sometimes snows!
If you are planning your trip soon, here is the forecast for the next seven days:
But… if you'll decide to go during the winter time, an hour by car from Guarda, there is Serra da Estrela – the highest mountain range in continental Portugal, which can be an alternative for a cold day.
You can read more about this beautiful landscape below.
Things to do in Guarda, Portugal
Guarda is a medieval city with a lot of history.
You can discover the city by visiting the Jewish quarter, the Gothic cathedral as well as walking through the old town streets, in awe of the 17th century palaces and medieval mansions.
Let's explore the best things to do in Guarda.
Cathedral of Guarda
The Cathedral of Guarda is one of the most interesting Portuguese monuments.
The building of the Guarda Cathedral was ordered during the reign of King John I. Construction works began in 1390, but would only be completed in 1540, during the reign of King John III. Therefore the Cathedral became one of the most emblematic in Portugal with a structure which combines Gothic and Manueline styles.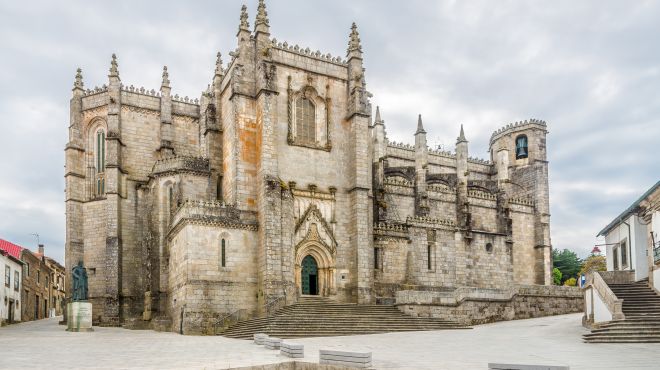 The entrance cost is €2. Check the excellent reviews on TripAdvisor.
Address: Praça Luís de Camões.
Opening times:
Monday to Friday: 9 am to 6.30 pm;
Saturday: 8 am to 7.30 pm; and
Sunday: 7 am to 7.30 pm.
Guarda's walls
Around Guarda's old town you'll pass by medieval walls, which were erected in the reign of Sancho I at the turn of the 13th century and were bolstered by subsequent monarchs over the next 200 years.
Castle of Guarda
The Castle of Guarda (website is in Portuguese) is a medieval castle classified as a National Monument. There's not much left of the castle, but you can climb up to the tower at the highest point of the highest city in Portugal and admire a beautiful view.
Opening time: Every day from 8 am to 6 pm.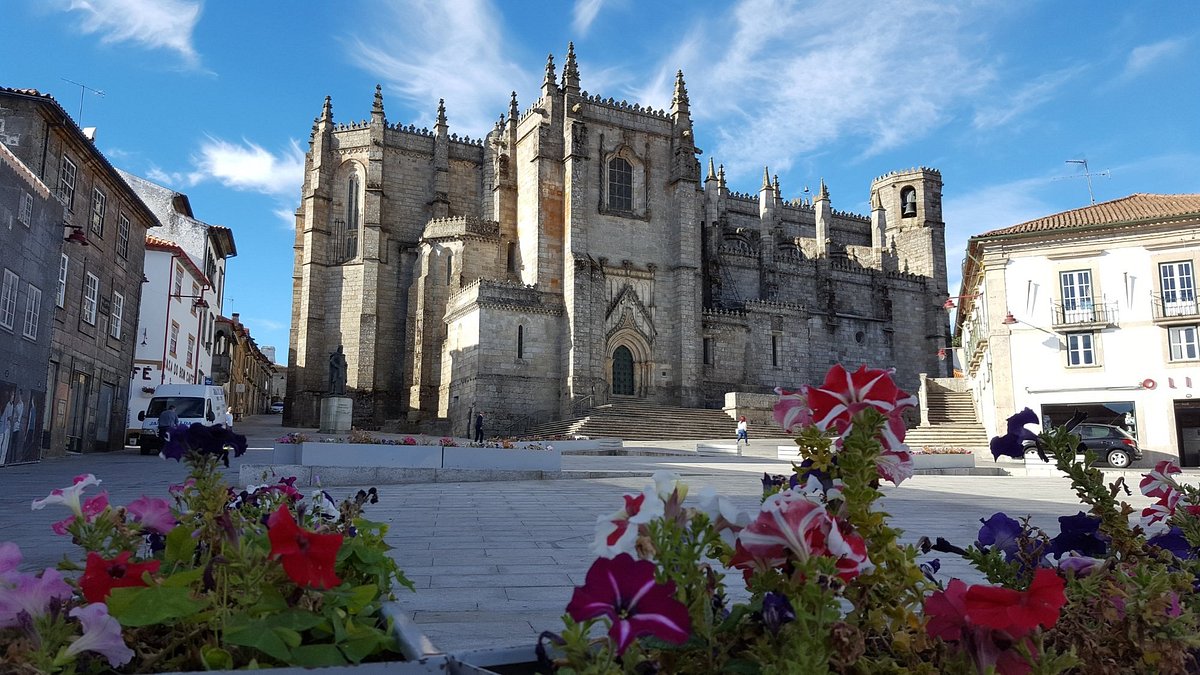 Praça Luís de Camões
Praça Luís de Camões (the old square) is located in front of the Cathedral and is a lovely space surrounded by historic houses painted white.
There you can find the statue of Sancho I, who reigned from 1185 to 1211 and granted Guarda its city charter in 1199.
Museum of Guarda ("Museu da Guarda")
The Museum of Guarda was created in 1940 and is located in the old Archdiocesan Seminary.
It'll take you on a chronological trip through the history of the region based on archeology, religious sculpture and painting. The collection has around 4,800 pieces.
Address: Rua General Alves Roçadas 30.
Opening times: Tuesday to Sunday from 9 am to 12.30 pm and again from 2 pm to 5.30 pm.
Like this article? Make sure you keep up to date with all the latest from us by subscribing to our newsletter today.
Church of San Vicente ("Igreja de São Vicente")
The Church of San Vincente is located on Rua Francisco de Passos, one of the main city thoroughfares connecting two of the gateways, the Porta d´El Rei and the Porta da Erva.
Although the  Church has medieval origins from the 18th century, rebuilding it began in 1790. The plans were drawn up by Italian-trained, António Fernandes Rodrigues, who became the Casa Pia professor of design in 1781.
Inside the Church, the most interesting aspects are the panels that depict themes fundamental to Christian doctrine, featuring the Annunciation, the Tower of David, the Visitation, the Adoration of the Magis, the Escape to Egypt and the Passion of Christ.
Capela do Mileu
The Capela do Mileu is a Romanesque chapel located outside the walls, a short walk from the centre of Guarda.
Is one of the city's oldest monuments. The exact founding date is unknown, but it's believed to have been a Christian place of worship during the Moorish era, founded well before the 1100s.
It's a modest and sturdy little building that became a pilgrimage site from the 1300s.
Municipal Theatre of Guarda ("Teatro Municipal da Guarda")
The Municipal Theatre of Guarda was opened in 2005 and has become a modern landmark for the city.
The programme is arty and surprisingly rich for a mid-sized city, with plays, orchestral concerts, Fado, theatre, dance and screenings of independent movies and exhibitions of contemporary art and photography.
Check the theatre's website for the programme.
Address: Rua Batalha Reis 12.
Urban Park of Rio Diz ("Parque Urbano do Rio Diz")
The original park of Rio Diz has a tower with slides, all sorts of climbing frames, see-saws and roundabouts, and an installation that looks a bit like a space station. There is a possibility to rent pedal karts for children to ride around the meandering paths here.
It's a great place to spend funny time with a family.
Address: Rua da Direcção Geral de Viação.
Cities and villages nearby Guarda worth visiting
Belmonte
Belmonte is a city located around 20 minutes by car from Guarda.
It's called the Land of the Jews. By the non-tolerance politics of the Catholic Kings, all Portuguese Jews were forced to convert to Christianity. If they refused, they would be forced to leave the country.
Belmonte was one of the towns chosen as a place of refuge by a small group of Jews who had refused to leave the realm. The Jewish tradition still lives there.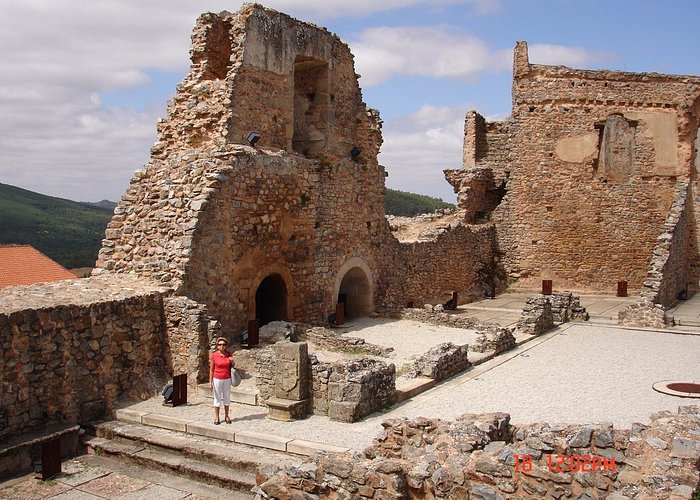 In Belmonte, you should visit:
The Castle of Belmonte (website in Portuguese), from which you can see Serra da Estrela;
The Museum of Discovery;
The Jewish Museum;
Ecomuseum Zêzere;
The Olive Oil Museum;
Roman Ruins of Quinta da Fornea ("Ruinas Romanas de Quinta da Fornea"); and
Church ("Igreja") Matriz de Belmonte.
Serra da Estrela
Serra da Estrela is the highest mountain range in continental Portugal at 1,993 metres (3,465 feet) above sea level.
For the Portuguese, that's the only place during the winter where they can ski or snowboard. The ski station is towards the south of the park, while here in the north, you can go on scenic drives and admire natural landscape like the Poço do Inferno waterfall.
And if you're itching for adventure, there are almost 400 km (249 miles) of marked trails for hiking, horseback riding or mountain biking.
Check out the top 10 things to do when you visit Serra da Estrela.
Covilhã
Covilhã is a mountain town located only a few kilometres from the highest point in mainland Portugal – Serra da Estrela and about 40 minutes' drive from Guarda. It's also known as the "capital of street art".
In Covilhã, it's fun to see how the town has adapted to its impossible terrain to help you get around on foot, equipping it with a panoramic elevator, funicular trains and the incredible Ponte da Ribeira da Carpinteira pedestrian bridge.
In Covilhã, you should visit:
Wool Museum;
Elevador de Santo André;
Elevador da Goldra;
Church of Santa Maria Maior;
Museu de Arte Sacra;
Cheese Museum ("Museu do Queijo");
Praça do Município; and
Church ("Igreja") da Misericórdia.
You can also check the best things to do there according to TripAdvisor.
Piódão
Piódão is a village located deep in the Serra do Açor (a protected landscape area), which is full of breathtaking views. It's about a two-hour drive from Guarda.
The distinctive feature of this mountain village with its narrow streets is a stone (schist) used to build the houses and pavements.
Piódão has become famous more recently because of its scenic setting in the heart of the Serra do Açor. Such beauty is more than a sufficient reason for visiting the village.
I recommend you watch this short video to see what I mean:
Is it worth visiting Guarda, Portugal?
If you like travelling and discovering new places then, Yes, it's worth visiting Guarda. Although it's a small city, it has a lot to offer. You can find out about Portuguese culture more than visiting more touristic places and if you'll stay for longer you can enjoy the vibes of the city and relax or discover other surrounding villages.
Source: https://www.beportugal.com/