Your ultimate guide to a jolly Dutch Christmas: here we explain local Christmas traditions, Christmas songs, winter activities, and all the Dutch Christmas foods to try during the holidays in the Netherlands.
A Dutch Christmas is similar to the experience in other western, predominantly-Christian countries: Christmas in the Netherlands is typified by family gatherings, the celebration of the birth of Jesus Christ, the eating of fine food and drink and in some – but not all families – the arrival of Santa Claus (Kerstman in Dutch) and the giving of gifts.
Many expats staying through the Dutch Christmas season are thus pleasantly surprised by the familiarity of Dutch Christmas traditions while at the same time relieved, perhaps, of the absence of some of the more commercial traditions that go hand-in-hand with festivities back home.
There are some differences, however, that expats notice when celebrating Dutch Christmas traditions, not least the arrival of another red-suited, white-bearded man known as Sinterklass (Saint Nicholas), who instead is sombre and surrounded by controversial blackface helpers, known as Zwarte Piet, which some international bodies are pushing for change. But there are many enjoyable Dutch traditions surrounding their arrival, and children never complain about getting presents from Sinterklaas and Zwarte Piet on 5 December.
If two Santas sound confusing, this guide will help you prepare for the Dutch Christmas season and understand Dutch Christmas traditions, from Sinterklaas to Kerstman.
As they say Merry Christmas in Dutch, Vrolijk Kerstfeest!
An early start to Dutch Christmas: Two Santas?
The Dutch Christmas festive season officially starts with the arrival of Sinterklaas and his legion of Zwarte Piet helpers in mid-November. He arrives by boat from Spain to a different Dutch city every year in an event broadcast live on television.
The feast of Saint Nicolas is celebrated on 5 December and far from being threatened by his cousin from the North Pole, the tradition of Sinterklaas is rising in popularity. As the December celebrations come and go, families, shops and businesses file away their Sinterklaas paraphernalia and immediately dust off the previous year's Dutch Christmas decorations. Lights, candles, wreaths, poinsettias, and trees are strung during Christmas in the Netherlands, hung, tacked, taped, and placed in every available space.
Department stores eagerly get into the swing of things during Christmas in the Netherlands, decorating every floor with bows, wreaths, fake presents, and large plastic trees, in preparation for the burgeoning shopping crowds. Streets can become very busy leading up to the big day, indicating that Christmas in the Netherlands has also not been immune to commercialism.
Yet, the fairy lights in trees and lighted decorations from house windows give a cheery, warm glow on the dark and cold December nights. Yes, the good-natured spirit of Christmas in the Netherlands is alive and well.
Will the real Santa please stand up?
Despite the arrival of Sinterklaas earlier in the month, a second bearded man, also dressed in red, makes his way to the Netherlands on Christmas Eve. Don't be confused though, because the second arrival is the one most expats will be accustomed to, namely Santa Claus (Kerstman in Dutch).
The arrival of Santa does not necessarily mean that presents will be shared in every Dutch household. In fact, Sinterklaas is much more popular than the Kerstman. So despite the fact that some 50 percent of the Dutch celebrate Christmas in the Netherlands with presents – and is a growing custom – Santa is still typically second place in comparison with Sinterklaas.
Dutch Christmas songs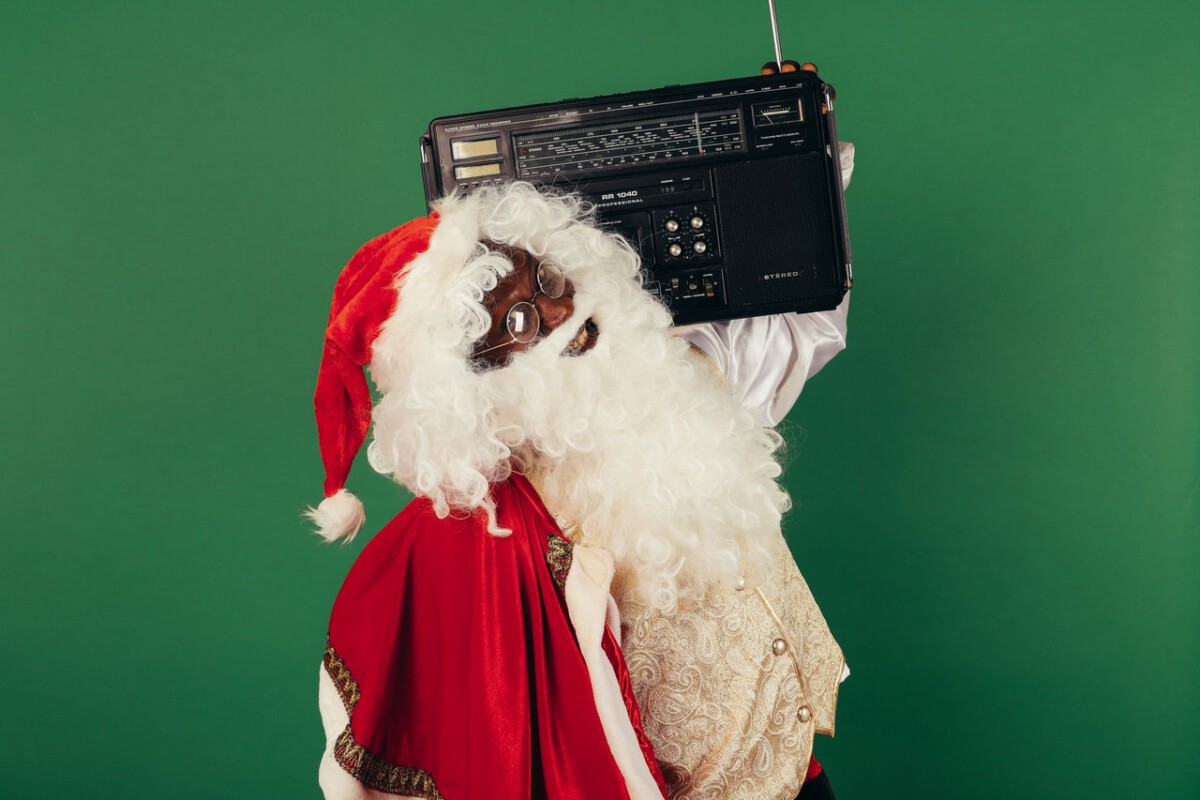 Of all the Dutch Christmas traditions, music is as much a part of Dutch Christmas as good food and a twinkling Christmas tree. You'll heard Dutch Christmas songs played on radio stations and in shopping centers weeks leading up to Christmas day. Foreigners will feel at home listening to many English-language Christmas classic songs, although the Dutch have created a small market of their own Dutch Christmas songs. A small difference you might note? One Dutch Christmas song is about a dead rabbit.
Flappie was the creation of Dutch comedian Youp van 't Hek, and the song follows the story of a young boy looking for a lost rabbit, which tragically turns out to be Christmas dinner. Another quirky song to have hit Dutch airwaves was Eenzame Kerst (Lonely Christmas), being the 70s breakthrough hit of Amsterdam singer André Hazes lamenting how lonely Christmas was in jail.
You will also find the more usual Dutch Christmas songs:
Sinterklaas, Kapoentje: Saint Nicholas, my dear one
Zie Ginds Komt de Stoomboot: Look, here comes the steamboat
Sinterklaas, Goed Heilig Man: Saint Nicholas, Good Holy Man
Hoor de Wind Waait de Bomen: The wind keeps blowing
Hoor Wie Stapt Daar Kinderen: Someone is coming, children
Op de hoge, hoge daken: Over high and gloomy roof tops
O, kom er eens kijken: O, come have a look
Dutch Christmas food
Dutch Christmas food was traditionally dominated by ingredients such as spices, white flour, dried fruits, almonds, and sugar, all the historically expensive foods that were typically reserved for feast days, parties and special holidays. Today there are still some sweet treats and cookies that are only eaten during the festive season, including kruidnoten (ginger nuts), advocaat (egg-yolk liquer) and bischopswijn (Dutch mulled wine), although the spiced biscuit speculaas tends to eaten year-round these days.
A sweet tooth is certainly needed at Christmas time as you'll see with the most common Dutch Christmas food and treats:
Appelbeignets – Dutch apple fritters, particularly common around New Year's.
Banketstaaf – dutch pastry filled with a sweet almond paste center, sometimes in the shape of letters (banketletters).
Bischopswijn – Dutch mulled wine and supposedly Sinterklass' favorite.
Duivekater – a sweet festive white bread.
Jan Hagel cookies – flaky Christmas cookies with cinnamon, almond flakes and candied sugar.
Kerstkransjes – Christmas 'wreath cookies' that are also used to decorate the Christmas tree.
Kerstkrans – a wreath shaped pastry topped with glace fruits and filled with almond paste.
Kerststol – A fruited Dutch Christmas loaf, sometimes with a sweet almond paste center.
Marzipan
Oliebollen – fried balls of batter, what some say could be the Dutch precursor to the donut.
Speculaas – spiced cinnamon-ginger cookies
Uniquely Dutch Christmas traditions: mid-winter horn blowing
While the commercialized, shop-till-you-drop Dutch Christmas cheer might sound familiar to you, there are still some unique differences between a Dutch Christmas and, say, Christmas in the UK or US to be discovered.
For example, a long-time tradition among farmers in the rural east is the 'mid-winter horn blowing'. This custom begins on Advent Sunday (the fourth Sunday before Christmas) and continues until Christmas Eve.
Farmers use long horns made from the wood of elder trees, and everyday at dawn they blow the horn while standing over a well to announce the coming of Christ.
You might find a horn for sale at one of the Dutch Christmas markets across the country, where it might also be possible to stop a while and watch an old craftsman at work. Creating the horn to actually make noise is a trick requiring plenty of practice!
The Dutch Christmas family spirit
While food is an essential ingredient in Christmas in the Netherlands, family is the secret additive that makes this holiday traditional.
Research has shown that people thought spending time with Dutch family was the most important part of Christmas in the Netherlands, followed by eating good food and attending church. In early November families also await the start of the annual Sinterklaasjournal children's program.
Dutch Christmas markets and December traditions
For Christmas markets and December events, read our list of seasonal events in the Netherlands.
A more recent tradition is to give children a special calendar (or Advent calendar) helping them count down to Christmas in the Netherlands. The calendar hides some candy in a special door, which must be opened each day.
Another custom is to place an Advent wreath in the living room with four red or yellow candles. The first candle is lit on Advent Sunday and an additional candle is lit each following Sunday.
Many people will also display a nativity scene with their Dutch Christmas decorations. The decorated Christmas tree has become widely popular since its introduction to the Netherlands in the 19th century.
Two days of Dutch Christmas
Christmas in the Netherlands is celebrated over two days: 25 and 26 December, described as First and Second Christmas Day. To many expats, this is perhaps a strange custom because elsewhere some spend 26 December raiding local malls hunting Boxing Day bargains or those Down Under might watch the start of the Boxing Day cricket Test or horse races. Anyone for a Boxing Day fox hunt?
Instead, Christmas in the Netherlands means these two days are spent with family, singing carols, playing games, watching movies, reading Christmas tales, and indulging in holiday feasts. The Dutch family unit is notably important and this is especially highlighted over the Dutch Christmas period.
Suprisingly, a survey by research bureau Intomart (2003) found that about one-third of Dutch residents did not know what bible story the Christian celebration was based on. Among the religious population, not all Christians knew the meaning of Christmas either. Of Dutch Reformed churchgoers, 23% got it wrong, compared with 16% of Dutch Presbyterians and 26% of Roman Catholics.
This is not to suggest the Netherlands does not observe the birth of Christ with religious fervor. In fact, many Dutch residents will attend church on Christmas Eve night, but research also indicates that family get-togethers get higher priority.
Preparing a Dutch Christmas feast
Part of what makes a traditional Dutch Christmas is the special Dutch Christmas food consumed at this time of year.
Although there are no candy canes, there are plenty of other goodies, such as oliebollen (a kind of an oily doughnut), Christmas stollen (round bread with currents and raisins), almond pastry rings, enough marzipan to last until next Christmas, and chocolate Christmas rings.
Dutch Christmas dinners usually consist of venison, goose, hare, or turkey with plenty of vegetables and Kerstbrood (Christmas bread). The Dutch also celebrate by eating gourmetten, a hot plate on which diners place a set of mini pans containing their choice of meat or vegetables. And for dessert, there is usually some sort of pudding, followed by a cup of warm hot chocolate with whipped cream.
Eating out at Christmas did become extremely popular in past years, but tougher economic circumstances meant the mid-range to lower spectrum of the restaurant industry reported a drop in Christmas custom. If you are planning to eat out, remember it is always wise – just to be on the safe side – to make reservations far in advance.
The spirit of Dutch Christmas?
If you ask, many Dutch nationals will stress to you the superficiality of gift-giving at Christmas in the Netherlands. But there are also families who exchange gifts at Sinterklaas' birthday and at Christmas – it depends on where you live.
New Year's Eve in the Netherlands
Let's not forget the end-of-year bash, New Year's Eve (Oud en Nieuw) in the Netherlands, when crowds, especially younger generations, head for the central squares of the larger cities. In Amsterdam, for instance, the night begins with an explosive round of fireworks throughout the city around 11pm at main squares such as Dam Square, Leidseplein, and Rembrandtplein, which are full of festivities. You can check the website of your local municipality for a list of events.
By: www.expatica.com