When Doug Brunner first visited Hawaiʻi in 1988—during Spring Break while he was attending college in Wisconsin—he fell in love.
With the plumeria tree.
"I was amazed at all the varieties," says Brunner, who now owns Maui Plumeria Gardens in Haʻikū on Maui with more than 400 trees. "There was the common Celadine, but there were also reds and pinks and different shapes of petals. They had a nice, fresh, floral scent. It always represented to me what Hawaiʻi was."
A lot of people feel exactly the same way.
Plumeria is still one of the most popular lei in Hawaiʻi. Visitors love the sweet fragrance and bold colors of the flowers, which are starting to bloom all over the state right now.
Though commonly associated with the Islands, plumerias are not native to Hawaiʻi. These small trees are endemic to Mexico, Central America and the Caribbean and are mostly grown as ornamentals in warm regions. Common names include frangipani, temple tree and melia in ʻōlelo Hawaiʻi (Hawaiian language).
The plant was brought to the Islands by Dr. William Hillebrand, a German biologist, in 1860—and it thrived in Hawaiʻi's warm climate and volcanic soil. Plumeria is easy to grow in hot, dry areas and is found in Hawaiʻi from sea level to 2,000 feet elevation.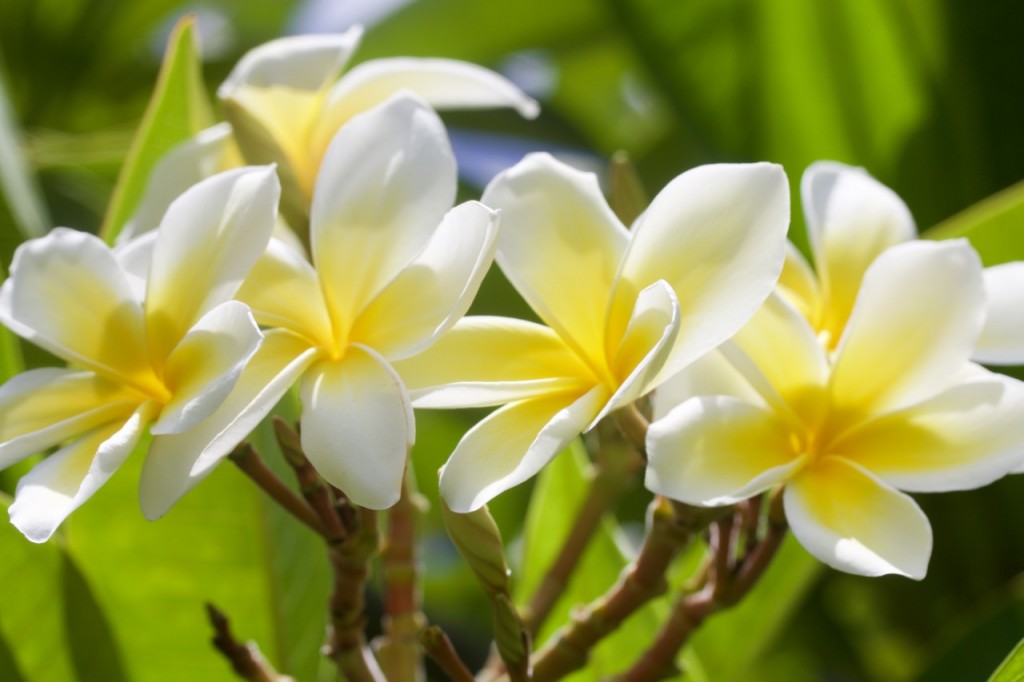 And though the plant—OK, tree—requires full sun, believe it or not, you can grow this just about anywhere—as long as they're brought indoors in the wintertime.
Brunner, who sells plumeria cuttings from trees he grows on his 2-acre farm, ships mostly to customers who live outside of Hawaiʻi. While many of his cuttings go to southern U.S.—like California, Texas, Florida and Arizona, where growing conditions are ideal for plumeria—he also ships to the colder climates of Wisconsin, Minnesota and Washington state.
"Plumerias are very hardy trees," Brunner says. "All they need is some light and water. They want to grow."
And they're easy to grow from cuttings: You get a cutting—really, any branch from the tree—and stick it into well-drained soil, then water. And that's it.
The first plumeria cultivar in Hawaiʻi was a yellow flower then called Plumeria acuminata. Due to its many long-lasting, fragrant flowers and relatively low maintenance requirements, it became popular for planting in cemeteries—garnering the name, "Graveyard Yellow," which is still used today. (It's also referred to as "Common Yellow.") It's still one of the most common plumeria varieties in Hawaiʻi.
Today, there are thousands of varieties of plumeria, some with dark red centers, some with a blend of pink and white, some with wide petals, some with corkscrew petals. Even leaf sizes and shapes differ.
The "Kāneʻohe Sunburst," for example, features deep pink flowers with brilliant yellow centers and narrow petals that slightly overlap. The "Maui Beauty" has small, bright yellow and pink flowers with wide petals and a slightly lemony scent. "MPG Watermelon Sugar," a cultivar that Brunner came up with, has bright pastel-pink blooms with a slight orange center and a mild, almost nutmeg scent.
The Plumeria Society of America, based in Texas, is the international cultivar registration authority for plumeria. There are dozens of named cultivars, including "Singapore" (white with small yellow centers and round-tipped petals), "Hilo Beauty" (dark red flowers with a slightly spicy scent) and "Kauka Wilder" (reddish-yellow flowers with large yellow centers, narrow petals with pointed tips and a strong sweet fragrance).
Brunner, who bought land in Haʻikū in 2002, started his farm with a single tree that came with the property. (The tree is still there.) Now he has more than 400 plumeria trees—over 100 different varieties—and is expanding to another 10 acres of leased land in Waikapū this year. He plans to start walking tours in early 2022.
"Growing plumeria has become my passion," Brunner says. "For me, I love the vibrance of the flowers and the fact that there are so many different varieties out there."
By: hawaiimagazine.com