The end of October is usually the time for our annual hike up Schneeberg to spend the last night of the hiking season at Fischerhütte, on the top of the mountain. This year we went to Italy instead and so I've decided to wistfully write about… all the reasons why you should never set foot on this mountain.
Snow mountain. What a name, huh? The highest mountain in Lower Austria is an absolute must-avoid, for all nature and outdoor lovers. Especially for hikers who live in Vienna who might be lured into the false sense of escapism that this stupid mountain might seem to offer. I've been living in Vienna for 15 years but have only been on Schneeberg a handful of times. And there are reasons for it. So, why do I try to avoid it, and why on earth do I keep on going back? Let me reveal my darkest thoughts about Schneeberg…
1. The raging wind
The first time we hiked to the top we really shouldn't have. Gale force winds were forecast. We researched online how powerful they would really feel and as always, we trusted the online information closest to our most desired outcome. Which in this instance was totally wrong. The hike we chose went up along the train tracks, mostly through the forest and therefore should have been manageable in trickier weather. When the first people came down from the top and told us that the train had stopped going due to strong winds, we should have reevaluated. Of course we still kept going.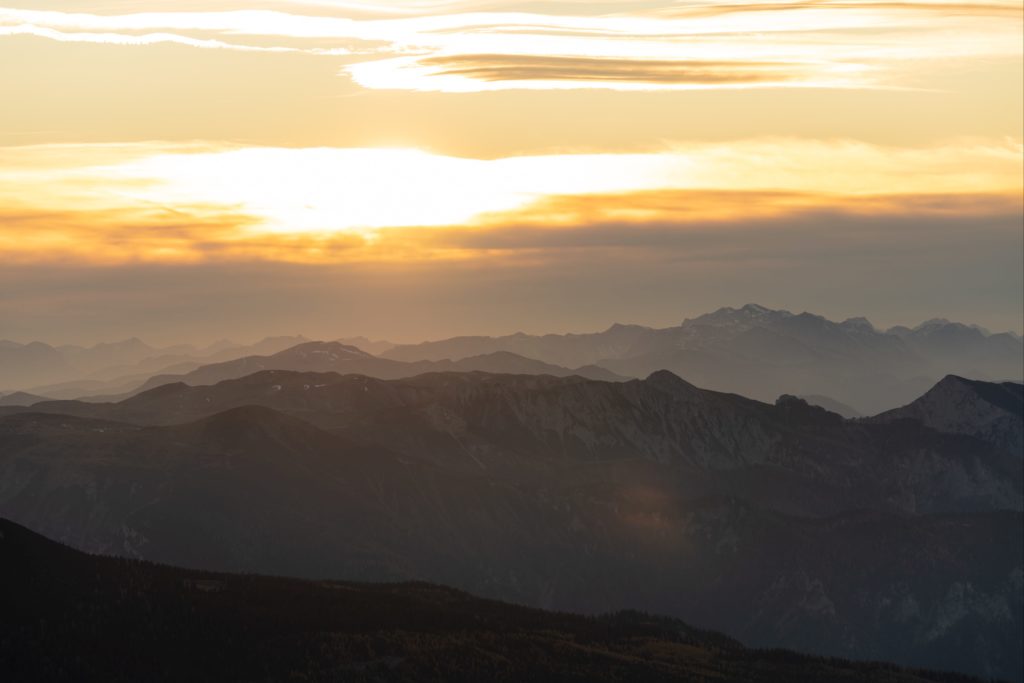 As soon as we emerged above the tree line we were almost blown back down the mountain by the savage, turbulent winds. It had developed into a fully fledged storm, howling across the peaks and taking everything with it that wasn't securely mounted. We looked up towards the top, and hey, we could already see the hut in the back! How bad could it be? It's pretty much a road going there all the way now!
Bad. I don't think I'll ever forget the feeling of the wind blowing so strong that you can't see properly anymore. Or when you walk into the hut and are one of two couples who actually decided to go up in the ridiculous weather.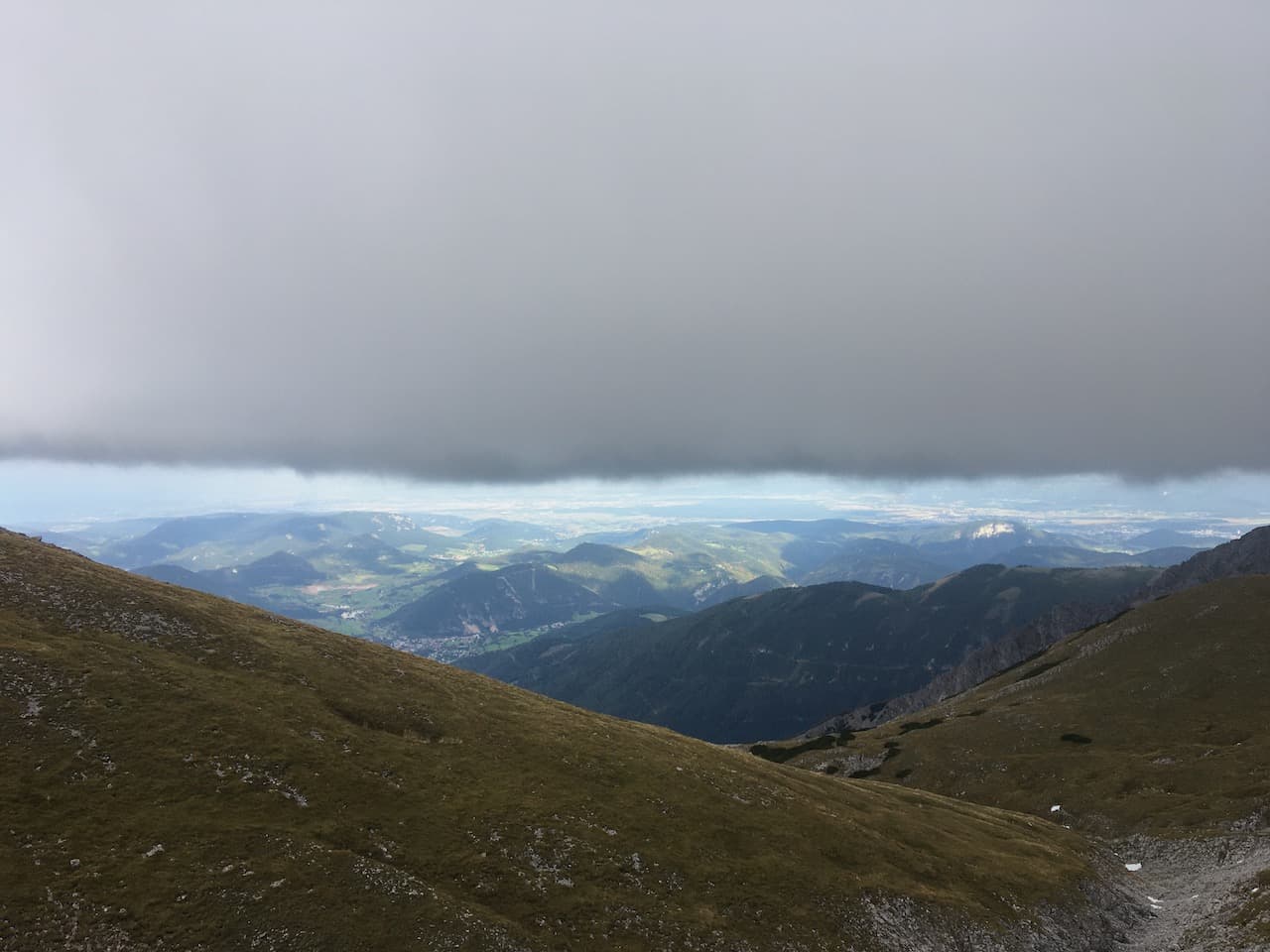 Non-existent sunrises
Not content with the fierce winds from the previous day, Aydin attempted to watch and photograph the sunrise from behind Fischerhütte, where there is an incredible view (in good weather). He is met with fog, darkness and the same incessant winds. Winds still so strong that if he wern't holding on to the cairn with all his strength he might have ended up tumbling all the way back down to Puchberg.
Because that wasn't dumb enough, we decided to do the same thing again exactly one year later. This time we took a different trail around the back but with the same outcome of feeling like Sisyphus trying to climb the last part of the trail to the hut against the raging winds. To be fair though, few times I've slept so well as in Fischerhütte under a cosy blanket, having the dorm almost to ourselves while the storm was singing songs of despairs outside through the night.
Fortunately, the winds died down the next morning and a sublime sunrise unfolded, making up for all the hardships.
2. The contradictory trails of Schneeberg
Trails on Schneeberg fall into two categories: They're either roads or death traps. Granted, there are short sections here and there where it's a lovely little path, winding up or down through forests and hillsides. The trail from the lower to the top train station is quite nice but doesn't give you any views whatsoever. Continuing to the top you follow a gravel road.
From Losenheim it's a nice forest path but once you reach the top cable car station you have to decide between Fadenweg and Fadensteig. The former is a gravel road/wooded trail, the latter as joyful to walk as a tight rope. And when I say walk, I mean climb, pull, slide and tread extremely carefully.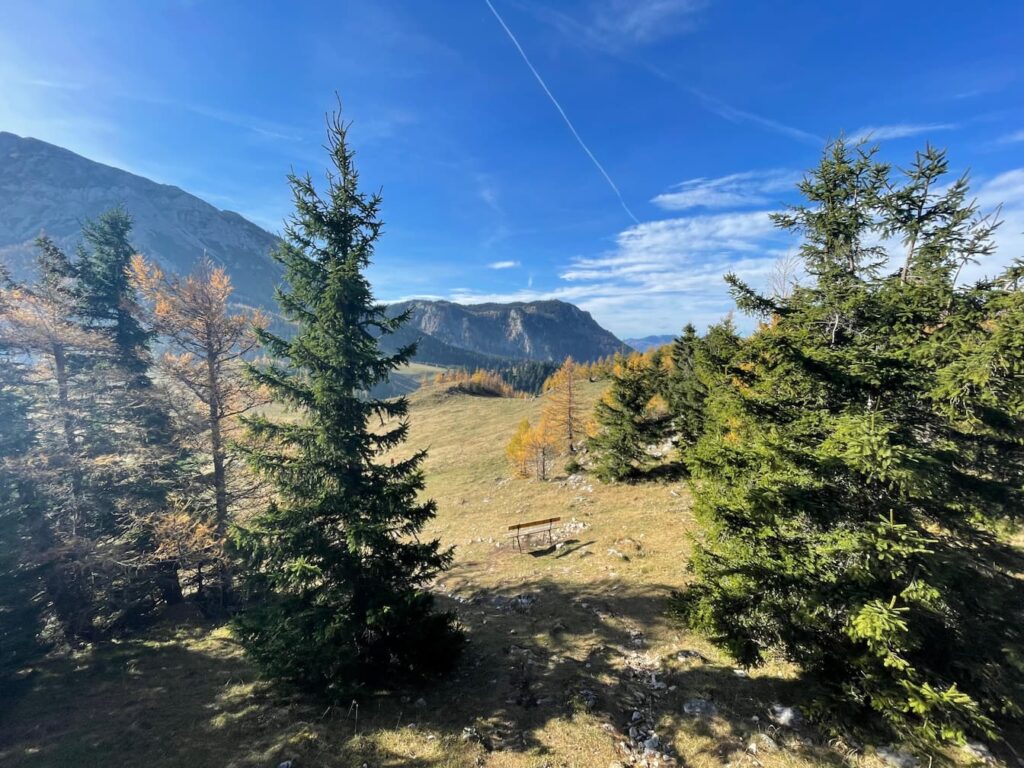 We did go down Fadensteig from the top even though it's recommended to do it the other way around. Foolishly we believed the hut owner when she said it's not that hard. After having my fair share of experience in the mountains I can wholeheartedly confirm that this is complete rubbish. Was this the most scared I had ever been on Schneeberg though? Hell no.
Some paths are better left unwalked
After one of our storm-ridden hikes up to Schneeberg, we were in the mood for some adventure going back down after the weather had cleared up. And so we took the excellent decision to take an unmarked path down that we found on Maps.me. Absolutely no one could have expected this to end in disaster I thought, as we were wading through a sea of chest-high weeds, and then again when we lost the path going down a scree slope and found ourselves stuck in a forest on top of a 30 meter steep cliff edge with seemingly no way out, pondering whether we should call mountain rescue (again). This, my beloved blog readers, is a heartfelt recommendation to avoid Kuhsteig at all costs. We've already made that mistake for you.
3. The disappointing altitude
Not to sound classist, but let's be real: It's not even that high. At least, compared to a standard Austrian mountain. It's also, sadly, just a bit short of being an ultra-prominent peak. Regardless, that doesn't mean it's not brutal to walk up. 1500 meters in a day is something I still don't very much enjoy hiking. Anything less than that will only have you end up in a forest and that's an environment that you can get to with a lot less effort in the Viennese woods. Sure, there's also the option to take the train or the chair lift up if you're Jeff Bezos or have just sold a kidney. A single ride up with the train will relieve you of 33 euros.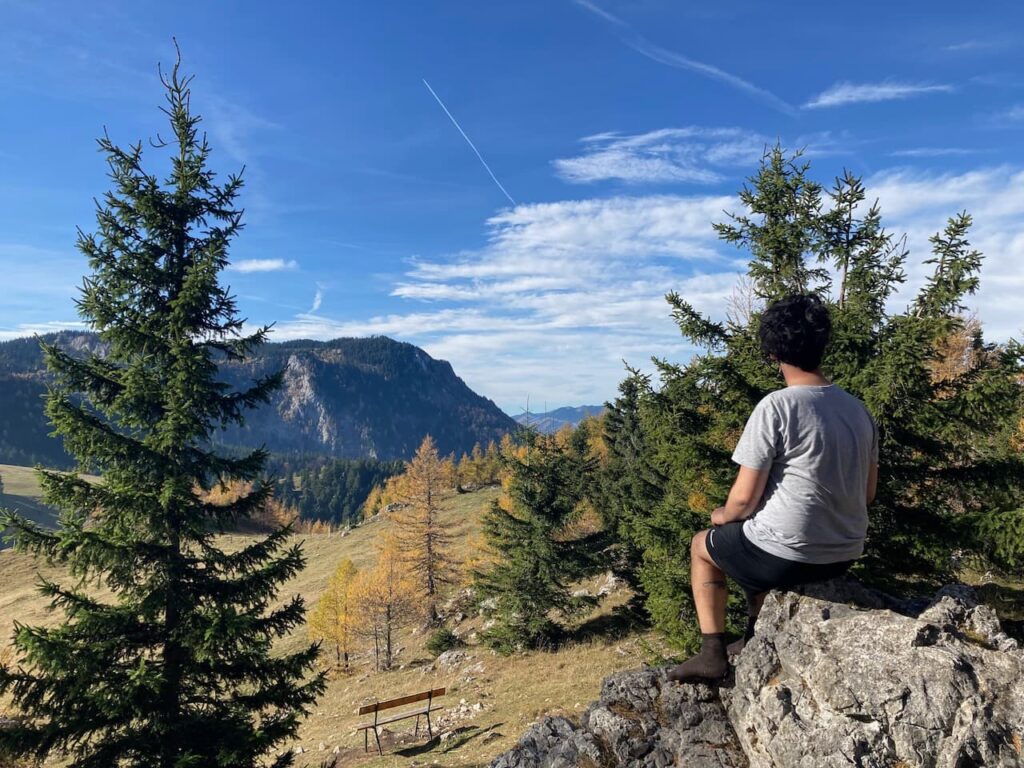 4. Schneeberg's disenchanting shape
It doesn't even look that good. It's not pointy like the famous Austrian mountains, more like a pile of cow pat, flat on top with a bit sticking out. It's not imposing, not ragged, not scary-looking, it's not towering above the other mountains like the majestic leader it ought to be, instead it's just kind of lying there in-between the other mountains. Slightly higher, sure, visible from afar, of course, but not to the point where I would spot it from Semmering and point to it in awe like I do with Hochstuhl/Veliki Stol when I'm in Carinthia. Schneeberg is like a sleeping giant, its underwhelming shape coaxing idiots like us to underestimate it every single time.