Dutch cuisine isn't exactly known for being refined or innovative, and it's probably best described as rustic. You basically mash up some potatoes and cabbage, add a sausage and voila! You have created a Dutch dish. Even though fine Dutch dining is something that is pretty much non-existent, there are some Dutch delicacies you might want to give a try when travelling through the Netherlands.
Dutch Green Pea Soup – by Erik Tjallinks under creative commons licence.
Something the Dutch do really well is making pancakes. There are numerous pancake houses dotted around the country where you can eat pancakes as big as wagon wheels, with toppings ranging from savoury bacon to sweet apples. If your appetite is not big enough for those, try a portion of poffertjes. They're mini-pancakes served with a big glob of butter and a generous dusting of powdered sugar.
Hearty soups are available throughout the entire winter. Holland's no.1 winter warmer is the 'snert' – or split pea soup. It's filled with healthy veggies like carrots, leeks and of course split peas, as well as slices of smoked sausage and bacon. There is a brown bean variation of the 'snert' if split peas are not your favourite thing. If you're opting for the more familiar tomato, chicken or vegetable soups, you'll find that these almost always contain mini meatballs. To the Dutch, soup is not soup without them.
If you're after Dutch food on the go, then do try a portion of 'friet' or chips. Traditionally they're eaten from a paper cone and dipped in copious amounts of mayonnaise, although ketchup is allowed as well. If in the UK chips come with fish, in Holland they come with fried snacks and there are many to choose from. The 'kroket', for instance, is a crispy, battered sausage filled with a meaty and creamy ragout. Another Dutch favourite is the 'frikandel', which is best described as a minced meat hot dog. Veggies can pair their chips with fried cheese or a fried rice or noodle ball. These snacks can often be purchased from the 'snackmuur' or snack wall, which is a wall-sized vending machine filled with fried snacks.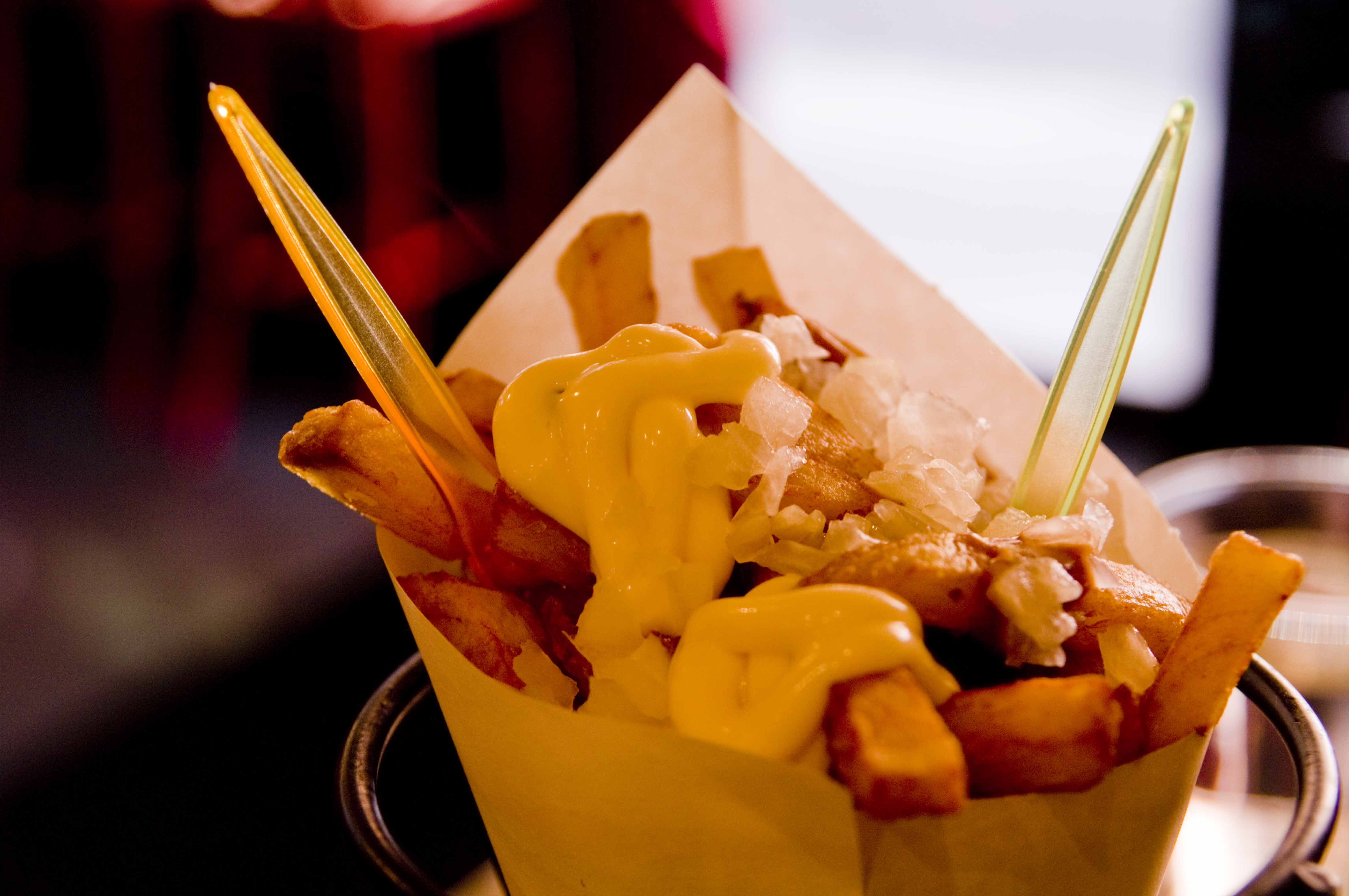 Dutch Chips – Photo by Charleston The Digitel under creative commons licence.
Since Indonesia is a former colony of the Netherlands, you'll find numerous Indonesian restaurants throughout the country. There are lots of dishes to choose from such as nasi goreng or fried rice, chap choi, which is a sweet and sour veggie dish, and gado gado, a cold potato salad. If you're not sure what to go for, then opt for a 'rijsttafel' which literally means rice table. It's a selection of several small dishes and a great way to sample the Indonesian cuisine.
By: www.trafalgar.com