An excursion to Sintra is a must-do day trip on any Lisbon travel itinerary.
Enjoying a stunning setting among the wooded ravines and rippling, granite-daubed mountains that rise north within sight of the Portuguese capital, Sintra casts a magical spell over everybody who ventures into this fairy-tale land.
The destination, a UNESCO World Heritage Site, is a veritable storybook of extravagant pastel-hued palaces, spooky Gothic mansions, and luxuriant landscaped parks and gardens.
Lending charm and character to Sintra's Old Town is a narrow maze of attractive 200-year-old townhouses, quaint cafés, some excellent restaurants, and an enticing collection of artisan stores and boutiques.
The historic center sits at the foothills of the verdant Serra de Sintra, a surreal landscape of moss-colored boulders scattered under a canopy of pine and eucalyptus. Here, birdsong is carried on the soft-scented Atlantic breezes that caress the region, a cool and refreshing microclimate that makes Sintra a perfect summertime excursion destination.
But this bewitching oasis has an evergreen allure and is worthy of exploration anytime of year.
So, what's the best way of reaching what the English 19th-century romantic poet Lord Byron described as a "glorious Eden?" Well, depending on your budget, travel style, and timeframe, there is a transportation option to suit everybody.
Note: Some businesses may be temporarily closed due to recent global health and safety issues.
1. From Lisbon to Sintra by Train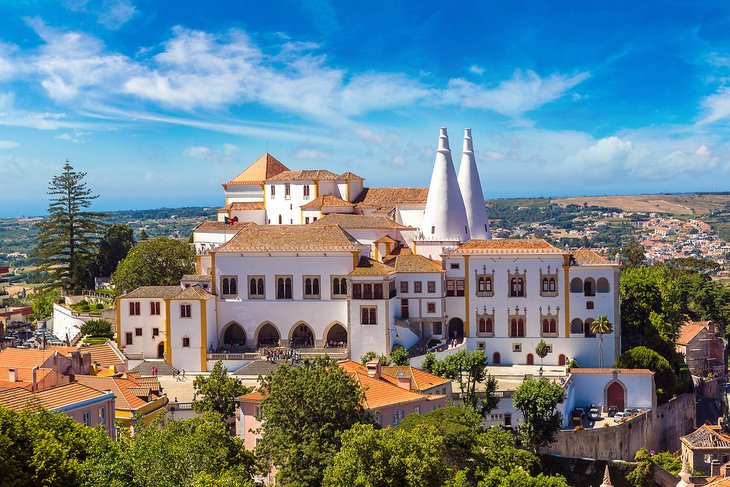 Palácio Nacional de Sintra
The most convenient and inexpensive way of reaching Sintra from Lisbon is by train out of the city's central Rossio railway station.
Located in Lisbon's historic center, Rossio railway station is easily recognized by its ornate late-19th-century façade with two Moorish-style horseshoe arches.
The terminal stands opposite the neoclassical Teatro Nacional de Dona Maria II, and is close to the tourist districts of Baixa, Alfama, and Chiado.
Planning a journey by train from Rossio to Sintra is straightforward.
There are multiple daily departures roughly every half hour (hourly on Saturday and Sunday). Journey time is 40 minutes and while not terribly scenic – the route snakes through a rather drab suburban landscape – the trains are comfortable and efficient.
Tickets and seats cannot be pre-booked. Instead, you must purchase a ticket, a reusable smartcard called Viva Viagem, either from one of the counters in the departure hall, or by using an automated ticket-issuing machine, which features onscreen instructions in English, French, and Spanish. There are no reductions for a return ticket.
Passengers must validate their tickets by scanning them at the electronic boarding gate before proceeding onto the train. Failure to do so may result in a hefty fine.
Upon arrival, the walk from Sintra railway station to the historic neighborhood takes around 15 minutes and follows a road that affords picturesque views over the Palácio Nacional de Sintra and surrounding countryside.
Tourists can also reach Sintra by train from Estação do Oriente, a major railway station and public transport hub located at Parque das Nações, in the east of the city.
The station is especially useful for visitors traveling from the airport by metro: they can change at Oriente and take an onwards train to Sintra, a journey time of about 47 minutes.
The Oriente-Sintra service runs a similar number of departures as the Rossio-Sintra option, and ticket prices are the same.
A comprehensive timetable and detailed pricing policy covering both services is posted on the Comboios de Portugal (CP) website.
Note that the Lisbon-Sintra connection is a busy commuter service. Trains stop at several stations en route, and there's no reason to alight at any of them except for one: Queluz-Belas.
Queluz is the location of the impressive 18th-century Palácio Nacional de Queluz, the palatial former home of Queen Maria I.
The gilded and mirrored staterooms and magnificent formal gardens make for rewarding exploration and are certainly worth breaking up the journey for. If you do so, bear in mind that you'll need to purchase another ticket to complete the trip to Sintra.
2. From Lisbon to Sintra by Tour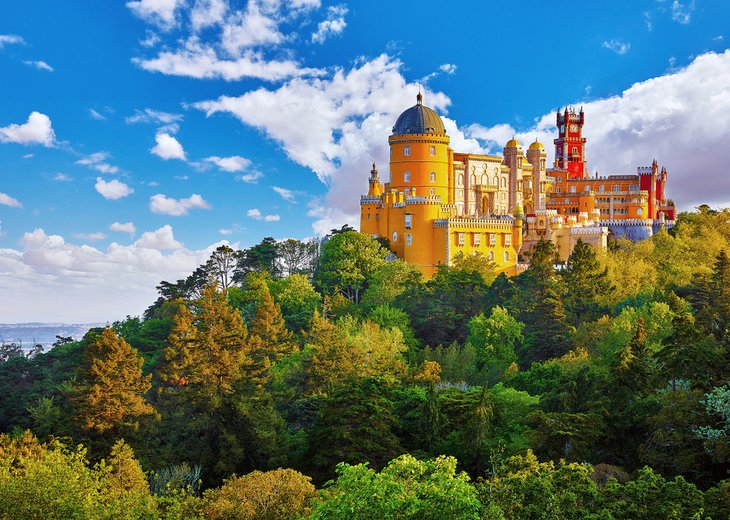 Palácio Nacional da Pena
A pleasant and hassle-free alternative to using the train is to opt for a packaged tour to Sintra, especially if there are other things you may want to see along the way.
Joining a packaged tour takes all the effort out of reaching your destination.
With someone else responsible for designing the itinerary and planning the journey, tourists can relax and enjoy a more immersive travel experience.
Very often the cost of a tour includes convenient round-trip transportation to and from your hotel, the services of an expert guide, ticket entry to major sites, as well as lunch.
It's worth considering a tour that includes easy and efficient access to Palácio Nacional da Pena and Quinta da Regaleira, two of Sintra's top visitor attractions.
A small group tour from Lisbon does just that. Besides ticking off Sintra's UNESCO-listed highlights, travelers are free to explore the town's historic quarter, a cluster of predominantly 19th-century properties set along terraced streets and winding alleys.
This full-day tour takes full advantage of Sintra's enviable location by also taking in one of the region's most impressive natural wonders, the nearby Cabo da Roca. Flanked by huge granite boulders and vertiginous windblown cliffs, this is mainland Europe's most westerly point. Portugal's revered poet, Luís de Camões, declared in his epic Os Lusíadas that this is where "land ends and sea begins."
This picturesque excursion continues by following the coast south towards the resort town of Cascais. Here, travelers can indulge in a spot of shopping or enjoy a sunny interlude on the beach before being driven back to Lisbon.
3. From Lisbon to Sintra by Bus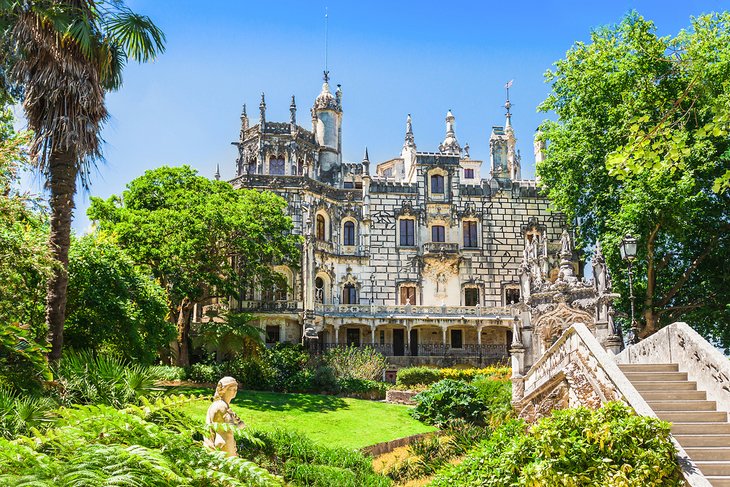 Quinta da Regaleira
There are no direct bus services from central Lisbon to Sintra.
However, there is regular public transport between Sintra and Cascais on urban Scotturb buses approximately once per hour during the day. You'll find Cascais bus station located on Avenida Costa Pinto.
Routes serve residential areas, and journey times can take anywhere between 30 to 60 minutes.
If you're based in Lisbon and want to visit Cascais and afterwards Sintra, consider purchasing a one-day train and bus travel card. It's valid for unlimited journeys on the day of purchase and can be used on the Cascais and Sintra railway lines, and on all Scotturb buses. Passengers can hop on and hop off during any stage of their journey. More details are found on the CP website.
It's worth noting that the 434 Scotturb Sintra tourist bus connects the town railway station with the town center, Palácio Nacional de Pena, and the Moorish Castle.
Another bus, the 435, goes to the Regaleira and Monserrate palaces.
4. From Lisbon to Sintra by Car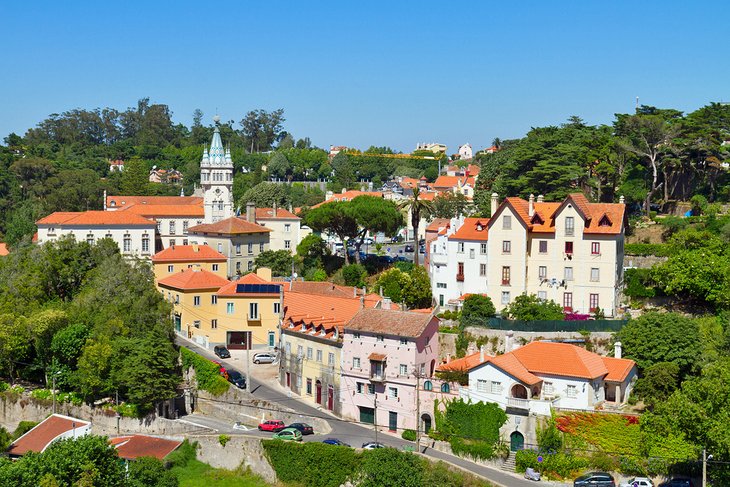 Sintra Old Town
The route from Lisbon to Sintra follows the IC19 highway and, later on, the A16 motorway, west out of the city. What is usually a 30-minute journey by car often takes longer during rush hours – both the IC19 and A16 are major commuter arteries in and out of the capital.
While hiring a car undoubtedly offers tourists more freedom and flexibility in planning their journey, driving to Sintra is not recommended unless absolutely necessary.
Sintra is busy at the best of times, but parking in the summer months is very limited. At weekends, it's virtually impossible. Roads into the historic center are mostly one-way and very narrow, and there are only two modest-sized car parks serving the area.
If you do drive, visit early during the week and look for a place to park in Sintra's modern town, about 1.5 kilometers to the east.
Lisbon has a plethora of car rental agencies, from the airport to locations throughout the city.
Hiring a car online with a pickup at the airport is the most convenient method of securing a vehicle. Remember also that most reception desks at upscale hotels have contacts with national and international car rental companies. Be sure to read the small print, double-check insurance details, and inquire about any extra fees and hidden costs.
By: www.planetware.com