After flourishing in the 20th century, slang is going through a quiet phase. Is it merely dormant – or are Australians taking themselves more seriously?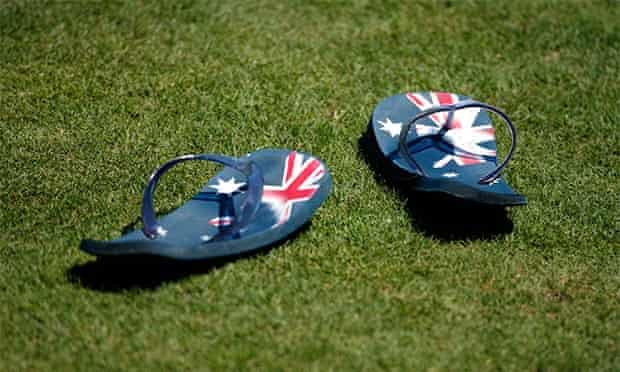 Australia is progressing from a colloquial lexicon to one reflecting the gravitas of a country viewed with greater global credibility. Photograph: Tim Wimborne/Reuters Photograph: Tim Wimborne/REUTERS
From "fair dinkum" to advancing fair, Australia is on an interesting linguistic journey. Once known on a global scale for skulling a tinny in the arvo and having no dramas because she'll be right, Australia's lexicon, it appears, is changing.
Tony Thorne, editor of the recently released Dictionary of Contemporary Slang (fourth edition), says Australian slang is going through a quiet phase after flourishing in the 20th century (particularly the 1960s and 70s). Slang, which by its very nature constantly renews itself, often has a limited lifespan.
"There's a trend where most new terms are now coming from the UK and US," Thorne suggests. Is Australian English innovating less? Or is the land of the flamin' mongrel taking itself more seriously?
To prove his point, Thorne highlights that there are just three new Australian slang terms for this fourth edition of his slang dictionary – the fewest yet. Many existing slang terms of Australian origin are still recorded and are in frequent use (underchunders, squiff, dunny, lurk, lash, rack off, daggy, come the pork chop/raw prawn – to name a few). It's not these terms that he's suggesting are dying out (although some certainly are) – but the introduction into the global vernacular of fresh slang terms with an Australian etymology.
As a lexicographer, Thorne's methodology is thorough; terms must be attested by at least two separate audited sources to warrant inclusion.
Two of the three new Australian slang additions for this edition are actually old words, but their entry into the dictionary suggests a surge in popular usage. One of them is "ort" (buttocks) and the other is "tockley" (penis). Tockley was invented in 1974 by two fourth grade students in Charlestown near Newcastle in New South Wales. The third new term for 2014 is "unit" – defined as "a bogan; Unit is a brand popularly associated with the underclass". "Bogan" itself still features in the dictionary – it's not new but still very common.
It sometimes seems as though Chris Lilley is solely responsible for keeping Australian slang neologism alive. His alter ego Jonah popularised the term "ranga", meaning ginger (from orangutan), and it was used to describe everyone from Julia Gillard to yours truly. Many find it offensive; I accept it as endearing and enjoy the cheeky playfulness. Then there's "quiche", another neologism of a Lilley alter ego, Ja'mie. It means "hot, attractive" and trended on Twitter in Australia during the first episode of Ja'mie: Private School Girl. Perhaps it'll make the fifth edition of the slang dictionary.
Ja'mie also popularised some irritating/controversial slang acronyms and abbreviations such as "yolo" (you only live once), "ILY" (I love you) and "suey" (suicidal.) The satire reflects the popular parlance of pupils in the Australian private school system, with their tendency towards melodrama and a creation of their own class hierarchy ("borders" are very much disparaged by Ja'mie). It hints that the Australian slang neologists of the next generation may be responsible for a resurge of Australia's previous dominance in the slang vernacular of the English-speaking world.
For now, though, we're in the quiet period. What can it mean? Professor John Hajek from the University of Melbourne's school of languages and linguistics says it could indicate that Australia is maturing as a nation.
"Australians are not flocking to London in the way that we used to," he says. "And for those who do, the Bazza McKenzie stereotype is d.e.a.d."
The travelling Australian used to work in pubs and service industries where many customers heard, fell in love with and adopted playful Aussie slang terms. Now, owing to the rise of the Australian middle class, Australians abroad are increasingly working in the financial, business, law and banking sectors – offices with less customer interaction and less slang spoken.
As a result, Australianisms are filtering less into British English vernacular. Hajek also cites the American dominance of free-to-air TV, meaning that Australians themselves use the Americanism "awesome" for anything remotely adequate, negating the Australian equivalent "bonzer". TV's influence can replace Australianism with Australianism though: "ranga" has replaced the previous, ironic term for a redhead: blue/bluey.
Thorne has noticed a radical change whereby Australians are "the most enthusiastic users of global, free-market corporate jargon and buzzwords." He's noticed "pivot", "collateral", "cadence" infiltrating Australian English. I've noticed the term "utilise" increasingly used; what's wrong with the less robotic "use"?
All are far way from "bumfuck Idaho/nowhere" or the "arse-end of Woop Woop" – traditional Aussie slanguage, which didn't shy away from calling a spade a b.l.o.o.d.y great shovel. Hence, a tax is no longer a tax. It's a deficit levy.
In addition to sometimes obfuscating, this maturing and corporatisation of Australian English has had a positive impact on English teaching as an Australian business: "It's now a billion-dollar industry, which was never the case when Australian English wasn't accepted as a pronunciation norm," Hajek says. "There's been a huge shift over the last 30 years."
Australia is progressing from an abbreviated and colloquial lexicon to one reflecting the gravitas of a country viewed with more global credibility than ever before. From robust earthiness to slick professionalism: it'll certainly be a shame if the much-loved Aussie character becomes lost among utilising a cavalcade of cadence. Mate.
By: www.theguardian.com