From fabulous food and medieval villages to fairytale castles, Germany gives you many reasons to travel there at least once. Though the country offers a multitude of places to visit travelers usually throng to Germany's most iconic cities which are full of life and plenty of ways to entertain you. These city streets are home to world-class museums, fine dining options, spas, and more. If you are having trouble deciding where to visit, here is a list of Germany's most unforgettable cities sure to give you a head start on your planning.
Here Is A List Of The Must-Visit Cities In Germany
Berlin
The culture hub of the country Berlin is the capital of Germany. The city has a cosmopolitan vibe and is beloved for Avante-Garde art, museums, architecture, history, and nightlife. Famed for its alternative scene and acceptance that anything goes, simply being in Berlin and experiencing the atmosphere is intoxicating in itself. With many visitors keen to learn about its turbulent political history Berlin is the most popular destination in the country. Make sure to visit Iconic structures like the Fernsehturm (TV Tower), Reichstag (government building), and Gedächtniskirche (Kaiser Wilhelm Memorial Church) which are not only symbols of Berlin but for Germany. Walking along the Berlin Wall and visiting the haunting Holocaust memorial are just two must-do activities in this multicultural and modern city.
Munich
Known as München, this city is the gateway to the Alps. It is said to be one of the most charming cities in Germany. The capital of Bavaria, the city offers first-class museums and regal German architecture like Marienplatz and its famed glockenspiel, as well as the Nymphenburg Palace. Munich is a fantastically wealthy city that perfectly highlights its rich cultural heritage while remaining contemporary at the same time. It is most famous for being the center of Oktober fest which attracts over 6 million visitors every year.
Frankfurt Au Main
Frankfurt is the business and finance center of Germany and much of Europe. With glittering glass twinkling from its towering skyscrapers, this dynamic city is home to over 5.5 million people. Thanks to its International Airport, Frankfurt is the major travel hub for Germany and much of Europe. Frankfurt is a mix of a modern hub filled with skyscrapers as well as an old medieval town filled with quaint cafes and traditional taverns allowing its visitors to experience a charming contrast between the two. Adding to the city is the Main river, allowing you to enjoy long walks on its banks.
Cologne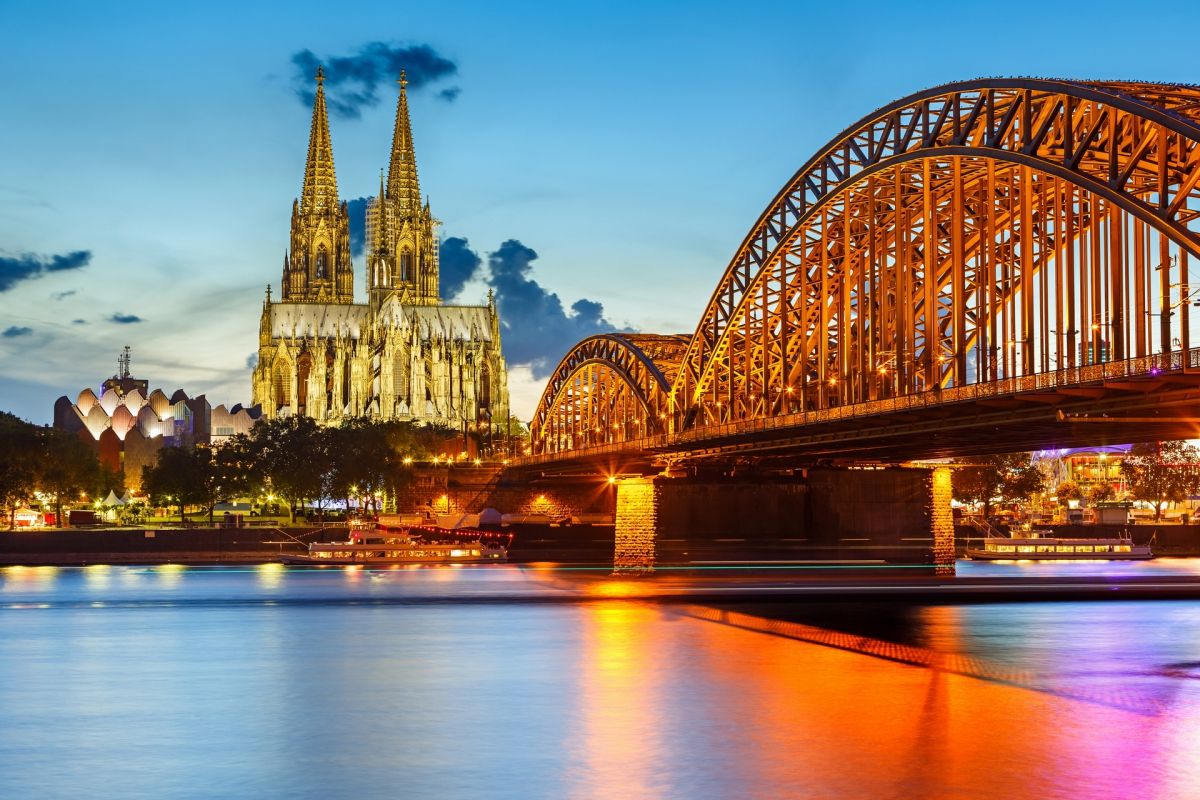 Home to the impressive cathedral's twin spires towering above the city and founded by the Romans, Cologne is one of the oldest cities of Germany. The soaring Cathedral of Cologne is the centerpiece with dual towers reaching 157-meters into the sky and can be seen from all over the city making it a must-visit place in the city. If chocolate is your desired vice, visit the Chocolate Museum which covers the long history of turning cocoa beans into chocolate. For those of romantic hearts, you can always leave a locket declaring your undying love at the Hohenzollernbrucke bridge.
Hamburg
Located in the North of Germany, Hamburg is the second-largest city in the country. It has a bustling port that has welcomed people to its shores to trade and make merry since the Middle Ages. Several waterways run through its center and Hamburg has more bridges than Amsterdam and Venice combined. The city embraces its gritty, sailor and this is most evident in its red-light district Reeperbahn, filled with seedy bars it is also the hot spot for clubs. It's famous for being the place where the Beatles got their start.
Dresden
Filled with glorious churches, palaces, and museums it's almost unbelievable that this city in Germany was almost destroyed during the Second World War. Nestled on the banks of the Elbe river, the baroque beauty of Dresden is unquestionable. The City has a bewitching catalogue of art and architectural styles for you to explore. Some landmarks which have been restored to their former splendour and are a must-visit are Frauenkirche (Church of Our Lady in Dresden), royal Zwinger Palace, and Fürstenzug (Procession of Princes, the largest porcelain mural in the world).
Leipzig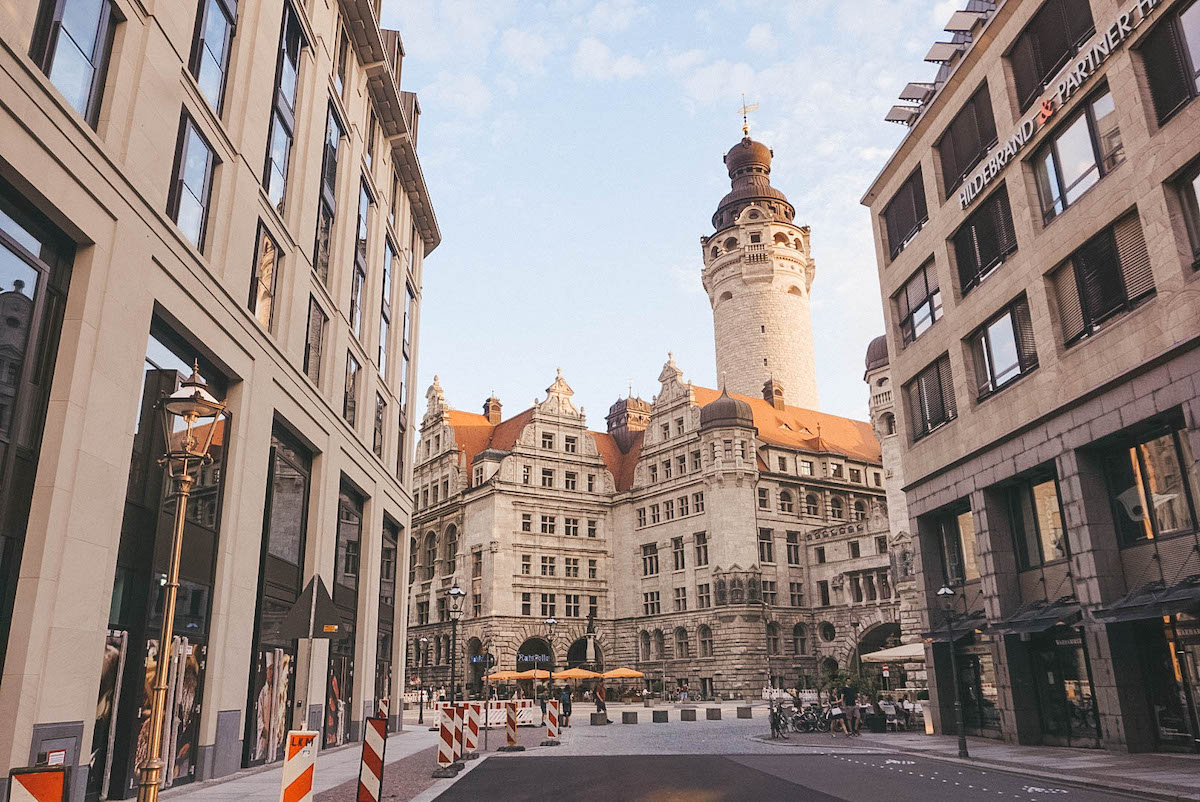 Aside from Berlin, Leipzig is the most upcoming city in Eastern Germany. Once one of Europe's centers of art and culture, this city in Germany now boats of cheap rents and a vibrant lifestyle, making it an ideal destination for young travelers. Tourists can enjoy performances of Bach's music at the St. Thomas Church where Bach once served as choir leader and is now buried. The city also boasts of several impressive structures such as the Napoleonic Monument to the Battle of the Nations and Reichsgericht, the former high court of the Reich.
Nuremberg
Famous for the Nuremberg Trials which took place here after the Second World War, every corner of this beautiful city is etched with history. Nuremberg was once the unofficial capital of the Holy Roman Empire, and the German kings added much to its grandeur. This impressive old city is surrounded by Gothic churches and a colorful market square. Christmas here is magical, thanks to its sprawling, twinkling Christmas market.
Düsseldorf
Often said to be Germany's answer to Milan, Düsseldorf is the fashion capital of the nation. Düsseldorf is known for its rich art scene which has produced many greats. It is home to composer Robert Schumann as well as the Düsseldorf Art Academy, responsible for well-known graduates like Joseph Beuys, Jörg Immendorff, and Gerhard Richter. A center for trade, Düsseldorf hosts shows throughout the year, combine that with pulsating nightlife and a lively arts and culture scene, a visit to this city in Germany will prove to be exciting.
Bremen
Bremen has a great reputation for being one of Germany's most hospitable cities. At 1200 years old the city is brimming with history. Bremen is an intriguing city with a laidback vibe that belies its large size. The city is so beautiful that it looks like it's straight from a fairytale. The city has a taste of the modern with industries and technology whereas its old enchanting streets transport travelers to yesteryears. one of Germany's 38 UNESCO World Heritage Sites this is a must-visit city.
Have A Historical Adventure Here
Steeped in history, with ancient streets having stories to tell, these cities in Germany are bound to enthral any traveling. These cities showcase the diversity of this eclectic city and here one can discover from the most charming old towns to the most progressive city centers. So grab your backpack and take a walk through these glorious cities in Germany.
By: travel.earth