Located near the German-Polish border, Rakotzbrucke is one of Europe's most breathtaking bridges. It arches up in a near-perfect semicircle, and when the weather is clear, its reflection creates a gorgeous circle of stone on the water below.
In short, it's a delightful place for both amateur and professional photographers, and in recent years, travelers have flocked to Rakotzbrucke to marvel at its beauty (and to capture a few pictures for their social media accounts).
Here's everything you need to know about this remarkable bridge.
Rakotzbrucke Is Old, But Not Ancient
With its elegant basalt spires, Rakotzbrucke looks like something from a medieval legend. However, it's not that old — at least when compared with similar European structures. Friedrich Hermann Rotschke commissioned the bridge in 1860, and the stone for its thin arches was sourced from both local and foreign quarries.
Given that Germany is home to numerous buildings and monuments that are many centuries old (the Roman chamber grave in Weiden, Cologne, for instance, dates back to the first half of the second century A.D.), Rakotzbrucke is relatively new. That's not to say that it's unremarkable, but it's not nearly as old as it looks.
Its Nickname Comes From A Local Legend
Given its unconventional appearance, perhaps it's not surprising that Rakotzbrucke has made its way into myth. According to legend, the person who built Rakotzbrucke consulted with the Devil when designing it.
That's a fitting supernatural explanation for the structure's ahead-of-its-time engineering — but, of course, there was a catch. When the bridge was constructed, the builder was forced to walk over it, and in doing so, he sold his soul to the Devil. The builder paid the ultimate price, and the bridge is a monument to his hubris.
The legend is probably an attempt to explain Rakotzbrucke's ominous appearance and gravity-defying engineering. Needless to say, there's nothing to it — Friedrich Hermann Rotschke simply wanted an attractive structure to bring attention to his park.
Rakotzbrucke Isn't The Only 'Devil's Bridge' In Europe
Europe is home to many breathtaking bridges, and some of them have similar demonic legends concerning their origins. In most of the tales, however, the builder himself isn't forced to cross the bridge; the Devil is content to take the soul of the first person who walks across.
The Devil's Bridge of Ardino in Ardino, Bulgaria, is one example of this myth. Like Rakotzbrucke, its reflection in the Arda River seems to create a perfect circle. Locals claim that the Devil left his footprint somewhere on the rocks of the bridge.
The Ponte della Maddalena in Borgo a Mozzano, Italy, also features an arched design, and walking over it is said to be a distressing experience for travelers. Per local legend, the Devil agreed to take the first soul that walked over the bridge — and the clever Italian townsfolk sent over a dog.
Still, few of these Devil's Bridges can compare with Rakotzbrucke's otherworldly beauty. It's considered one of the world's most amazing bridges for good reason, and if you're traveling near the Polish border, it's certainly worth a visit.
Rakotzbrucke Is Located In Kromlau Park
Kromlau Park (also known as Kromlauer Park) is the largest rhododendron park in Germany, and each spring, the flowers bloom in fantastic displays, drawing travelers from around the world. Even so, Kromlau is a fairly quiet area, and tourists can enjoy a walk through a serene environment when making their way to Rakotzbrucke. Numerous ponds and lakes dot the landscape, and in the fall, wild mushrooms dot the paths.
The 200-acre Kromlau Park is close to the more famous Muskau Park, and travelers may want to visit both of these natural wonders in a single day trip. Muskau Park is a UNESCO World Heritage site, designed as a "painting with plants" and modeled after other European gardens (Kromlau Park was actually modeled after Muskau Park, so in a sense, it's a model of a model). Muskau is a beautiful and interesting destination, with a reconstructed castle, an arboretum, and more than 2 square miles of gorgeous landscapes to explore.
Tourists Can't Cross Rakotzbrucke
While Kromlau Park doesn't have an entrance fee, tourists can't actually cross Rakotzbrucke. This has nothing to do with the aforementioned legend — park administrators simply want to keep the bridge in good condition, and given Rakotzbrucke's popularity, the rule makes sense. If hundreds of travelers traversed the bridge every day, it would need much more upkeep.
Walking through Kromlau Park is a wonderful experience, and Rakotzbrucke provides an interesting photo opportunity for travelers. While the park is open year-round, you should try to schedule your visit on a clear day, when the bridge's reflection will be most visible. To make the most of your trip, visit in spring, when the rhododendrons bloom throughout the park, or in autumn, when the foliage provides a beautiful backdrop for pictures.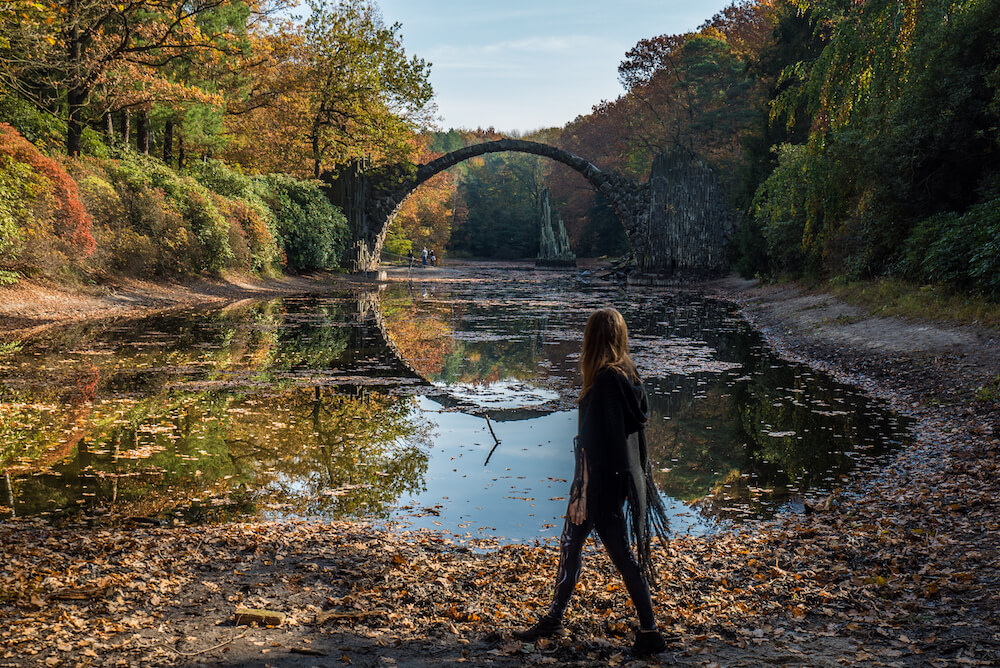 By: travelawaits.com