New Zealand offers a variety of scenery, all of which are sure to blow your mind away. There are plenty of deep glacier lakes, verdant valleys, long sandy beaches, and the spectacular snowcapped peaks of the Southern Alps, to name a few. It's definitely a feast for the eyes when you travel to this wonderful country. Not only is it full of stunning parks, but it is rich with culture as well. Moreover, adventure lovers can definitely have an incredible experience here, given their well-known hiking trails and world-class skiing and surfing. There's definitely something for everyone. Whether it's your dream destination or you're a local looking for a place to stay for a short getaway, New Zealand can offer great options. Scroll down for the best treehouse hotels in New Zealand.
1. Hapuku Lodge & Tree Houses
Hapuku Lodge & Tree Houses offers great convenience, tranquillity, and breathtaking views. The accommodation rests between the mountains and the sea, providing spectacular views of Kaikoura and the Pacific Ocean, and it is mere minutes away from Ohau Stream Walkway and Waterfall. It is perfect for nature lovers and anyone who wishes to wake up to amazing scenery every morning, among the trees. The lodge features air-conditioned suites, along with a lounge area inclusive of a flat-screen TV, DVD player, and an iPod docking station. Moreover, fun activities such as cycling and hiking are available on site. Bicycles are also free for guests to use to explore nature's beauty. There is even an outdoor pool, a spa bath, and a restaurant.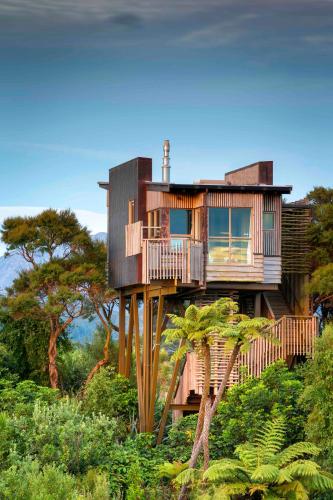 Hapuku Lodge & Tree Houses
Address: 1 Station Road, Hapuku
2. Simple treehouse with a touch of luxury
Recharge and rejuvenate at this beautiful treehouse that offers not only delicious treats but also wellness treatments by qualified therapists. It is perfect for couples who wish to go on a short romantic getaway. High above the forest floor, its wrap-around deck serves as a viewing platform where you can fawn over the beautiful scenic view right before your eyes. You can even do so with a local wine or beverage in hand. The views become even more spectacular at night as the stars above the sky twinkle down at you. Moreover, everything offered here is organic and natural as the owners believe in simplicity with a touch of luxury.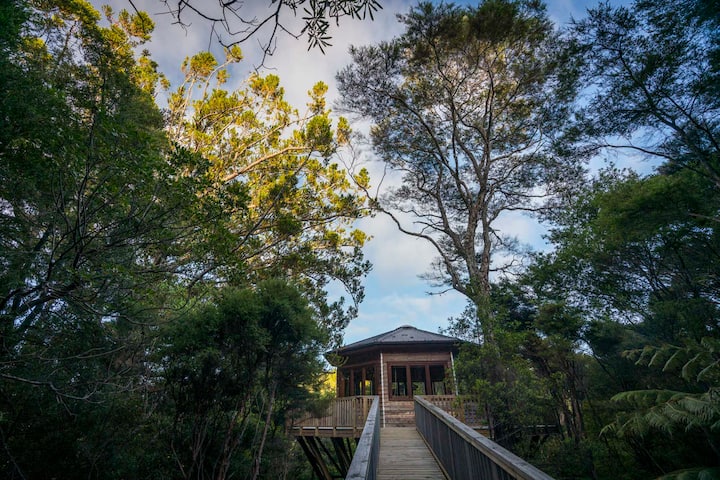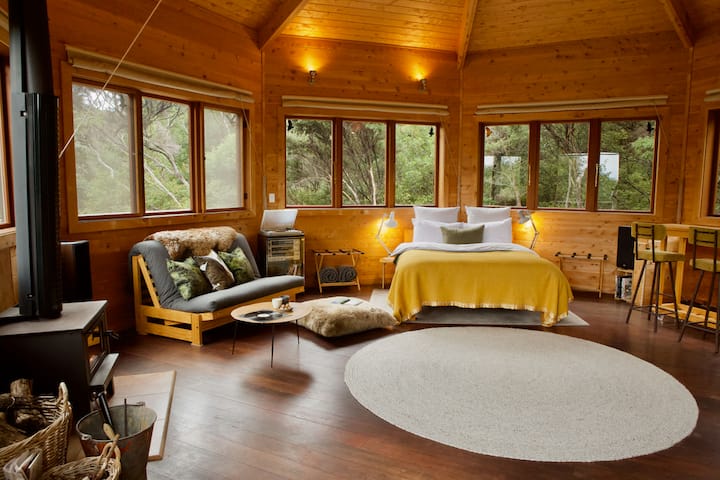 AWAY Treehouse, outdoor tub & massage treatments
Auckland, New Zealand
3.Spectacular eco-treehouse with barbecue facilities
Set on a small hill in the treetops, the windows overlook breathtaking views of the forest, and the eco-house is sure to offer great relaxation. This treehouse is exceptionally unique as it generates its own electricity, so you need not worry about blackouts during your stay. Its porch is perched right above the spectacular trout steam and offers amazing views of the volcanoes found in Central Plateau, the perfect place to relax. There is a handbuilt barbecue pit for guests to enjoy. If you wish to have takeout, this rural treehouse is merely minutes away from cafes and bars.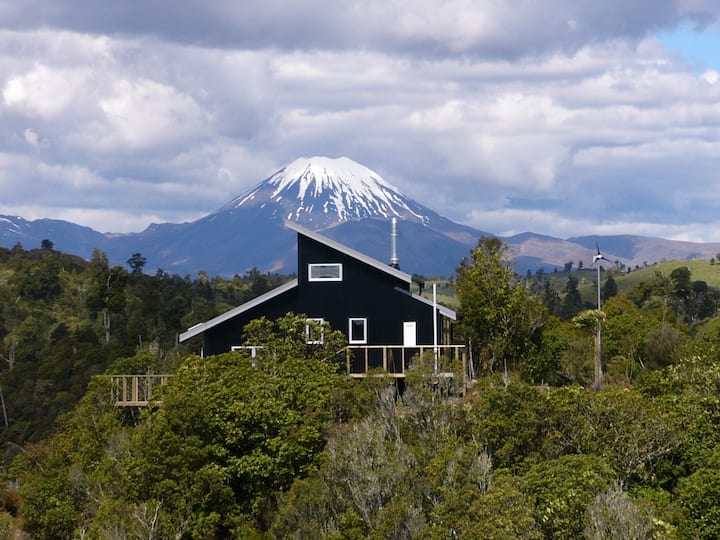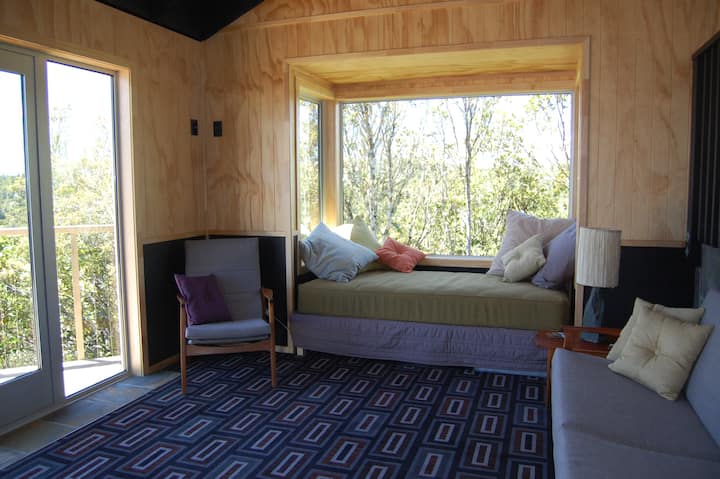 The Tree House for Adults Only @ Wood Pigeon Lodge
Raurimu, Manawatu-Wanganui, New Zealand
4. Pirate ship treehouse with picnic tables
Looking for a unique treehouse to stay in for your getaway with the little ones? This pirate ship treehouse at Tanglewood Retreat might be the answer. Amaze the little ones with this uniquely shaped treehouse high above a sea of trees. Not to worry however as its interior is modern. It has a double bed, an entertainment area towards the back of the ship, and newly built eco-bathrooms. There is even a shared barbecue pit available for use as well as picnic tables for you and your loved one to enjoy some outdoor meals. Be surrounded by nature and enjoy the songs of native birds during your stay.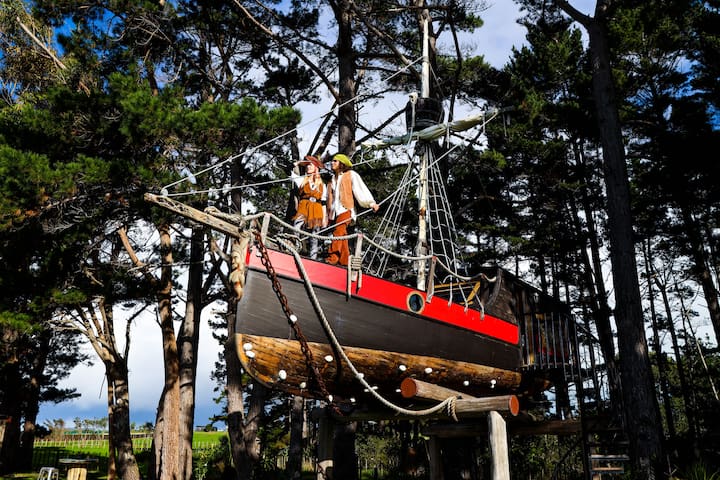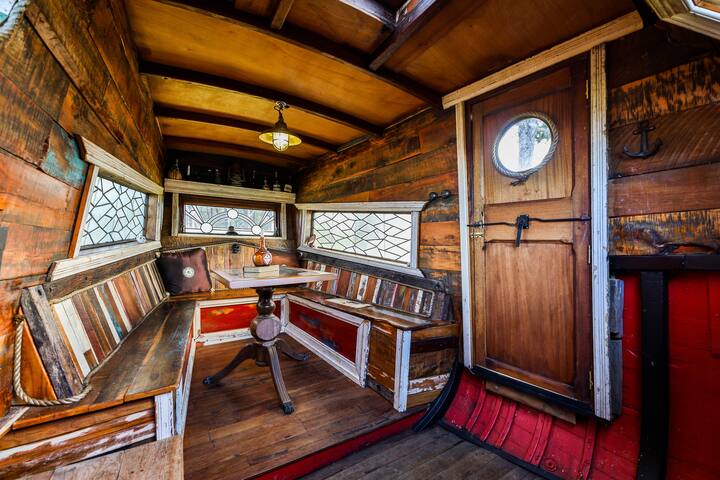 Pirateship Treehouse
Waimauku, Auckland, New Zealand
5. Comfortable treehouse with a lovely garden
This treehouse is only a few minutes away from the city, yet it offers serenity and privacy. If you're one to appreciate nature but cannot live without daily appliances, this might just be the place for you. With great amenities, from toasters to Bluetooth speakers, you can experience nature's beauty as comfortably as you possibly can. Additionally, its spectacular decor is sure to mesmerise you, with a lounge that leads right to an expansive deck and a garden where you can sit in peace. Bask yourself in natural beauty, fall asleep to nature's songs, and wake up to the sun rays kissing your face.
Fairytale Treehouse
Whangarei, Northland, New Zealand
6. Sweet treehouse with spectacular views
This treehouse has spectacular views of the Kaimai Range. Being off the grid with nothing but lights and nature, it is definitely perfect for nature lovers or those who seek adventure. It also offers complete privacy and has its own deck. You need not worry much about getting up here as a spiral staircase that winds around the tree trunk leads you right to the doorstep of the treehouse. Feast your eyes on beautiful nature birds that can grace you with their soothing songs. Additionally, the owner is willing to share their organically grown fruits and vegetables with guests during peak season.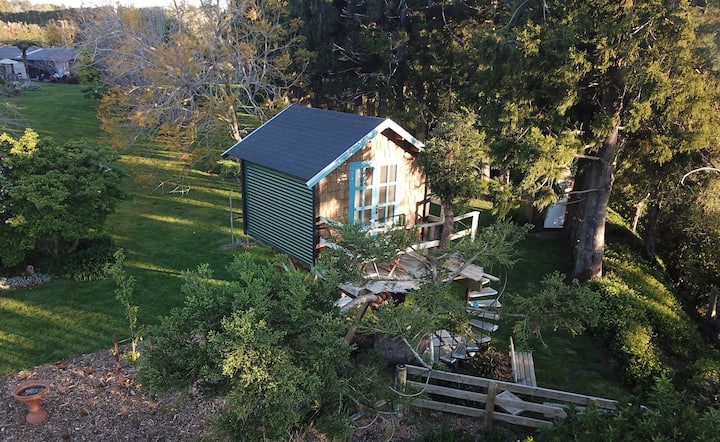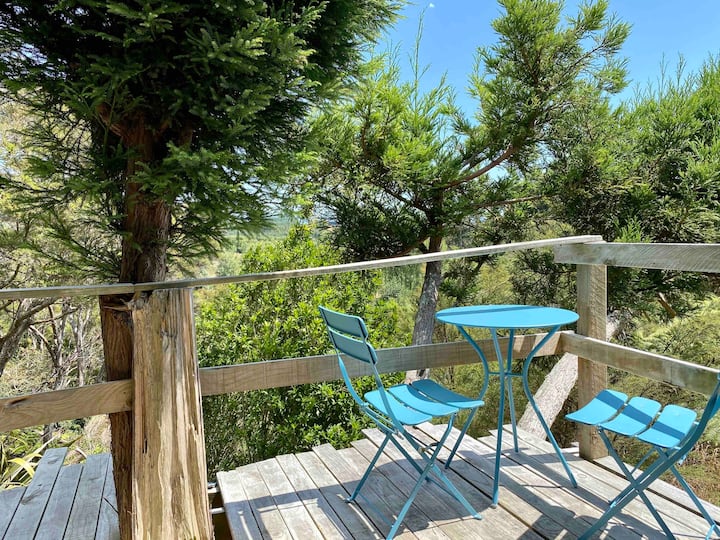 Tui Treehouse – no extra fees
Katikati, Bay Of Plenty, New Zealand
7. Charming and cosy treehouse for two
Ever wanted to know what it's like living in a tree? Now is your chance to find out. This charming treehouse is made of recycled materials. Not to worry though as it's completely safe and is extremely cosy. It even has a firebath right below, the perfect place to relax and unwind in after an adventure-filled day. You can expect to feel right at home here, with its heater and electric blanket to keep you all nice and warm. Pets are even allowed but do note that there are two border collies on site. Despite its size, you can definitely have everything you need during your stay as you can get full access to the main house directly beside it.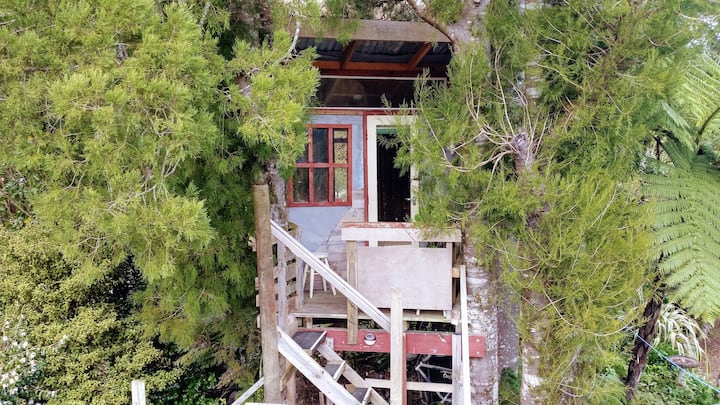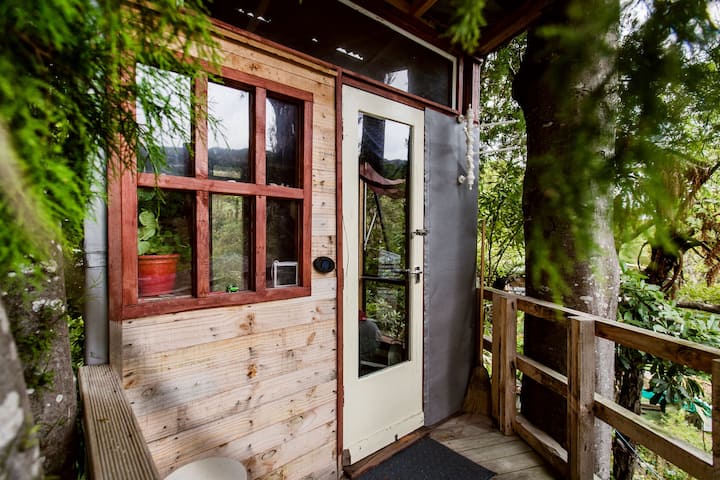 The Treehouse!! (yes, it's warm!)
Upper Hutt, Wellington, New Zealand
8. Lovely treehouse situated on an adventure-filled farm
This treehouse is quirky and off-the-grid and is made out of recycled materials. It is surrounded by native bush and farmland. This unique space includes compost toilets and basic cooking equipment. If you wish to make special meals during your stay, full cooking amenities are available for guests to use in the main house. Located between the stunning Whangaruru Harbour and the mighty Russell Forest, you can partake in various activities offered such as horse trekking, kayaking through the mangrove, milking cows, hiking, surfing, snorkelling, fishing, and even yoga.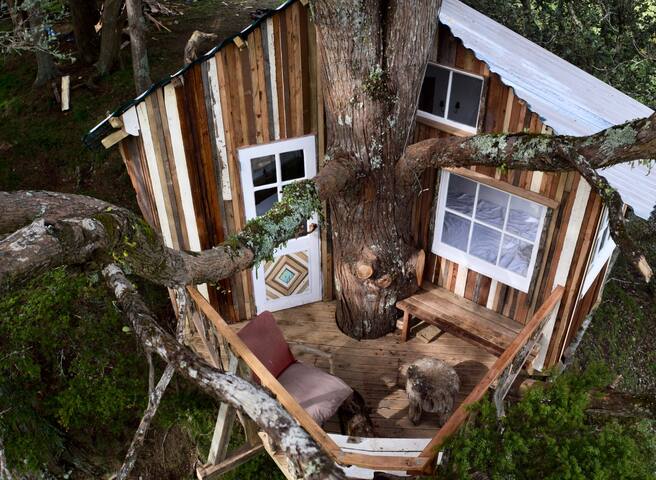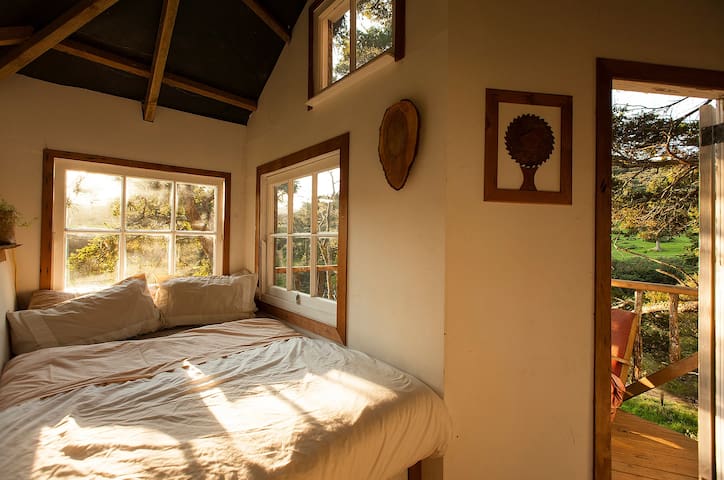 Amazing off-the-grid tree house at The farm
Whangaruru, Northland, New Zealand
9. Private treehouse for adventure lovers
This charming and private treehouse sits high among the trees, where you can bask in nature's beauty. Perfect for nature lovers and sports enthusiasts, guests can easily go hiking, mountain biking, swimming, and even boating. You can even request to have homemade continental breakfast or dinner right in the owner's home, perfect after an adventure-filled day. Guests are welcome to use the owner's lounge and main bathroom. There is no need to worry about privacy as this tree cabin is only meant for guests, and you cannot be disturbed.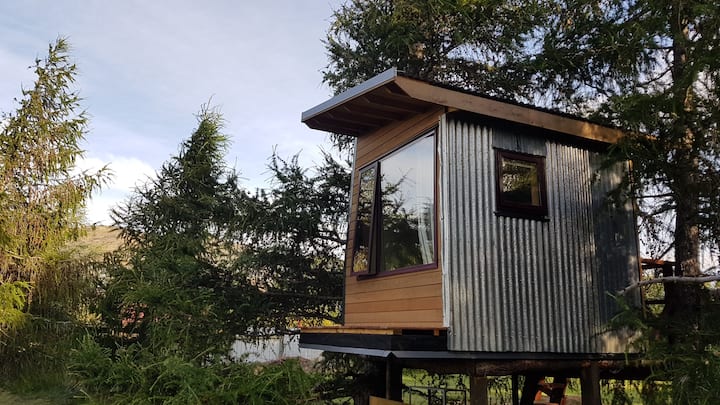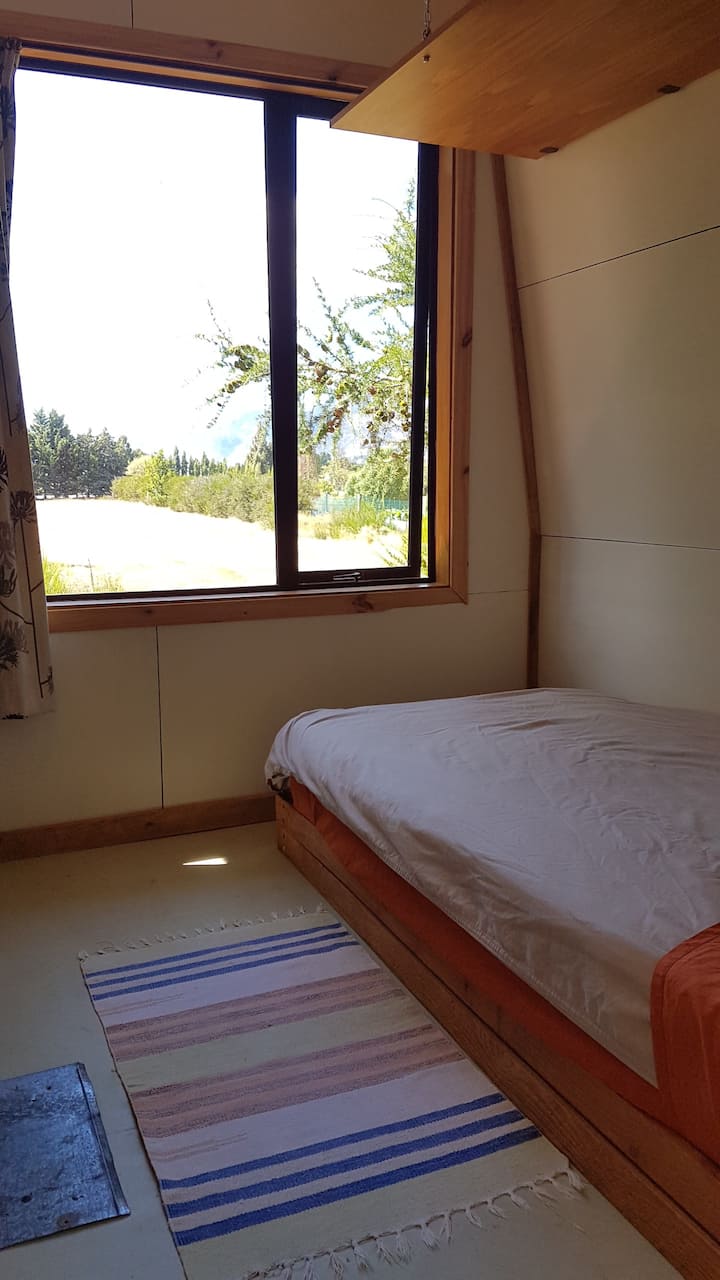 10. Beautiful treehouse with WiFi access
This treehouse offers stunning views of pastures, native bushes, and the endless ocean. This cosy home is perfect for a short getaway. Everything you will need, from kitchen equipment to comfortable couches, is available here. Fall asleep comfortably on the queen-sized futon bed fitted with luxury linen and wake up to spectacular views of the ocean. There are also battery-powered lights available and gas heaters if it gets a little too cold for your liking. You can even go on a lovely picnic by the huge puriri tree, which is a short walk away. You can get to walk through the beautiful field, down the stream, and past a gorgeous waterfall.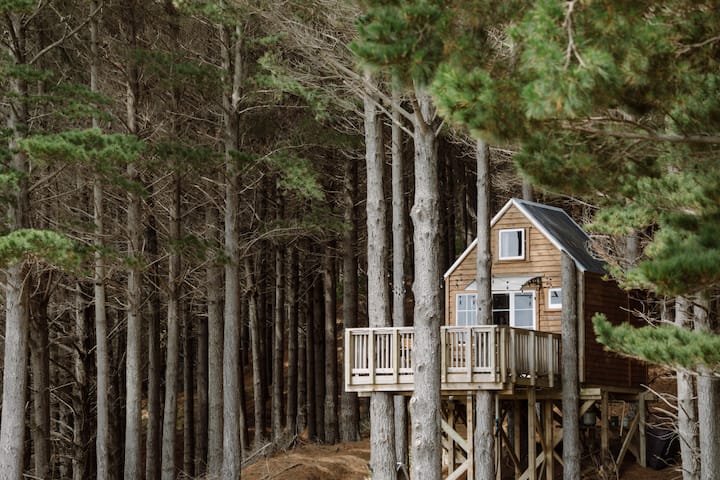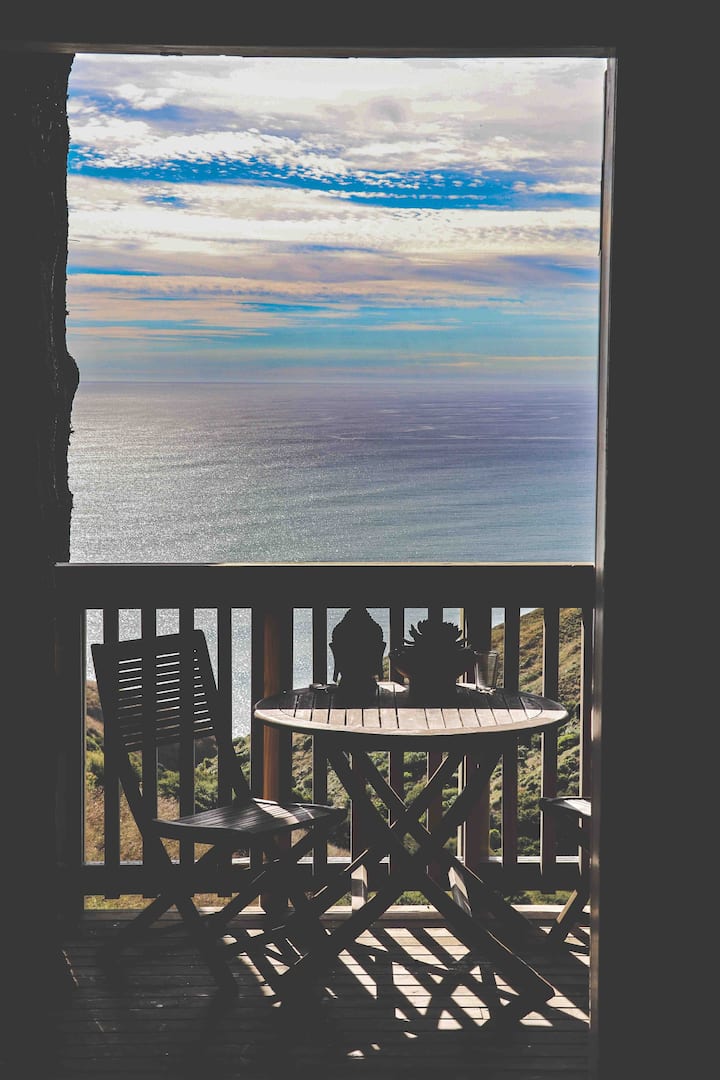 Raglan Treehouse in the Woods with Outdoor Bath
Raglan, Waikato, New Zealand
Unwind in New Zealand
These treehouses can definitely give you the break you deserve. With plenty of things to do and attractions to see, New Zealand is one of the most popular tourist destinations. Stay in one of the best treehouse hotels in New Zealand, and enjoy a unique vacation experience.
Source: trip101.com