New Zealand has a handful of festivities that celebrate and showcase its indigenous Māori culture, heritage and customs. Whether you're keen to get involved in some of the most traditional commemorations or you'd like to get your fix of traditional kai (food), here are seven festivals all travellers should put on their calendars.
Matariki
Matariki marks the start of the Māori New Year. It is traditionally held mid-winter (in June) when the cluster of stars known as the Pleiades (i.e. Matariki) comes into view. Traditionally, Matariki was a time when families (whanau) came together to remember their ancestors and their past while also celebrating the new lives of the present. Festivals are held nationwide and may include cultural performances, kite flying events as well as fireworks showcases.
Kāwhia Kai Festival
The Kāwhia Kai Festival has a strong focus on Māori cuisine (kai) as well as being a worthy celebration of all things related to the culture at large. The festival is held in the coastal North Island town of Kāwhia, near Hamilton, on the closest weekend to New Zealand's national holiday, Waitangi Day. This festivity has gained a lot of traction over the years: in 2010 it hosted some 10,000 attendees. Ffor perspective, the town's population at the time was less than 400. Each year more than 2500 flax baskets are woven for the event – these are used to serve up the hangi meals, seafood (kaimoana) and wild pork meat that are typically cooked to mark the occasion.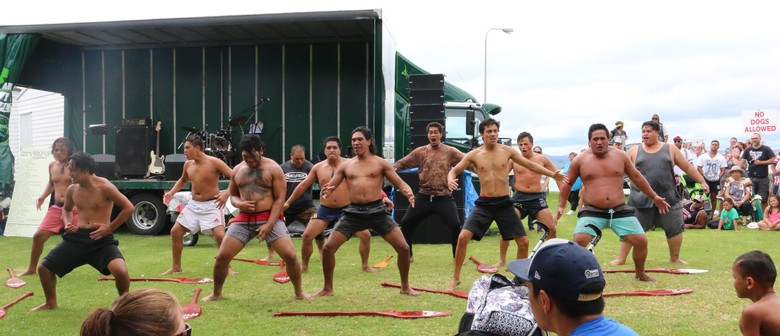 Tāmaki Herenga Waka Festival
Tāmaki Herenga Waka Festival became a fixture of Auckland's long-standing Anniversary Festival for the first time in 2016. Before that, Auckland Anniversary Weekend Events (usually held on the nearest Monday to 29 Jan) did have a Māori presence, but it wasn't as clearly defined: the Tāmaki Herenga Waka Festival is designed to complement existing events, while also putting history and heritage of the region's tribal groups at centre stage. Food, arts and crafts, games, performances, storytelling and canoe (waka) sailings are some of the highlights for this event.
Te Rā o Waitangi
Te Rā o Waitangi is Wellington's offering for celebrating Waitangi Day. The event, held in the capital's Waitangi Park, is fully centred around Māori customs. Festivalgoers can look forward to several kapa haka and musical performances as well as a hangi meal, traditional art exhibitions and interactive activities and games for the entire family.
International Kai Festival
Here's another food festival to mark Waitangi Day – this time, in the sunny South Island town of Nelson. The International Kai Festival celebrated its 10th anniversary in 2018. It is a collaboration between Founders Heritage Park and Whakatu Marae and features various cultural performances, arts and crafts stalls and lots of locally grown foods. There are also traditional Māori massages on offer for those wanting a bit of pampering.
The New Zealand Festival
For more than 30 years, the biennial New Zealand Festival has been bringing all things arts related to the forefront. The festival is a culmination of music, art and theatrical performances that encompass everything from the traditional to the more contemporary. The three-week event typically takes place on Wellington's waterfront; the most recent installment opened with an epic show called A Waka Odyssey, which celebrates the story of Kupe's legendary Pacific voyage into New Zealand.
Maketu Kaimoana Festival
The Bay of Plenty town of Maketu has some great culinary claims to fame: the town is nationally renowned for its local brand of pies, as well as having a great kaimoana festival to share with the masses. As with others on the list, the Maketu Kaimoana Festival is held each February and offers lots of insight into the native cuisine, culture and the people who bring it to life. Cooking demonstrations are a regular attraction and the festival also holds a strong reputation for its traditional Māori bread (rewena).
Source: theculturetrip.com