Catastrophic flooding in western Europe has k.i.l.led more than 120 people, with hundreds more missing, authorities said Friday, as large-scale rescue efforts continue amid rising water, landslides and power outages.
Shocking images of the devastation in Germany and Belgium showed entire villages underwater, with cars wedged in between collapsed buildings and debris. The Netherlands and Luxembourg have also been affected by the extreme rainfall.
In Germany, at least 105 people have been killed across two western states. In the hard-hit district of Ahrweiler, in the state of Rhineland-Palatinate, authorities told CNN that 1,300 people remained unaccounted for.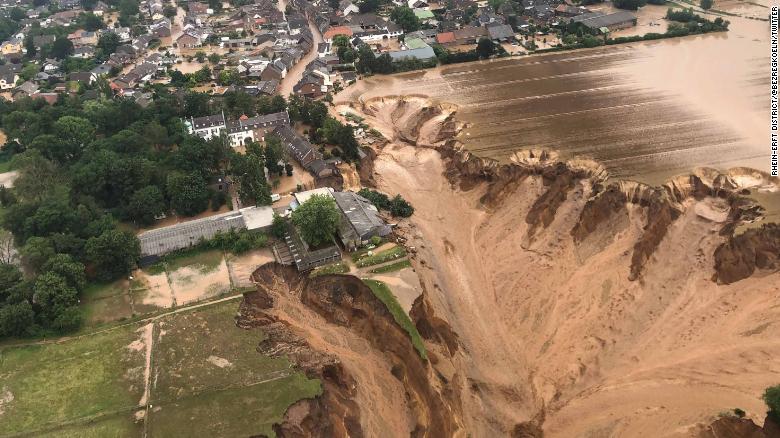 An aerial view of the flooding in Erftstadt, in Germany's North Rhine-Westphalia state on Friday.
"There is no end in sight just yet," Ulrich Sopart, a police spokesman in the city of Koblenz, told CNN. He said that authorities are hopeful that they will be able to revise down the number of missing people as the rescue operation continues and phone lines are restored.
"Our hopes are that some people might have been registered as missing twice or even three times — if for example a family member, a work colleague or a friend has registered a person as missing," Sopart said.
"Also, [in] some places phone lines are still down and reception is difficult. We do hope that people will get in touch with a relative, work colleague or friend to let them know they are fine," he said.
A dam along the river Rur in the western German state of North Rhine-Westphalia broke Friday night, according to the regional government.
Officials have started the evacuation of about 700 residents in the Ophoven neighborhood in the city of Wassenberg. Dutch officials ordered the evacuation of 10,000 people in the municipality of Venlo, where the Maas river rose faster than expected. The high waters are expected to last until Sunday evening.
Officials fear more dams can break and are closely monitoring reservoirs in the region.
Barring any more severe weather, people who evacuated the flooding in the county of Euskirchen in North Rhine-Westphalia can most likely return to their home sometime on Sunday, the county said on its Facebook page. This comes as water is being drained from the Steinbach dam to reduce pressure. Officials said creeks are filling, but are not expected to overflow their banks.
Officials had been monitoring the dam by drone earlier in the day and found no significant damage. A clogged pipe has also been opened up to help with the water release.
Germany has deployed 850 troops to assist with disaster relief, the Bundeswehr (Germany armed forces) said Friday in a tweet.
"Together with civilian helpers, the technical relief organization, fire brigades, we are pooling all available forces," Bundeswehr officials said.
Federal Minister of Defence Annegret Kramp-Karrenbauer said she had spoken with her French counterpart Florence Parly who also offered military help.
Germany's President Frank-Walter Steinmeier will visit the Rhein-Erft district of North Rhine-Westphalia state on Saturday, his office announced.
Many without power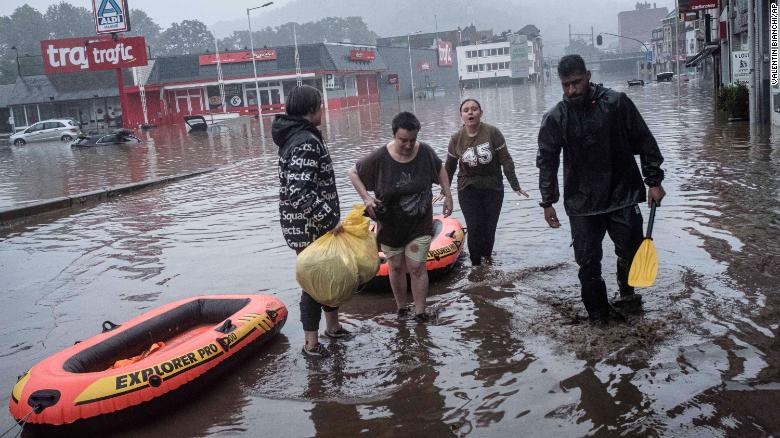 At least 165,000 people are currently without power in Rhineland-Palatinate and neighboring North Rhine-Westphalia, authorities told CNN.
In North Rhine-Westphalia, where at least 43 people have died, the state's Interior Ministry spokeswoman Katja Heins told CNN: "The situation remains very dynamic — we do not know how many people are unaccounted for."
The death toll in Rhineland-Palatinate has risen to at least 62, according to police, who said on Friday that at least 362 people have been injured.
The state premier, Malu Dreyer, said that every hour brought bad news. "It is to be feared that the number will rise even further, " Dreyer said at a news conference, adding: "We have not yet reached the stage where we can say that situation is easing."
Source: edition.cnn.com