The polar vortex may technically be over and groundhogs across the country predicted an early spring, but we have a sneaking suspicion winter isn't done with us yet – so we're doubling down on the one state that is basking in the sunshine: Hawaii.
Whether you prefer black, white, pink or even green sand, Hawaiian beaches are among the most beautiful and unique in the world—and they're public. These beaches also come in all shapes and sizes – and there are even some that are still secret. Until now.
10. Punalu'u Black Sand Beach, Hawaii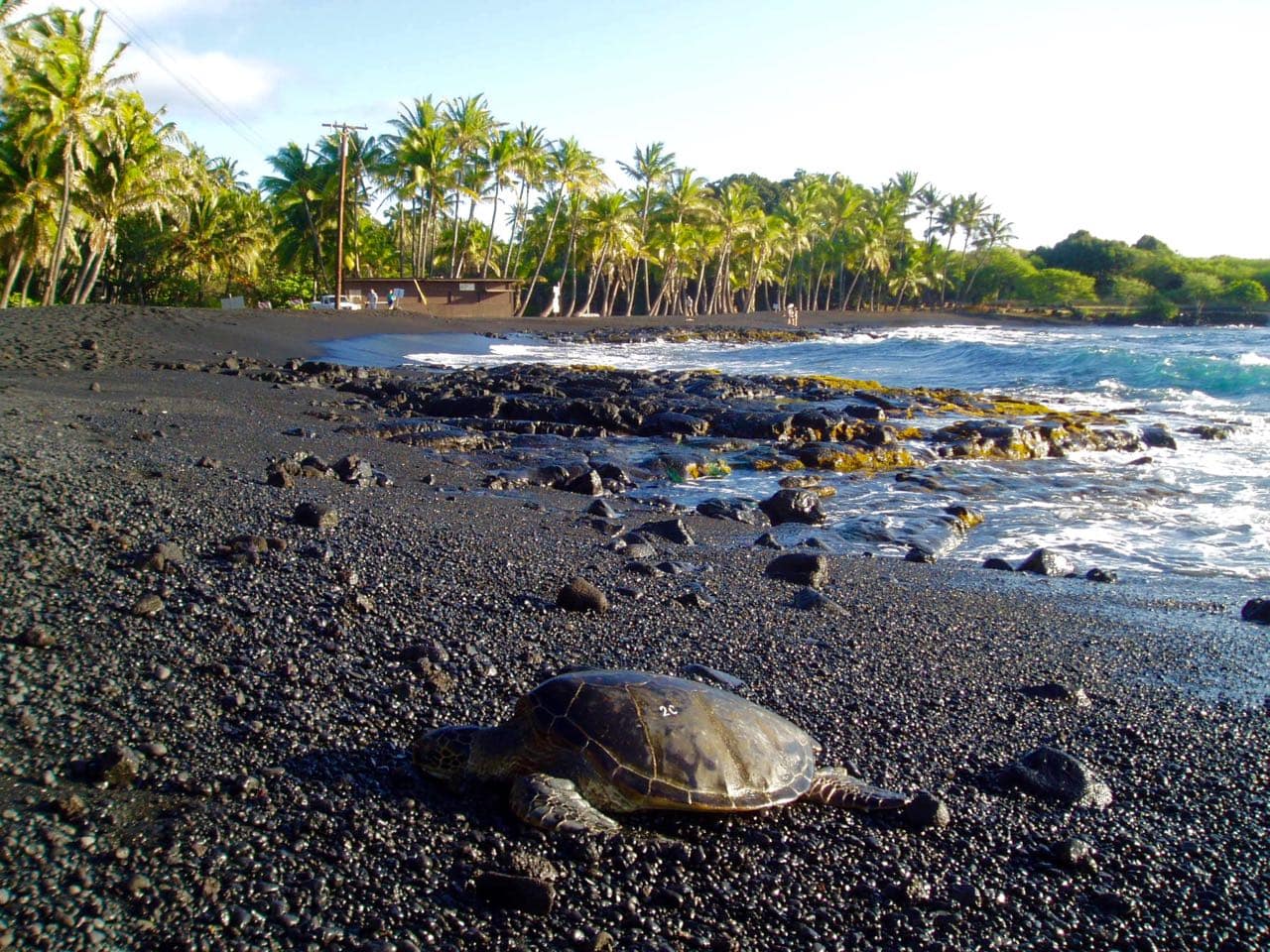 Close to Hawaii Volcanoes National Park, Punalu'u is worth a visit just for the beautiful black volcanic sand. But it's also home to green sea turtles sunning themselves on the beach, oblivious to their human neighbors.
Another interesting facet of Punalu'u bay are its underwater freshwater springs: Because sea water is denser than fresh water, it feels like you're swimming in two different temperatures.
9. Hapuna Beach, Big Island
The biggest of the Big Island's white-sand beaches, Hapuna is a half-mile stretch of paradise on the Kona-Kohala Coast. It's a favorite with tourists and locals alike, great for swimming and bodysurfing. (There's a lifeguard on duty yearround.) And the combination of clear blue water and a nearby coral reef also make it perfect for snorkeling.
8. Kaanapali Beach, Maui
Since the 1960s, Kaanapali has been home to some of Maui's most luxurious resorts. But generations ago, this 3.5-mile beach was a retreat for island royalty. Cliff diving ceremonies, known as lele kawa, are still held daily at sunset on the north end at Pu'u Keka'a ("Black Rock"). That's where, according to legend, the souls of the departed leap into the afterlife.
7. Hulopo'e Beach, Lanai
Once home to Dole Company pineapple plantations, this peacful remote beach is now home to the luxe Four Seasons Manele Bay. It's also the playground of spinner dolphins and humpback whales. Warm tide pools formed by lava rock, meanwhile, offer sea stars, hermit crabs and tropical fish.
6. Wailea Beach, Maui
Wailea is home to five crescent-shaped beaches with golden-white sand. Thanks to gentle blue water, and proximity to some of the island's main resorts, it's extremely family-friendly and a popular spot for boogie boarding, body surfing and stand up paddleboarding. (Local outfitters rent all the gear you'll need.)
Come back in the evening for a spectacular sunset that's not to be missed.
5. Lanikai Beach, Oahu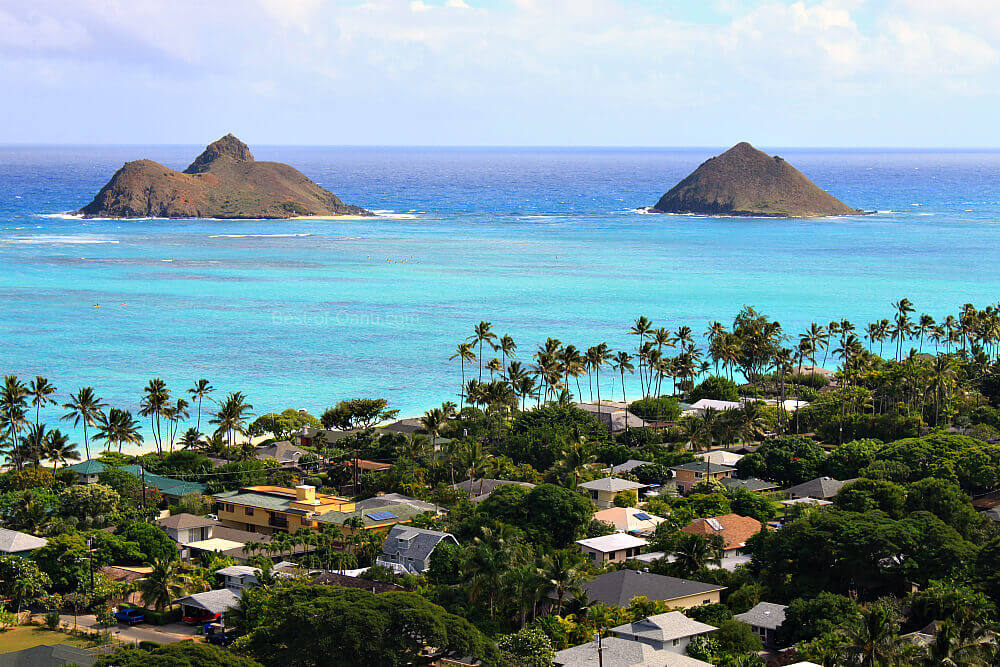 Lanikai means "heavenly sea" and this breathtaking mile-long expanse on the east side of Oahu is consistenly voted one of the world's best beaches. Poking out of the tranquil turquoise water you'll see two offshore islets called Na Mokulua (or "the Mokes"). The calm water is suitable for swimming, snorkeling, sailing and windsurfing, but there's no lifeguard on duty.
4. Makena Beach, Maui
Known as the "Big Beach," Makena is nearly 1.5 miles long but offers more privacy that super-popular Kaanapali and Lahaina. With such a large shore break, the water can be a bit rough—but that also makes it great for skimboarding and body surfing.
After working up your appetite catching a wave, chow down on mahi mahi tacos from Jawz's food truck.
3. Hanalei Bay Beach, Kauai
This two-mile stretch of Kauai's north shore is cradled by lush emerald mountains on side and the Pacific on the other, with an iconic fishing pier breaking the shoreline. In summer, the waters are calm enough for swimming, though by winter its mostly surfers daring the boisterous waves.
2. Waikiki Beach, Oahu
Back at the turn of the 20th century, Waikiki was one of the first Hawaiian beaches to attract tourists. (The Royal Hawaiian hotel, with its iconic pink stucco façade, was built in 1927). Each year, more than 4 million visitors frolick in the waves, which are much more approachable that those on the North Shore.
Nestled below the breathtaking Diamond Head, it's a great spot for families, offering lots of amenities and accomodations. But if you're looking for a little privacy with your mai tai, this might not be the beach for you.
1. Poipu Beach Park, Kauai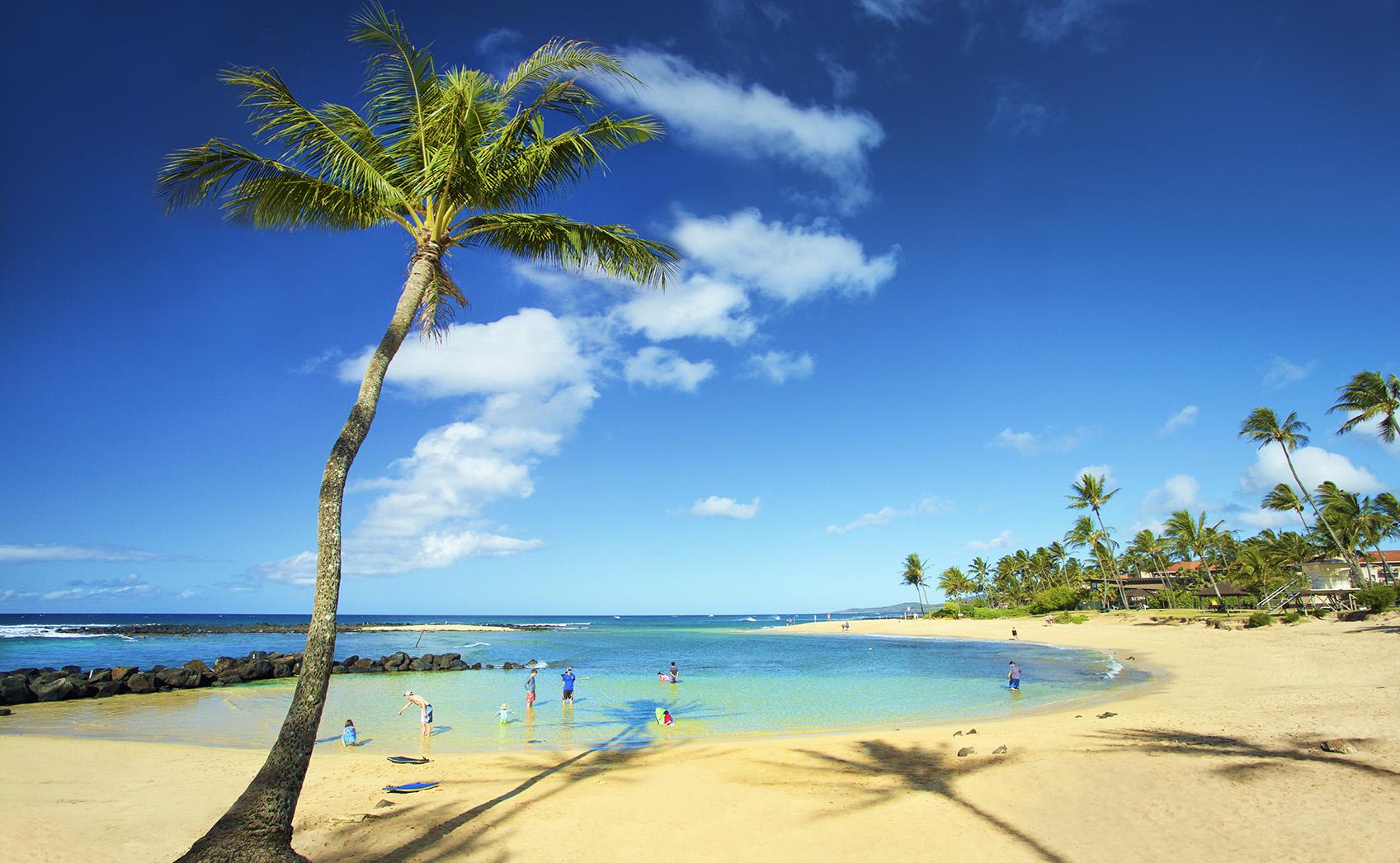 This trio of pristine white crescents is often named the best beach in Hawaii—and the world—with a breathtaking combination of scenery, surf and limited development (though it is framed on the west by the Sheraton, Grand Hyatt and Ko'a Kea resorts are all nearby). It's not just a hit with humans, though—sea turtles and monk seals frequent the area as well.
The current at Poipu Beach can range from calm to choppy, but adjacent Poipu Beach Park has more tranquil shallow waters—and a fulltime lifeguard—making it ideal for children. Be sure to carve out time to visit nearby Makauwahi Cave, the largest limestone cavern in Hawaii.
By: newsweek.com