Once you see the island's lush rainforest, coconut palms and expansive greenery, you'll see why Kauai is known as the Garden Island. First-time visitors are often drawn to touring the Nā Pali Coast, with its rugged edges and secluded coastline. Serious hikers may find themselves on the trails leading to Hanakapiai Falls. Yet there's so much to explore on this vibrant island, you needn't be athletic to take in its distinctive sights and flavors.
Kauai differs from other islands for its less populated beaches and quiet historic villages. With a perimeter road outlining the whole place, daytrips are easy by car and the route travels through each accessible nook. On your next vacation to Kauai, try these must-do activities and must-eat treats for a local view of the Garden Island.
1. Kauai Coffee Estate
What is it: Kauai Coffee Estate is the largest coffee farm in the country. Visit for free tours and tastings.
Why go: There's nothing like sampling freshly roasted coffee—straight from the farm! The Kauai Coffee visitor center is open for complementary tastings of their various Hawaiian roasts, along with free tours of the estate where guests can see how coffee is grown and harvested. The on-site gift shop has special small batch roasts for sale, too. This venue is a coffee lover's paradise.
2. Lappert's Ice Cream
What is it: This Kauai-based gourmet ice cream company is family owned and operated.
Why go: Let's be clear: Lappert's Ice Cream is highly addictive. Thankfully, there are three locations on the island so you're never too far from enjoying these incredible island-inspired flavors. Ingredients range from Hawaiian sea salt and macadamia nuts, to pineapple and shredded coconut. Stop by the Hanapepe location to see the original factory.
3. Wailua River
What is it: Twenty miles of stunning river flanked by palm trees and other jungle greenery.
Why go: Given the outrageously gorgeous and extremely verdant surrounds, Wailua River makes for perfect boating. Hire a kayak or hop on a guided tour and start weaving your way around the waterfalls, natural lava rock caves and draping ferns.
4. Lydgate Farms
What is it: A small-scale cacao farm crafting single estate artisanal chocolate, vanilla, and honey.
Why go: Rain or shine, if you have a sweet tooth you'll love exploring Lydgate Farms. Seriously, have you ever seen a cacao tree up close and in person? Touring the estate is a great way to see how small batch chocolates are made, branch to bar. And, yes, there is sampling involved. Prepare to indulge like a chocolate connoisseur.
5. Koloa Rum Company
What is it: A tasting room and company store dedicated to the only Hawaiian-made rum.
Why go: Thanks to Hawaii's rich history of sugar cane plantations, rum was a natural step and Koloa offers the only rum distillery on the island. Tastings are offered every 30 minutes, daily. Their location at the Kilohana Plantation is surrounded by beautiful greenery and offers a family train ride through the historic grounds.
6. Smith Family Garden Luau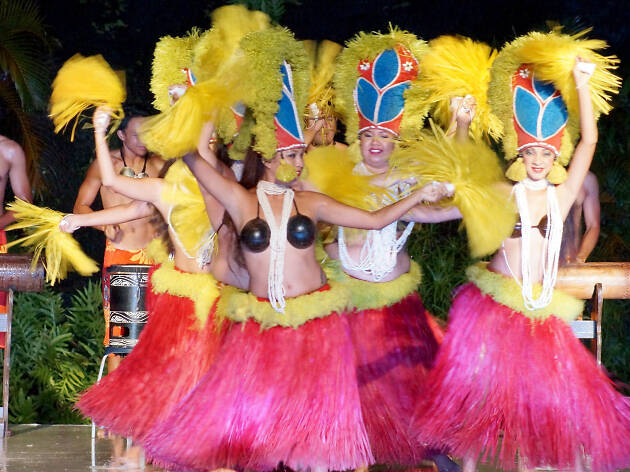 What is it: Four generations of the Smith family host a lively luau at their estate in the Wailua River Valley.
Why go: Even if you've attended luaus at resorts, the Smith Family Garden Luau is a must-try experience you'll never forget. The feast includes grandmother's poi, cousin Gary's teriyaki beef, and the multi-generational unearthing of the juicy Kalua pig. The meal is accompanied by a Polynesian family hula celebration. Arrive early to stroll the 30-acre gardens and see local fruit trees and a little wildlife.
7. The Shrimp Station
What is it: A casual roadside eatery serving island shrimp, cooked up by a Kauai-based Hawaiian family.
Why go: You'll find just two locations of The Shrimp Station in Kauai, so build up your hunger whenever you're near Waimea or Kapaa. The shrimp tacos and fish platters are go-to classics—try the papaya ginger tartar sauce—but the real deal is in the sautéed shrimp meals. The garlic shrimp plate is a must-try treat with peel and eat shrimp prepared in olive oil, garlic, and white wine.
8. Salt Pond Beach Park
What is it: A shallow beach protected by a reef, perfect for family swims and beginner snorkeling.
Why go: Head to the western shores near Hanapepe for a beautiful sandy beach with lifeguards on site. You might spot a few locals panning natural sea salt! Facilities include restrooms, showers, and picnic tables, but the main attraction is the calm warm waters not over-populated by tourists. Keep your eyes out for Monk Seals in the distance.
9. Waimea Canyon
What is it: Located on the southwest side of the island, Waimea Canyon is nearly fourteen miles long and more than 3000 feet deep.
Why go: Due to its size and natural beauty, Waimea Canyon is often referred to as the Grand Canyon of the Pacific. Hikers and backpackers will be drawn to the challenging trails, but one of the easiest ways to enjoy this piece of paradise is with a leisurely drive up Waimea Canyon Drive. You'll climb in elevation, passing steep canyon walls, before reaching the vantage point parking lot for panoramic ocean views.
10. Historic Hanalei Town
What is it: A small pedestrian friendly town on Kaua's north shore full of shops and galleries.
Why go: You'll find national brands and chain stores all around Lihue, but if you want to find unique souvenirs, handcrafted goods, and local art head to Hanalei Town. You'll also find a cluster of independent eateries serving local dishes. Explore Waioli Huuia Church and Mission House, built in 1837, for a look at local history.
11. Kauai Zipline Tour
What is it: A variety of zipline courses for most skill levels, soaring above Kauai's natural landscape.
Why go: If you're craving a little adrenaline, try ziplining above the island's rivers and waterfalls. You'll travel 60 mph through one course, then swing into a bamboo pool on another. Feeling extra adventurous? Combine hiking and paddling with your zip tour to experience the ultimate trio of outdoor bliss. Bonus: You'll see some of the famous landscape featured in Jurassic Park and Pirates of the Caribbean.
By: timeout.com