When planning a trip to Portugal, most people head straight to Lisbon and Porto. And you should. But when you venture out to the most beautiful towns in Portugal, that's when you'll get a real feel for this unforgettable country.
Want to get away from the tourist hordes? Wander ancient cobblestone streets? Or simply relax on a quiet beach? And then there's the authentic, home-made food…I could go on.
From traditional fishing villages to historic hill towns or laid-back beach getaways, these 15 Portuguese towns are some of the most beautiful places in Portugal.
I hope this list of the best towns in Portugal will convince you to wander off the beaten path for part of your visit.
And, if you do, you're in for some deliciously memorable moments.
Best Beach Towns in Portugal
Tavira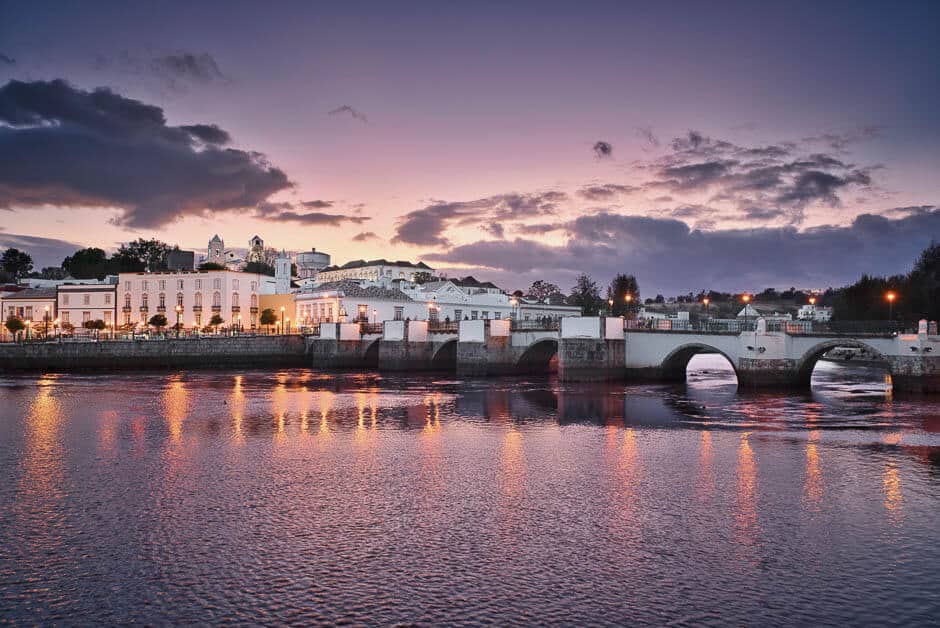 Tavira is a town flush with history. It sprawls over the banks of the Rio Gilão, its bridges and whitewashed houses creating a charming fresco.
As one of the best towns in the Algarve, its historical attractions include renaissance and gothic churches. There's also the Castle of Tavira and the Roman Bridge.
Roam in town and explore its shady squares and leafy gardens. You'll experience a dreamy blend of culture and history spiced up by its glorious weather.
Tavira is only 3km (1.8mi) away from the coast. To its south are the beautiful pristine beaches of Ilha de Tavira. To immerse yourself in Tavira's unrushed experience, plan for a longer stay.
Cascais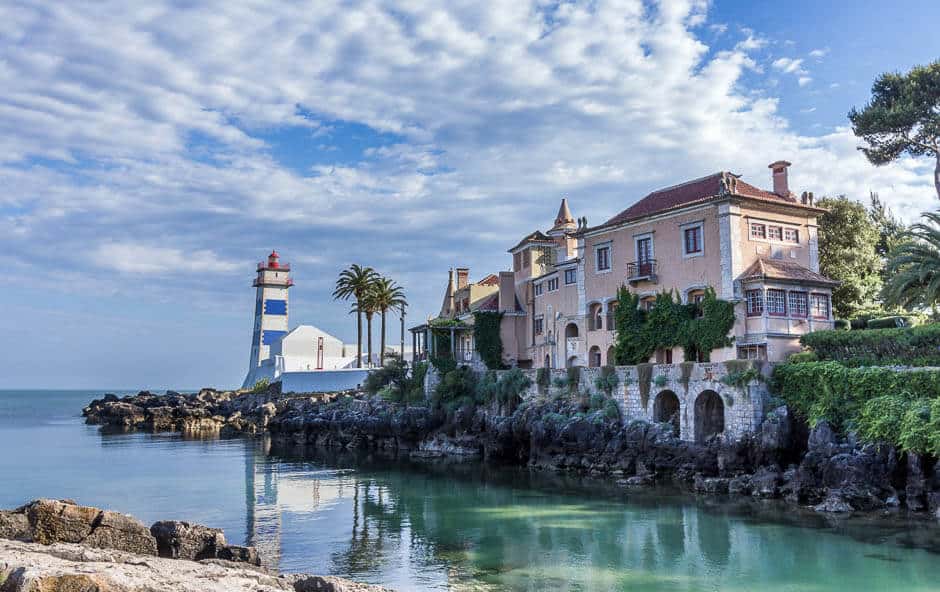 The affluent Cascais sits in the Portuguese Riviera alongside its sister city, Estoril.
Cascais' unique magnetism for nobility gives the town a flavour of elegance and grace. That said, the charm of its fishing past lingers on. Its anglers still auction their daily catch at its harbour's square.
There are tons of fun things to do in Cascais. For example, the tranquil and serene golden sands of Costa da Estoril that encircle Cascais to its west. To the north are the untamed and wild Serra de Sintra surfing beaches. Both beaches are within walking distance of the town centre.
Cascais is one of the best beach towns in Portugal with a very laid-back vibe.
Azenhas do Mar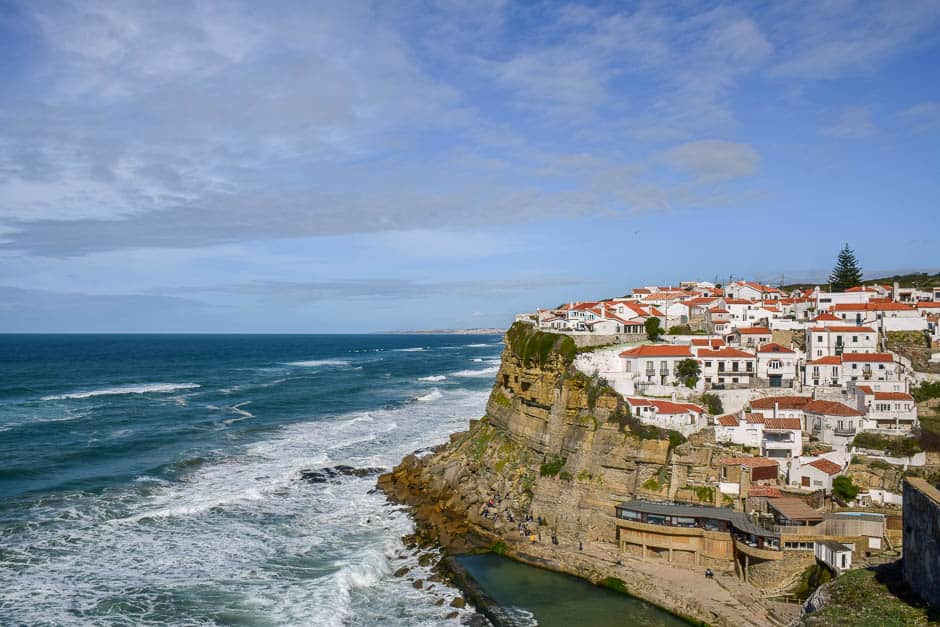 The quaint little town of Azenhas do Mar is postcard picture perfect. It is one of the most photographed villages in Portugal.
The town's whitewashed cottages rest on top of a cliff with fantastic views of the sandy beach below. Its cobblestone streets, incredible beaches, and magnificent pools on cliffs give this town a priceless romantic feel.
The town's Portuguese cuisine with lots of seafood and traditional fare based on old family recipes. Be sure to try Cafe das Patricias. Patricia, who shared an meal with Anthony Bourdain on his Porto episode, sources the freshest local ingredients for her classic dishes.
Its old town has antique architecture and remains of its legendary Azenhas or water mills that ran by sea power. Azenhas do Mar is an affordable tourist site and is active in summer and winter. I was thrilled to hit the beach in February!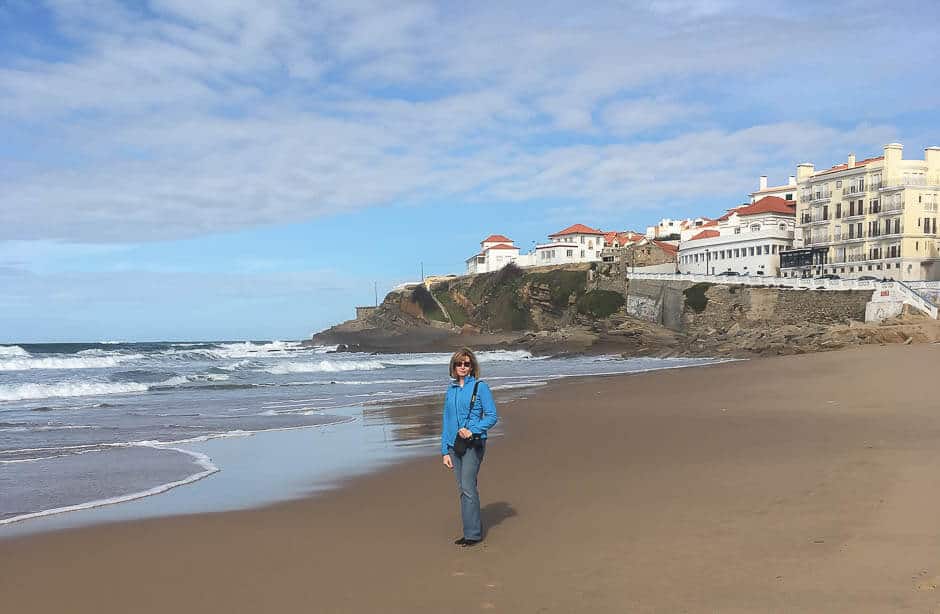 Ericeira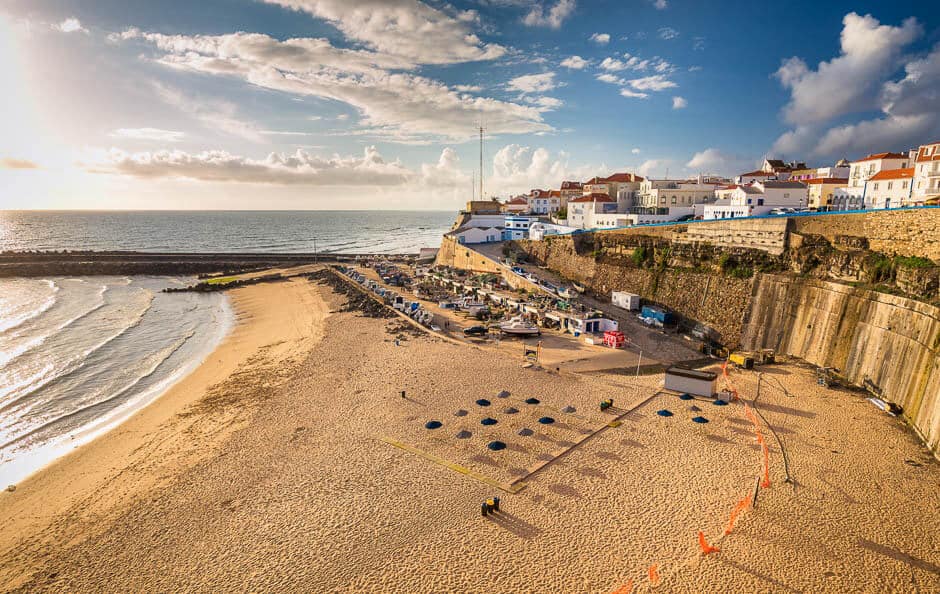 Ericeira is one of the prettiest towns in Portugal. Like Azenhas do Mar, Ericeira nests atop a thirty-meter high cliff. Below it are magnificent sandy beaches and the ocean.
Ericeira has some of the most panoramic views of seaside Portugal. It is also a mecca for surfers. Its whitewashed cottages, cobbled streets, and excellent waves draw in tourists from all over the globe.
It's the only European entry on the World Surfing Reserves list. If you are not into waves, visit Ericeira just to sea bathe, stroll, and enjoy its grilled sardines. The seaside community is less touristy than most other towns in Portugal, so it is calm and affordable.
Nazaré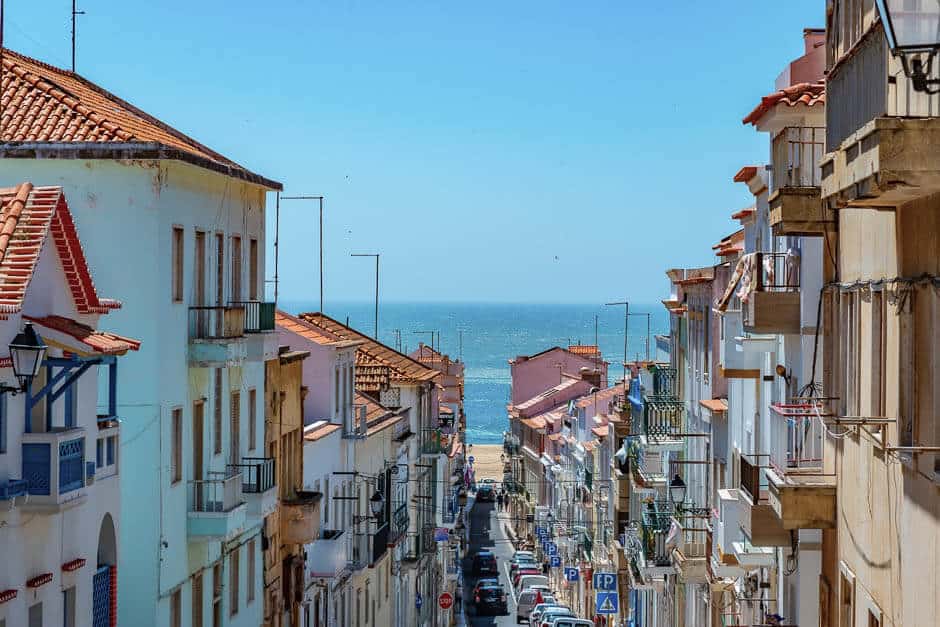 Narrow streets of Nazaré. Image by trabantos / Shutterstock.com.
This vibrant fishing village with lots of captivating religious lore is stunning.
Nazaré is famous for its surfing community and wild waves. Its beaches are a tad unsafe, but they are pristine and perfect for relaxing.
The town is also known for its traditional clothing and gaily painted fishing boats. You may still see women who don multi-colored shirts, skirts, and seven petticoats.
There is delicious food to enjoy, fresh and succulent. In September, don't miss the town's Our Lady of Nazaré Festival.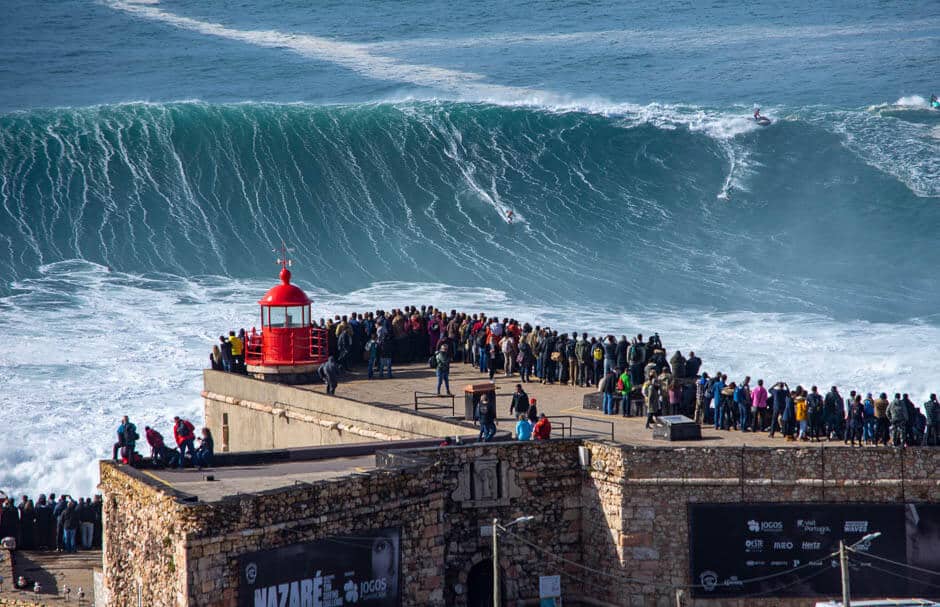 A 20- metre wave in Nazaré. Image by aleksey snezhinskij / Shutterstock.com
Costa Nova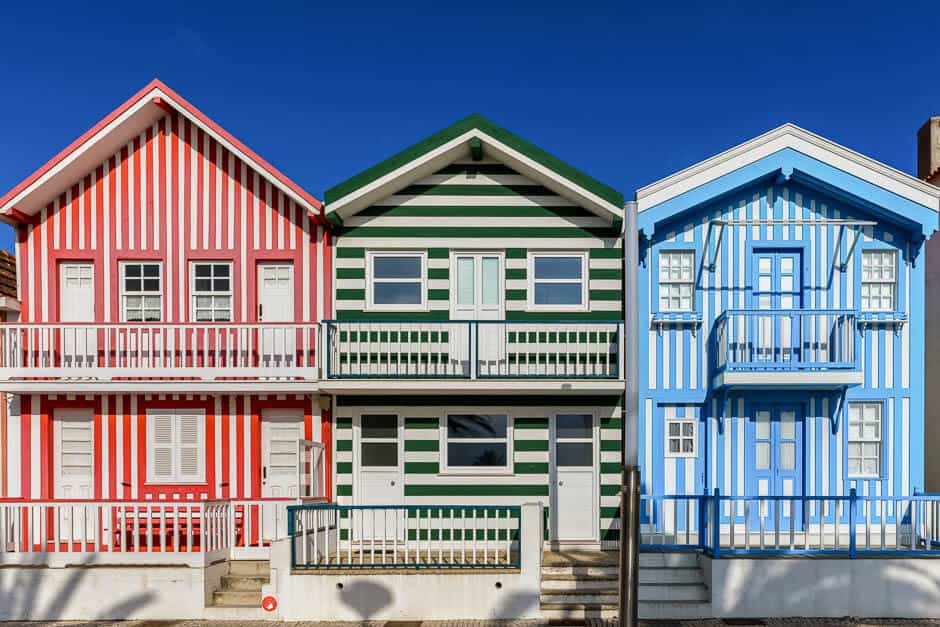 Costa Nova is a picturesque town 61km (37.9 mi) away from Porto. Its brightly coloured striped houses gives it a unique look from other fishing villages in Portugal.
These distinct rainbow-like houses line a narrow strip of land between an adjacent lagoon and the sandy beach, offering cozy living spaces to tourists.
Behind the cheerful houses is the beach – – perfect for long walks. The sand is fine and white, and the water safe for swimming. Cross over to the Aveiro Estuary to windsurf and sail.
Some of the quaint town's attractions include its fish market brimming with fresh seafood.
Aveiro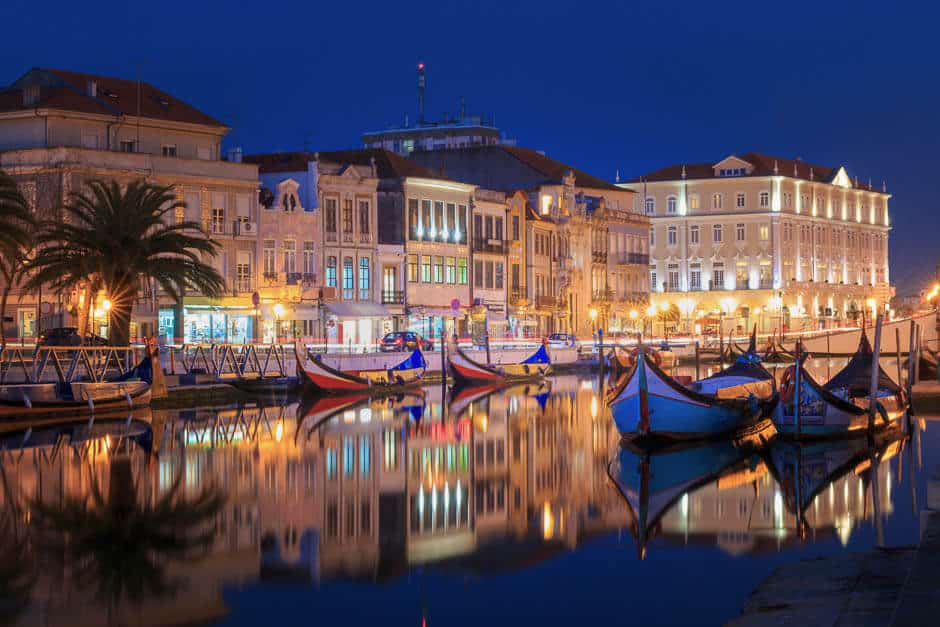 Not far from Costa Nova, is the Portugal town of Aveiro. Onlyy 68km (42 mi) away from Porto, it's perfect for a day trip.
The town straddles the Aveiro "ria" and the river Vouga but is only a short distance from the Atlantic shoreline. A town with a colorful history, Aveiro has its roots in fishing and salt production.
Its canals are its major tourist attraction giving it the title of 'The Venice of Portugal.'
There are lots of gondola-like boats ready to take you on a captivating ride through the waterways.
The seafood in the town is excellent and Aveiro is the considered the capital of the country for roast suckling pig.
The Prettiest Towns in the Alentejo Region
Évora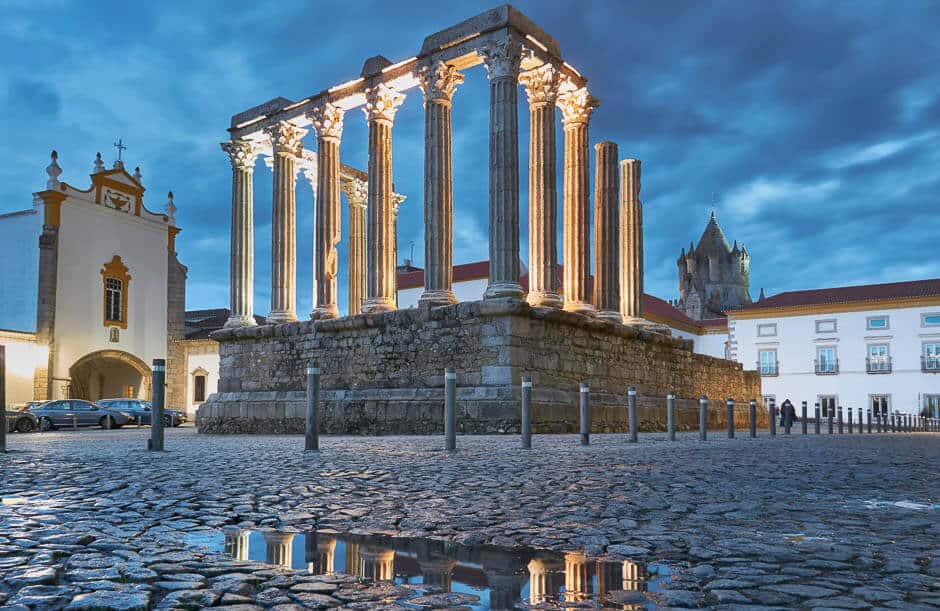 Évora is timeless and one of the most beautiful places in Portugal. Sitting in the plains of Portugal, it is just 140 kilometres (87 mi) from Lisbon. Its historical centre is a UNESCO World Heritage city.
The old town's medieval walls host magnificent buildings and monasteries such as the gothic Cathedral of Évora and the Chapel of São Brás. The 15th century Saint Francis Church hosts the macabre Chapel of Bones.
Other historic buildings include the Royal Palace of Évora and the Roman Temple.
The Alentejo region is known for some of the best and most traditional food in Portugal. In Évora, I can recommend the pig cheeks at Cafe Alentejo.
It's possible to do a Lisbon to Évora day trip, but plan for an overnight stay to sample all the city offers.
Monsaraz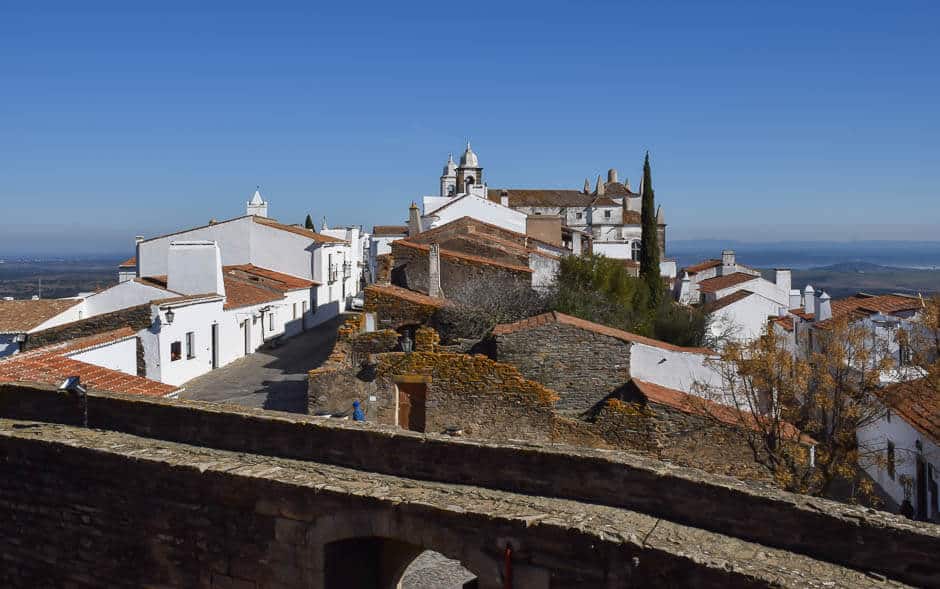 Monsaraz is a hilltop town in Portugal overlooking the River Guadiana. The little museum village is but a stone's throw away from Spain.
It has a graceful medieval feel, the enchanting beauty of its past oozing through its low-rise schist and lime architecture. Stroll through its cobbled lanes and fortified walls and see its fairy tale, Monsaraz Castle, with grand views of the Alqueva Dam.
The renaissance style Church of Nossa Senhora de Lagoa, with the Knight Templar tombs, is the heart of Monsaraz. Casa da Inquisição and the prehistoric Olival da Pega Dolmen are must-sees.
Try Sabores de Monsaraz for a home cooked meal and be sure to try the fresh cheese options. There is so much to see, feel, and enjoy in this picturesque beautiful Portugal town.
Marvão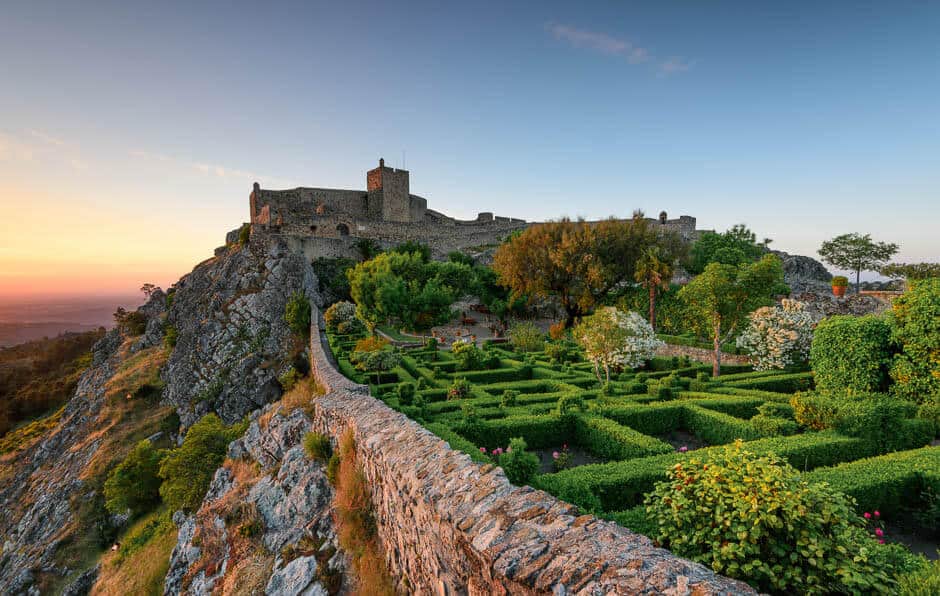 Marvão is one of the smallest and most beautiful of Portugal towns. The little gem sits atop Serra de São Mamede's highest granite crest. This gives it a natural defence position, with steep slopes to its west, south, and north. Its only entryway is a footpath on its east.
Its red-roofed houses with elaborate wrought-iron balconies host about 1000 residents. A refuge of a Moorish lord, Marvão's principal attraction is its walls and castle.
All its cobbled paths lead up to its unforgettable medieval castle. Another historic building to view at Marvão is the Igreja de Santa Maria. The town's main asset is not just its castle but also its sweeping views of Portugal.
Historical Towns and Villages in Portugal
Óbidos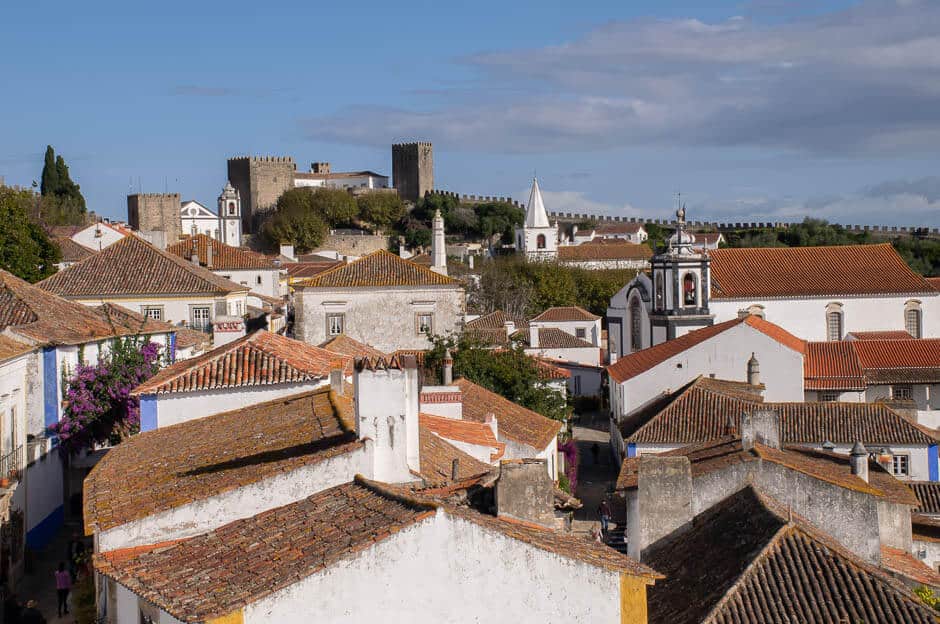 Óbidos is one of the oldest of Portugal towns. This fairy tale town in Portugal has been inhabited since the Paleolithic period.
The Óbidos Castle is the town's most prominent landmark, considered to be one of Portugal's seven wonders. You'll sense the town's medieval charm on its main street with its white houses and the renaissance period, Santa Maria Church.
Be sure to try the town's specialty – – Ginjinha, a cherry liqueur served in a chocolate cup.
Óbidos is only 85 km (53mi), from Lisbon making it perfect for a day trip. This beautiful town has grown in popularity, so if you want to see it without the tourist bus crowds, stay overnight.
This town is also a UNESCO Creative City of Literature. The tiny village of 3000 people has over half a million books in its museums, public spaces, libraries, markets, and residences.
For photographers, Óbidos is a treasure trove. It even looks great in black and white!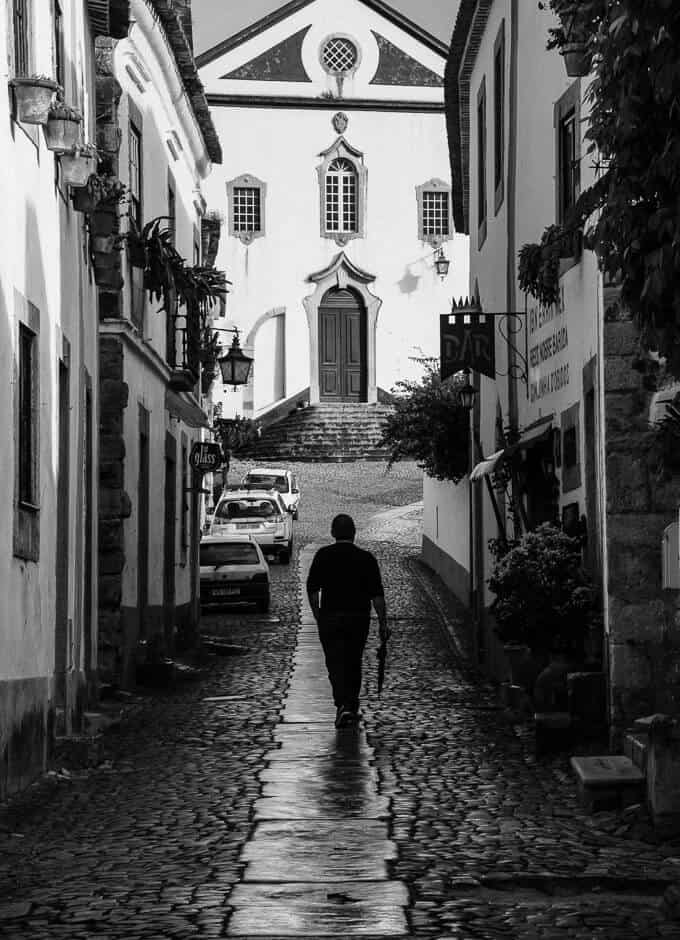 I call this, "Charlie Chaplin goes to Óbidos"
Sintra
The regal town of Sintra in central Portugal has an excellent mix of cultural and natural sites. Its woody granite mountain setting is a UNESCO World Heritage Site.
At Sintra, the Castle of the Moors, Sintra National Palace, and the Pena National Palace await you. The hilltop village has a unique micro-climate, with hills, the ocean, and an estuary hemming it in.
While many come to see the castles, be sure to spend some time in the fairy-tale town. Hans Christian Andersen called this romantic nirvana "the most beautiful place in Portugal."
Walkthrough Sintra's medieval streets and see its glorious old houses and craft shops. Stop by its famous bakery Piriquita and try the local specialties – – travesseiros, a mouth-watering puff pastry filled with almond cream.
You can see Sintra on a day trip from Lisbon, but for the full Sintra experience, plan a two or three-day visit.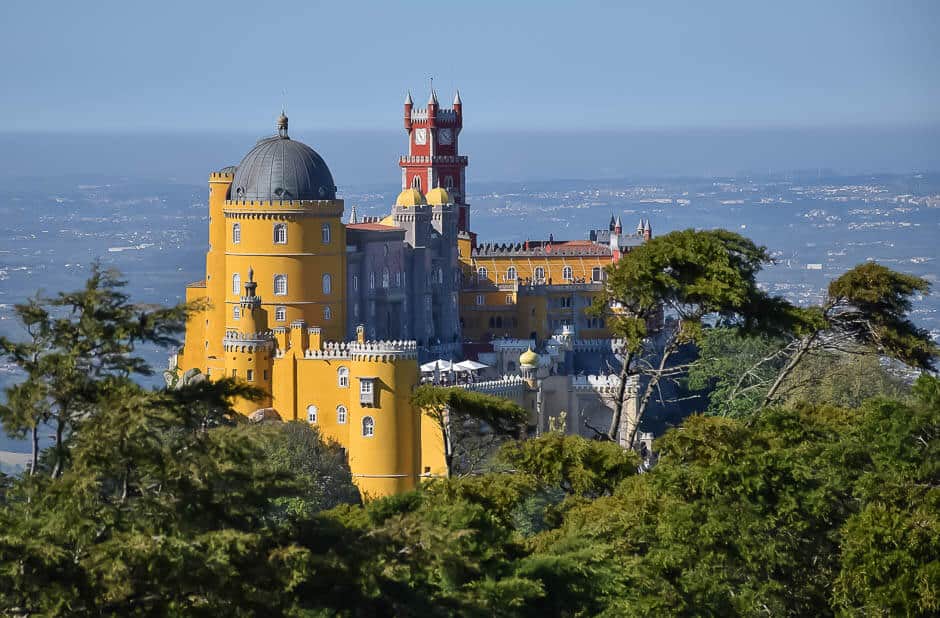 Pena Palace in Sintra National Park
Coimbra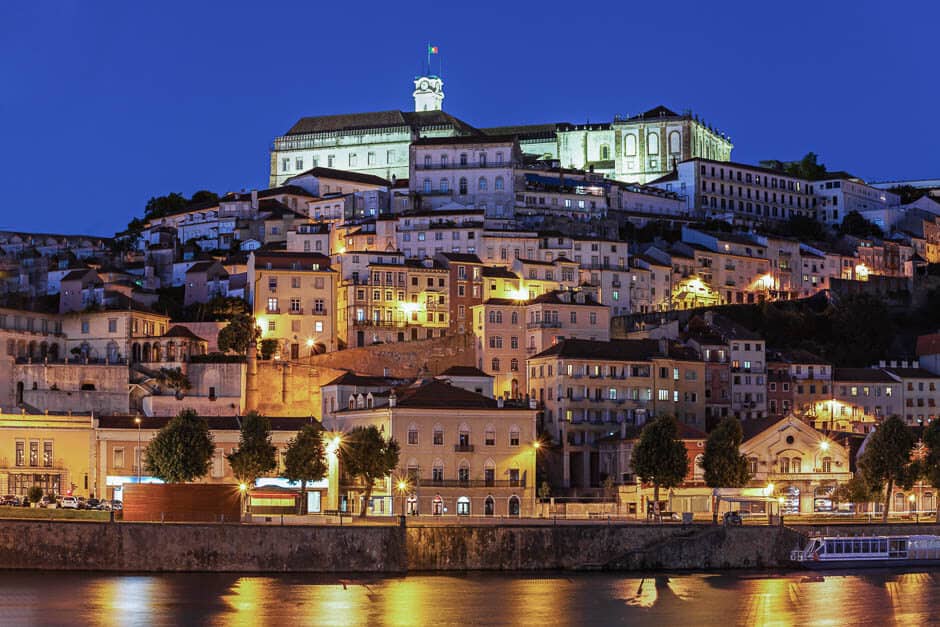 Coimbra on the banks of the Mondego River was Portugal's medieval centre for a century. Although it's actually a city in Portugal, the small-town feel made our list anyway.
This historical Portuguese city has a unique blend of modernity, deep traditions, old architecture, and youthful energy. Coimbra's gothic buildings and Moorish fortifications are what legends are made of.
Coimbra's most striking character is its educational history. This city hosts one of Europe's oldest universities – – its library is a must-see.
Walk around the old town and tour its charming faculty architecture and its monumental cathedral on dark lanes lined with cobblestones. It's easy to get to Coimbra from Lisbon via a 2-hour long train ride.
Braga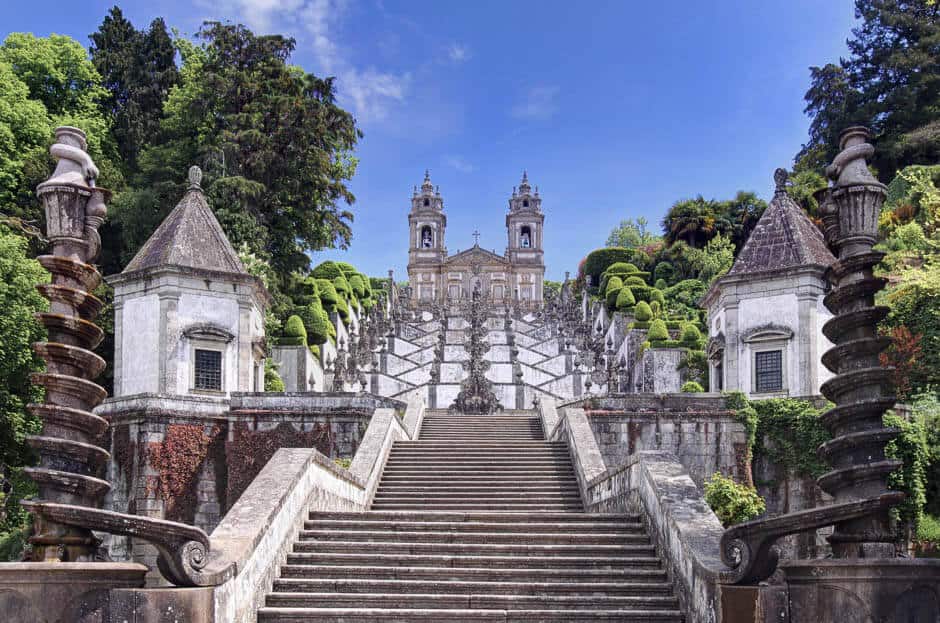 Braga is the oldest city in Portugal and one of its centres of religion. It has old baroque architecture everywhere you look. Its centerpiece is the Sé de Braga, the country's oldest cathedral.
The Bom Jesus do Monte church, however, is what you will remember about Braga. The sanctuary's iconic architecture makes it one of the beautiful places in Portugal. Its stairway, surrounded by stately gardens and sweeping views of the city, is simply angelic.
The city's other outstanding attractions include its funicular and Our Lady of Sameiro sanctuary.
It's only 50km (36mi) away from Porto. It's an enjoyable day tour from Porto to visit Braga and nearby Guimares.
Monsanto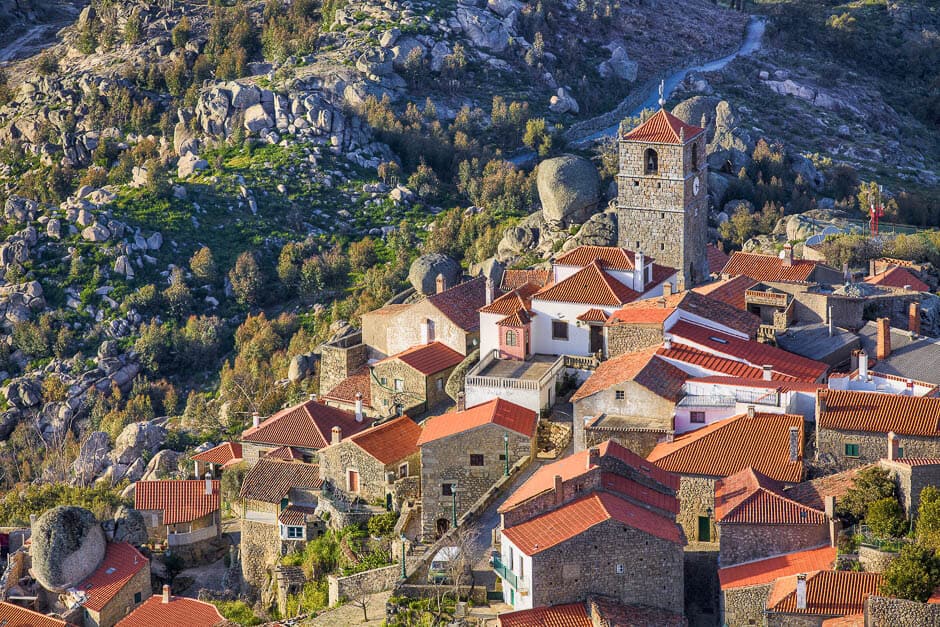 Monsanto is the most unique of all Portugal towns. The extraordinary historical village is also known as the "Most Portuguese Village in Portugal."
Monsanto's wow factor kicks in immediately upon arrival. Your greeters will be two giant boulders on a path that goes uphill. Ascend the steep cobbled path to the mountaintop, and you'll find red-roofed houses sprouting out of large boulders.
Some of the town's houses are carved boulders fitted with doors. The Monsanto Castle further stresses the fable-like charm of the village. To get to the castle, clamber up the hillside to view its fortifications.
By: www.travelblissnow.com