The Netherlands' winding coastal geography means that there are plenty of awesome beaches to discover within Dutch borders. In fact, Amsterdam, Rotterdam and The Hague are located near to several famous resort towns that renewed for the golden sands, glistening seas and pickled herring kiosks.
1. Zandvoort aan Zee
Zandvoort aan Zee is around 20 miles away from Amsterdam by train and is located due west of Haarlem. The city's northern coastline merges into Zuid-Kennemerland National Park, a beautiful nature reserve that contains beaches, dune lands and forests.
Zandvoort aan Zee, Noord-Holland, The Netherlands
2. Scheveningen
Scheveningen is the most popular resort in the Netherlands and legions of day-trippers and holidaymakers spend time relaxing on its beaches during the warmer months of the year. There are many other attractions to keep sightseers occupied, including a sculpture museum and pleasure pier.
Scheveningen Beach, The Hague, The Netherlands
3. Texel
Among the five inhabited islands in the Dutch stretch of the Wadden Sea, Texel is likely the most accessible due to its proximity to Amsterdam and the rest of North Holland. The island's northern coastline is utterly stunning and runs parallel to the Dunes of Texel national park.
Texel, North-Holland, The Netherlands
4. Stenen Hoofd
This small, rocky peninsula in central Amsterdam has a decent patch of sand that trails into a cordoned-off swimming area that is part of the river IJ. The beach is around five minutes away from Centraal Station by bike and has its own resort-style café called Brandendzand.
Stenen Hoofd,Westerdoksdijk 705-C, Amsterdam, North Holland, The Netherlands
5. Ameland
Ameland is part of the Wadden Islands archipelago and is located around seven kilometres from the Dutch mainland's coast. The island is covered in rugged dune lands and its compact size means that the coast and sea are never far away.
Ameland, Friesland, The Netherlands
6. Makkum
This historic fishing village in Southern Friesland accommodates scores of tourists during summertime, mainly due to the area's association with water sports. There are many sailing, surfing and waterskiing facilities spread around the village as well as several beach orientated hotels.
Makkum, Friesland, the Netherlands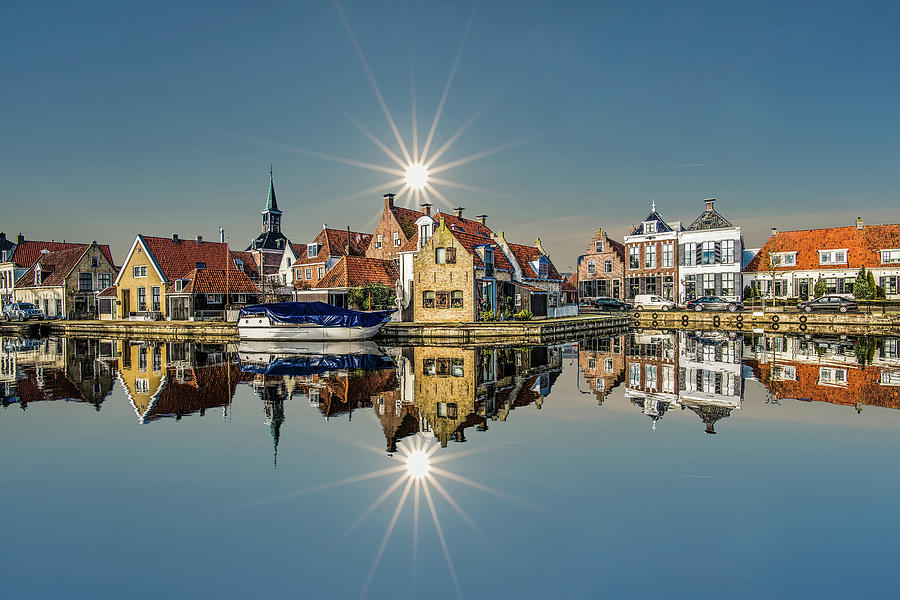 7. Domburg
This resort town in Zeeland province lies around 100 kilometres away from Rotterdam but is easily accessible via car or public transport. Piet Mondrian once lived in Domburg with a number of other artists and painted Pier and Ocean after studying the town's coastline.
Domburg, Zeeland, The Netherlands
8. Egmond aan Zee
Egmond aan Zee is a village on the north-western coast of the Netherlands. Like other settlements in this area, Egmond aan Zee's economy mainly revolved around fishing and trawling until the 20th century when it began to welcome tourists from the Netherlands and abroad.
Egmond aan Zee, North Holland, The Netherlands
9. Hook of Holland
Rotterdam's most westerly borough is called Hook of Holland and is located on the mouth of the New Waterway shipping canal. The district's coastline features wide, open beaches that are particularly popular during summer and there are several hotels, watersports facilities and other amenities dotted along with Hook of Holland's coastline.
Hook of Holland, South Holland, The Netherlands
10. Pieterburen
This charming village in Groningen province features many fascinating sights, including gothic brick houses, windmills and the Seal Rehabilitation and Research Centre. The town's coastline frequently experiences extremely low tides which make it ideal for Wadlopen (mudflat hiking), a traditional, notoriously dangerous sport that revolves around navigating through the Wadden Sea's sandbanks by foot.
Pieterburen, Groningen, The Netherlands
By: theculturetrip.com