Snowy mountains, pristine blue lakes, and SRK doing his signature hand move while wooing his love on a Bollywood song – yes, you guessed it right, we are talking about Switzerland. A holiday in this beautiful country is not only an out-of-the-world experience but also a guarantee of luxury and excellent service – thanks to all the amazing hotels in Switzerland. So if you too are bitten by the Bollywood bug or wanna try some Swiss chocolates in person or hell buy that handmade extra special Swiss watch, we recommend you stay at these best hotels in Switzerland for a perfect holiday.
Four Seasons Hotel des Bergues Geneva
Geneva's first hotel and still the best, Four Seasons is pure class and luxury. From its intricately detailed interior to the stunning views of Lake Geneva, this hotel is as iconic as the city. There are concierge recommendations and services to explore the city in the best possible manner and a rooftop Spa, that offers a world of its own.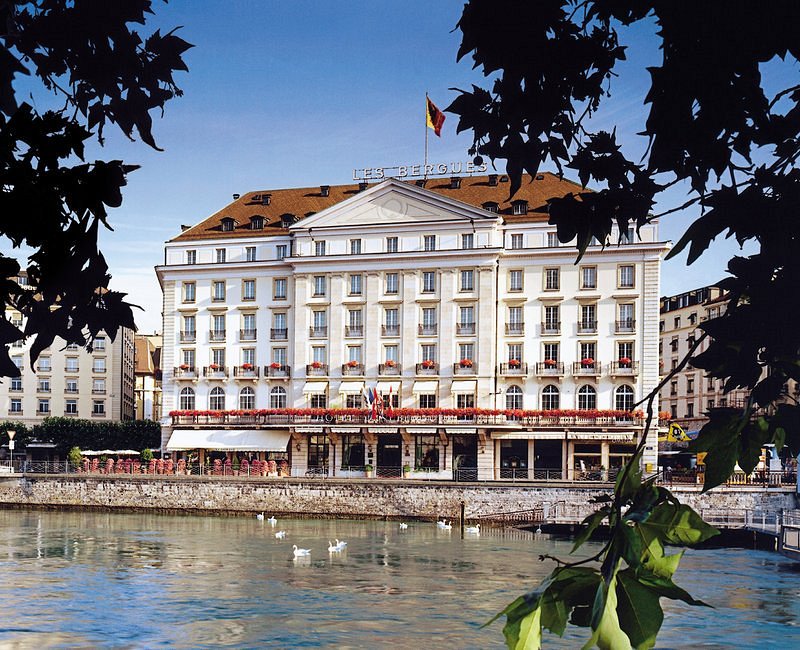 Tariff: From INR 48000
Address: Quai des Bergues 33, 1201 Genève, Switzerland
Phone: +41 22 908 70 00
Alpina Gstaad
In simple words, Alpina Gstaad is one of the best hotels in Switzerland and we know why. Combining the Alpine charm with ultimate luxury, this hotel has an outdoor heated swimming pool offering a snowy view of the Alps, an art section, a wine cellar, and probably the best Spa in the whole of Switzerland. Moreover, its traditional cabin-like rooms and suites decked with warm alpine luxury are surely a treat to the senses! Don't miss this one.
Tariff: From INR 55000
Address: Alpinastrasse 23, 3780 Gstaad, Switzerland
Phone: +41 33 888 98 88
The Omnia
The Omnia is one of the finest 5-star hotels in Switzerland simply because it fuses the mountain lodge feel with high-end luxury in the most amazing manner. Its warm and rich decor invokes a feeling of homely comfort while its personalized service makes you feel everything is at your command. A hotel situated on a mountain rock, it offers marvelous views and luxury right in the lap of nature.
Tariff: From INR 31000
Address: Auf dem Fels, 3920 Zermatt, Switzerland
Phone: +41 27 966 71 71
Carlton Hotel St. Moritz
From the adventure of skiing to a surreal Spa experience, Carlton Hotel St. Mortiz built-in 1913 is one of the best places to stay in Switzerland, especially during the winters. It has an excellent restaurant, top-of-class Spa treatment, and a view that will make you want to capture it in a painting. A perfect retreat for those who want to enjoy the winter sitting by a fireplace, this is a heaven for all.
Tariff: From INR 52000
Address: Via Johannes Badrutt 11, 7500 St. Moritz, Switzerland
Phone: +41 81 836 70 00
Hotel Whitepod
One of the best Eco Hotels in Switzerland, Hotel Whitepod is a unique holiday stay personified. This hotel is made of geodesic domes with a central chalet. The doomed pods feature wood-burning stoves, sundecks, and are luxuriously furnished. Fully equipped with modern facilities like smart TVs, minibars, and in-room breakfast facilities, it also offers amazing outdoor activities that include hiking and sledding. It is truly a one-of-a-kind holiday experience.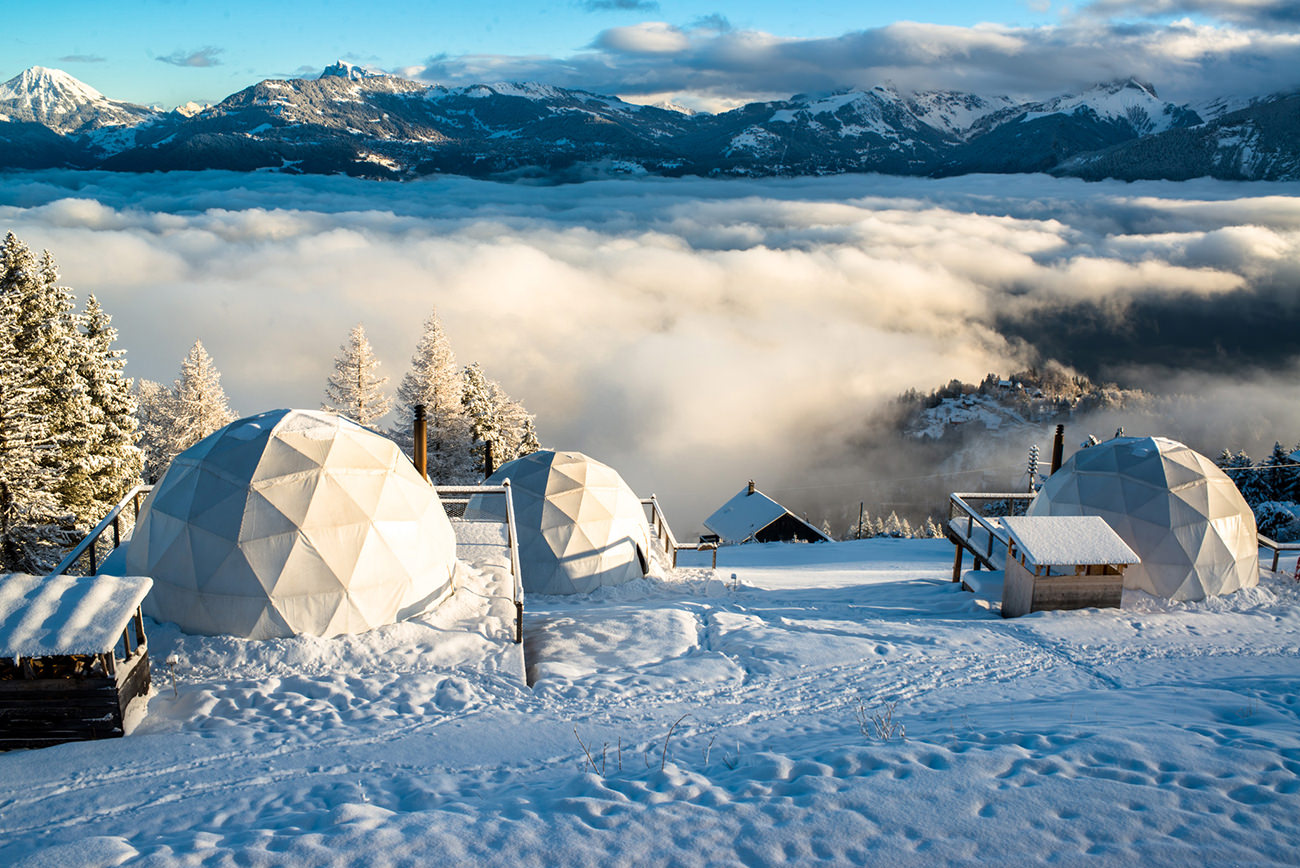 Tariff: From INR 19000
Address: Les Giettes, Les Cerniers, 1871 Monthey, Switzerland
Phone: +41 24 471 38 38
Grand Hotel Kronenhof
This 5-star hotel in Switzerland has been around since 1818 and is one of the best in the country. A large hotel with 112 rooms and suites, this hotel and its architecture certainly evokes an old-world charm complemented by classic luxury. Apart from the above, an excellent spa and several notable restaurants are also there to elevate your staycation.
Tariff: From INR 27000
Address: Via Maistra 130, 7504 Pontresina, Switzerland
Phone: +41 81 830 30 30
Hotel Villa Honegg
Surrounded by Lake Lucerne from three sides, this hideaway hotel in Switzerland offers a breathtaking stay experience amidst nature. There are pathways and MTB's leading to glorious picturesque settings offering a true old-world kind of feel. Complete with a 34-degree outdoor swimming pool overlooking the Alps, this one offers excellent luxury and a stay like none other.
Tariff: From INR 47000
Address: 6373 Ennetbürgen, Switzerland
Phone: +41 41 618 32 00
W Verbier
Rated as the world's best ski hotel in 2016, the W Verbier takes you on a sophisticated modern journey like none other. With signature W hotel design ethics, this ski hotel in Switzerland offers ski-in and out access and is an upscale choice you wouldn't want to avoid. Panoramic views and luxury go hand in hand at this property.
Tariff: From INR 34000
Address: Rue de Médran 70, 1936 Bagnes, Switzerland
Phone: +41 27 472 88 88
Waldhaus Flims
This luxury mountain spa resort offers a Great Gatsby kind of feel and stay. From rustic chic interiors to modern facilities, this hotel in Switzerland needs to experience to be described in words. Excellent dining options combined with an even better Spa and classic luxury is what drives this hotel that was opened in 1877. Other facilities include an outdoor pool and indoor pool, a pond, and a gym.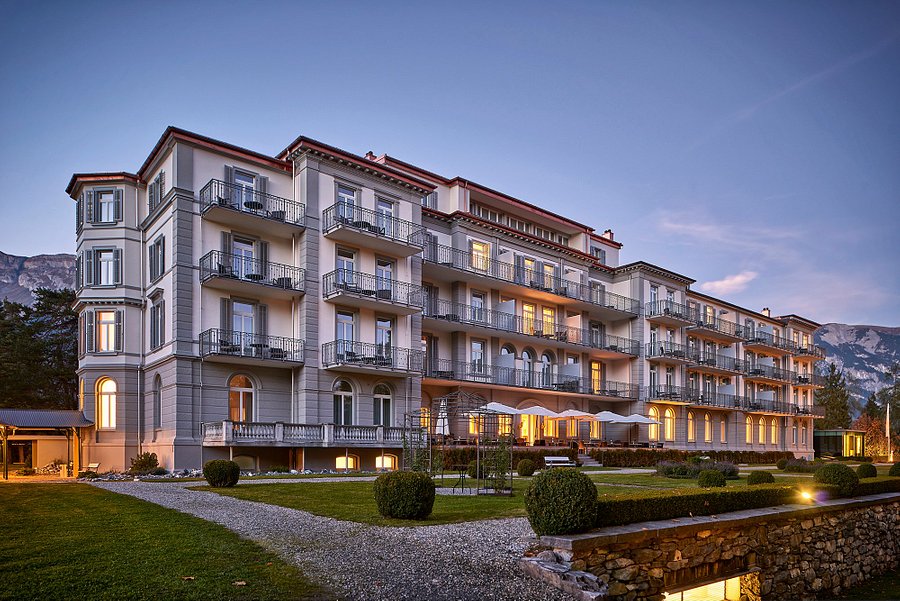 Tariff: From INR 26000
Address: Via dil Parc 3, 7018 Flims, Switzerland
Phone: +41 81 928 48 48
Lausanne Palace
An upscale hotel that is both nearby to Lake Lucerne and 12th century Lausanne Cathedral, it offers the best of both worlds to someone who wants to be at the center of all attractions. With rooms facing either the lake or the cathedral, the hotel is a delight for both the history and nature lover. Top class modern facilities complemented by 4 dining options, 3 bars, a luxury spa, indoor pool, saunas, and a fitness room make sure all your needs are taken care of.
Tariff: From 18000
Address: Rue du Grand-Chêne 7, 1003 Lausanne, Switzerland
Phone: +41 21 331 31 31
Source: Pranav Monga