Tracing his conversion from pool refusnik to aquatic evangelist, Benjamin Law asks: is swimming the Australian version of baptism?
In Australia, you're expected to just know how to swim. It makes sense: more than four in five Australians live within easy walking or driving distance of the sea. As writer Anna Funder recently said of those who call the driest continent on Earth home: "We cling to the edge of the continent, and we swim from a very early age."
Growing up, I hated swimming – which was awful, because I didn't just grow up in Australia, I grew up in Queensland: the sun-saturated state that gifted us Olympic gods like Kieran Perkins, Susie O'Neill, Grant Hackett and Stephanie Rice, a state where the main trade seemed to be sugar, coal and championship swimmers.
You weren't just expected to know how to swim; you were expected to be good at it, too.
My parents were Cantonese migrants from Hong Kong who, in the 1970s, moved to Queensland's Sunshine Coast, home to some of the country's most beautiful beaches. It still strikes me as a slightly baffling decision, given neither of them could swim. Water compelled and terrified them and their five Australian-born kids.
While other people saw stunning coastlines, we just saw a picturesque way to die. Rips could k.i.l.l you, people said. Sharks could k.i.l.l you. Skin cancer could k.i.l.l you. Weirdly, it was always white people who told us these things, the same white people who seemed to keep going to the beach. Were we missing something? Did they want to d.i.e?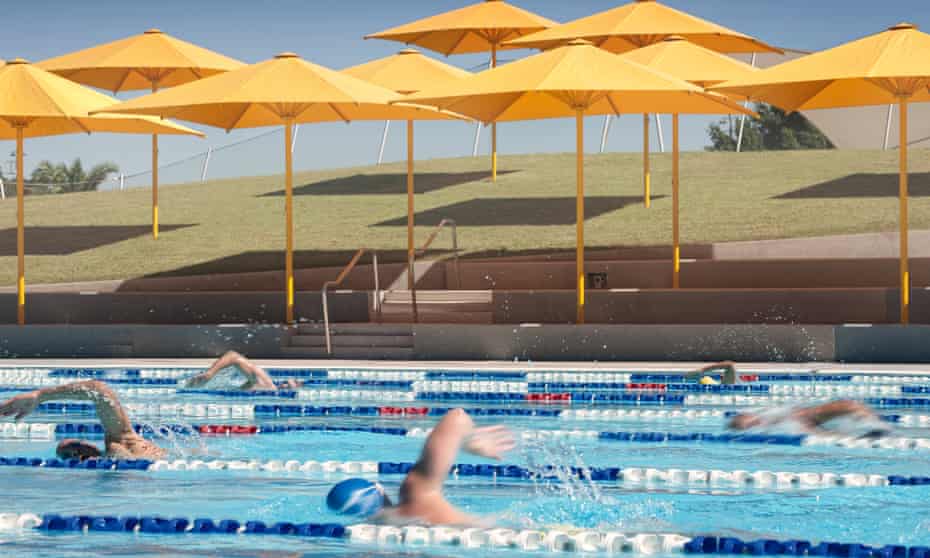 'You weren't just expected to know how to swim; you were expected to be good at it.' Prince Alfred Park, Sydney pool. Photograph: Josef Nalevansky/City of Sydney
A safer option was the public pool. Years of TV safety campaigns had convinced Mum we needed to know how to swim, because she sure as hell couldn't save us if we were d.r.o.w.n.i.n.g. Throughout summer, we'd wail as Mum drove us to the nearest suburban leisure centre for lessons. I suspect we dreaded those lessons as much as our instructors dreaded teaching us, those hopeless Asian kids spluttering with anxiety inside the enclosed training pool, those stinking hothouses of chemicals, piss and wet togs (or cossies, or bathers, or swimmers – depending on your state).
After the nightmare was over, we'd be sedated with a treat – a Redskin (Australians veer towards racism even with our confectionary), an ice block or a packet of frogs – before falling asleep in the stuffy Ford Cortina, hair matted to our temples, seat belts twisted into our skin and fingers dusted orange from the Twisties we stole from each other.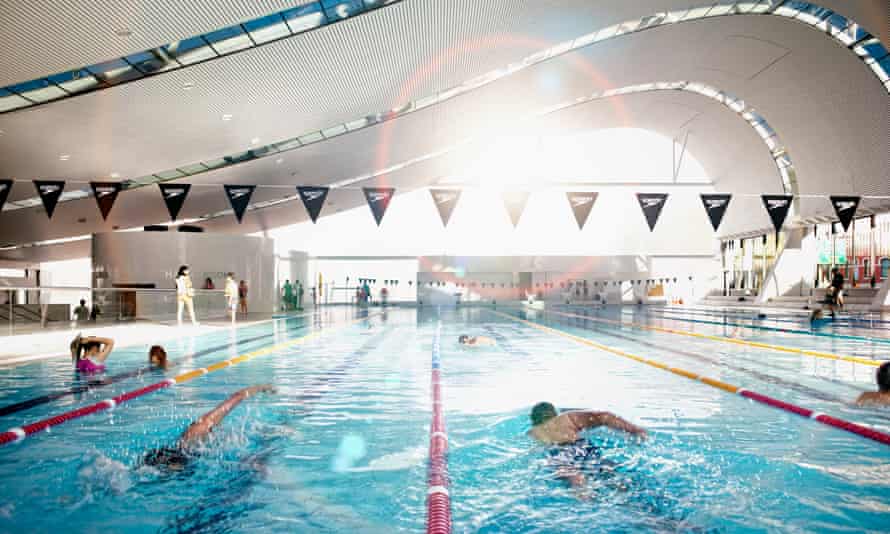 Despite the chlorine pong, even Sydney's indoor pools are impressive: the Cook + Phillip Park Aquatic Centre and the Ian Thorpe Aquatic Centre Photographs: Katherine Griffiths/Josef Nalevansky/City of Sydney
The horror didn't end there. At school, not only were swimming lessons mandatory, carnivals were too – annual, school-run swim meets, ostensibly fun but deeply competitive. We even had togs in school colours that we had to buy from the uniform shop.
During the lessons, I'd watch fit white kids dive in and carve through water with graceful limbs that seemed custom-built for the job. Meanwhile, in Lane 1 or 6 – where I could still hold onto the wall – I'd windmill uselessly, my hands banging into the water like saucepans. There was a direct, inverse correlation between the amount of splashing I made and the distance I travelled.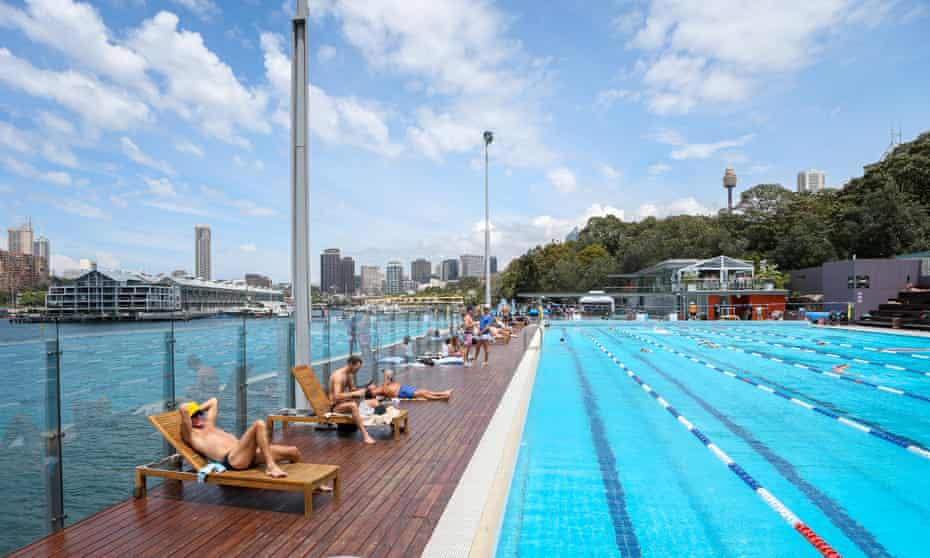 The Andrew (Boy) Charlton Pool in Sydney, beside the botanical gardens. Photograph: Katherine Griffiths
At swimming carnivals, all the outcasts were bunched together: the ethnic kid with no body fat (me); pale kids with lots of body fat. We had to swim in an event – any event – so we'd do the novelty race, paddling together on inflatable rafts, damp with chlorine and shame, as everyone cheered and jeered us on.
But then, weirdly, I fell in love with swimming. I left home for university, moved to Brisbane and into a rambling architectural mess of a shared house. Its design was … incorrect. It attracted the heat in summer, then trapped it.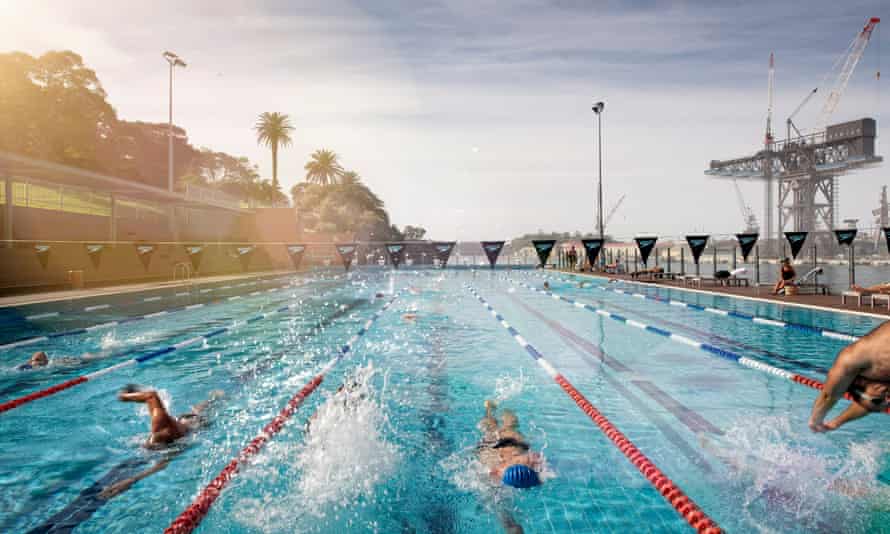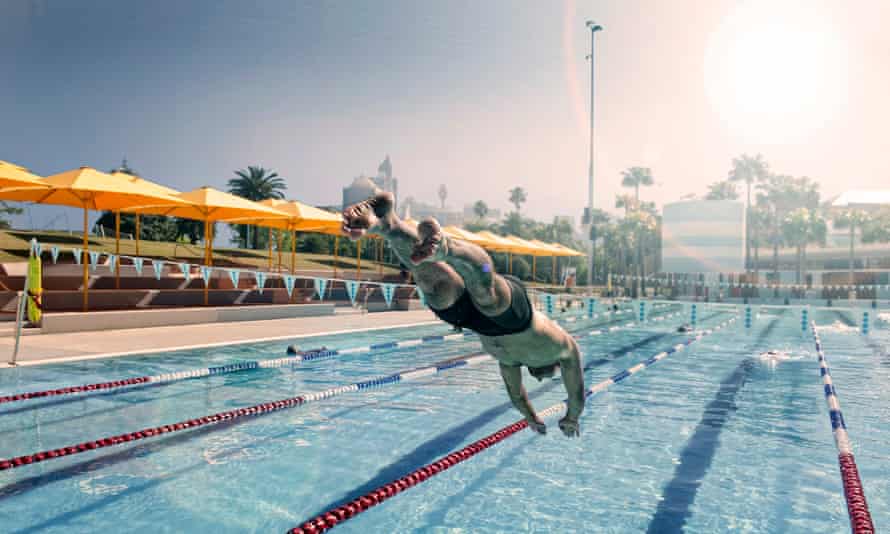 'Sydney has the best lap pools in the world.' Photographs: Josef Nalevansky/City of Sydney
During heatwaves, my flatmates and I would emerge from our rooms having barely slept and looking boiled. I took refuge from the heat at the Olympic-sized council pool at the bottom of our hill. It didn't look like much from the outside, but inside it was pure and clean, with a panoramic view of the city skyline. I didn't have proper togs so I swam in black boxer briefs, hoping no one would notice. After a while, I tried swimming laps.
Alan, the pool manager, took pity on me. "Instead of bashing into the water with your arms like that," he said, "stretch out like this and twist your entire torso. Instead of exhaling like that, hum and you won't lose your breath so quickly." It was homework, and I'd always liked homework. Slowly, I got faster.
By the time I moved to Sydney, I owned proper Speedos, goggles and a kickboard. I signed myself up for a 1km charity ocean swim. From some angles it seemed as though I had pecs. Who was this person?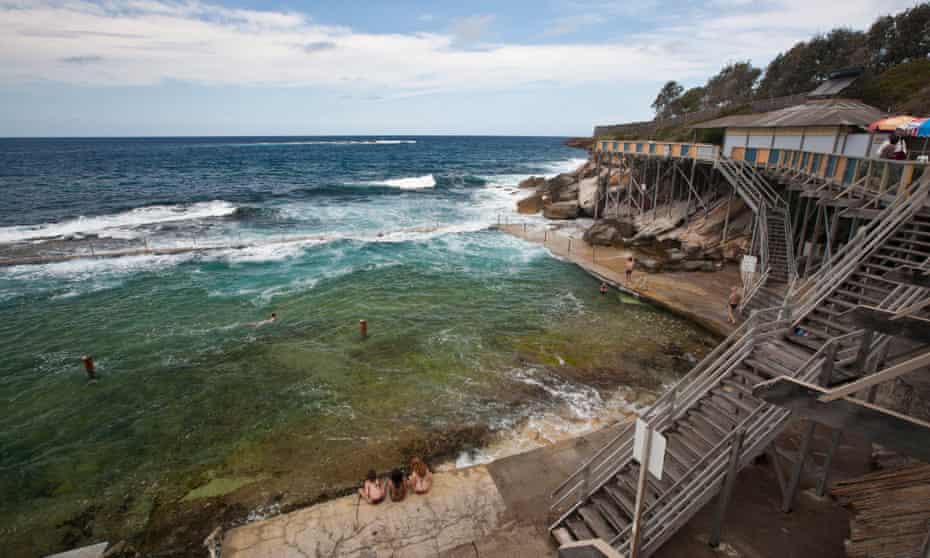 Wylie's Baths in Coogee. Photograph: Lindsay Brown/Getty Images/Lonely Planet Images
I've been helped by the fact Sydney has – hands down – the best lap pools in the world.
Every inner-city public pool is a wonder in some way. My local, the Prince Alfred Park Pool, is an award-winning architectural miracle built into a hill – like a swimming oasis for hobbits.
It's impossible to take a bad photo of North Sydney Olympic Pool, where the reward for finishing laps is endless Instagram-ready photos of the Sydney Harbour Bridge, which towers above the pool like a CGI hallucination.
On the other side of the harbour, Andrew "Boy" Charlton Pool is plonked right in the middle of the botanical gardens, decked out like a resort and boasting so many toned men in Speedos, it feels like you're in the video for Kylie Minogue's Slow.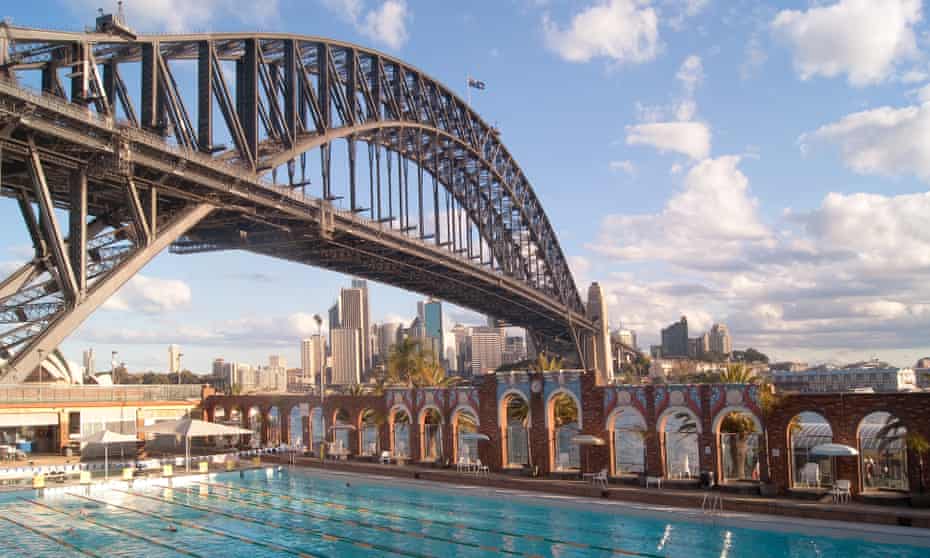 The North Sydney Olympic Pool beside the Sydney Harbour Bridge. Photograph: kokkai/Getty Images
Even Sydney's indoor pools – which I usually avoid because of the claustrophobic chlorine pong – are impressive. Ultimo's dreamy, wave-walled Ian Thorpe Aquatic Centre (the first Sydney pool I ever swam in) is a Harry Seidler original, a modernist wave of concrete and steel rising from Darling Harbour. In the Cook + Phillip Park Aquatic and Fitness Centre are giant paintings by the Archibald winner Wendy Sharpe, making it one of the few places where you can do laps in an art gallery.
For a spiritual experience, it's all about the ocean baths. On good days, you can swim alongside schools of fish in Wylie's Baths in Coogee. There's a reason people rave about Bondi Icebergs, with its sauna overlooking the violent churn of the surf below.
And though I'll never get to visit, I love the idea of Coogee's McIver's Ladies Baths, the last remaining women's-only seawater pool in Australia. Apparently it's particularly popular with nuns, Muslim women and lesbians; I like thinking about the unexpected friendships that have been made there.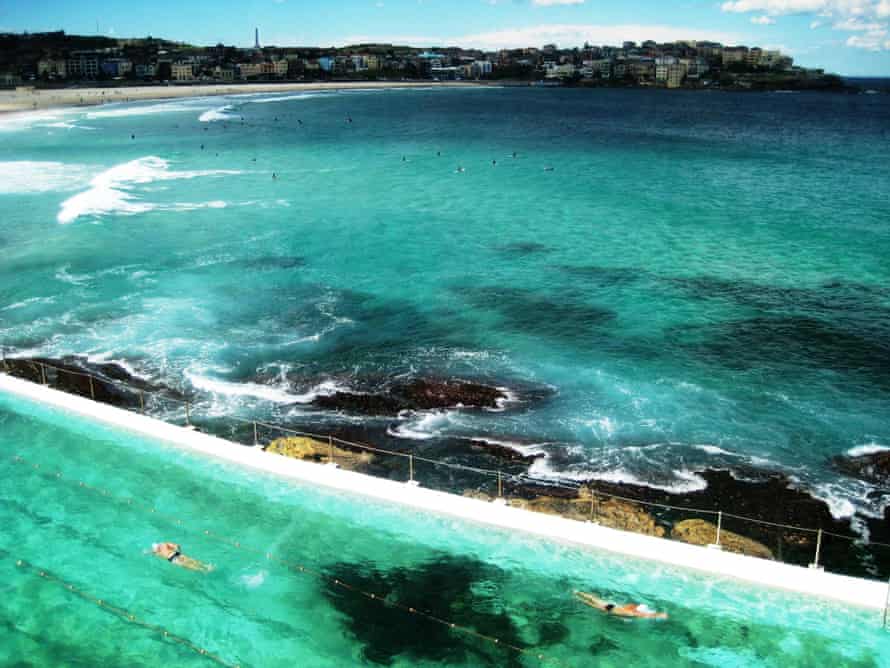 Bondi beach and the Bondi Icebergs pool. Photograph: Svetlana Zhukova/Getty Images
Is it too far to say swimming is the Australian version of baptism? To me, these places feel sacred; to swim in them veers towards sacrament. When I get writer's block, I swim. When I need space, I swim. When I need company, I swim. When I'm depressed, I swim. When I'm happy, I swim.
Last Christmas, my siblings and I – all comically terrible swimmers as kids – laughed at the fact that our eldest sister was now a regular surfer. The remaining four of us now swim regularly in lap pools.
Those Asian kids at school, so bad at swimming carnivals that they were constantly disqualified? Well, some of them grew up and now swim kilometres for leisure. It shouldn't be surprising – we're also Australian, after all.
By: Benjamin Law/ www.theguardian.com